Pre-Owned Spotlight: Thomas Gets Dirty For Some Vintage Gems
Finding the best WWII "Dirty Dozen" watches
The Dirty Dozen is a series of — you guessed it — twelve watches produced for the British MOD at the end of WWII. These watches obviously carry great historical significance. So much so, in fact, that I think they should be treated and collected with some reservation and humility. These are no status symbols or fashion statements. These are a silent nod to the brave people who gave their lives for our freedom.
Yes, that is more serious than you might be used to reading from me. But with the end of the year in sight, this might be the right pensive time for it. The Dirty Dozen is an amazing set of watches that represent something much bigger than mere time-telling devices. In my pre-owned picks today, I would like to share some Dirty Dozen examples at different ends of the spectrum.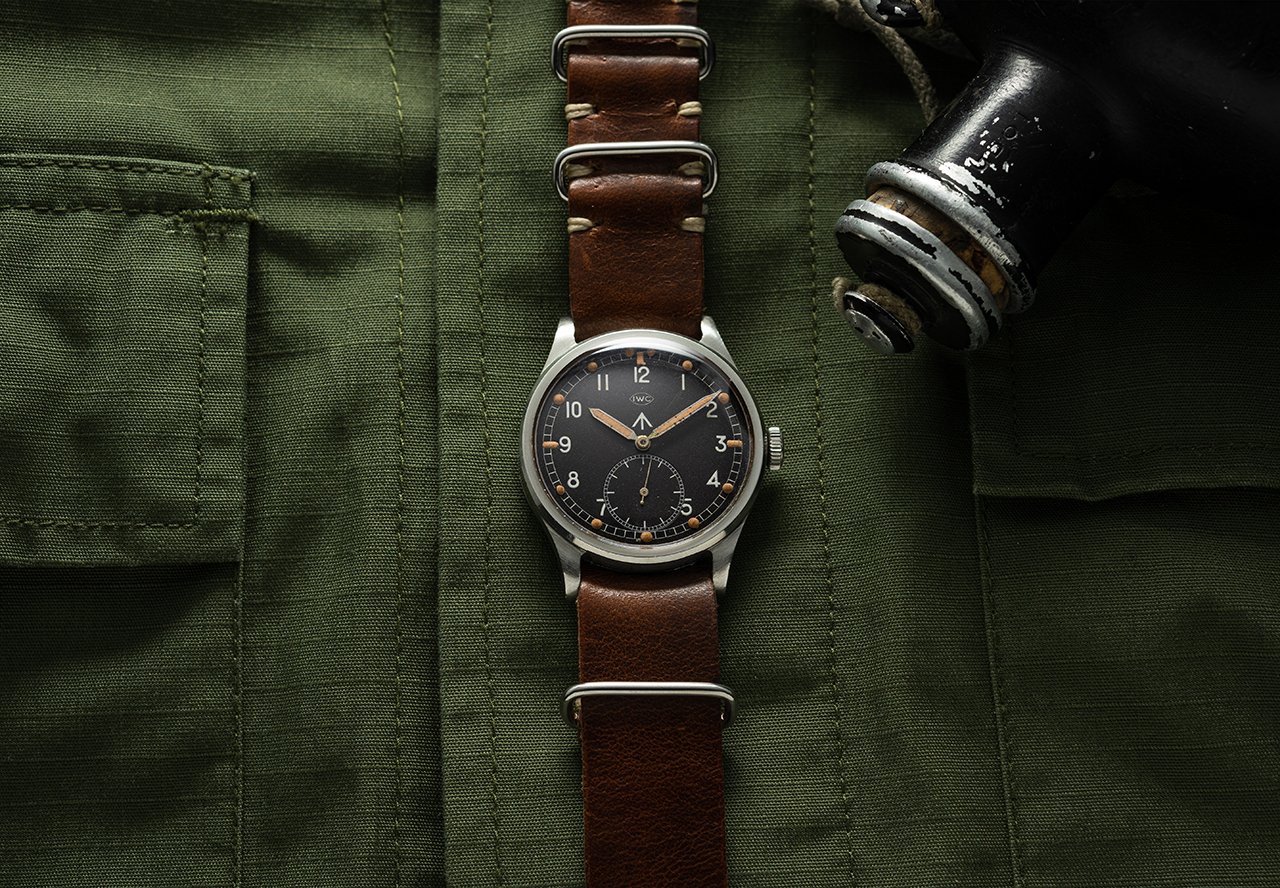 A tiny bit of history on the Dirty Dozen watches
We need a little context before we dive in. Late in WWII, the British Ministry Of Defence (MOD) commissioned wristwatches for its troops. The specified requirements included a waterproof (a term that was still in use then) case, a black dial, a sub-dial for the seconds, lume, and an acrylic crystal. The watches were labeled W.W.W. for "Wrist Watch Waterproof."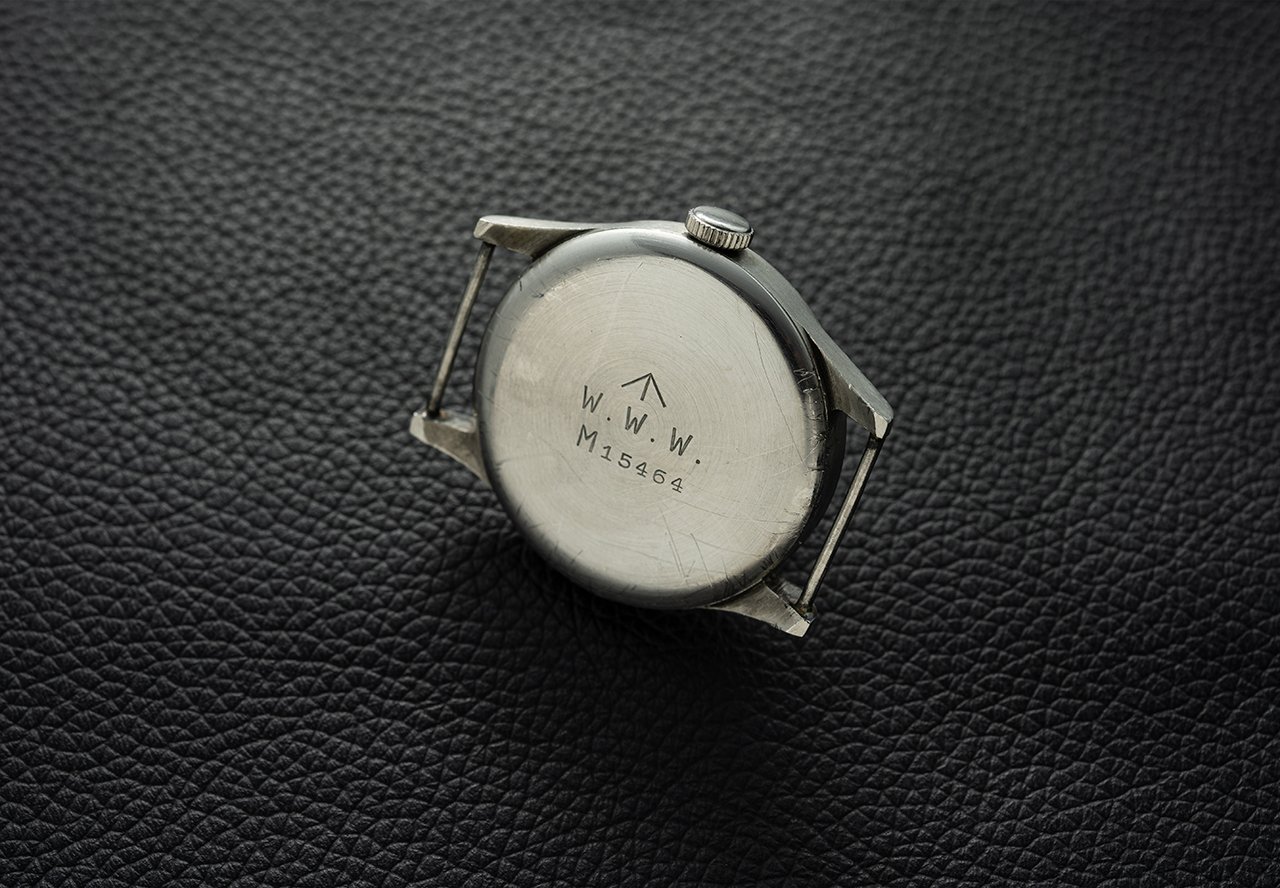 Thirteen companies were asked to deliver these watches. They were Buren, Cyma, Enicar, Eterna, Grana, Jaeger-LeCoultre, Lemania, Longines, IWC, Omega, Record, Timor, and Vertex. In the end, all but Enicar actually supplied the specified watches. Each took some creative liberties outside of the demanded specifications, resulting in 12 different executions.
There are big differences in the numbers the manufacturers ended up supplying. Omega and Record produced the most, with an estimated 25,000 pieces each. The Grana is the rarest, at somewhere between 1,000 and 5,000 watches. Big differences in rarity, execution, and condition result in big price differences today. Let's have a look at some that are currently on the market.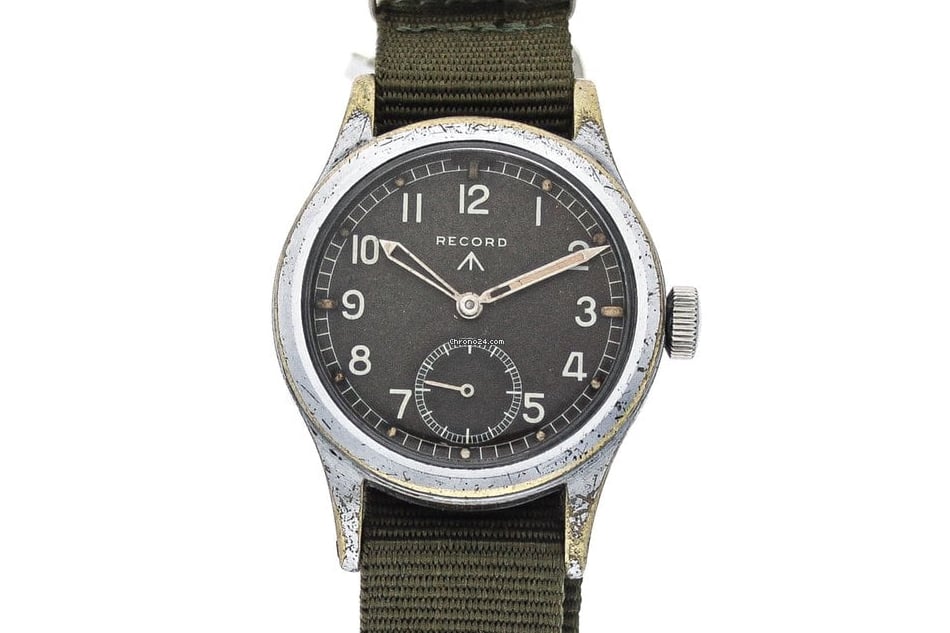 Record Dirty Dozen
The first example I found is from Record. These are among the more accessible versions. This is due in part to the fact that it is one of the more common versions. Another reason is its chrome-plated case, which is considered less desirable than steel-cased versions. The example I found in England shows serious wear on that plated case. But I don't mind that on a watch of this type. I would rather see it like this than refinished and replated.
The dial, on the other hand, is in neat condition. It has faded from black to a dark brownish gray. The radium has blackened a bit. It has broken out of the hands almost completely. These are typical issues you may run into and are, in this case, reflected in the price.
You will find some attractive details upon closer inspection. Of course, there is that typical MOD arrow below the brand name. But have a look at the numerals too. You will find that characteristic flat-topped 4 and a noticeable open 9. At an asking price of £1,250 at Stephen Hughes Fine Watches, this is a steal if you ask me.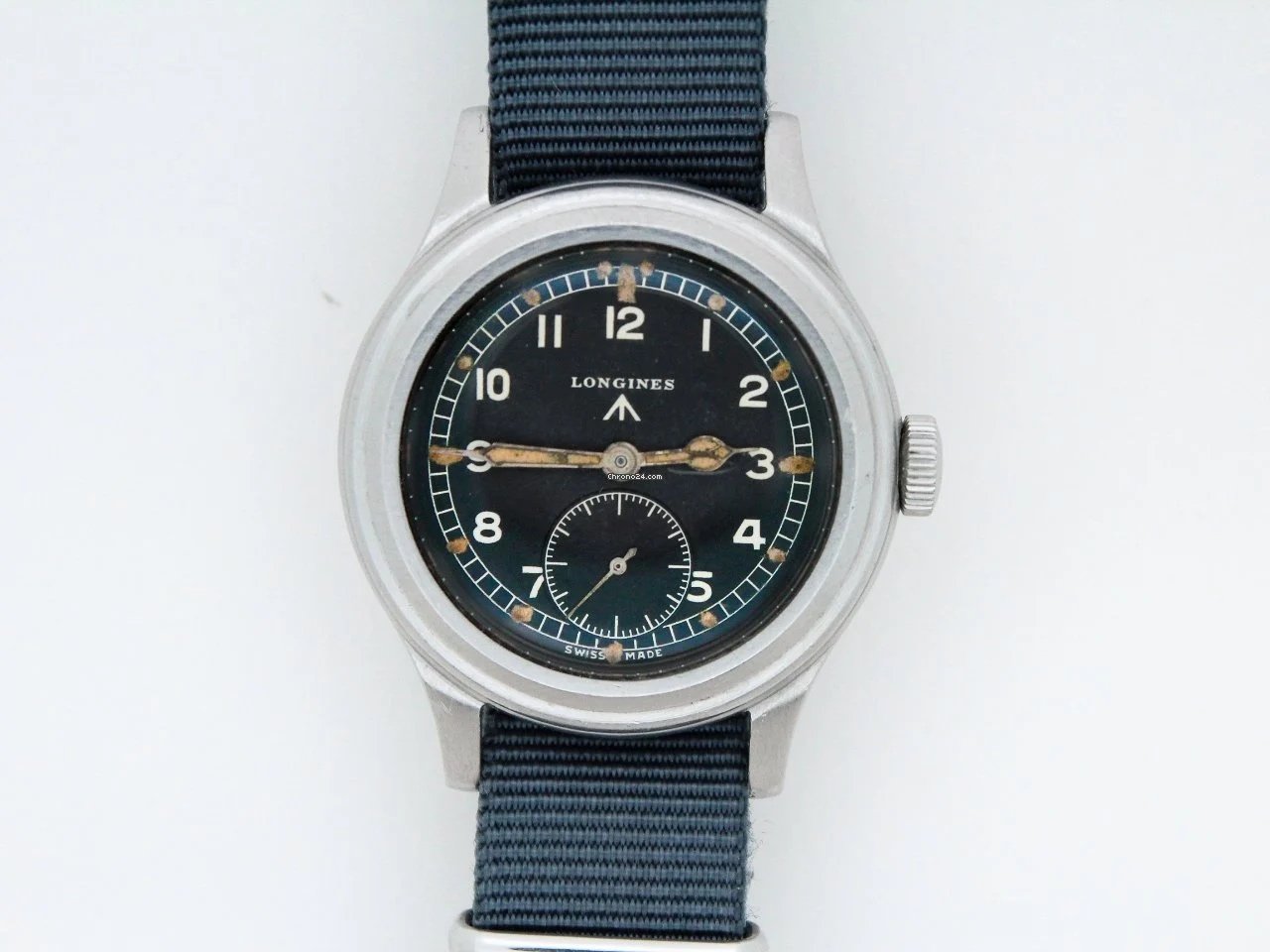 Longines Dirty Dozen
At the other end of the spectrum, we find this Longines Dirty Dozen. This one is a tad larger at 37.5mm versus 36mm for the Record. It is also housed in a steel case rather than a plated one. It is in a bit better shape and a lot rarer at an estimated 8,000 pieces produced.
The case shape is quite different altogether. It is a lot beefier, with a broader bezel surrounding the dial. The handset is another distinguishing feature of this one. Longines fitted these Dirty Dozen watches with a cathedral-style handset. You will still find that flat-topped 4 on the Longines, but the 9 is closed. The radium is still quite well-preserved on this example.
All of that does come at a cost. This specimen is offered in Hong Kong by The Horologist Company Limited. It is priced at HK$59,980 (roughly €7,420). Still, just consider its significance and the fact that this is an oversized military watch from the 1940s.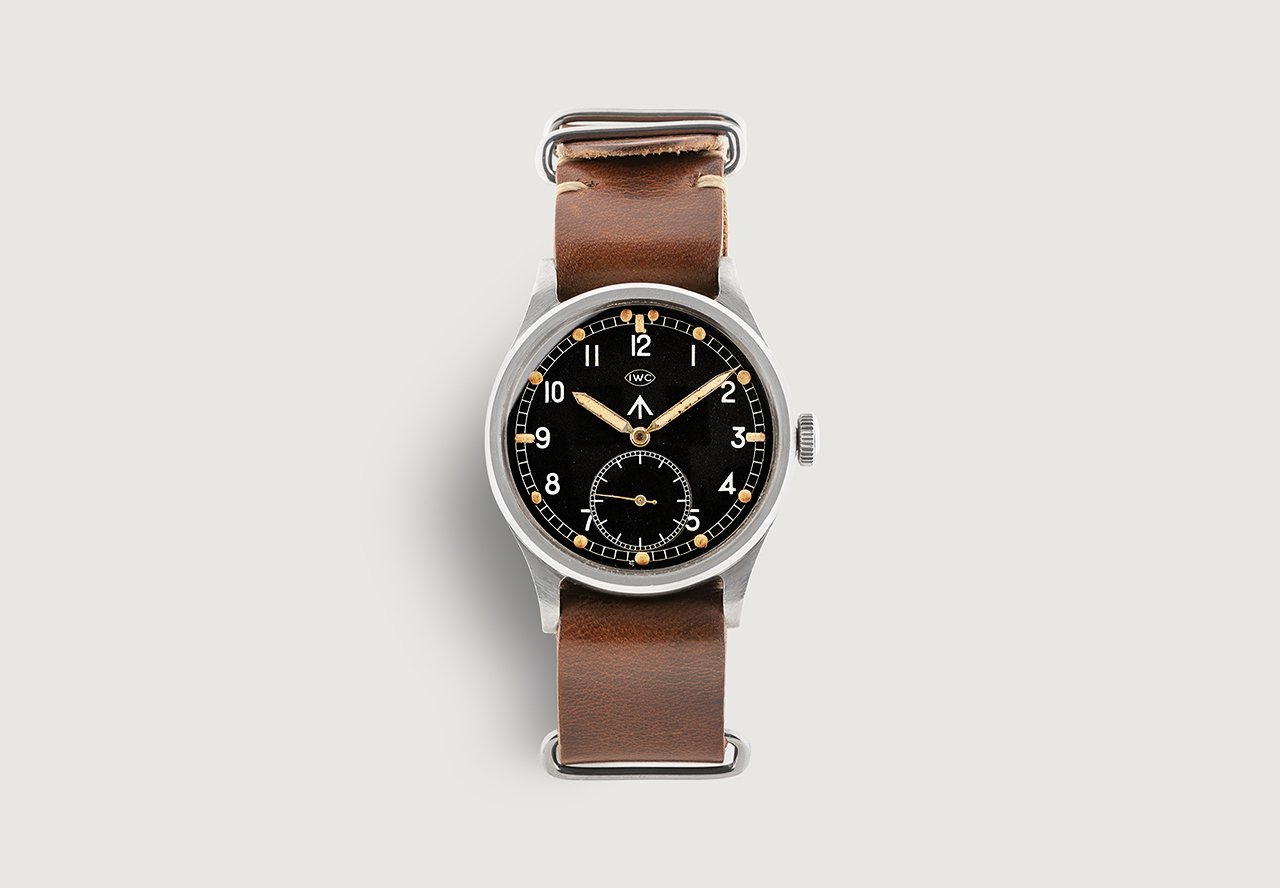 IWC Mark 10 Dirty Dozen
Lastly, we have an absolutely stunning specimen from IWC. This Dirty Dozen watch also goes by the name IWC Mark 10 (or Mark X). And this is a particularly well-preserved specimen on offer at Watches of Knightsbridge in England.
The IWC version measures 35mm in diameter, which shows in the much-slimmer bezel. An estimated 5,000 pieces saw the light of day, making this one of the rarest versions. To find one with such beautifully aged radium intact and even the original crown is quite something. The IWC has its oddities, such as the oversized sub-dial and the cut-off 5 and 7 (which it shares with the Longines). Interestingly, this does not feature a flat-topped 4.
Coming in at £6,950, this is at the top end of the Dirty Dozen market. But again, its significance, condition, and rarity easily warrant it if you ask me.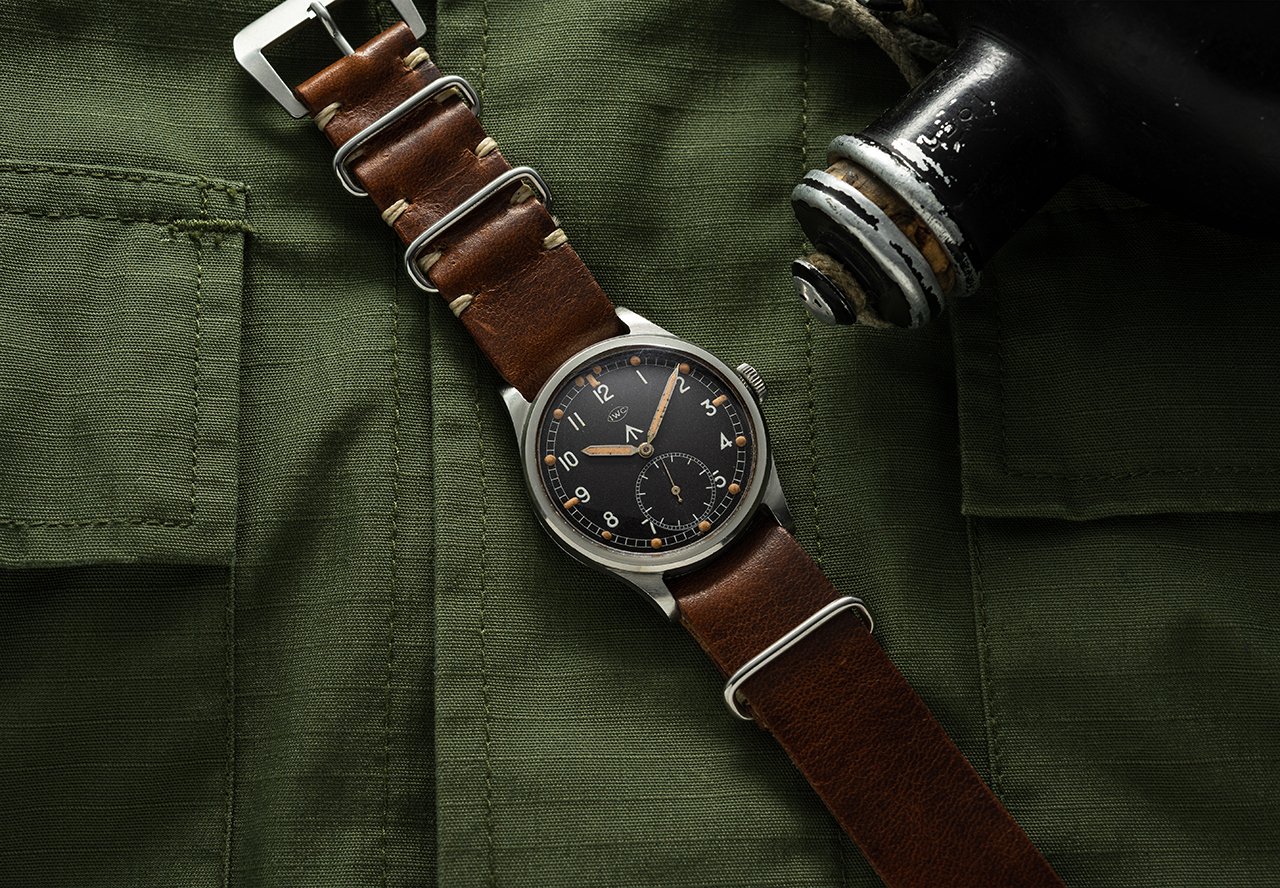 Which is your favorite?
There you have it — three Dirty Dozen "Wrist. Watch. Waterproof" pieces on the market today. Which is your favorite? I know that if money were no object, I would pick the IWC. Still, you can find very attractive examples at the lower end of the spectrum as well. Would you wear one? Let us know in the comments below.