Pre-Owned Spotlight: RJ's Selection Of Vintage Gold Rolex Day-Date Models
From the no-quickset 1803 to the double-quickset 18238
Last week, my colleague Thomas showed you some pretty awesome vintage Omega Seamasters. I will counter with some vintage Constellation watches soon, but I already had planned to feature some vintage gold Rolex Day-Date models instead.
Both Michael Stockton and I bought Rolex Day-Dates in 2022, and they've become pretty solid companions on the wrist. Who says you can't wear a gold watch every day?
The Day-Date
Back when I started collecting watches, the Day-Date was my guilty pleasure. I loved the watch, but it also had a reputation as a watch for a certain crowd.
The Day-Date got mocked for being a status symbol worn by the wolves of Wall Street, dealers (of all sorts), rappers, singers, actors, and the occasional president, prince, or king. But deep inside, I had this longing to own a gold Day-Date one day.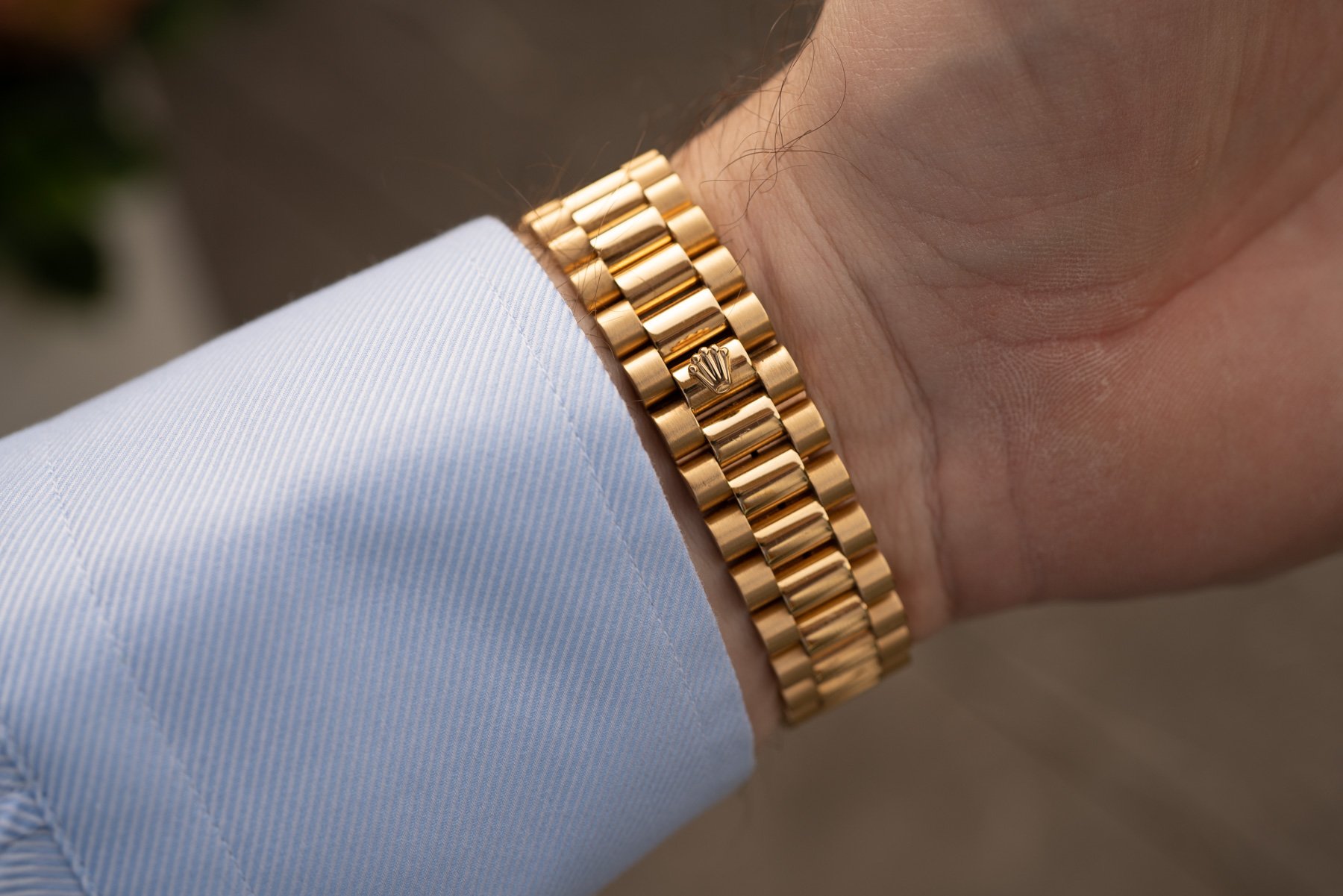 If I had only known earlier how much I would love wearing a Rolex Day-Date, I wouldn't have waited so long to buy one. It also would have saved me a pretty penny. Unfortunately, these watches have increased tremendously in price. Whereas you could buy one for under €10K not even 10 years ago, today, you will have to spend a bit more.
The Rolex Day-Date always was, and perhaps still is, the flagship of the Geneva watch brand. There are so many Rolex Day-Date variations that you can go as crazy as you want in your hunt for one. Rolex produced an incredible array of dial variations, from the standard champagne and gold dials to those made of special stones or set with diamonds. As for the case and bracelet, you can choose from yellow gold, white gold, rose gold, and a combination of all three in one watch (the Tridor). Platinum is also an option, but I will limit it to gold for this article.
Vintage gold Rolex Day-Date watches
In the past, Fratello published a historical overview of all Day-Date models here. Although the Rolex Day-Date debuted in 1956, I focus on the third generation of the model, the 1800 series. The first generations are also stunning, but I simply prefer the models that start with the 1800 series. I feel that they look a bit more timeless and closer to today's 36mm Day-Date. There's no right or wrong here, just a matter of personal preference. Without further ado, let's see some Rolex Day-Date models.
Day-Date 1803
As always, the condition of a vintage watch is key and defines the price. I would rather buy a Rolex Day-Date without a box and papers in good condition than a mediocre one that comes as a full set. In the end, you will wear the watch, and the box and papers will probably disappear into a drawer somewhere. I came across this ~€10K Day-Date in nice condition on a leather strap with a gold-plated Rolex-signed buckle. The day disc on this 1803 is in Spanish, and the watch comes with a full service and a 12-year warranty. The dial also appears to be in good condition. I always look for the tritium markers above the indices. In some cases, they are completely gone, and in other cases, half of them have disappeared. On this watch, however, they are all still present, and the gold applied indices appear to be in good condition with no signs of damage or wear.
The Rolex Day-Date looks elegant on a leather strap, but you can also dress it down on a suede 20mm strap. Keep in mind that reference 1803 does not have a quickset function for the day or the date. The later 18038 came with a quickset date, while the 18238 had a quickset day and date. This Rolex Day-Date 1803 has a serial number that starts with 16xx, meaning it dates to somewhere between 1966 and 1968. This watch should therefore have caliber 1556 inside, which ticks at 21,600vph. This Rolex Day-Date watch is available from a dealer in the US for $10,494 (~€9,947). You can find it on offer here.
Day-Date 18039
In 1978, the Day-Date reference 1803 was succeeded by reference 18038 (and 18039 for white gold). This generation of the Rolex Day-Date was the first to have a sapphire crystal, and it also had a single quickset for the date. Another visual change was the dial. Just like the dials on the Datejust, the earlier Day-Date dials had a pie-pan shape. With the introduction of the five-digit Datejusts and Day-Dates, the pie-pan-shaped dials disappeared. Here, we have a white gold Day-Date with an Italian day disc. This example comes on a President bracelet.
Rolex caliber 3055 not only has a single quickset but also a higher beat rate (28,800vph) than its non-quickset predecessor. The Rolex Day-Date 18039 I've found is on offer from a dealer in Portugal, and it dates to 1982. Always make sure you know how many links are included in the bracelet. It should come with 24 links, but you can always find spare ones on Chrono24 or eBay. The asking price for this watch is €22,500. You can find the offer here.
Day-Date "Pyramid dial" 18238
Reference 18238 was introduced in 1988 and was the first to have a quickset feature for both the day and the date. This is because of the movement update from caliber 3055 to 3155. As you can see in the images, the dial is different from the standard champagne or white dials. It has a pyramid-shaped motif, which creates a sense of depth. The dial is applied with gold Roman numerals and no lume whatsoever. Rolex must have decided that lume was not necessary for Day-Date owners because they just decide what time it is anyway.
This Rolex Day-Date 18238 comes on a yellow gold President bracelet with 23 links, enough to fit an 18cm (7″) wrist. You can easily source additional links if necessary, but expect to pay around €350 per link. This 1990 model doesn't come with a box or papers, but this watch is for wearing anyway. Also, the price reflects that it's a watch only. As I mentioned, the condition is more important than the box or papers, in my opinion. Always make sure the bracelet doesn't have too much stretch. This can be fixed, but it is a hassle. Also try to stay away from over-polished Day-Dates, which can often be identified by their very thin lugs and fluted bezels that lost their sharpness. Everything can be replaced or fixed, but in the end, it's cheaper to just buy a good one. This 18238 "Pyramid dial" is on offer from a dealer in the UK and has a £14,000 (~€16,160) price tag. You can find it here.
"You want to end up with a Day-Date"
Last Friday, I was having dinner with friends (hence the grainy iPhone image above), and one of them was wearing a 40mm Day-Date. Interestingly, the others were wearing a Sea-Dweller Deepsea, a GMT-Master II, a Daytona, and a Zenith Defy, and I was wearing my Sea-Dweller 16600). We didn't get robbed, mugged, or threatened, so it's still safe to wear a nice watch. 😉 Anyway, when discussing watches, my friend with the Day-Date said, "We can have a very long discussion about watches, but everyone knows you want to end up with a Day-Date as your last watch." He always likes to throw in a punch to get under people's skin, so he's forgiven. And I would like to say he's wrong, but on the other hand, it does tick a lot of boxes when you just want to have one watch when you're old(er). It does come at a price, though — a steep one.
Would you like to own a Day-Date at some point? And if you already have or have had one, what are your thoughts on them? Let me know in the comments!