Pre-Owned Spotlight: The Attainable Tudor Rose, A Mid-Size Vacheron Overseas, And An Ebel Gondole
And how get-togethers can inspire the search for your next watch
This installment of Pre-Owned Spotlight is heavily inspired by a couple of get-togethers that I attended recently. Get-togethers are great for talking watches and hanging out with like-minded people. But they might be even better for planting new ideas in your head because almost every time you attend a get-together, you see a watch you hadn't seen before. And that's great, of course, because it's exciting to see new things. But it also messes with how you see your own collection a bit. With this article, I hope to write that feeling away so I can continue to enjoy what I already have.
I'm sure you know the feeling. You come home after seeing a watch that you had never seen before, and you can't wait to look for examples online. You find the various references and iterations available, and you get excited about all those watches you didn't know about before. That's kind of what I did after I came home from those get-togethers. But instead of using that inspiration for myself, I hope it can inspire you this time. Let's dive in!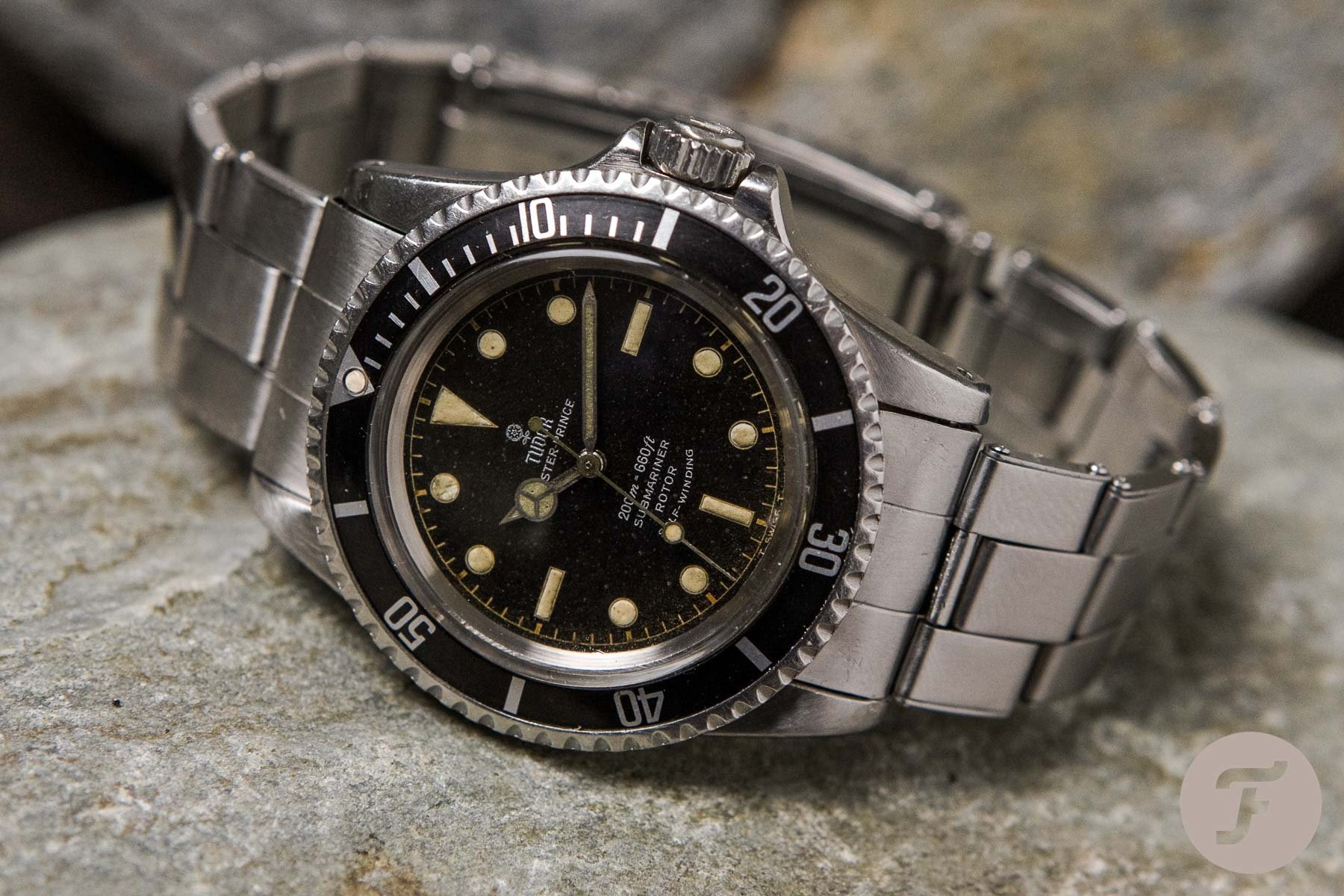 That lovely Tudor rose
I didn't actually see it at first when I tried on a Tudor Submariner ref. 7928. But from the moment I noticed that lovely little rose, I couldn't stop thinking about it. It's so charming, and it provides a great contrast to the sporty character of the Submariner. I think that's exactly why it works so well. And it's true, it's a tiny detail, just like the curvaceous "self-winding" text at 6 o'clock. But together, I think these two details completely change the face of the watch for the better. So once I came home, I started looking up prices for that very same Tudor reference. Some start at around €10,000, but if you want a great-looking one, you'll have to multiply that by three, four, and sometimes even seven times.
To be honest, I think it's a bit much. But then I remembered that the original Tudor Black Bay with that beautiful red bezel features the same rose at 12 and curvaceous text at 6 o'clock. And you can get your hands on that reference 79220R for around €3,000, just like this full set for €3,250. In addition, you won't have to worry about its water resistance, there's a sturdy sapphire crystal, and the ETA 2824 movement inside can be serviced by basically anyone. Whether or not it will scratch the itch for that 7928, though, is something that only you can answer.
A mid-size Vacheron Constantin Overseas
The next watch I tried on at one of the get-togethers was a 37mm Vacheron Constantin Overseas from around the year 2000. I actually tried two of them. The first one, known as reference 72050, had a quartz movement and a beautiful dark brown sunburst dial. I know it looks black or gray in the picture, but you should see this one in person. And the other Overseas, reference 42042, had a blue dial with some very big and crazy Arabic numerals. Those go great together with that very typical Overseas bezel, and they give the mid-size case just a little more oomph.
The VC Overseas has experienced a considerable increase in popularity over the past couple of years. And I do like the current model, but it's just a bit too big for my wrist. These older mid-size references don't have the same design. They're a bit more quirky with the bracelet that seems to bend in toward the middle. But they are still great-looking watches. And especially if you go for a quartz movement inside, prices start well under €10,000, which is still more or less acceptable, I'd say.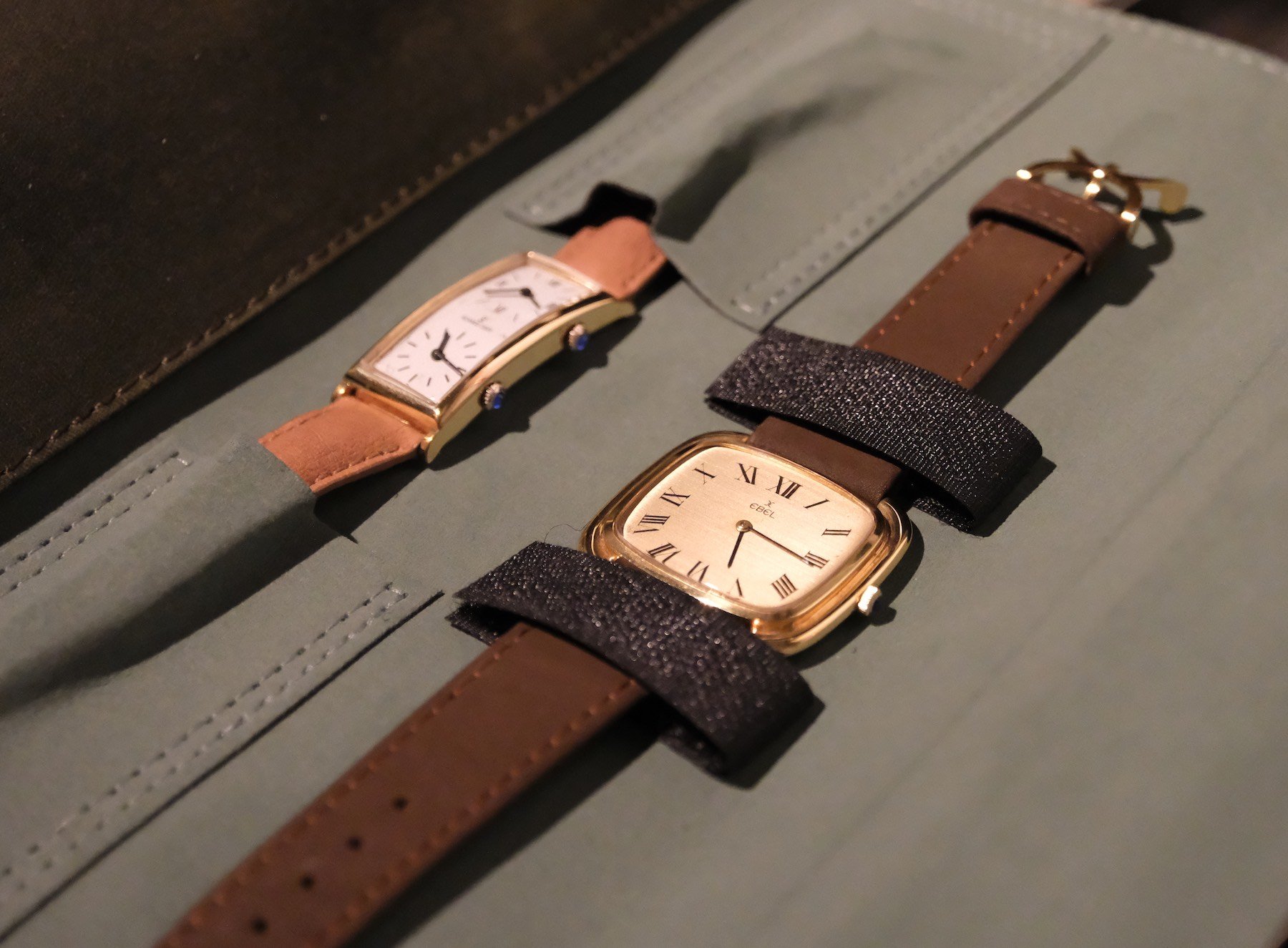 A Gondole by Ebel
This last one is more of a bonus watch because I had honestly never heard of this reference. Someone brought it to RedBar Amsterdam to see if anyone could give him a little more information. It's an Ebel Gondole that looks a lot like the examples that Cartier released in the '70s. And that's no surprise because, back then, Ebel actually used to produce these watches for La Maison. Its yellow gold case has the characteristic horizontal TV shape, and the black Roman numerals have also been printed on a yellow gold dial.
I've always been a fan of the Cartier Gondole models, and I think I like those a bit more with their black-on-white dials. But those watches can become quite expensive to get. This example by Ebel is the only one I've seen in person, and it's also the only one I've found for sale online. Therefore, it's hard to say what its value should be, but €4,150 is definitely less expensive than similar examples from Cartier. So are you into the Gondole design but don't want to pay the top price? It might be a good idea to look for one from Ebel!
What watches have you started searching for?
I hope to have inspired you again with the above suggestions. Please let me know in the comments below what watches you've started searching for after seeing them at a get-together or someone else's wrist!
You can also find and follow me on Instagram: @fliptheparrot
Featured image courtesy of Xupes