Preview of Geneva November 2016 Auctions: ANTIQUORUM GENEVA
Sacha Davidoff Reports On The November 2016 Watch Auctions
Antiquorum is still the only major auction house which exclusively focuses on timepieces. Antiquorum Geneva & Hong Kong belong to FIDES, a private equity firm based in Zurich, and are separate from Antiquorum New York, which is no longer in the same group.
With Julien Schaerer, the managing director and watch Expert based in Geneva, at the helm, we see his personal passion for vintage, especially his appreciation of niche brands, in the selection of watches. We also have observed that the team is working towards improvement of its position among watch auction houses as we remember they were at the top for many years. Etienne Lemenager, with 20 years at Antiquorum, is an asset to the team as director and watch expert and continues to tirelessly hunt down interesting and important watches for each auction.
They have attracted, as we saw in the last auction, many younger buyers entering the market and we feel this is great way to build and grow with their future clientele. In the meanwhile, they are steadily bringing back consigners that have come to trust the auction house again. We have seen a great improvement in resolving their internal issues and getting back to business, so we expect more to come and a strong comeback in the next couple of years.
IMPORTANT MODERN & VINTAGE TIMEPIECES
The Antiquorum watch auction, which takes place on Sunday November 13th in Geneva, is comprised of 559 lots (again, the most among its peers). We are happy to say that following our last review in May, this catalog is probably the most fun for collectors to look through and shop for themselves. Although the catalog has more lots than Christie's and Phillips combined, the quality and vast scope of fun collectible vintage found here more that kept our attention. Although a few 'colorful' lots could have been omitted, we found the majority of the catalog to be honest and exciting.
Antiquorum is still within reach of buyers who want to find interesting vintage pieces at a fair market price and especially the entry level vintage niche brands that other auction houses seem to neglect. This includes vintage diver watches from the 60's and 70's as well as some steel chronographs and elegant 'time only' pieces in steel or gold.
The catalog opens with 18 lots of all vintage diver watches, a popular segment today. These tool watches are each unique and the price range varies.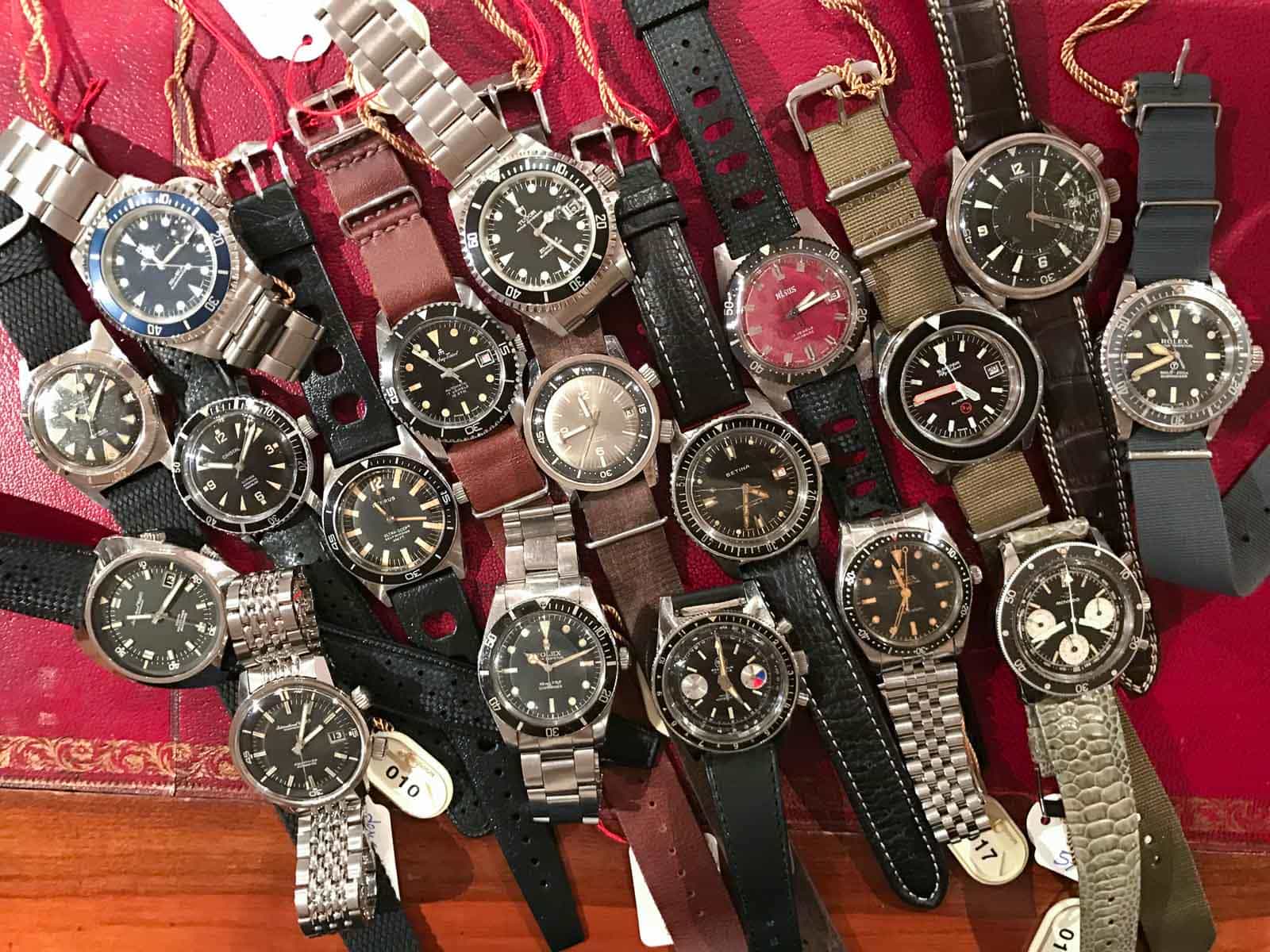 We then went through piece by piece to bring you some of our favorites from the catalog:
LOT #3
BENRUS Ultra-Deep Ref 6088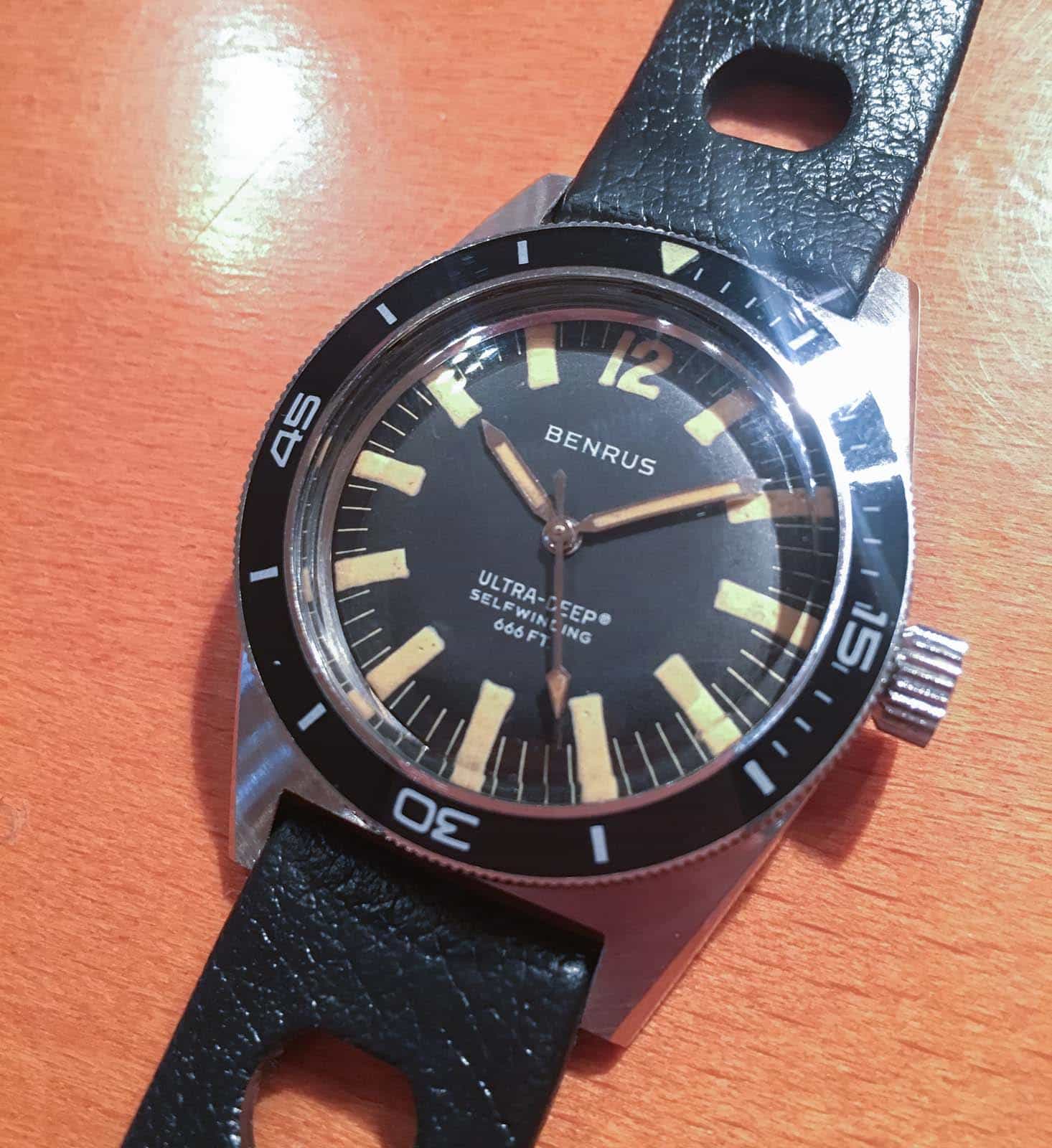 This is one of our favorites among the opening section of diver watches. Our advice, which is shared among most collectors, is that no matter your budget, buy something you like first and foremost and then make sure you are getting the nicest possible condition in your price range. This is a great example of a wonderful watch for the money. It is in excellent condition and it's definitely a looker. Benrus, a US based watch company, is mostly known for the military watches made in 60-70's issued to the US Military. However, they had been assembling watches with European components since the 1920's. In any case, this 1960's diver is estimated at a fair price and the condition is simply stunning.
Estimate CHF 1,500 – 2,500
LOT #10
IWC Aquatimer Ref 812 AD, New Old Stock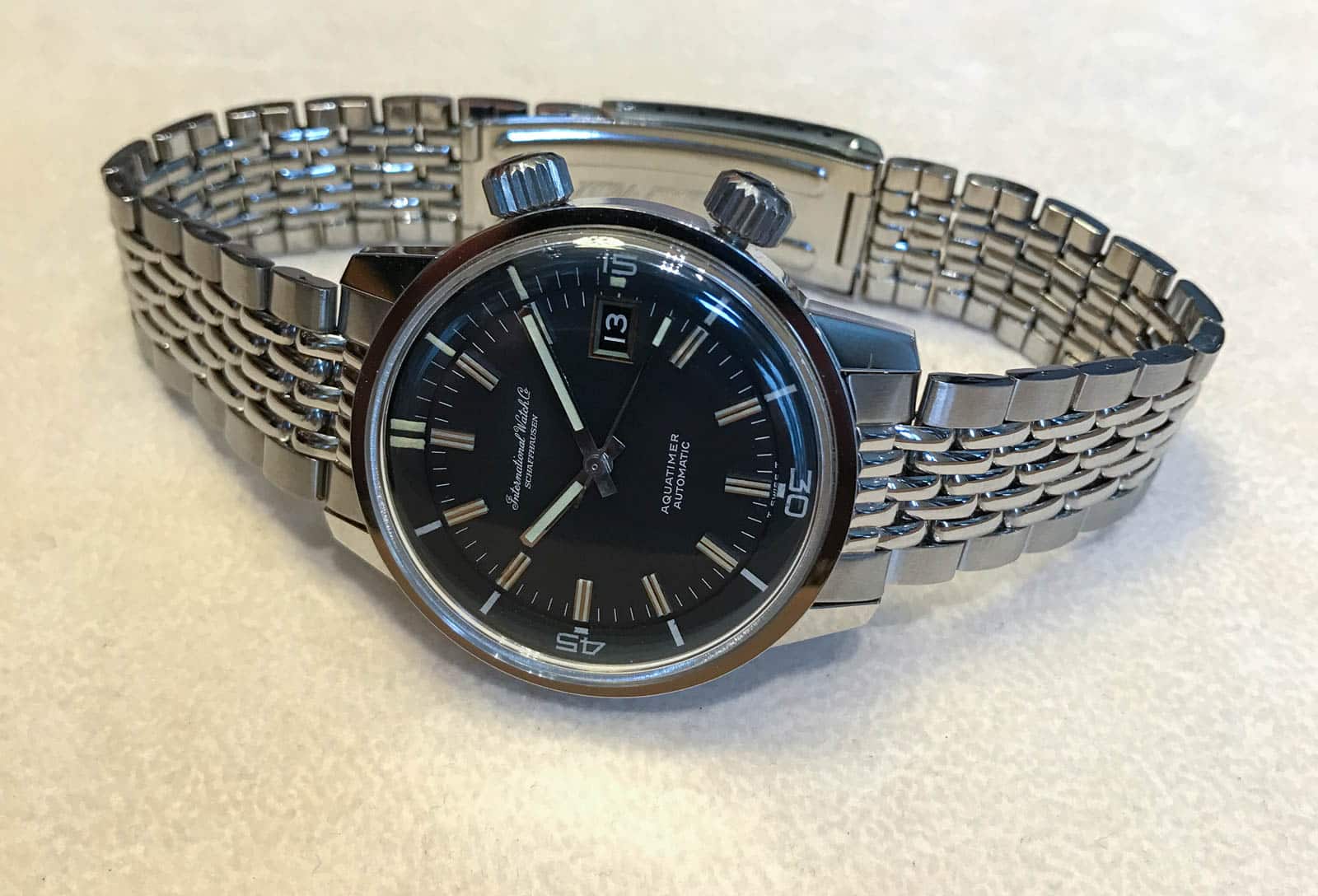 We were simply stunned by this watch. We have seen IWC Aquatimers before, several in mint condition, but none in NOS condition like this. The box, blank papers and hangtag match the 'New Old Stock' provenance. Apparently the owner was the distributor for the brand and kept some pieces aside for himself. The next lot (Lot 11) is also an Aquatimer but with the tonneau case and from the same owner. The estimates for both lots are way too low. We speculate that even if they had added a 1 before those numbers we would have still made sense. We estimate this one will sell at several times its high estimate.
Estimate CHF 2,000 – 4,000
LOT #65
CERTINA Ref. 5826, Split Seconds Chronograph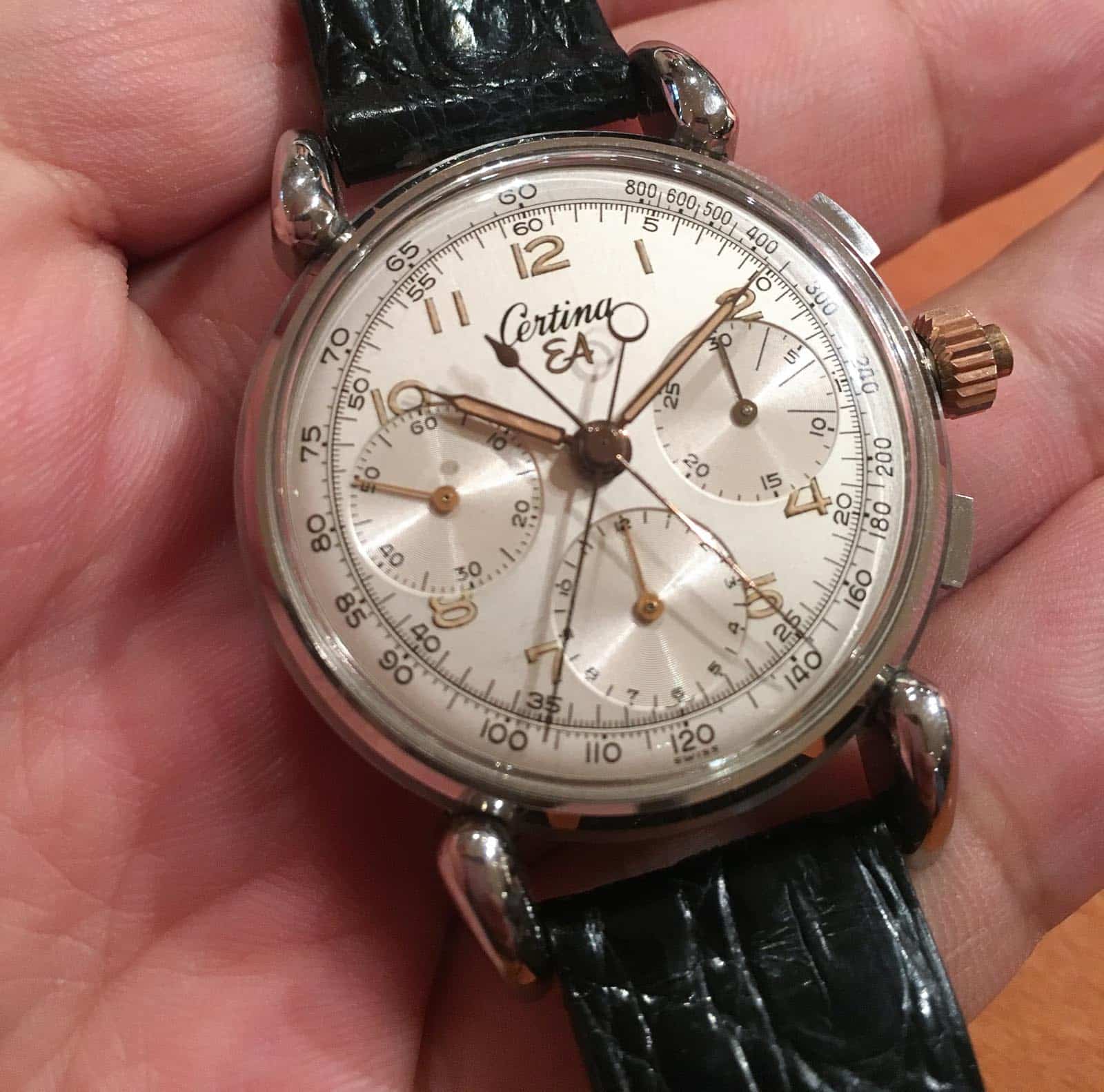 OK, so this is the one lot we were not sure to mention because we are a bit puzzled about the movement. The Venus caliber 185 split seconds chronograph movement has typically been seen in 1950's Breitling, Record Watch Co. as well as Certina. However, they each had their own branded signed bridge. This really amazing condition Certina with original radium dial, sharp 37.5mm case and beautiful design strangely has a Record Watch Co. signed movement. However, it is such a stunning watch that the incoherent movement bridge just wasn't enough to omit this piece.
Estimate CHF 5,000 – 7,000
LOT #66
ANGELUS Mono-pusher pulsations chronograph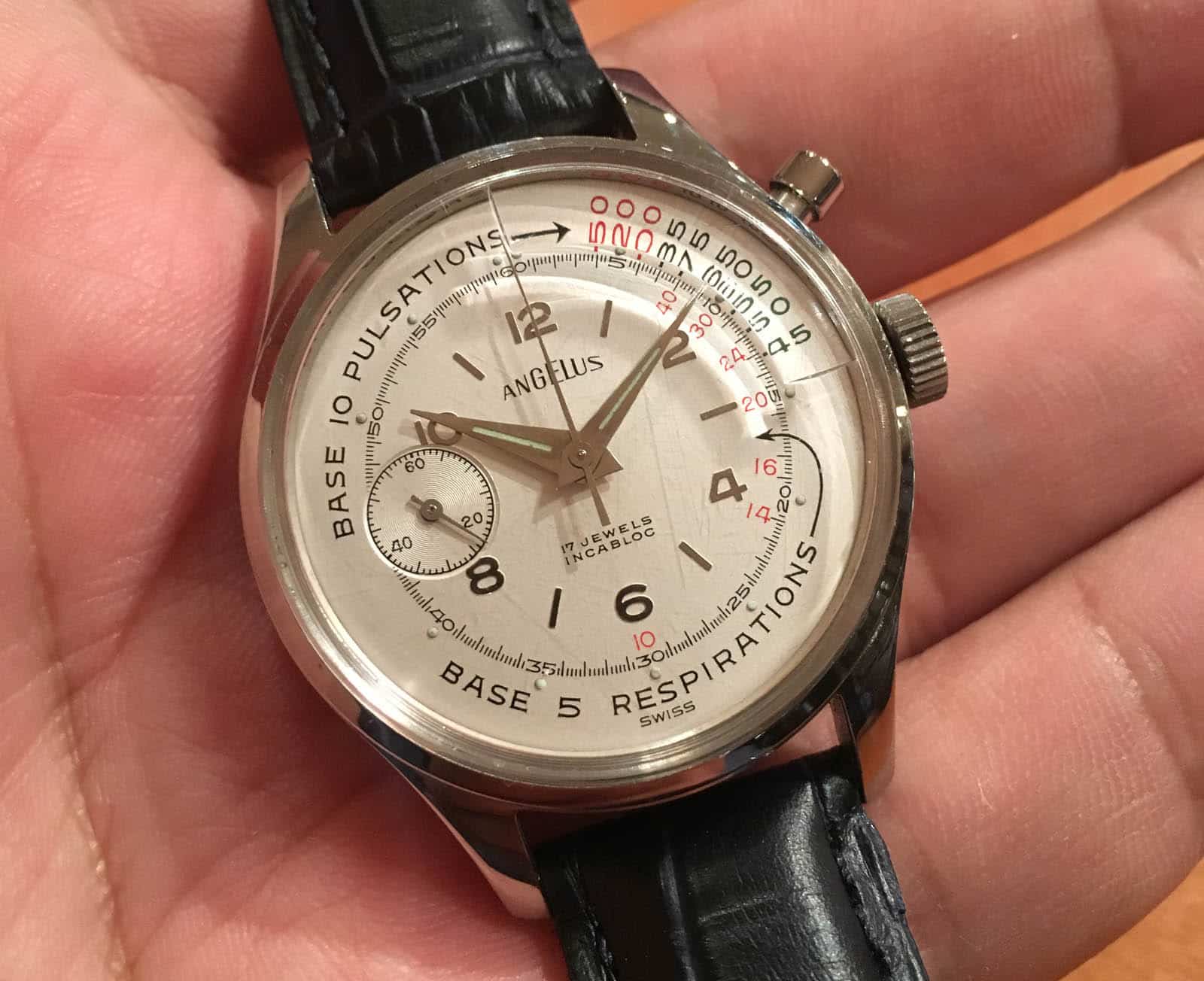 This 'doctor's chronograph' watch caught our attention for several reasons. The pulsations dial on this watch is quiet interesting, the condition is pristine and the design of the crystal is quiet unique. The dial has a large and legible pulsations scale further enhanced by a quarter circle loupe integrated into the acrylic crystal for ease of reading results. As this scale is based on 10 pulsations, the doctor would start the chronograph, count 10 heart beats and then stop the chronograph. The chronograph seconds hand would therefore indicate the heart rate of the patient. On this dial the ideal heart rates are actually indicated in red (100-150). Red is good. The monopusher made it easier to hold the left hand against the pulse of the patient and keeping the right hand index finger on the single pusher for multiple readings easily reset with the same button as the start/stop. The column wheel Valjoux 22 caliber is unsigned but a solid and reliable movement. The 37mm stainless steel screw back case is also unsigned but clearly everything was adapted to the dial. This watch is potentially part of a series of demonstration models that was not commercialized, but too little is known to confirm that.
Estimate CHF 2,000 – 4,000
LOT #76
UNIVERSAL GENEVE Compax 885103/02 so-called 'Nina Rindt'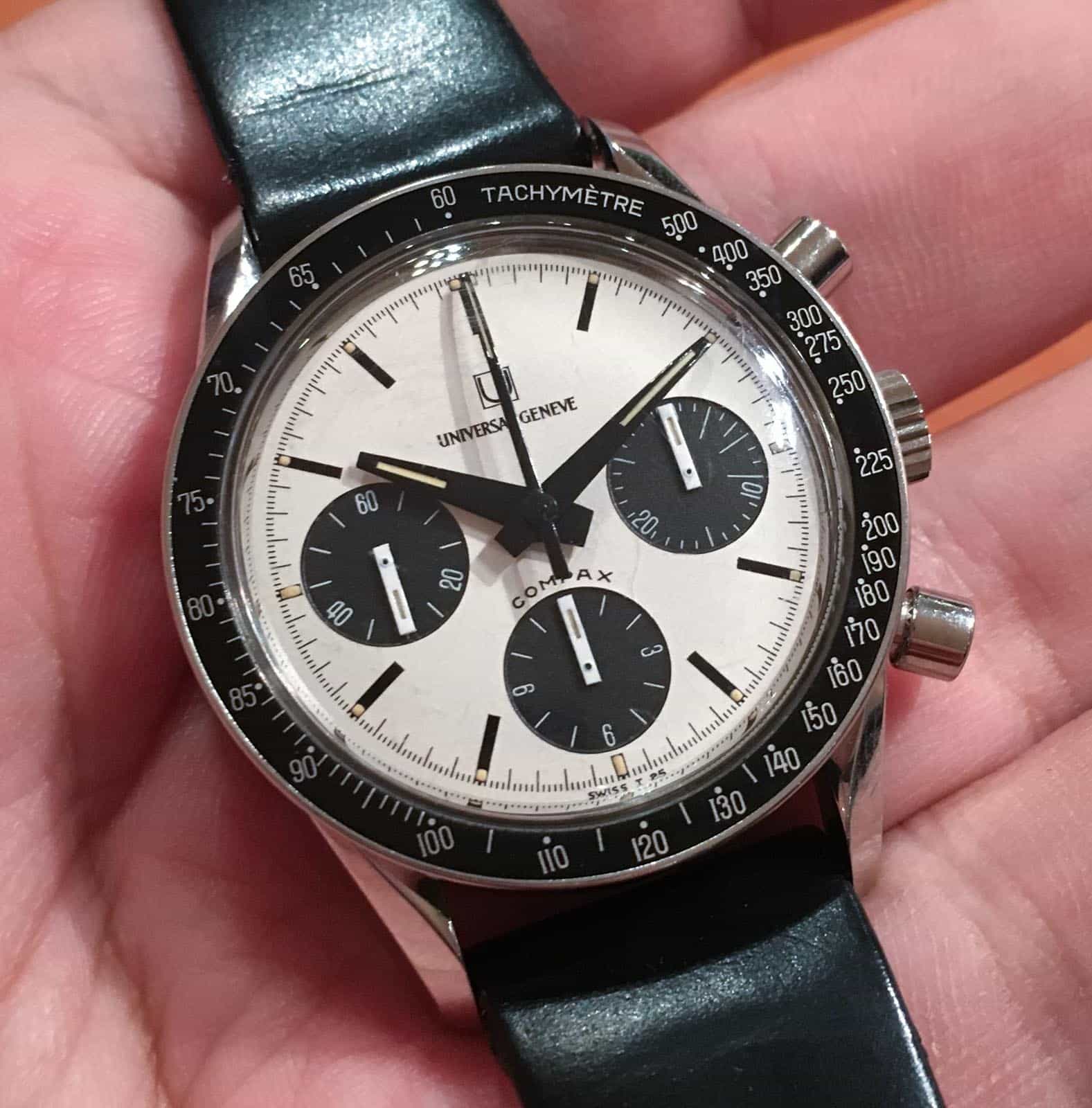 This watch is nicknamed the Nina Rindt because the wife of racecar driver Jochen Rindt (also has a Heuer 2446 wristwatch nicknamed after him). This model has literally gone through the roof in value over the past few years. This particular one is in stunning condition. The dial and luminous material are both pristine and the patina is charming. The reference and serial are clearly visible on the back, which is often not the case. The Huguenin Frères case is in great condition and it is the same manufacturer that made most of the cases for Omega sports models in the 60's (i.e. the lyre lugs). At 36mm, it is not as large as a Daytona or Speedmaster, but the dial and large black hands are bold in design and the panda dial just makes this one a collector favorite or even a grail watch to some. The estimate is not just conservative; it is clearly too low. We expect this example will sell for three times the high estimate.
Estimate CHF 6,000 – 8,000
LOT #129
ROLEX Submariner Big Crown 6538 Tropical Dial so-called James Bond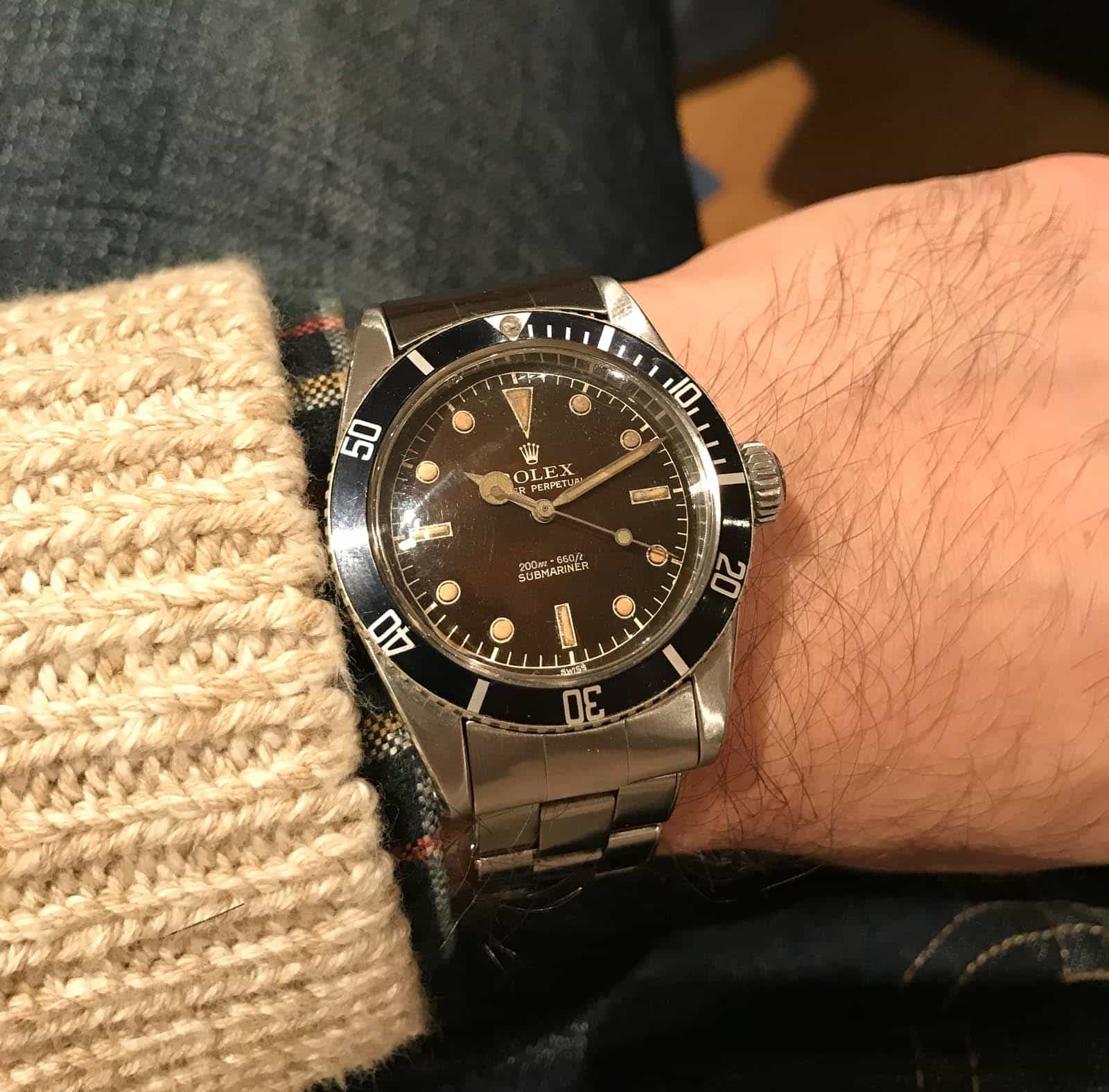 There are three big crown Subs in this sale. This one is our favorite. A big crown Sub is already pretty hard to come by, so when we see a tropical dial example, that's above and beyond. The dial is stunning and this watch is on so many wish lists, there will be a ton of interest in it. My brother was slightly concerned by the extremely high radiation level of this watch, but in the vintage watch world we all seem to be really happy when its dangerously high. The gloss on the dial has suffered some light crackling around the indexes, often the case with radium dials. We love this watch and are curious to see how it does in the sale. We know it will hammer for more than its estimate, but not sure what the real market value is for something so unique in today's market.
Estimate CHF 50,000 – 70,000
LOT #138
ROLEX Day Date Red 1807 Stella Dial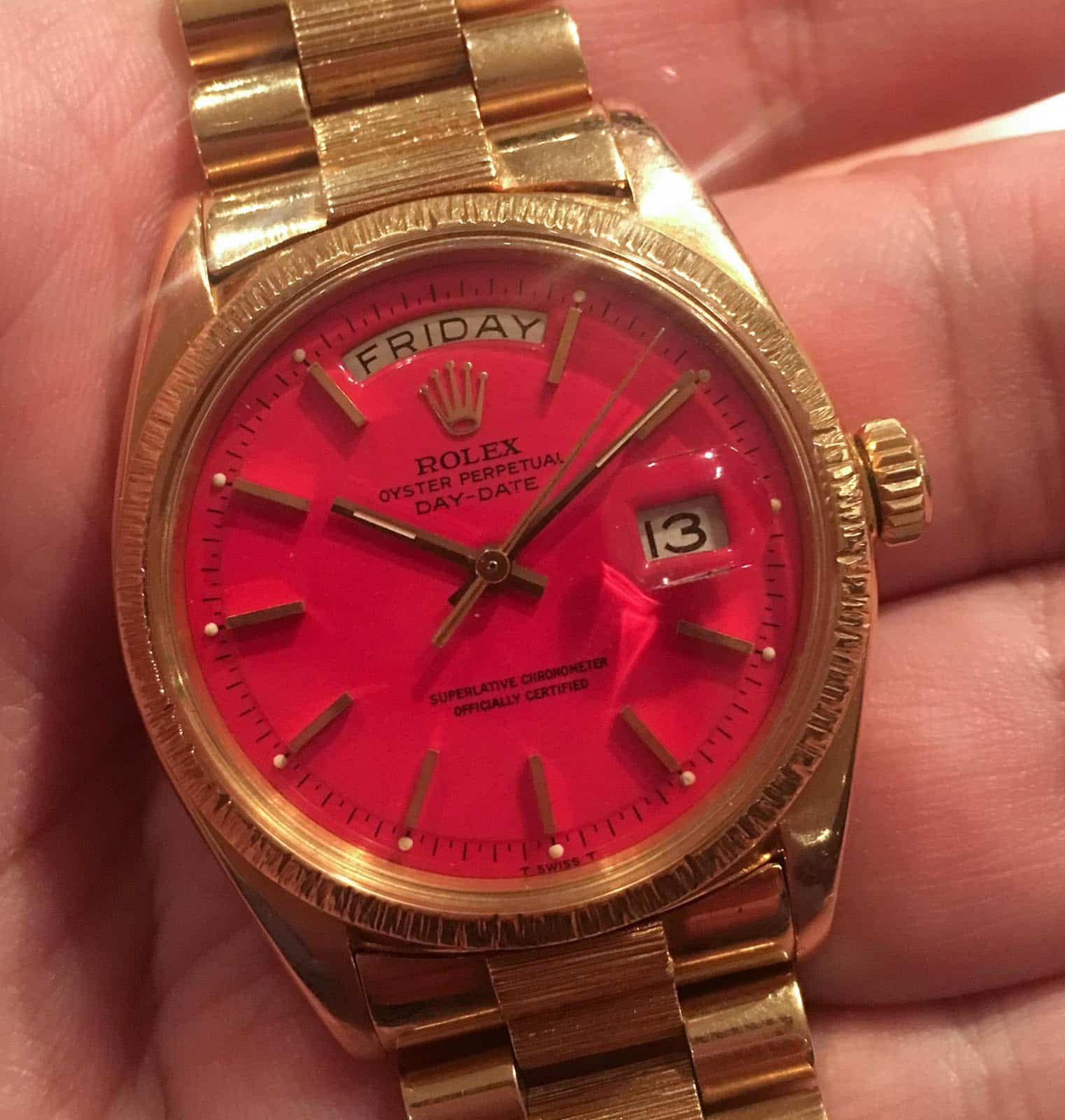 These colorful lacquer dial dates are hard to find in such pristine condition. The bark finish also adds to the flare of this watch. An interesting engraving on the back of the watch indicates this watch was a gift from the Shah of Iran to former Greek President Georgios Papadopoulos following the successful coup d'état that took place in 1967. According to Antiquorum, this watch was sold by the former president's wife to their neighbors in Greece and stayed in their possession until today. Curious provenance, great condition and a stunning looking watch make this atypical watch one that we wanted to mention.
Estimate CHF 15,000 – 20,000
LOT #420
ZENITH CP-2 A. Cairelli Military Chronograph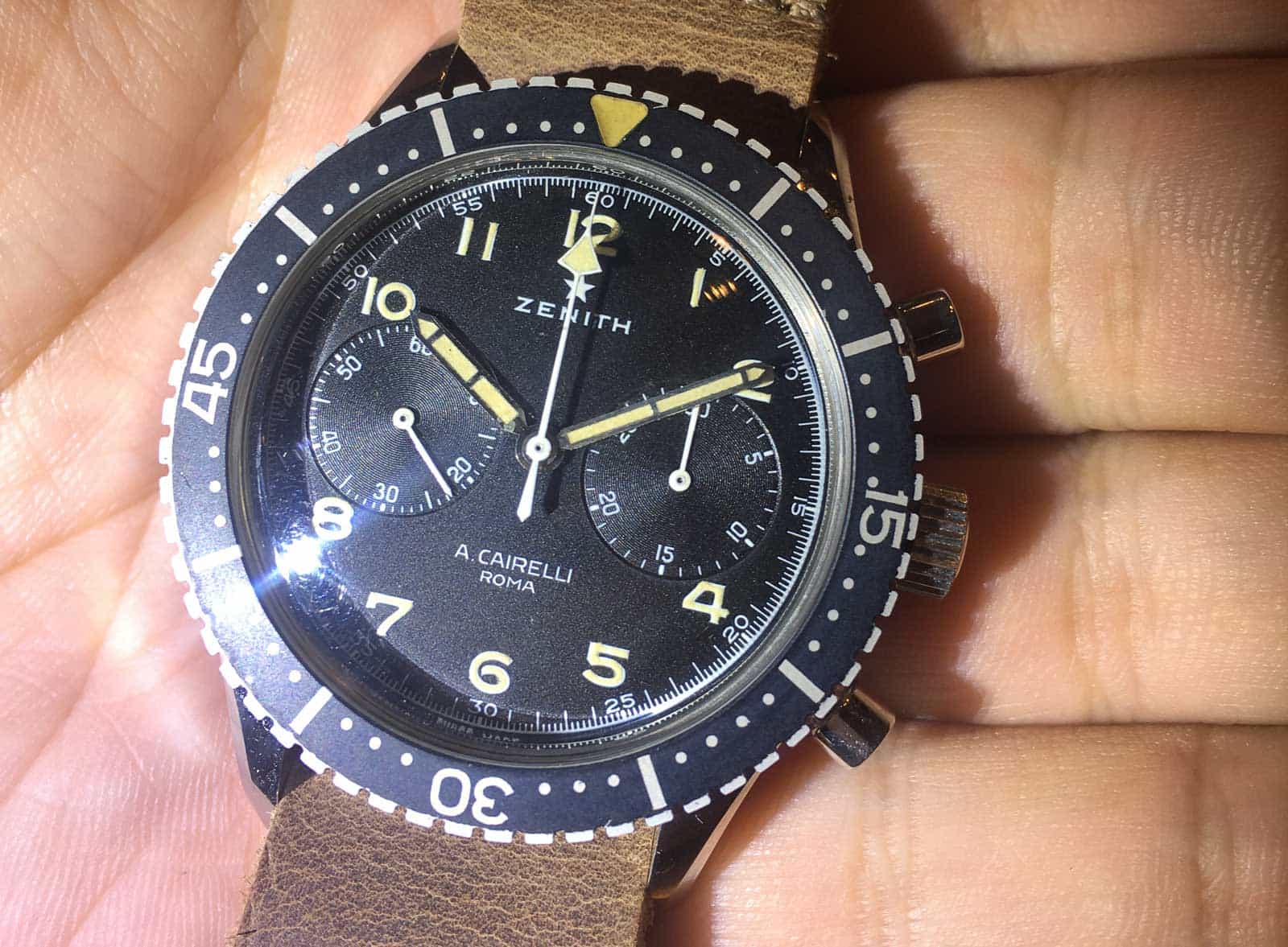 Most collectors just call this model the Zenith Cairelli. The CP-2 Italian military issued model came after the Breitling and Leonidas CP-1 models. The "A. Cairelli" signature on the dial was the Italian retailer, based in Rome, who was charged with ordering watches for the Italian military from Swiss watch brands. The AMI engraved on the case back stands for Aeronautica Militare Italian. The AMI, or Italian Air Force, typically used oversized chronographs as was the case for most pilots watches to be large in diameter. This 43mm chronograph is powered by a Zenith 146 DP movement, which is the two counter version of the 146 HP movement typically found in 60's chronographs for both Zenith and Movado wristwatches. The overall condition of this watch is excellent.
Estimate CHF 10,000 – 15,000
LOT #435
OMEGA Speedmaster Omani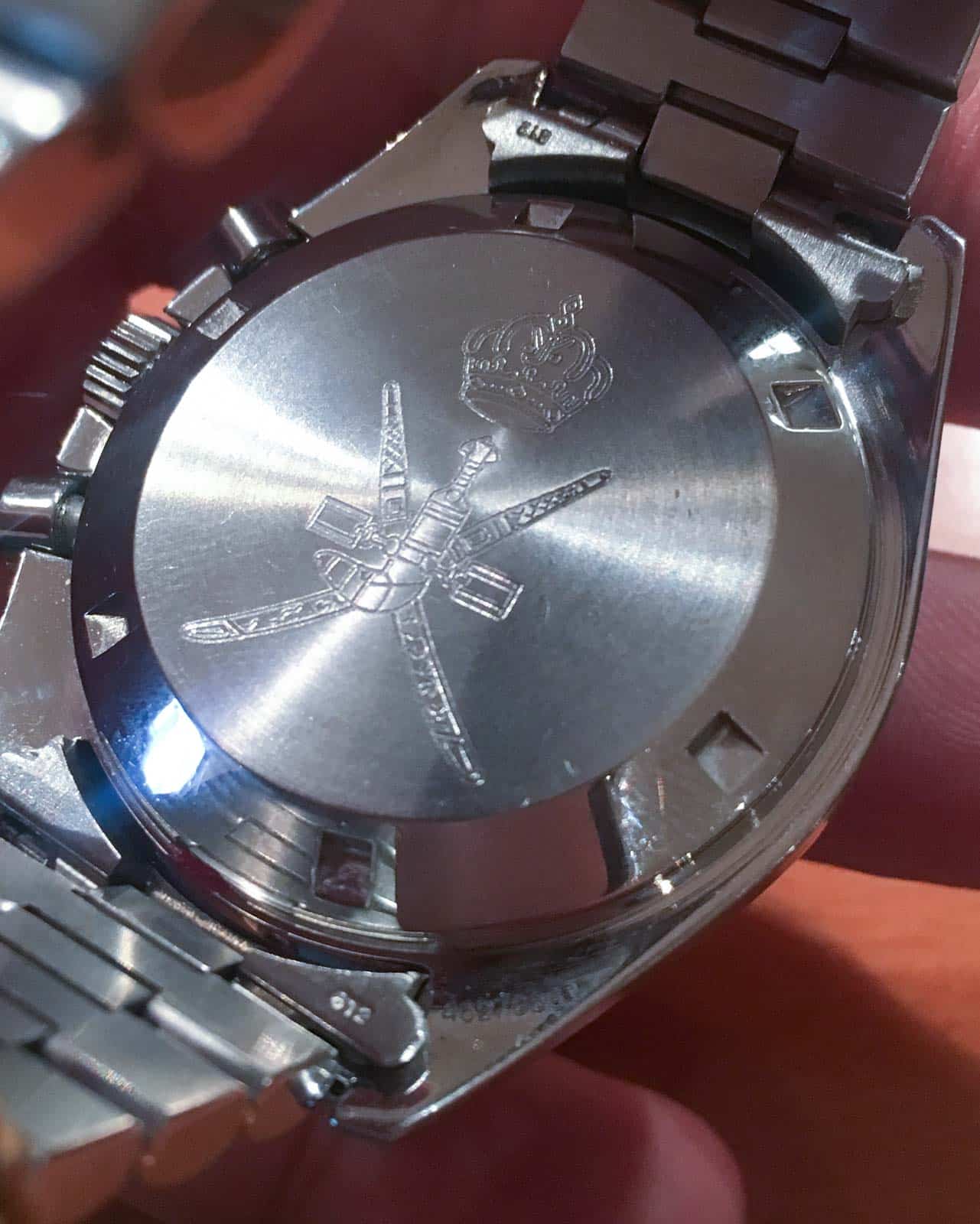 Although we have seen many different Omani Sword watches over the years and Rolexes with the Omani crest have become a staple of watch auctions, Omega made very few custom watches with Omani swords. If we narrow it down to Speedmasters, well, only 10 pieces were ever made in the early 90's. The letter from Omega that accompanies this watch confirms this. My brother and I had the privilege of exhibiting the present example at our Ultimate Speedmaster Exhibition a year ago and although we have seen two other examples of the Omani Speedmaster, including one at auction in May of this year, this one is in the best condition so far to appear in the market.
Estimate CHF 30,000 – 50,000
LOT #543
PATEK PHILIPPE 130 Chronograph in Stainless Steel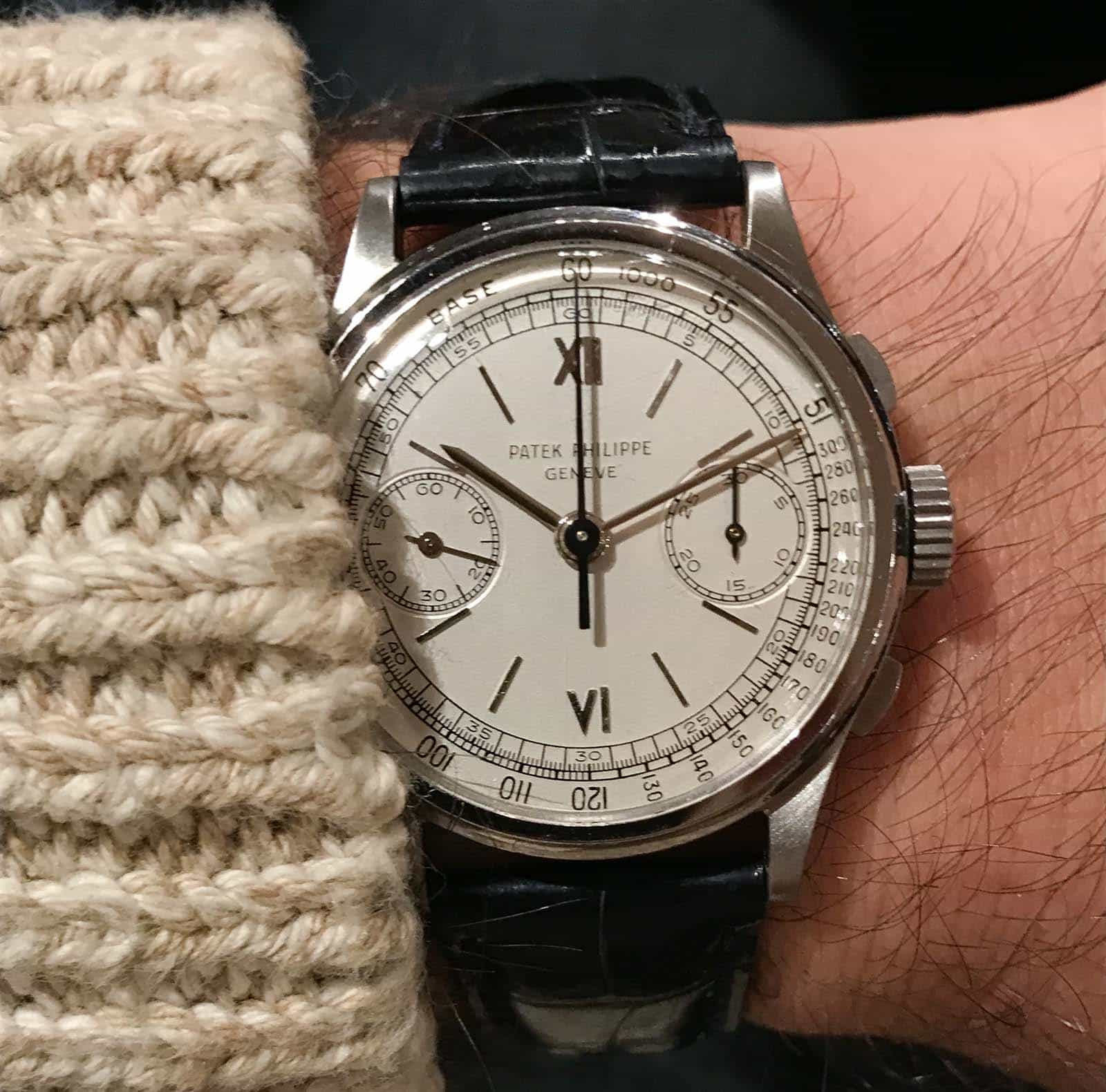 Patek was a leader in high end chronograph wrist watch development in the 1930's. In 1934, the release of the 130 reference was no exception. There are not many of these around these days and especially few in stainless steel. The present example came from the original French family of the owner. The fact that this watch was manufactured in 1948, only 3 years after the end of WWII is also just hard to wrap our heads around when put into historical context. Although the watch underwent a full overhaul in 2003, as shown in the accompanying invoice, it remains original for the most part with the exception of the crown. The dial is stunning and it is truly a beautiful and rare collector watch.
Estimate CHF 60,000 – 80,000
LOT #559
ROLEX 6238 Chronograph with transitional 'tropical' dial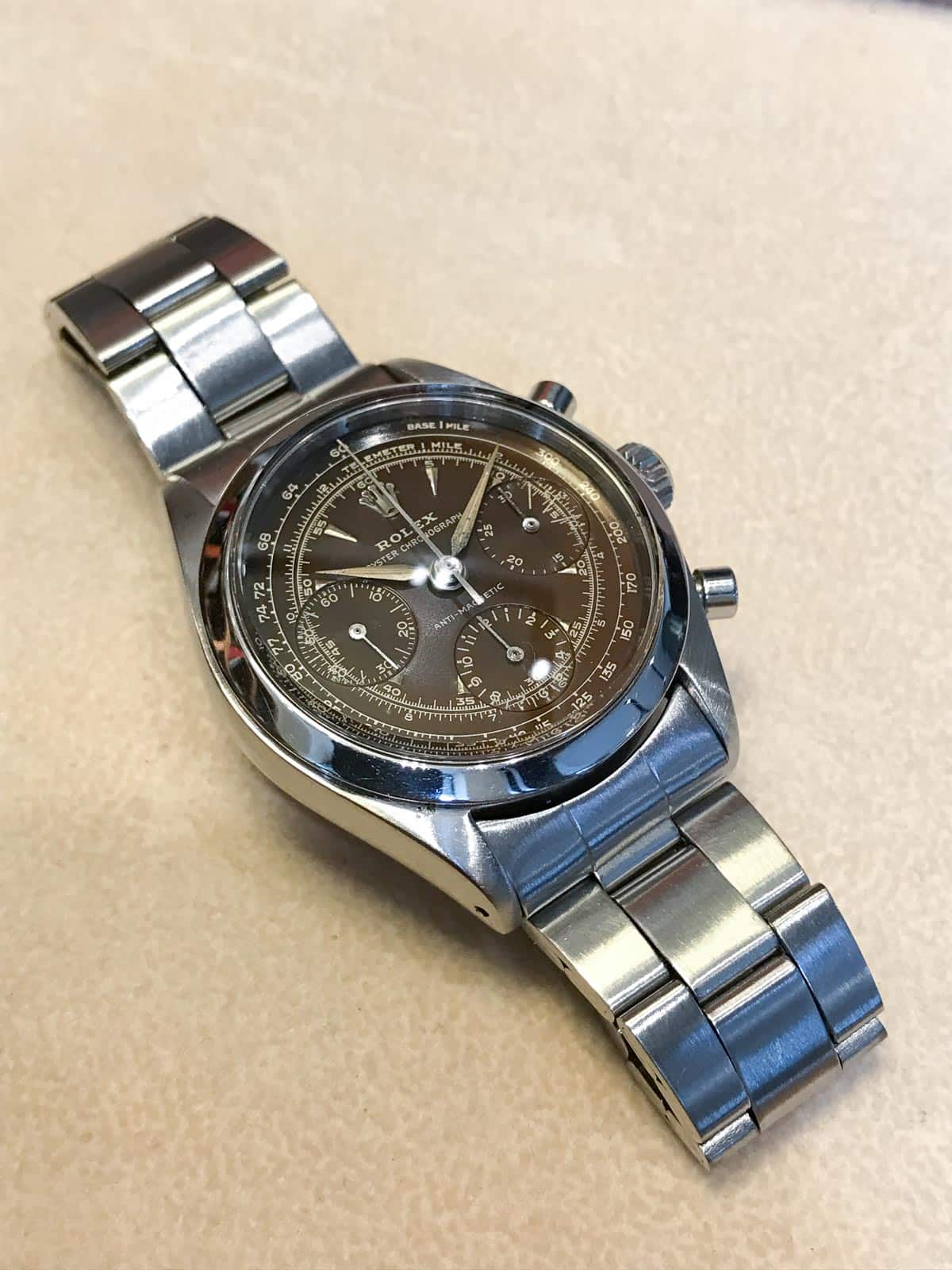 Last, but definitely not least. This stunning piece came from the original Swiss owner who was an aircraft engineer at the Swiss military airport before moving away to Latin America and then moving back to Switzerland. This early 6238 has a 6234 transitional dial and alpha hands seen typically on the very first of the 6238 models only. It is powered by a Valjoux 72A movement, which is the predecessor to the 72B, 722, 722-1 and 727 that came later on Rolex Daytona hand-wound chronographs. As a reminder, the 6238 is the pre-Daytona, so the last model to never have Daytona marked on its dial. The rare transitional and so-called tropical brown dial of this watch is just beautiful. The color change from its original black to the current rich brown makes an already rare watch instantly a grail watch. The estimate is a bit low in my opinion and I estimate market value to be between 150-200K.
Estimate CHF 50,000 – 80,000