Project X Designs: Customize your watch!
Project X Designs is a London based company, specializing in customizing [mainly Rolex] wrist watches. You can order a regular Rolex wrist watch on their site, and tick the options to customize it entirely to your wishes. DLC (Diamond Like Carbon is quite popular since a few years, and since Rolex isn't offering in their own catalogue, Project X Designs can do so for you! The DLC wiki sums it up as: "The hardest, strongest, and slickest is such a mixture, known as tetrahedral amorphous carbon, or ta-C. For example a coating of only 2??m thickness of ta-C increases the resistance of common (i.e. type 304) stainless steel against abrasive wear; changing its lifetime in such service from one week to 85 years."
This Rolex Daytona (ref.116520) for example, received the full treatment by Project X Designs.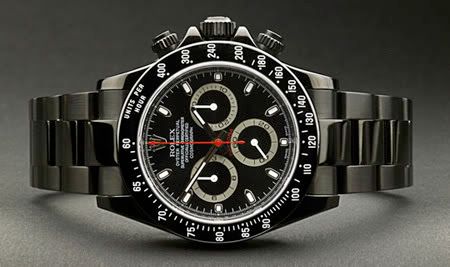 Besides having DLC applied to the watch case, case back, bezel and bracelet, you can also choose to have the hands and rotor done by this technique. The caseback can be treated with enamelled engravings. Below you'll see the caliber 4130 that's inside the Rolex Daytona, with a DLCed rotor and enamel engraving on the caseback.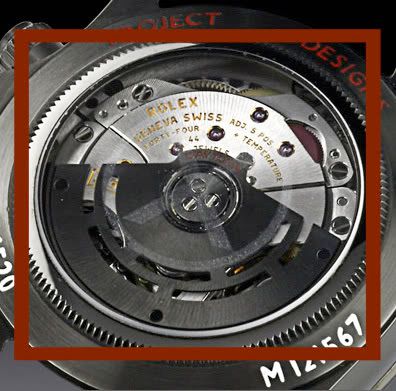 Another neat feature is to have the crown guards removed, especially on the Rolex Submariner this will give you that vintage Submariner 'look' that will remind the fanatic collectors of the Submariner ref.5508 or ref.6538. Below you'll see the example given on their website, including a gemstone in the bezel inlay at 12:00. You can choose between Ruby, Sapphire and Emerald.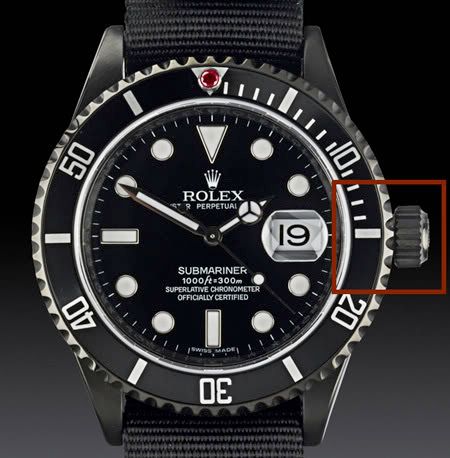 Project X Designs has a nice range of Rolex models in stock to customize, even the new Deep Sea Sea-Dweller and Milgauss models. Besides Rolex, they also offer three Panerai models to customize (e.g. DLC, removal of the crown guard). These are the PAM 183, PAM 210 and PAM 005.