Rekindling The Flame: Why I Fell Back In Love With My Stowa Flieger Blue
Because everyone loves a story about getting back together
You know that feeling when you leave a watch alone for too long? That relentless sting of guilt when a piece whimpers to be worn? Well, if you have a large collection, maybe your watches are "just" watches, and unequal or no wrist time may be a fact of life. But for some of us with tight-knit, personal collections, that's something we actively try to avoid. Neglecting a particular watch for too long tends to make me feel guilty. On the flip side, it can also be a great opportunity to rediscover a piece that has stuck around for a reason. This is what I've been doing over the past ten days with my Stowa Flieger Blue. And to be completely honest, I don't want it to end.
Since publishing my article about my dirty little secrets, I'm happy to say that I've been wearing my watches at home! Historically, I had never worn a watch around the house. Doing so recently, however, has helped me enjoy my watches much more. I've been going through my collection and picking one watch per week. I'll wear it for a full seven days, then move on to the next. And I intended to do the same with my Stowa Flieger Blue. The thing is, it has proven hard to take off of my wrist. It's a watch that I bought over five years ago, but unfortunately, I only wore it about five times last year. The past ten days have shown me how silly that was, and what an idiot I had been for ignoring this piece. Today, I'll share all my favorite aspects about it, with a newfound appreciation for this brilliant timepiece.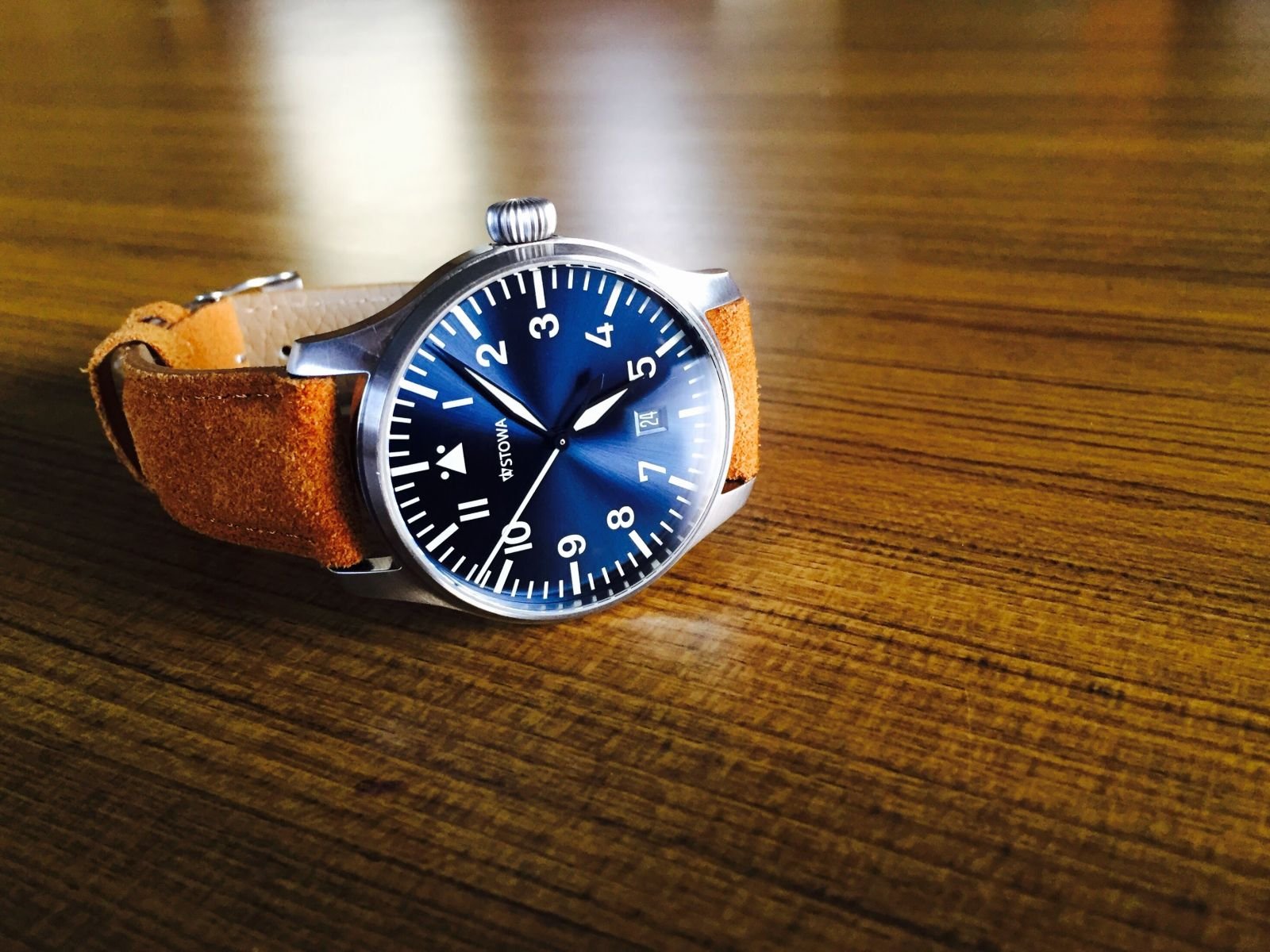 Stowa Flieger Blue — Functional simplicity that never gets old
I like my fair share of eclectic watch designs. But there is something to be said for a timeless aesthetic. Like the archetypal diver or field-watch look, I think the Flieger design is eternally beautiful. Of course, that presents a grave moral dilemma — Flieger watches were ordered into production by the German Luftwaffe. There is nothing less beautiful than the atrocities they committed. Thus, to fully enjoy a watch like this, you must somehow try to put that historical "baggage" out of your mind. And if you are, in fact, able to simply see it as a watch, you may recognize the beauty in its functional German approach.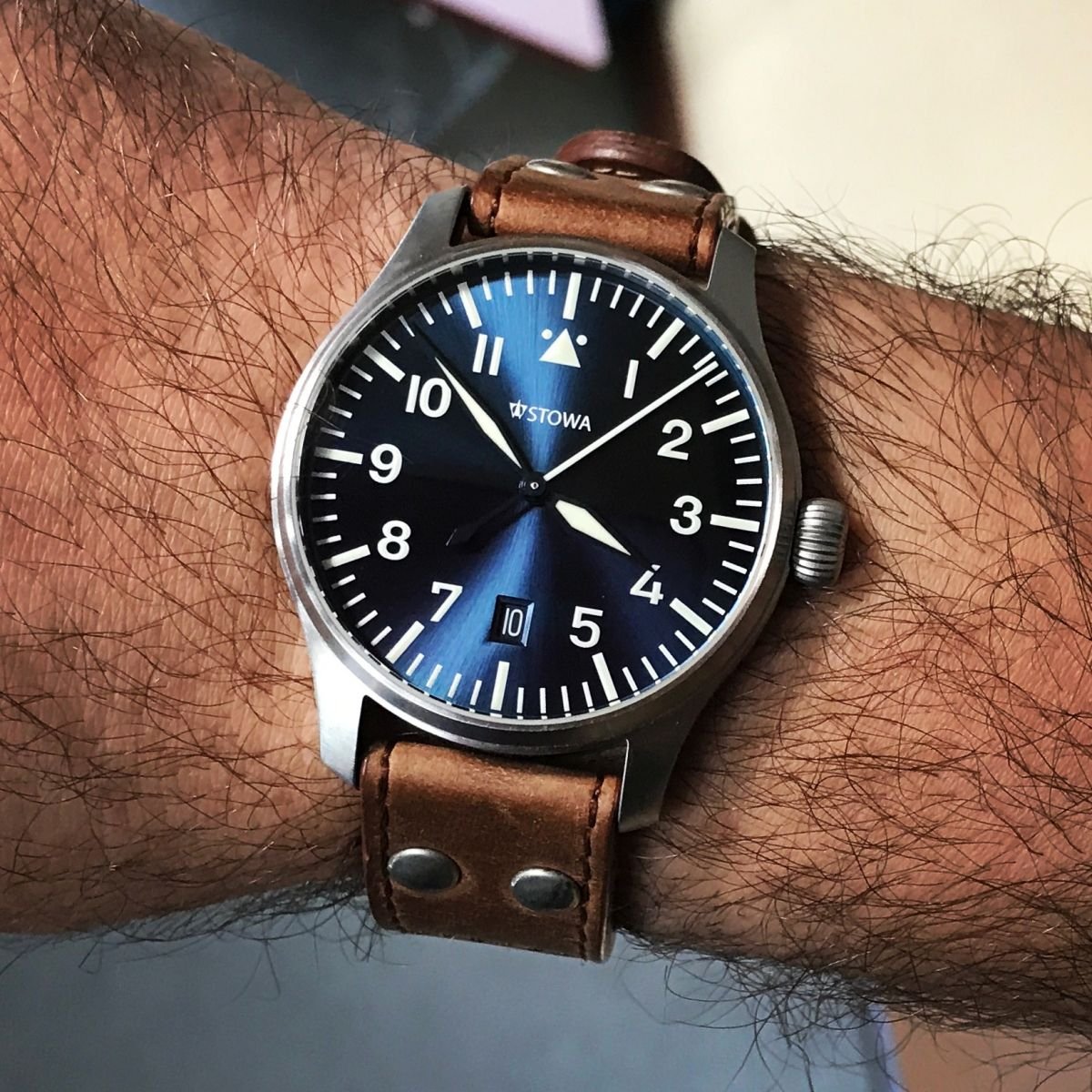 For me, a big draw of the Flieger (or B-uhr) design is its emphasis on precision and legibility. The Stowa Flieger Blue features a spacious "type-A" dial with razor-sharp Arabic numerals and distinct indices. The thermally blued sword hands for the hour and minutes are complemented by a fat, mile-long seconds hand. At 12 o'clock sits a triangle flanked by two dots, a historic calling card of the Beobachtungsuhren. It helped aviators orient their watches in the dark, and it came in handy when the numerals themselves were not luminescent.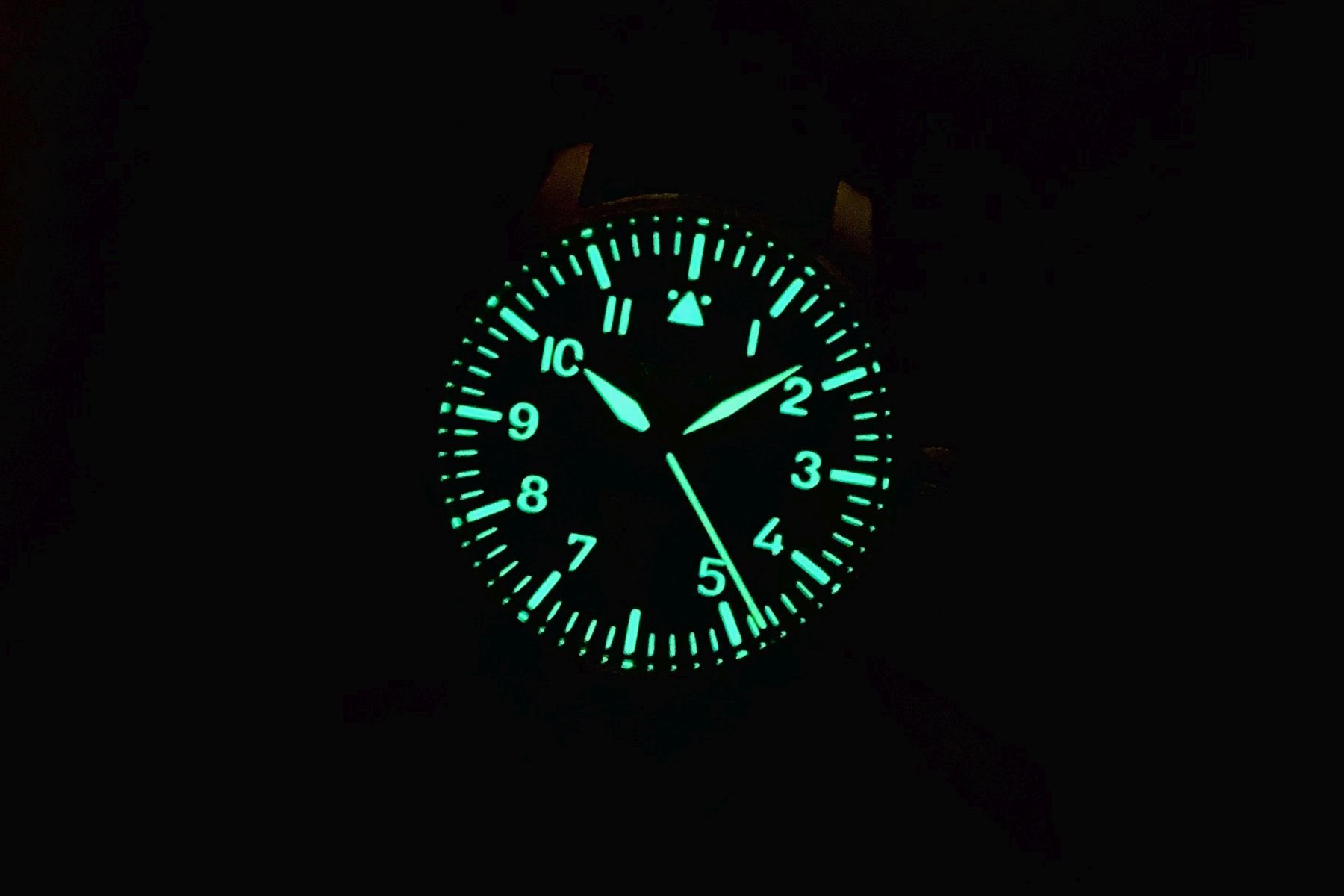 But while that was sometimes the case on the original models, this modern Stowa Flieger Blue is a veritable lume-fest. In the dark, nearly everything on the dial lights up thanks to copious amounts of green Super-LumiNova. To me, this night view is absolutely glorious, and the lume never fails to bring a smile to my face. If anyone can seriously say that this watch is hard to read, forget eating my hat — I'll eat my underpants.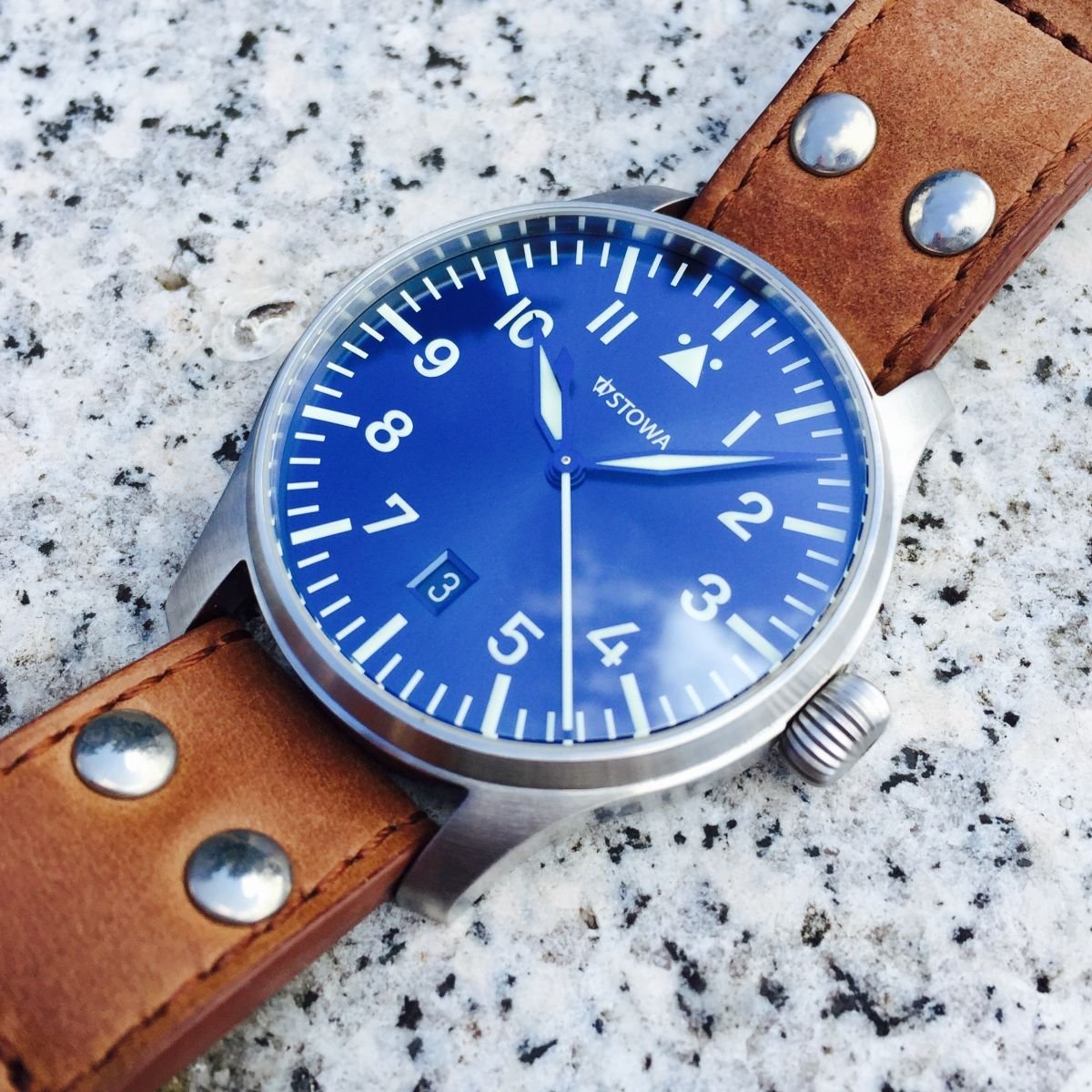 Timeless aesthetics and modern tweaks
The knurled onion crown and brown riveted leather strap are two more historical touches that I love on this watch. The crown is easy to grip and equally easy to turn, which makes winding the Flieger Blue nothing short of a pleasure. And while this riveted Stowa strap is an absolute winner, I must admit that it's not the strap that came with the watch. Curiously, the Flieger Blue shipped with an unriveted leather strap. I wore it for less than a day before swapping it for this. To me, nothing beats the historical riveted look, and Stowa did a great job with this supple leather number. And while I have worn this watch on other straps through the years, this riveted leather strap is the one I always come back to.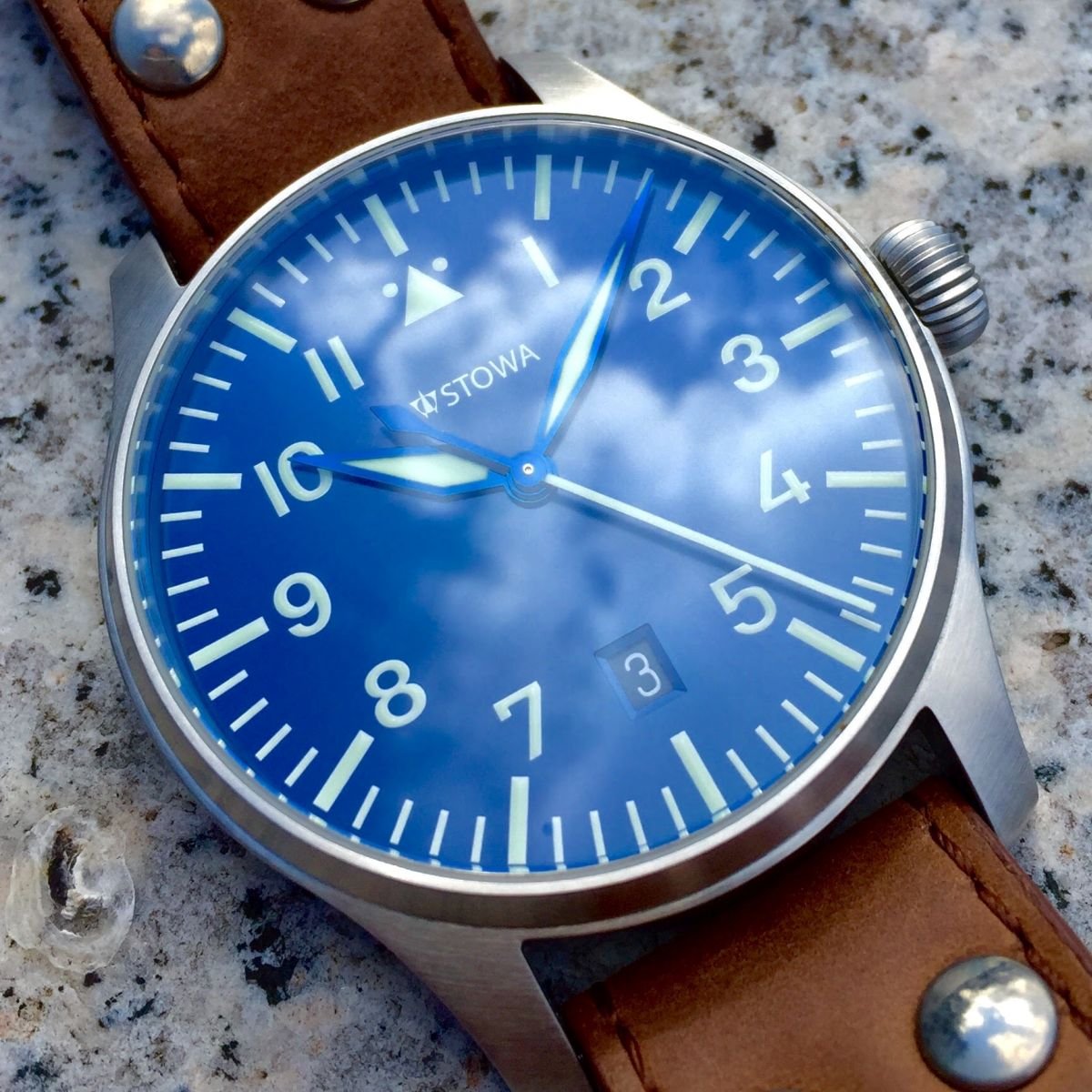 Though I thoroughly enjoy its many historical cues, the Stowa Flieger Blue is certainly the non-purist's choice. Now, I don't consider myself a watch purist at all. While I cherish the old, I also welcome the new. And that's why I don't mind the automatic movement, the Stowa logo on the dial, or even the presence of the date. Some people throw a fit if a Flieger isn't manually wound, and especially if it doesn't have a logoless dial. Add a date window, and oh man, the whole world collapses! Or at least that's how some traditionalists make it seem. Personally, I see nothing wrong with modern convenience, and the ETA 2824-2 runs like a champ. To me, the Stowa logo is a welcome addition, as the brand was one of the five original Flieger producers. And there are far worse places for a date window than at 6 o'clock. At least there, it maintains symmetry as best as it can.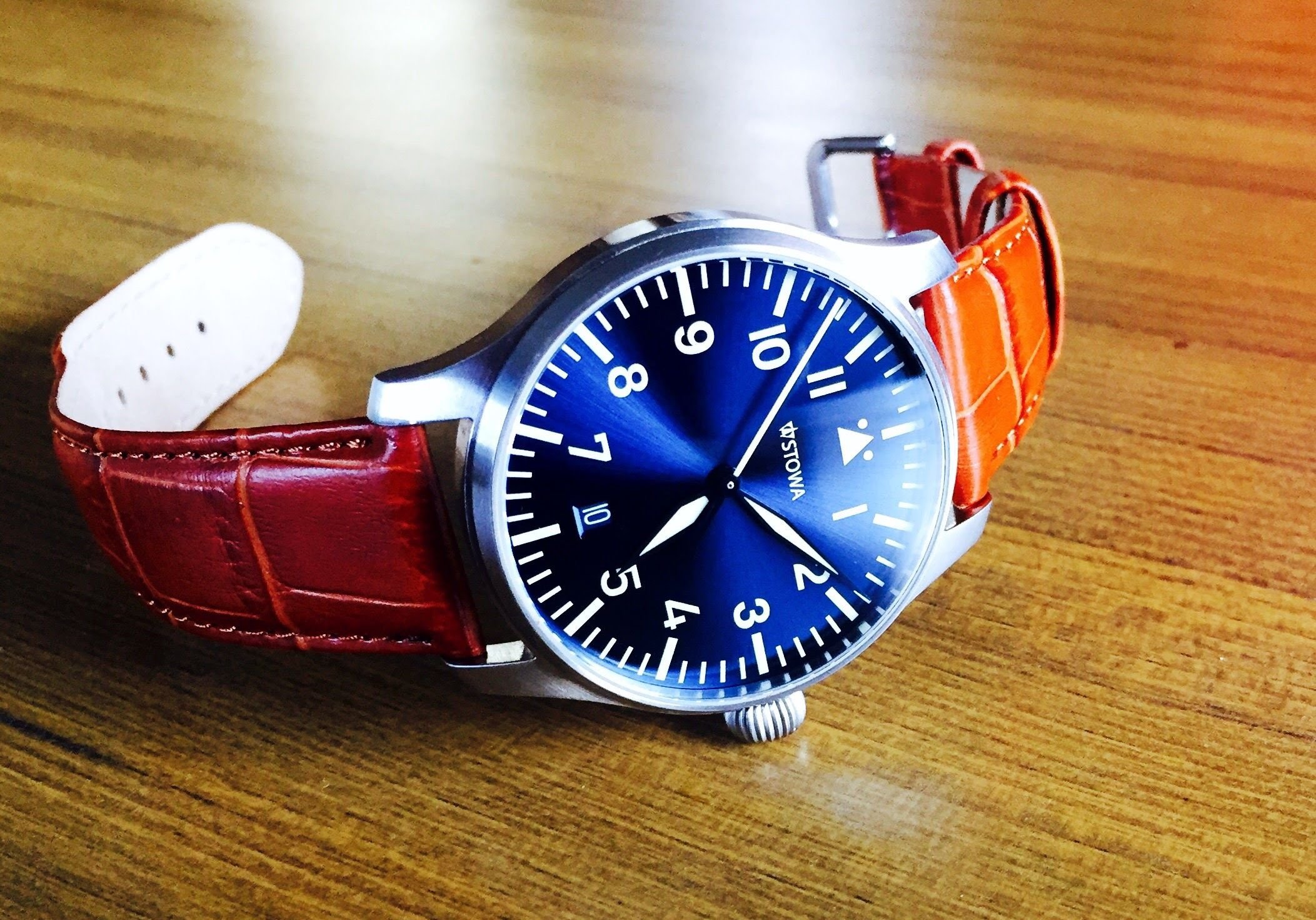 A dial to die for
But it's the dial — oh, the dial! — that makes this piece special. It is a blue sunburst marvel unlike any I've seen. I've owned dozens of watches with sunburst dials in my day, and they even comprise half of my current collection. Not only do I love the blasts of color they provide, but I also dig their dynamism when they gleam in the light. And the Flieger Blue doesn't let me down on that front; whether outdoors or indoors, this thing comes alive! Flashes of metallic blue breakdance on the dial like a windmilling b-boy in a cypher of time. In the sun, the blue seems almost impossibly electric, while inside, it gives way to a rich, royal hue.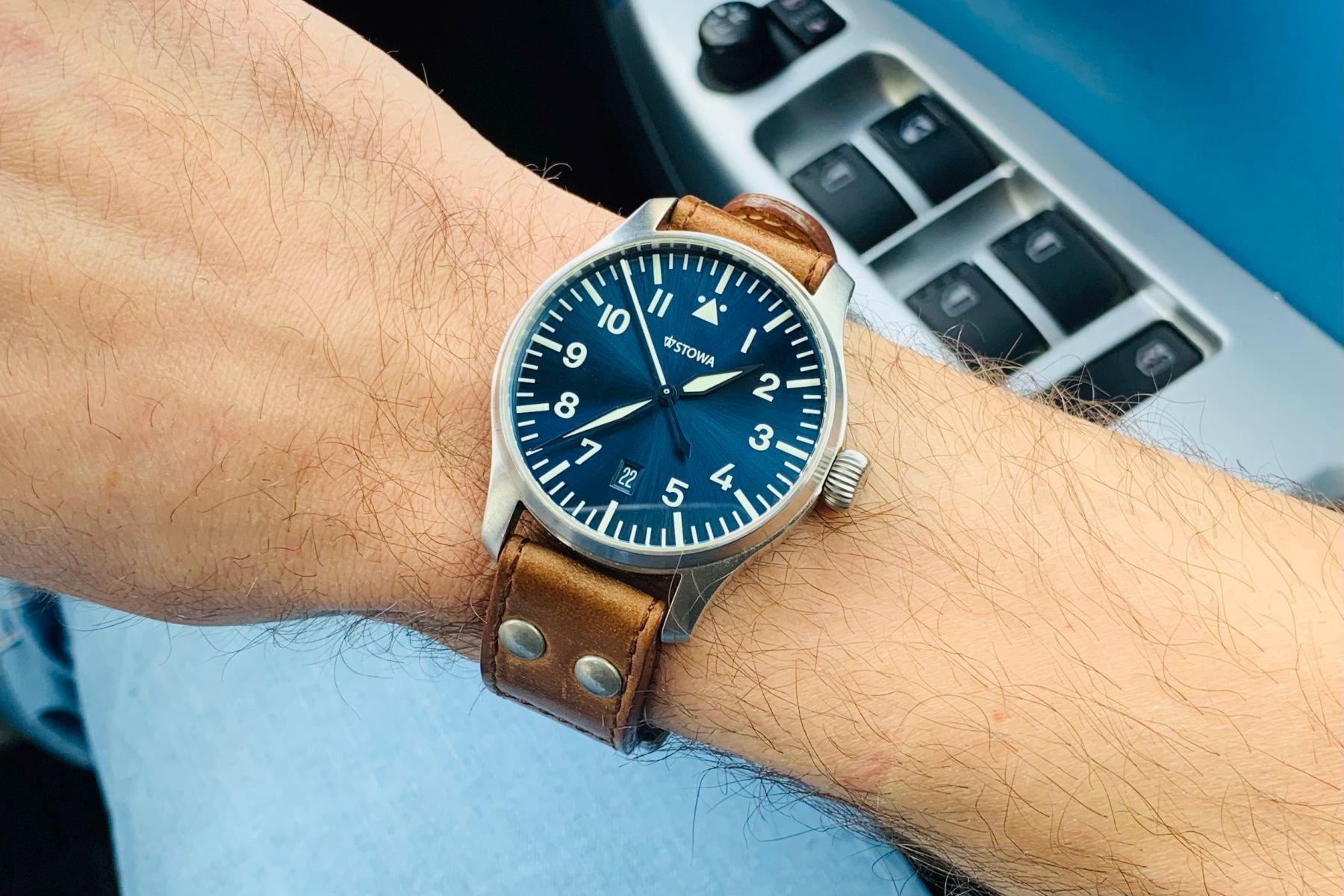 And it's actually indoors (or in cars) that I can fully appreciate the delicate, brushed graining that radiates from the center. Out in the sun, you wouldn't even know that it's there. But seeing it indoors is like finding your mom's secret stash of chocolate — a most welcome and delightfully sweet surprise. Yes, this dial packs color, but also texture and depth, and that's why it's one of the most spectacular sunburst dials I've seen. Sometimes, the graining even reminds me of the Chopard Alpine Eagle, but with its screeching turned down to a more reasonable volume.
The Stowa Flieger Blue is comfort incarnate
If I haven't made it painfully clear by now, I obviously dig the aesthetics of this watch A LOT. But, let's be real — aesthetics only get you so far. In the end, no matter how beautiful a watch is, it needs to wear well. And if it doesn't? Well, then it can't be a keeper. At least not for me (but your mileage may vary). Over the past ten days, the best thing I've rediscovered is just how brilliantly this watch wears on my 17cm wrist.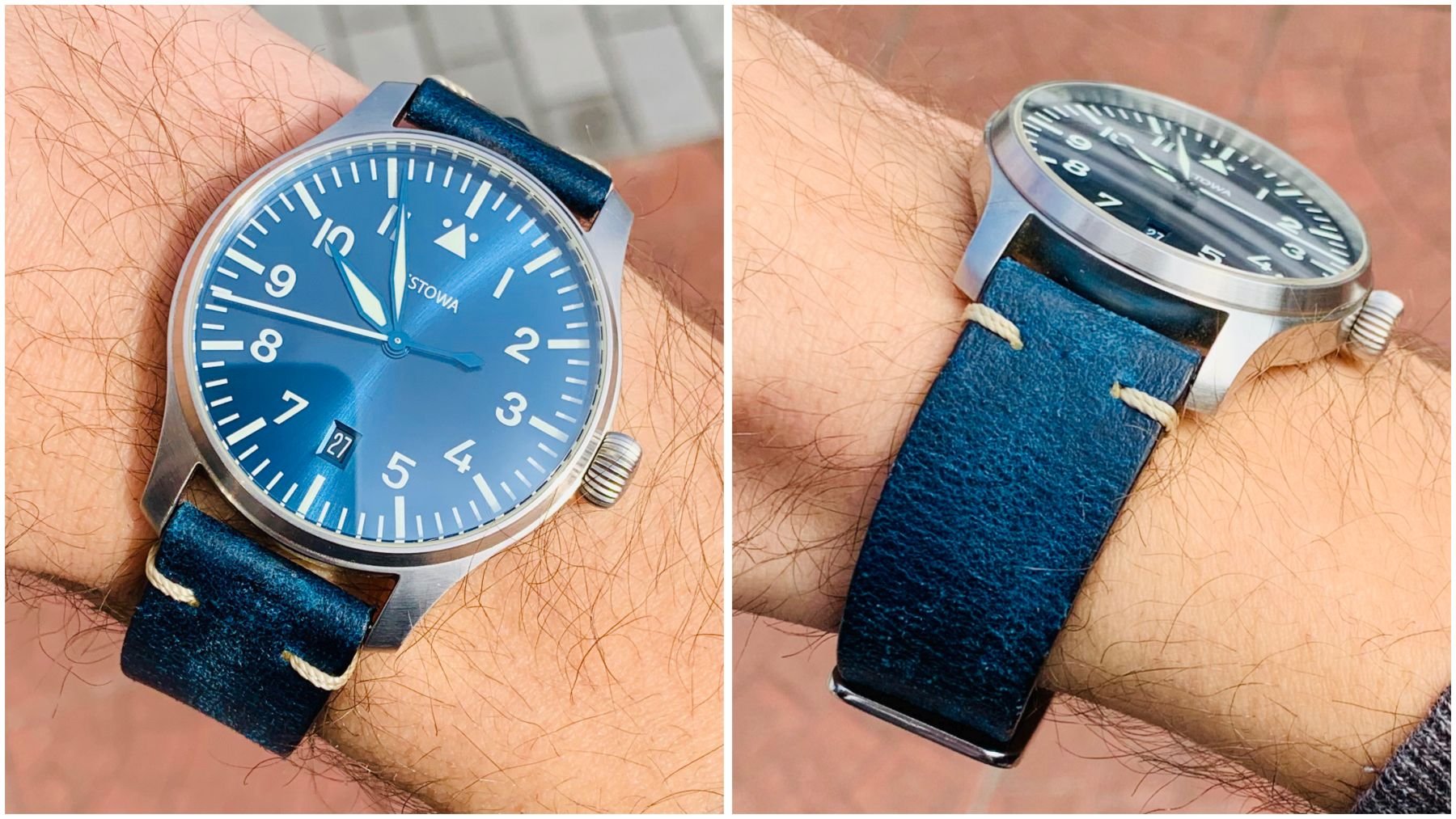 The fully brushed stainless steel case is truly supple to the touch, with nary a sharp corner to cut into my skin. At 40mm wide but with a massive, open dial, it packs all the wrist presence I could ever ask for. With a lug-to-lug span of 48.6mm, it fits right into my personal Goldilocks zone. The lugs curve downwards nicely, hugging my wrist. But the slimness is what really sets it over the edge. At just 10.2mm thick, the Stowa Flieger Blue is the thinnest watch I own by a long shot. It slides under my sleeves with the greatest of ease, and the second-skin feeling gets me every single time! I never, ever worry about banging this watch into door frames, and there's certainly no wobbly top-heaviness here. It's pretty impressive to me that this watch is so thin, despite its automatic movement and dual sapphire crystals.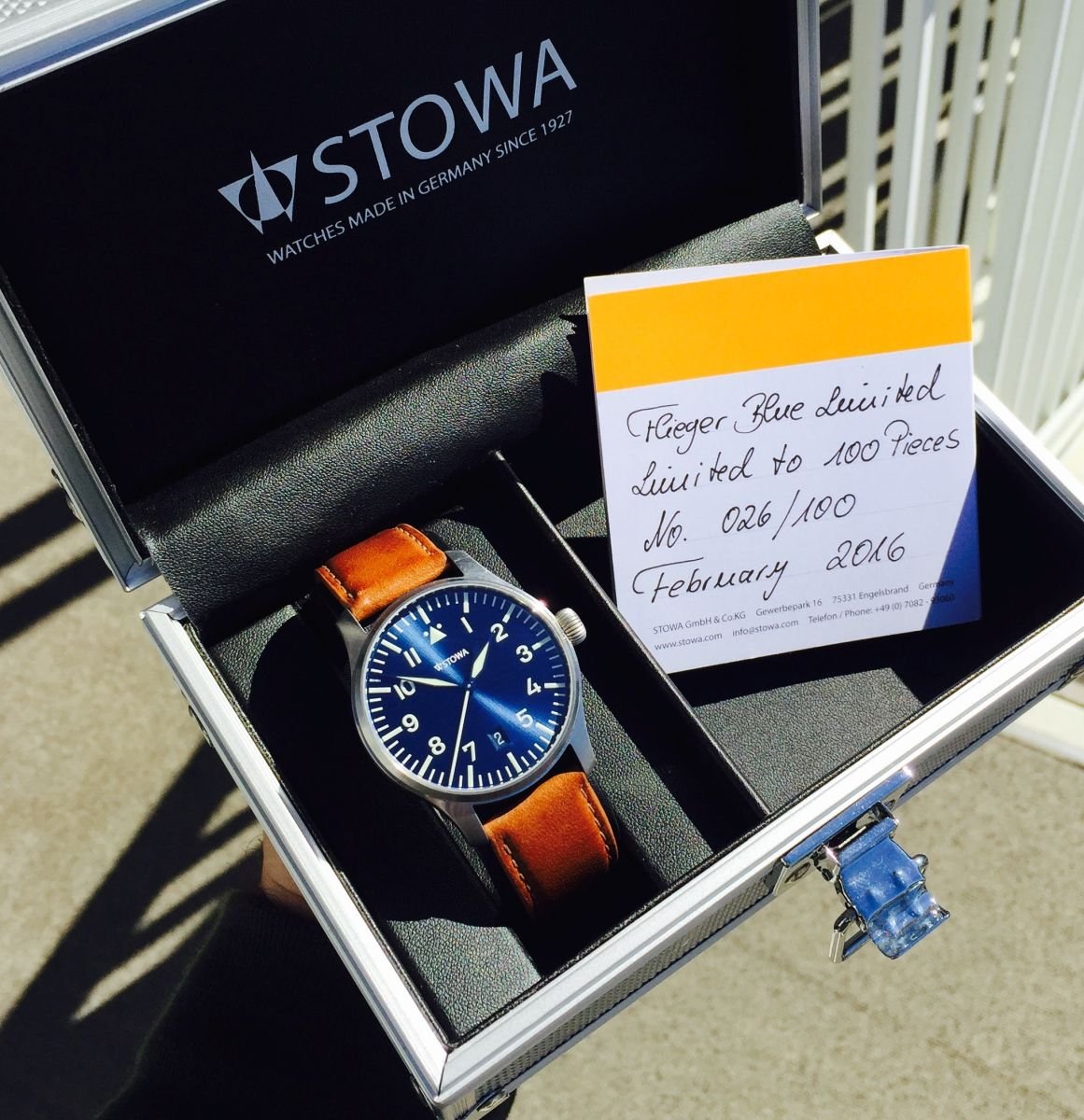 Not for sale
The Stowa Flieger Blue came out in 2016 as a numbered limited edition of just 100 pieces. I actually missed the boat on the original sale, and consequently, I spent six months tracking one down. Eventually, I scored mine through the Watchuseek forums, and if you're in the market for one now, that's probably the way to go. But if you do have your heart absolutely set on this piece, prepare to hunker down in your search for a while. They pop up very rarely, and when they do, they go fast.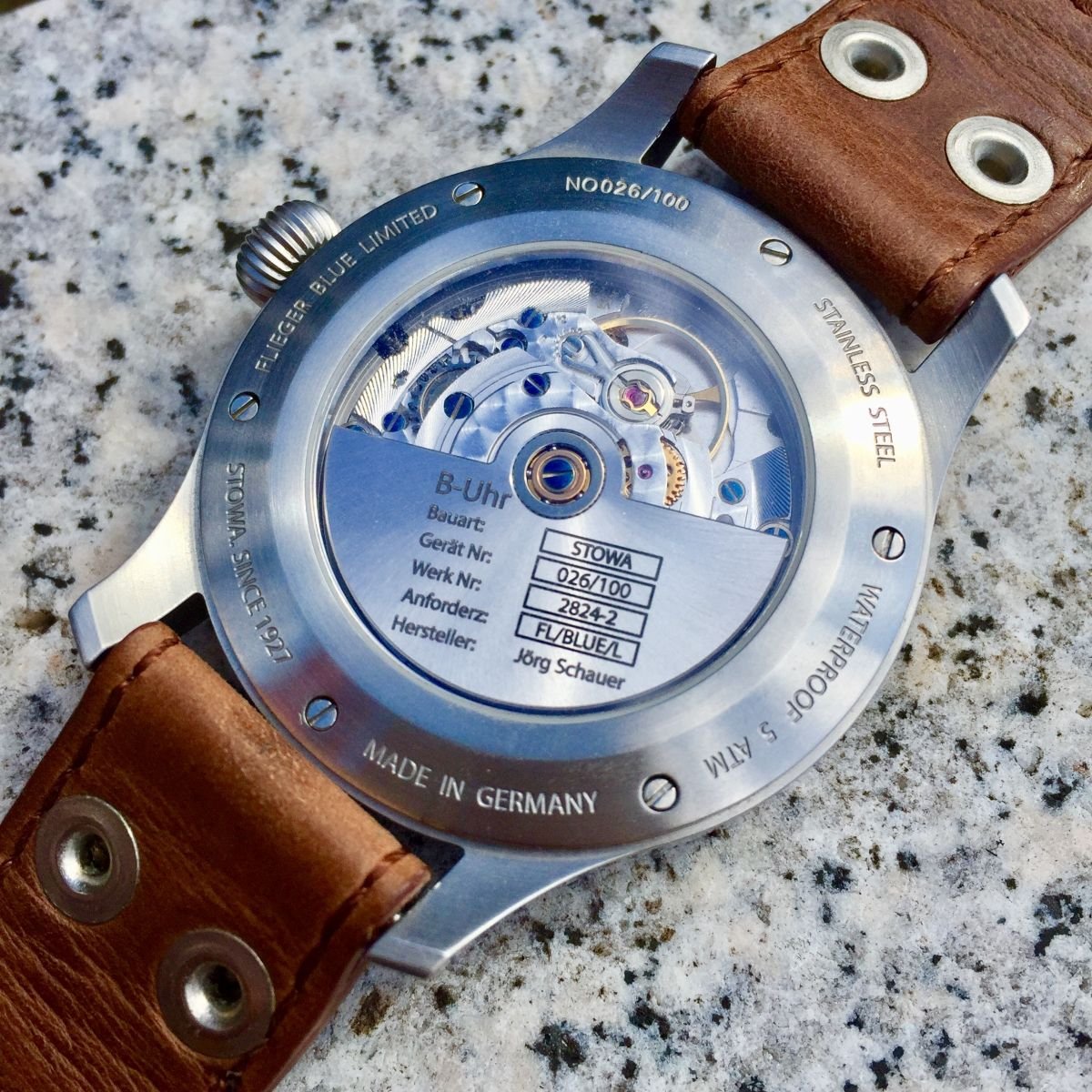 Of course, other watch brands produce blue-dialed Fliegers. Orient, Laco, and, of course, IWC come to mind. Stowa even offers a standard blue-dialed model, but the dial is matte and the hands are not blued. It also comes with a logoless and dateless dial, and a brushed/polished case rather than a completely brushed one. If you're interested in that watch, it's available here for €1,150 including VAT. But to me, it falls short of the original limited edition, and it's missing several of the things that I love about mine. And yes, I have indeed entertained the idea of "upgrading" to an IWC Mark XVIII Le Petit Prince. In the end, though, I can't justify the extra €3.5K+ for a Sellita-based movement and a less symmetrical look.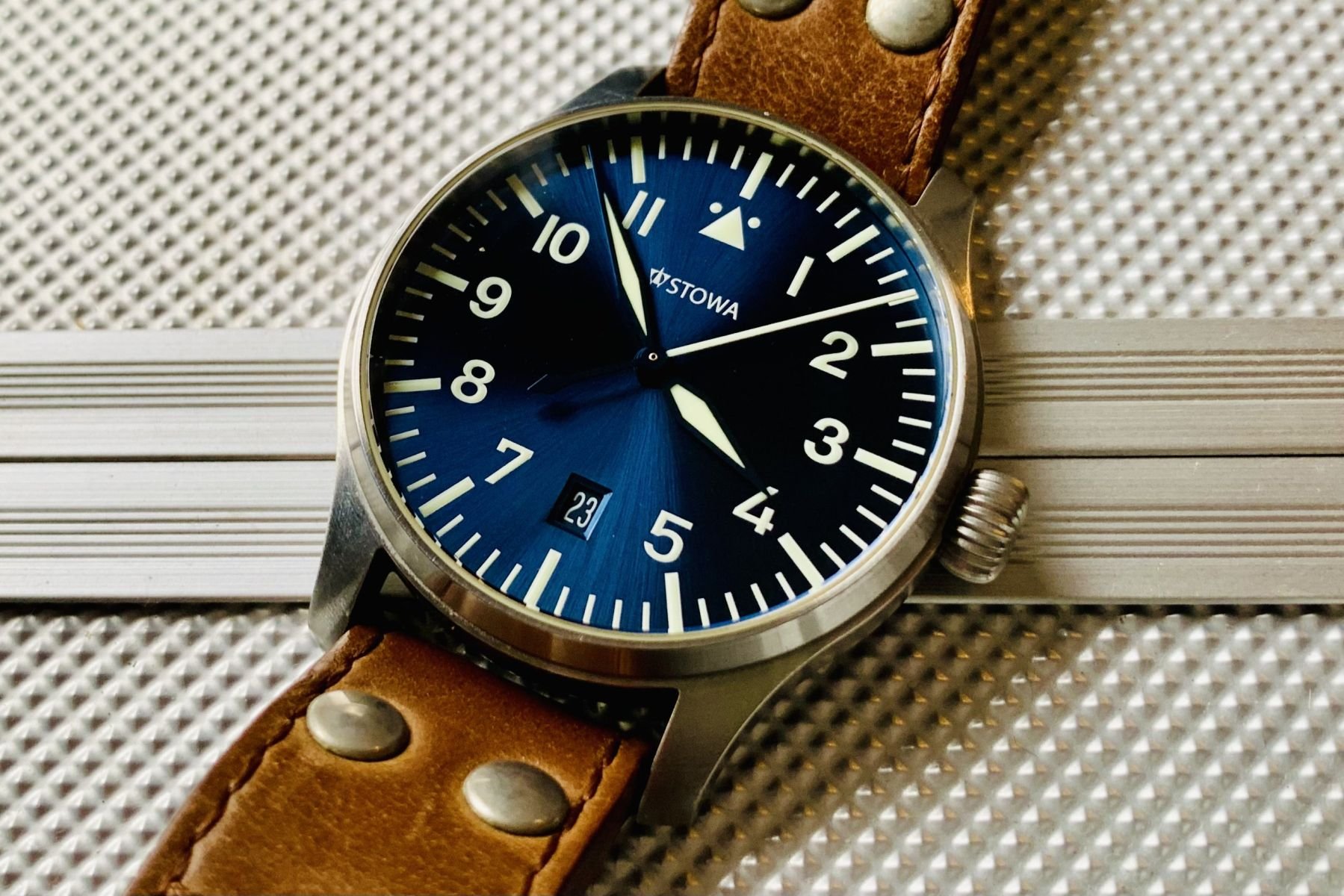 I guess this is all just a roundabout way of saying that my Stowa Flieger Blue isn't going anywhere. Over the past ten days, I've rediscovered why I love this watch so much, and that's something I'll try to not take for granted again! What about you? Have you had a similar experience with any of your watches? If so, let me know in the comments below. And while you're at it, namedrop your favorite pilot's watch as well!