Retro Styling And Faux Patina — Cool Throwback Or A Little Disingenuous?
Have we seen enough vintage throwbacks?
When I recently reviewed the Tudor Black Bay 54, I mentioned that I felt I might get bored with it. The reason was its retro styling, which makes it feel a tad — for lack of a kinder word — disingenuous to me. This point seemed to resonate with quite a few readers. Have we maybe seen enough vintage reissues? And how does faux patina fit into that notion?
I wrote an article celebrating the "nicer shade of white" not too long ago. Your comments were quite clear. A warm tone of lume is fine until it makes the watch look like something it isn't — old. Today, I would like to explore what makes a watch feel real and honest as opposed to a bit of a sentimental throwback.
Traditional, evolved, contemporary, and retro design
I think we have to make a distinction between traditional, evolved, and retro design. With traditional design, I refer to the use of an old design language to create something new. You see this all the time in high-end formal watches. From Patek to Cartier, these brands tend to use their traditional style on modern watches. You could, alternatively, refer to it as classical design too.
Then there is evolved design. This is where designs from long ago are continuously updated to modern standards. I think Rolex can be used as a prime example. A current Datejust isn't classical or retro. Rather, it is an evolved version of an old design. Some parts are a little beefier, and others a little more finely detailed. All in all, the watch looks current but rooted in history. Interestingly, some designs have hardly changed but still feel evolved in their current shape. Contemporary or forward design refers to watches that are trying to be something new. Think of MB&F or Urwerk. Will they be the "classical" of tomorrow? Who knows?
And then there is retro design. This is where something new is intentionally styled to look like something from yesteryear. This has been a huge trend in watchmaking for over a decade now. Tudor was perhaps at the forefront with the 2012 release of the Heritage Black Bay. This last category is what this article is about. My question is: does this approach make a watch a little, well, disingenuous?
How faux patina fits the retro trend
The past decade also saw the rise of faux patina. Since modern lume no longer decays or ages, brands use beige, cream, and orange colors to recreate the look of vintage watches. After all, vintage aficionados go crazy for beautiful patina, so why not put that desirable look on something new?
The point of my earlier article on the topic can be summarized as follows: if watches with aged radium and tritium have demonstrated to us a look that we prefer over cold greenish-white, why not accept it as just "a nicer shade of white"? I think the point still stands. Unless, that is, it is used not as the better color but as a way of making the watch look old. I still stand by this, but there is some nuance to add.
This is the fact that these colors carry meaning. You can choose any color you like as a design choice. Beige, cream, and pumpkin tones, however, come with the association of patina. And that instantly adds to a retro aesthetic. In that sense, these colors can no longer be viewed separately from patina unless they are used in a very different context. Take the titanium Omega Seamaster 300M 007 edition, for instance. It uses a dark pumpkin color but looks thoroughly modern at the same time. This very clearly isn't a retro design. Confusingly, Omega calls the dial and bezel "tropical," which, in watch lingo, refers to aged dials.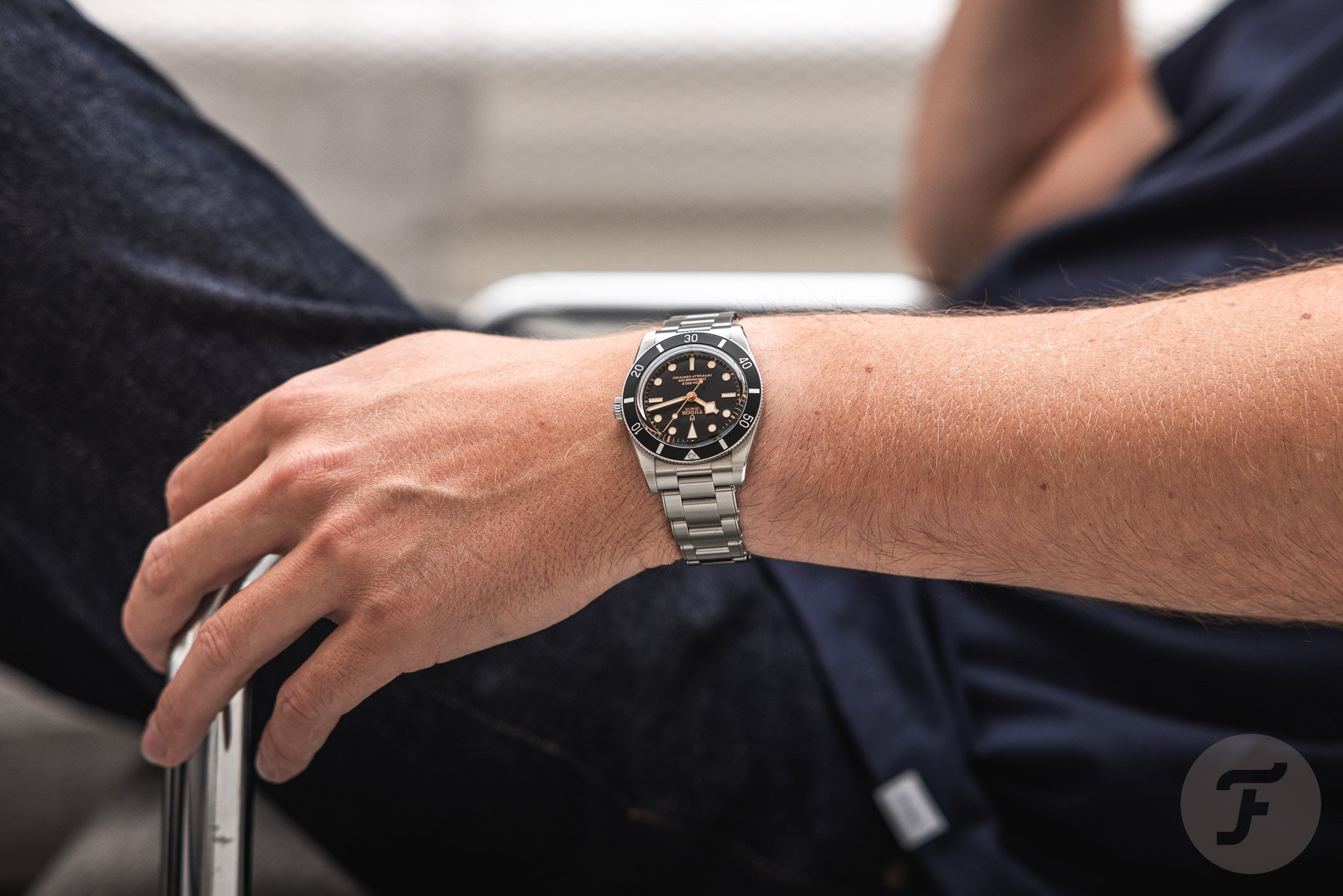 Enough of retro design?
Here is a very personal observation that I would like to hear your thoughts on, my dear Fratelli. I have bought and worn many retro-styled watches over the years as I tend to absolutely love their looks, combining classic style with modern flawlessness. I have, however, reliably fallen out of love with those watches too. In fact, I have sold all my retro-styled watches. The only exception is my recent Panerai Radiomir. But, then again, that is just an unchanged design rather than one made to look old. We'll have to see how we get along in the long term.
I still have actual vintage watches as well as actual modern watches. But I no longer have any vintage-looking modern watches. Rather than it being a conscious effort, I just observed myself repeating this pattern over and over. The Tudor Black Bay 54 had me tempted for a moment, but Lex warned me of this exact pattern. And with my hands-on period with the watch a little ways behind me now, I am convinced that he was right.
The problem is that, in the long term, retro watches do not feel completely honest to me. They are, after all, styled like something they aren't. I just don't think these watches age as gracefully as traditional, evolved, or just plain modern designs do. Important note: this is very much my personal experience and by no means an effort to bash anyone else's style. If you love vintage-inspired watches, awesome! I would love to hear from you in the comments section.
What do you think?
Are you, like me, ready for the retro trend to end? Or do you feel there is a permanent place for vintage-inspired watches with modern build quality? Sticking with Tudor for a moment, when I look at our own Morgan's Tudor FXD or the Pelagos 39, I see awesome contemporary divers. I think they will age much more gracefully than their vintage-styled brethren.
Imagine for a second that we are in the year 2050. I wonder how we will view a 2023 watch with 1960s-inspired styling compared to a "progressive" 2023 design. Perhaps the former will have become its very own thing, indicative of what the world was like in 2023. Or maybe we will find it a grotesque, sentimental bit of kitsch.
The art and design worlds both know periods of classicism when people go back to principles of a bygone era. The resulting works aren't considered sub-par by definition, but still, they aren't usually as highly regarded as works from forward-looking eras. Would the same apply to watch design? I genuinely don't know exactly how I feel about it, except for seeing myself repeatedly fall in and out of love with the style. So I am curious to hear your thoughts. Let us know in the comments!