A $215USD Rolex 6238 from 1968 – When a 15″ Color TV Set Cost $350USD
There are often stories about watches that make us frown upon a bit. Is it a real story? Is there – any – provenance to back this up? A watch that has been handed down or has been sold 10 times already in its life time, often raises these kind of questions. Not with the Rolex 6238 we have on Fratello today. We love first owner stories for sure, even when it means the watch has been serviced (as it should) and might contain some original replacement parts. A watch that has not fallen into the hands of dealers or auction houses, where some parts might have been 'curated' to make it an attractive looking watch. None of that in the case of this honest 1968 Rolex 6238 that belongs to one of our readers who reached out to us, to share his story.
Rolex Chronograph Reference 6238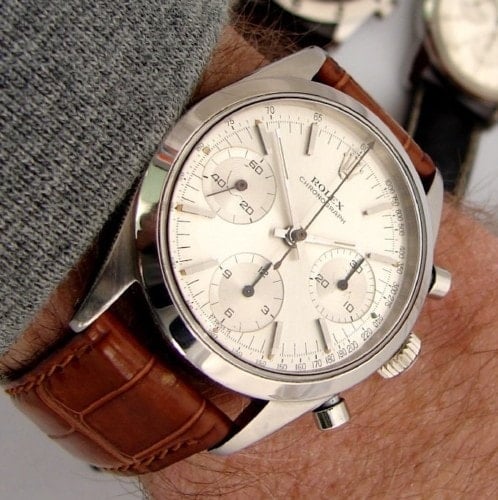 Before there was the – now – famous Daytona, there was this chronograph with reference 6238. A 36mm chronograph with a hand-wound Valjoux 72B movement, a movement (of which there were a number of variations) essentially use till 1988 for their chronographs. The Rolex 6238 has been produced from 1960 till somewhere in 1968, the year when our reader bought his own Rolex 6238 chronograph. In the meanwhile, Rolex also started to manufacture the Cosmograph reference 6239 (1963). The name Daytona came only a bit later, in 1964.
The Rolex 6238 was, and still is, a handsome looking small chronograph. The main difference between the Rolex 6238 and the 6239 'Daytona' is the addition of a tachymeter scale bezel to the latter, as well as contrasting colored sub dials. According to "Rolex, The Watch Book" by author Gisbert L. Brunner that appeared recently, the total production number of Rolex 6238 watches is 3600 pieces. That's more than we read on various other sources that talked about 2000 to 2500 watches. Still, compared to other collections and especially to today's production number, that's not much.
The $215USD Rolex 6238 from David
Our reader David let us know that he bought this Rolex 6238 new back in 1968. It was a reward for himself for passing an exam, and the watch had to be ordered and it took a few weeks to arrive. In that time, the price increased by $10USD to $215USD. On top, he had to pay 2% sales tax. In 1968, a 15″ color TV set would set you back $350USD. David was on active duty in 1968 as a Captain in the US Air Force. His pay was around $11,000USD per year. Average income per year was about $7850USD at the time, so you could say that the Rolex 6238 was not as expensive as a Rolex chronograph today, compared to an average monthly salary.
David kept the invoice of the Rolex 6238, which shows the price of the watch that he paid. He wore the Rolex 6238 as a daily watch until 1976. He occasionally wears it but he is well aware of today's value of this chronograph.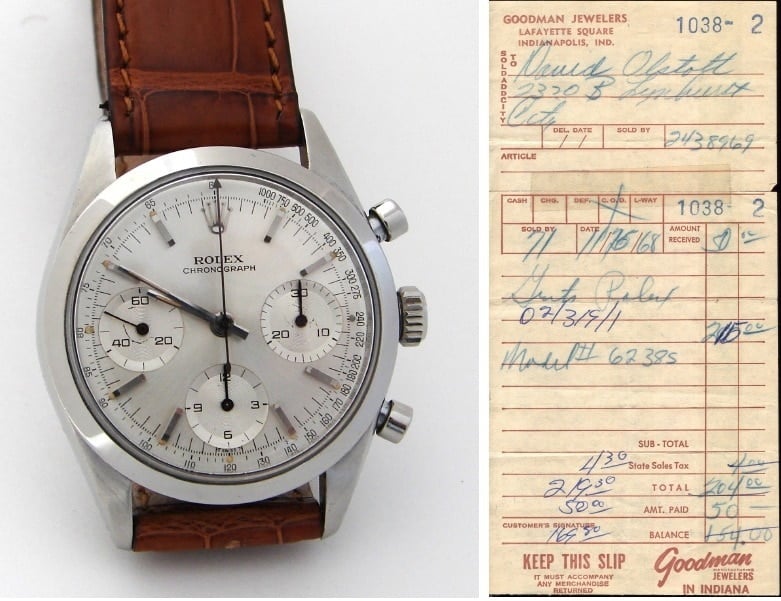 FW: Why did you particularly choose this Rolex? Did you already know about the brand and this specific model?
David: My father was drafted in 1942 and issued a Rolex bubble back with the Roman and Arabic numerals, so I was familiar with the brand. I had been wearing a Gallet Chronograph ($50USD new in 1959) daily since Christmas 1959 and wanted a special reward for passing an important exam. I went to a jeweler and looked at catalogs since none ever had chronographs in stock in 1968. I picked the 6238 because I liked the clean uncluttered appearance  compared to the busy dial of the Gallet ( which I still have and wear).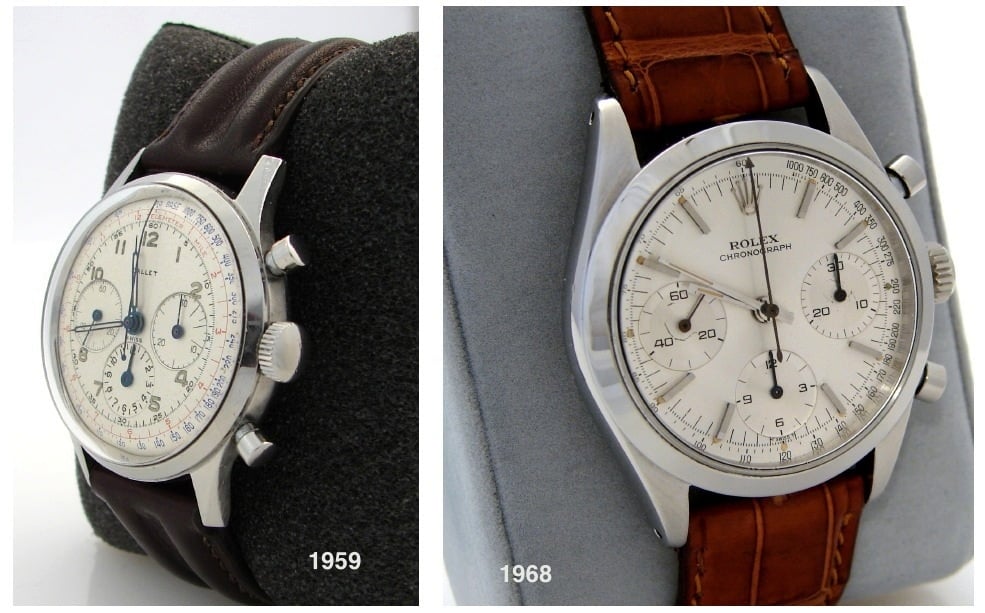 Have you worn it a lot since you bought it, and in recent years since the value went up? Did the watch accompany you on any specific trips or missions when in the USAF?
I wore it almost daily till about 1976 when I was seduced by a quartz Seiko LCD chronograph. I wore the Seiko for a few years before I renewed my interest in mechanical watches. I was in the USAF at the time of purchase so the Rolex was worn on the job. As I was a non combatant nothing exciting happened
Did you start collecting watches afterwards?  What special place does this 6238 hold in your collection?
I started collecting around 1990 picking up Swatch Automatics and USSR Russian hand-wound pieces. My interest gradually changed to mechanical chronographs both vintage and newer. My latest purchase is an O&W Aviation 34017 33 with 24 hr dial.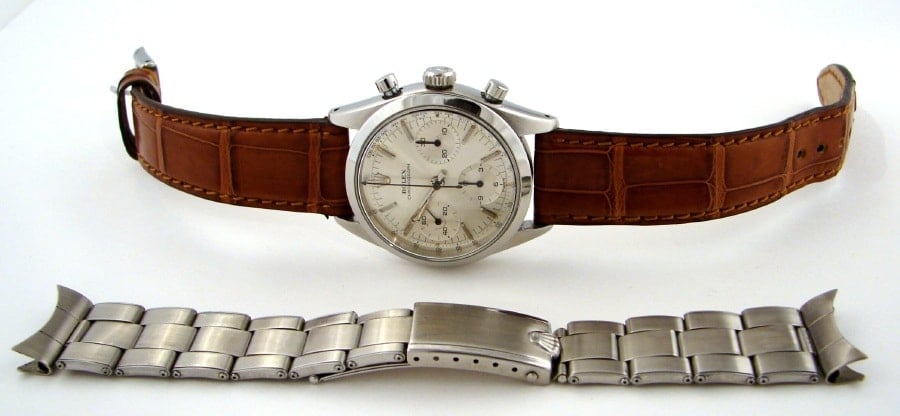 The 6238 is I guess the "Crown Jewel" of my collection based on longevity of ownership and appreciation of value. I remember being shocked when I started using the internet in the late 1990s an found that these were valued at $10,000 or more. The highest auction price I have seen was around $40,000 back in 2006 before the crash.
Did you ever consider look at Rolex again? Like a Daytona or perhaps a Submariner?
I have looked at a few Rolex chronographs but the ones I like are out of my price range. In retrospect I wonder if in 1968 I would have purchased the 6239 instead of the 6238 had I known that watch existed.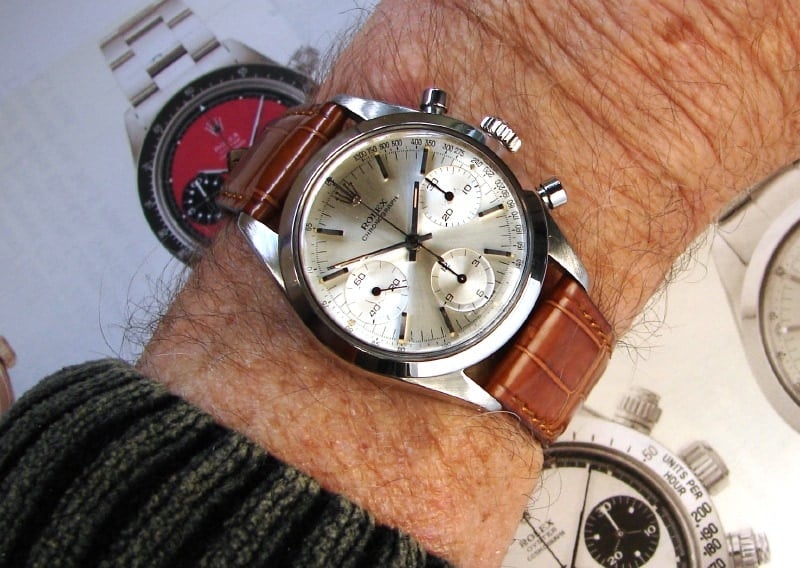 A big thank you to David for sharing his story with us on the Rolex 6238. Contact us if you want to share your watch related story.