Rolex Air-King 116900 – 52Mondayz, week #47-2019
Our popular 52Mondayz column revived with a new approach
Some will remember that, for a period of exactly one year, which is 52 weeks, we published a rather popular column named 52Mondayz. Inherent to its name, after one year, this column came to an end. And although it has been a while since it stopped, we still get positive reactions concerning this feature.
Revival of 52Mondayz
So we think it's a good time to revive 52Mondayz, although, with a slightly different approach. Was it mainly me writing every Monday which watch I would wear that week, now all of the Fratello authors will take part in the fun. So, I will kick off this week, but next week you'll learn about a watch worn by one of our other editors. This way, it will give an even larger spread of different watches and watch types, which will make it interesting for an even more diverse group of readers. Like you.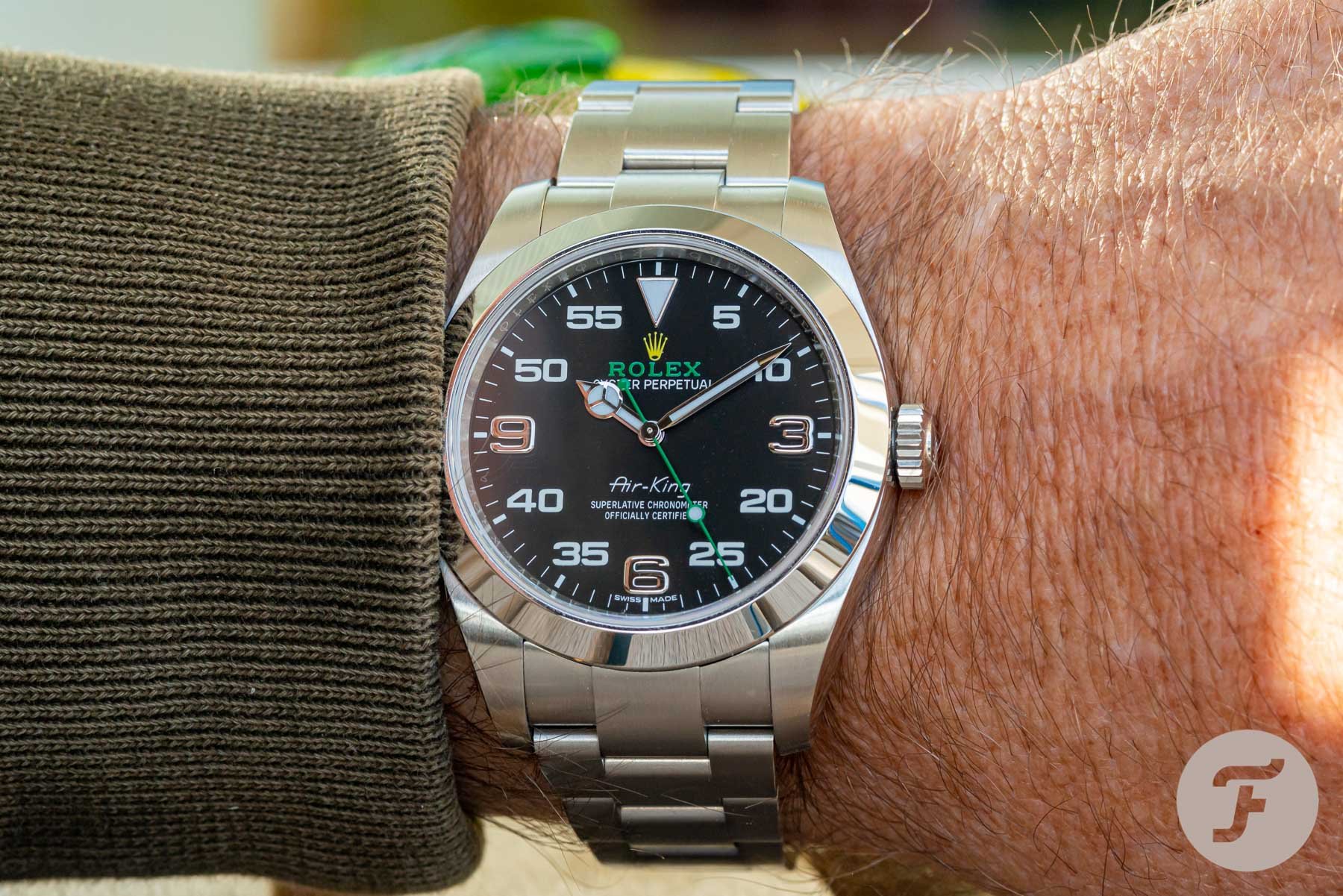 Rolex Air-King 116900
Thus, here it is, the first edition of our new 52Mondayz series, and the Rolex Air-King 116900 is my watch of choice for this week (read our review on this watch here). It might be a bit of a controversial watch, I understand that. Within the Rolex Sports range, the current Air-King is a somewhat abnormal breed. Probably not the watch technically as such, but certainly its looks.
…the Air-King has been a watch with moderate expression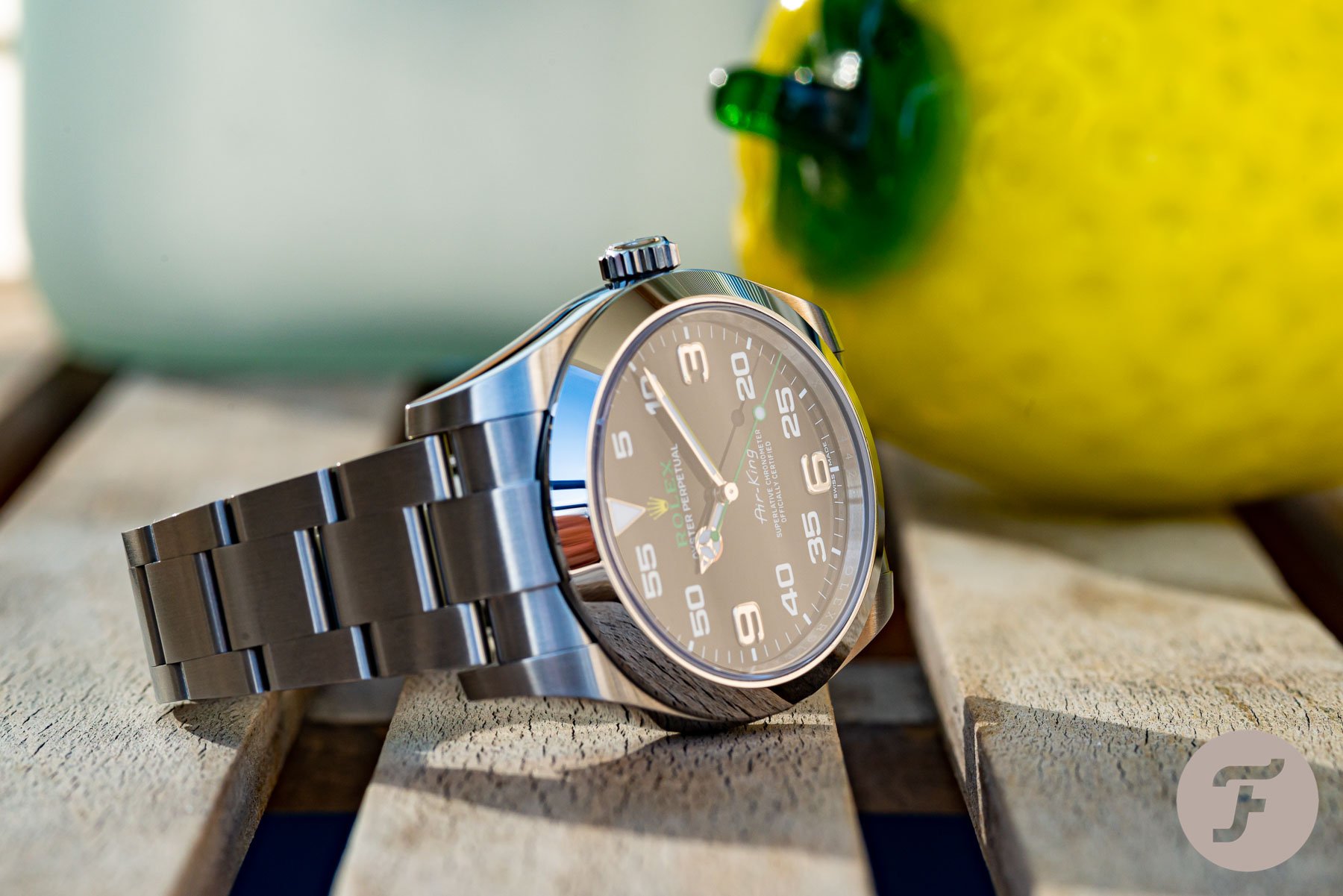 In the past, the Air-King – present in Rolex's collection since 1958 – has always been a watch with a very moderate expression. Like a mix between a Datejust and an Explorer. What is so deviating about the current Rolex Air-King then? We'll find that mainly in the design of the dial, which has been the subject of discussion ever since the introduction of the 116900 in 2016.
The oddities
Let's start with the Rolex logo. In no other Rolex model we see a logo with the Rolex crown printed in yellow, and the word ROLEX below it in green. It's the first and only Rolex to feature this. Quite odd and very frivolous for Rolex altogether.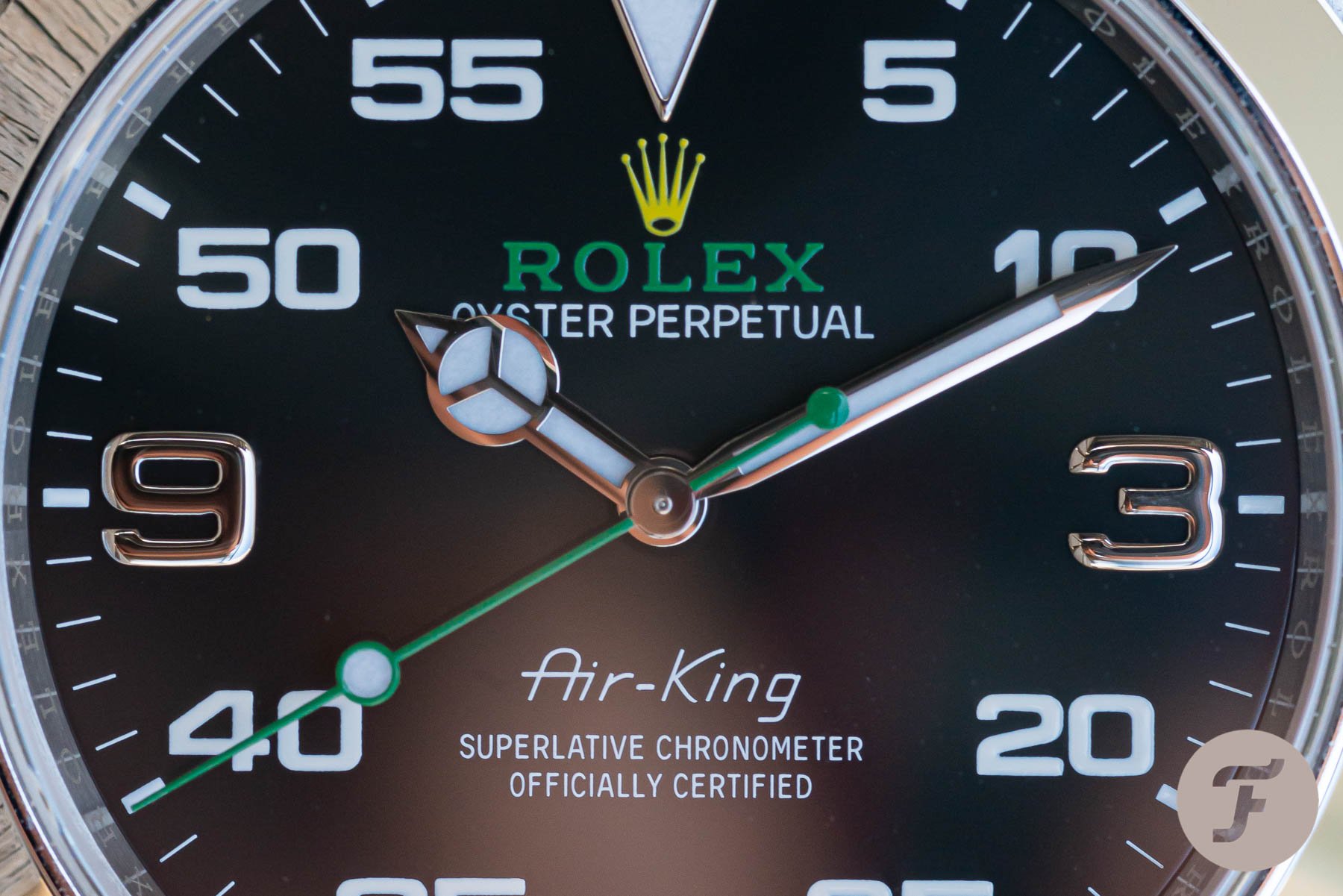 Besides this colorful logo, Rolex used two different types of numerals in the dial. On one hand, the applied 3, 6, 9, hour-numerals, well known from the Explorer, are used. However, together with these, double-digit (except for the 5) printed numerals are used for the minutes. That seems a strange combination, and to be honest, that's how it looks. In fact, there are three different styles of indexes in the dial. The white-gold high-gloss polished applied hour-numerals, the printed white double-digit minute numerals, and the applied white luminous triangle at twelve.
…instruments for a supersonic car
Inspiration for the colored logo and double-digit numerals were two analog instruments of a supersonic record-setting car, the Bloodhound SSC. Rolex worked with Bloodhound SSC since 2011 and produced a speedometer and a chronometer for them. These instruments had the same dial design as now used for the Air-King. Unfortunately, because of financial reasons, the Bloodhound SSC project came to an end. It has been continued as Bloodhound LSR, but without Rolex as far as I know.
Why I was attracted to the Rolex Air-King 116900
Anyhow, together with a green second hand, I can imagine that some people might find this dial-design a bit of a mess, and never expected this in a Rolex sports model. Neither did I. And that was probably one of the reasons I wanted to own the Rolex Air-King 116900. Rolex produces many watches in line with our expectations. If they produce one outside of that box, I become interested in it.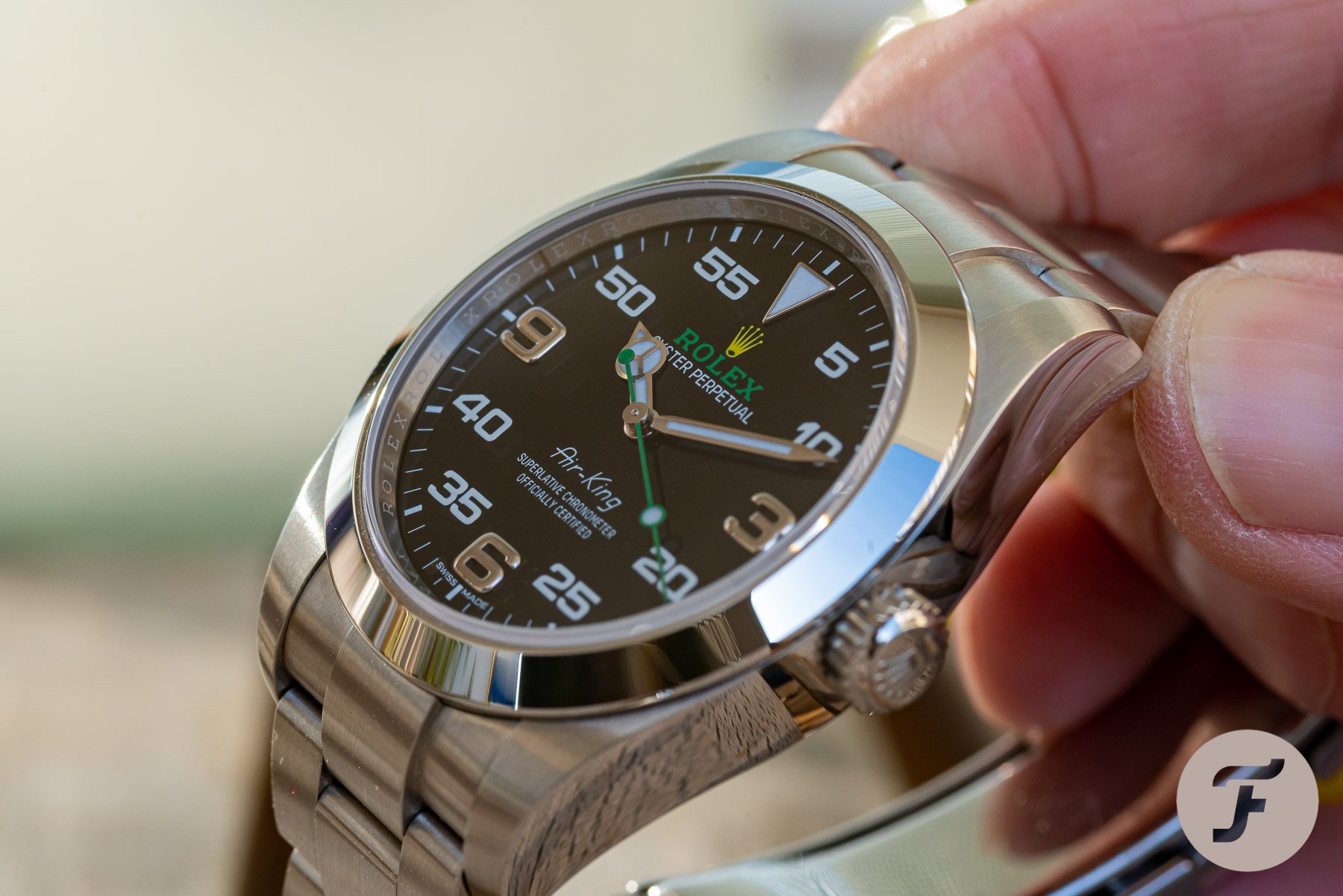 What else is remarkable?
So far, the design of the dial, which you might like or not like on a personal basis. But then there's a pleasant surprise on the technical side of the watch. While its name, Air-King, has always referred to aviation, technically the watches in this model line never were quite suitable as pilots watches. In many airplanes, severe magnetic fields occur, and none of the former Air-King models was seriously anti-magnetic shielded. There was a Rolex model for use in harsh magnetic environments, that was – and is – the Milgauss. The Milgauss introduced in 1956, later left the stage for over two decades, only to be back in 2007.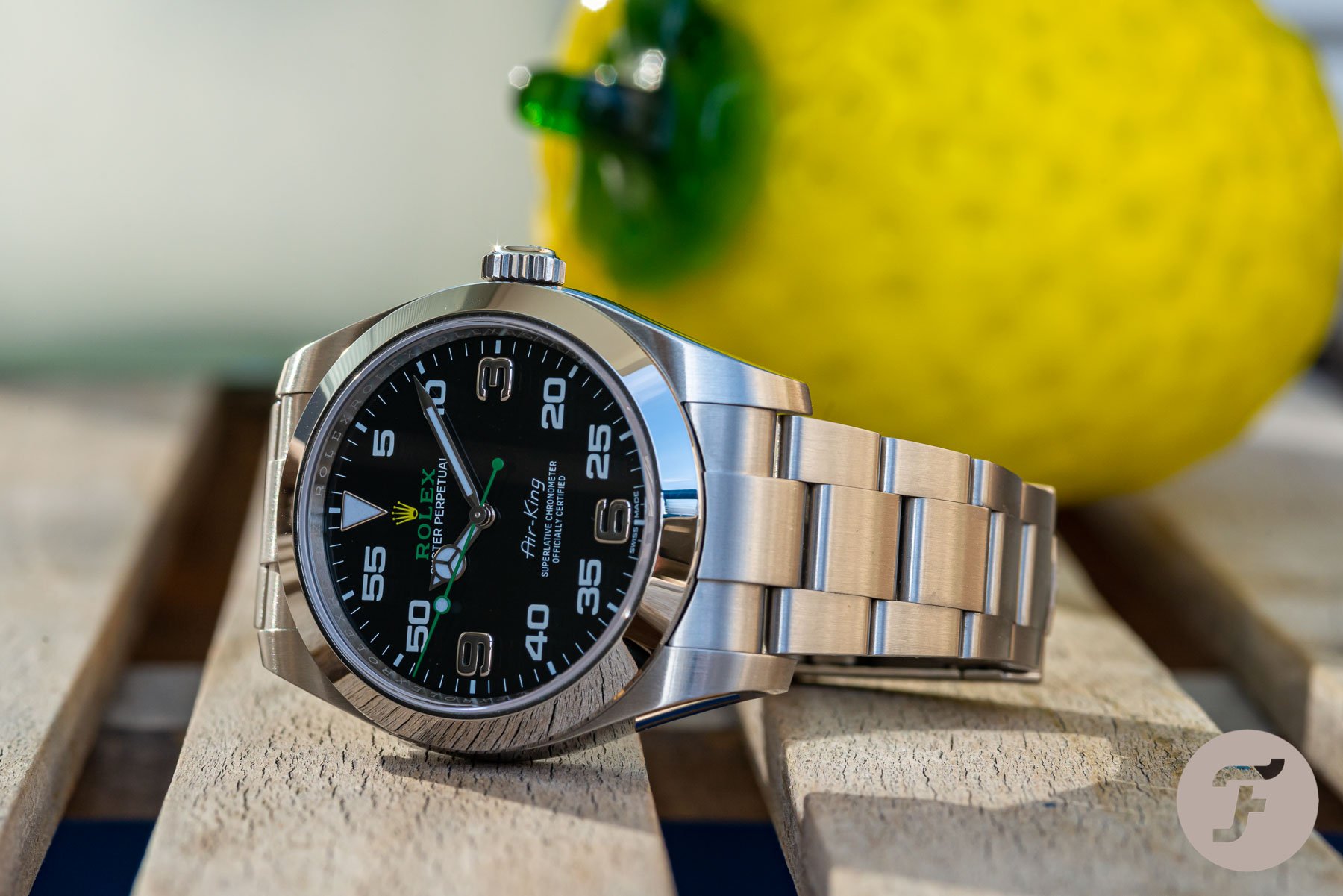 …a serious anti-magnetic professional toolwatch
To finally make the Air-King a real aviators watch, Rolex decided to use an equal case for it as the current Milgauss 116400. Including the internal magnetic shield, and the 3131 caliber with Faraday cage. By this, not only became the Air-King seriously anti-magnetic, it became seriously larger as well. While the Air-King had always been a 34 mm watch, it's now 40 mm in diameter. With its larger size and anti-magnetic properties, all of a sudden it's not an entry-level Rolex anymore, however, a serious professional toolwatch. It might just not look like one…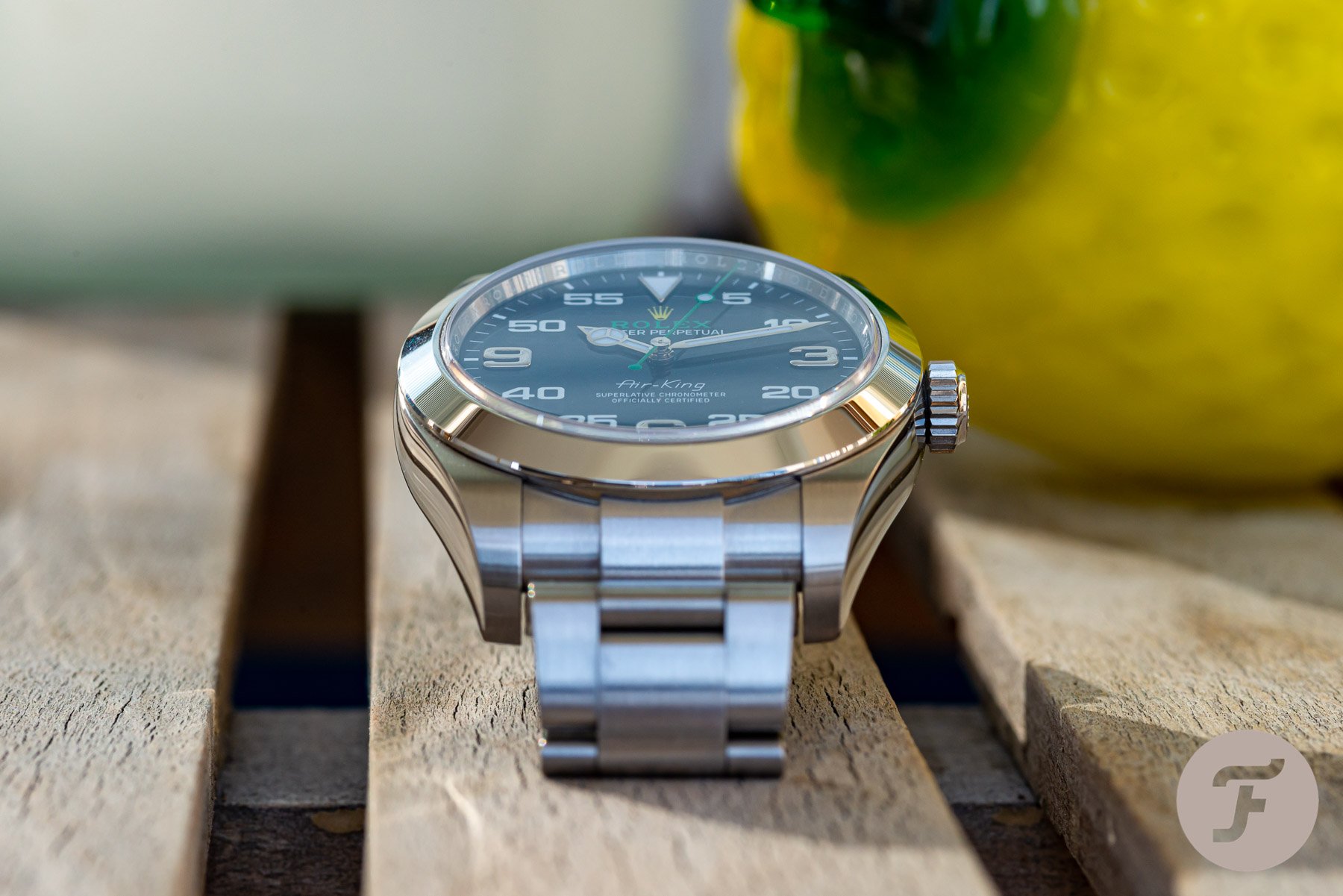 And not only its looks might diminish the professional status of the Air-King 116900. One way or the other, Rolex decided not to inform the potential Air-King buyers about the professional magnetic shielding of the 116900 overly clear. Only deep in its specifications, one is able to find that the Air-King's movement is, in fact, protected by a magnetic shield.
Caliber 3131 shared with the Milgauss
As said, together with the size and anti-magnetic specifications, the Rolex Air-King 116900 shares its movement with the Milgauss 116400 as well. Both sport the reliable and very accurate (+2/-2 sec/day) 3131 Rolex caliber. The 3131 has a Parachrom hairspring but not the Paraflex shock absorbers which the 3132 has been fitted with. The 3131, however, has a Faraday cage for anti-magnetism, while the 3132 hasn't. The power reserve for these movements is around 48 hours.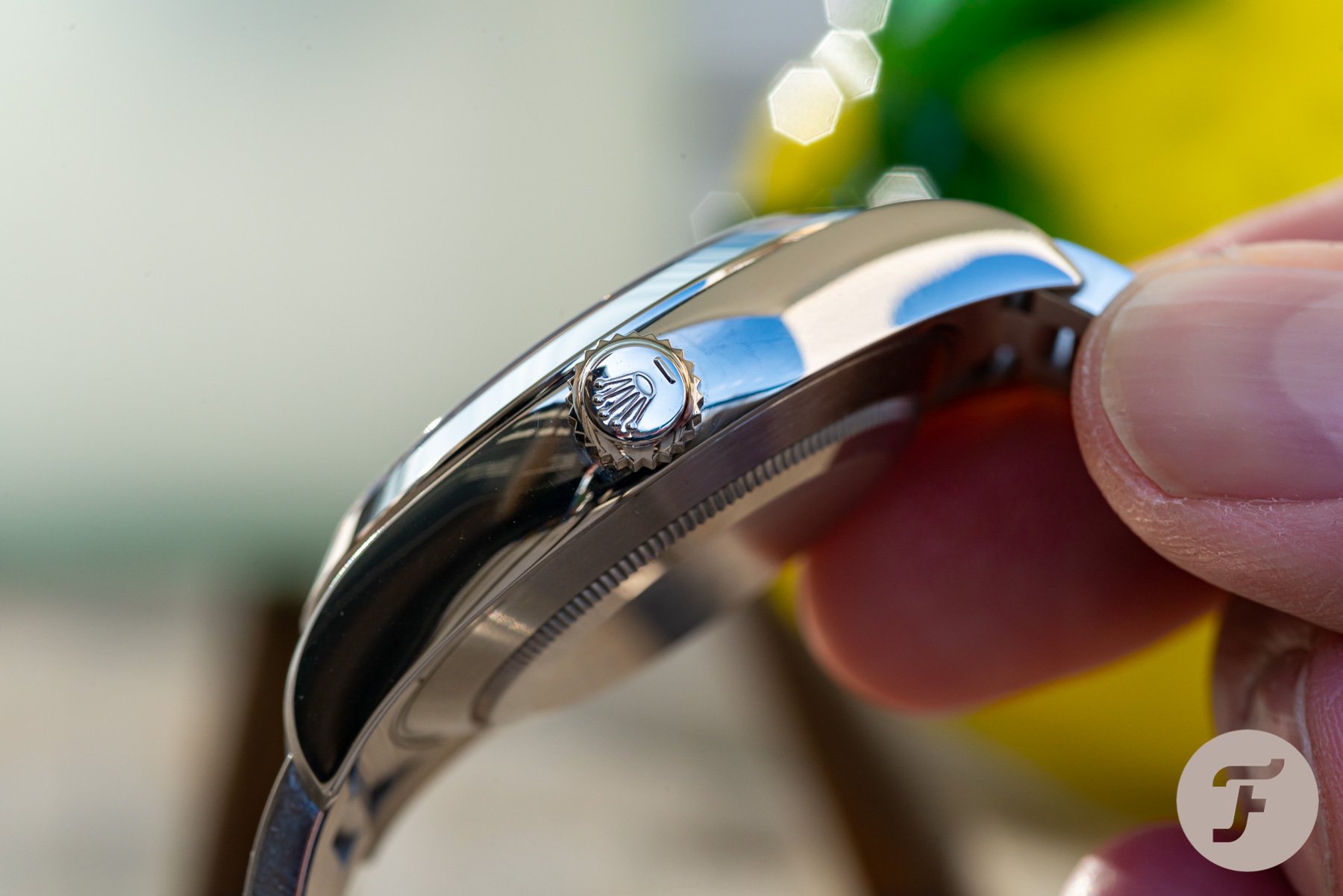 Last but not least, the price
While the Air-King is technically so equal to the Milgauss, I'm puzzled by the huge difference in price. The Milgauss 116400, advertised by Rolex to 'honor science', currently retails for € 7.550,=. The Air-King 116900, advertised as a 'homage to aviation', costs 'only' € 5.700,=. That's € 1.850,= or 25% less. Why? I really have no clue. It can't just be the green sapphire crystal, can it? Anyhow, in my opinion, it makes the Air-King besides an exceptional Rolex, and exceptional opportunity as well.
More information on the Rolex Air-King 116900 can be found on Rolex's website here. While for comparison purposes, information on the Milgauss 116400 is linked here.
Watch specifications
Case Material
Stainless steel 904L
Case Back
Screwed-in, solid
Movement
Automatic, Rolex caliber 3131
Water Resistance
100 meters / 330 feet
Strap
Stainless steel bracelet with 5 mm Easylink extension
Functions
Hours, minutes, seconds
Price
€ 5.700,= incl. VAT
Special Note(s)
Anti-magnetic to 1000 Gauss. COSC + Rolex certification after casing