Crazy: Rolex Daytona Rainbow Everose Gold 116595RBOW
The Rolex Daytona Rainbow in Everose gold (reference 116595RBOW) is one of those watches that leaves me as puzzled today as it did when it was introduced last March. Although a lot of the attention of this year's Rolex releases went to their GMT Pepsi, the Deepsea Sea-Dweller and GMT bi-colour models, their extravagant Daytona Rainbow Everose 116595RBOW was talked about a lot as well.
Rolex Daytona Rainbow Everose 116595RBOW
In 2012, Rolex introduced their Daytona Rainbow in yellow gold (116598RBOW) and white gold (116599RBOW). Extremely rare pieces that demonstrated the skills of Rolex craftsmanship for setting stones in watches. These watches are hardly seen, as they are only produced in very limited numbers. These watches are often copied, meaning a gold Daytona is being customized with after-market diamond setting, but you don't even have to be an expert to see that they don't match the original Rainbow. At all.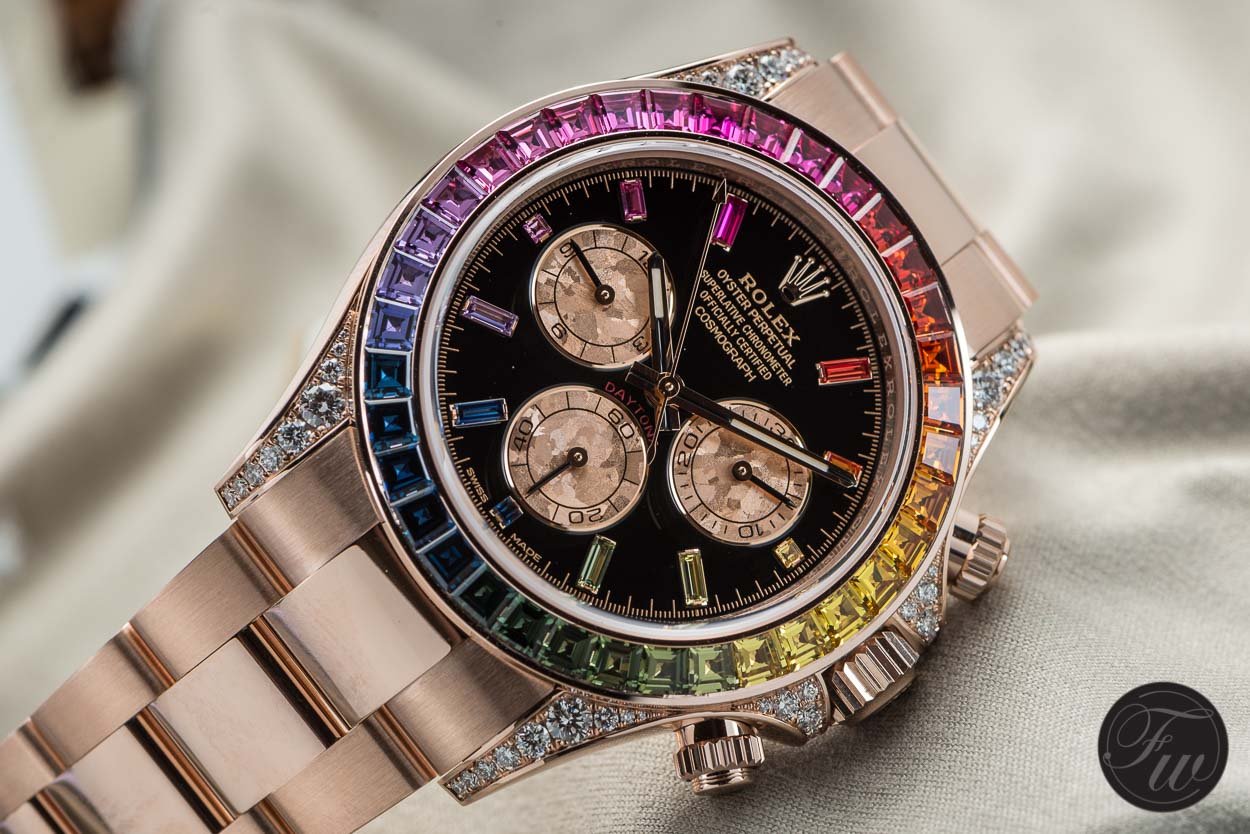 Where the first Daytona Rainbow in yellow gold and white gold had diamond set hour markers, this new version in Rolex' own rose gold alloy called Everose has 11 baguette-cut, rainbow-coloured sapphires as hour markers. These hour markers colour-match the 36 baguette-cut sapphires as they have the same rainbow gradation. The 40mm Everose gold case has also been set with precious stones, as you'll find it adorned with 56 brilliant-cut diamonds set into the lugs and crown guard. Part of the difficulty producing these watches is matching the coloured stones.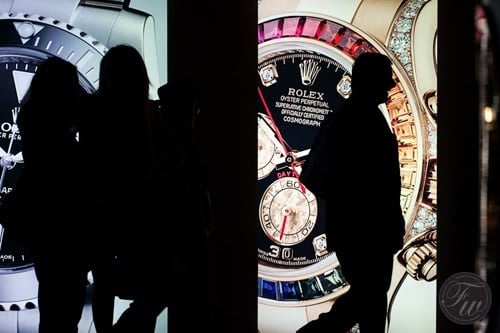 With a retail price of $96,900USD, you would think that buying a Rolex Daytona Rainbow Everose 116595RBOW is just a matter of shilling out the money. It is not. As said above, the production is limited and you probably need to be very well connected to a large Rolex AD or Rolex themselves in order to be able to purchase one.
If you think you can alternatively go for a pre-owned yellow or white gold version from previous years, you have another thing coming. Recently, the yellow gold Rolex Daytona Rainbow reference 116598RBOW was auctioned by Phillips in New York for a whopping $212,500USD (original retail price was $89,100USD). On the pre-owned market, like on Chrono24, the prices for an all original Rainbow in yellow gold are similar.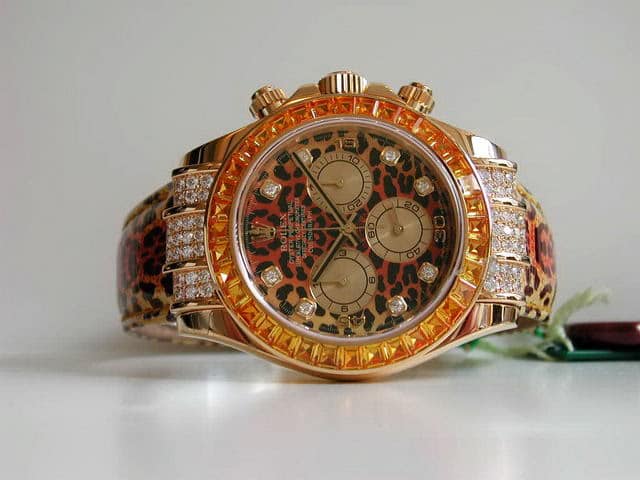 It is not the first time that Rolex turns the Daytona into something wild. Although the use of gold and diamonds can be seen often in Rolex's history, in 2004 they introduced the Daytona reference 116598 SACO, also known as the Daytona Leopard. A leopard print dial with diamond hour markers and a bezel set with 36 baguette-cut yellow sapphires showed Rolex' audacity.
The strap also had a leopard print to match the dial, and the gold end-pieces were set with brilliant-cut diamonds. The Rolex Daytona Leopard reference 116598SACO can still be found on the pre-owned market and at auctions from time to time, and prices are a bit north of $50.000USD.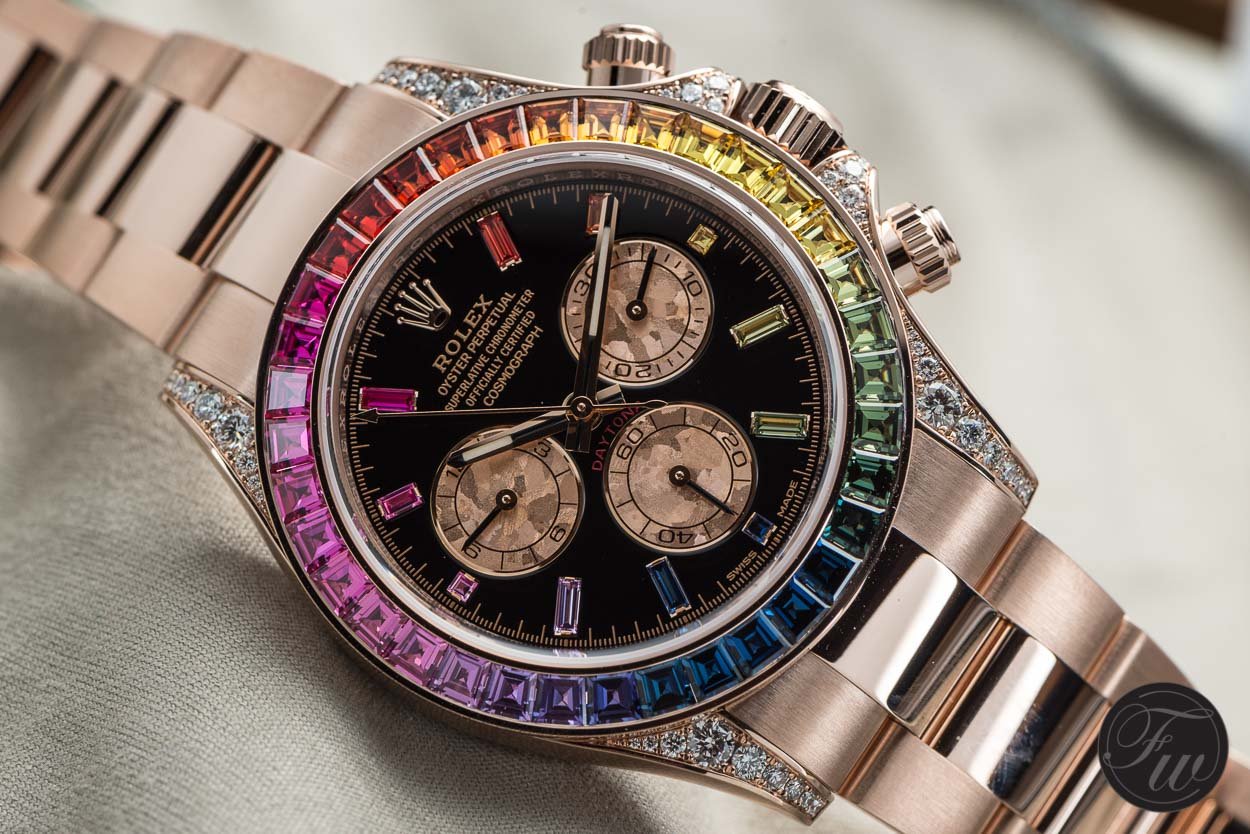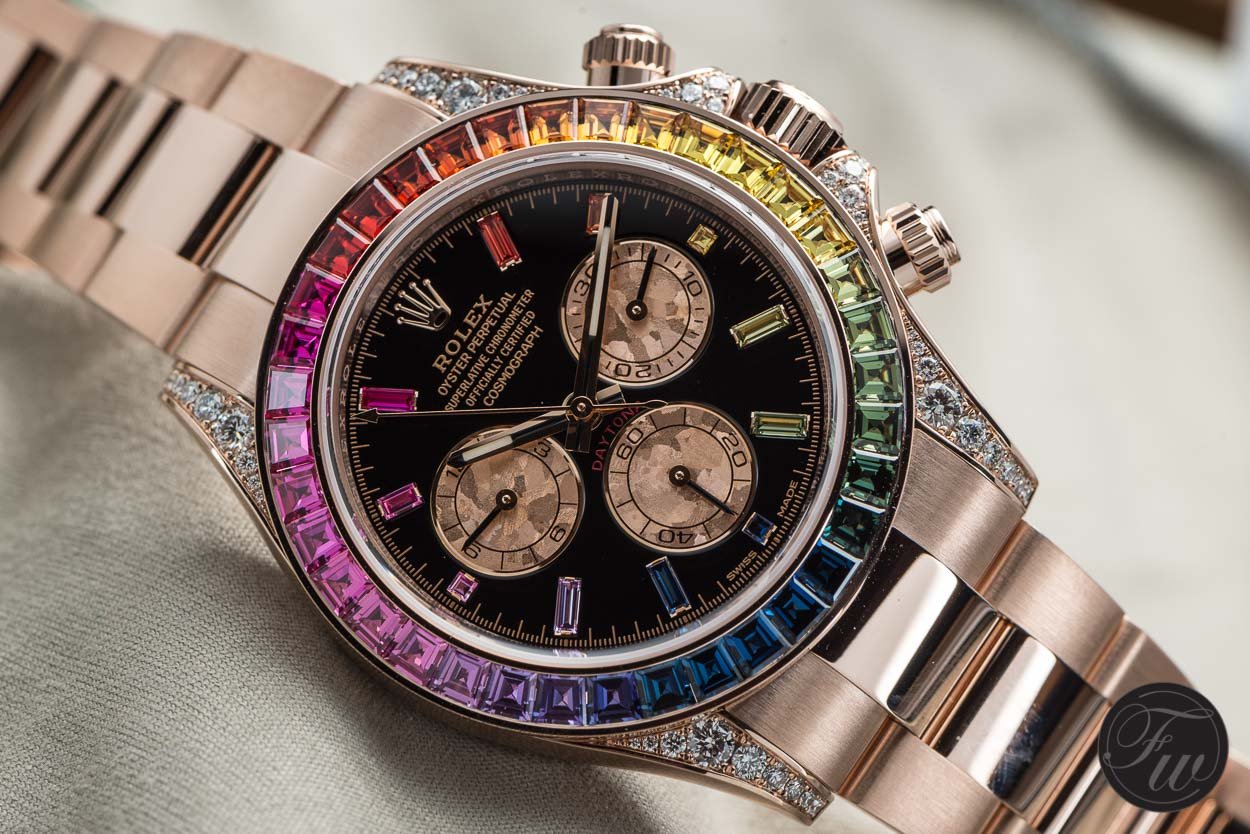 Back to the Daytona Rainbow in Everose gold. Under the hood, this Daytona is the same as any other modern Daytona reference, so powered by the Rolex caliber 4130 movement. This movement has been entirely designed, developed and manufactured in-house by Rolex. It features a column wheel and vertical clutch mechanism for precise chronograph action. It has all relevant and modern Rolex innovations on board, like the Paramagnetic (alloy) Parachrom hairspring, that ensures stability when it comes to temperature changes and – due to its special allow – is not sensitive to magnetic fields. On top, the movement is guaranteed to be accurate up to -2/+2 seconds a day on average and has a power reserve of 72 hours. Rolex has never been very 'show off' by putting their movements up for display using a sapphire caseback, so also on this Daytona Rainbow you'll find a solid (Everose) gold one.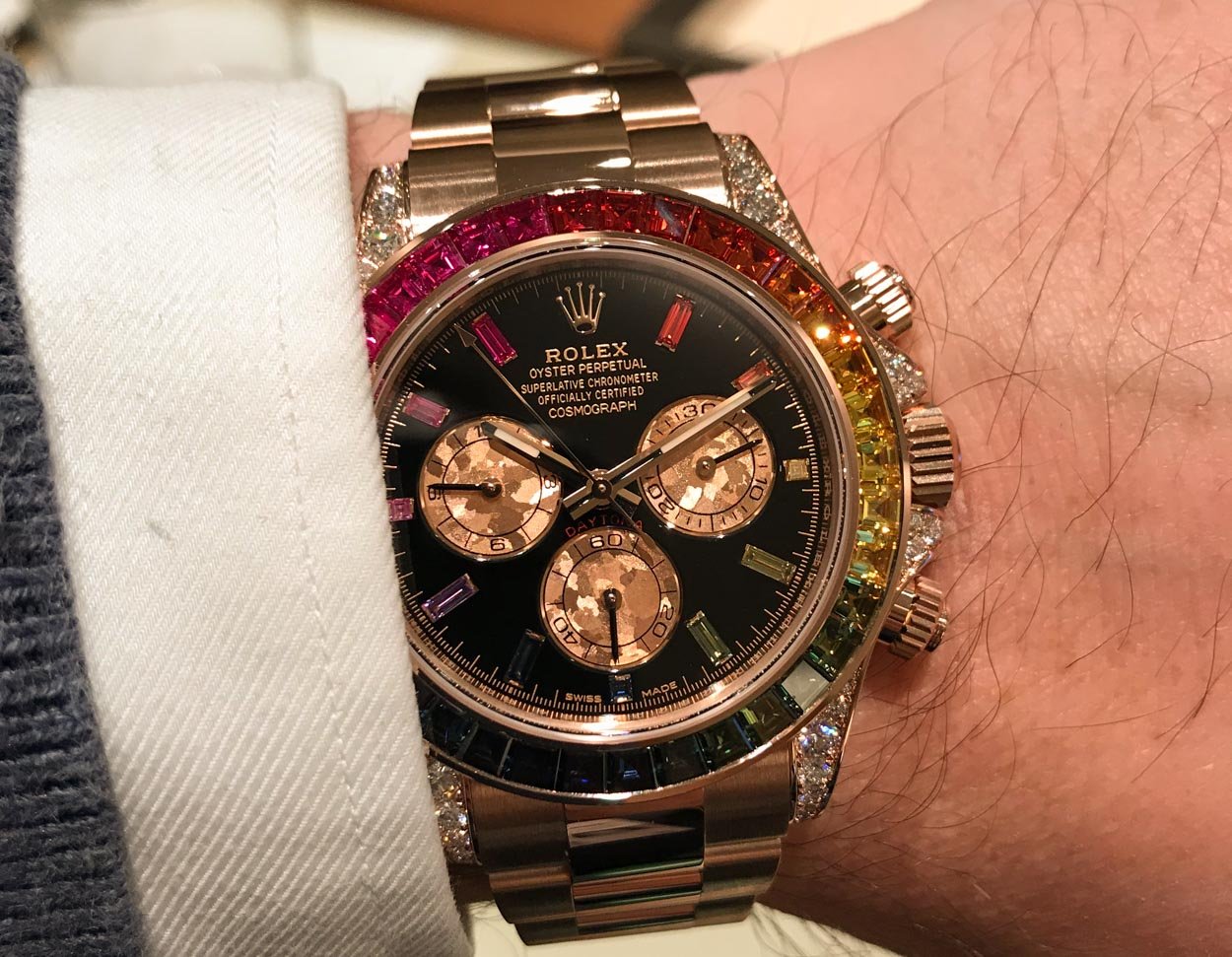 An Everose gold case and bracelet alone isn't for everyone, let alone a bezel and dial set with baguette-cut sapphires in a Rainbow colour-scheme. And on top, diamond set lugs and crown guards. Now, you can find this ugly or at least 'not your style', but what puzzled me is the attraction this watch has on the market and perhaps the community of Rolex collectors. When I put it on my wrist in Basel, it definitely had some attraction for me. Not only because of the Everose gold, but the sapphires in rainbow colours and the pink gold subdials give a nice contrast to the black lacquered dial. The only things I am not fond of are the diamond set lugs and crown guard,  to be honest.
Everything is executed to perfection, as it is always the case with Rolex. I am not a Rolex collector, but have (and have had) my fair share of their models and it is actually the single brand that never failed on me when it comes to their products. Rolex ensures they maintain the highest standards when it comes to the use of materials, but also for the selection of their precious stones and the setting of them.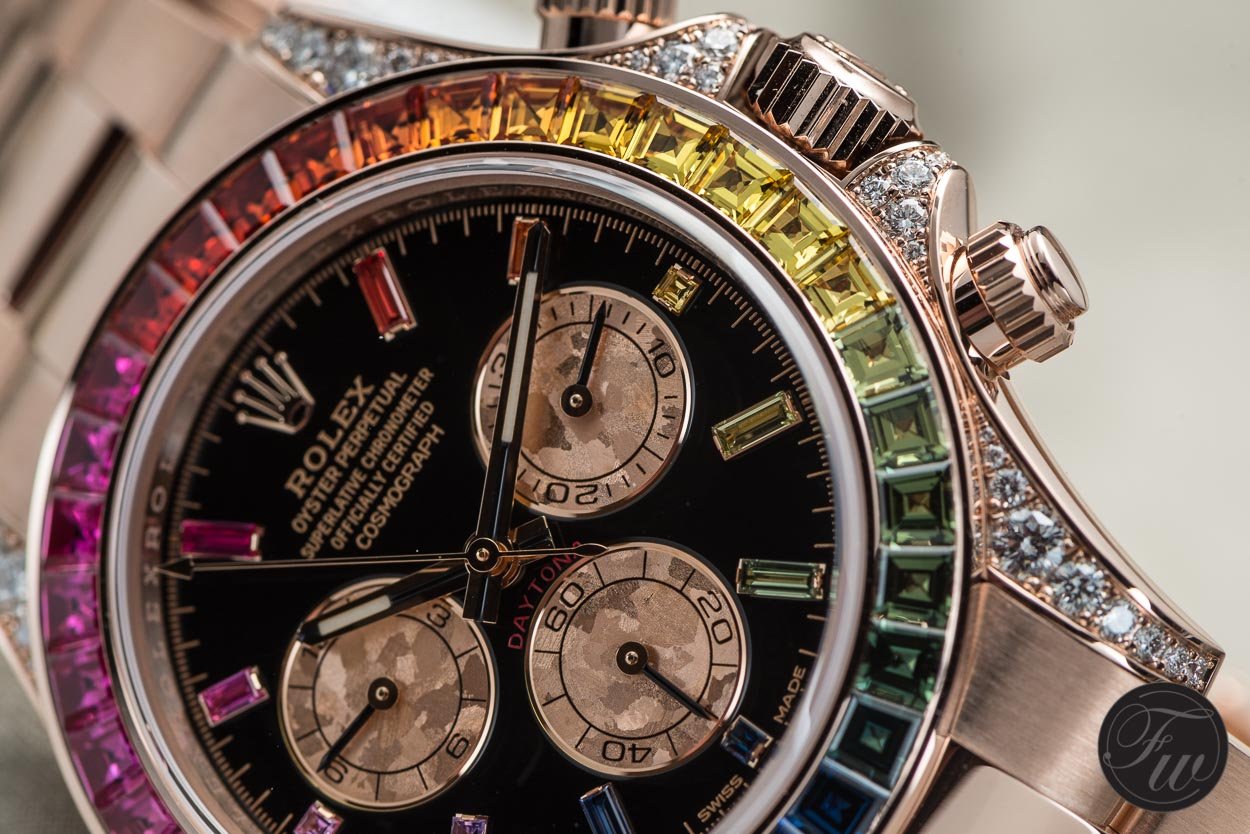 Whether it is the combination of colours, the use of precious materials or the fact that its production is so incredibly low, these Rolex Daytona Rainbow watches are high in demand, proven by the prices that people are willing to pay for them.  The low production might be an indicator for speculators that this watch might even go crazier in the future. Although more watches released this year doubled in price for various reasons (think GMT Pepsi for example), the increase from its RRP of  $96,600USD to approx. $245.000USD it fetched on the Phillips auction in Geneva last November, is very impressive, to say the least.
To me, this Rolex Daytona Rainbow ref 116595RBOW is the craziest watch of 2018 I've come across. Despite watches from other brands that are perhaps even more extravagant or more complicated, it just puzzles me how a very flamboyant execution of a Rolex Daytona can set so many hearts on fire and at the same time, can be so atrocious to others. That, aside from how the market "financially" responds to an important piece like this, is what interests me most about this Daytona Rainbow.
More information, visit the special page for the Rolex Daytona Rainbow here.