Weekend Read: Rolex and Tudor's GMT Watches – Pepsi Battle!
The long-awaited stainless steel Rolex GMT-Master II with Pepsi configuration was introduced exactly at the same time as Tudor's Black Bay GMT with a Pepsi bezel. Since Tudor belongs to Rolex, this wasn't a matter of coincidence.
GMT Pepsi
There was never a sporty GMT model in Tudor's heritage, as far as I remember (or can find). I know about their vintage Submariner models, but I never saw an equivalent for Rolex' GMT-Master in their collection. As far as Rolex goes, the GMT-Master has been part of their history since 1954 when their reference 6542 was introduced. When Rolex cancelled their aluminium bezel models around 2007, that also meant the end of the much-praised Pepsi and Coke bezels. The new ceramic bezels were only available in black at first, and slowly other colours joined as well. When the ceramic Pepsi bezel was introduced in 2014 with their reference 116719 GMT-Master II watch, many fans were a bit disappointed as it was only available in white gold. Ever since 2014 though, the Pepsi fans hoped for a stainless steel model as well. Every year on the first day of the Baselworld show, there was a little sparkle of hope at first for a new Pepsi in stainless steel, but the time had not come yet.
Pepsi With Jubilee
That changed this year when there suddenly was a Rolex GMT-Master II with a Pepsi bezel. Not only that but also on a Jubilee bracelet. Although Rolex claimed at first that the jubilee bracelet could not be exchanged for an Oyster bracelet as it would not fit, the first (lucky) buyers of the watch proven this wrong when they added an Oyster bracelet to it.
But it didn't stop here. One booth further (Tudor is next to Rolex, of course), Tudor was introducing their Heritage Black Bay GMT at the same time. Where the Rolex retails for 8550 Euro (if you can get one, that is, Rolex is currently having severe issues in getting their watches to the customers it seems), Tudor offers their GMT Pepsi for 3680 Euro (on stainless steel, 3390 Euro on leather). Where people at first said that the Tudor Heritage Black Bay GMT Pepsi was a bit too much of a copy/paste of the former aluminium Rolex GMT-Master models, the price made up for this for sure. Not only that, Tudor offers this watch with their in-house developed MT5652 movement with 70 hours of power reserve. This movement is a real GMT movement, as collectors call it, where you set the home time first and then set the independent hour hand to the local time.
Price Points
When I saw the Tudor Heritage Black Bay GMT for the first time, I was mighty impressed (Mike even called it the 'Baselworld shocker'). For this kind of money, it was bulls-eye. However, I also felt that the Rolex GMT-Master II with Pepsi might be just a bit more of the real thing. On top, I felt that the Black Bay GMT was a bit too thick. This was due to the GMT mechanism of the movement I was told. But, on the wrist, it looks great for sure and the thickness of the case is not really an issue these days. The Rolex GMT-Master II Pepsi with Jubilee bracelet did leave a great impression I have to say, generally speaking. Although I found the price of 8550 Euro a bit steep, the watch will sell anyway and I received many messages from friends and readers that they signed up to be on the waiting list at their authorized Rolex dealer. Price is not very important, when it comes to Rolex, they will sell.
Tudor strikes me as a more sympathetic brand by keeping their prices interesting and use enough distance from the Rolex price list to be and stay competitive. When the price difference would be less than 2000 Euro, it might become a different story.
I have had a few Rolex GMT-Master watches in the past, two 1675 references and a later GMT-Master II 16710 reference. I find a GMT complication to be very useful, and still, have a number of watches that have this functionality. When I saw the new Rolex GMT-Master II Pepsi I was happy that I decided to go for a Submariner a few months before, when I was heavily debating whether it should be a Submariner or a GMT-Master II (black). I couldn't get over the polished centre link on the ceramic GMT-Master II, so I went with the more toolwatch looking Submariner with ceramic bezel. Buying another 16710 would also have been an option, but the prices of those really went up in the last few years and I am a bit reluctant to buy back a watch I already had and sold with a reason. So yeah, the new Pepsi with Jubilee bracelet ticked a lot of boxes for me. But I have to admit that the new bi-colour GMT-Master II (steel and rose gold) impressed me even more.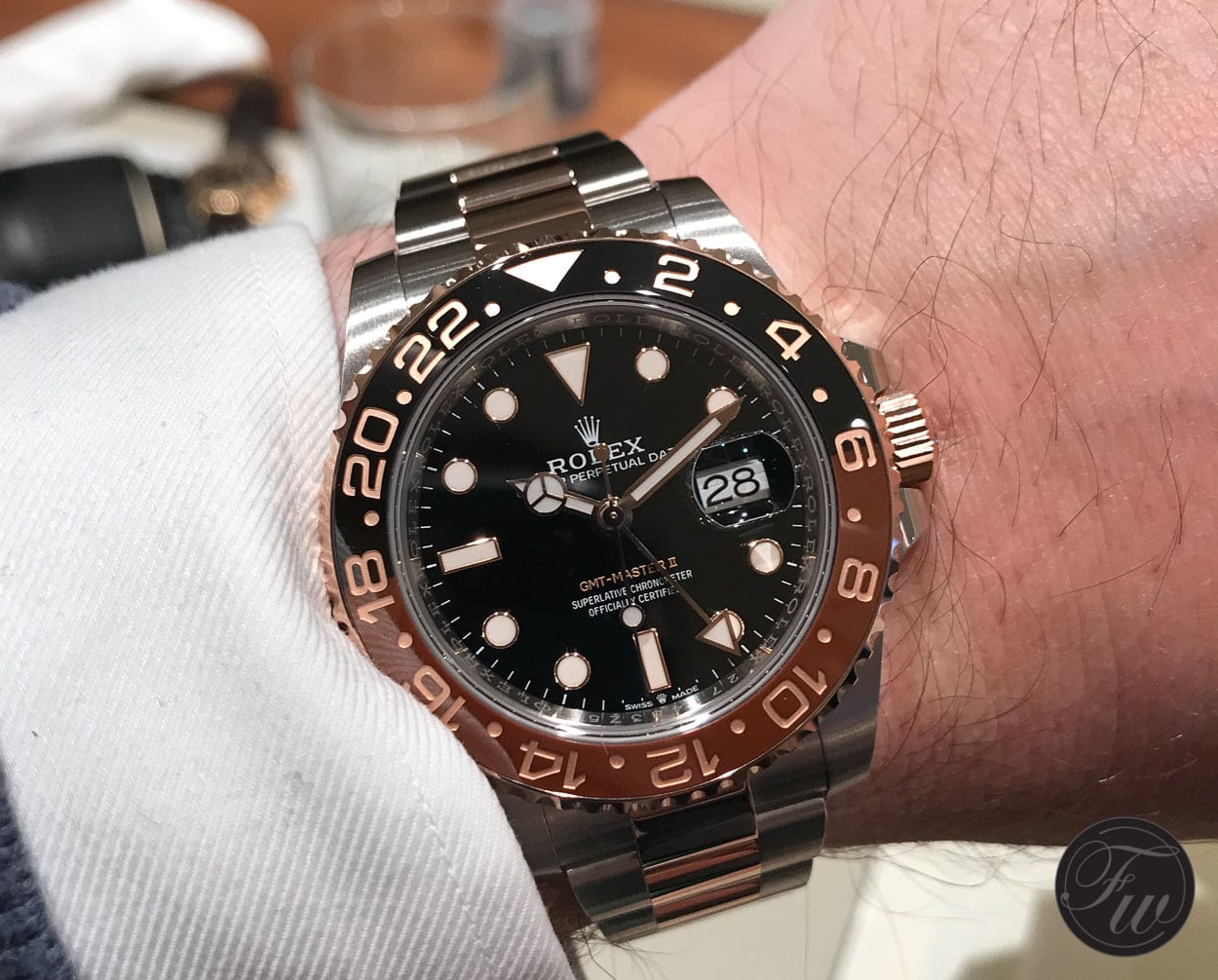 I found out quickly that the stainless steel GMT-Master II Pepsi with Jubilee bracelet was simply not available. Well, it is available when you pay twice the retail price. Even some sketchy authorized dealers dare to ask premium on these watches I've learned (making them no better than any grey market dealer in my opinion). I was hoping that the Rolex GMT-Master II bi-colour would be available, but basically, the same thing happened with them. Not available. I think it might be for the first time in years that even bi-colour watches are so high in demand that these are listed for way over retail. This also results in prices of pre-owned GMT-Master IIs (steel and bi-colour) going up. It might take a while before things will get normal again, but I hope Rolex will find a solution to this to actually be able to serve their clients.
Do You Buy For Yourself Or For Others?
The Tudor Heritage Black Bay GMT Pepsi is not a bad alternative, to be honest. The case is beautiful with the bevelled lugs, the rivet bracelet looks nice (but still remains to be a faux-rivet one) and the dial and bezel actually remind me of my GMT-Master 16710 that I cherished. The GMT complication works like a charm and even when the Rolex movement is perhaps superior to the Tudor in-house movement when it comes to used materials and regulation etc., it does the job and does come with a chronometer certification and a silicon balance spring.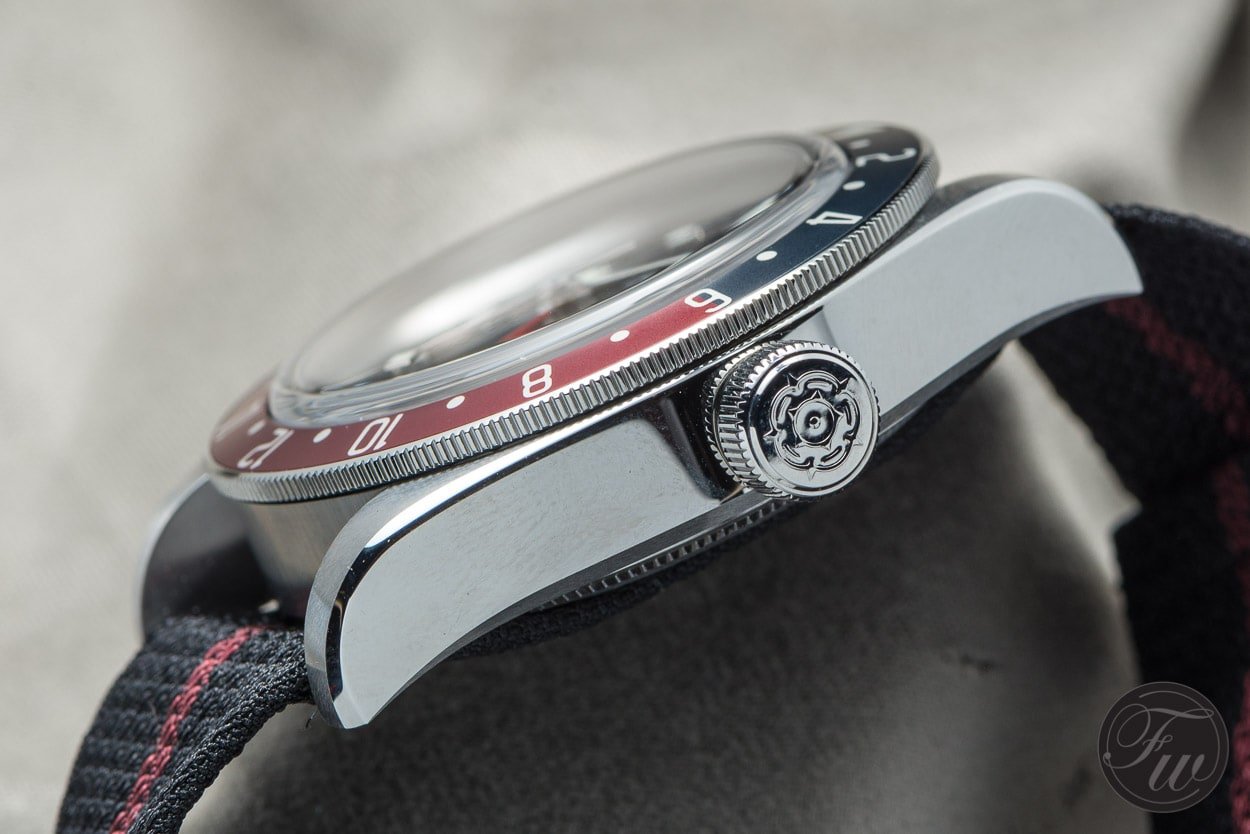 But, and here lies perhaps the issue for many of the people who are debating whether they should buy a Tudor (or Rolex), it could feel a bit like a cheaper alternative to the 'real thing'. In this case, though, I feel that the 'real thing' is the GMT-Master II 16710 (so one generation ago) and not the new GMT-Master II with ceramic bezel. The Tudor Heritage Black Bay GMT will not disappoint you if you can look further than a brand name on the dial. Especially for 3690 Euro, and even less if you'd prefer the leather strap version, the Tudor Black Bay GMT Pepsi is a great value proposition. You need to question yourself if you are buying a watch merely for yourself to enjoy, or want other people to notice your Rolex.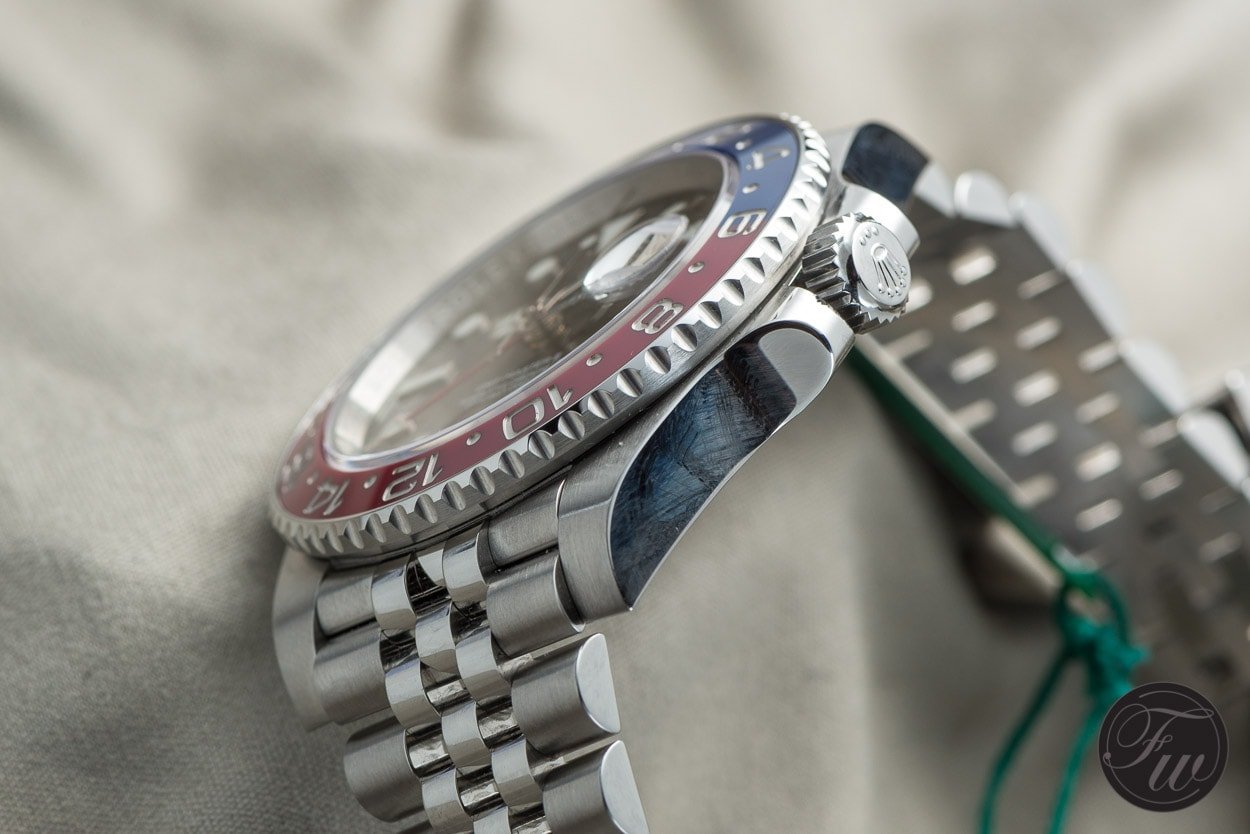 Rolex Does Things Right
That said, I wouldn't do justice to Rolex saying it is only about a brand name. It is not. Rolex tends to do thing very right when it comes to research and production. Rolex watches are on another level compared to many other brands, great comfort on the wrist due to the shape, size, weight, adjustable bracelet and so on. There are only a few other watches in the world that sit so right on the wrist as a Rolex. Once you buy your first Rolex and slide it on your wrist, you know. Even though I have a few of their watches, I am no Rolex fanboy, but credit where credit is due. There is a reason why so many watch journalists simply wear a Rolex all the time, these are just very good watches. What troubles me, as I explained in this article a while ago, is their lack of supply to the retailers (and thus end-clients). This results in douchy operations sometimes, like "You can buy this Daytona at retail if you buy this gold Day-Date for retail as well.". I even wonder if that is legal anyway (in the EU especially). It becomes even more frustrating and douchy when an authorized dealer who should be reliable and standing for its brands and products, offers these watches to clients for over retail price. I think this hurts a brand name, to be honest, and might turn away clients to other brands.
My Pepsi Pick
In the end, regardless how much I like the new Rolex GMT-Master II Pepsi, I think that at least in the near future it will remain to be more of a status symbol than a useful watch for those who travel through and to different time zones. Status is not what the former GMT-Master models used to be about, I think. When the availability will become better in the future, I might settle for the bi-colour though. If I'd need to choose today, my money would go to the Tudor Heritage Black Bay GMT.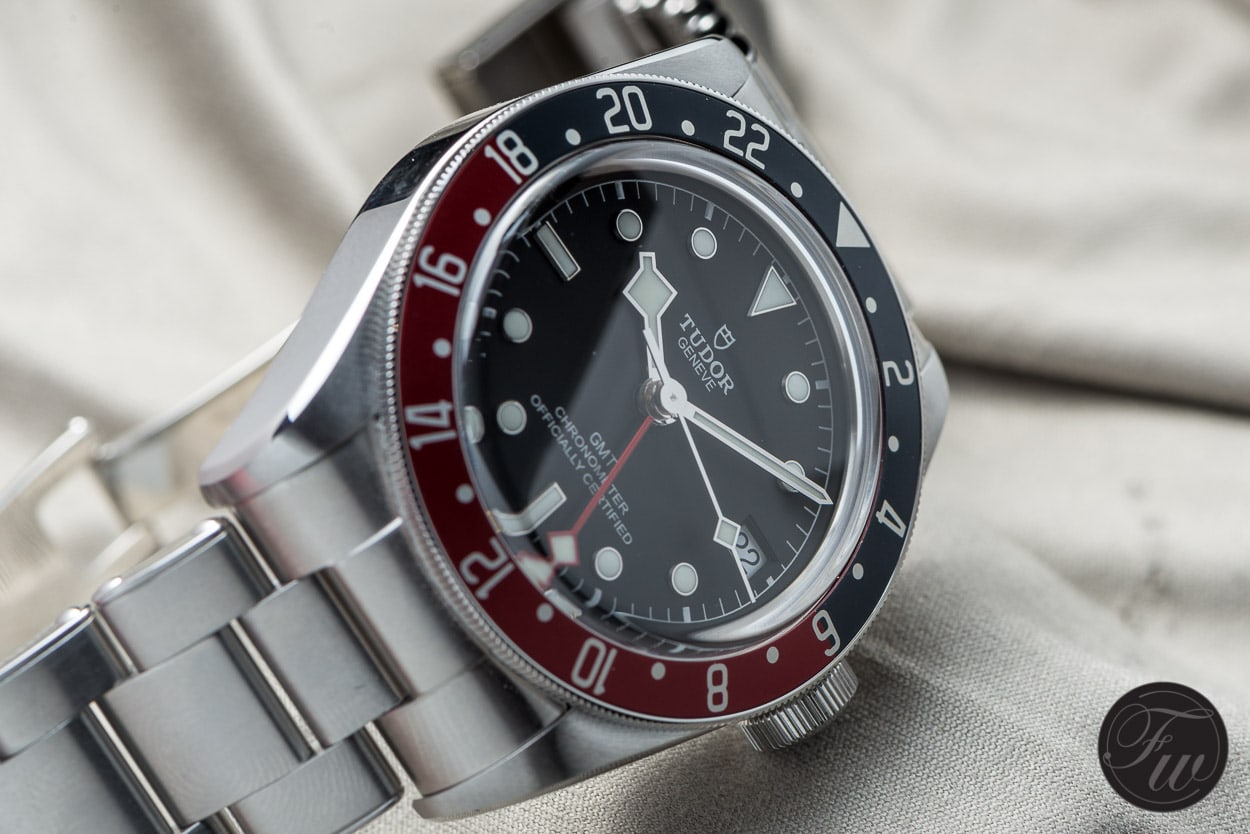 I think they did a marvellous job, keep pricing and availability sane and I can live with a slightly thicker watch (suits me anyway) and the faux-rivet bracelet. For the difference in (retail) price, you could even add another nice Tudor watch or something cool from another brand.