The New Rolex Deepsea Sea-Dweller Reference 126660
Rolex has been listening to some of the customer's feedback on their Deepsea Sea-Dweller it seems. We were presented the new and improved version of the Rolex Deepsea Sea-Dweller reference 126660.
Before I continue, I have to say that I find it very interesting that Rolex is enhancing some of their models. In the past, besides some 'transitional' models, their watches would be in the catalog forever, or at least for many years in a row. That seem to have changed. The regular Rolex Sea-Dweller 4000 received an update rather quickly (after the previous model was taken out of the collection a while before), the Explorer 39mm received an update regarding the hands and the Day-Date II was introduced, then discontinued and more or less replaced by the 40mm Day-Date. It seems that there's more activity in the house of the Crown in recent years than ever before. This is no criticism or whatsoever, but merely an observation from someone who has a lot of respect for the brand. I've owned – and still own – a number of Rolex watches, new and vintage, and follow them every BaselWorld with great interest. So this year, a couple of surprises were shown to us. Although every possible combination could already be found on some websites, created by fans and journalists, no-one knows for sure what Rolex will show in BaselWorld. Except for Rolex themselves.
Rolex Deepsea Sea-Dweller Reference 126660 Redesign
What Rolex basically did is give it a redesign on the lugs, but more important: they updated the bracelet. The general complaint, if you can talk about complaints, is that the bracelet was a bit too thin for the chunkiness of the 44mm Deepsea Sea-Dweller case. So, Rolex made an effort to reshape the lugs basically and made it a better fit with the new 22mm wide bracelet end-pieces. The former bracelet had 'only' 20mm wide end-pieces, and the bracelet tapered towards the clasp. So it looked a a bit awkward for some Rolex Deepsea Sea-Dweller owners. Now Rolex fixed that. Especially persons with large wrists, will love this new upgrade. The watch is now better balanced on the wrist (and esthetically as well).
Aside from the bracelet, which is probably the most important upgrade for most buyers, Rolex also fitted their caliber 3235 movement. The previous caliber 3135 was a very good and solid movement already, but Rolex keeps innovating and want to meet higher standards. Their own standards, but still higher than the chronometer (COSC) standards that many other brands use as a norm. Like we wrote yesterday on the new Rolex GMT-Master II 216710 with its new 3285 movement, keep a daily average between -2 and +2 seconds a day (after casing). You have to know that chronometer is based on the movement itself, with working hands and a crown, but not inside a watch case. These chronometer certified movements will be shipped (back) to the brands, who will then case them. Brands like Rolex, Omega and Grand Seiko for example, have their own (higher) standards where the accuracy is being checked after casing the movement.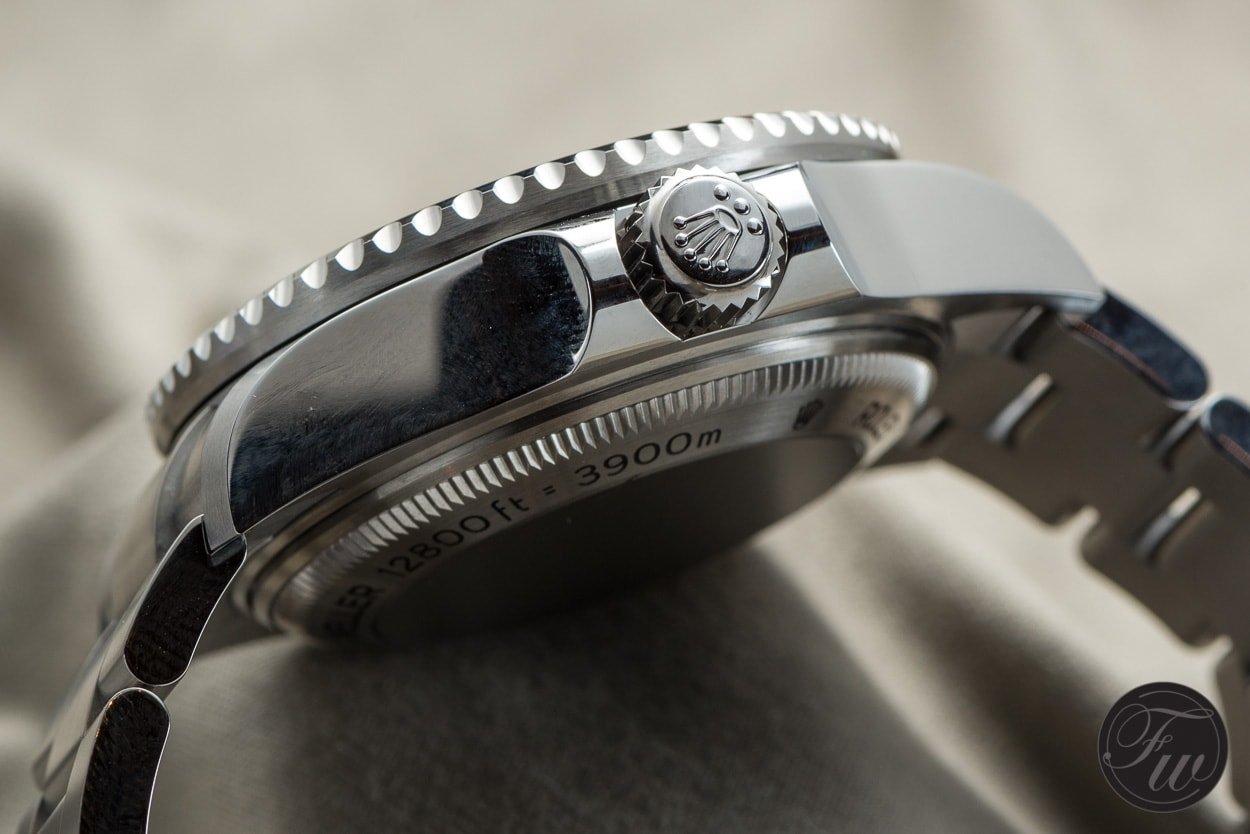 Besides the redesign and new movement, only some small things changed, like the lume dot, which is not positioned a bit deeper into the bezel. The bracelet has of course the extension system (Glidelock), Oysterlock to keep it safe and secure on the wrist and a fliplock extension link for use over your neoprene diving suit.
The Rolex Deepsea Sea-Dweller Reference 126660 still respects the 3900 meters (12,800 feet) of water resistance. An automatic helium valve is located in the caseband at 9 o'clock and the sapphire crystal has an immense thickness of 5.5mm for dealing with so much pressure at great depths.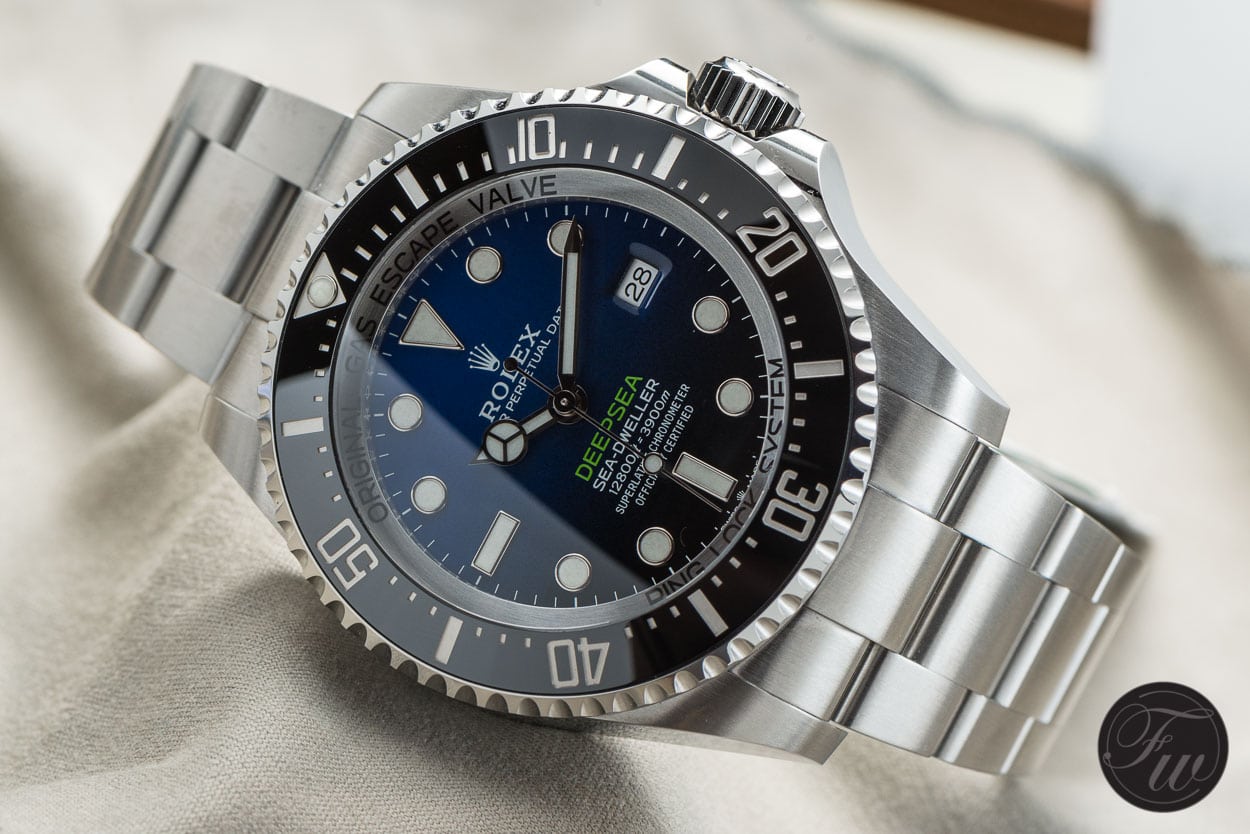 Are the upgrades of the 44mm Rolex Deepsea Sea-Dweller reference 126660 enough to make people swap their current model for this new one? We will see soon enough. More important it perhaps the number of people that now feel comfortable enough with the aesthetics to purchase the new Deepsea, with a wider overall bracelet and subtle reshaped case design. I am also curious to see what will happen with the previous reference 116660 and their market value. Will it create a hype to purchase this model while it is still available or will it become available at an attractive price for the more spontaneous buyers. Let's see.
The retail price on the Rolex Deepsea Sea-Dweller reference 126660 is CHF12,000 Swiss Francs including sales taxes.
More information via Rolex on-line.