Rolex Myth Busting #3: Only Fake Rolex Watches Tick
Or do they all?
Even before I traveled deep into the lands of horology, spotting fake Rolex watches by their ticking sound and jerky jumping seconds hand was one of life's Universal Truths. This is so ingrained that holding a Rolex up to your ear seemed the default quality check when checking the thrift store shelf for epic finds. Unfortunately for the lesser-learned bargain hunters out there, the complexity of modern-day fakery has moved up a notch. This means unknown dangers for the bargain hunters, all the way up to million-dollar Paul Newman Daytonas. The busting of this myth also takes a lateral turn, as we look at the excellent value of the cool quartz references produced by Rolex. Yes, they are real, and some of them do tick rather loudly.
Part 1: Does a ticking sound equal a fake Rolex?
This used to be the ABC of fake-Rolex knowledge a couple of decades ago when fakes were cheap and easy to spot. How we laughed at my uncle, coming back from holiday with a bargain Rolex bought in a dingy bar. With a wildly misaligned bezel and skewed cyclops, jerky seconds hand and a tick louder than a cuckoo clock. The seconds hand didn't align with any dial markings and the "gold" on the Oyster bracelet? Well, that peeled off before the holiday was even over. This was when spotting a fake Rolex was easy, but fake-tech has evolved along with Rolex values. A lot. But first, let me blow your mind, all mechanical watches tick. A Rolex might be smooth, but no seconds hand on a mechanical watch glides smoothly with no incremental stops. With the exception of a Spring Drive-equipped watch from Grand Seiko, but that is in fact a hybrid caliber.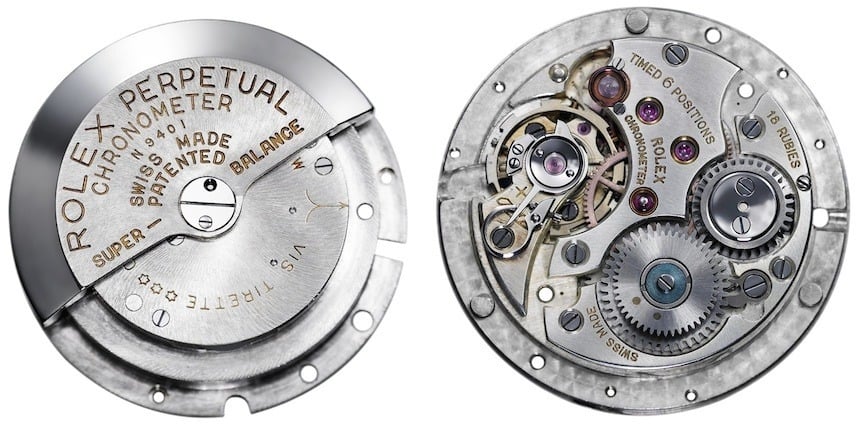 Have a listen
This might seem basic knowledge to some, but you'd be surprised how many are unaware of the omnipresent ticking in watches. Have a closer look and listen to your expensive mechanical watch. Even a 36,000vph El Primero or Seiko Hi-Beat ticks audibly, although at a much higher frequency. But it does tick. What is the difference? A quartz movement will emit one electric impulse triggering a tick per second, whereas a normal non-hi-beat mechanical movement? The self-winding calibers that power a modern Rolex operate at 28,800 vibrations per hour, which is equal to eight ticks per second. The ticks are clearly visible in the movement of the seconds hand if you look closely. Have a look at this slo-mo from Instagram darling @horomariobro, and you will become enlightened.
Part 2: Rolex Quartz
Remember that Oysterquartz you threw back on the garage sale table upon closer inspection in 1997? It seemed ridiculously expensive at $25, but it was genuine. With its sleek seventies bracelet and unusual dial, it's a future top-value Rolex. "They're not fooling me!, Oysterquartz? My a**!" your wife heard you saying. The name was probably a sinister fake ploy, trying to fool you to accept the loud ticking and tocking. This probably happened somewhere, and fear of quartz makes these references true Rolex sleepers. Truth is, Rolex spent five years developing in-house quartz calibers after the company decided to abandon the Centre Electronique Horloger. As a consortium to beat the Japanese, the CEH's mission was to create a Swiss-made quartz movement. A caliber worthy enough for its membership list, including Patek Philippe, Omega, Piaget, and others. The result was the Beta-21 quartz caliber, which powered the Rolex ref. 5100 ("The Texan"), Patek Philippe 3597, Omega Electroquartz, and more.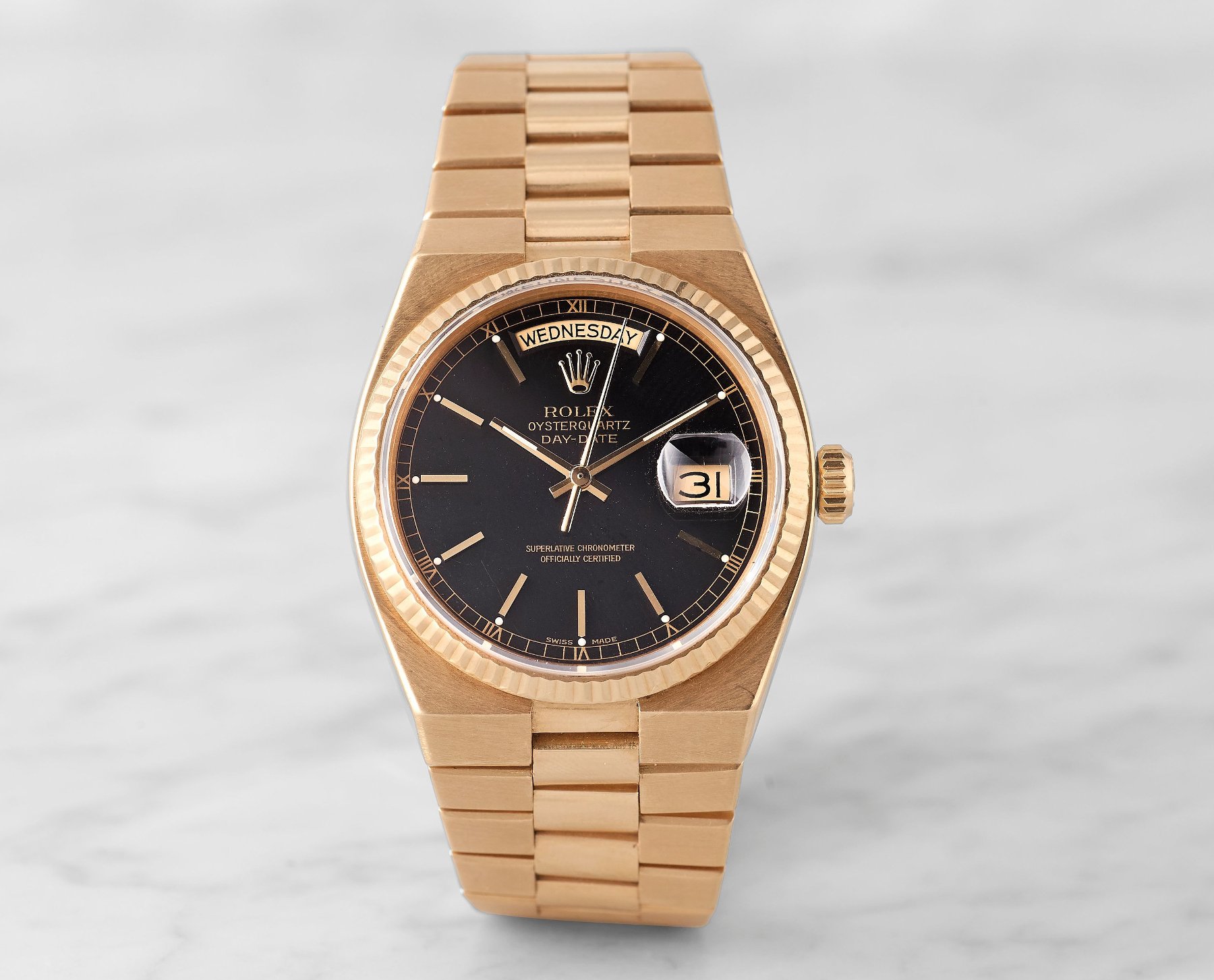 A Cool example, the Rolex Oysterquartz Day-Date
Rolex eventually created its own in-house quartz movements; the Cal. 5035 for the Oysterquartz Datejust and Cal. 5055 for the Oysterquartz Date-Date. With only around 25,000 Oysterquartz watches made from 1977 until 2003, these are as rare as they are valuable. Sleek seventies pizzazz, and strong value for price in our mad times of scratched Submariners for hundreds of thousands of US dollars. You'll find a decent example on a pre-owned site like Chrono24 starting at around $9,000, and that's with a solid gold case. This represents nothing but pure value in today's hot market. I know it's not a Sub, but come on, the svelte body and cool bracelet make it a suave piece of Swiss perfection for any outfit. Mark my words, the term "sleeper" was made for one of these battery-powered beauties. 
Fake watch spotting itself, however, is a story for another time as their quality has scarily evolved. Many now employ decent automatic movements, and Franken-Daytonas appear at major auction houses assembled from genuine parts. A story that needs telling? Let me know in the comments below.
Follow me at: @thorsvaboe