The New Rolex Submariner Date In Gold Reference 126618LB
A closer look at the new kid on the block
The new 41mm Submariner Date replaces all previous 40mm models. I was very excited to get my hands on the new Rolex Submariner in gold, only available for the Date version. Is this new Submariner Date in 41mm nicer than the previous 40mm collection? Let's have a closer look at the famous diver in precious metal.
Interestingly, only the Rolex Submariner Date is available in 18kt gold. This has been the case forever, all no date models up to now only have been available in steel. Not only that, the no-date Sub is only available with a black dial. The Sub Date, however, is there in a number of dial, bezel, and material combinations. Today, I will have a look at the Submariner Date reference 126618LB. This watch has a blue dial and blue bezel, a classic combination of the gold Submariner Date.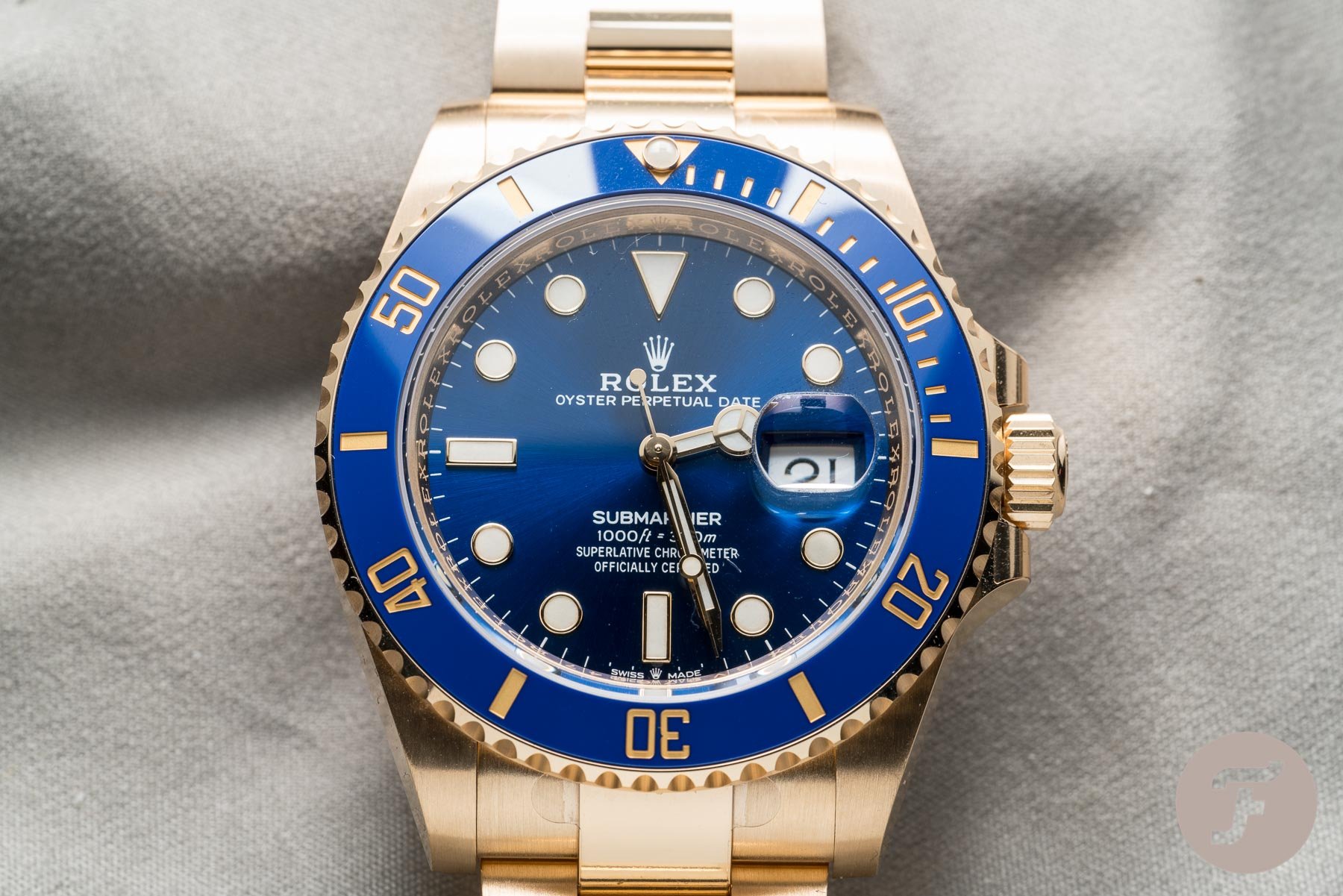 Rolex Submariner Date 41mm
Rolex introduced two references in yellow gold, this blue on blue version (126618LB), and one with a black dial and bezel (126618LN). The Rolex Submariner Date 126618LB replaces the 40mm 116816LB. Like all other new Rolex Submariner 41mm watches, this yellow gold reference 126618LB also has thinner lugs, a wider bracelet, and is fitted with a new caliber 3235.  Even before the previous version, there have been many yellow gold Rolex Submariner Date references.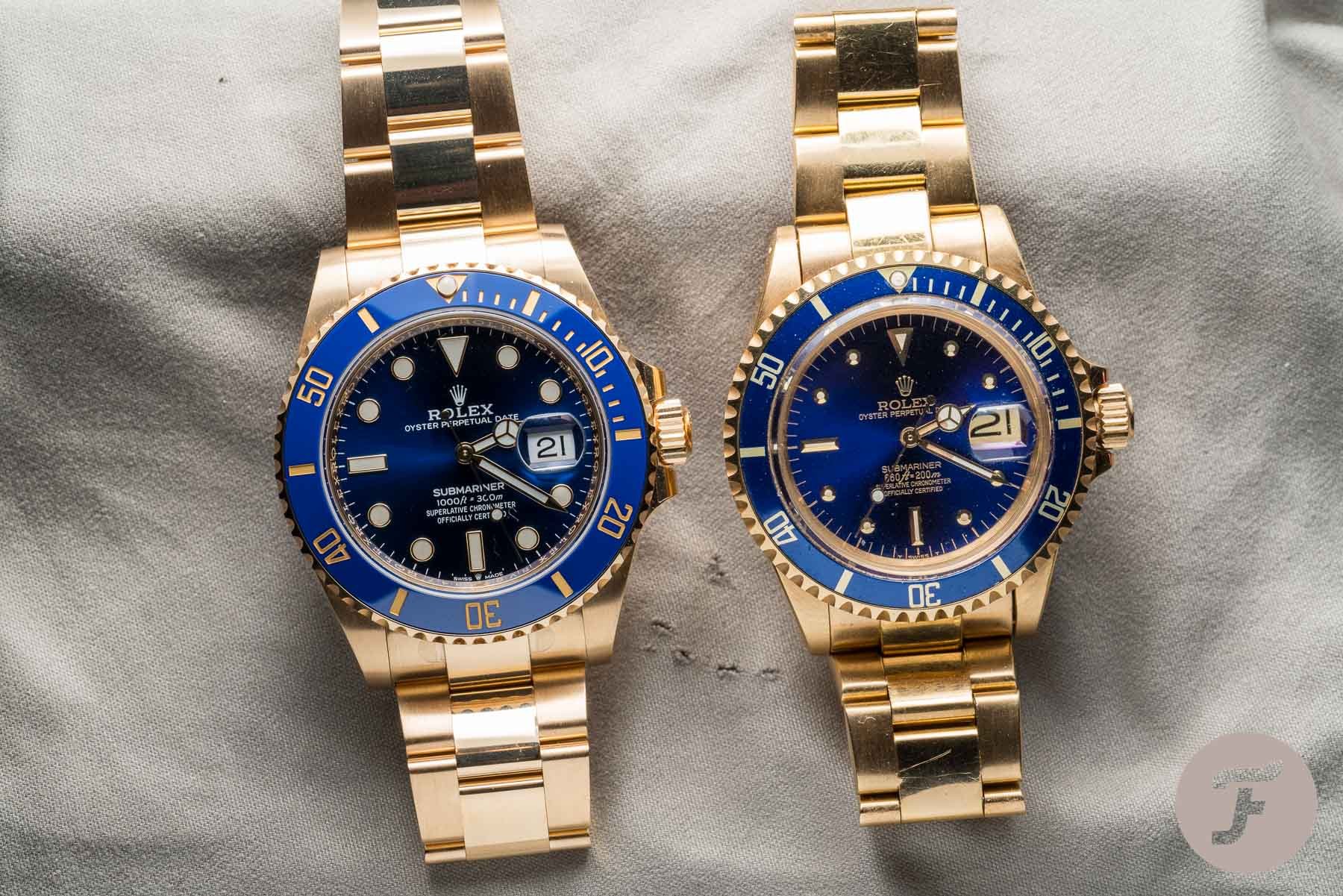 And as you can see in the picture above, with the Submariner Date 1680/8, the new Sub Date is a product of evolution. However, you could say that with the new Submariner 41mm models, it took one step back to the original model when it comes to design values. Although the diameter of the Submariner increased, the lugs have become a bit pointier again, like the references 16618, 16808, and 1680/8 (above).
Originally, the Submariner was only available in stainless steel. That changed in 1969, with the introduction of the first Rolex Submariner in gold. This was the Submariner 1680/8. The gold Submariner Date 1680/8 that shown in this article has nipple hour markers and a slightly discolored blue dial. It was difficult to catch in the pictures, but it almost turns purple from certain angles. However, some of the Submariner Date blue dials also turn into this brown-ish color, like this one.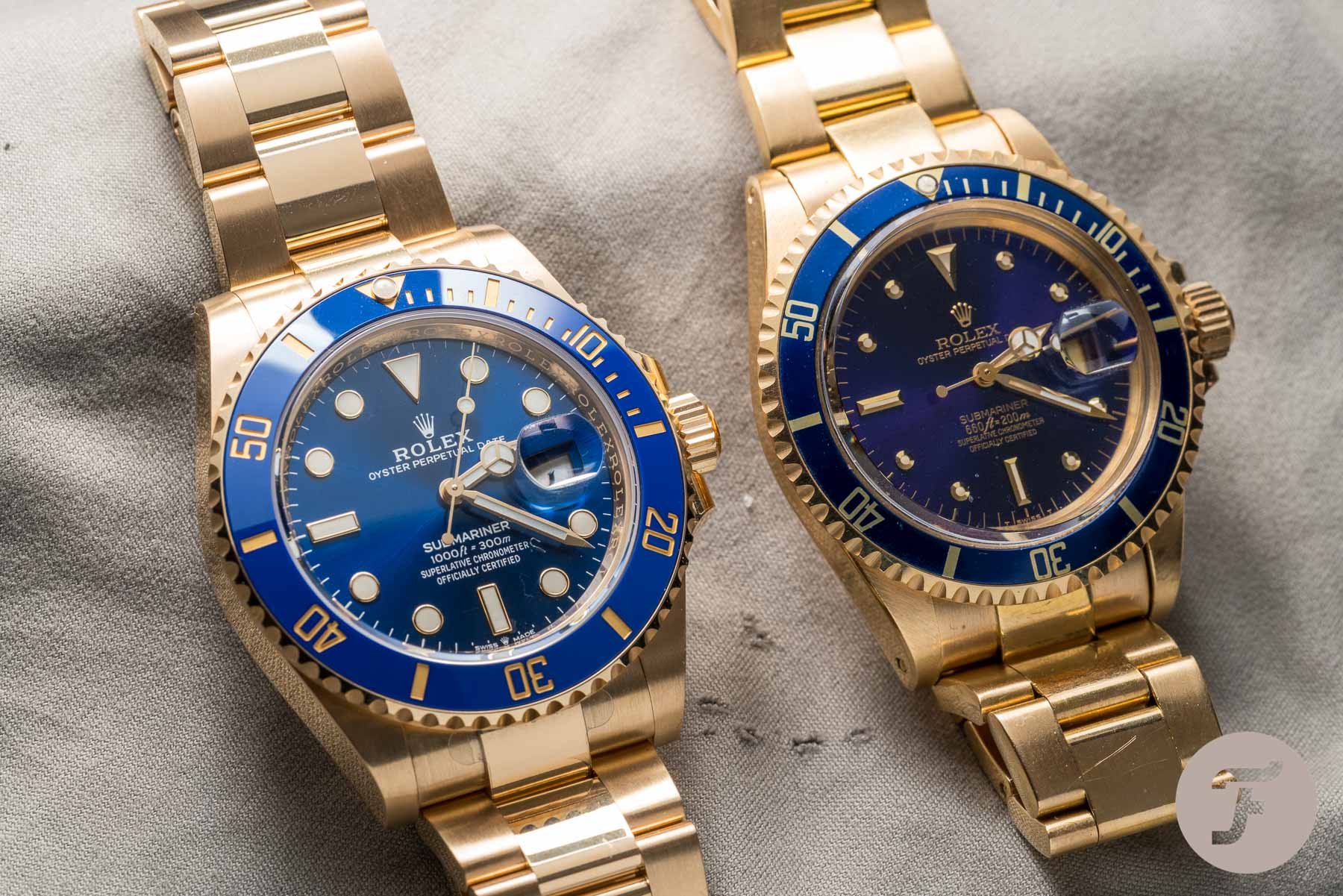 The new ones do look better
But, this article is not to give you Submariner history lessons, but to talk about the new Submariner Date in 18kt gold with its blue Cerachrom bezel. The first thing to notice is, of course, the thinner lugs. It took me a few weeks to get used to those, and to the wider bracelet (and clasp), but I am now at the stage where I think I prefer the new 41mm Submariner over the former model.
Although the 40mm ceramic Submariner was a really big step forward from the 16610/16613/16618 generation, the new Submariner 41mm watches instantly make them look a bit outdated. At first, I didn't agree with my colleague Michael Stockton — who never fancied the ceramic Submariner 40mm models — but now that I have seen the new Submariner 41mm models, I must admit he was right. The new ones do look better.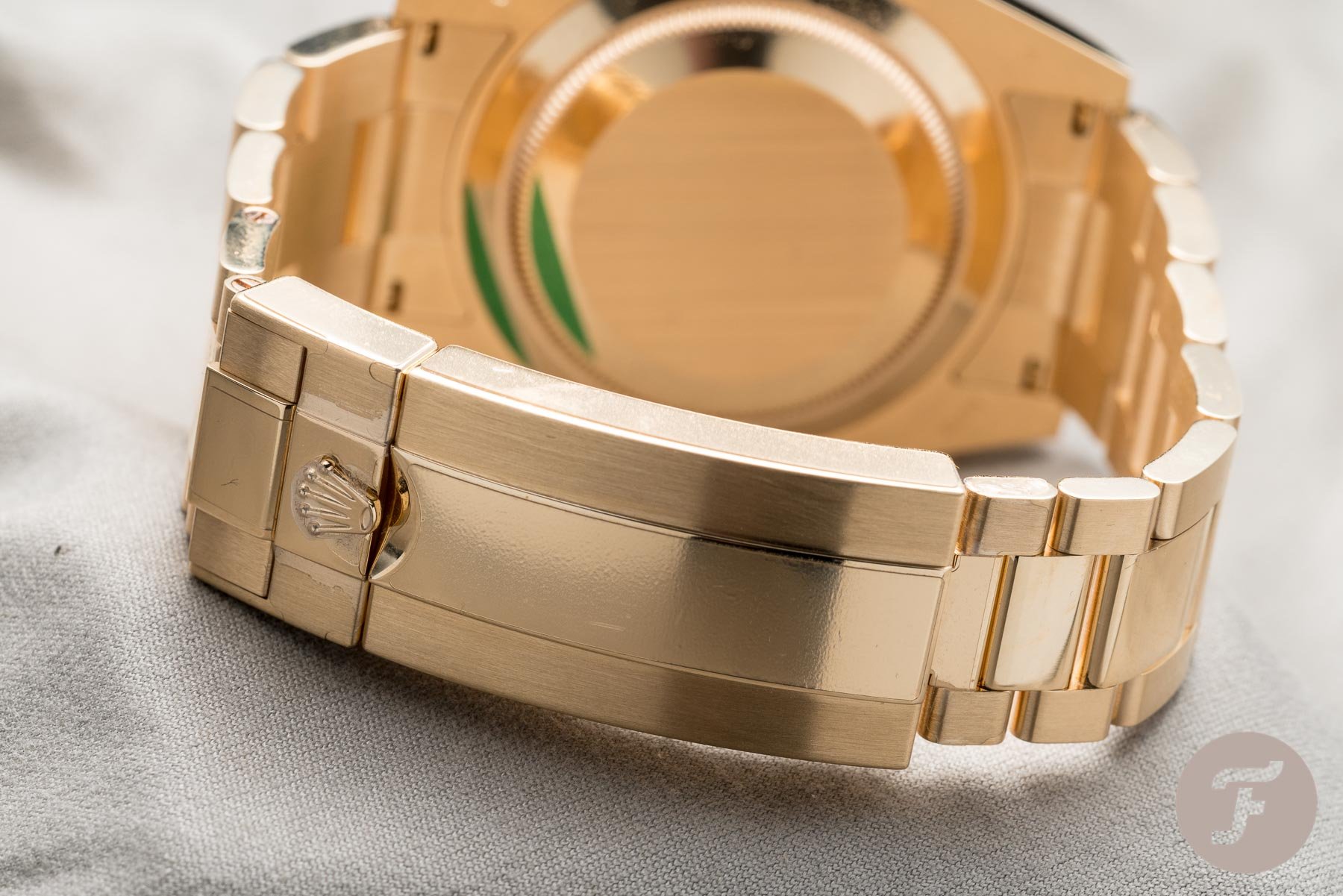 The only thing I do not particularly like is the width of the clasp. Not only the end pieces of the Oyster bracelet have become wider (21mm vs. 20mm), but the entire bracelet is a little bit wider. That also results in a wider Oysterclasp on this Submariner 41mm collection. But, this surely wouldn't be a dealbreaker to me. Not for this beautiful blue-bezeled Submariner in 18kt yellow gold, nor for any of the other Submariner options to choose from.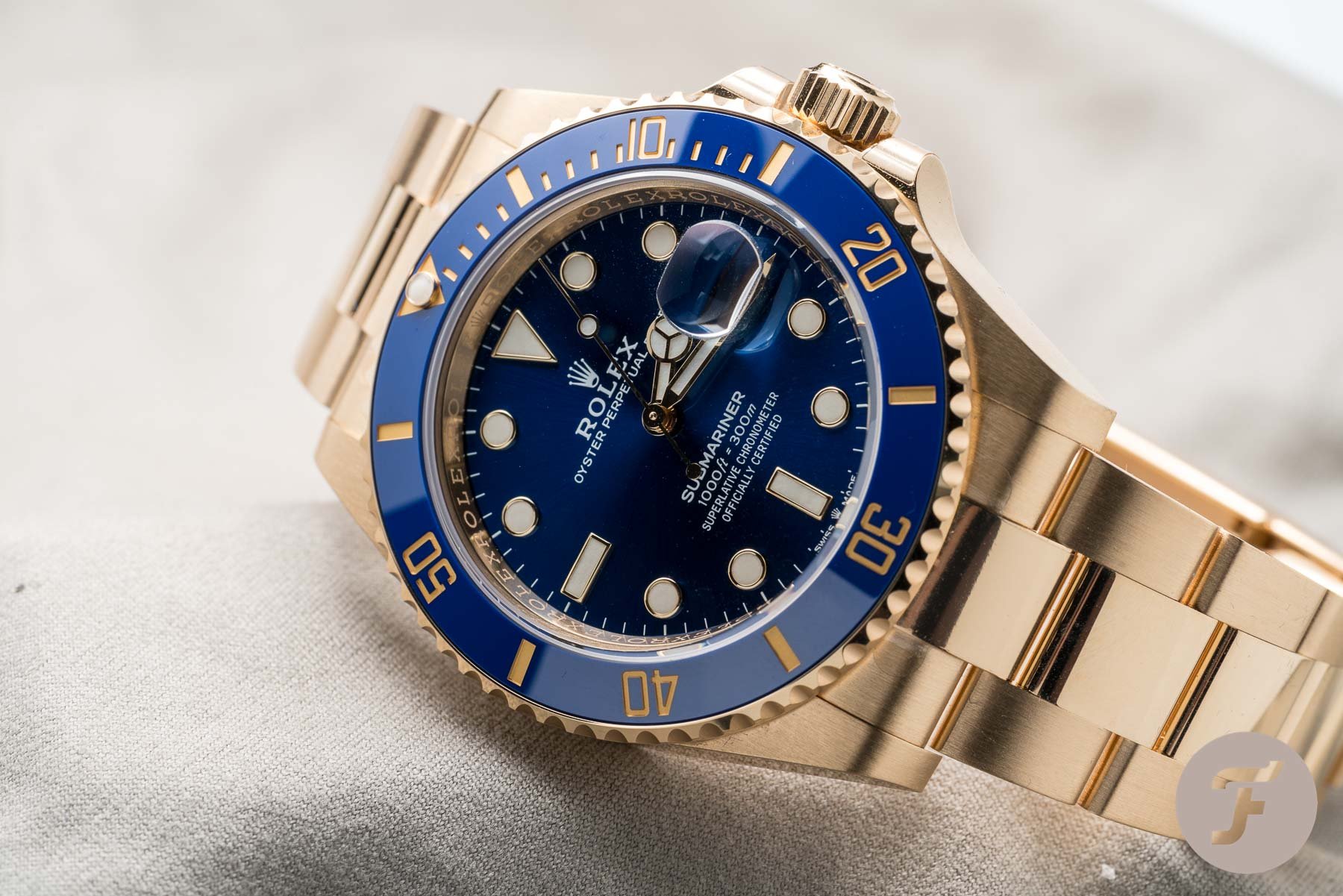 Why I like about the Submariner Date reference 126618LB
Unfortunately, I don't have a history with the Rolex Submariner watch other than the ones I bought. My parents weren't really into watches. I lived on the outskirts of my country. It is an area known for low land and low watch-density. Consequently, I had no clue about Rolex watches back in the 1980s and large part of the 1990s.
The first time I saw a Rolex in the flesh was definitely after 1995 — a very different youth from Mike's Floridian nonage, where bi-color Submariner watches and gold Day-Dates were flaunted by basically everyone. So he tells me, at least. I can imagine that if that is what your youth looked like, you might have an extra trigger to get one of these watches. But I don't.
Nevertheless, I purchased my fair share of Rolex watches and still have a few of them in my modest collection. All steel, except for the white gold fluted bezel on my Datejust and the platinum dial and bezel on my Yacht-Master. But this Submariner Date in gold is something completely different from the ones I have.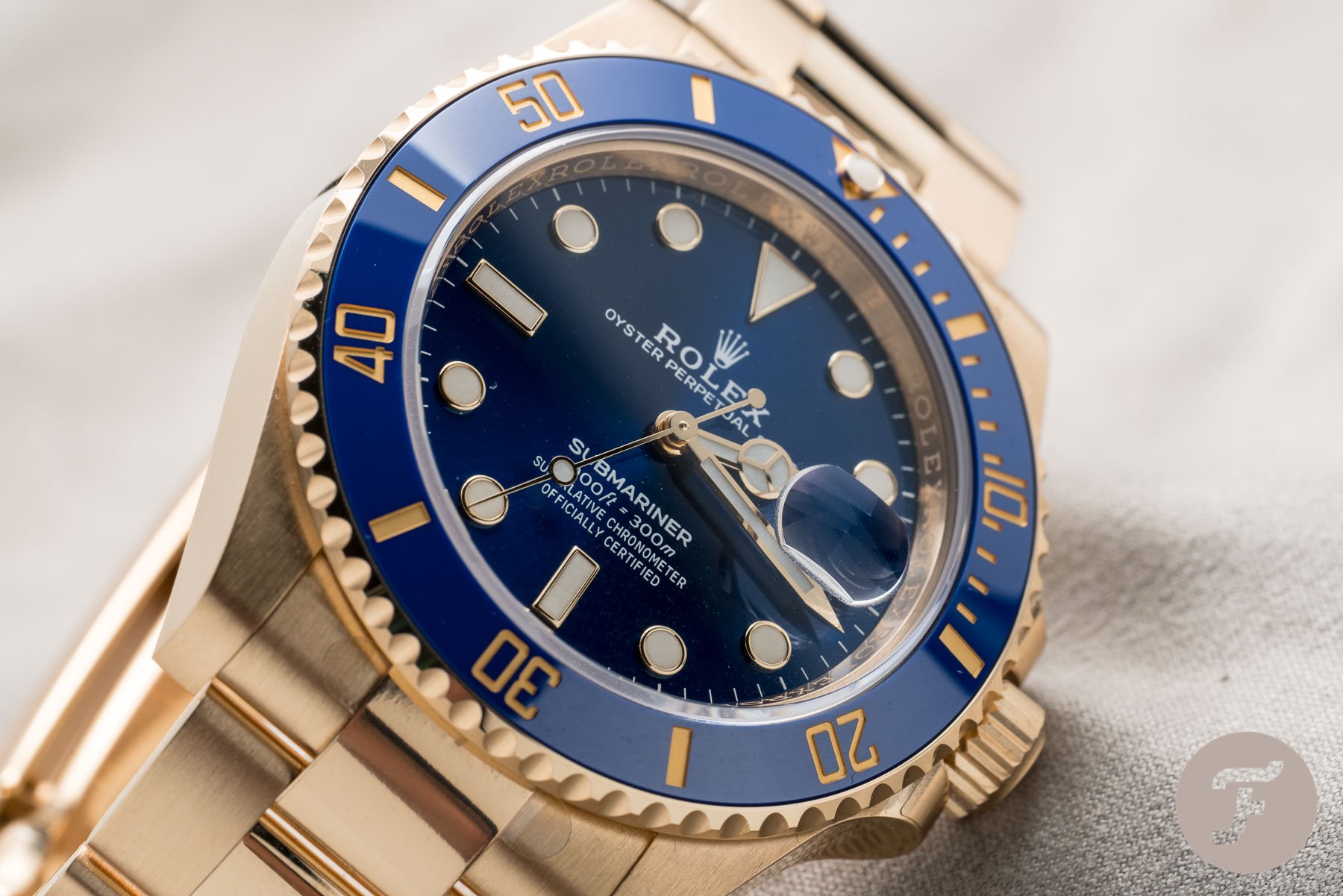 The new Rolex Sub in 18kt gold
That said, if I had the funds, I would be very happy to add a gold Rolex to the collection. I also want to admit that I have been drooling over a full gold Rolex GMT-Master II Rootbeer (reference 126715CHNR) at some point. With the introduction of this new Rolex Submariner Date 126618LB though, it takes in the number one position of any gold Rolex watch I would love to own. With the new 41mm case design, the lugs on the previous 40mm sports models look suddenly a bit disproportioned. I can only imagine Rolex is going to update the other sports models as well with thin-lugged 41mm cases.
Anyway, I like the new Rolex Sub in 18kt gold. It looks good and I don't mind owning a watch that is considered a tool watch in precious metal. According to some of the purists amongst us, a tool watch can never be in gold. But I beg to differ. The days are long gone that these watches were used for what they were designed for. It is has become a luxury item. I believe that only a few people out there actually use a Submariner for diving purposes. I also feel that a gold version of a sports watch is simply a luxurious tribute to the original (steel) watch, in this case, a Submariner. Those who don't like the yellow color, or want others perhaps to think it is steel, can opt for the white gold Rolex Submariner Date 126619LB.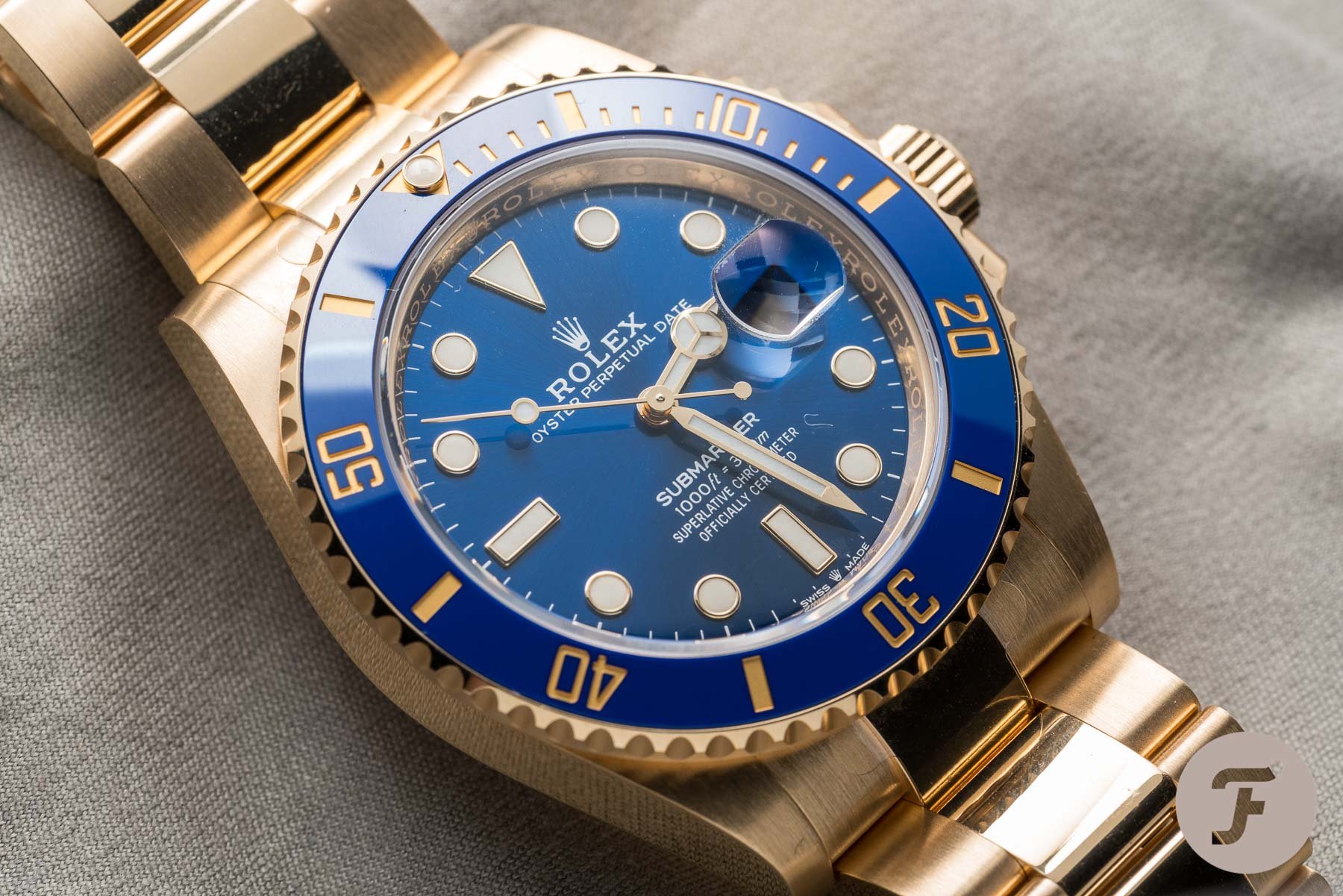 The Chronergy Escapement
What makes the new Submariner Date interesting as well is the use of the new Manufacture Rolex movement, 3235. Rolex caliber 3235 has a power reserve of 70 hours. That's significantly more than the 48 hours of the previously used caliber (3135).
This new generation 3235 movement has the more efficient Chronergy Escapement. This patented Chronergy Escapement ensures greater dependability and higher energy efficiency. Also important in today's world is the fact it is resistant to magnetic fields. The caliber 3235 is new to the Submariner Date, but it has already been used by other Rolex models that received an upgrade earlier on.
This movement was already introduced in 2015 and fitted to the Datejust 41, Datejust 36, Yacht-Master 40, Yacht-Master 42, Sea-Dweller 43, and the Deepsea. As always, it is Superlative Chronometer Officially Certified, and on top of the COSC standards, it has been tested after casing as well and regulated to perform between -2 and +2 seconds per day on average.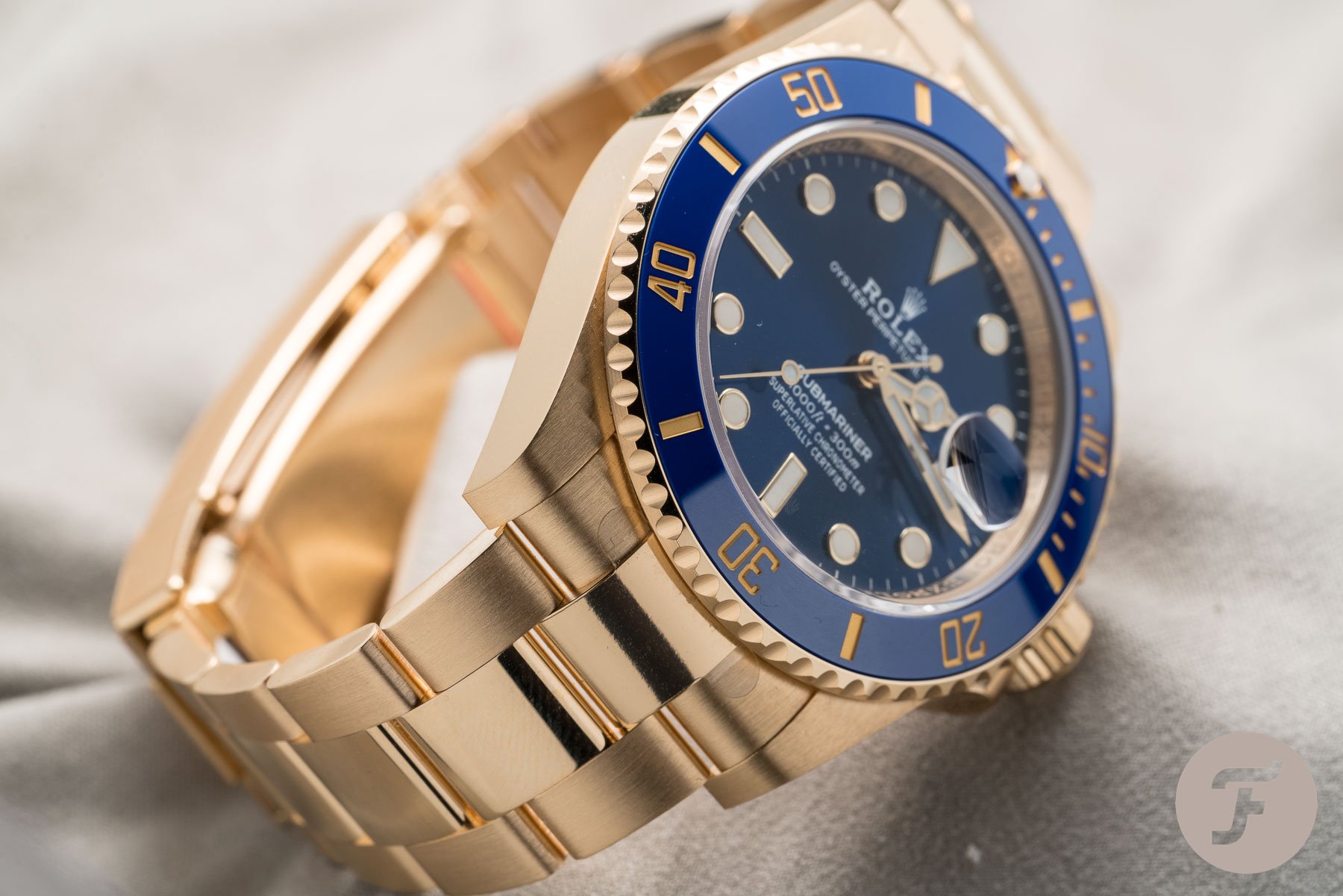 Price And Non-Availability
The Rolex Submariner Date in yellow gold has a retail price of €35.200 (including sales tax). But, as always as of late, these watches are hardly available, and authorized dealers can only offer you a spot on the waitlist for one. It shouldn't be as bad as the steel models, where waiting times of years are being rumored, but it is highly unlikely your local authorized Rolex dealer has one in stock when you happen to walk in on a Saturday morning.
Visit Rolex online for more information.
*A big THANK YOU to Van Schaften Horloges to give us some time with their Rolex Submariner collection.
Watch specifications
Case Material
18 ct yellow gold case with blue Cerachrom bezel
Case Dimensions
Diameter: 41mm
Case Back
Solid 18ct yellow gold
Movement
Caliber 3235, self-winding in-house Rolex movement, power reserve: 70 hours, ticking speed: 28800vph, Chonergy Escapement, Paramagnetic blue Parachrom hairspring
Water Resistance
300 meters
Strap
18 ct yellow gold Oyster bracelet with Oysterlock (fliplock) and Glidelock extension system
Functions
Time, Date, Diving scale bezel
Warranty
Five years of international warranty