Scatola del Tempo 2+2 Over Size Review
Scatola del Tempo 2+2 Over Size Review
Your prized possessions deserve a prized place for storage. There are a number of options available. On the most basic level, you can go with the original box supplied with the watch. Of course if you have more than one watch it might get a bit uncomfortable displaying all of them on the bedside table, right? If you put it on a shelf you need a whole lot of space, not to mention a safe. Those are usually not the size of a cupboard. Then there is the watch box. This comes in various sizes. You can have one from 2 all the way up to 20-30 etc. watch slots. Prices are just as versatile as the number of the aforementioned slots. Cheap Chinese ones go for as low as €15-20 for a 6-slot box. This is mostly low quality cheap plywood or even cardboard with very low quality leatherette material. "For storing my watches, it is perfect" – I hear you say, and to be fair you are probably right. But let's face it, these watches are you babies. Would you put your baby in a cardboard bed to sleep? Of course not, you would want the best there is, or at least the best you can afford. This is where Scatola Del Tempo comes into the picture.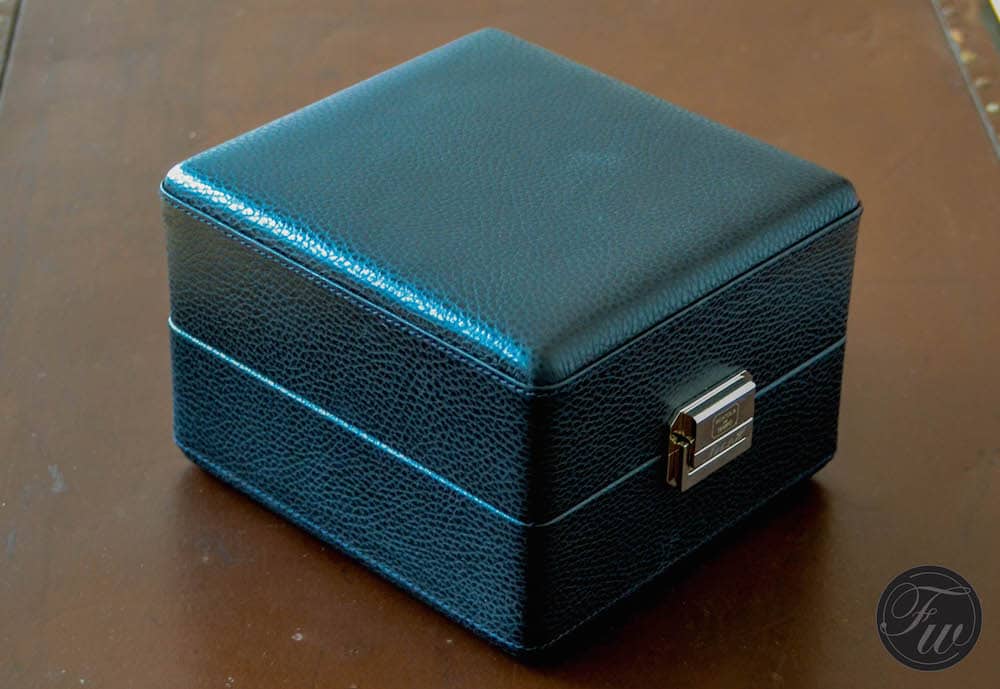 Scatola del Tempo
You probably remember that not too long ago we reviewed something from Scatola del Tempo. It was a single-watch winder: not their entry-level product but one of their top sellers. This is exactly the case with the box. You might find smaller (and cheaper) boxes, travel cases, organizers in their line up as well as more expensive and bigger watchcases. This one is called 2+2 Over Size, but they also have a slightly smaller version, also for 4 watches that goes by the name of 2+2. As you might know Scatola del Tempo (Box of Time) started production in 1989 and they soon became the world's leading watch box provider. They have worked with numerous prestigious watch brands and produced watch boxes for companies like Audemars Piguet, Breguet, Breitling, Cartier, IWC, Jaeger- LeCoultre, A. Lange & Sohne, Vacheron Constantin, Zenith and many more. I won't bore you with the details as you can also read about the history in our previous article.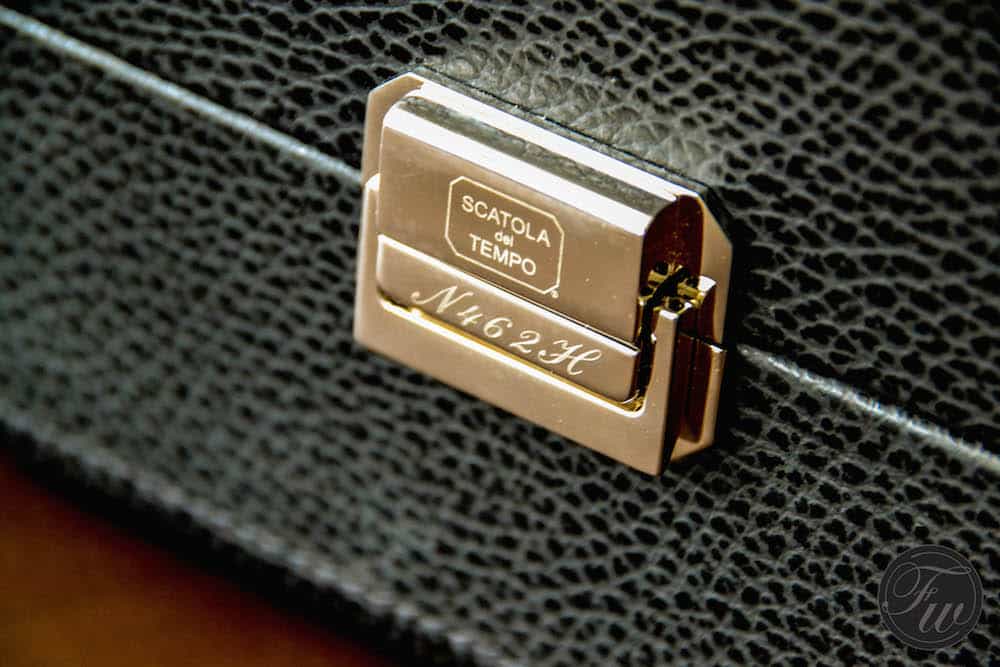 2+2 Over Size
The watch box I have in front of me is a large black leather cube with only a small shiny lock with "Scatola del Tempo" on it. If you turn the box on the lower right corner of its back, it reads "hand made in Italy" a signature phrase each and every Scatola del Tempo item bears. Make no mistake people, this is as good as it gets when it comes to fine Italian craftsmanship. It is like having a Louis Vuitton Keepall, a timeless classic design made with the highest quality materials available on the market. Leather and silk are orchestrated in such a harmony only the Puccinis of Scatola del Tempo could produce. It's simply brilliant and we haven't even opened the box yet. The measurements are 12cm tall, 16,5cm wide and 17,5 deep. The "Over Size" refers to the size of the watches meaning that this box was designed to store not only your usual 36-40mm timepieces but also larger watches like Panerai. This of course does not mean that regular sized Omegas or Rolexes aren't allowed to be stored in them, on the contrary.
Let's flip the clasp and open the box. While some cases have thin ribbons that hold the upper side of the box, this can be folded down all the way. On the bottom side you have 2 large silk covered pillows for the watches on bracelets – or straps. Behind them you can find a little compartment with a lid. The is a narrow but deep pocket to hold extra straps, spring bar tools, pens or cuff links, or perhaps a 5th watch should you need more space. The pillows, just like the compartment, are covered in silk, giving a more luxurious touch to the already high quality box. They are not loose at all and it actually isn't that easy to take them out. This means that when you put your watch on them you wont have to worry about them sliding inside the box even if you take it somewhere or just place in the safe. The slots will hold the watches firmly and strongly. All throughout the compartments and lids on both sides you will find the same leather you have on the inside.
Moving on to the upper side of the box we see that the whole side is covered with a lid, which is fastened with a rivet. If you flip the rivet and open up the lid another 2 watch compartments are revealed. This is where you should store your watches with a leather strap – or bracelet. They are also covered with the same silk as we have seen on the other side of the box. The sides and bottoms on all compartments are padded as well as the top of the lid where it touches the crystals of the other 2 watches. The luxurious simplicity is consistent throughout the box. If you are looking for something outstanding or gimmicky, I'm afraid I have bad news. There is nothing special (or gimmicky), but it does not have to be special. It is beautifully made, elegant yet not ostentatious at all. The leather is amazing, the silk is soft and the whole construction is sturdy. There is no squeaking or creaking and everything opens and closes as it should. The price of the box is €600. This is indeed not cheap, but Scatola del Tempo does not want to be cheap. They simply want to be the producers of the best watch box on the market and this is exactly what they do – day in and day out.
Final words
Other than watch winders, watch boxes or a combination of the 2, the company is producing many other things. Watch boxes for brands, jewelry boxes, pen boxes and custom made safe boxes are some examples. They can produce any kind of customized product. If you are in need someone to design and build a safe/watch winder/watch box into your bespoke walk-in closet, they're the ones to do it. Our little 2 piece article series on Scatola del Tempo is over, but who knows, we might return to report on some more interesting and classy watch accessory from their collection. In the meantime, don't forget that Christmas is only a few months away. Read the article, like it on Facebook, share it and leave the page open on the macbook when you leave the room for the missus to see. She will put together the rest, trust me 😉
The website of Scatola del Tempo is here and some further info on the box is here. Don't forget to check out other items in their webshop.