Announcing The Seiko Prospex Alpinist SPB355J1 "Rock Face" — Get Ready For A Climbing Expedition!
A European exclusive available this November
It almost looks like it's becoming a tradition now. For the third consecutive year, Seiko is launching a limited edition of the Prospex Alpinist. And again, it'll be exclusive to the European market. It certainly seems like there's a strong fanbase here for Seiko's adventure watch. This year, it features a gray textured dial and blue accents all around. Let's take a quick first look at the 2022 Seiko Prospex Alpinist SPB355J1, which the brand has nicknamed the "Rock Face".
To be completely honest, I could never really understand why there are so many fans of the modern version of the Seiko Alpinist. To me, it always seemed like there were too many things going on. Those two crowns so close to each other, the modern-looking compass bezel in combination with the applied markers and numerals, and to top it all off, a set of cathedral hands and a magnifying lens for the date… To me, it just looked like a mishmash of different styles. But having tried on the Prospex Alpinist a few times now, I'm gradually starting to understand why people love it. Indeed, Seiko has released some very cool limited-edition versions, and as of today, we can add the "Rock Face" to the list.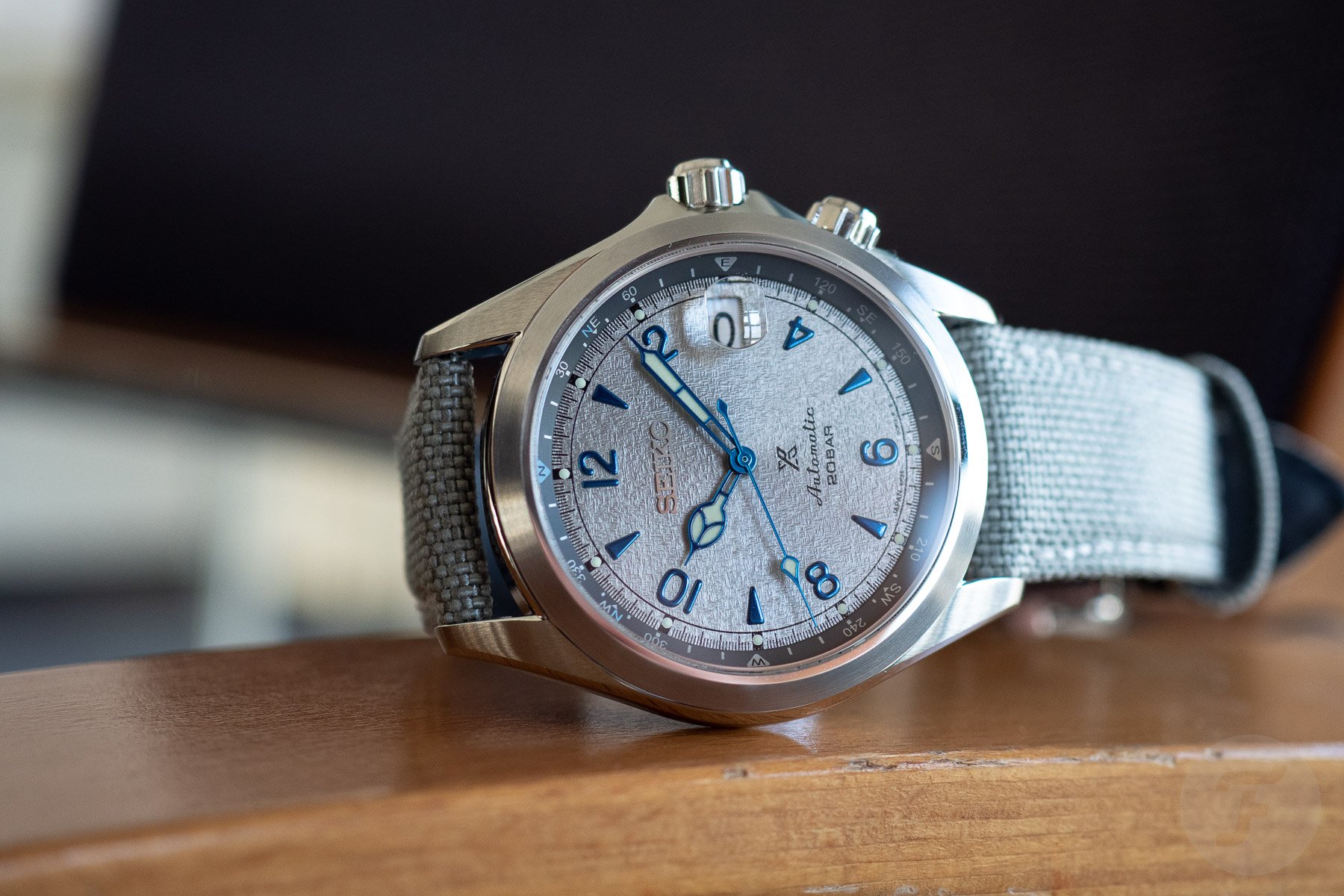 For comfortable expeditions
But what actually surprised me when I tried on those earlier versions of the Prospex Alpinist was how well they wore on the wrist. Just like this latest "Rock Face" edition, the cases measured 39.5mm wide, 13.2mm thick, and 46.4mm from lug to lug. I remember that the watch sat very comfortably and immediately felt familiar on the wrist. And that also goes for its dial design. Even though I wasn't really a fan from the get-go, it certainly didn't feel as busy or chaotic as I expected. So yes, I do get why there are so many fans out there.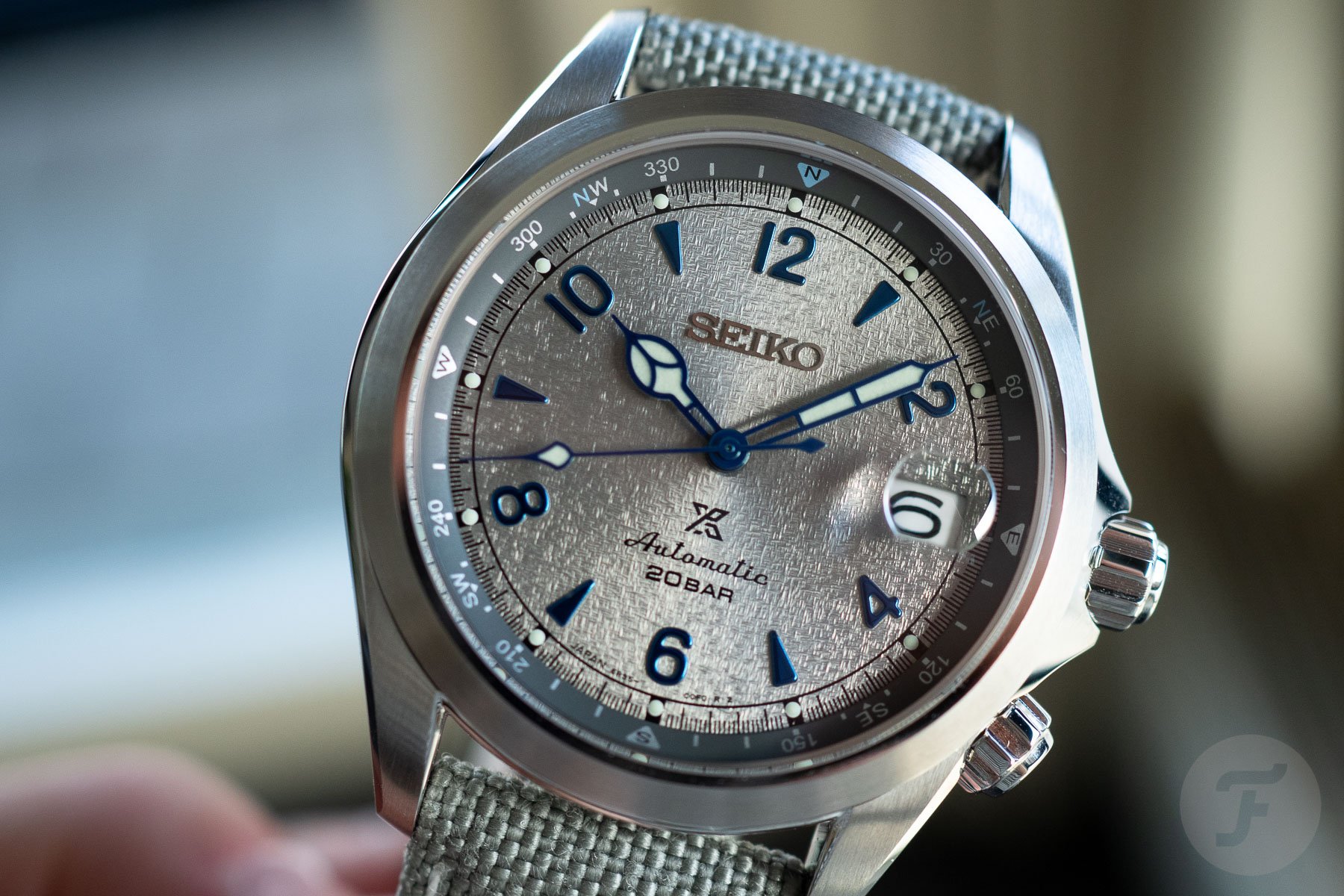 And they must buy a lot of these Alpinist iterations, especially in Europe, because Seiko can't stop making more and more of them! For the latest version, the designers at Seiko took their inspiration from the rugged texture and shadows of a mountain's rock face. The brand has even teamed up with Italian rock climber Stefano Ghisolfi, who tests the watch on his own climbs. Well, I don't think he'll complain about the comfort of the Alpinist "Rock Face" on his wrist! And although its measurements are similar to earlier versions of the Alpinist, its dial design certainly isn't.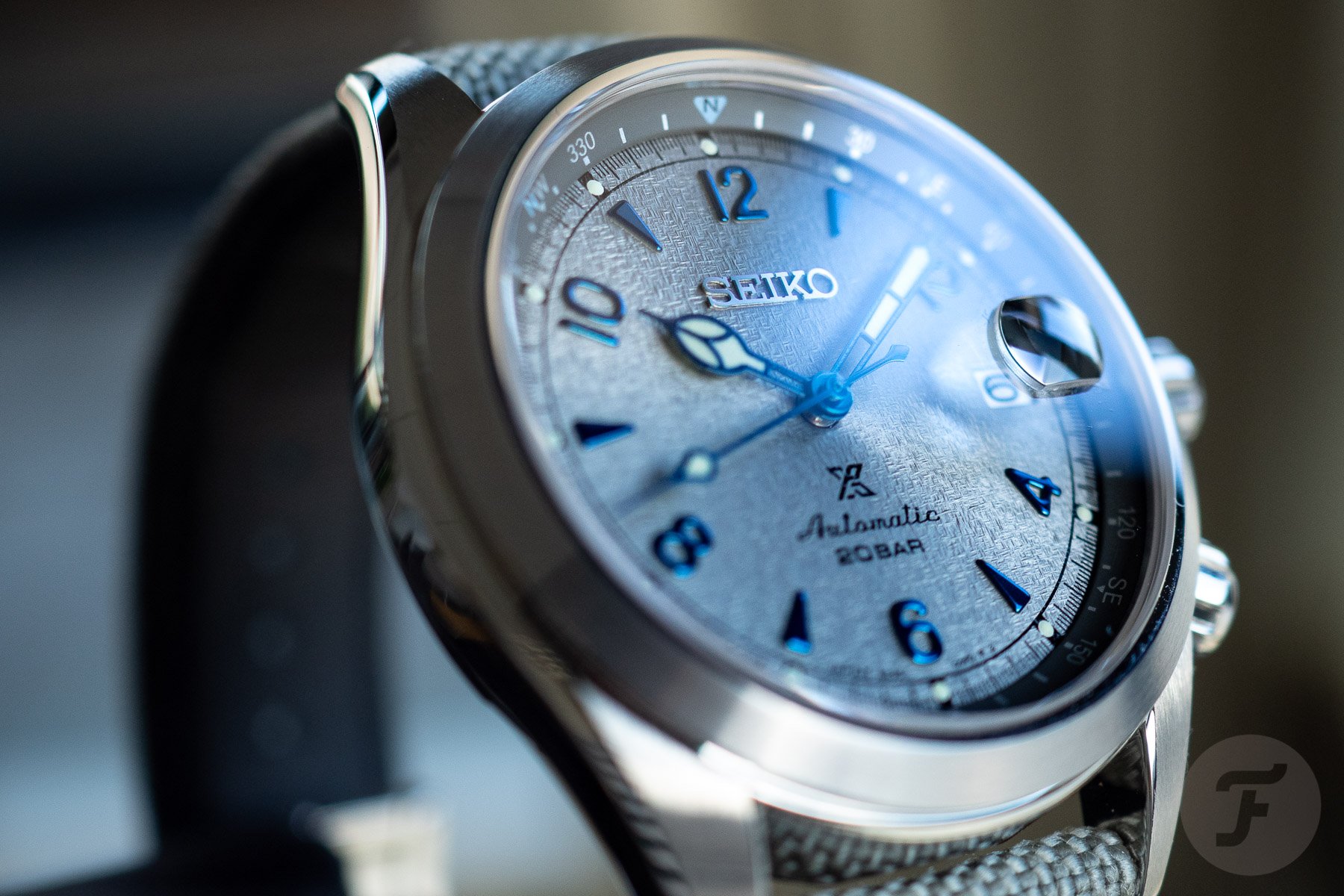 A "rugged" dial texture?
To mimic the ruggedness of a rock face, the SPB355J1 is fitted with a textured silver/gray dial. Seiko says it will look different depending on your viewing angle. I haven't seen the watch in person yet, but I'm very much looking forward to experiencing that. To be honest, the dial doesn't look that rugged to me. It looks more like a subtle linen dial on a Rolex Datejust. But I guess I should wait until I can try it on for real before I give you any final opinion.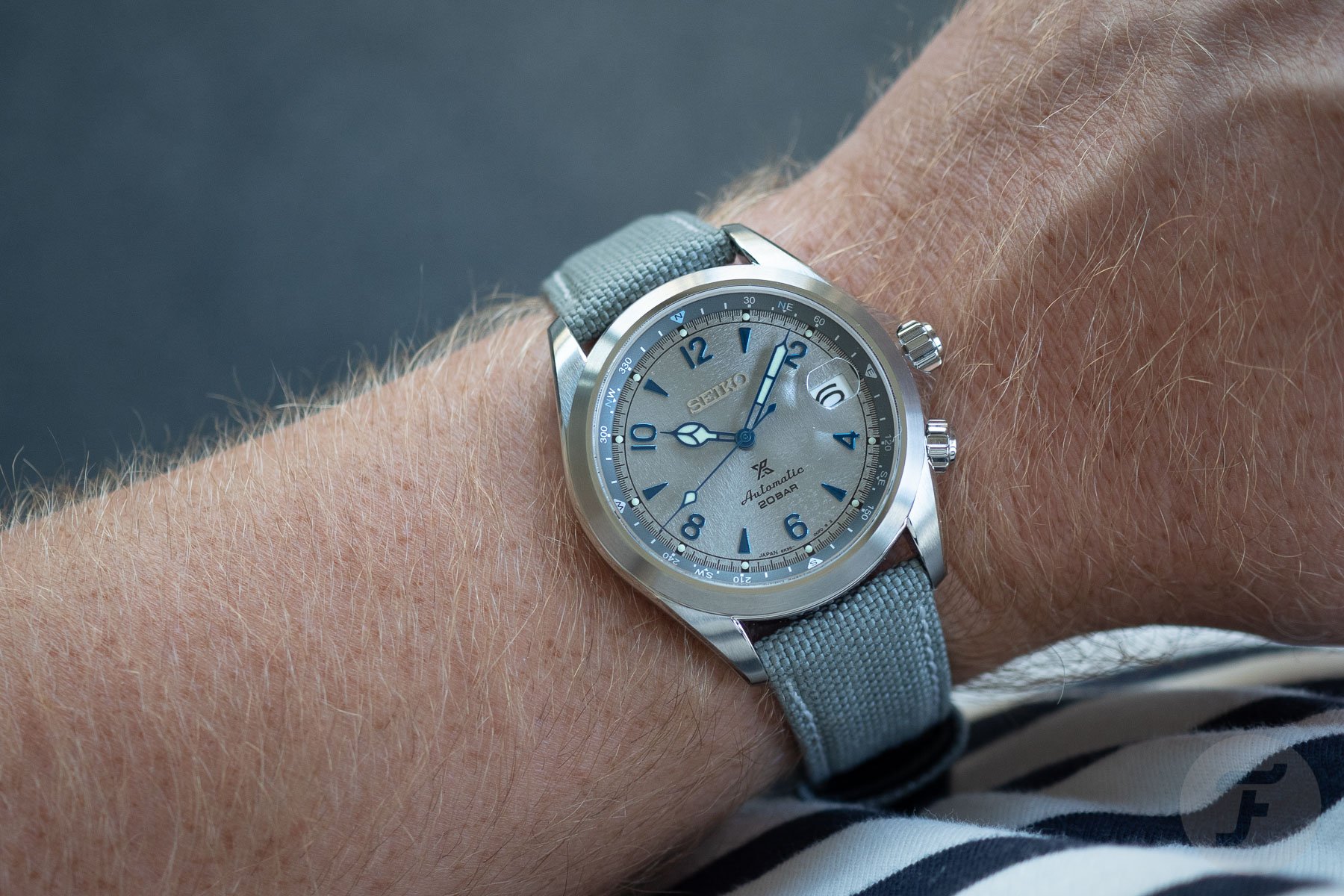 This time around, the applied markers and numerals, the cathedral hands, and the accents on the inner bezel are blue. This was done to imitate the shadows that mountains cast in the sunlight. It actually reminds me more of the blue tones of a glacier. Anyway, I really like the combination of the gray textured dial and the blue on top. It's a combination we don't see very often, and I think it relaxes the feel of the busy dial a bit. Again, I'm looking forward to seeing what it looks like in real life.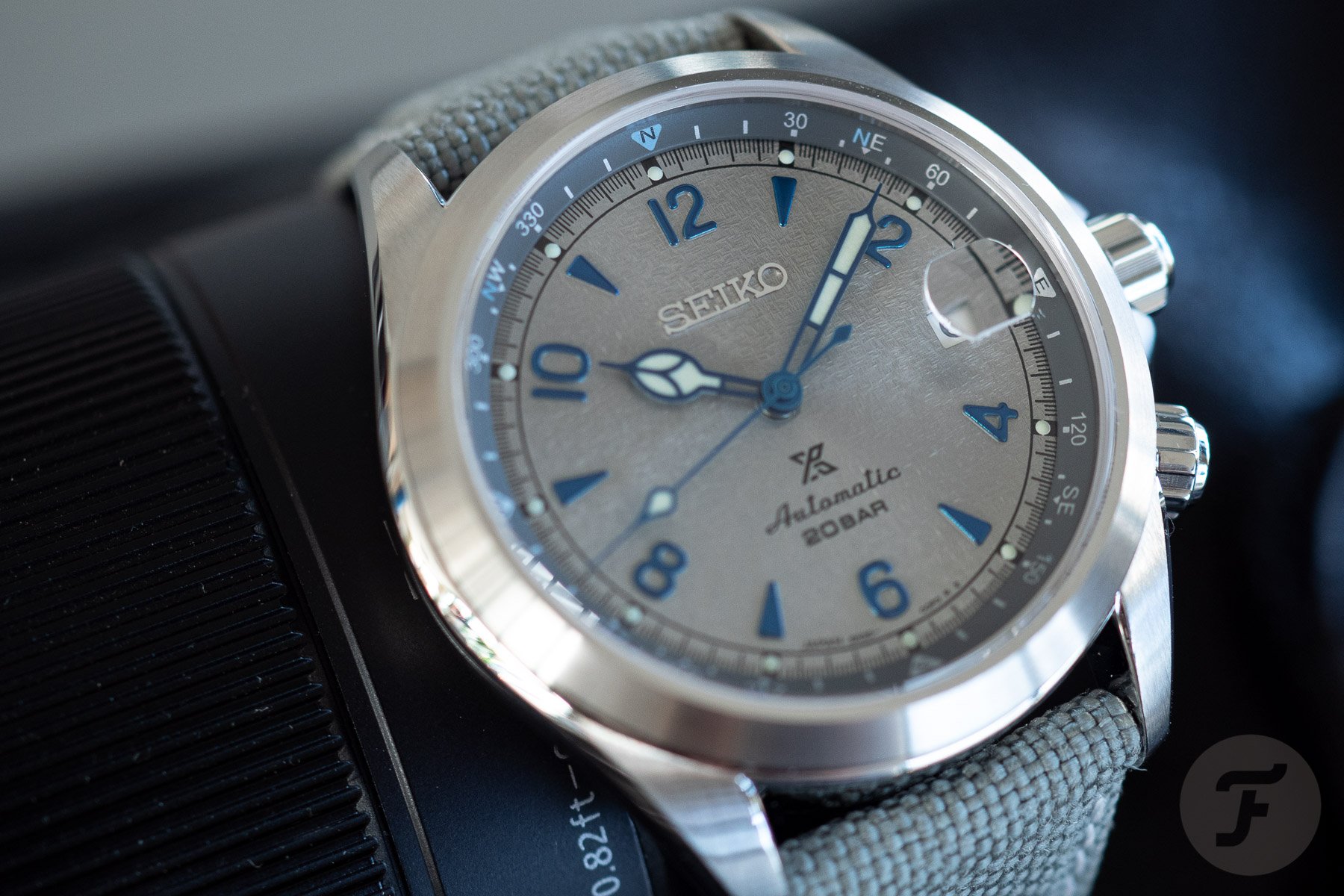 Different (rock) face, same specs
Besides the exciting new makeup for the dial, there's not much news under the hood. Ticking away inside the Alpinist is Seiko's 6R35 "workhorse" movement. It has a power reserve of 70 hours with an advertised accuracy between -15 and +25 seconds per day. There's a sapphire crystal with a magnifier for the date at 3 o'clock and an antireflective coating on the underside. With the crown at 4 o'clock, you can manipulate the inner bezel, which can be used as a compass.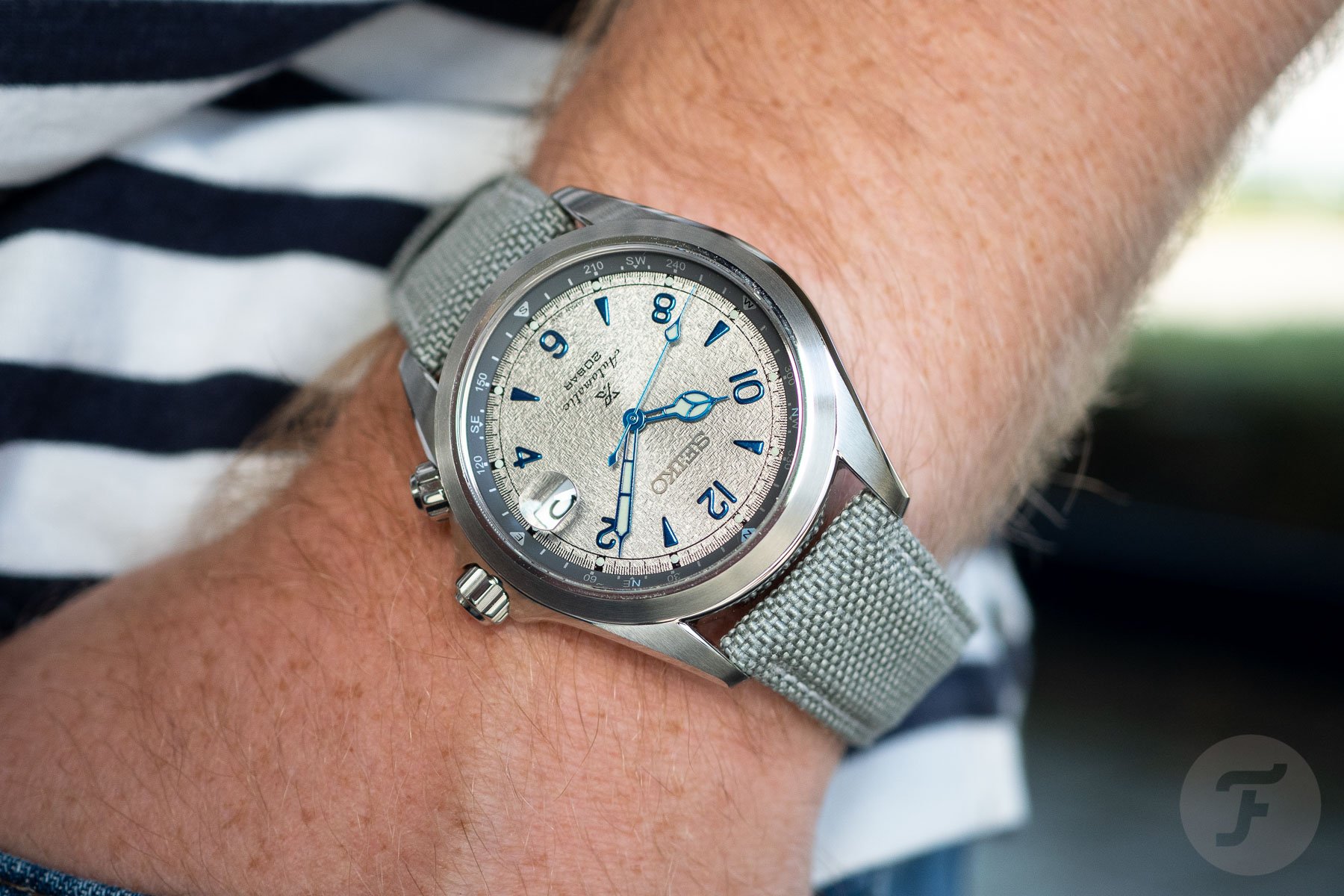 In the Northern Hemisphere, just point the hour hand toward the sun, and set S (south) on the bezel to the midpoint between the hour hand and 12 o'clock. In Southern Hemisphere, follow the same process, but set N (north) on the bezel to that same midpoint. In doing so, you'll be able to determine north, south, east, west, and every direction in between. Now you're ready to explore!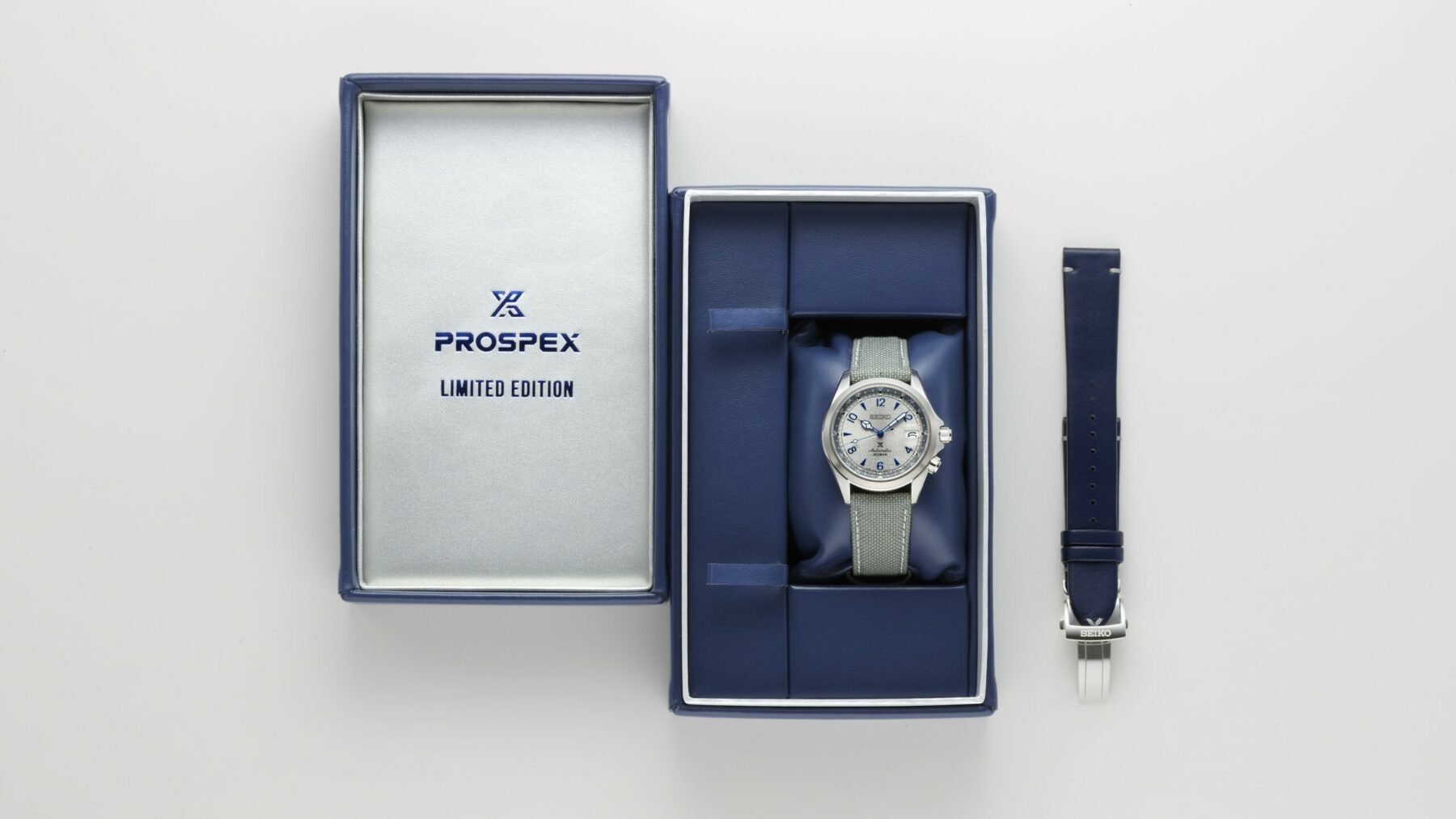 Available in November
The Seiko Prospex Alpinist SPB355J1 "Rock Face" will be available this November. It will only be sold in Europe (and, according to Seiko, Israel, Turkey, and "African countries"). It comes on a gray sailcloth strap, and in the limited-edition box, you'll also find a blue calfskin strap with a deployant clasp. Unfortunately, this time, the watch doesn't come with an "Alpinist" pin. The Alpinist "Rock Face" will be limited to 3,000 pieces and will cost €930. For more information please check Seiko's official website.
Let me know in the comments what you think of this year's limited-edition Alpinist.
You can also find and follow me on Instagram @fliptheparrot