Seiko Releases Two New Versions In Its Presage Style60's Line — SRPH93J1 And SRPH95J1
Sometimes, it is all in the name
Seiko introduced the first series of Style60's watches to the Presage line in 2021. When Lex covered these on Fratello, they were met with a mixed response from you, my dear Fratelli. Well, Seiko is sticking to its guns and expanding the lineup today with the SRPH93J1 and SRPH95J1. These are still very much style-first watches with basic specs at an accessible price point. Let's have a look at what the new additions entail.
What we have here is a new version (SRPH93J1) on an Oyster-style bracelet a white-dial version paired with a maroon bezel. The second new model (SRPH95J1) comes on a leather NATO strap in a full black PVD-coated case with a black dial and bezel. There is also a new all-blue open-heart version with a 24-hour indicator, but we will focus on the two closed-dial versions here.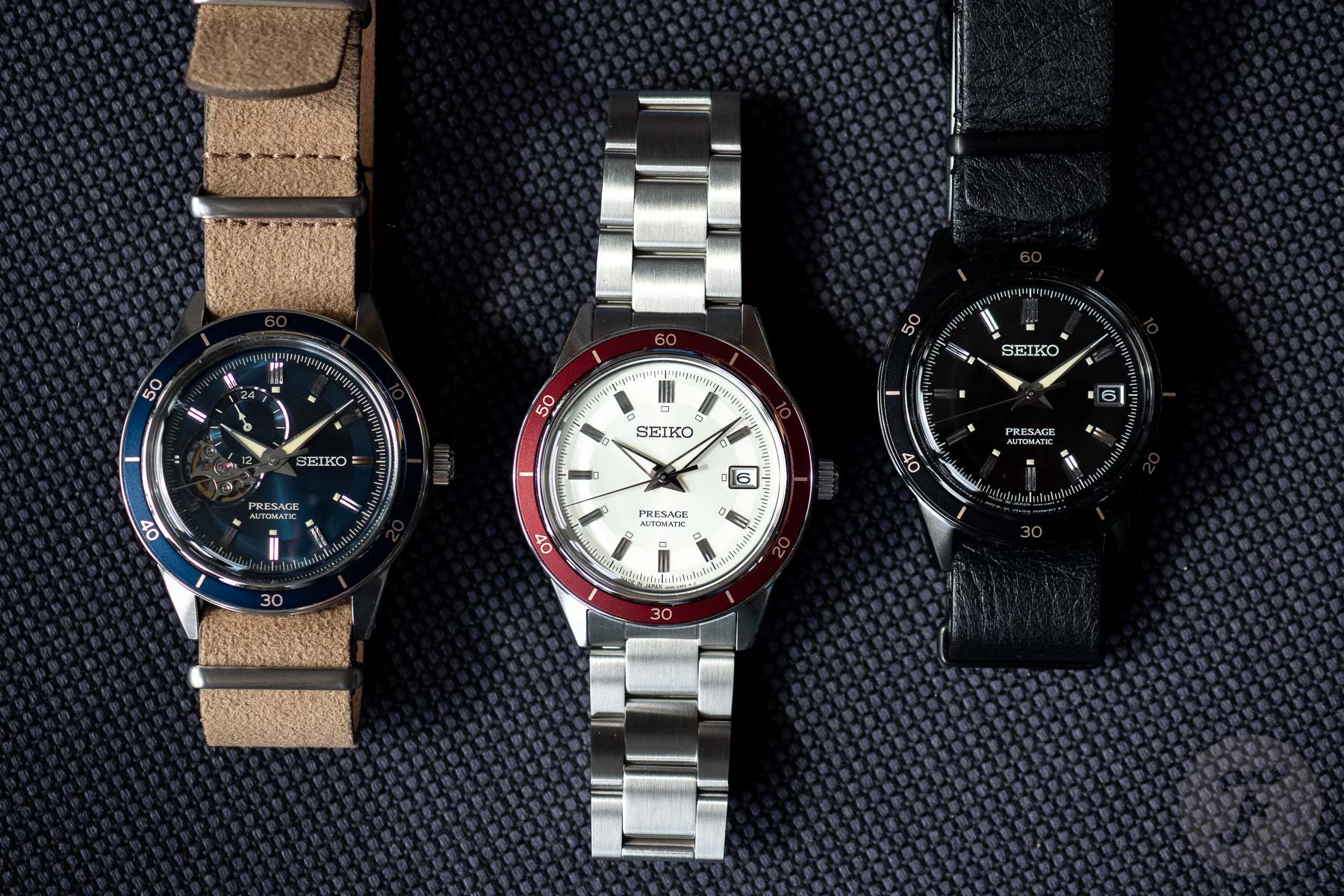 SRPH93J1 and SRPH95J1 — Style still comes first
There were some murmurings about the specs of the Style60's line when it was introduced. Some of the Fratelli found the water resistance, movement specs, the Hardlex crystal, and non-rotating bezel disappointing. And it is true — you can find better-specced watches for the price, even within Seiko's own catalog, to be fair.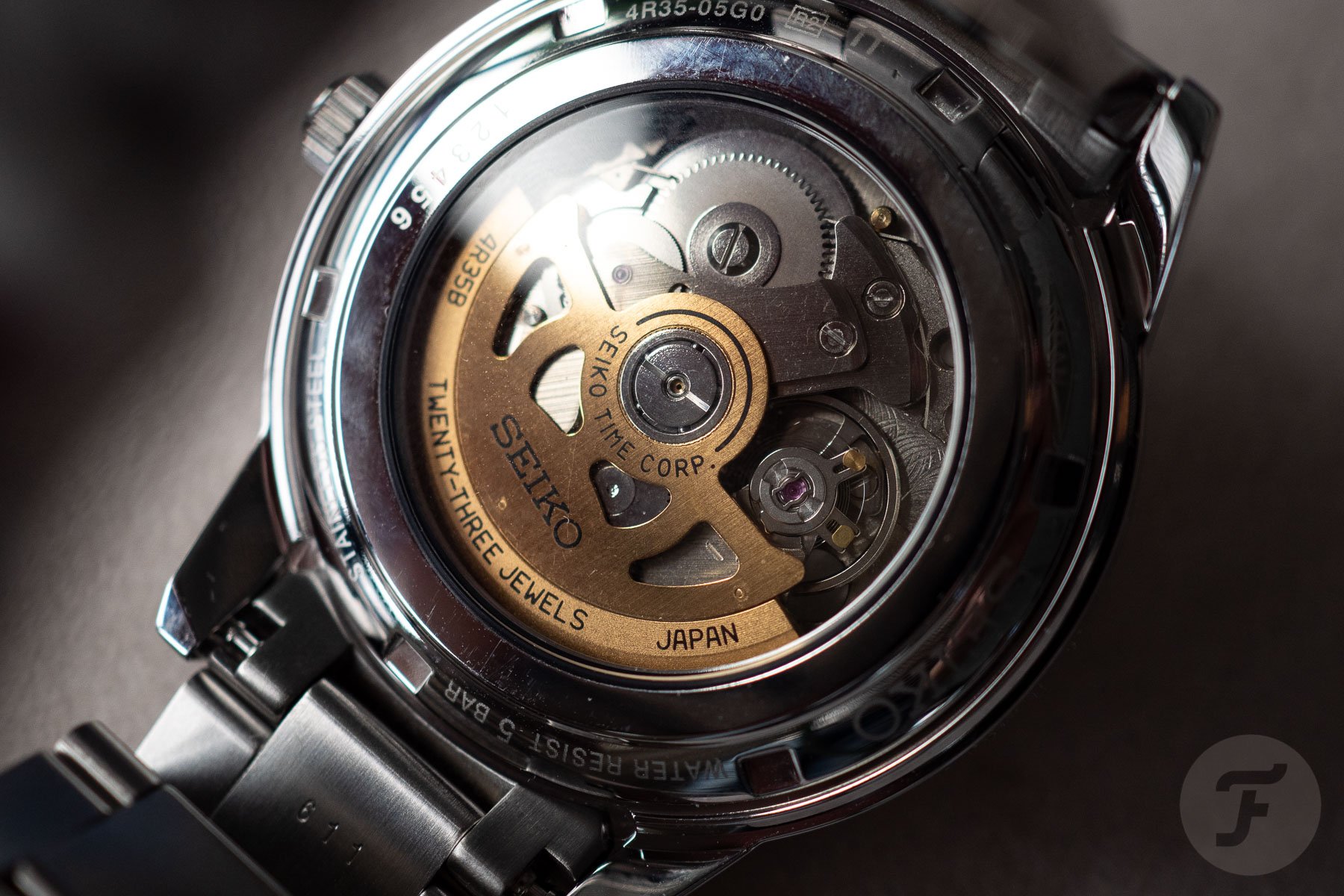 But — continuing the fairness — Seiko named these "Style60's" for a reason. These watches are intended to invoke a sense of 1960s flair. As Lex described before, they are inspired by a 1964 chronograph by the Japanese house. They are intended to serve as a stylistic alternative to an actual vintage watch at a more accessible price and with modern dependability.
The new SRPH93J1 and SRPH95J1 continue that philosophy. The points of criticism have not been addressed. If you want an actual chronograph or a serious dive watch, look elsewhere. If you want a casual watch that is aesthetically very appealing, these might be for you. For the last word in technical prowess and specs, there are plenty of microbrand alternatives to cover your needs. I am willing to go along with the critics on two points, however. One, a slightly larger price gap between these and higher-specced Seiko models might have been reasonable. Two, for that true vintage-throwback concept, these watches could indeed have been sub-40mm.
A closer look at the SRPH93J1 and SRPH95J1
Okay, with that out the way, let's have a closer look at the SRPH93J1 and SRPH95J1. If you are still around, I will assume you are feeling the aesthetics. I will assume you don't go SCUBA diving or waging warfare with your watches. You are here for the style of the Style60's. So how do these models fare on that front?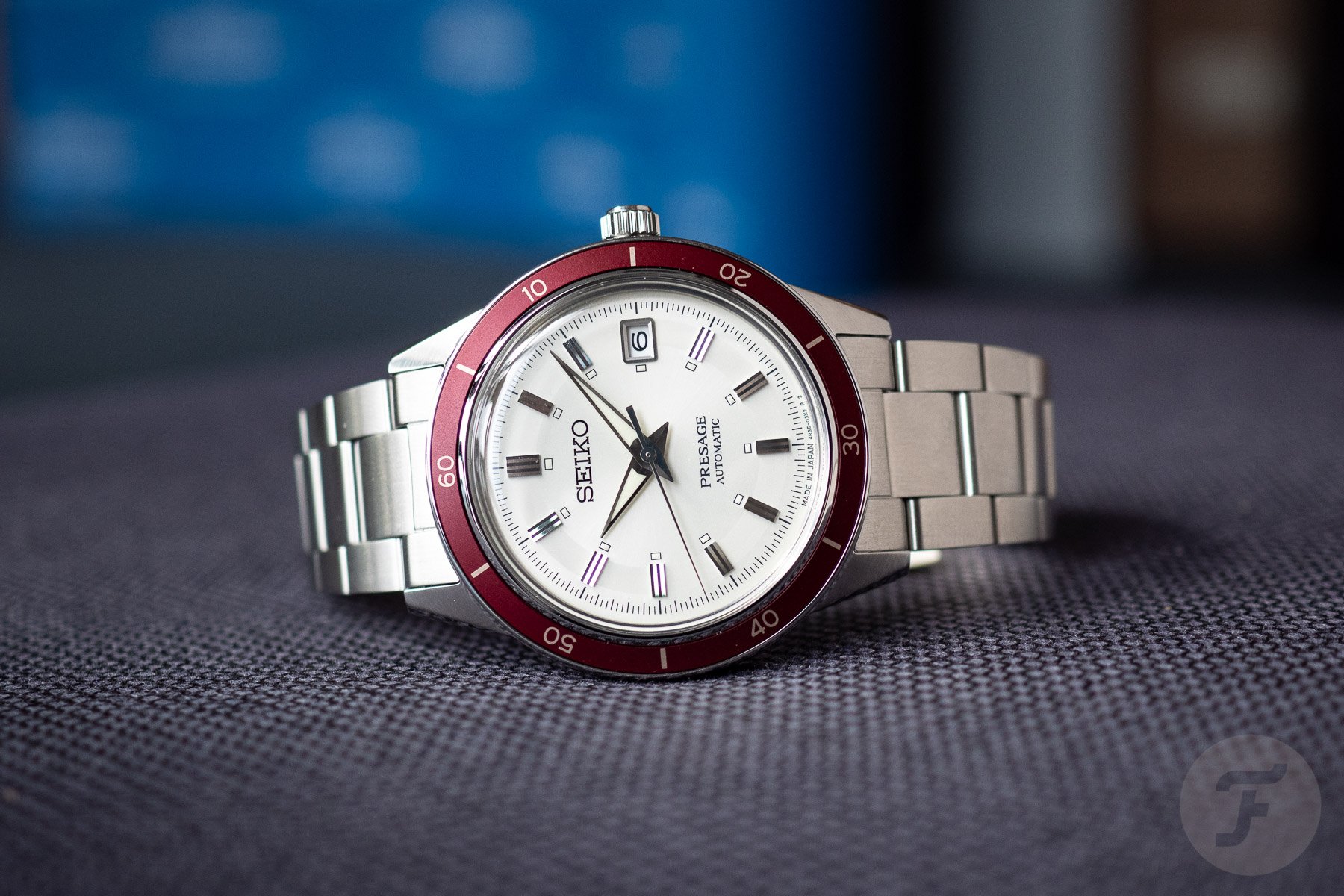 Rather well, I have to say! The color combos on both new time-only models are very well chosen. The historically accurate white dial was only available with gold-tone hands and indices before. Now you can get a very cool maroon bezel as well as steel hands and indices on that white background. The maroon reminds me of some vintage Rolex Submariner bezels that have faded to a reddish/purplish tone. It works very well with the overall theme of these watches.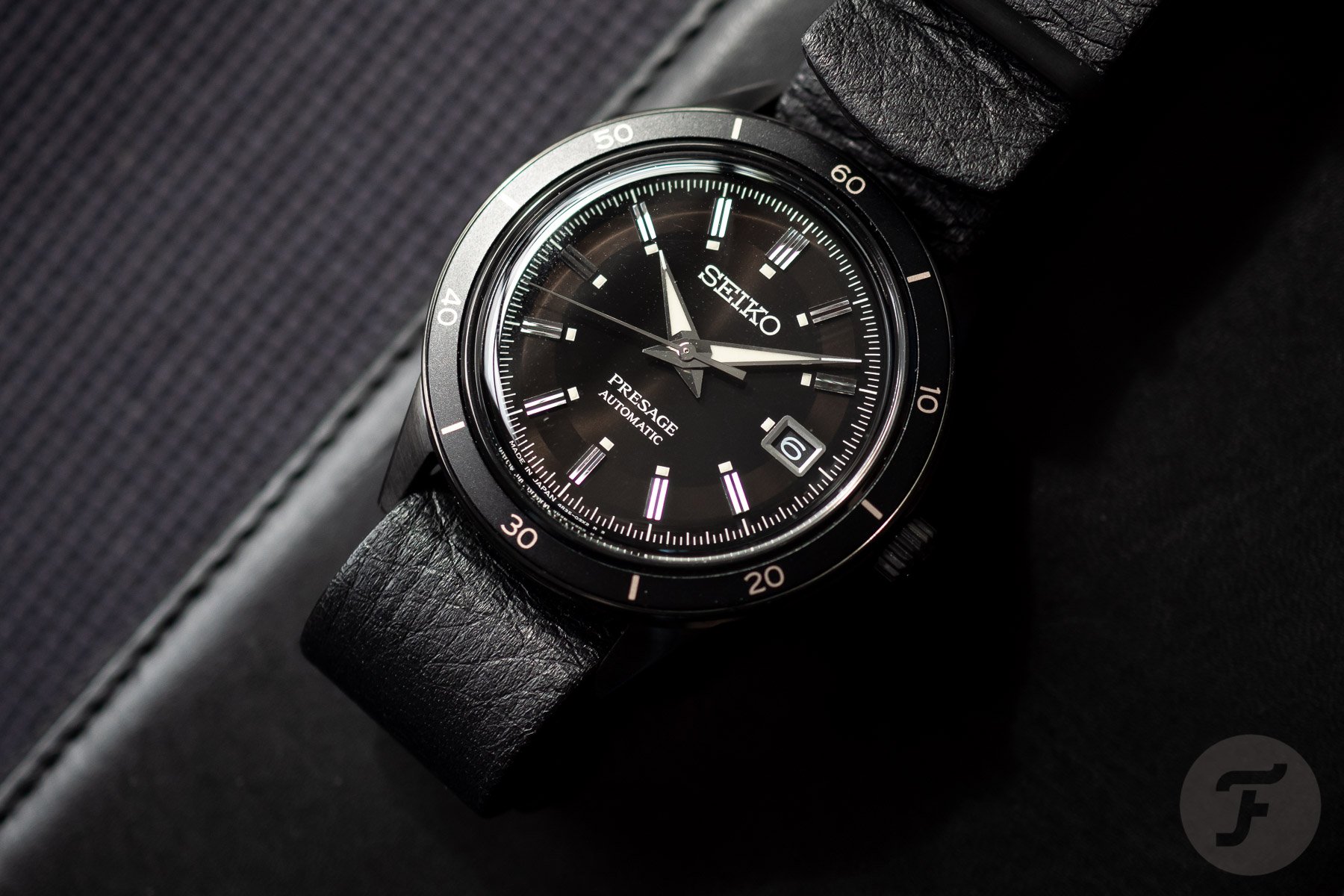 The black model brings a certain brooding Darth Vader-ish coolness. I like the looks of the Style60's line in general, but this one is particularly brilliant. It is stealthy and classy at the same time. I could surely rock this watch on a daily basis with pleasure.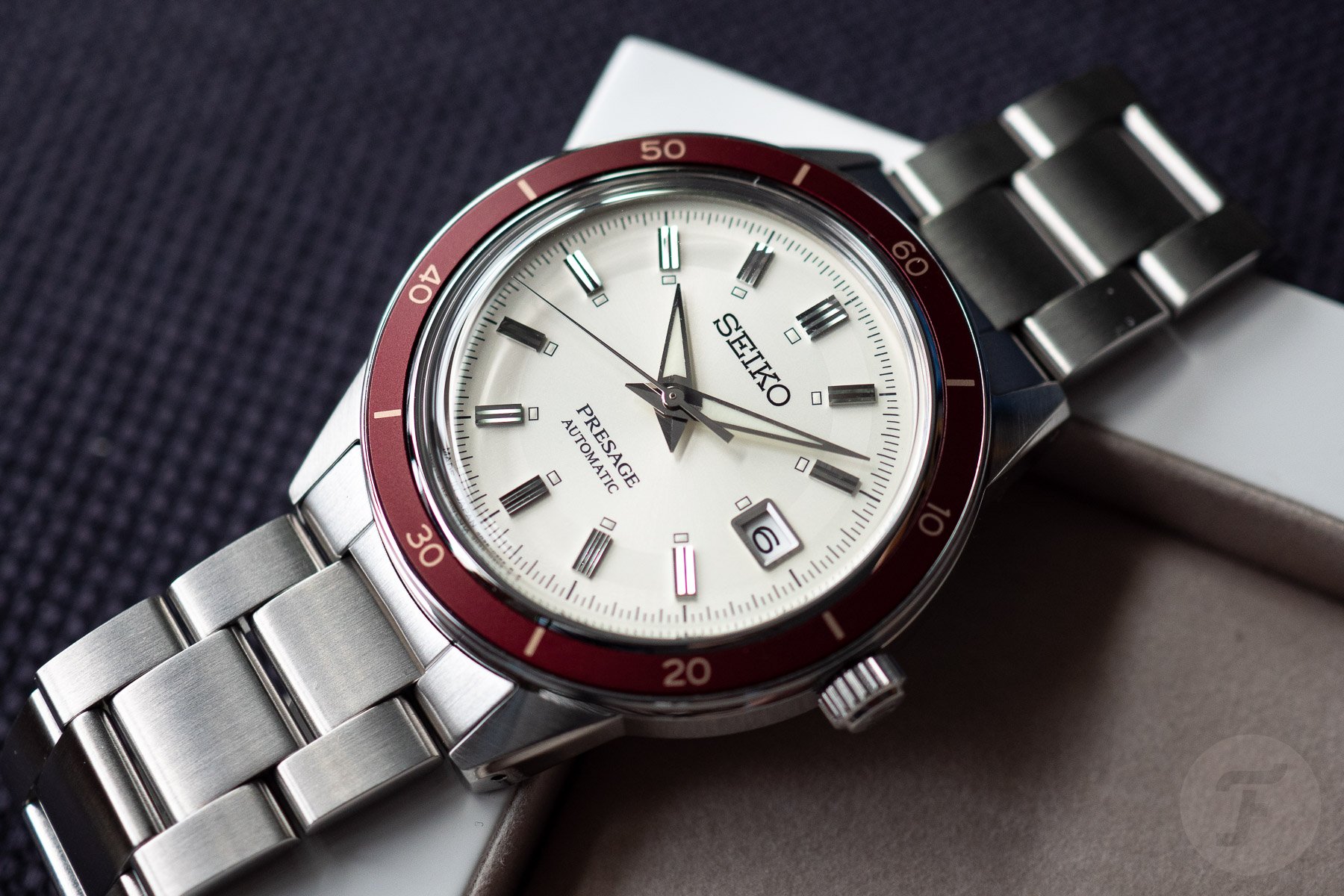 Closing thoughts on the Seiko SRPH93J1 & SRPH95J1
These watches are not for maximizers. They do not offer anything revolutionary in terms of value for money or technology. These are for satisficers. For people who are struck by the looks and perfectly fine with what these watches bring to the table technically. If you want to boast about superlative accuracy or not having to write off your watch if you ever unexpectedly found yourself on the bottom of the Mariana trench, these are not for you. If you want to look very dapper, wearing a nice watch at an attainable price point, consider one of these.
Having spent some time with one of the previous versions, I can attest that they wear great, even at 40.8mm. The original 1964 Seiko Olympic chronograph measured 38mm, which obviously results in a more vintage wearing experience. But even as someone who often finds himself lamenting oversized watches, the Presage Style60's is absolutely fine with me.
There you have it — two beautiful new colorways of a watch that is not for everyone. I think that about sums it up for you. The new Seiko SRPH93J1 and SRPH95J1 models are available now. The white/maroon SRPH93J1 is priced at €540. The all-black SRPH95J1 comes in at €590.
You can also find and follow me on Instagram @time_travelers_journal
Watch specifications
Reference
SRPH93J1 and SRPH95J1
Case Material
Stainless steel
Case Dimensions
40.8 × 12.1mm
Case Back
Display case back
Movement
Automatic caliber 4R35 — Power reserve: 41 hours
Water Resistance
5 ATM / 50 Meters
Strap
Oyster-style steel bracelet or black leather NATO
Price
White SRPH93J1: €540 / Black SRPH95J: €590