A New Dial For The Seiko Prospex Speedtimer — Meet The SRQ043
With subtle throwbacks to brand's first automatic chronograph
Let me start with a topic that I normally save for the end — PRICE. About a year ago, I wrote an introduction article on two other Seiko Prospex Speedtimer references, and I noticed that the price for this new model is still the same. Even though Seiko has a reputation for keeping prices relatively sane, I appreciate that the brand didn't raise it all this time around. Let's find out what IS new about this latest Speedtimer, the SRQ043.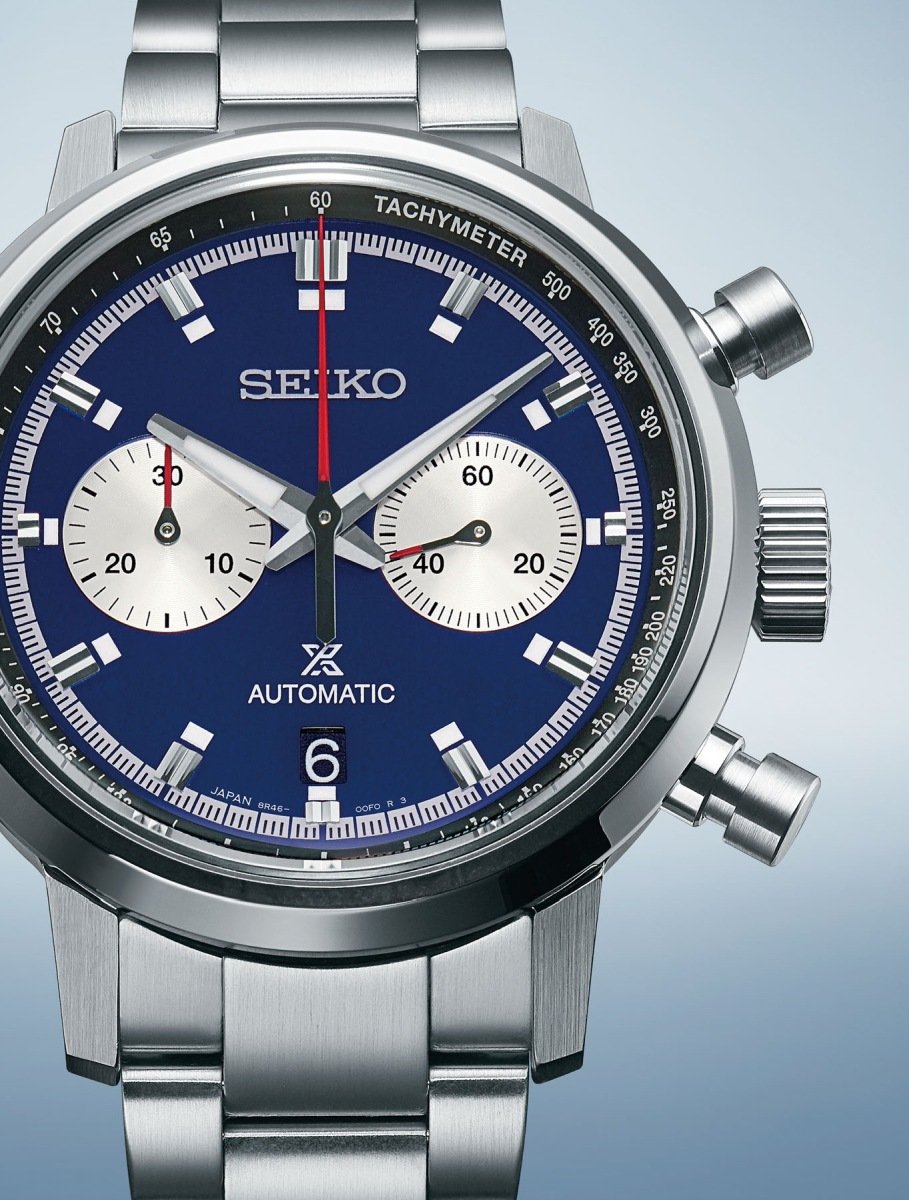 Seiko Prospex Speedtimer SRQ043
This new Seiko Prospex Speedmaster Chronograph ref. SQR043 might be my favorite execution in this series. It's also the most playful one, I might add. The blue dial has a vertically brushed finish and two silver sub-dials. According to Seiko, the color of the dial goes from navy to vivid blue depending on how the it catches the light. The large chronograph seconds hand and the two smaller hands are partially red, creating a playful palette. The red hands and the 1960s-style hour markers are a subtle nod to that very first Speedtimer chronograph that Seiko introduced in 1969.
Storytelling
As I wrote in the introduction for last year's Speedtimer chronographs, Seiko was the first to make an automatic chronograph available to consumers. I quote: "Although Zenith announced the ground-breaking El Primero automatic chronograph in January of 1969, it was beaten to the shelves (and ultimately the wrists of watch lovers) by the Seiko Speedtimer. By May 1969, Seiko's majestic entry in the chronograph dash had arrived in shops, nosing ahead of Zenith at the last as both brands leaned for the finish line of what had been a long, arduous, and furiously contested race. Following the pair in August of the same year was the joint effort automatic chronograph Caliber 11 by Heuer, Breitling, Buren, and Dubois-Depraz."
I also wrote back then that I don't care much about who was the first over 50 years ago. Now we're in 2022, and at some point, being the first loses its relevance. Nevertheless, as you know, the watch industry is largely about storytelling. It is what makes it fun to collect and read about watches. So the brands should continue telling these stories and educate watch enthusiasts about their history and achievements. In this case, Seiko was first, just so you know.
Caliber 8R46
Inside this Speedtimer SRQ043 is the Seiko caliber 8R46. It's an automatic chronograph movement from the 8R-series. At 6 o'clock on the dial, you will find the date aperture. The chronograph has a column wheel for precise starts and stops and a vertical clutch for stutter-free engagement. Seiko uses its MEMS technology for the escapement, which, according to the Naked Watchmaker, "allows [it] to be lighter, smoother, and…a more intricate design." Caliber 8R46 has a power reserve of 45 hours and ticks at 28,800vph. Through the display case back, you can see the 8R46 movement at work.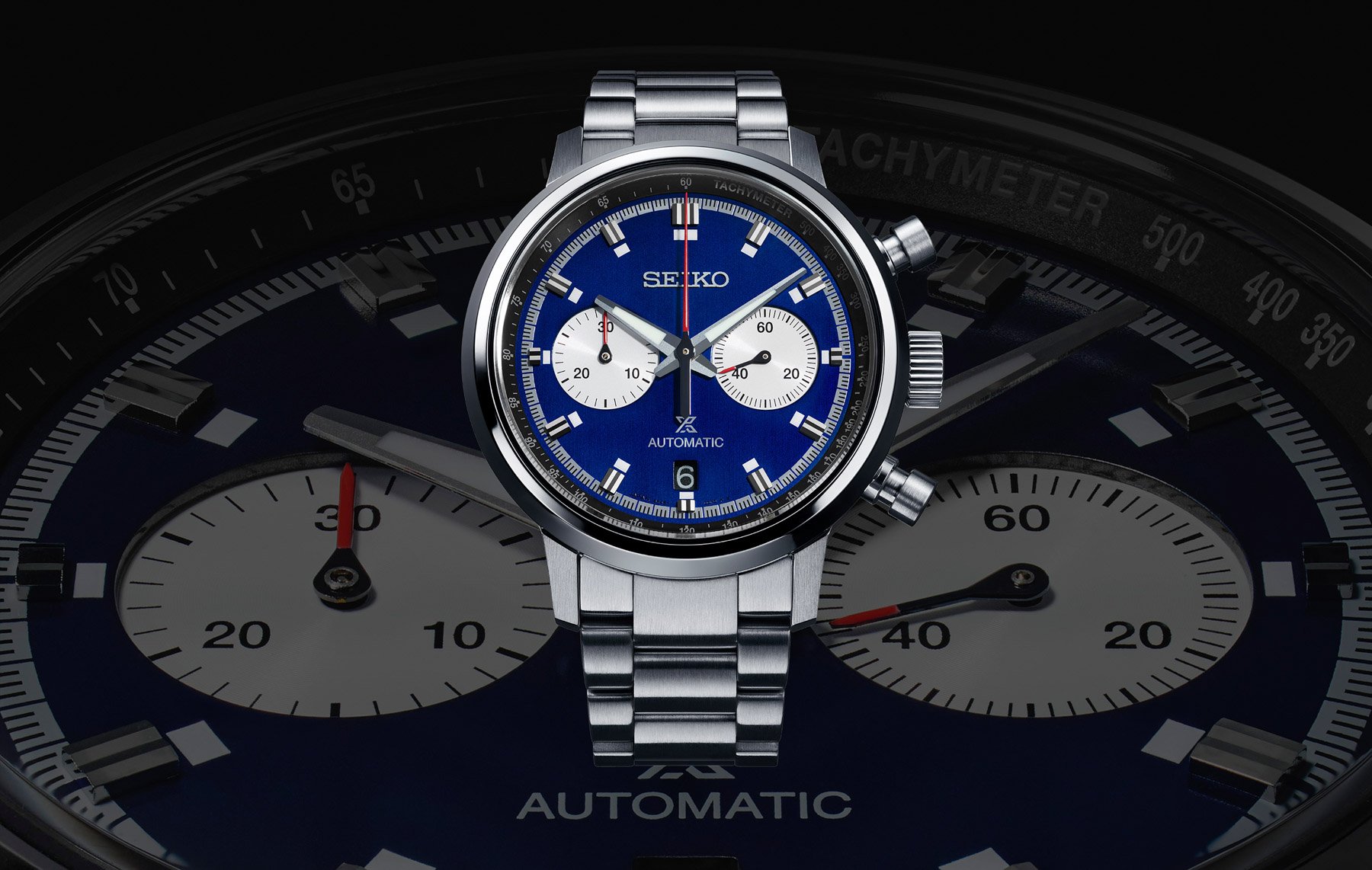 SRQ043 specifications
The Seiko Prospex Speedtimer Chronograph SRQ043 has a stainless case measuring 42.5mm in diameter and 15.1mm in height. That's by no means small or thin, but hey, it's a sports chronograph that needs to be rugged! Plus, the watch looks so nice, it deserves to be seen on your wrist from 15 meters away. Both the case and bracelet have been treated with Seiko's super-hard, scratch-resistant coating. The case also has a dual-curved sapphire crystal on the front with an anti-reflective coating on the inside. The Seiko Prospex Speedtimer Chronograph has a water resistance of 100 meters. Even though most of us won't need it, it will satisfy many critical watch enthusiasts. And truth be told, it does give you some kind of reassurance that you can take it into the pool or sea with you during the holidays.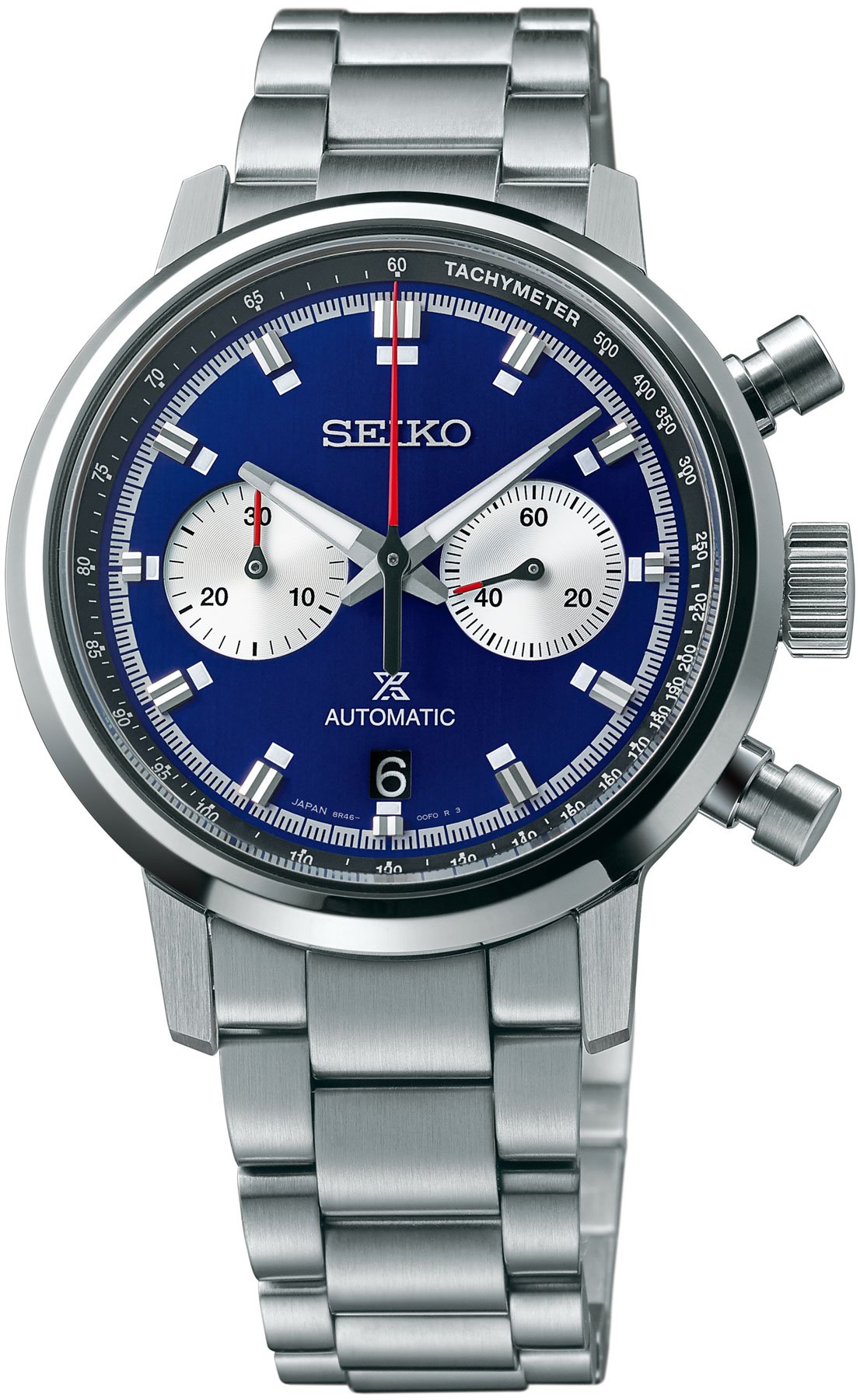 Price and availability
Now on to the important stuff. This new blue-dial Seiko Speedtimer SRQ043 will be available in September 2022 and will have a retail price of €3,200 (£2,740). It's not a limited or special edition, and as such, it will be part of the normal collection. It also comes with an additional black calfskin strap. As soon as the watch becomes available, we'll request an example for a hands-on review. Stay tuned for that, and in the meantime, let us know what you think of this release in the comments!