A Tribute To Seiko's First Quartz Watch 50 Years Ago
Meet The 1969 Quartz Astron 50th Anniversary
It wasn't only Seiko's first quartz watch; it was the first quartz watch ever.  Quartz technology was used before, but on December 25 in 1969, Seiko introduced the first wristwatch with this technology.
Today, Seiko introduces their tribute to that very first quartz watch from 1969. Meet Seiko's 1969 Quartz Astron 50th Anniversary Limited Edition as it is officially called. It is inspired by that Seiko Astron from 1969, that we showed you here before, as part of our Seiko Visit in 2015.
Seiko 1969 Quartz Astron 50th Anniversary
Quartz movements are a somewhat tricky topic. I understand this, as you will find quartz watches as cheap as 10 Euro. These have little to do with the high-end quartz movements used by Grand Seiko or the Seiko Astron GPS series, for example. "Lacking a soul," is the most heard comment on quartz watches. Let's not go into details too much, as we've covered it here before, but I rather have a watch with the beautiful looking Grand Seiko 9F quartz movement than some of the mechanical movements out there. The quartz movement used in Seiko's Astron watches is, of course, a bit different from the 9F calibers. It is GPS controlled, enabling Seiko to indicate the most precise time there is. No matter in which time zone you step out of the plane, the watch will automatically adjust itself based on your (GPS) location. Michael Stockton did an excellent review of one of the previous generation Astron GPS watches here.
Hand-carved gold case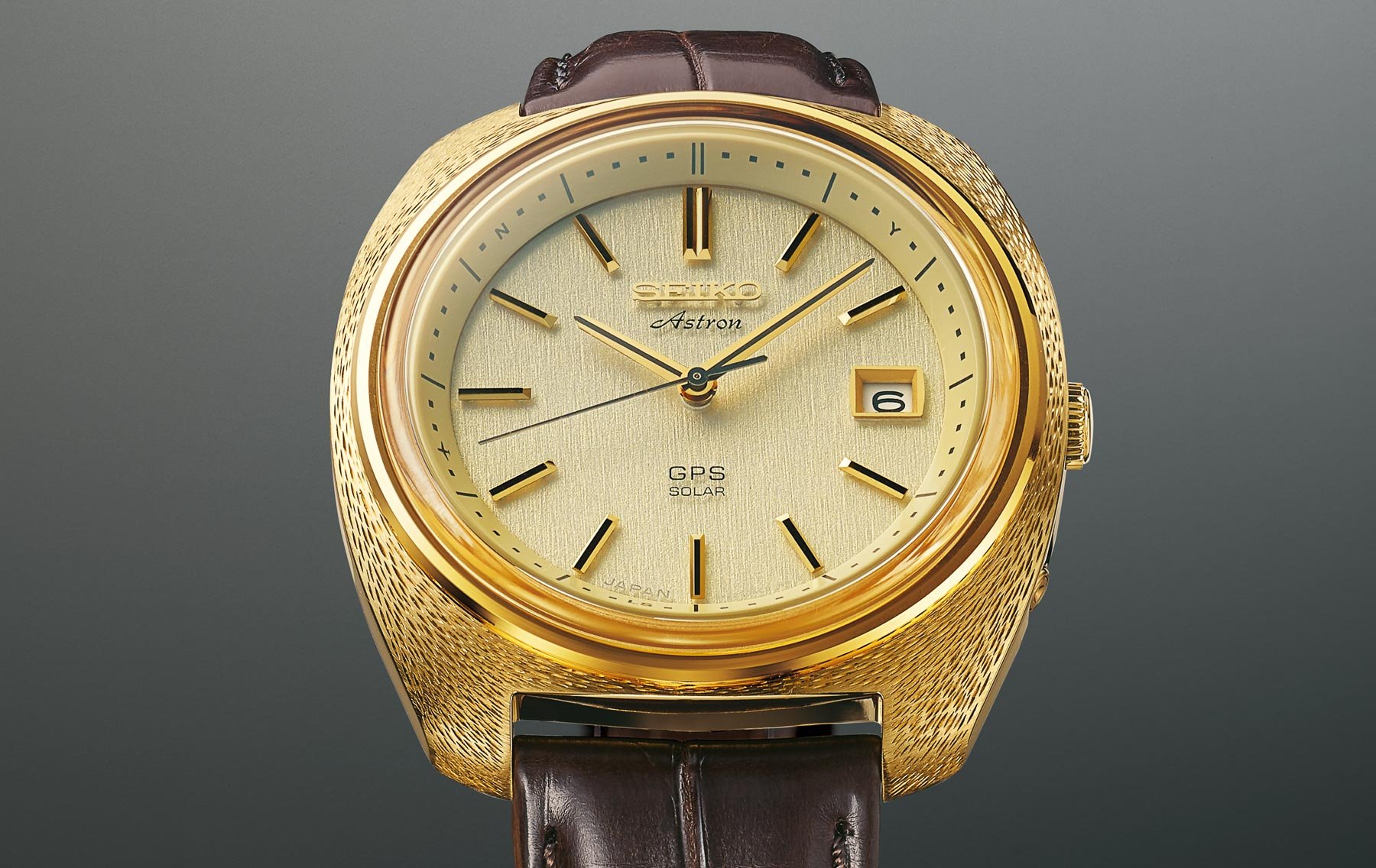 Despite the technology inside, Seiko made sure also to use traditional skills by their artisans. The 18-carat yellow gold case has been hand-carved, just like the original watch from 1969. I can only imagine that this case had a futuristic shape in the 1960s, and although this type of design was out of fashion for a while, these types of cases receive quite some love from enthusiasts.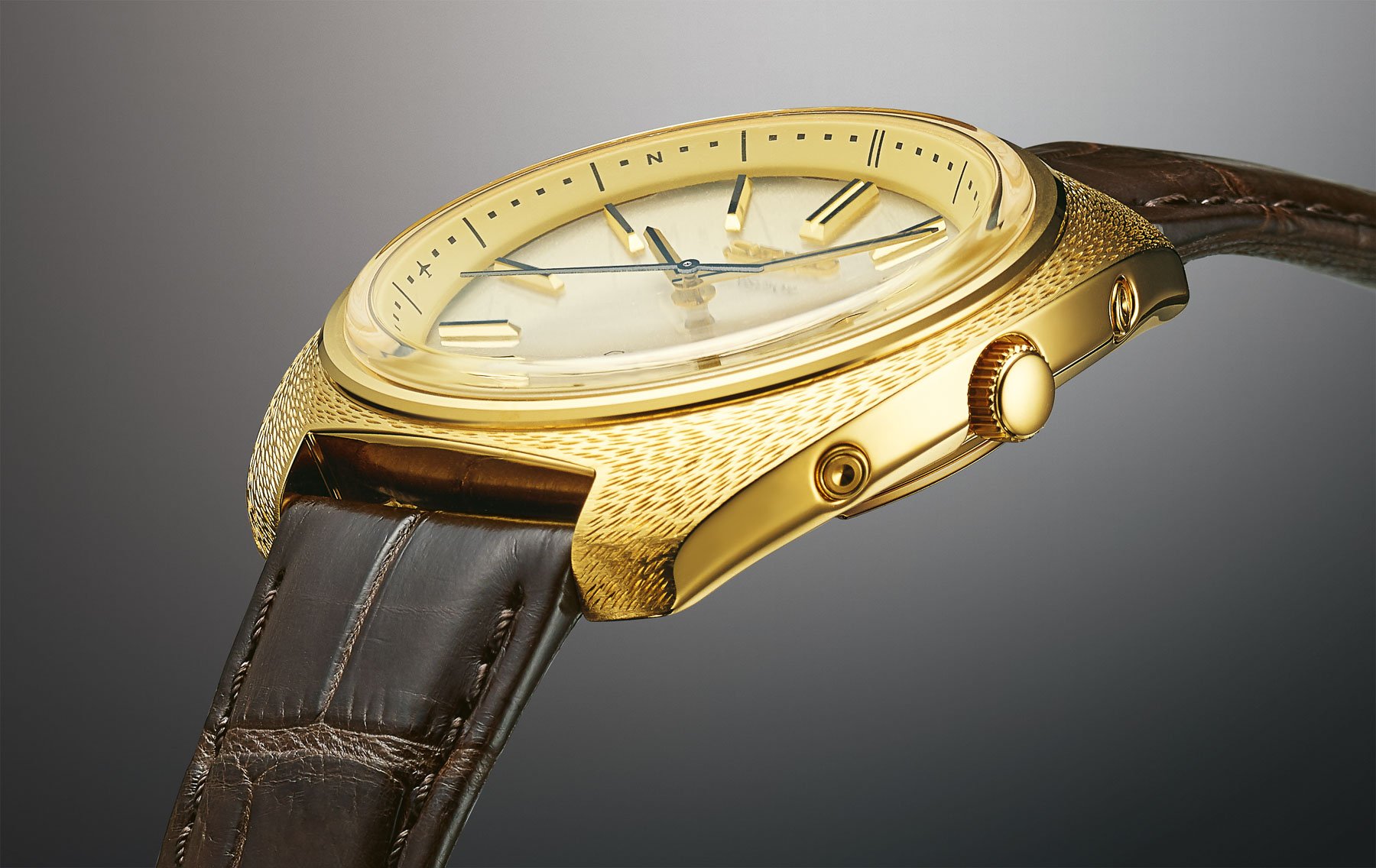 Another nod to the original Astron is the beautifully patterned dial. The hands and hour markers are just sublime, as we're used to from (Grand)Seiko and Credor.
Caliber 3X22
A slim case like the one from this 1969 Quartz Astron 50th Anniversary also requires a thin movement. Seiko made quite some progress by making the regular Seiko Astron GPS models slimmer since its first introduction 7 years ago. But, the caliber 3X22 in this exclusive Seiko Astron GPS is the thinnest so far. It is the thinnest GPS solar-powered movement in the world, according to Seiko. Its functionality has been reduced to the bare essentials of accurate timekeeping and setting time. The Seiko 1969 Quartz Astron 50th Anniversary connects twice a day to the GPS network for the most precise indication of time on a wristwatch. What does that mean? Well, that is has a precision of one second every 100.000 years. If you enter a new timezone, during a journey, you can either wait until it connects with the GPS network. You can also trigger this connection manually by pushing one of the buttons on the right side of the case (see above).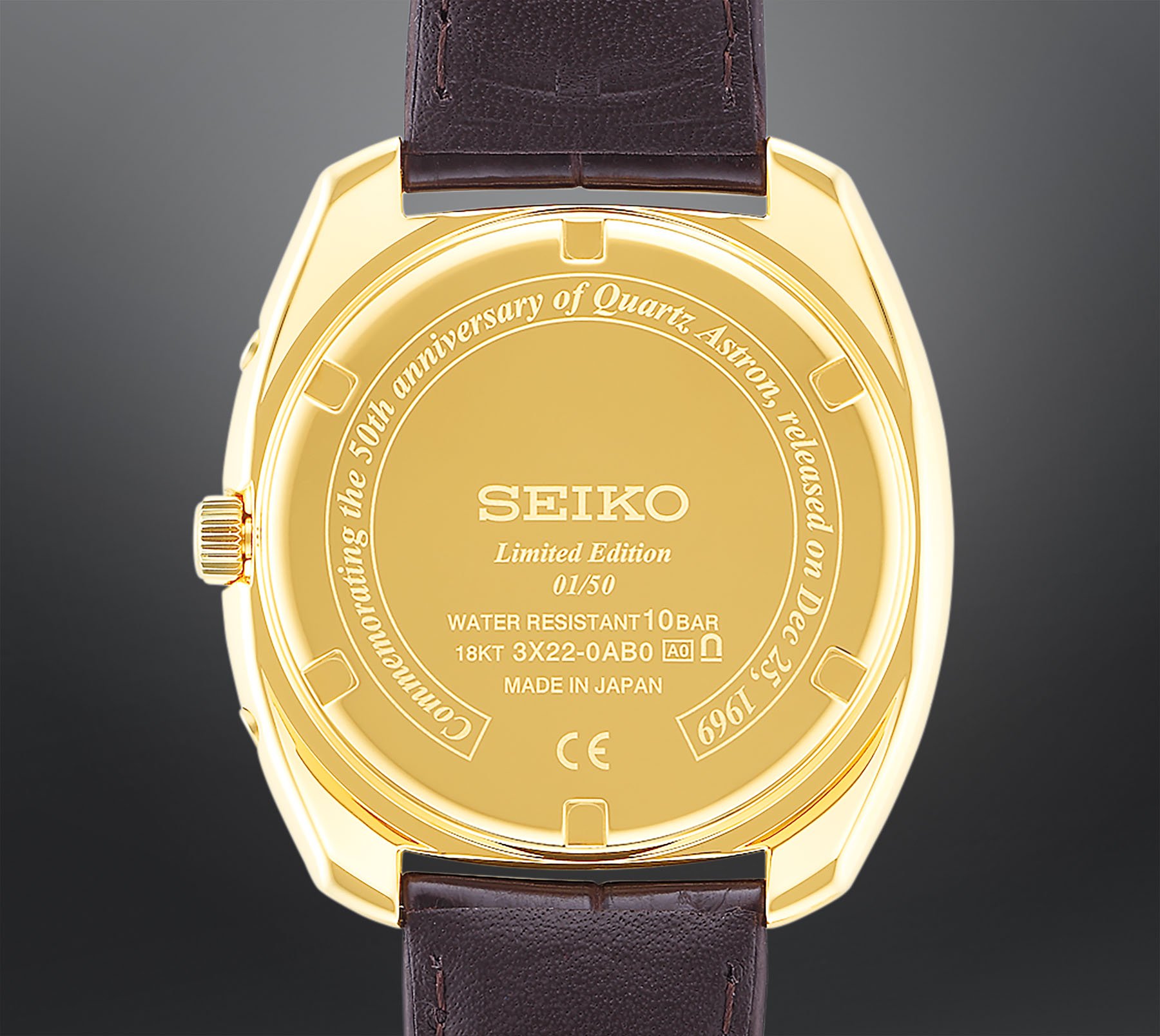 Special watch, special packaging
This Seiko 1969 Quartz Astron 50th Anniversary reference SBXD002 is limited to 50 pieces, and the retail price is set to €38.000,-. We are pretty sure that despite this price tag, these watches will be sold out quickly to serious Seiko collectors. It will be available in December this year at selected Seiko boutiques and retailers.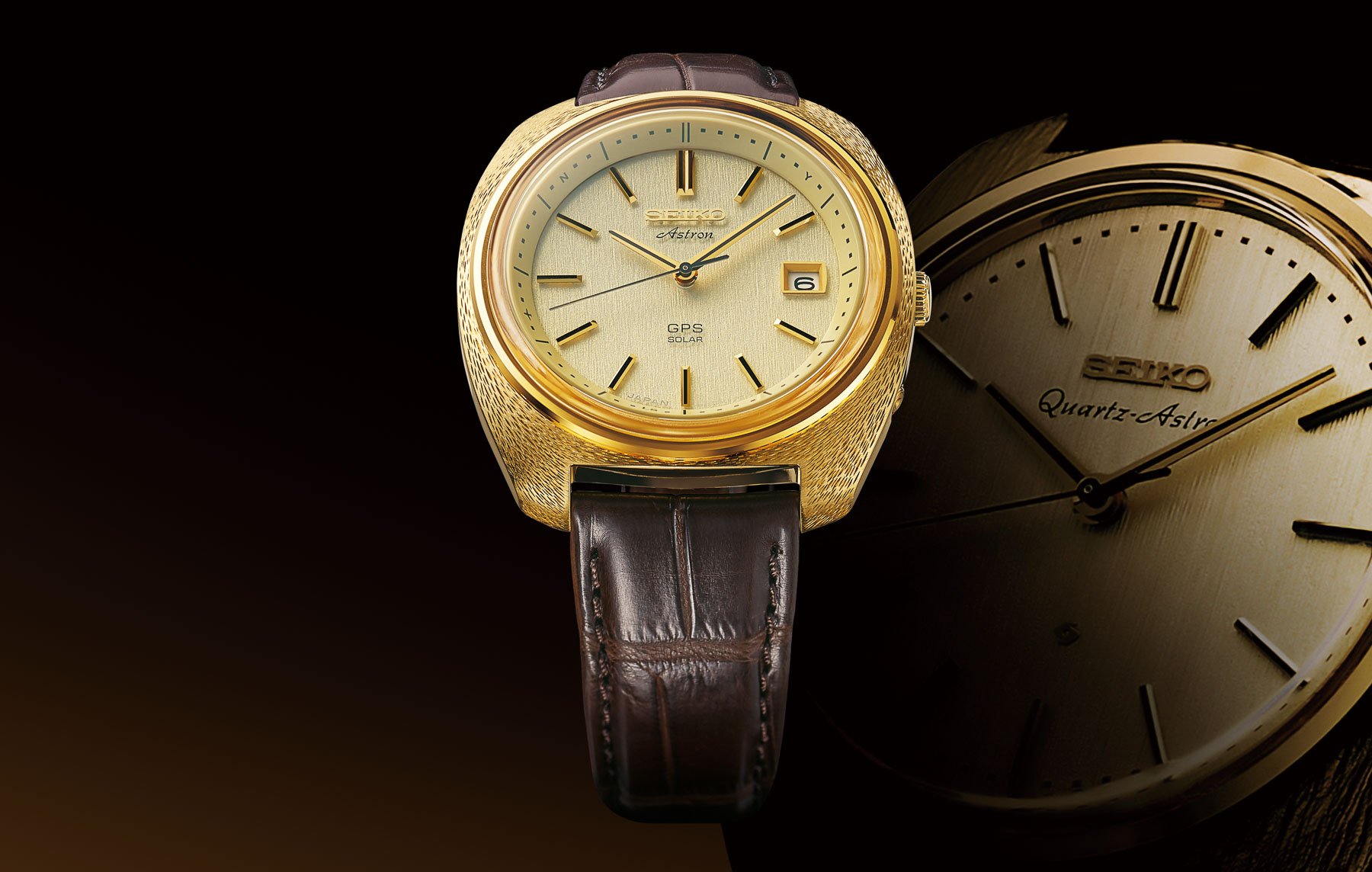 I hope that the lucky few who will buy this watch will wear it and not use it as a safe queen. The 40.9 mm x 12.8 mm case is very wearable, and it is just a matter of being careful with a gold case that has a finish like this. Seiko usually doesn't have special boxes (afaik), but for this particular watch, they came up with a beautiful wooden box.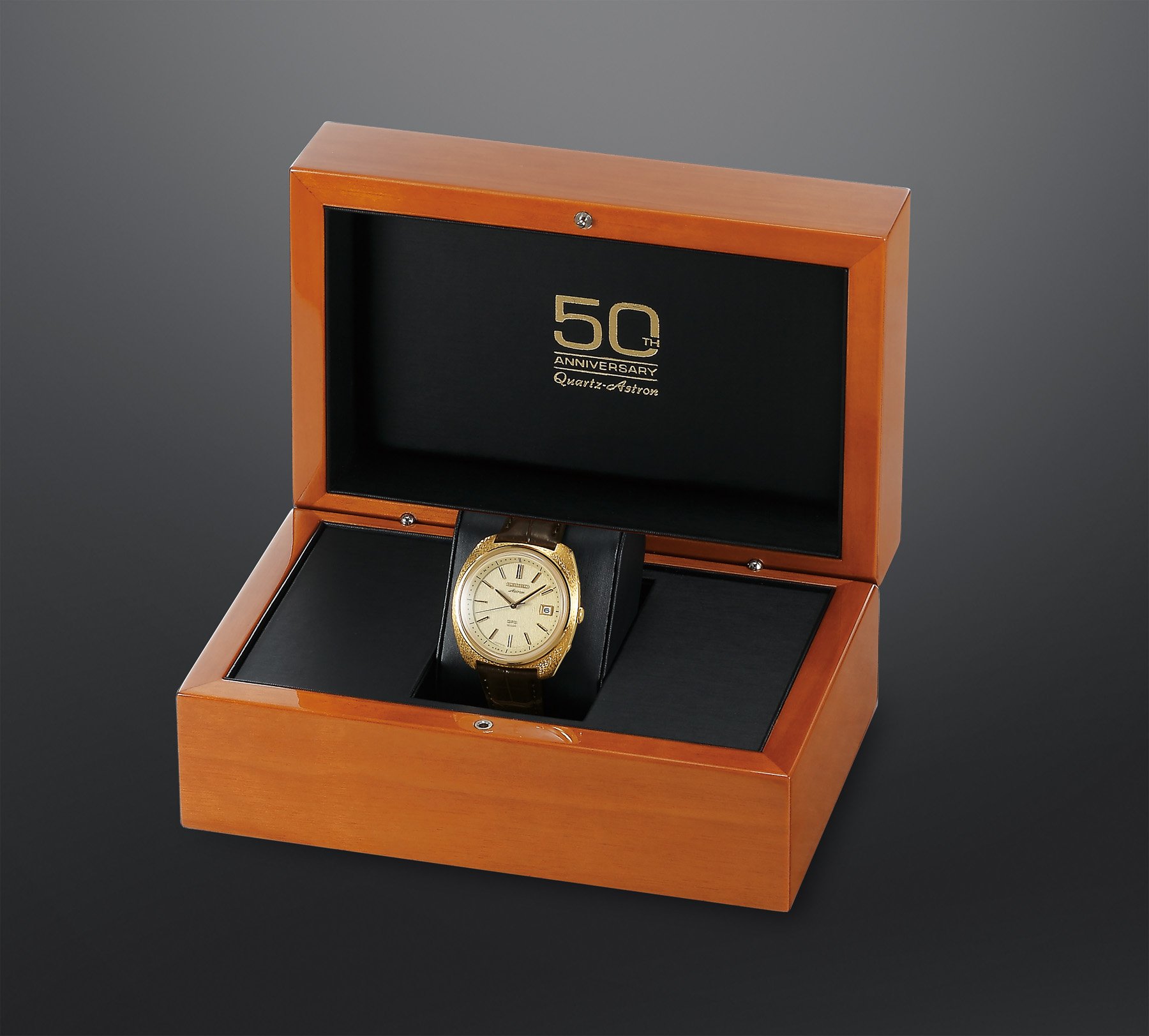 All known details and specifications of this Seiko 1969 Quartz Astron 50th Anniversary limited edition can be found below.
More information about Astron and Seiko can be found here.
Watch specifications
Model
1969 Quartz Astron 50th Anniversary Limited Edition
Dial
Gold colored patterned dial
Case Material
18-carat yellow gold
Case Dimensions
Diameter: 40.9mm, Height: 12.8mm
Crystal
Box-shaped sapphire crystal with anti-reflective coating
Case Back
Solid gold case back with special engraving
Movement
Caliber 3X22, GPS controlled, Solar Powered, High-speed time zone adjustment
Water Resistance
100 meters / 10 bar
Strap
Croco leather strap with three-gold 18-carat buckle
Functions
Time, Date, Signal reception, Perpetual calendar correct to the year 2100, Power save function
Special Note(s)
Limited Edition of 50 pieces. Available per December 2019