Hands-on: Seiko Astron Titanium Review
So, I have to admit that I don't own a lot of quartz watches aside from the vintage Seiko 7A38 I just reviewed. In fact, I rarely buy automatic timepieces any longer as I really enjoy winding a watch every morning. Therefore, it was a little odd when Robert-Jan shot me a note asking if I'd be interested in testing Seiko's latest Astron, a watch that is clearly on the opposite spectrum from mechanical. However, I am the resident "Seiko guy" on the team and I'm also the one most frequently found hopping in and out of time zones, so there was certainly logic behind the request. Me being me, though, I arrived at some topics that I'll attempt to address with this Seiko Astron hands-on experience aside from the normal "how does it wear" and "how does it look" bit. No, what I really want to discuss is whether or not this electrically motivated piece has any soul and, perhaps more simply, if the Astron is practical and useful or just another gimmick that loses its luster after the initial awe subsides. Time to jet set and see…
The Seiko Astron has a dial that really changes due to lighting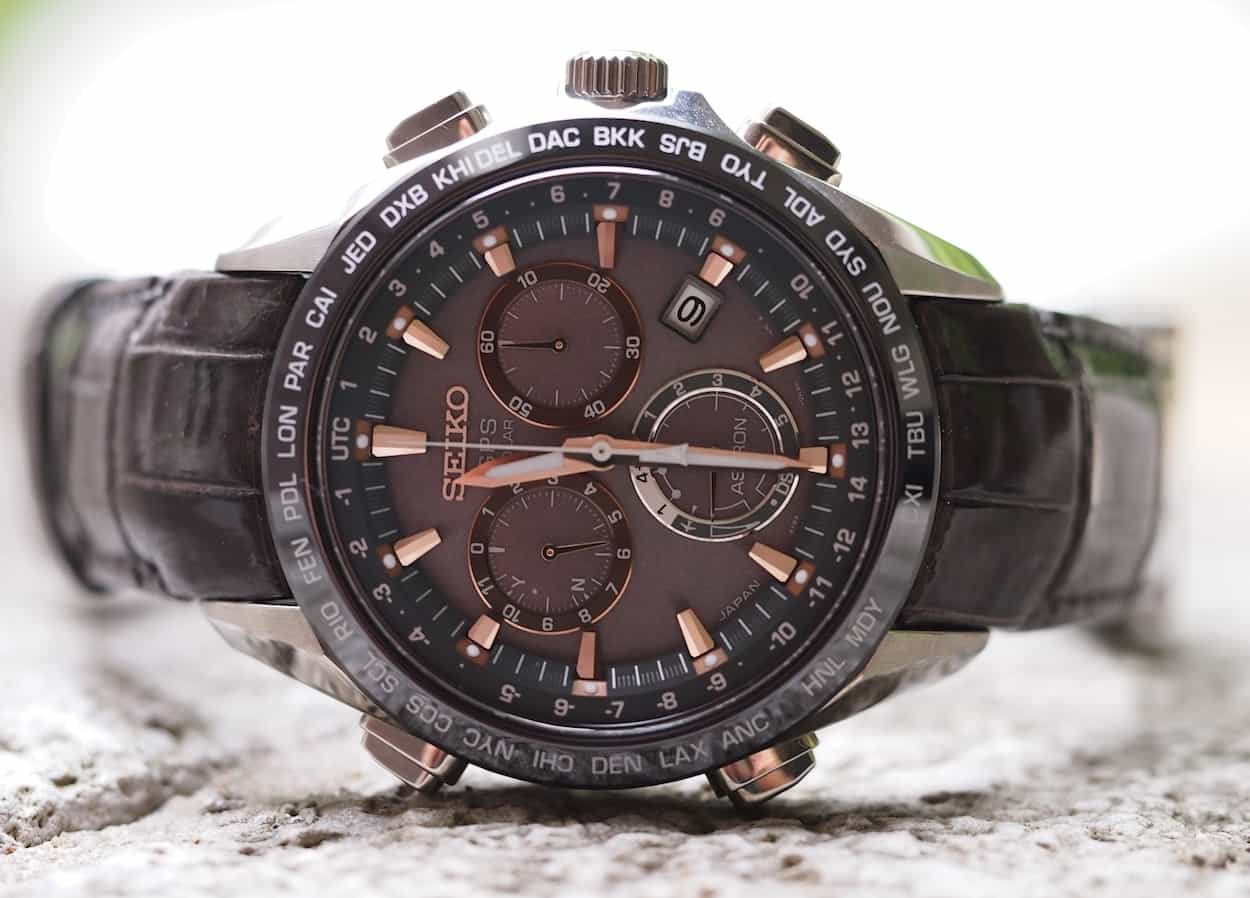 As mentioned, it wasn't without trepidation that I accepted the mammoth Seiko Astron box from Robert-Jan when he travelled to meet me at the Seiko Frankfurt boutique opening. I mean, here I was, all on the same day, excited about the opening of Seiko's boutique in my current hometown, yet a bit concerned about taking delivery of one of their flagship pieces that lacks a mechanical heartbeat. Would the Astron tarnish the brand for me or bolster my admiration for the marque in view of its undying quest to introduce innovation into its timepieces? I'd soon find out, but first let's talk about what the Seiko Astron is and what it can do.
Seiko Astron…The Specs
The Seiko Astron you see here is model SSE023J. It happens to be a boutique special, at least in some countries, and it rings in at a list price of 2400 Euros in the Netherlands. This version is made of titanium, contains a ceramic bezel, and sapphire crystal. It comes with a crocodile strap and stainless deployant buckle.   It's water-resistant to 100m and sizes at 44.6mm in diameter with a 22mm lug width. It features Seiko's in-house, quartz, 8X82 movement. It's battery powered but can be charged using solar and has a power reserve of roughly 6 months without being exposed to light or 2 years in power save mode. From a complication perspective, the Astron is a chronograph (measures up to 5 hours and 59 minutes), contains a date, a perpetual calendar, and has a GPS function to obtain the time and date, and acts as a worldtimer for 40 different time zones. The movement, by the way, is accurate to +/- 15 seconds per month if the GPS is not used to regulate the watch.
False start for the Seiko Astron but an epic recovery!
Formalities aside, there's nothing quite like the experience of opening a new watch and seeing it for the first time. Eschewing all the concerns mentioned above, I was a little wary of seeing the Seiko Astron. Frankly, from the press pictures, there's a lot happening on the dial and I worried that it would look almost digital in person. Well, I needn't have worried. The Astron impressed me from the get go with its quality. Yes, there is a lot of detail, but as I'll continuously mention, it's all well-managed and the little things are crafted with "Grand Seiko-esque" precision. After gawking at it for a few minutes, with Robert-Jan by my side, he asked me to remove it from the box, adjust the strap, and try it on. Oof…Seiko, we have a problem.
Ok, the problem that I encountered wasn't Seiko's fault but more my ancestor's. If you've read my other articles, you'll recall that I have the wrists of a toddler. In this case, though, the large watch head didn't cause the issue. When I did my best to adjust the Astron's well-made crocodile strap, I ended up with a strap tail not unlike when I use the brand's well-known ventilated rubber pieces. So, the Seiko Astron came off and I took a look at the underside of the lug area only to find that the Japanese company almost suspected I'd have this issue because the strap contains nice little cutouts to provide access to the spring bars.
With the strap removed and tucked into the box, I fitted a tan leather 22mm NATO. Problem solved but time for some commentary on this near miss…
To be fair, the Seiko Astron is available with metal or rubber options, so these might be a good alternative, but had I walked into the shop as a I prospective buyer of this particular watch, I would have left empty handed. Throughout testing, I used a couple different NATO's on the Astron depending on the day's activities and I posted several pictures of each strap option on my personal Instagram account (decent number of followers) and the Fratello feed (10X followers). I realize that Instagram isn't a science, but my layman's takeaway is that both feeds received a lot more "likes" than a lot of other accounts posting Astrons, but also from people who don't normally like or comment on non-mechanical watches.  The straps were a hit and people loved how they made the Seiko Astron seem more approachable and fun. I only bring this up because, first, Seiko is providing NATO-like straps with some of its watches now, and, second, we got word that our amazingly hospitable hosts at Seiko Netherlands were a tad irritated that I had done a "switcheroo" on the strap. Well, like it or not, the watch world today, new or vintage, likes to mix and match accessories so why not offer one as part of the package? Ok, hopefully I made my point…let's continue.
Don't be scared of using the Seiko Astron…you can do it!

As an analog guy, watches, machanical or quartz, with loads of complications intimidate me. Seriously, I own a handful of digital watches from a very popular brand and every time I buy them, I get the piece home, look through the owner's manual, test the watch, and then, poof, I forget how to use 99% of the functionality within 15 minutes. Strike that, I pretty much forget instantly and simply use these insanely capable pieces to tell time. So you can envision my inner quaking when Robert-Jan handed me a stack of photocopied A4-sized paper and said, "here are the instructions" to the Seiko Astron. Again, though, my worries were unfounded as the Astron is darn easy to use. In fact, I am going to walk you through the functions I think you'll really use and I will make it understandable – I promise: let's do it!
Upper right button: Start-stop for the chronograph: easy and like any normal chronograph.
Lower right button: Resets the chronograph function…you'll note that the hands always scroll clockwise back to zero. Since this takes seconds, if the chrono is restarted during the reset transitionwith the upper right button, the Astron will automatically advance the central chrono hand past 12:00 to where it "should be" inclusive of when you restarted it. Neat stuff…
Lower left button: Hold it down for 3 seconds and the hand on the lower sub register points to an airplane. It's an airplane mode like your phone that turns off the antenna so as not to interfere with a plane's systems. Hold it down for 3 seconds again to turn the antenna back on.
Upper left button: Hold it down for 6 seconds and the lower sub register will spin and test signal strength and try to "grab" a satellite signal. The upper left sub register will ultimately toggle to "Y" or "N" to let you know if a signal has been received prior to adjusting to correct time. The whole time changing procedure takes less than 2 minutes. If it does not work, just press again for 6 seconds and repeat.
Crown: Pull the crown out one click and the central chrono moves and points to the current time zone on the ceramic bezel. Turn the crown forward or back (it clicks lightly when turning) to manually adjust timezones if you are unable to obtain a signal.
There are other things like power reserve, daylight savings time functions, etc. that can be done but these are likely to be rarely used. I give high marks to Seiko for making the Astron so easy and intuitive to use.
Wearing the Seiko Astron
I took the Astron with me on a weeklong vacation to the island of Gozo in Malta with my family. During the week we visited, Malta happened to register as the hottest place within the entire EU with temperatures near or slight above 40. You can imagine then that heat, sweat, suntan lotion and long periods in the ocean or pool were the typical environments for the Seiko Astron.  Thankfully, the watch didn't disappoint.
I mentioned that the Seiko Astron has a water resistance of 100m and while I probably tested the watch to about 3% of its capabilities, I found it to be a great partner for a Summer vacation. First, it's very light, which made it an effortless wear in blazing heat where almost any article of clothing that hangs on the body feels like an anchor. I also like the fact that the materials, notably the ceramic bezel and sapphire crystal, cleaned up well after exposure to greasy suntan lotion, sweat and all types of goopy baby food (yes, the watch stood up well to my 10-month old – she loves to grab my watches).
I'd routinely throw the watch on a gray nylon NATO for swimming and sweating and then change to leather for dinner.
It played the part well for casual and slightly more dressy situations; I never once had a hankering for a mechanical piece to take its place at a nicer restaurant.
Also, as night came on, I appreciated the fantastic lume.
Speaking of looks, the Seiko Astron has a wealth of details and depth to its dial. I spent a lot of time looking at this watch while on vacation and I really came to appreciate its intricacies. You'll notice that the upper registers are surrounded in rose gold that matches the main hands and hour indices. The lower register, though, is finished in polished steel.  In certain lights this isn't obvious, but that all adds up to a color scheme that ends up flowing very well but also one that matches almost everything, color-wise, that you'd end up pairing with it.   Also, the sub registers when viewed at an angle, amost seem to float on the surface of the dial; it looks very cool.  I also want to spend a moment on the dial because my only other experience with solar watches is with those that cost far less. On those pieces, you can usually see some hint of the solar cell through the dial and, to me at least, that looks a little cheesy. On the Astron, however, the dial is an opaque, slightly metallic gray/purple, which feels more expensive. To this, I say well done because it fits the overall high cost feel (and price) of the rest of the dial elements.
I spoke earlier about my need to fit some NATO straps to the Seiko Astron. Throughout my week of almost solid wearing of the watch, it never felt too large or clunky. It fit the wrist well and I never found myself smacking the watch into doorframes or countertops. Credit nicely curved lugs and a relatively flat fit on the wrist. Also, while I didn't receive any "out of the blue" comments on the Astron, I did receive several glances towards my wrist while wearing it. Here, I think the high level of finishing clearly attracted the eyes of others.
Seiko Astron…GPS in action

Initially I was a bit dismayed that my vacation wasn't held in another time zone in order to afford the chance to use the GPS function on the Seiko Astron, but I found a way to play with it anyhow. I popped the crown out and moved the time zone forward several clicks. Minutes later, I tested the GPS function by pressing the upper left pusher. Within a minute or so, the hands started scrolling to the correct time: very easy and effective! I repeated the trick several times on the trip and awed my wife and mother-in-law. Later, I did have the opportunity to fly through Turkey, where a time change occurred, and tested the GPS. I tried this on the plane while taxiing to the gate and found that it took a couple tries, as I was not close enough to the window. So, if you're deep within a building, assume that you'll need to move to a window.
My minor beefs with the Seiko Astron

If you can't tell, I really like the Seiko Astron. I've said it multiple times, but it needs to be said again, this watch is beautifully built and based upon this quality alone, it certainly deserves to be priced as a relatively expensive watch. It also functions seamlessly and that makes it a non-gimmick in my book. A gimmick tends to be something that sounds great but often does not work or works sporadically; the Astron is a rock solid piece of engineering that happens to be easy to use.
So, what are my issues? First, I wish that the chronograph buttons on the Seiko Astron were more tactile. They can be fully pressed into the case, but they feel spongy and they activate at the slightest hint of a push. This is the only aspect of the watch that actually feels digital. I'd like a click and I don't think that this would be difficult to add.
Second, we come to the overall size of the Seiko Astron. Ostensibly, the technology within the Astron governs the size of the case. The watch is big at almost 44.6mm. Seiko seems to have mastered the ability to make large watches that somehow fit smaller wrists, the Tuna being a great example, but it's still a big watch. So what? In this price range, where I think the Astron is bordering on competing with other chronographs such as Omega's Speedmaster, Tudor's Heritage Chronograph, Longines etc., that can function pretty well in both a formal setting and by the pool, the Astron feels more tailored to a casual setting. Would buyers consider the Astron as their only watch? I don't know, but I can't help feeling that large-sized pieces don't work so well under a slim dress shirt. I know this my opinion certainly doesn't match with Seiko's aim as this piece comes with a dressy crocodile strap and other Astrons are available with semi-dressy polished/matte combo bracelets. I also realize that the large population of thick-wristed, large diameter, watch wearers will disagree with me and that's ok, but I do hope that Seiko continues to hone and miniaturize the Astron's technology in an effort to create a piece with a 40-42mm diameter.
Is the Seiko Astron worth the price and does it have a soul?

At 2400 Euros in the Netherlands, the Seiko Astron is certainly not inexpensive, but when I factor in the innovation, build quality, materials and their finishes, and the fact that it is built entirely in-house, it starts to stack up pretty well against its competition. Of course, you need to get past the fact that this watch is not mechanical. Furthermore, if you like the idea of the Astron, but find this price too rich, keep in mind that the version tested here sits at the top of the food chain. Steel versions are available and pricing drops down to the 1800 Euro mark with no difference in functionality. If you're traveling to Japan, you might find even more accessible pricing. Coming back to the in-house argument, the only other chronographs I can think of in this price range that use true in-house movements, Swatch group pieces being a bit of a gray area, are other Seiko pieces.
The in-house argument ties in nicely with whether I feel the Seiko Astron has a soul despite the lack of a mechanical heart. Honestly, for me, the Astron has soul. Call it a weak argument, but I've read so much history on Seiko, was fortunate to have a personal tour of the museum in Tokyo by a passionate employee, and own so many pieces from the company that I have a real belief that everything they do is done with passion. Sure, the Japanese may come off as stoic, but these guys are serious watch fans. Plus, I think, much like the pursuit of timing perfection in the 1960's with the Grand Seiko's and King Seiko's, being in the hunt with their 6139 as the initial automatic chronograph, debuting the original Astron as the first quartz watch and other innovations, this Seiko Astron is simply the latest in the line. So, yes, I think it has soul, is part of great lineage, and makes a great addition to one's collection as either a near-daily wearer or as part of your rotation.
Overall, the Seiko Astron is a winner

There's no doubt, I was concerned when I received the Seiko Astron. I love Seiko for the fact that they're not part of the Swiss establishment, they continue to innovate, and, no matter the price point, they offer amazing quality watches. Therefore, I didn't want to risk tarnishing my thoughts of the brand by chancing a rough experience with the non-mechanical Astron. You've now done the reading and you know that I really and truly enjoyed wearing this piece. It was so easy to use and certainly doesn't stand out for not belonging when comparing to my mechanical chronographs. I've outlined my concerns about the size of the watch, but perhaps that's not a concern for most people. Seiko continues to do great things and I can't wait to see what's next. For now, though, the Seiko Astron is a deserving option worthy of your consideration.