Forbidden Fruit: Hands-On With the Seiko Digi Tuna SBEP005
Sitting by the ocean somewhere along the coast of Menorca, I glance down at my wrist and spy the Seiko Digi Tuna SBEP005, a watch that's not overly typical of anything that I'd choose to wear due to its method of displaying the time. Still, due to the inclusion of a shroud, I felt the need to track this JDM-only piece down and add it to the collection. It's an oddity, but it's a watch that's been making waves online for a lot of reasons. Let's get into it, talk about what it is, what it isn't and my overall impressions.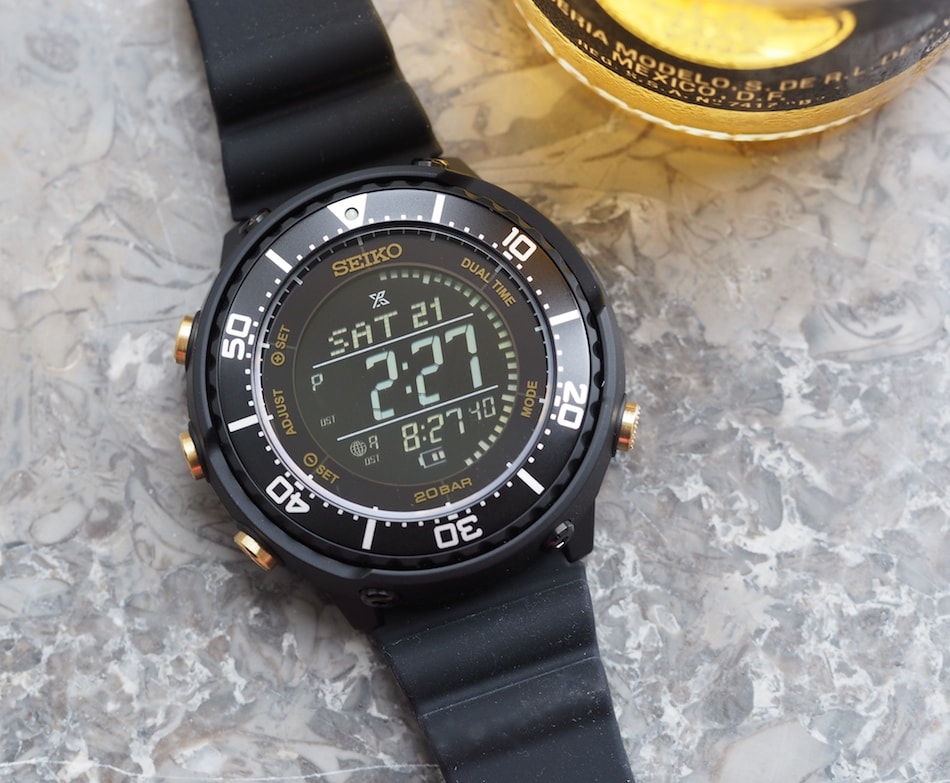 The Seiko Digi Tuna SBEP005 is one of three regular production versions of an all-digital Landmaster within the Prospex line of watches (an SBEP001 with silver hardware and detailing is available along with the SBEP003 with Pepsi bezel – ah, and there are 2 more limited editions being sold at specific Japanese retailers). I chose this variant because I like the gold theme for my non-mechanical Seiko "divers" and thankfully have a friend in Japan who helped with the purchase. Designed in conjunction with Japanese design firm "lowercase", it's meant to be a bit funky. Still, it brings the goods.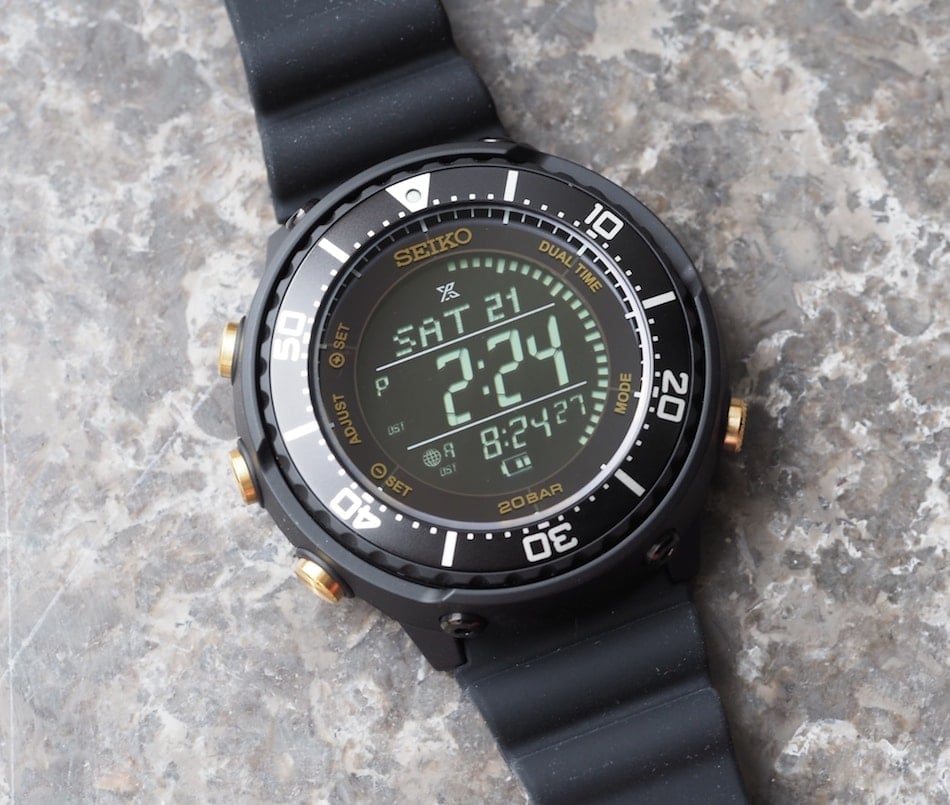 Even though the instruction manual tells us to avoid pouring water directly onto the Seiko Digi Tuna SBEP005, it's still good down to 200 meters and features a bi-directional rotating bezel to help with the timing of tasks. It's a solar-powered watch using the S802 caliber that runs for 5 months when fully charged and can "hibernate" for up to 20 months when switching to power reserve mode. At nearly 50mm all the way around, it's not small, but it's relatively slim (all things considered) at 14.1mm thick. The silicone strap is 22mm in width and the Digi Tuna contains handy spring bar tool holes to aid changes.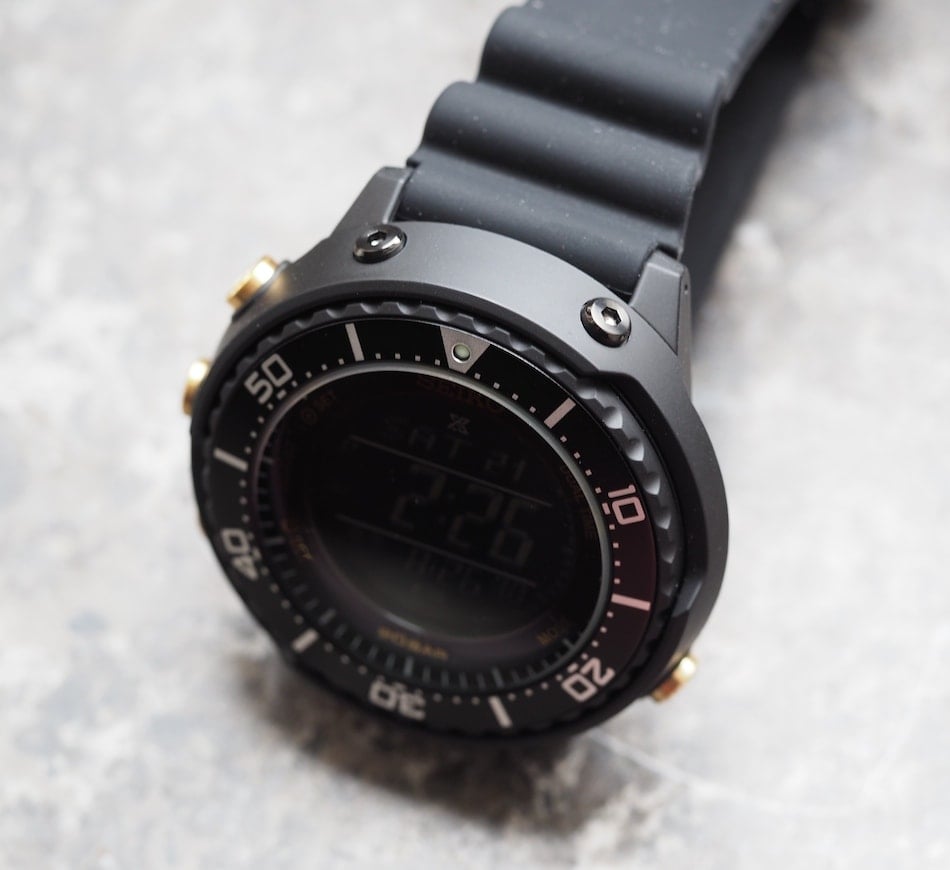 Interestingly, the Seiko Digi Tuna SBEP005 is fitted with a "scratchproof" plastic shroud affixed with four black-coated hex-key screws. The bezel and mid case are seemingly made of the same stuff. The crystal is simply described as "glass" and includes a function that lights up the non-backlit display when tapped while the watch is on the wrist.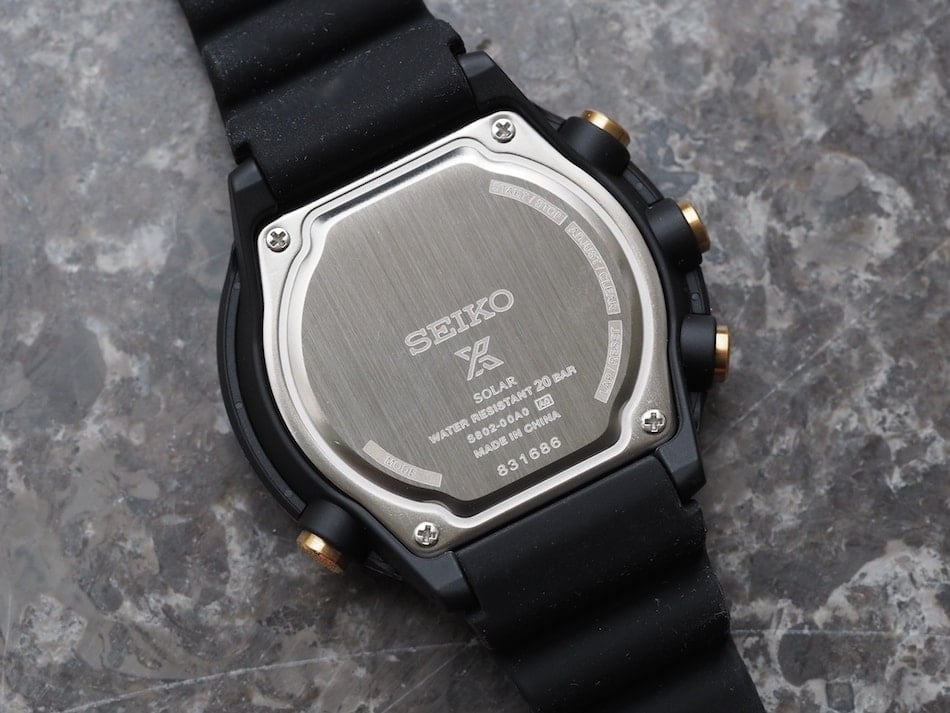 It's not until one flips the watch over on its backside that steel is found. In this case, it's a basic cover that's held on with four screws. Info is sparse with only the Seiko name, Prospex "X", serial number, water resistance, the fact that the watch is made in China and a duplicate retelling of the button functionality presumably to ensure the caseback is put back on correctly.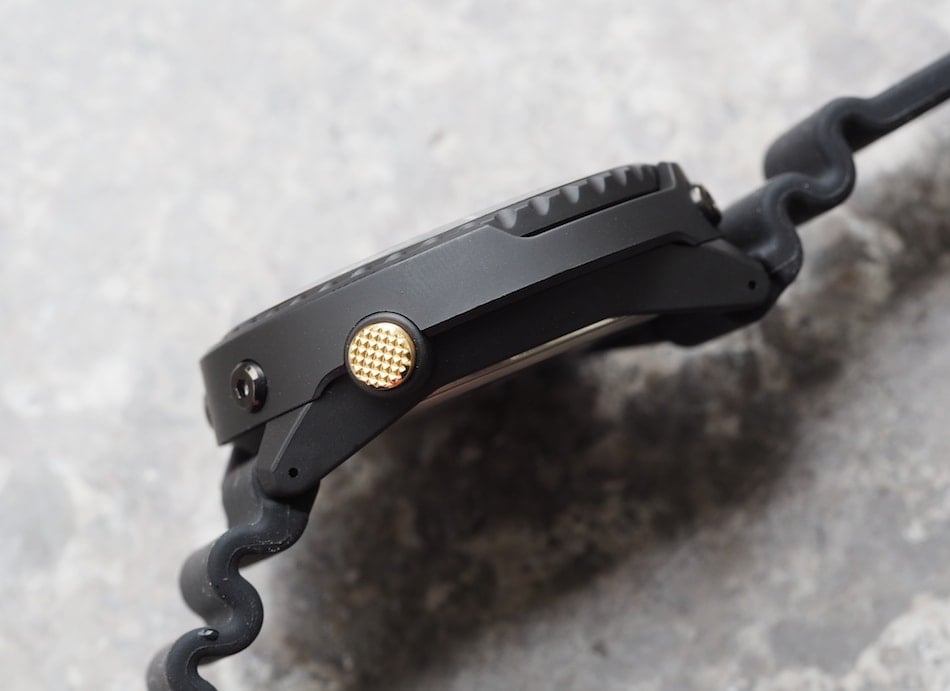 With four buttons, the Seiko Digi Tuna SBEP005 contains some typical digital watch functionality such as alarm, 44-city world time function (2 time zones are programmable and displayed – they can be toggled to the center or lower portion of the screen by using the 9:00 button), and stopwatch. The mode can be adjusted with the button at 4:00. That button's location, by the way, allows the watch to maintain a very Seiko-esque profile.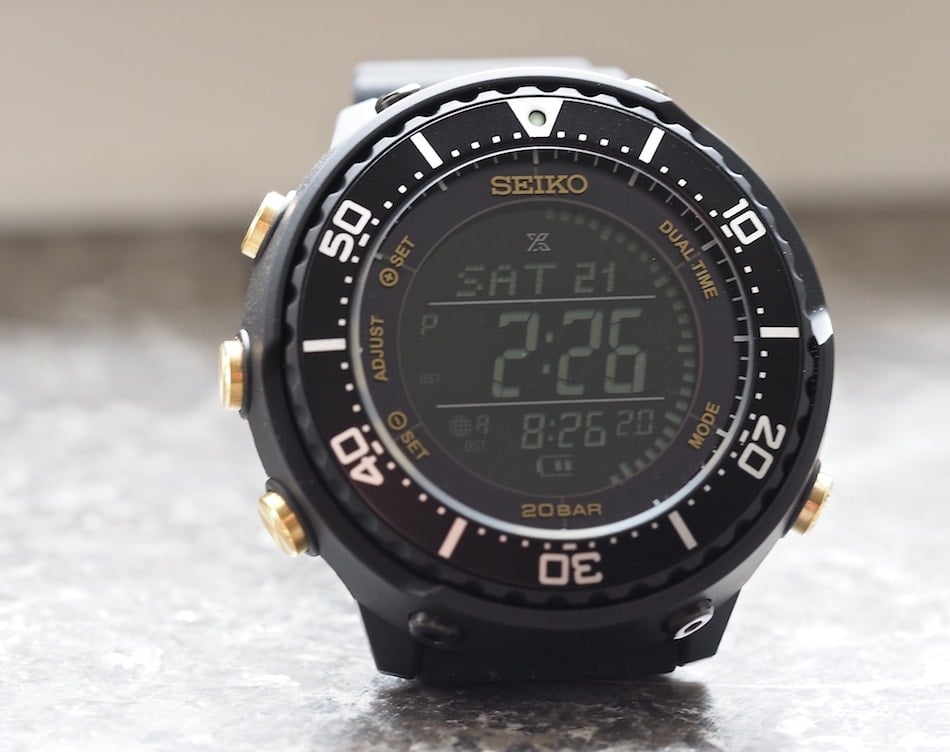 Many are referring to the Seiko Digi Tuna SBEP005 and its brethren as Seiko's opening salvo against Casio and its vaunted G-Shock line. I get that and it's nearly impossible not to make that comparison, but I think that's assigning a bit too much responsibility to this piece. First of all, the display for this watch isn't backlit and, functionally, that makes it a bit dubious as a watch you'd depend upon in low-light situations. The tap function works and the sensitivity can be adjusted, but it only lights things up for a second or so. When it comes to the actual display, I love the simplicity and the fact that everything is tucked into a traditional round case (the G-Shock I've worn running and to the gym for roughly 10 years is a JDM piece with analog hands that gives off a similar vibe). Plus, the minutes are also displayed along the edge analog style, which then enables the use of the friction fitting rotating bezel as a timing tool. It's all very cool, pretty darn simple, and a bit kitschy.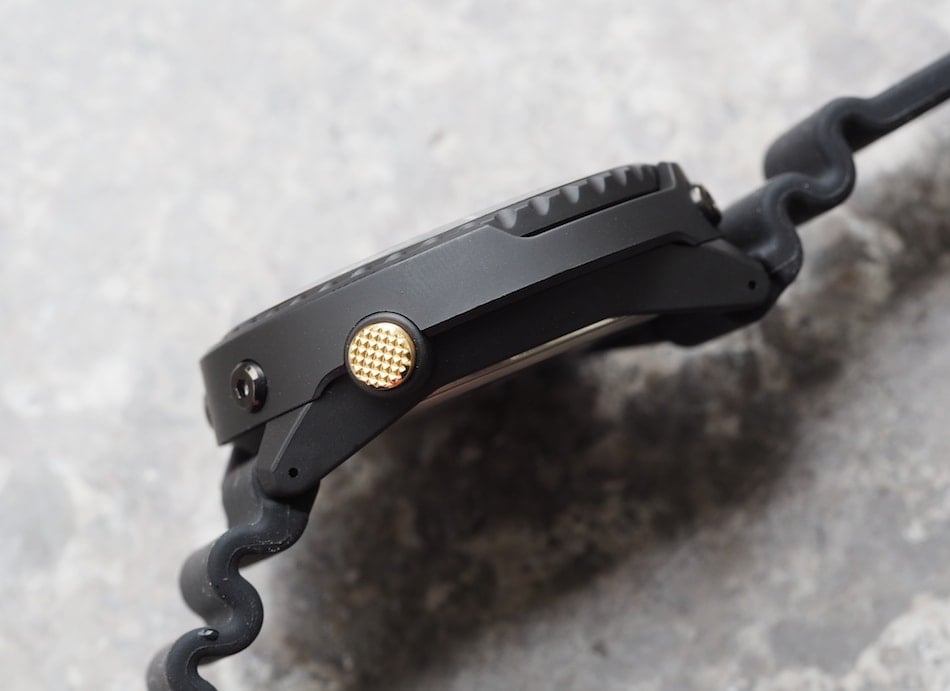 Some have decried the use of what feels like lightweight, somewhat brittle feeling (read: non-rubbery) plastic for the shroud on the Seiko Digi Tuna SBEP005. After all, Prospex watches are supposed to take an ass-whipping and then come right back for more. More likely, though, I'm sure there are also the Seiko faithful who recall mid-80's H558 "Arnies" with their easily fractured plastic shrouds.   Preconceived notions aside, the watch feels stout, but admittedly not as bulletproof as a Casio. Perhaps the fact that the Casio has a rubbery feel or comes off as one solid block helps the matter. All in all, though, the construction of the Seiko is consistent with their typical level of fit and finish. The buttons exemplify this with some cool radial and crosshatch finishing. They're light to the touch but not at all sloppy.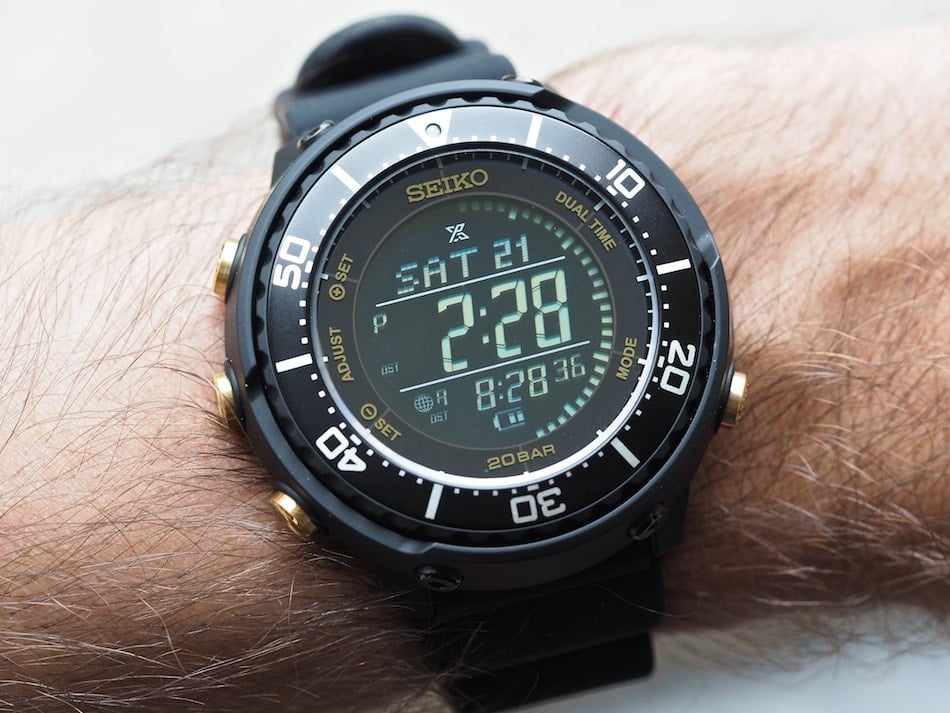 When I travel for an extended period, I always bring my Casio for running and for workouts alongside some mechanical pieces. I decided against it this time and opted solely for the Seiko Digi Tuna SBEP005. On Day 1, I strapped it to my wrist and brought it along on a sweltering mid-30's Celsius run. I'm picky when it comes to running with watches because anything with any weight feels like an anchor in such temps.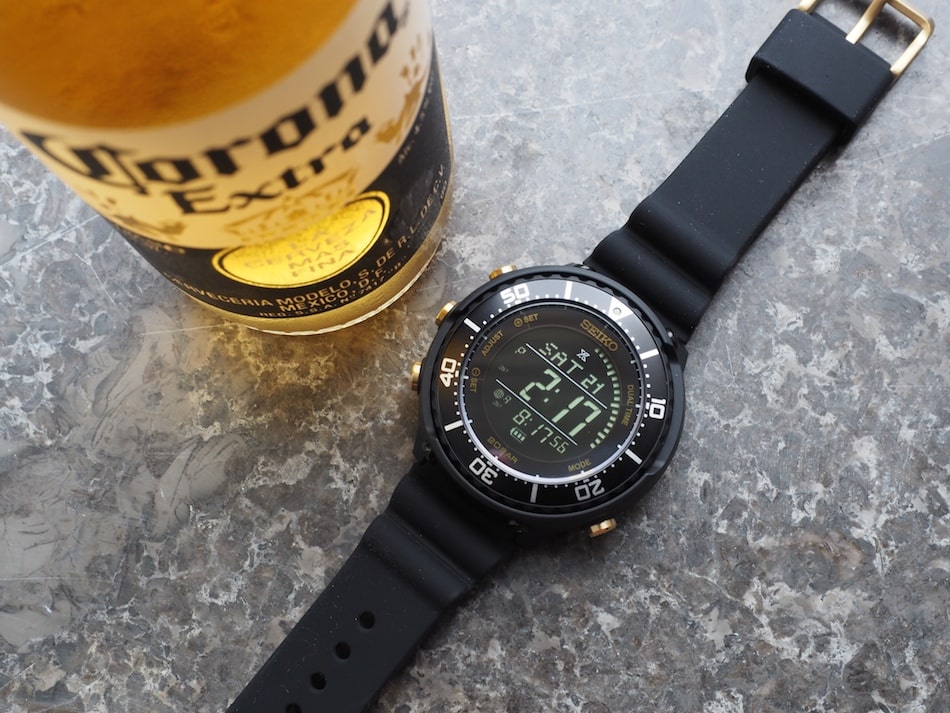 Thankfully, the Seiko is as light as a feather and the soft and pliable silicone strap makes it a good athletic partner. I hardly noticed that it was on and that's a good thing. Some complain about the fact that the strap and buckle go unsigned, but it felt really nice to me. The same can be said for the Digi Tuna as a pool/beach watch. The watch felt airy and never seemed like it was stuck to my wrist or trapping any sandy debris.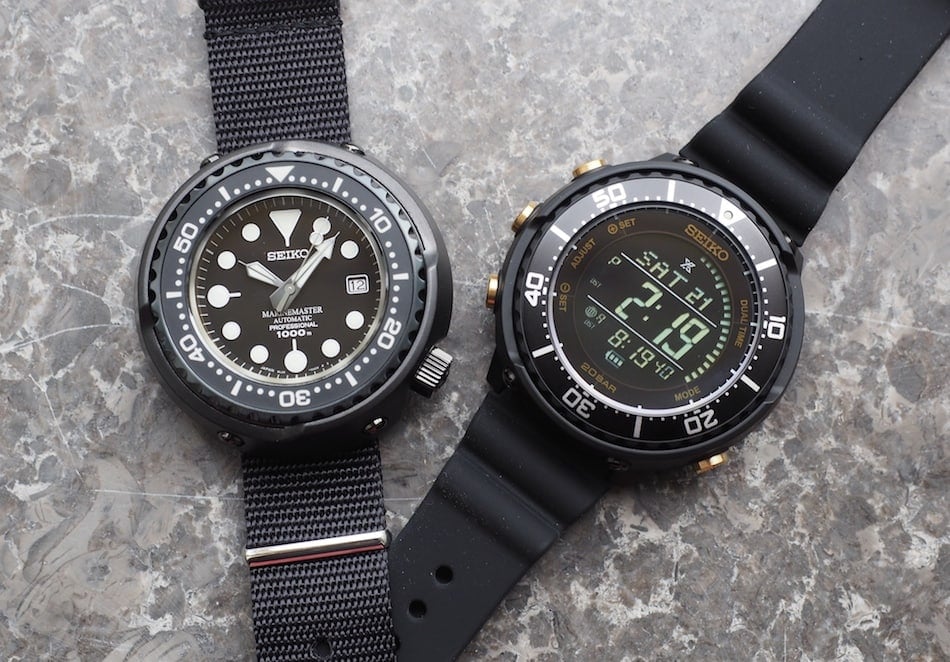 The Seiko Digi Tuna SBEP005 isn't a true Tuna of course, but it is a seriously fun watch that plays on the theme. It marks a bit of a return for Seiko to this market – yes, I know they've been making digitals for years – with the introduction of this semi-tactical piece that likely has just enough going for it looks-wise to draw in fans of the brand along with some casual browsers. Plus, at 30,000 Japanese Yen, it's not overly expensive. Detractors could argue, somewhat rightfully, that there's a tough too much style over substance with its lightweight plastics and dark screen, but I really like the different "not so nerdy" digital look. Now, we only need to hope that Seiko decides to offer these cool pieces throughout the world.
For more on the Seiko Digi Tuna SBEP005 and other variants head to the official Seiko site here.