Hands-On Seiko SBDC027 "Sumo" 50th Anniversary Review
Last year I ordered a couple of Seiko watches for myself. In fact, I only did so after seeing one of the JDM (Japan Domestic Models) in the Seiko boutique in Amsterdam. There I realized two things: 1. There is more to Seiko than I thought, 2. I need to learn all these nicknames and reference numbers. Not long after I decided to pull the trigger on a Seiko Baby Tuna SRP231. A super cool looking black watch with automatic movement and rubber strap. After I received that watch, I was amazed how this watch could offer so much for the money I paid (I think it was less than $300 USD if memory serves me correctly).
Not long after, I decided to order the Seiko "Sumo" SBDC001, basically the standard model of the Seiko SBDC027(J) I have here. I ordered my SBDC001 directly from Japan, as it was not available here in The Netherlands at the time. I believe that has changed since Seiko properly introduced the Prospex collection here (in Europe) last year. Still not all JDM models are officially available here, but I've noticed that Seiko boutiques might have some of these watches in stock (like the Seiko MM300, which I reviewed here).
Again, after receiving the Seiko Sumo I was more than pleased to see that it could easily withstand some of its Swiss (and more expensive) competition in terms of finish. Without going further into detail, I added some more Seiko watches to my modest collection of watches and noticed I enjoy them thoroughly. From vintage Seiko to brand new models and I partially blame Michael Stockton for influencing me so much.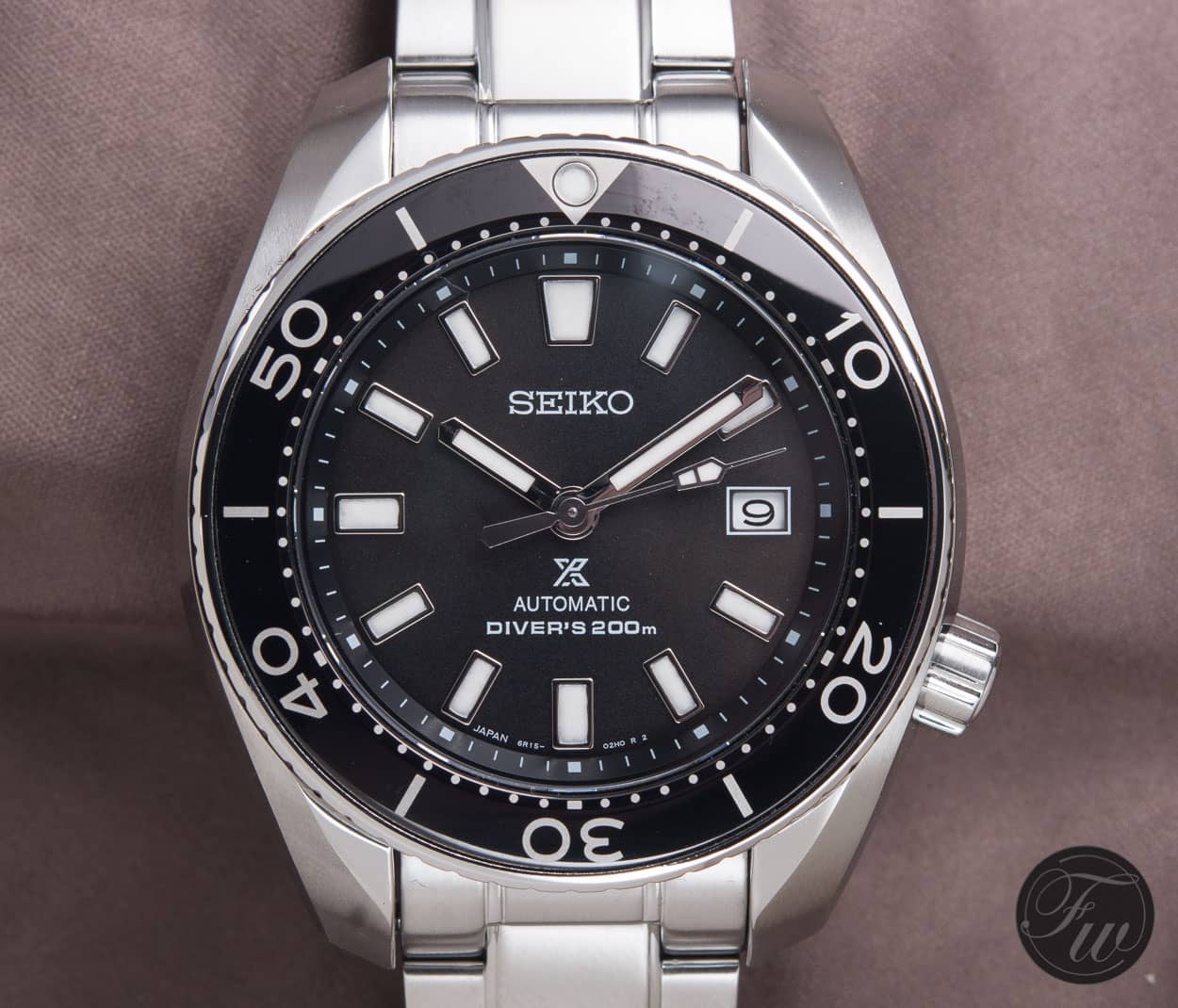 Now without further ado, let's have a closer look at the Seiko SBDC027 Sumo 50th Anniversary model. It might sound that this 50th anniversary has to do with this particular model, but that is not the case. Seiko celebrates the 50th anniversary of their professional diving watches, introduced in 1965 (click here for our review on the first professional Seiko divers watch). Besides this Seiko SBDC027, Seiko also introduced a 50th Anniversary limited edition (1,000 pieces only) of the universally praised Marinemaster 300, the SBDX012(J).
Basically, the Seiko SBDC027 uses the same basics as the SBDC001. The stainless steel case has a 45mm diameter and has a thickness of 13mm. By no means a small watch. Seiko only produced 2,000 pieces of the 50th anniversary Sumo. This number is probably barely enough to supply all Seiko [Sumo] fans with an upgraded version of the beloved SBDC001. I say upgraded, as this Seiko SBDC027 has a number of improvements over the regular stainless steel Sumo model:
a sapphire crystal instead of the Seiko Hardlex crystal;
dia-shield coated case;
Besides that, they also changed the design a little bit on this watch. It is difficult to say that these are improvements, as beauty is in the eye of the beholder, but a number of them are at least very well executed:
new design hands (no more large sword-style hands);
square-shaped markers instead of large circles;
less cluttered dial – no more "Scuba" printing;
a glossy MM300-like bezel;
a more modest font in the bezel;
One other small change is the new case back. It has the "Limited Edition" wording engraved together with the unique number of the timepiece (out of 2000). Besides that, it bears the Prospex logo just below the Tsunami medallion.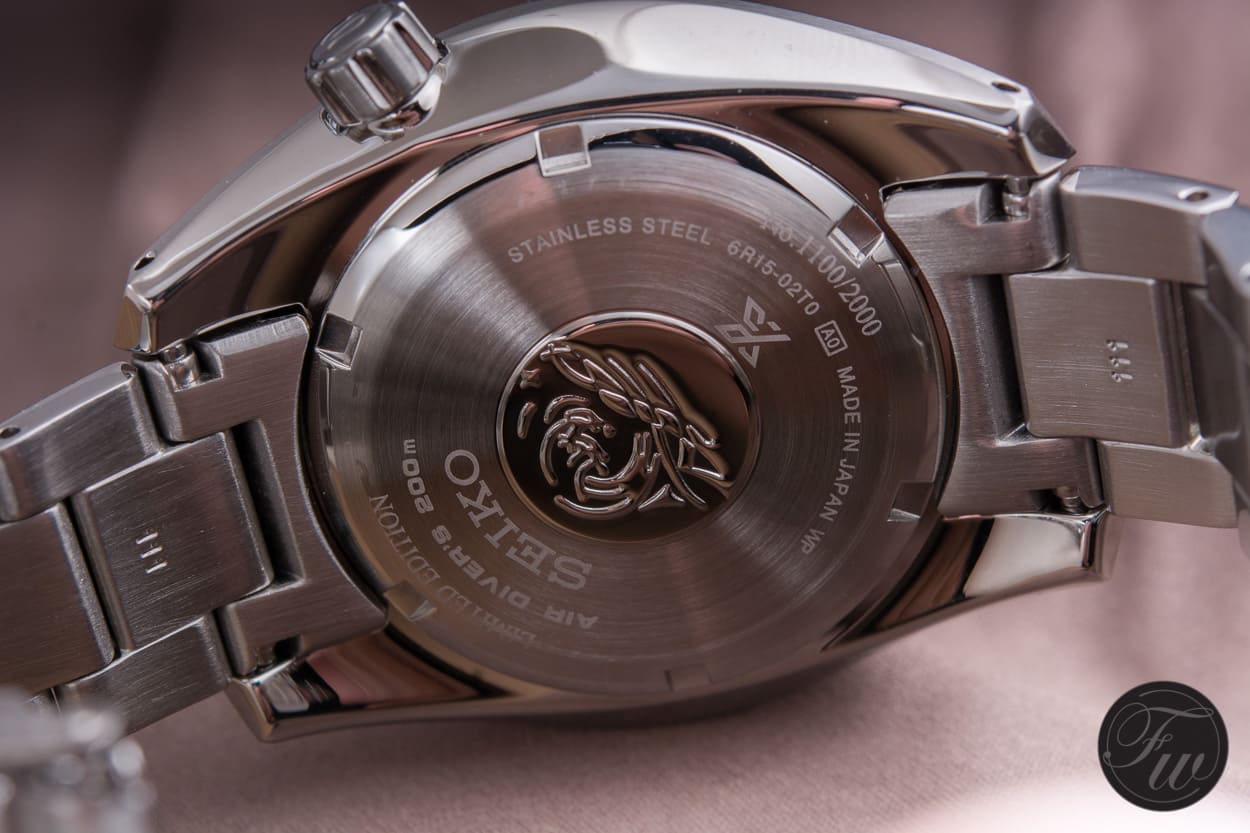 Overall, the watch has absolutely the same characteristics as the Seiko SBDC001. It has Seiko caliber 6R15 inside which is a solid performer and – if serviced every once in a while – will keep on ticking for many decades. The one thing that Seiko did not do on this SBDC027 (or the SBDX012 for that matter) is improving the bracelet. I've touched this subject several times, so I won't keep repeating it, but in my opinion this watch deserves a better designed bracelet. Aesthetics are fine, but the clasp is definitely not up to par with its Swiss competitors.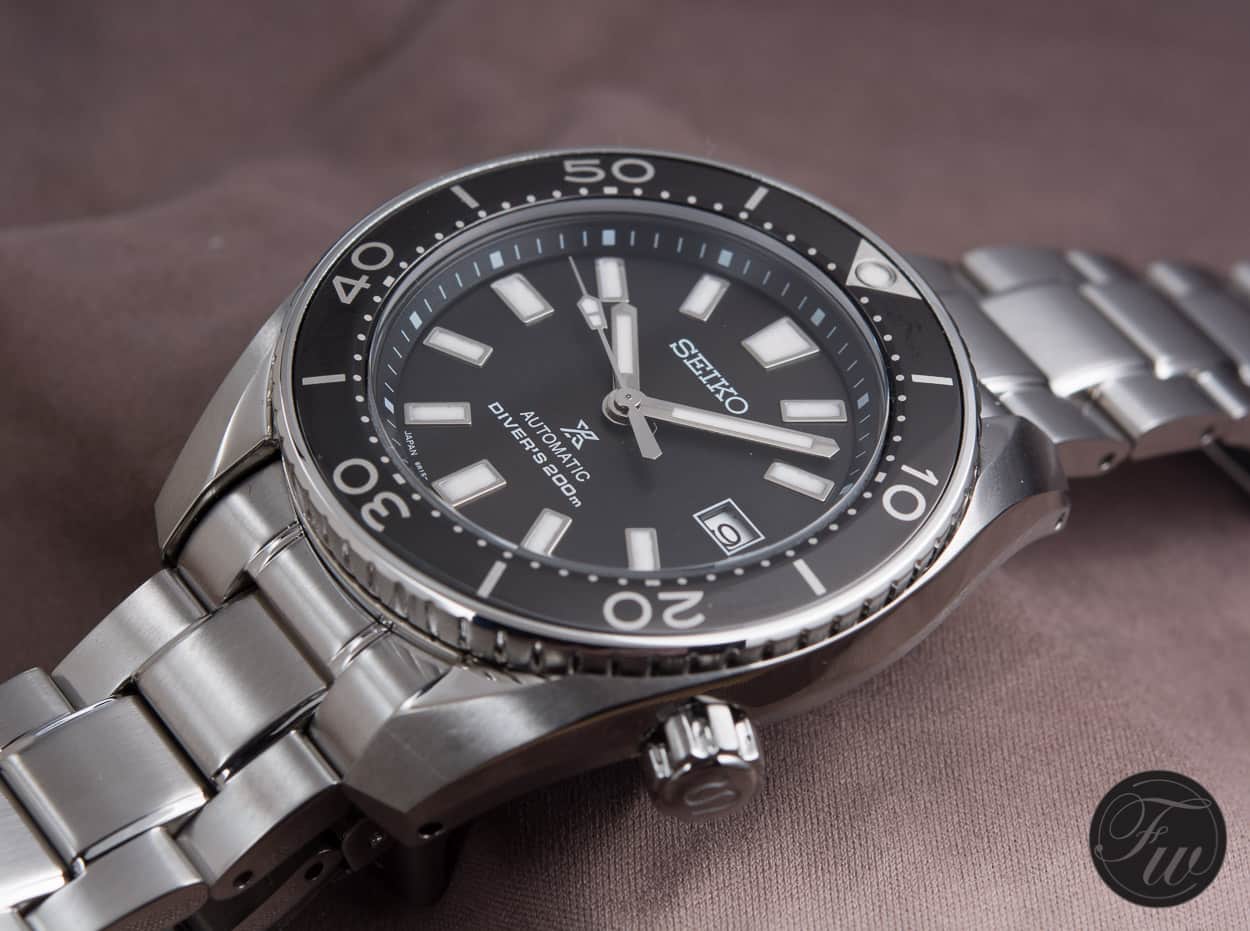 The good news is, that the black polyethurane strap that comes with the Seiko MM300 SBDX001 will also fit this watch. You can order these straps as spare part quite easily and they come with a fair price tag (I think I paid approx €35 Euro for mine). Below an image of the Seiko Marinemaster 300 and Sumo SBDC001 side-by-side with the same strap.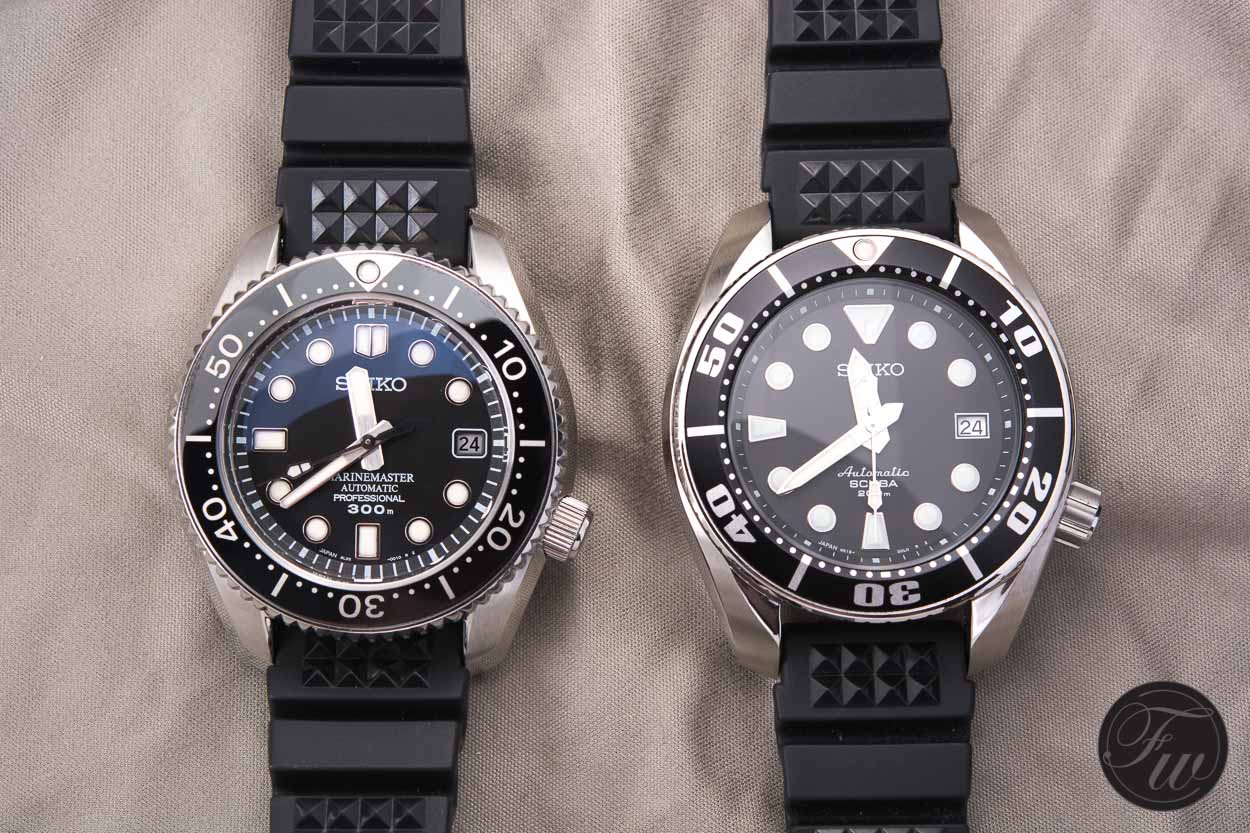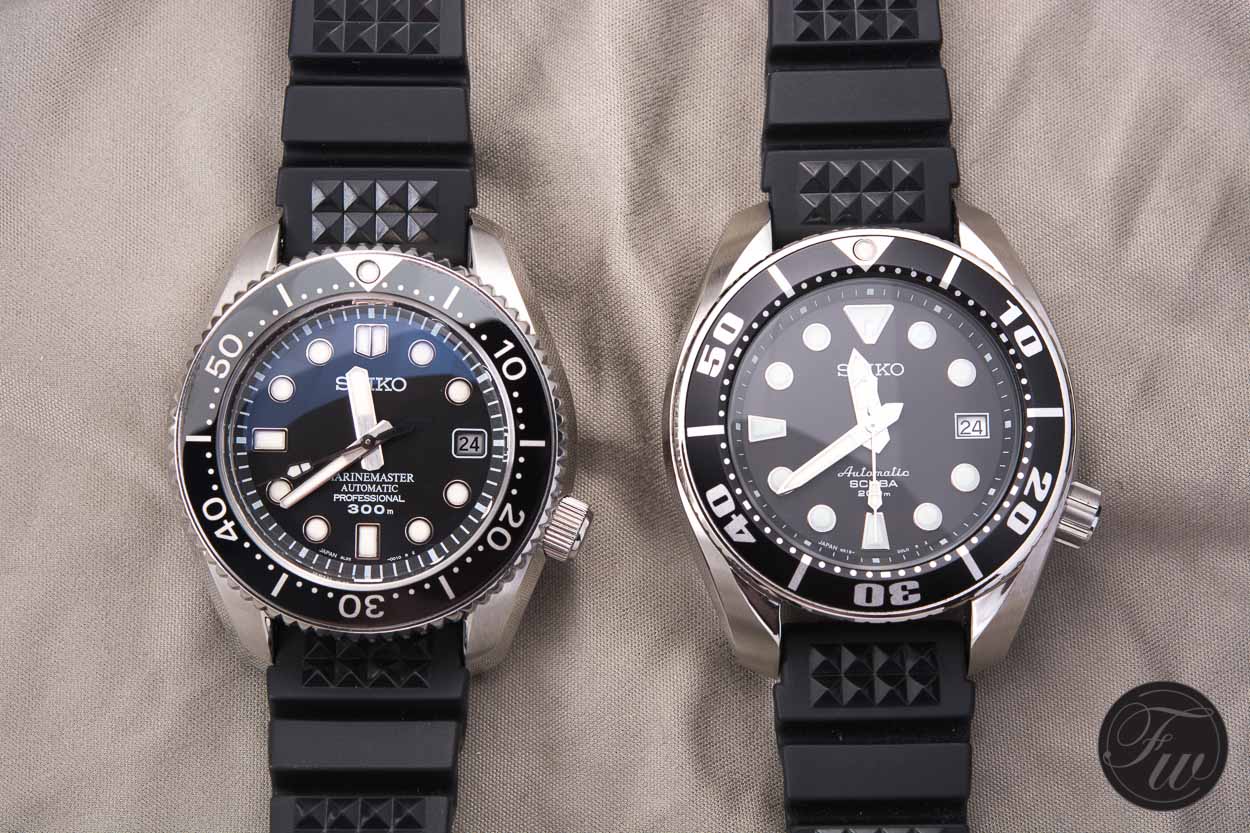 The 20mm lug width will make it very easy to add custom or 3rd party straps, there are plenty available. Just check our recurring Watch Strap Review section. The stainless steel bracelet is actually my only concern with the Seiko SBDC027. Whether I like this anniversary watch better than the SBDC001 is difficult to say, but it does have two (big) improvements in my opinion. Although I am not afraid of scratches as a watch is there to be worn, the dia-shield coating at least prevents the watch from getting unnecessary scratches. The brushed finish on the lugs and polished case band is very nicely done, especially considering a watch with this price tag (more later). The sapphire crystal to me is the biggest plus, although the Hardlex crystals on my Seiko watches do not show any signs of wear. So perhaps I am being very picky here.
The retail price of the Seiko SBDC027 Sumo is a bit higher than on the SBDC001, €999 Euro including taxes. The normal Sumo watches start at around €650 Euro (officially). The case treatment and sapphire crystal make up for the difference in price. As the Seiko SBDC0027 was already introduced before Baselworld and has been delivered to various markets already, official channels probably dried up by now.
I would love to see Seiko installing sapphire crystals on future Sumo / Marinemaster models, as I think a watch in the €1000 Euro (~ $1000 USD) category deserves to have one.
More information can be found on the special Seiko Prospex website.