Kampai! – Two Seiko Cocktail Time Watches SRPB43J and SSA343J1
Since 2010, Seiko is offering these "cocktail time" watches that were clearly inspired by living the good life. First only for the Japanese market (also referred to as JDM sometimes, Japan Domestic Model) and since a couple of years also for the rest of the world to enjoy. It wasn't until a few years ago that Michael Stockton told me about these Seiko Cocktail Time watches and since then I keep admiring them whenever I see one. The sunray pattern dials really stand out so they are easy to recognize. Not only the dial, but also the price point of these Seiko Cocktail Time watches from the Presage collection make it a very interesting contester in the sub 1000 Euro price range. Actually, I am a bit surprised I don't see them more often.
Seiko Cocktail Time – Presage Collection
This year, Seiko introduced to us a couple more Cocktail Time Presage models and I will talk about two of them here. One three-hander, the Seiko Presage SRPB43J1 and the Seiko Presage SSA343J1 with a central-hand power reserve indicator and a pointer-hand date.  Both have the typical Seiko Cocktail Time sunray dial, in blue. Seiko offers these Presage models also with different dial colors (such as creamy off-white and brown) as well as in different case colors (PVDed rose gold and yellow gold).
The Seiko Presage collection only became a worldwide collection since 2016, before that it wasn't available on all markets. A great decision, as the Seiko Presage collection surely ticks a lot of boxes. We've reviewed their Seiko Presage SPB041J of last year here on Fratello. These new Seiko Cocktail Time watches are even more attractively priced than the SPB041J, that was closer to 1000 Euro list price. We are now talking both variations for that number.
Caliber 4R35 and 4R57
For these Seiko Cocktail Time watches, they used their 4R caliber movements. We know these movements from some of the other Seiko (Prospex) models for example and they do their job very well. Seiko made sure to use their Magic Lever, Spron alloy for their springs and Diashock protection system technology, even in this more affordable range of watches. It goes without saying that everything that Seiko does is being developed and produced in-house, as you can read in our Seiko factory visit report.
As you can see below, the 4R movements are work-horses. They don't have the finish you see in more expensive watches (also from Seiko), but what do you expect for this kind of money? It is difficult to criticize these watches or movements for lack of optical finish. Normally I am not a fan of showing movements that don't have a certain level of finishing, but I can also imagine that some of the targeted customers of these Presage Cocktail Time watches do like to have a display back. Especially those who are fairly new to mechanical watches will certainly appreciate and enjoy it.
The power reserve on both calibers is 41 hours and they tick at 21600vph. Both are also anti-magnetic up to 4800A/m.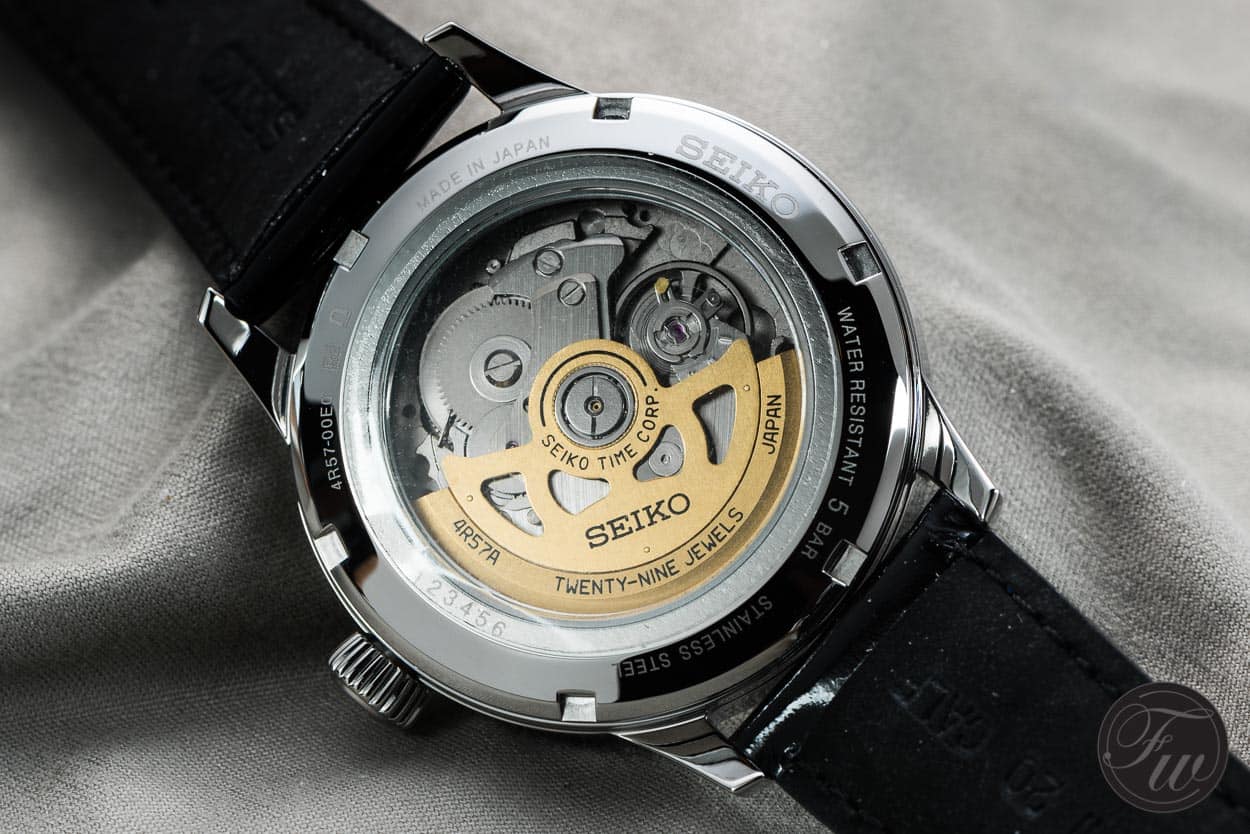 Seiko Presage SRPB43J1
Let's start with the three-hander – and thus cheapest – watch, the Seiko SRPB43J1. Although it is the most accessible watch of the two, I prefer it over the other one. Why? Well, I like dress watches to be as clean as possible and the patterned ice blue sunray dial is already drawing a lot of attention. However, I can also imagine that people love a power reserve indicator as a complication.
The Seiko Cocktail Time three-hand watch has a rich dial as you can see, with applied hour markers and a nice framed date aperture. More brands should do this, as it makes the contrast between date feature and dial a bit more pleasant. The dauphin hands are polished and the sleek second hand is blue. There's the large applied Seiko logo at 12 o'clock and 'Presage Automatic' printed at 6 o'clock. In my opinion Seiko has been a bit too optimistic choosing a font size for the printing at 6 o'clock, but it isn't really disturbing either.
Seiko's Presage Cocktail Time diameters are 40.5mm for both versions. The thickness of the three-hands is 11.8mm, something you can easily wear under your cuff. However, at some point you might be rolling up your sleeves anyway in the bar. Seiko uses their Hardlex crystal instead of sapphire. To a lot of fans this is a bit of a bummer, but as we explained in this article, Hardlex is good enough for most of us. The price difference between sapphire and Hardlex is too big to really make a difference in terms of quality and characteristics. So Seiko is proud to use Hardlex on many of their watches and keep the price interesting for you, the customer.
As you can see on the images below, the 40.5mm stainless steel case has a polished finish and a 'stepped' bezel. The crown is signed "S" and is easy to operated.
The SRPB43J1 comes on a leather strap and has a folding buckle. There are also some Seiko Cocktail Time models that have a stainless steel bracelet. I am not really a fan of Seiko's choice for leather straps (or bracelets), and in this case because they are way too shiny. That might be applicable for a cocktail bar, but to my taste they could have take it a few notches down with the lacquer.
Seiko's Presage SRPB43J1 has a retail price of 410 Euro, including sales taxes. If you like this watch, it is a no-brainer really. This amount of money also leaves some room to put a more subtle strap on it.
Seiko Presage SSA343J1
The more fancy Seiko Cocktail Time is this reference SSA343J1. It has a lot of similarities with the three-hand version I discussed above, but comes with an additional power reserve indicator with central hand and instead of a date aperture it has a pointer date at 6 o'clock. It is a bit more 'complicated' piece than the three-hander. This also results in a slightly thicker case, of 14.5mm instead of 11.8mm. The caliber 4R57 has a couple of jewels more of course, but shows a lot of similarities with the 4R36. Case and crown are also similar to the SRPB43J.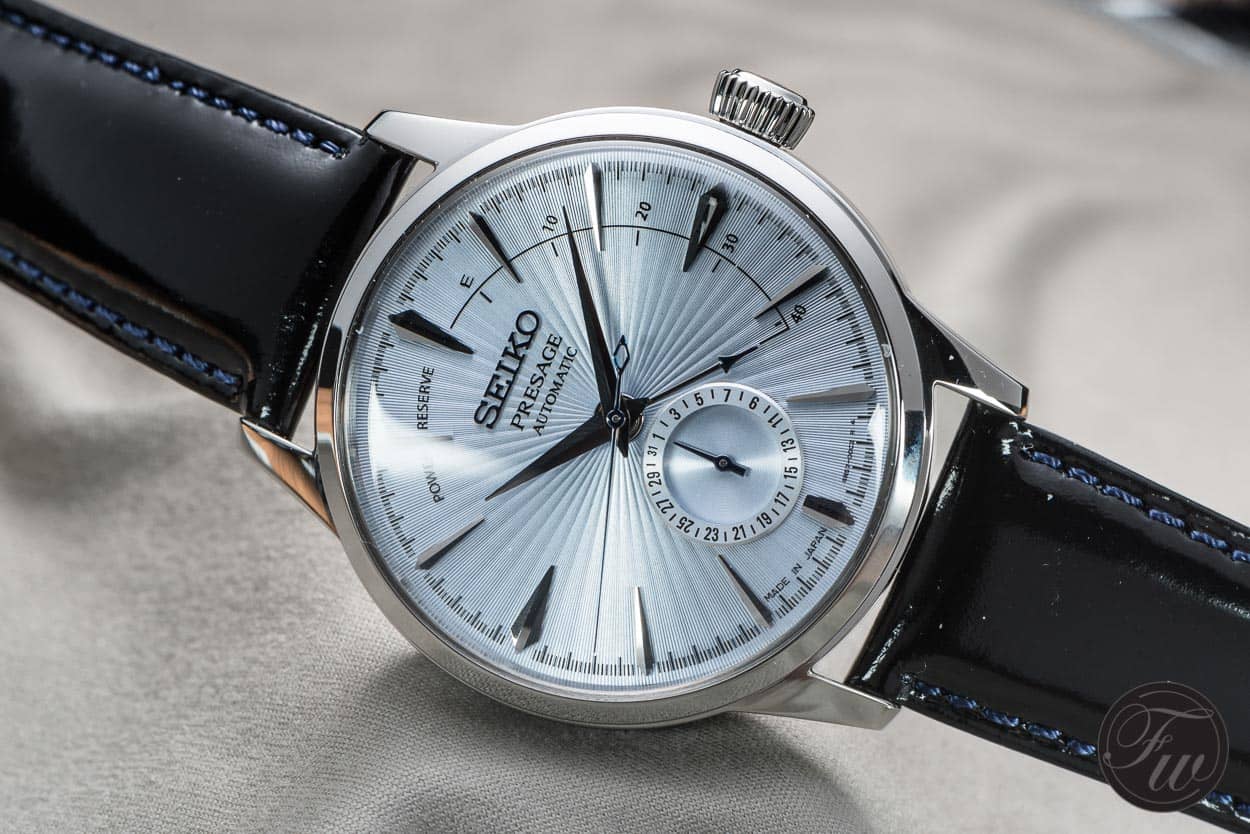 As you can see on the picture above, the power reserve indicator takes a prominent place on the dial. Starting at a 10 o'clock position, you already see 'Power Reserve' written where the real scale (from Empty to 41 hours) start at 12 o'clock. A short hand, reminding me of these GMT hands on some watches, point towards the remaining hours of energy of your watch. At 6 o'clock, you will find a nicely done lacquered blue date disc, with a small hand to indicate the current date. This means that Seiko also had to move the "Presage Automatic" writing to 12 o'clock. Somehow, where I criticized the font for being a bit too big, it looks OK just below the applied Seiko logo. I might have preferred this position for the model name and 'automatic' as well on the three-hand version.
The Seiko SSA343J1 also comes on this shiny leather strap with folding buckle. Again, not a fan but yet for 540 Euro list price, you can get you a more toned down one for a few Euros.
Some Thoughts on the Seiko Cocktail Time Watches
It might occur to you that I think these watches are an absolute bargain, but I also understand that 410 Euro and 540 Euro is still a lot of money for a watch to many people. So all in perspective, I think that if you fancy the Seiko Cocktail Time, these SRPB43J1 and SSA343J1 from the Presage collection are truly worth investigating a bit more. This money will also buy you a watch from a design brand or a mechanical watch from a microbrand, but to be dead honest with you, Seiko is producing on such a large scale, that it is almost unthinkable that those watches will match the quality and built of these Presage pieces. These watches will last for decades, and servicing the 4R movements is very affordable (which you really should do after a couple of years). These Presage pieces might also be your first step into the world of Seiko (and mechanical watches) and pave the way for eventually something more valuable (such as a Grand Seiko for example).
More information via Seiko on-line.