News Update: Seiko 5 Sports
Seiko currently sprinkles the new 5 Sports watches all over the world
Slowly but surely the new Seiko 5 Sports collection becomes available in most parts of the world. This week it was the turn of our homeland, The Netherlands, and we went there to witness.
Seiko Netherlands chose the bi-annually and famous Trade Mart in Utrecht to introduce the new 5 Sports line to their existing, and newly interested, dealers. At this Trade Mart fair, a dedicated booth was set up to show the feeling and image of this fresh, sporty, and easily accessible line.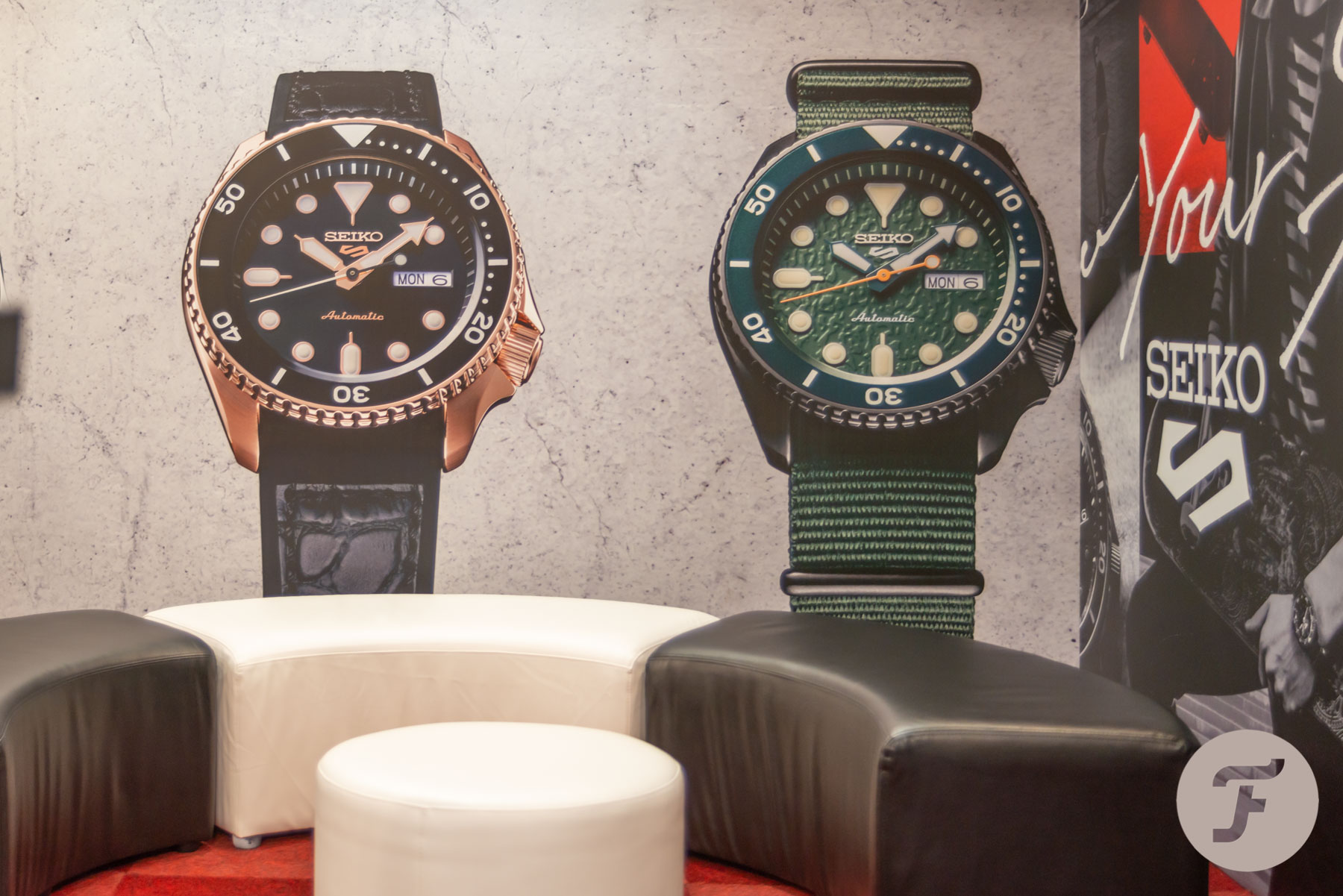 Further investigation of the Seiko 5 Sports series
While all(*)  models were on show here, we took the opportunity to investigate the actual content of the new series further. Making a breakdown of all models shed some insight into what the 27 variations of the new Seiko 5 Sports line comprise of.
A complete line-up of all 27 models and variations is found here. (*)Looking at the watches on show at this special booth in The Netherlands, the first thing which became clear is that not all of the 27 variations will be available in every market. Locally Seiko made selections of models which are expected to perform better in that specific market and left out others which are expected to be less popular. From a total of 27, "only" 20 models will be available in The Netherlands. Check your local Seiko website to see which models make it to your country.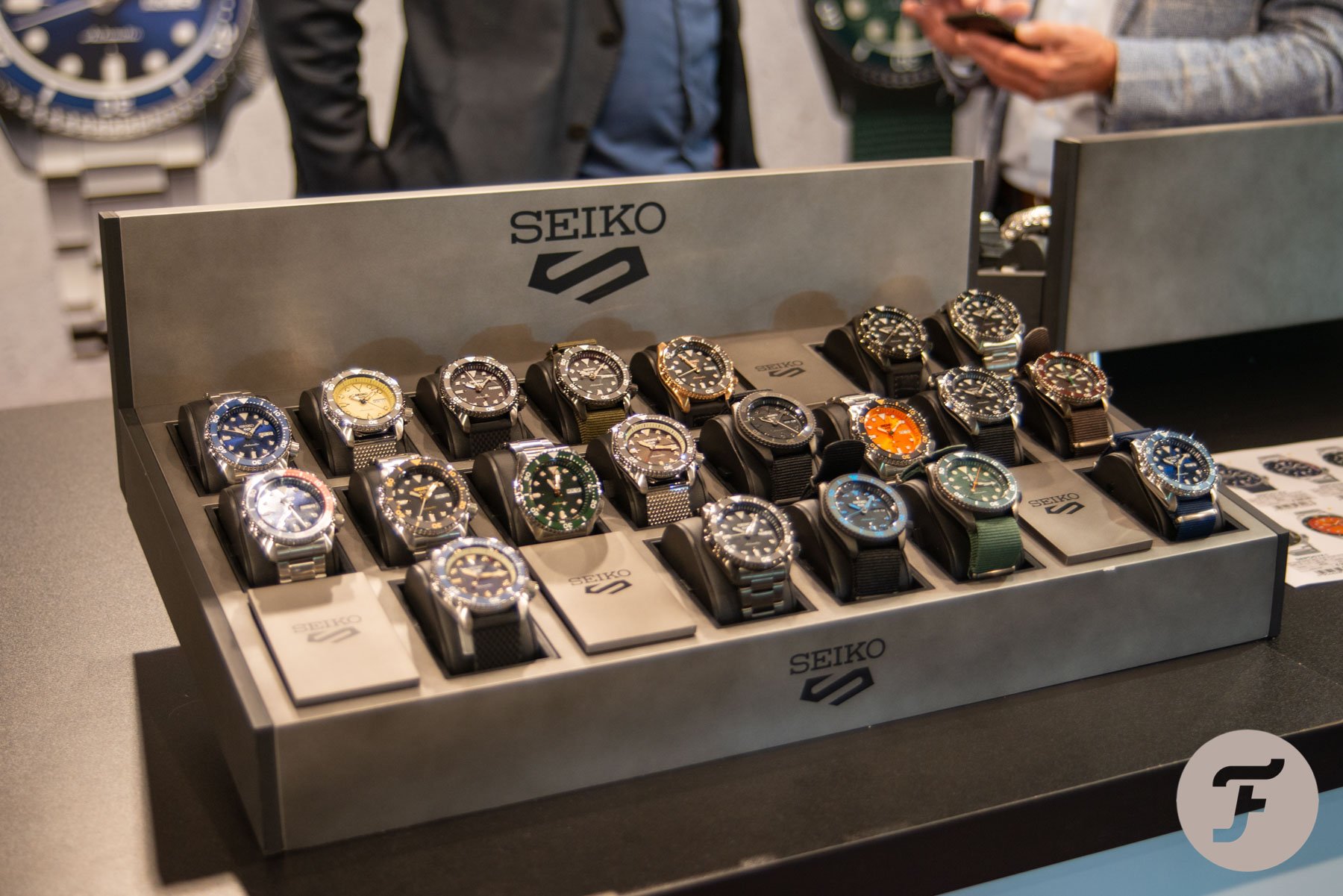 I'm glad that my most favorite model, the SRPD73K1, is available in our region, and even more happy that I was able to put it on my wrist already. As I'm a conservative guy, my second choice would have been the SRPD55 with either strap or bracelet.
27 variations, 19 different watch heads
We learned that from the 27 variations of the new Seiko 5 Sports collection, only 19 have a different watch head (from which 15 make it to The Netherlands). That means a difference in the case, dial, hands, or bezel. The rest, 8, are variations of straps or bracelets. Of these 19 different watches, five come with one or more varieties of straps and bracelets. Some with two options, one with three, and one version – the SRPD65 – even with four different possibilities of straps and bracelet.
The complete line of references, in terms of different watch heads, have the following numbers, SRPD 51, 53, 55, 57, 59, 61, 63, 65, 67, 69, 71, 73, 75, 76, 77, 79, 81, 83, and 85. Major differences are dial and bezel colors. We found blue, black, orange, green, burgundy red, cream, anthracite, and brown dials and bezels. For purists, it should be noticed that a 'Pepsi' bezel is available, however, only on a watch with a blue dial (SRPD53K1). And for people in our home country, the only watch with a burgundy red dial and bezel (SRPD69K1) will not be available in The Netherlands, the orange one (SRPD59K1) will of course.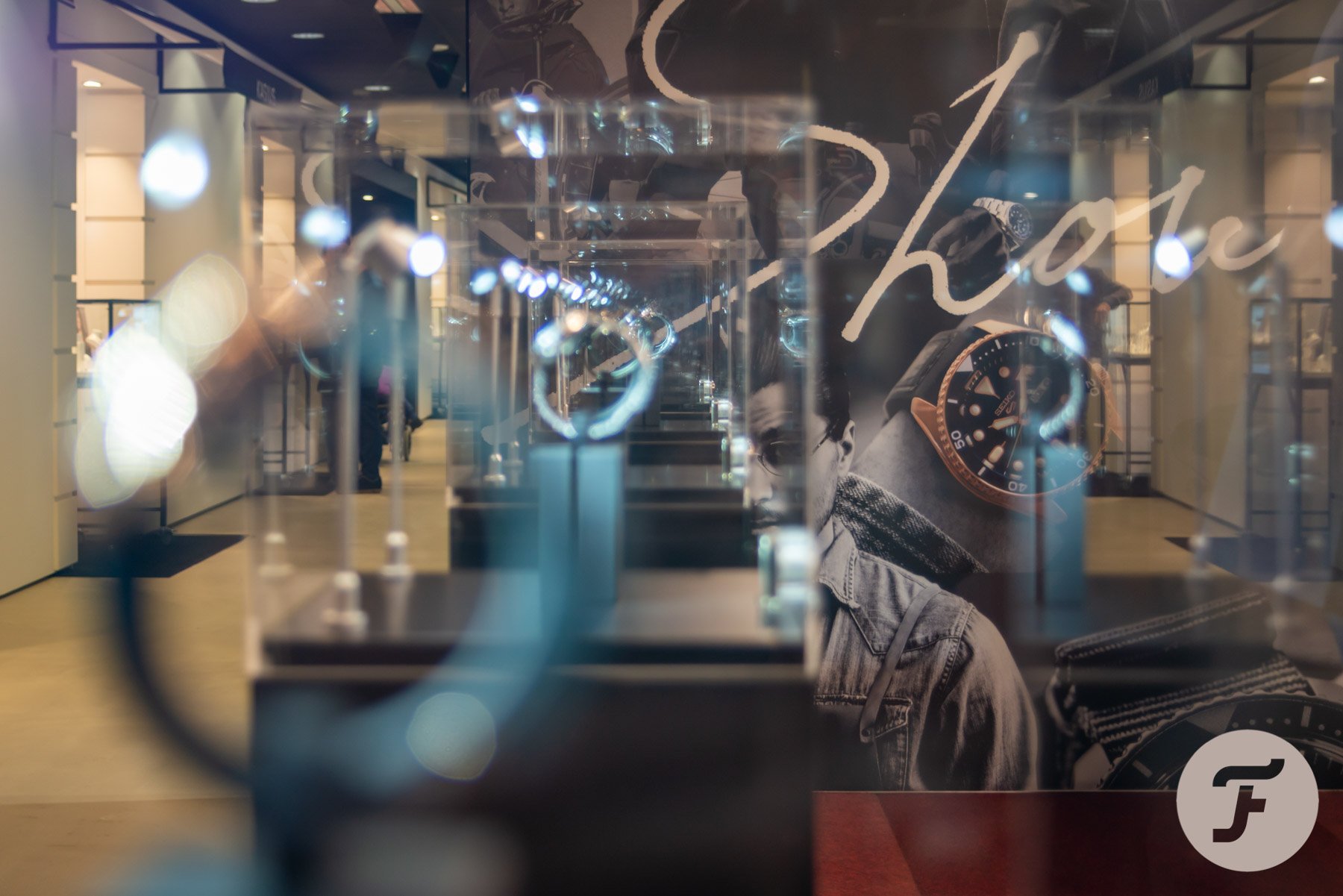 Besides the color of the dial and bezel, the difference in watch heads is found in the watch-case color as well. Here we see three variations, bare stainless steel, black coated stainless steel, and gold-color coated stainless steel. Ultimately, the hands of many models have different colors as well, matching the dials and bezels.
To ease your choice, Seiko divided the whole line-up of 27 models into style-sections. These sections have names like Sports, Suits, Specialist, Street, and Sense. I must admit that I don't always see a clear line between models in different categories.
Different straps and bracelets for the Seiko 5 Sports
The designation, or reference number, of any case variation of a Seiko 5 Sports ends with K1. If this watch comes with different options for straps and bracelets, this will give the designation of a watch a K(n) extension, like SRPD65K1, SRPD65K2, SRPD65K3, and SRPD65K4. In this designation K1, K2, etc. doesn't indicate a specific type of strap on different watch references. Are you still with me? As an example, it doesn't mean that an SRPD55K1 has the same strap or bracelet as the SRPD77K1 (in fact it hasn't). Watches available with a stainless steel bracelet often are indicated with K1. Any other type of strap for this specific watch will have another K indication, like K1, K2, etc.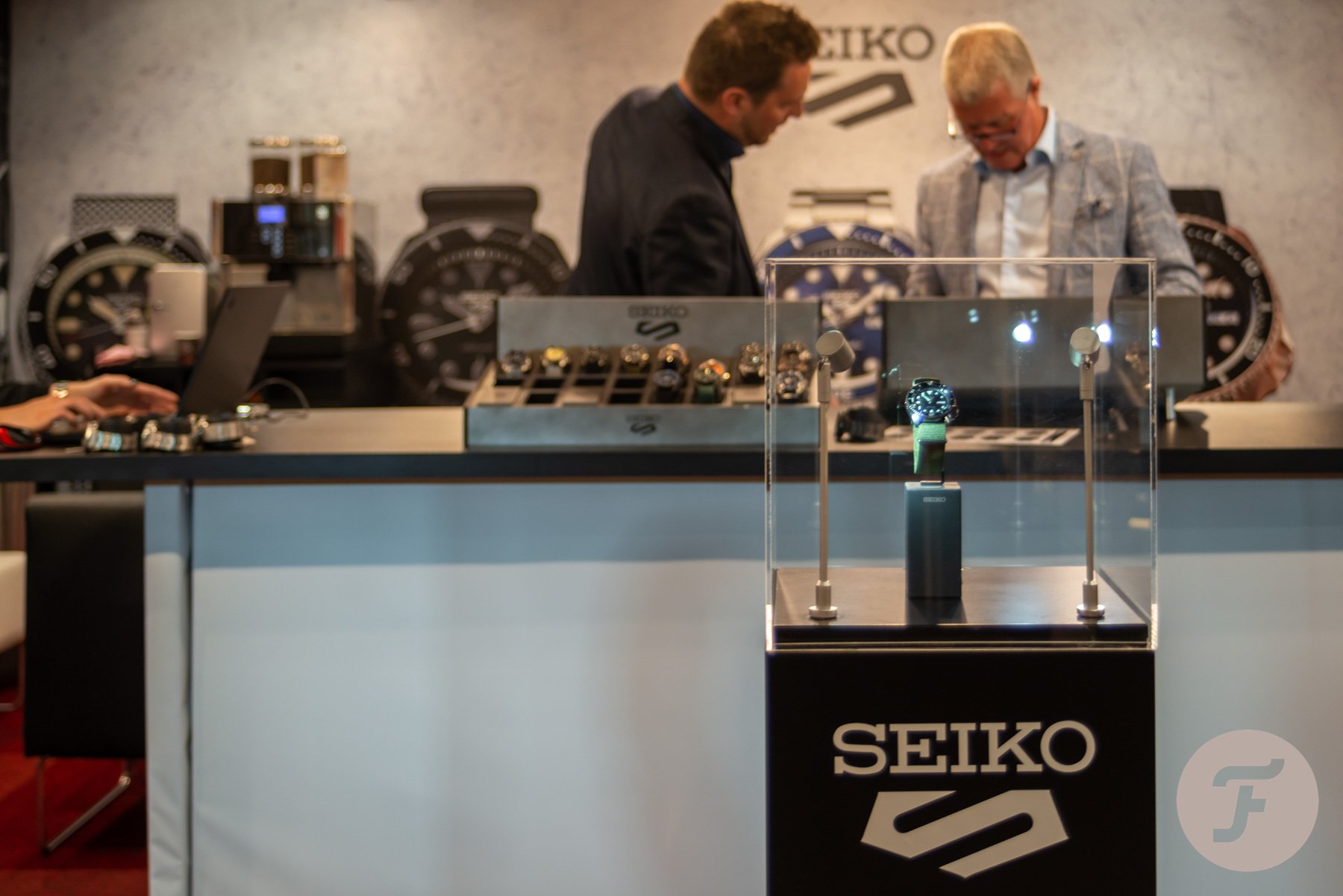 Stainless Steel
As said, many of the Seiko 5 Sports models are available with a stainless steel bracelet. And metal bracelets are, for different watch models, available in two variations. First an Oyster-like bracelet and second a Milanese-type bracelet. The latter being my personal favorite. The Oyster-type stainless steel bracelets are available for watches with blank stainless steel watch-cases, and for one reference in black coated steel. Milanese-type bracelets just for bare stainless steel cases.
Silicone
But, for the models with black coated cases, and used on some blank steel models as well, there's a nice and quite comfortable black silicone strap available which has the texture of a Milanese bracelet. Another silicone strap has a Croco-print texture and is used for three models in the Specialists line. Two of these are all black, one – the SRPD55K2 – has a dark brown upper layer of Croco-print.
Nylon
As already mentioned above, some models come equipped with nylon NATO-type straps, and I was pleased by their quality. Here as well different models get different colors of NATO straps to suit their dial. I've seen nylon straps in black, dark blue, dark green, olive, and dark brown.
I'm not sure if Seiko is going to like me for this, but I can imagine that people might want to cross-change straps meant for a particular model with another model. I mean, all straps will fit any model in terms of size. It might be that a certain specific strap is not officially available to a particular watch model, but would be the personal preference of someone. Although my watch, the SRPD73, officially is available on a Milanese steel bracelet (K1) or a black silicone strap (K2) only, I could see it matching a brown nylon strap as well. Who knows, Seiko might very well sell these straps separately in the future and in that case we're all free to chose.
Seiko 5 Sports Pricing
As far as I know, pricing of the new Seiko 5 Sports series all around Europe is pretty similar. In other parts of the world, we'll see different figures in different currencies, but in the end, the absolute price will be pretty equal. Certainly because in Europe the 19-21% VAT, or sales tax, is included in the MRRP, or list price.
Roughly divided. Prices start at € 280,= (which I think is a steal) for a bare stainless steel Seiko 5 Sports with either a stainless steel bracelet, nylon, or silicone strap. Then to € 310,= for a black coated watch with either a nylon or silicone strap. And ending at € 340,= for steel models with a Milanese steel bracelet, the black-coated model with a steel bracelet, and the gold-coated model with a silicone bracelet.
Watch specifications
Reference
SRPD51K1 to SRPD85K1
Dial
Blue, black, orange, green, red, cream, anthracite, and brown.
Case Material
Stainless steel, bare and black coated.
Case Dimensions
42 x 13.4 mm
Crystal
Hardlex (hardened mineral).
Case Back
Screw, see through mineral.
Movement
Automatic, 24 jewels, 21.600/H, 41 hour power reserve Caliber 4R36, anti-magnetic, seconds-hack, hand-windable.
Water Resistance
100 meter (10 bar).
Strap
Stainless steel, silicone, nylon.
Functions
Hour, minute, seconds, day, date.
Price
€ 280,= - € 310,= - € 340,=
Special Note(s)
60-clicks, uni-directional rotating bezel