Seiko 6159-7010 Grandfather Tuna – 52Mondayz, week #18
Every week, Gerard Nijenbrinks writes about another watch that he will wear that week. This week, he is on a well-deserved holiday and asked me to take over his weekly feature for this one time. For this occasion, I had to think a bit about what watch I'd be wearing for an entire week (with small exception for Tuesday). I decided to pick one of my watches that is a bit of an odd fella. Gigantic, clunky, vintage and a black ceramic case. Without further ado, here's week 18 of 52Mondayz.
Seiko 6159-7010 Grandfather Tuna
A few years ago, I was visiting a friend who lives in Geneva. He showed me this crazy Seiko. Huge, black and with a Grand Seiko based movement (caliber 8L35). It was the Seiko Marinemaster 1000 reference SBDX011. The titanium case has a ceramic shroud and a crown located at 4:30. Little did I know about the history of this watch at the time. I just liked the watch, but the price tag of around 3000 Euro at the time held me back.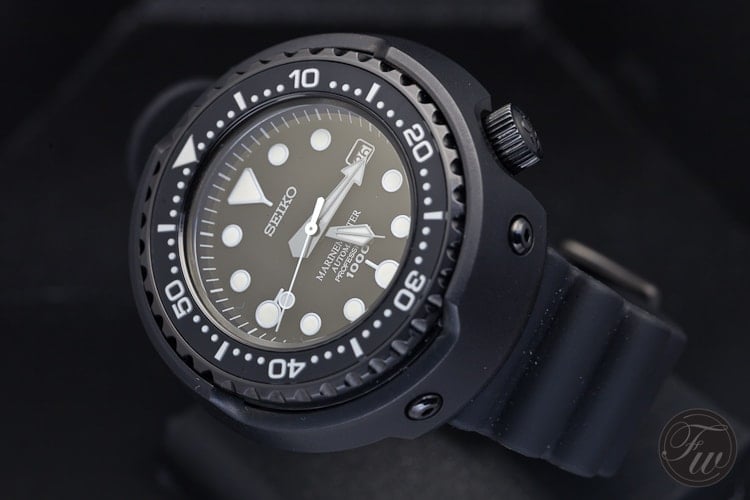 Blaming Mike and Jason
It wasn't until I met with Michael Stockton a couple of times, who definitely knows his Seiko game, that I got somewhat obsessed with the Tuna watches. In 2014, Mike wrote this marvelous comparison article on the SBDX011 and the ur-Tuna, or Grandfather Tuna, reference 6159-7010. I found the 6159-7010 to be amazing, yet I decided that I would go with the SBDX011 if I would come across one.
Fast forward 2015. I was invited to join the Seiko Media Experience trip (as they call it) that year, which I reported about here, here and here (recommended reading!). The trip focused on Grand Seiko, Prospex and the Astron GPS collection. The Tuna is part of the Prospex ('Pofessional Specifications') collection, and Seiko organized that one of the original designers/developers (Ikuo Tokunaga) was there to tell us about the Tuna and later models. One of the other journalists who joined on that trip, was Jason Heaton (Hodinkee, Gear Patrol, Th Grey Nato). Jason was wearing his Marinemaster 1000 reference SBDX011 during that trip, and we exchanged watches for a day or so (I had my Marinemaster 300 SBDX001 with me).
During the presentation by Ikuo Tokunaga in Japan about the Prospex, it became clear to me that I really need a Tuna. I'd prefer the vintage 6159-7010 model, but I decided to settle for the SBDX011 (Marinemaster 1000) as that one would be easier to source. So I thought.
During that time, the SBDX011 was just being discontinued and replaced by the new Marinemaster 1000 SBDX013. That newer reference had a signed crown, a date at 4:30 instead of 3:00 and a new silicon strap. There might be some more differences, but these were the main ones I think. I tried to purchase one in Tokyo on the last day of the trip, but the shop where I found one was unable to get me an interesting deal. However, as soon as I was boarding the plane back to Amsterdam on the next day, I regretted that I didn't pull the trigger. It would be at tough job to purchase a Marinemaster 1000 in The Netherlands (or in Europe for that matter) as it was a Japan Domestic Model.
Once home, I found myself browsing Chrono24 and other websites just to find out that the watch was a 1000 Euro more expensive here than in Japan. Besides that, only very few dealers were offering one BNIB. So what could I do? Ordering from Japan would mean an additional 21% tax on the watch, shipping costs (+ additional tax) and the customs administration fee making it even more expensive. As a last straw kind of action, I visited eBay and tried to see if there was a SBDX011 on offer. There was, but with the same conditions as above. Either too expensive or I had to import one myself.
6159-7010 from Germany
I don't exactly know why I did so, but in the end I gave up on the SBDX011 and just typed in 6159-7010 in the eBay search box. Two watches popped up. One outside the EU (which means crazy taxes) and one from Germany. The Seiko 6159-7010 from Germany looked cool and the description said first owner and original strap. I made the seller an offer for 2000 Euro including shipping and he agreed. A few days later, I received a box with the watch wrapped in a German newspaper. The original strap was there, but the rubber turned almost plastic and was very uncomfortable. I quickly ordered the silicon strap of the SBDX013 at the local Seiko boutique in Amsterdam (for a whopping 180 Euro).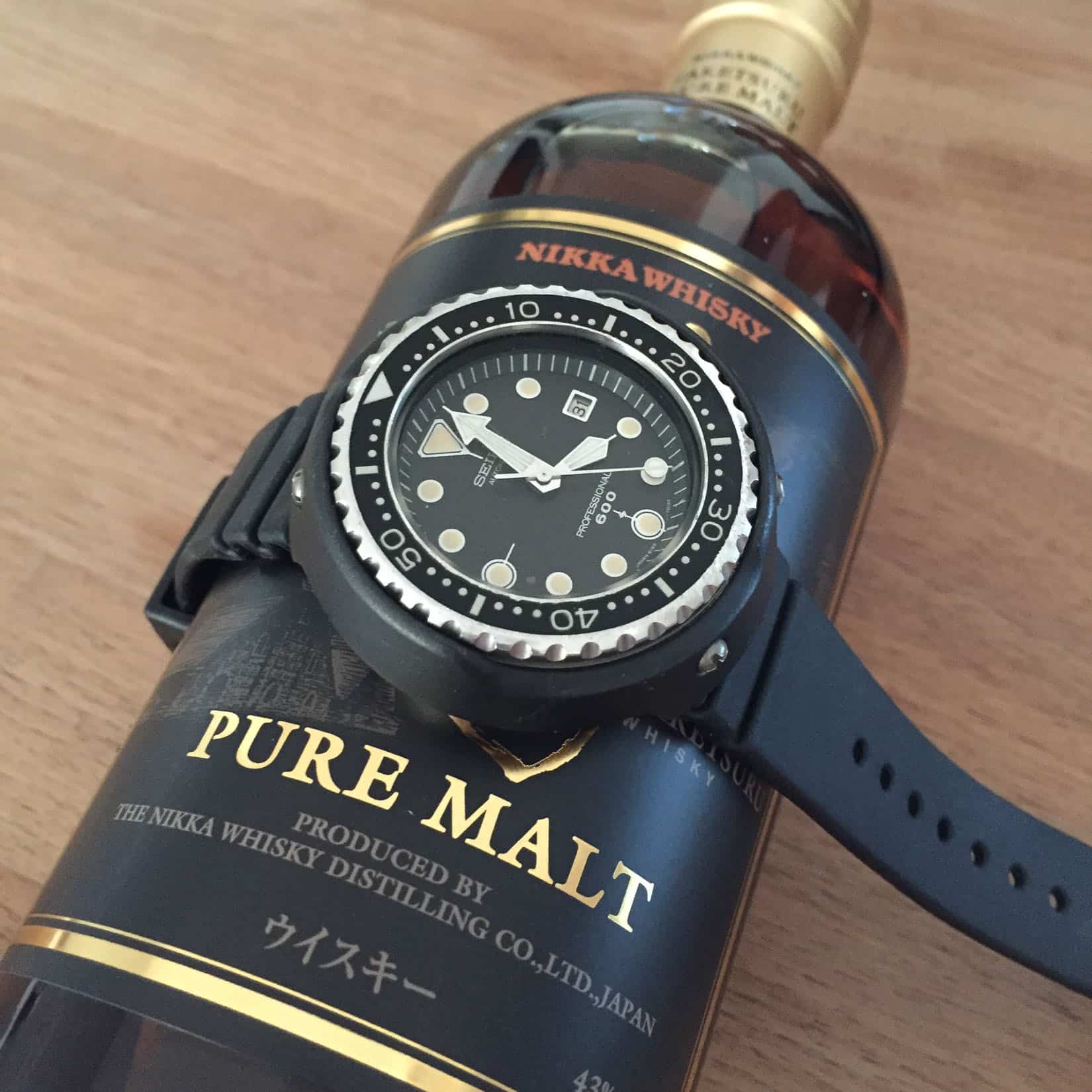 The ceramic shroud has some marks on it (the original owner used it for diving), but the dial looks nice and the markers have aged nicely. The hands might have been replaced at some point, but they don't lume anymore anyway. The Seiko 6159-7010 is not something I wear every day or very frequent, but it is an interesting watch nevertheless and does get some nice comments as well. However, it remains to be a watch people aren't familiar with. Even the Seiko Boutique (during a Seiko event) didn't recognize it, only when I pointed them out that the watch was actually on a poster in their shop being their first titanium diver in 1975.
My Seiko 6159-7010 is actually from 1975 based on the serial number in the caseback, where the first digit depicts the production year and the second digit indicates the month.
Spring Drive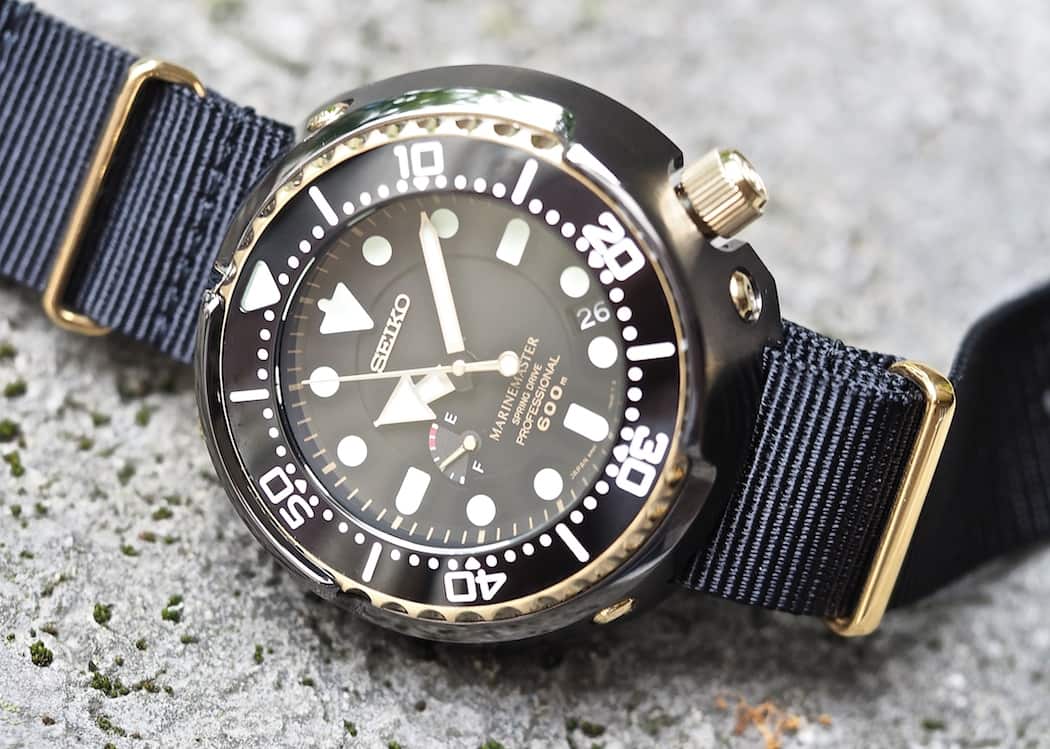 My craving for the SBDX011 or SBDX013 has disappeared as soon as I received this Seiko 6159-7010, but after my trip to Seiko in Japan I did get slightly obsessed with the Spring Drive movement. One watch I would therefor definitely would like to add at some point is the Marinemaster 1000 with Spring Drive movement. Mike wrote about his Spring Drive Tuna reference SBDB008  (black and gold) a while ago. Although that watch is limited to 300 pieces and long sold out,  I would love to buy something similar in the future.