Seiko 62MAS – The First Professional Diver Watch By Seiko
In a few weeks, BaselWorld 2017 will unveil a number of novelties we have all been waiting for. One of them is the re-edition of Seiko's 62MAS diver. The rumors are piling up and we now 'know' that there will be a re-redition of the 62MAS with an 8L movement and a cheaper variant with 6R15 movement (SPB051J1 with bracelet and SPB053J1 with rubber strap).
We thought it would be good to have a look again at the original, the 62MAS from 1965. Michael Stockton wrote this article back in 2015, but let us refresh your memory by publishing it again (or in case you missed it at all). Without further ado.
Original Seiko 62MAS
Ask a vintage Seiko collector about their area(s) of focus and the responses are myriad. Some are into chronographs, some like Grand Seikos, King Seikos or Lord Marvels. Others may veer off into the outer reaches of quartz, Vanac's, DX's or Alpinists. While I appreciate this and often find myself venturing into the realm of several of these styles, I have a particular affinity to one genre: the divers.
Yes, dive watches, new and old, have been and are currently quite popular. I think most collectors like the fact that the watches generally have a masculine, purpose-built look, but there's also the appeal that the watches generally have a capability, in-depth, far beyond what most of us are willing or able to explore. Could it be this unwrapped potential in a dive watch that makes it so interesting? Perhaps, and when considering vintage dive watches, I think it also takes many of us back to thoughts of Jacques Cousteau, James Bond, or, maybe, even Captain Nemo on his Nautilus. Well, whatever the reason, we seem to lust after them and do a more than efficient job of pumping up the prices of vintage pieces, no matter the maker. Just take a look at eBay and see some of the prices attained for ratty older specimens from brands that lasted barely long enough to even plan a dive trip.
Coming back to Seiko, it's no secret that Seiko has pretty much made a watch for everyone, no matter the function, but it has paid special attention to those who work or seek adventure in an aquatic environment. Seiko, with its 6159 Tuna, introduced a true professional deep diver in the 1970's made of titanium and without a hydrogen valve. In the late 1970's, they introduced the world's first professional diver in quartz. Along the way, many other famous divers have been introduced, such as the legendary 6105 series, the 6309 and today's fantastic Prospex Series (read about the Seiko MM300 here). But, in all stories, there is always a first, and the first professional diver for Seiko was the legendary 62MAS. Today's story not only features the Seiko 62MAS, but it features one from the first 2 months of production; a point that will become more germane as the story continues.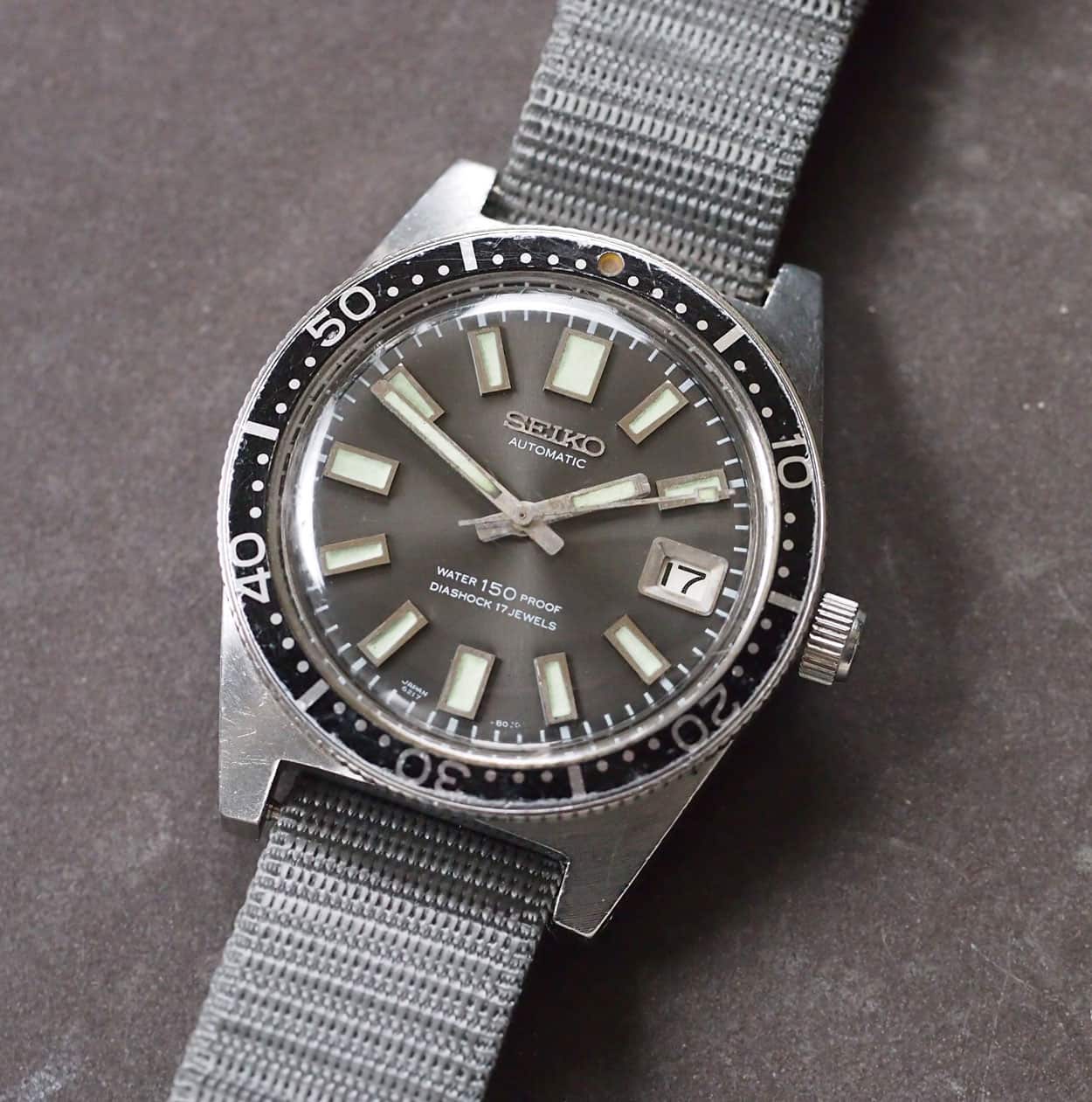 Introduction to the Seiko 62MAS
The 6217-8000/1, which is better known as the Seiko 62MAS (autoMAtic Selfdater) is the first professional series diver from Seiko: period. It is the "ur-diver", the alpha, the patriarch…you get my point. All professional divers from Seiko owe at least some of their design to this piece and as you can see in the pictures, things like bezel font, dial color, and markers to some degree still bear a familial resemblance in today's pieces. If you are a Seiko vintage diver collector and you do not own a 62MAS, I'd bet 10:1 that it's on your list.
In 1965, Seiko decided to enter the professional dive watch market. They clearly saw an opportunity with more recreational divers and a market for the professional set such as welders, etc. Their answer was the purposeful 62MAS. The Seiko 62MAS clocked in at a rather large, for those days, 37mm case and some case size- enhancing, fairly imposing, lugs. It featured a date function, a bi-directional bezel, stronger lume on the hands and markers, and a sizeable crown. It also featured a screw down case back in concert with gaskets at all orifices. When combined, the Seiko 62MAS was rated to 150M of water resistance. While this doesn't seem like a lot, Seiko's deepest prior watch was rated only to 50M. Inside sits the 18,000bph non hand wind, non hacking 6217 movement with quick set date. Time adjustment is managed through a non screw-down crown.
Now, let's briefly walk through some of the iconic components of the Seiko 62MAS that are so often discussed on forums. First, you have the dial. The dial is a gray-green with a radiating sheen. Markers are applied, chrome-bordered and lume filled. The hands, which are found on several Seiko models, are notable for the sweep second hand with its rectangular lume-filled pip. The date window is bordered and bevelled. Move out to the bezel and encounter Seiko's first external, rotating bezel with a font that is largely the same as what is found on everything from today's MM300 to the SKX007 divers. The crown is mentionable because it is one of the few Seiko divers produced with the "Seiko" name on it. The placement of the crown is also of interest, as it remains Seiko's only professional diver with a crown at 3:00 versus the traditional 4:00. The general case design, while never copied again, at least sets the tradition for lugs that sweep smoothly from the case, thus eliminating any weak spots. The case back, strangely does not use the tsunami inscription, but, instead, has a dolphin. All of the details mentioned above are well known and well loved by collectors of this piece.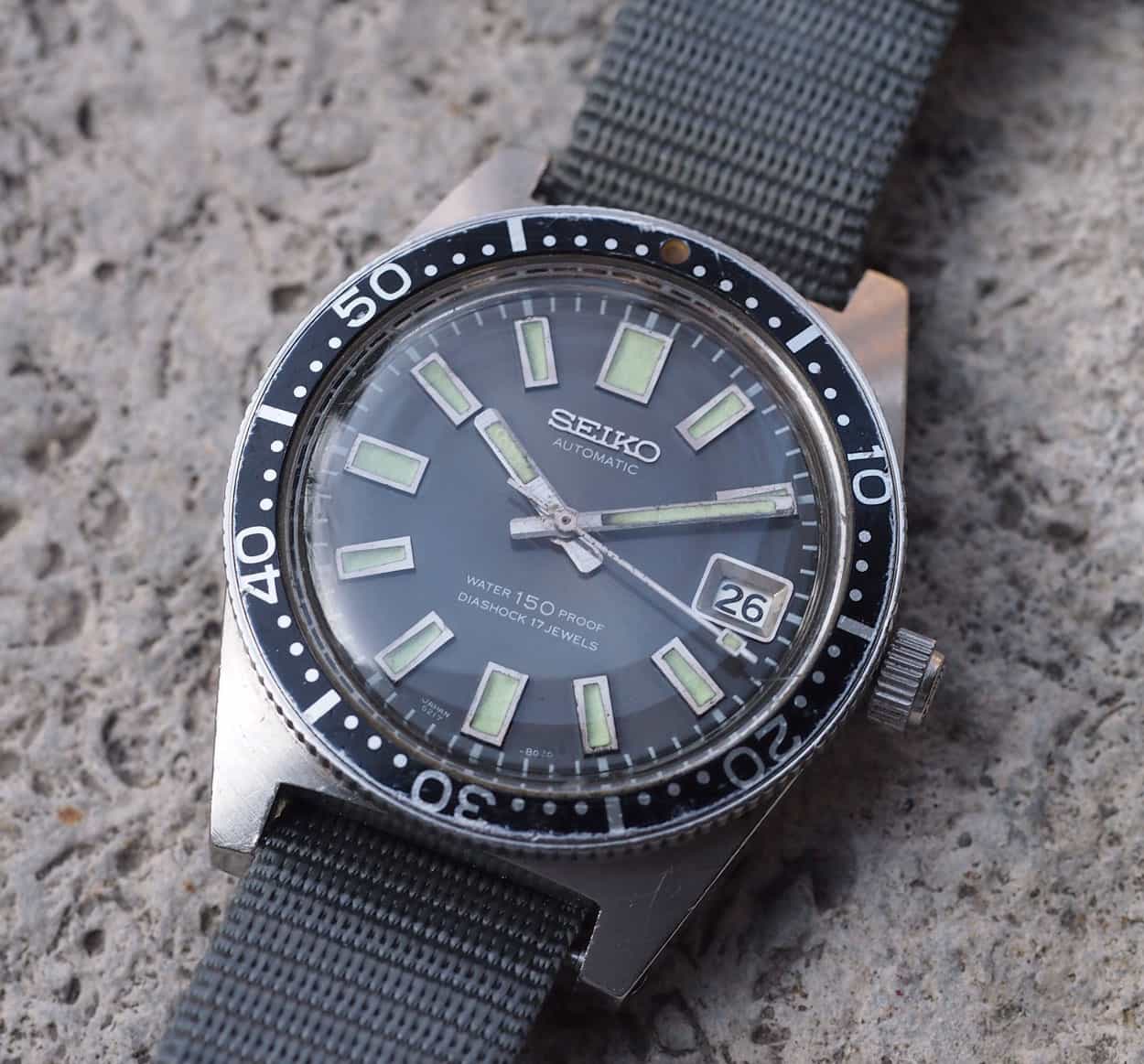 So, what are some of the detractors regarding the Seiko 62MAS? Well, the watches were somewhat known for leakage, which is not a loveable aspect for any dive watch.   Like all vintage Seikos, many of these pieces were sold into warm, humid climates so this presented a challenge as well. The crystals and their gaskets were apparently not so robust. Also, the crown contains a seal that now seems to be impossible to replace. The fact that it's a simple push/pull crown doesn't help the situation either. When we come to the dial and hands, they seem prone to serious ageing, or "wabi" as it is known in Seiko circles. The lume often turns black which causes some owners to have the dials redone. In the end, we have a robust mechanical watch that was somewhat let down by its non-mechanical components. All of this has helped to thin the herd.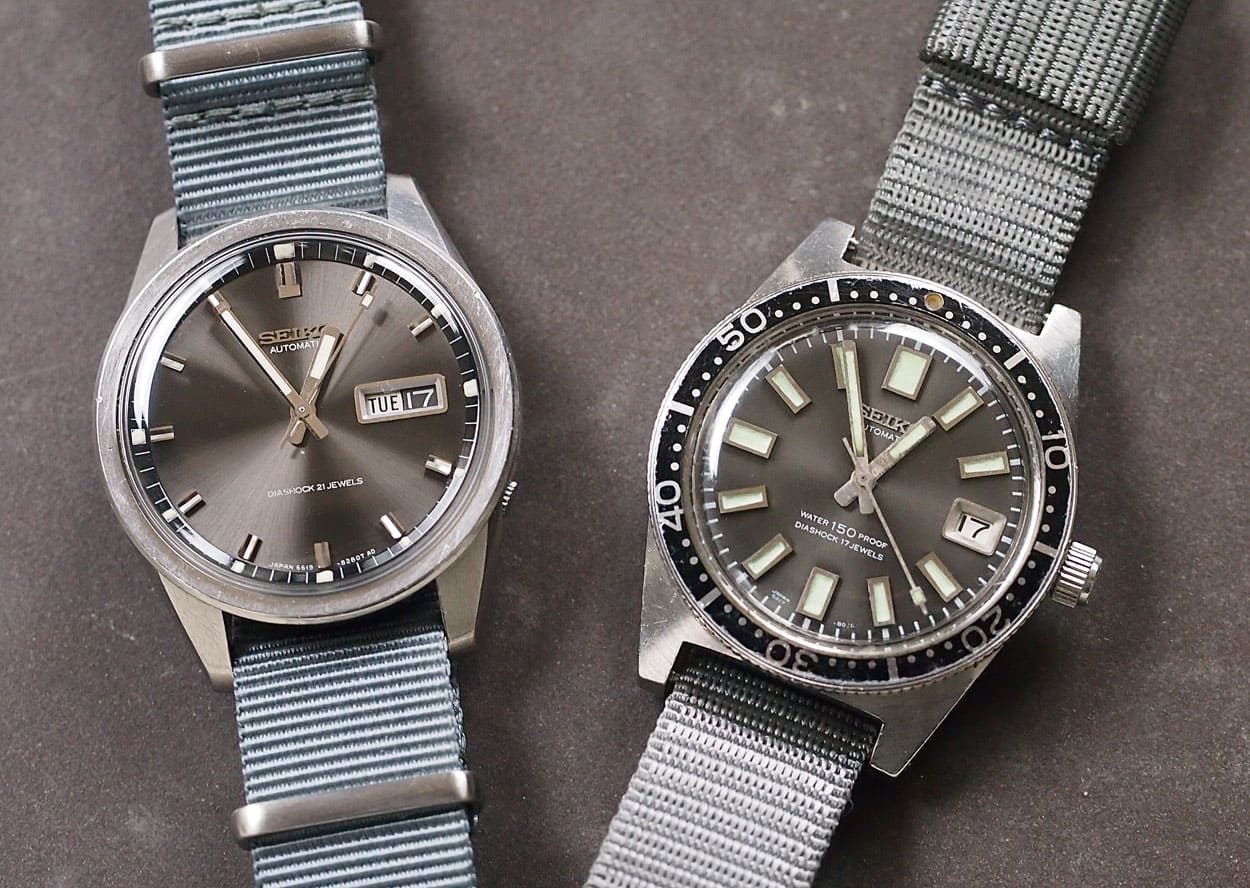 I found this piece, a 6217-8000, on eBay in the fall of 2014. It was a minor bidding war but the price ended up being reasonable for a watch that seemed to register well on my patina meter. When I received it, I was not at all disappointed. However, I noticed some dust under the crystal and after wearing it 2-3 times, I noticed that it suddenly starting gaining about 10 minutes an hour! After a great service, the piece now runs perfectly. What happened next was quite surprising, though. I went to the Seiko Citizen Watch Forum and showed the members my newly serviced catch. What I found out is that this is no "ordinary" Seiko 62MAS. A few messages in, knowledge king Duncan (aka Cannop), commented that my 62MAS appeared to be a "small crown" version that was only made during the first 2 months of production. Further posts compared case backs and, sure enough, the piece is an early model with a typically worn, low relief motif case back. Oh, and per the thread, this case back is actually in decent shape! What's even more amazing is that this piece somehow survived unaltered and made its way to eBay. Other little things are present on this early piece such as a different crown tube and a lower height bezel than subsequent variations. So, in the end, my gamble turned out to be a good one. For the whole story, see the following thread:
https://www.thewatchsite.com/21-japanese-watch-discussion-forum/138746-62mas-returns-home-last.html
The Seiko 62MAS wears well, but it's not a massive piece. In fact, it's more slender than a Rolex Submariner both in width and height (13.5mm). I've paired it with many types of straps, but I think it looks best on a waffle strap, a Tropic, or some type of NATO. Due to the strap pairings and heavy patina, it's certainly more of a casual watch.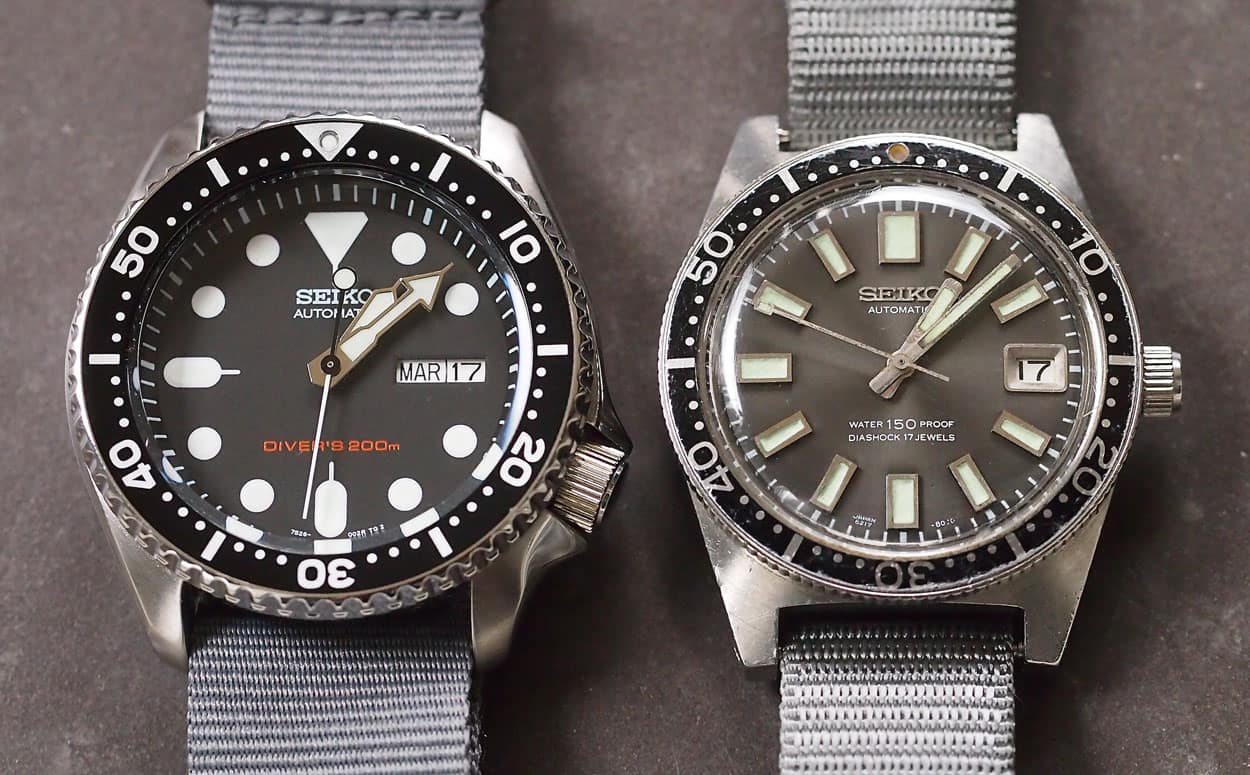 Buying a Seiko 62MAS can be an adventure. They are far prevalent than later models such as the 6159 (in any guise) and 6215 but finding a good one is still challenging. There are loads of aftermarket components on the market, such as dials, bezels, crystals, hands, and even crowns. This makes finding an original 62MAS without any of these aftermarket parts difficult. Then, due to the high chance of lume degradation, there are classic debates about whether to relume or not. For me, it's a no go, but others find it acceptable. Original hands, though, can be found by harvesting them from other models, which is a bit of a shame if you ask me, but it is an option (see the picture of the 6619 and tell me you'd sacrifice that beautiful piece). Movements are relatively simple to service but certain parts like stems can be difficult. In fact, I am told that issues like a broken quick set are very problematic to fix. Values seem to range in the $1200 – $2500 area depending highly on condition. The market, unlike the Rolex market for example, does not yet seem to differentiate on variations like the small crown piece I own, but it does not care for overly altered pieces. As an example, a skilled relume carries more than use of aftermarket parts. Like most vintage watches, the Seiko 62MAS is rising in value and I've even recently seen very rough pieces selling for over $800. The forums, as always, are a great place to vet any potential pieces.
I hope you enjoyed learning a little about Seiko's first diver. For the Seiko collector or even the general vintage watch connoisseur, the Seiko 62MAS is a significant piece to consider. Sure, it lacks some of the innovations and features of models such as similar period Submariners or Seamasters but there's something satisfying about owning the first of a now legendary line of watches.
*This article appeared first on February 18th 2015 and has been made up-to-date for the upcoming Seiko re-edition of the 62MAS at BaselWorld 2017.
** Image of the new 62MAS re-edition via the WatchUSeek forum.