Seiko Astron GPS Solar SSH093J1 Watch Limited Edition For 2021
All 1,400 pieces proudly show their 140th anniversary blue ceramic bezel
It's not too hard to find a watch to your liking in the twenty-plus Astron collection; they range from traditional to exuberant with plenty of flavors in between. The Seiko Astron GPS Solar SSH093J1 watch is a limited edition of 1,400 pieces, and it mixes two extremes: highly noticeable, clear blue elements set to an easy-on-the-eye, almost subdued silvery white background. And instead of lightweight titanium Seiko decided to produce this anniversary edition in steel. Maybe because steel's higher weight adds more gravitas and significance to the watch. But did Seiko succeed? Let's find out.
The Seiko Astron GPS Solar SSH093J1 watch is a limited edition that celebrates the fact that 140 years ago Hattori Kintaro founded his company. This special Astron stands out mostly because of its blue elements that are quite eye-popping. Impossible not to see so let's start by addressing those design details. You notice immediately that this is not your average Astron. A bit like you can't ignore the KOJIMA PRODUCTIONS Limited Edition, but also quite different. That black and gold  Astron screams limited edition and that's certainly not the case with the SSH093J1. The SSH093J1 stands out because of the glossy blue ceramic bezel you might know from the SSH045J1 Novak Djokovic 2020 Limited Edition. The silvery-white dial is a bit like the non-limited SSH063J1 in titanium but now shows blue details on the function and day indicator plus the hands. And, as I mentioned earlier, steel is the material of choice, not titanium.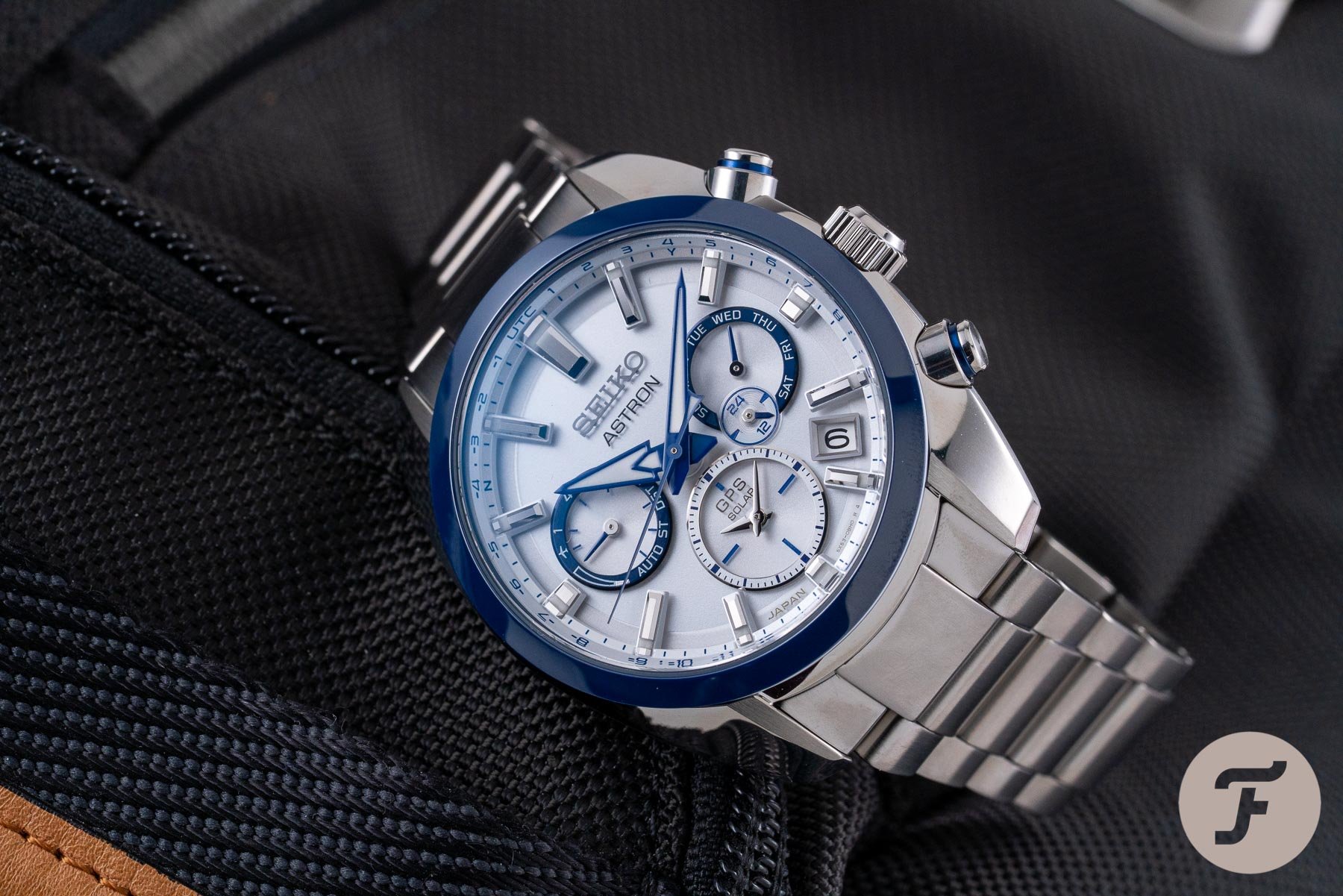 The Seiko Astron GPS Solar SSH093J1 watch is a limited edition of 1,400 pieces
When Hattori Kintaro founded his company in 1881, he was just 21 years old. If he were alive and 21 today, my guess is that his daily beater would be an Astron GPS Solar. Well, that's what I think anyway. As an ambitious entrepreneur and clock-maker, he was pushing the boundaries and didn't shy away from new techniques. The Astron is a bit of an ultra-watch, and that's mostly because of its movement, the state-of-the-art dual-time, solar-powered caliber 5X53. It's ultra-precise, high-tech, with a case size of 42.7×13.3mm it's not too small nor too big, and the color combination stands out just enough to not get unnoticed. Isn't that what you want when you're 21, and you're wearing a €2,300 watch on your wrist? You want to show off, or at least a little what you're wearing. And that's what this SSH093J1 does.
Japanese vs. European design elements
I really don't want to bring up my first-generation Astron GPS Solar all the time, but I guess that ceramic and titanium creation is my reference point when trying on other Astrons. My 47mm watch feels and wears smaller than it really is. The steel SSH093J1 on the other hand wears and feels exactly what it actually is: a 42.7mm steel watch. The overall feeling is solid and that includes the bracelet which has an easy-to-adjust three-fold clasp with a pushbutton release by the way.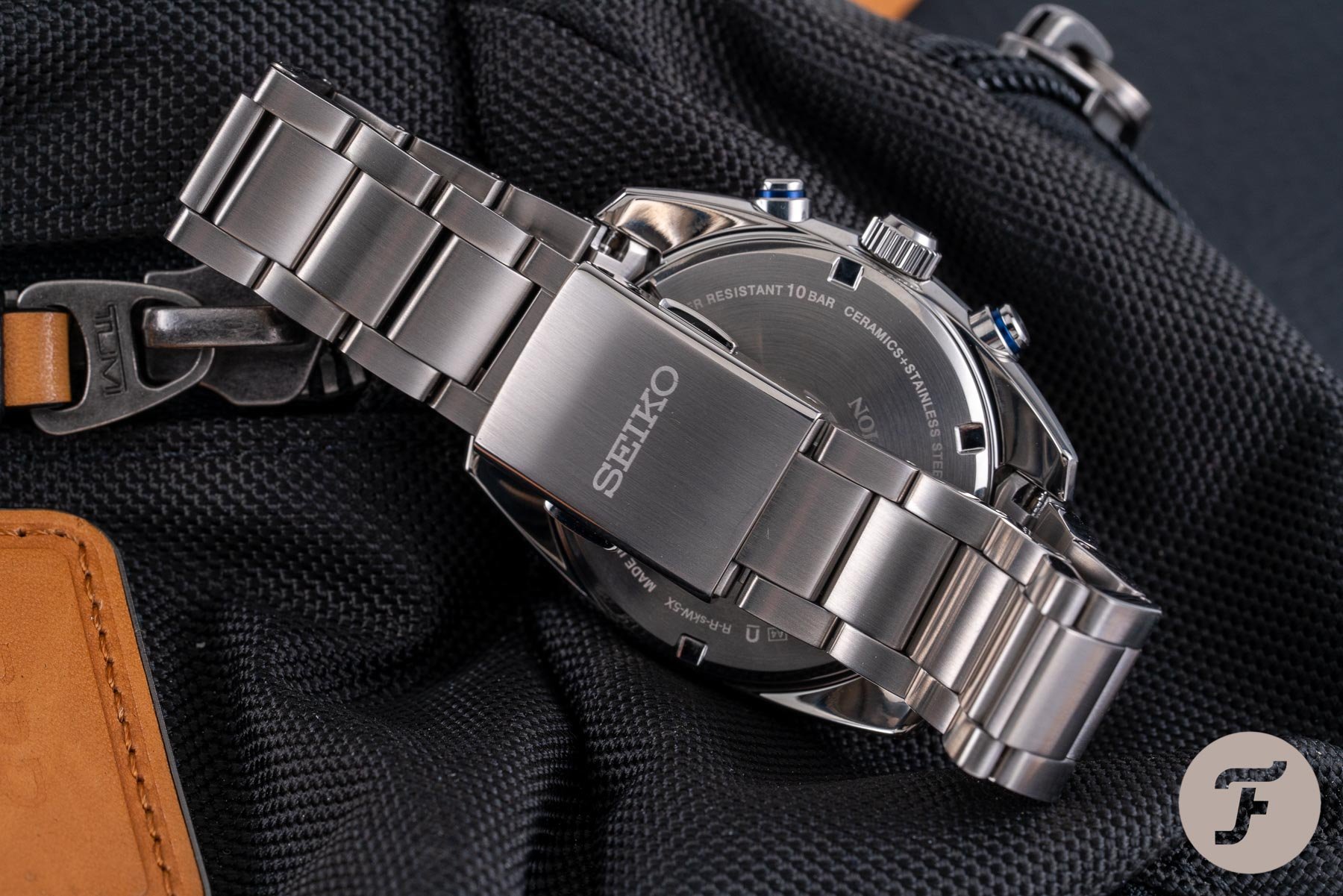 The shape of the case is curved and inspired by the original Astron quartz watch from 1969. Design-wise the latest generation Astron GPS is more conservative than the first generation that showed more avant-garde touches. You could say that the new version looks more European where the first version expressed more Japanese design elements.
The hour markers for instance are small solid blocks with a sculptural appearance.
That doesn't mean everything is straightforward. Take a closer look at the dial that shows a lot of depth because Seiko added a lot of three-dimensional elements. The hour markers for instance are small solid blocks with a sculptural appearance. And also the etched Seiko-logo hovering over the dial is an intriguing design detail.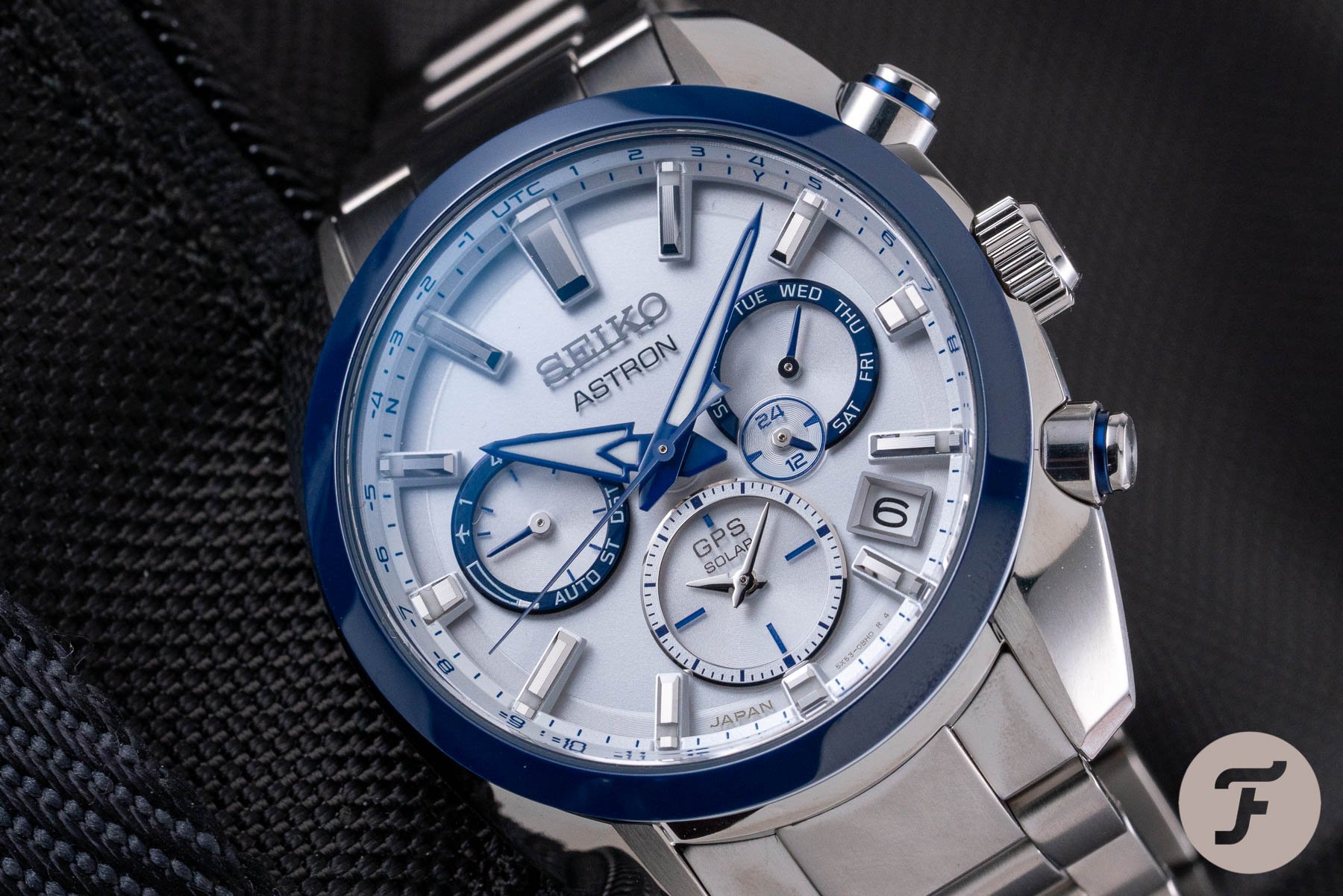 A well-mannered special edition
Inside the steel case that is water-resistant to a depth of 100 meters, you will find the solar-powered caliber 5X53 we stepped on earlier. And maybe that's more than enough since we wrote about this movement more than once before. Okay, let's pick out two highlights. First, the caliber is a correct perpetual calendar to the year 2100, and second, it shows the correct time in 39 time zones because of the GPS connection.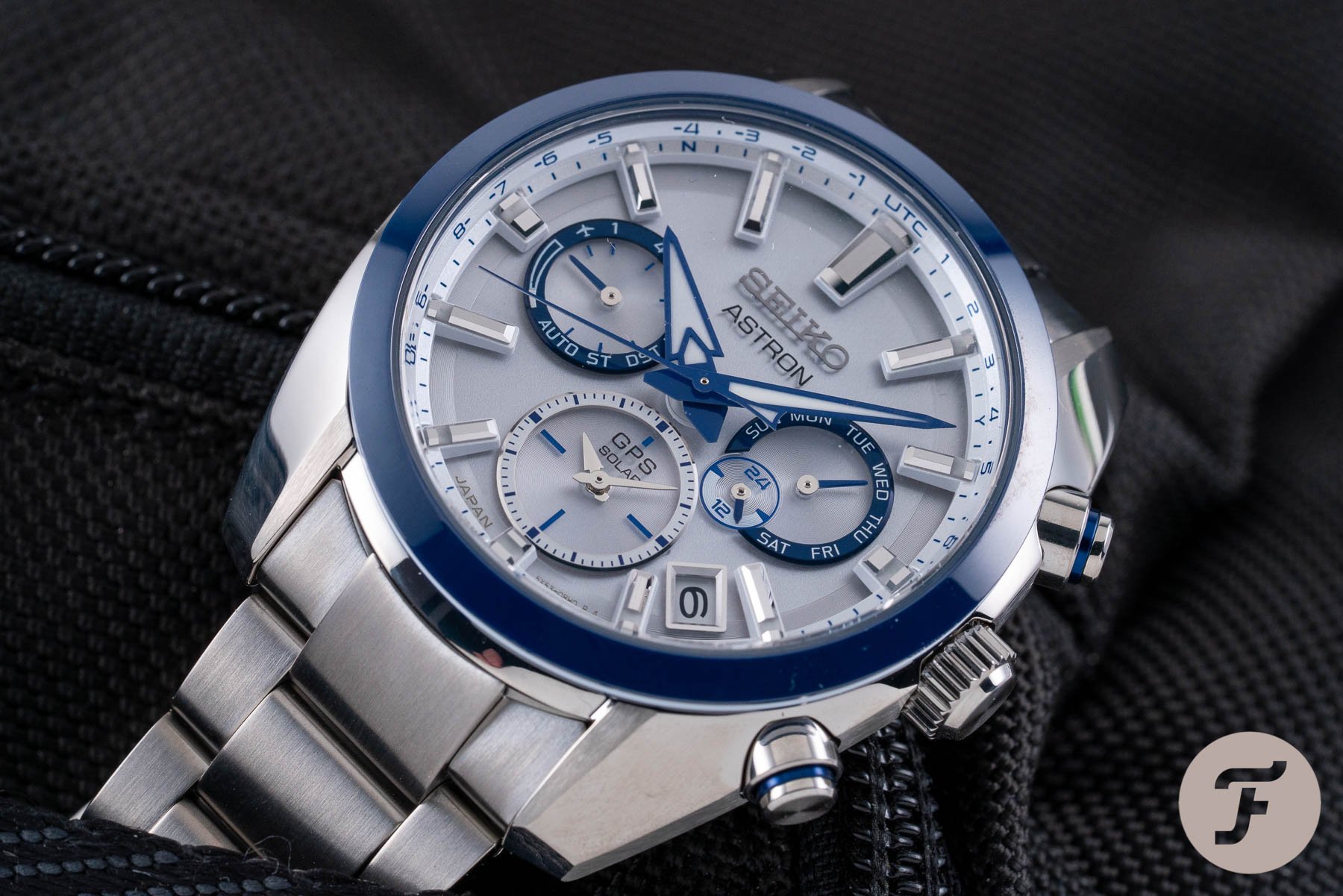 If you want to know more you can always look at the Seiko website. Or check the specifications below. The Seiko Astron GPS Solar SSH093J1 watch is a limited edition that doesn't scream "special edition" but says so in a well-mannered tone of voice. It's worthy of Seiko's 140th anniversary, a very respectable jubilee. And with a price of €2,300, the SSH093J1 also treats your wallet quite respectably.
Please find and follow me at Lex Stolk • Instagram
Watch specifications
Case Material
Stainless steel with super hard coating and a ceramic bezel.
Case Dimensions
42.7 × 13.3mm
Crystal
Dual-curved sapphire crystal with super-clear coating.
Case Back
Screw case back
Strap
Steel with super hard coating and a three-fold clasp with push button release.
Functions
Automatic hand position alignment function Day display DST (Daylight Saving Time) Dual-time function Function to prevent the GPS signal reception (in-flight mode) GPS signal reception function (Time zone adjustment, automatic time adjustment, manual time adjustment) Overcharge prevention function Perpetual calendar to the February 28, 2100 Power reserve display Power save function Reception result display function Satellite acquisition status display function Time transfer function (Switching between the main-dial and sub-dial) World time function (39 time zones)