Seiko At Baselworld 2017 – A Big New Collection
Visiting Seiko at Baselworld 2017 was, once again, an experience marked with numerous new releases and an exciting blend of technology mixed with retro cues. We showed a preview of the Grand Seiko releases the minute the press conference had concluded (which coincided with the embargo lift) and we'll show some more pictures of those here. The focus, though, will be on the watches from the parent brand. Let's take a look.
Seiko at Baselworld 2017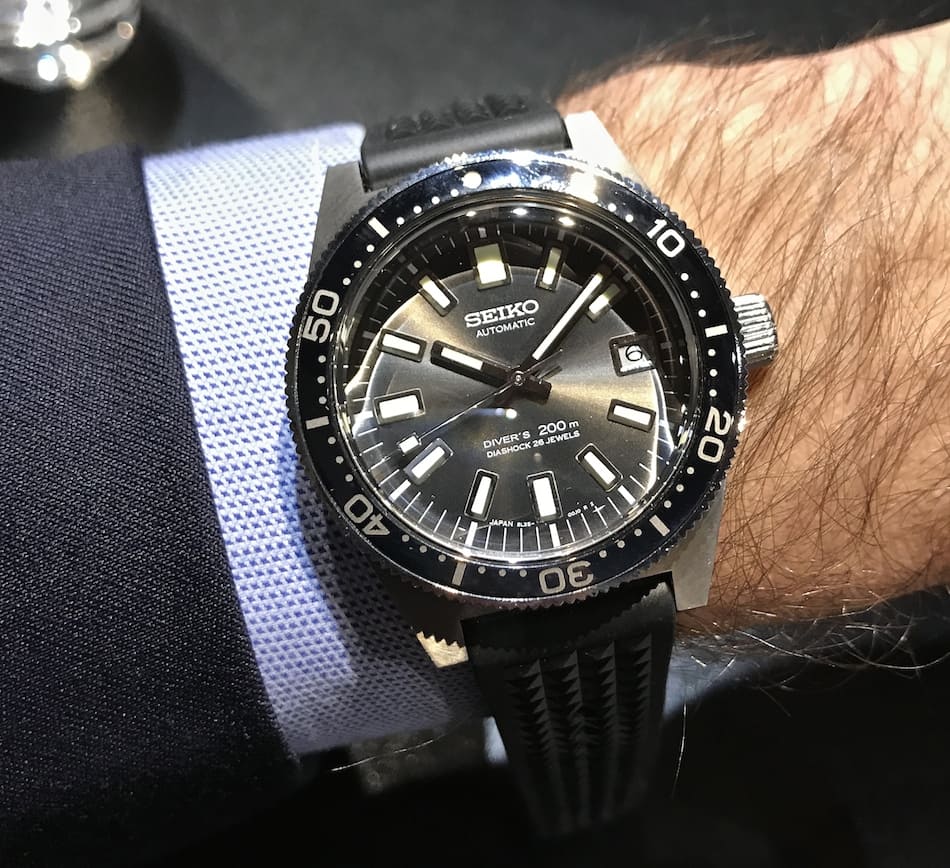 The Seiko SLA017 "62MAS"
The most eagerly awaited release from Seiko at Baselworld 2017, and perhaps one of the most anticipated overall, was the reissue of the famous 62MAS. We ran, and reran, an article on my original piece from 1965 in advance of the show to whet your appetite. Well, dinner was served by Seiko and while the 3,800 Euro price may have gone over like cold fish, the watch was still very well received. With its Grand Seiko derived 8L35 automatic, this watch punches well above its weight class and honestly can take on about anything in the in-house movement diver segment.
Yes, the reissue of the 62MAS is limited to 2,000 pieces, but countries such as Germany will get a shocking 200 of these! The diameter is a reasonable 39.9mm and the watch comes with a long waffle style rubber strap and steel bracelet. Water resistance is competitive at 200M and the watch adds a screw down crown. And yes, even the old style dolphin image has returned to the case back.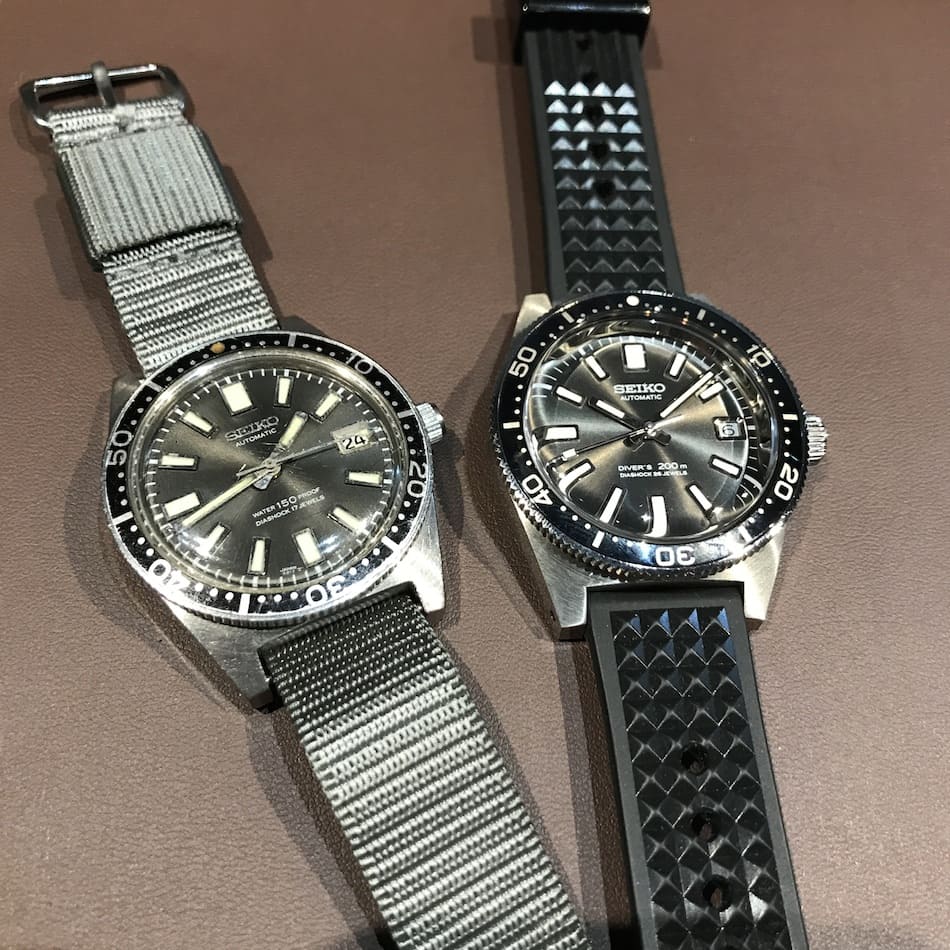 My take: The reissue of the 62MAS by Seiko at Baselworld 2017 is a fine looking watch. It likely won't hit the radar of many shopping for a Tudor Black Bay, but it really should. The dial was stunning along with the case finishing. I found the case to be a nice reinterpretation if not a touch large. Speaking of large, my only gripe was the size of the crown – it just seemed big. Still, this was a cool piece and despite the lack of a sub 2,000 Euro price tag, these will sell.
More info can be found here.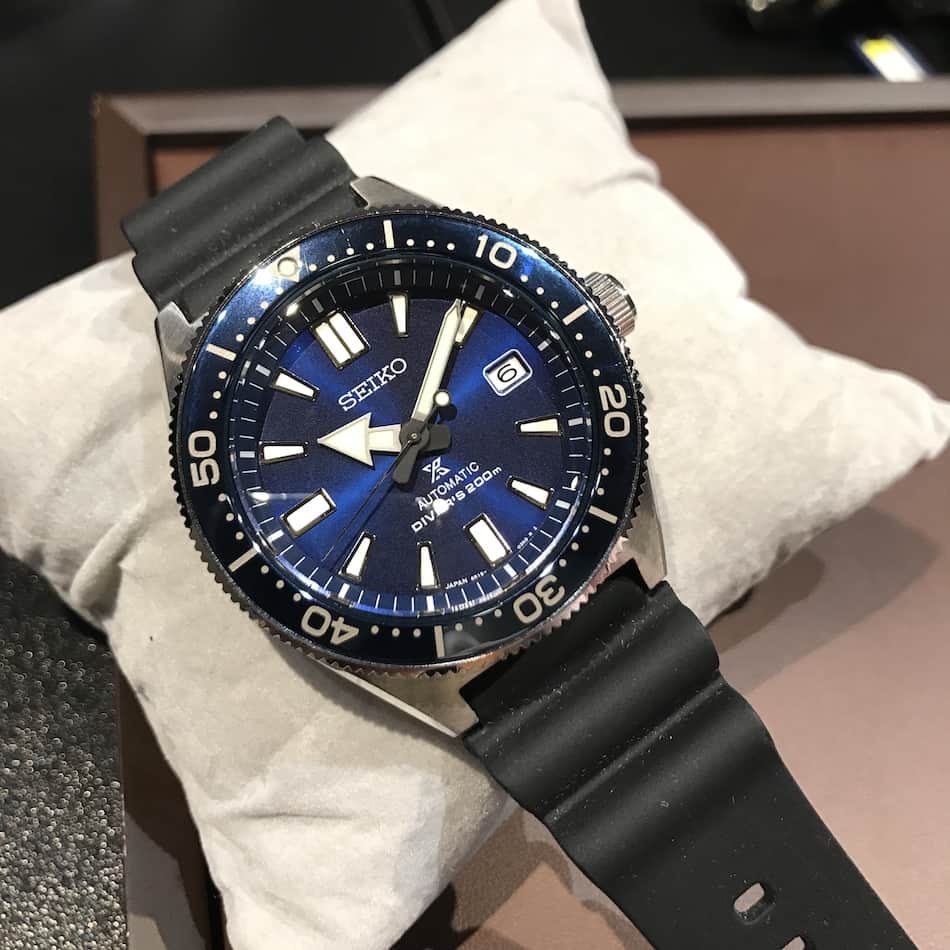 The Seiko 62MAS Modern Reinterpretations (SPB051 and SPB053)
Alongside the vintage reissue of the 62MAS by Seiko at Baselworld 2017 were 2 modern retakes on the 62MAS theme. These regular editions will come in one of two varieties, a black/grey dial variety on steel bracelet for 1,100 Euros and a blue version on rubber strap for 900 Euros. Both feature sapphire crystals, screw down crowns and the hacking 6R15 movement that we've grown accustomed to. Water resistance is also 200M. Diameter is 42.6mm.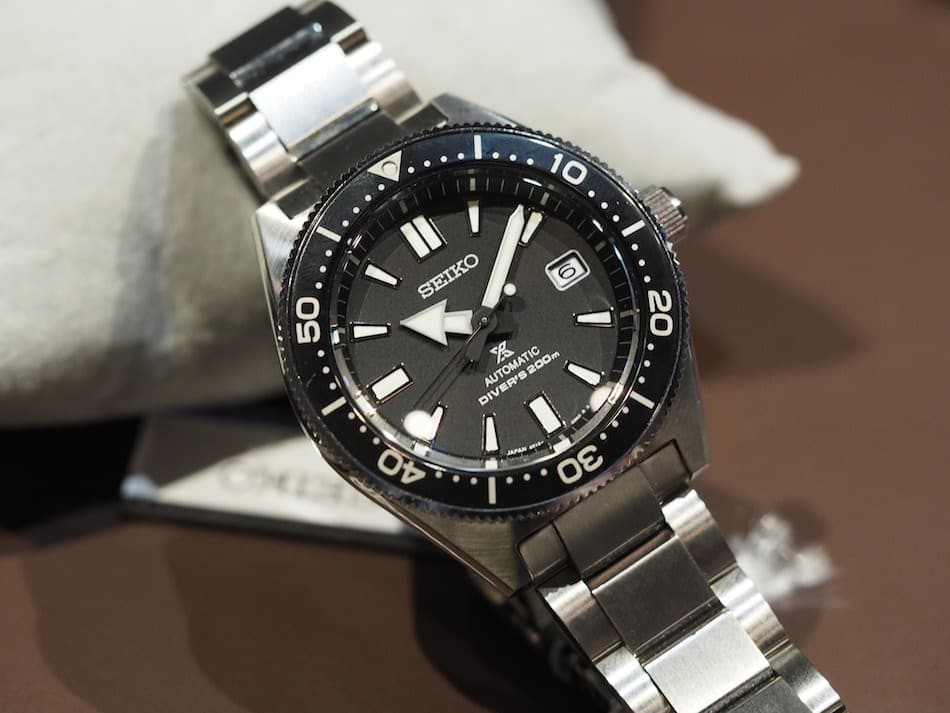 My take: The modern 62MAS' received a lot of flack on forums when pictures were leaked from upcoming catalogues and this was primarily due to their use of the more modern handset including the arrow hour hand and lollipop sweep hand. What I can tell you is that these watches look a lot better in person than in pictures. The blue dialed model because of the dial color and finishing and its amazing blue bezel really impressed me. It's a bit of a tough sell to shell out this kind of money when an SRP Turtle costs a lot less, but you are getting a more advanced movement. Plus, the style, case wise, is pretty darn iconic.
More info can be found here.
The Seiko Presage "Cocktail Time" Collection

One surprise from Seiko at Baselworld 2017 was a new collection of Presage watches based on the famous "Cocktail Time" pieces. These are dress watches and are extremely popular amongst forum-meisters as timepieces that perform well above their price level. In fact, they seem to be the most common answer when the question is asked about what formal watch to buy when one wears formal watches so rarely.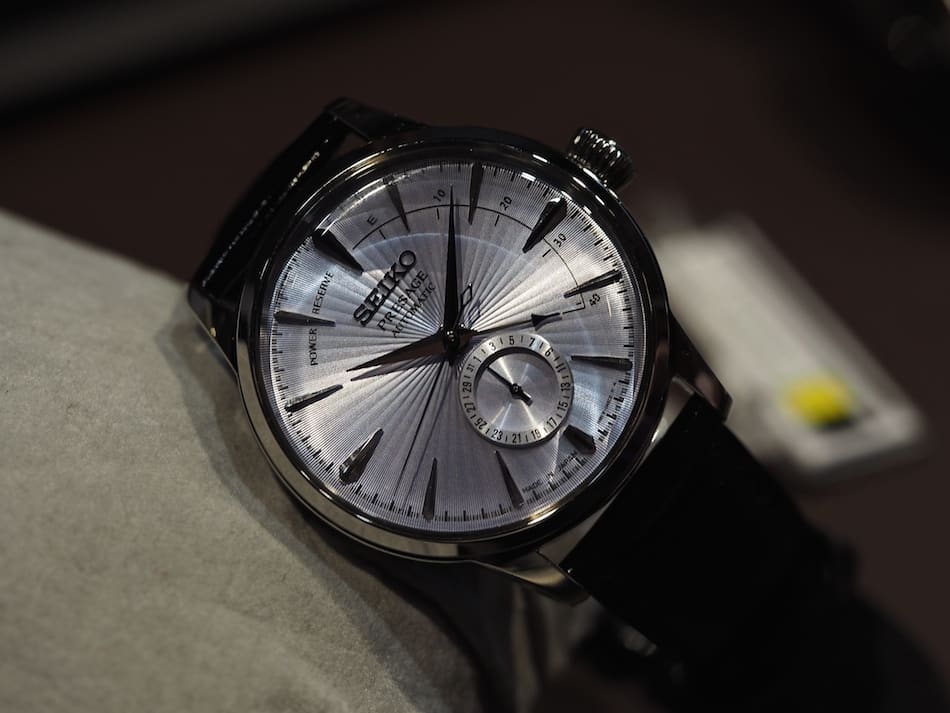 A power reserve model was shown and starts at 540 Euros and is powered by the 4R57 automatic. We covered the normal 4R35, 3-hand automatics including those with center mounted and inset sweep hands. These pieces start at 410 Euros and are available in a number of hues and case colors. Diameter is 40.5mm and these watches are not hand winding.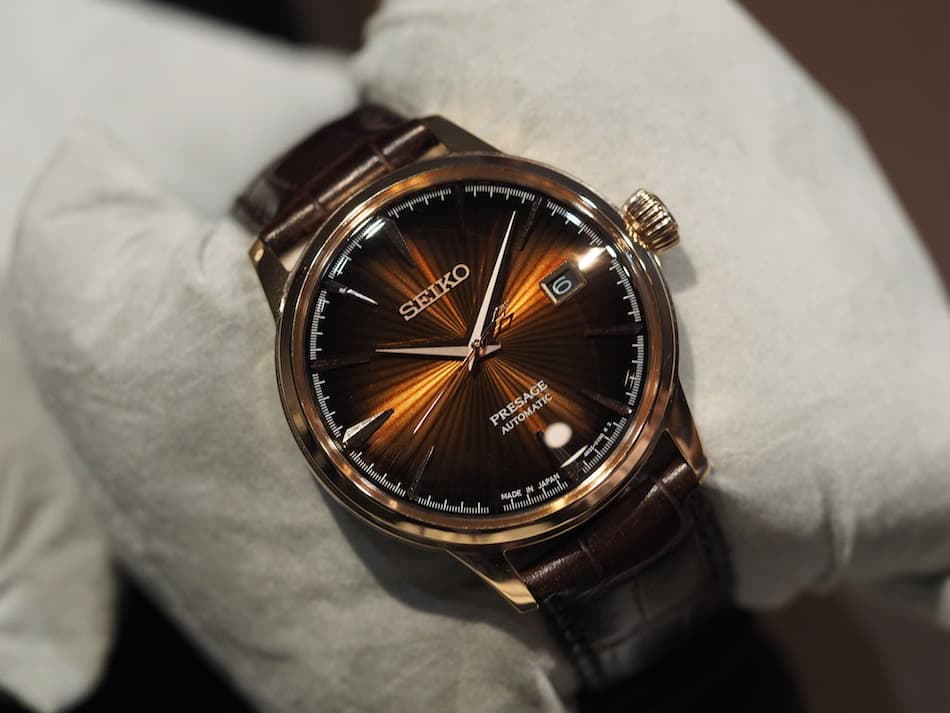 My take: Damn, these dials were mesmerizing! Seriously, they were gorgeous – especially the brown (whiskey colored) and blue (no idea what liquor this is). Apparently there are seven layers of gloss finish on these dials and it shows! I don't tend towards dress watches, but these were convincing. Seiko will sell tons of these.
More info can be found here.

The Seiko Prospex Samurai
One hardcore enthusiast piece that made its re-entrance by Seiko at Baselworld 2017 was the new stainless Samurai. Germany had a light blue special edition last year, but these three new models – blue, black and a gold/black version – are here to stay.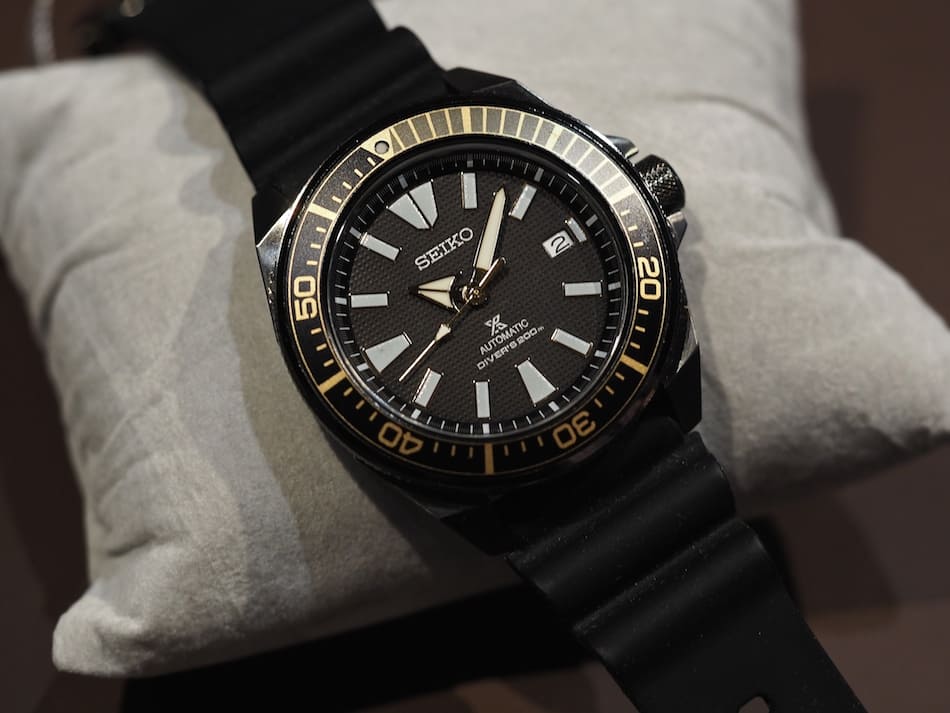 Powered by the 4R35, sized at 43.8mm and priced at above 400 Euros, I'd expect these to please enthusiasts.
More info can be found here.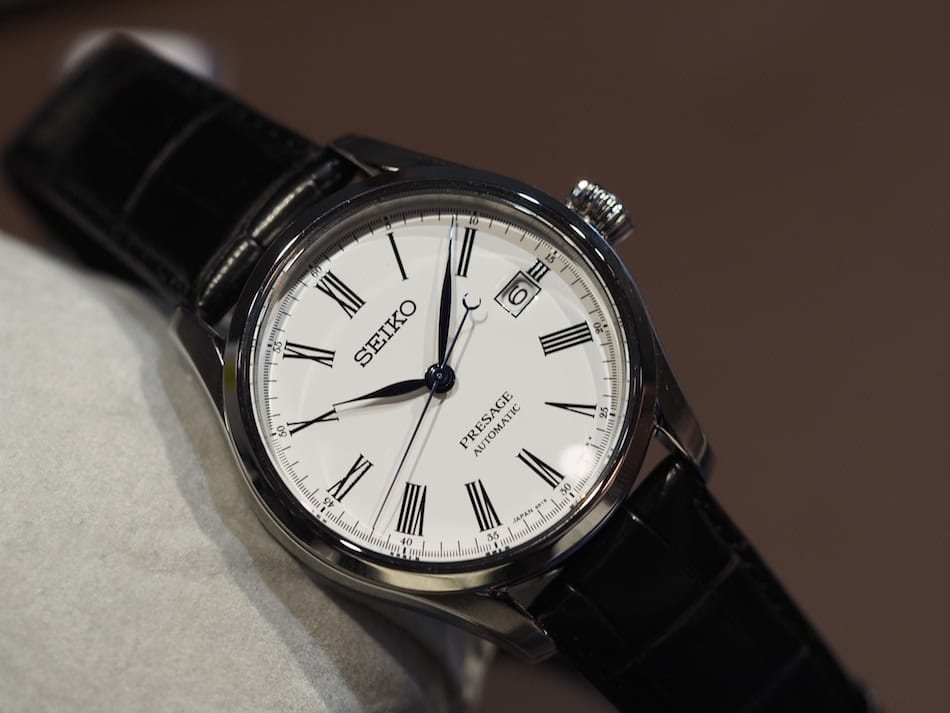 The Seiko Presage Enamel Dial
Just for fun, I shot a couple pictures of the new enamel-dialed Presage automatic. This follows up the highly successful limited edition enamel dial Presage chronographs from last year's show (a real favorite of mine) and it was beautifully done. Sized at 40.5mm and powered by the 6R15 automatic, the Presage enamel dial pricing is TBD but expect something above 850 Euros.
More info can be found here.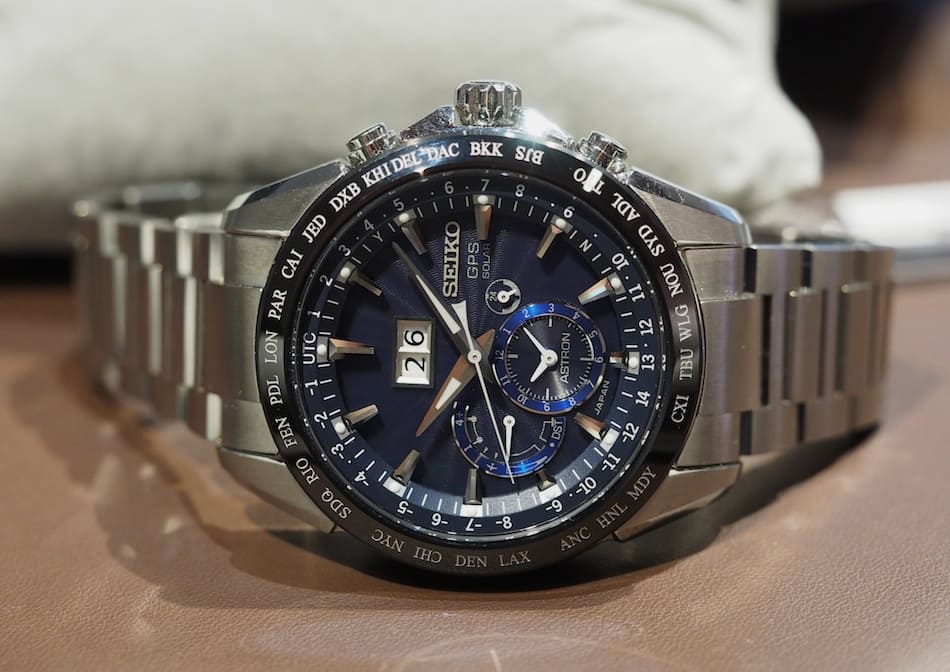 The Seiko Astron Big Date
Hey, I love Astron and seemingly so does the rest of the world. Even in Germany, the brand sells loads of these as apparently "Germans love technology". Nice. Either way, the new Big Date contains a digital display of the date above the center of the watch. With this, the fourth Astron caliber, the 8X42, is now on the scene. A staggering 4 stainless steel and 3 titanium variants will be offered. 44.8mm remains as the diameter and stainless versions will start at 1,800 Euros while titanium begins at 2,400 Euros.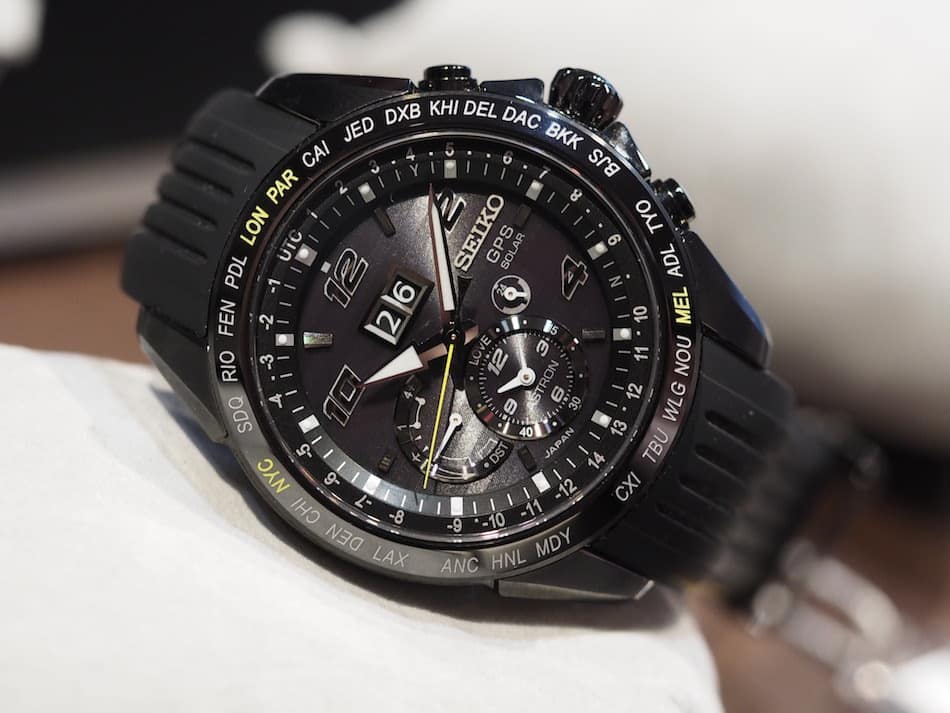 There's even a Novak Djokovic edition that highlights the Grand Slam cities on the bezel in tennis ball neon green and features a "Love 15/30/40" chronograph dial. 5,000 pieces of this piece will be made in black coated stainless with a price of 2,150 Euros.
More info can be found here.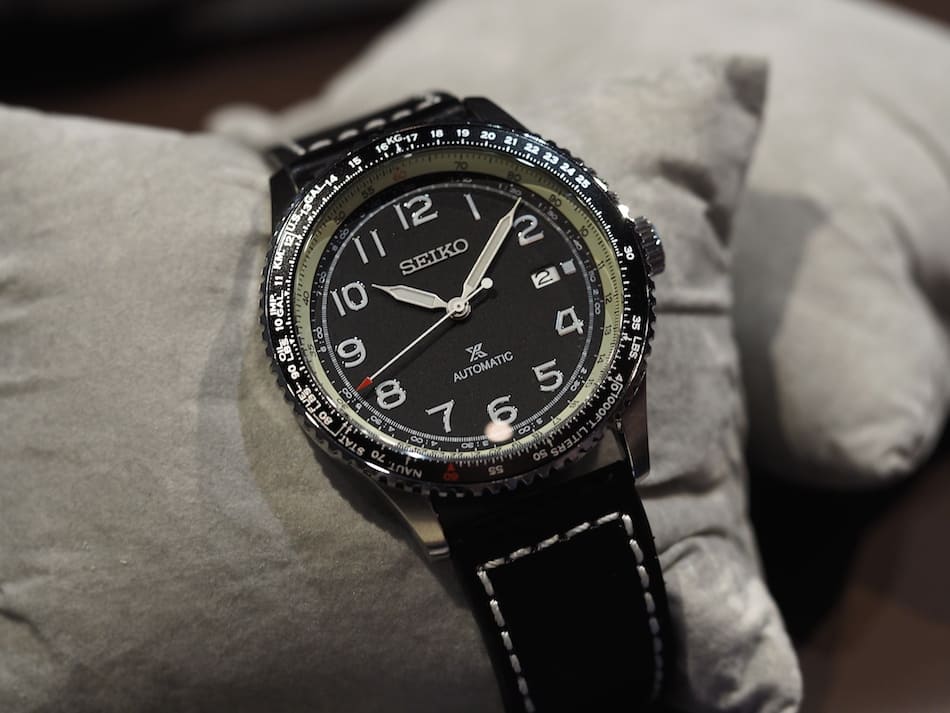 The Seiko Prospex Aviators Watch
Lurking in one of the many trays from Seiko at Baselworld 2017 was this cool new Prospex Aviator-styled watch (the SRPB61K1). With syringe hands, a toned-down dial with large Arabic numerals and a rotating calculator bezel, I really liked this watch. No, it's nothing truly special, but it's just a nice looking Prospex that will look great on a distressed strap or NATO – and, it will outlive any of us. Powered by the 4R35 and sized at 44.7mm, this watch is water resistant to 100M.
More info can be found here.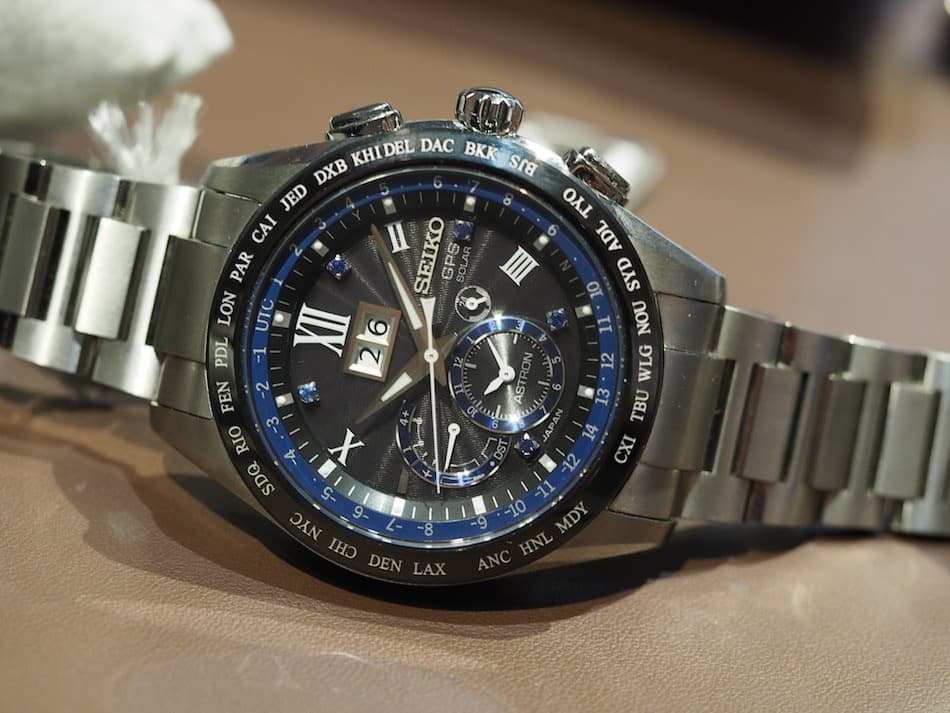 The Seiko Astron 5th Anniversary Edition

Just for kicks, I took some pictures of the titanium 5th Anniversary Astron. This won't be a big seller in Europe or the USA, but it was neat because it features 5 blue sapphires on the dial. Pretty cool and very Japanese limited edition like.
More info can be found here.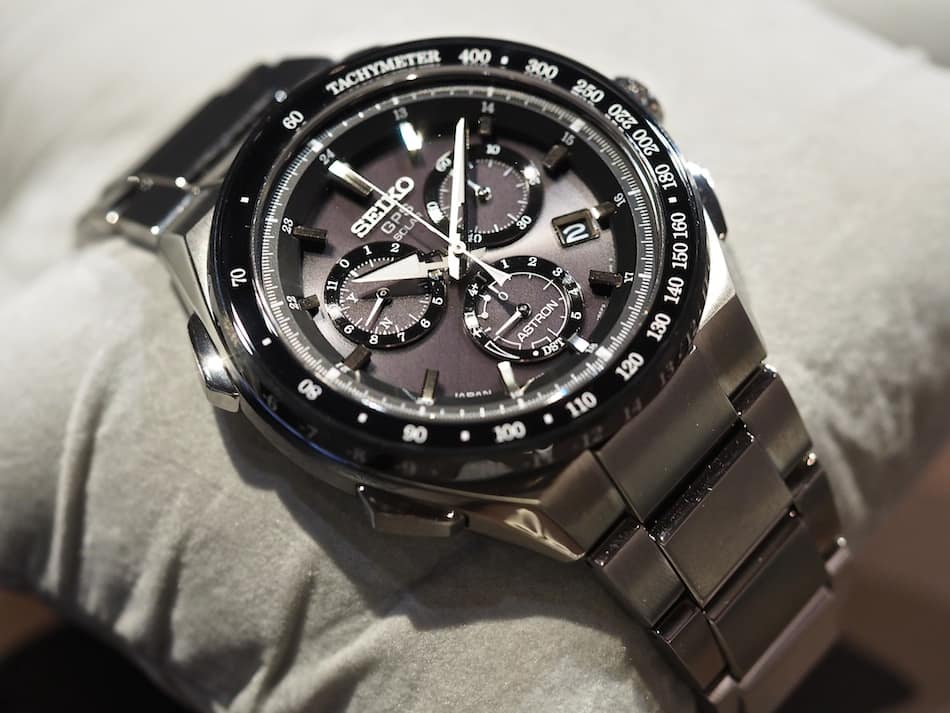 Ex "JDM Only" Astron
Seiko at Baselworld 2017 also showed us an Astron chronograph with a case previously only made available in Japan. This one features a more squared off case design along with a taller ceramic bezel with writing on its sides. I loved the look of this one and am happy that the brand is starting to expand its offerings around the world – it's high time!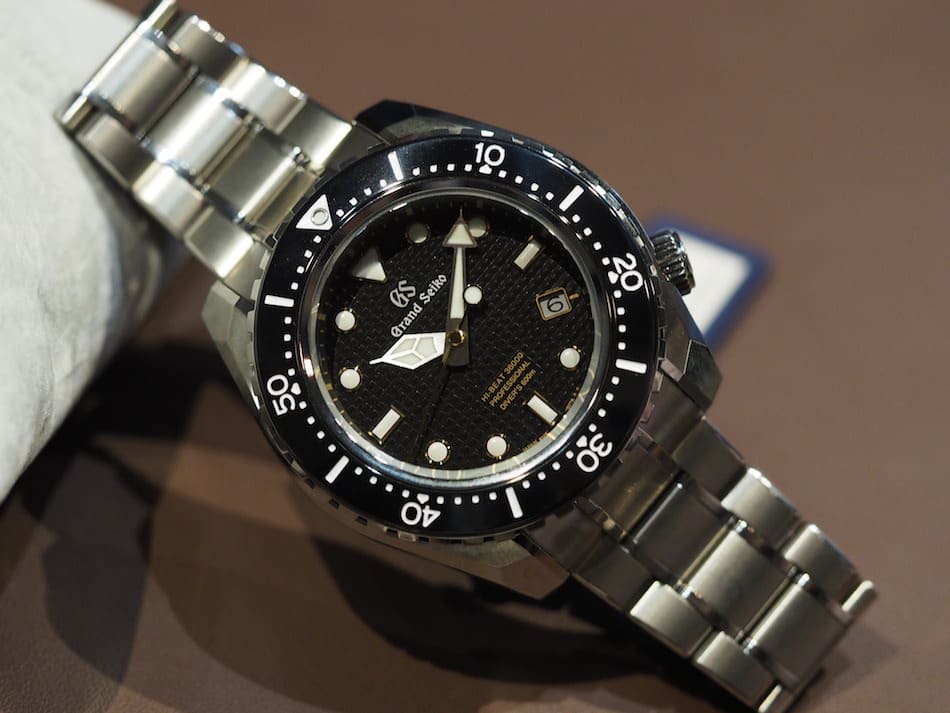 The Grand Seikos Revisited

I'll skip the heavy details on the Grand Seikos as we've already covered this, but it was worth taking a hands-on look at these pieces with Seiko at Baselworld 2017.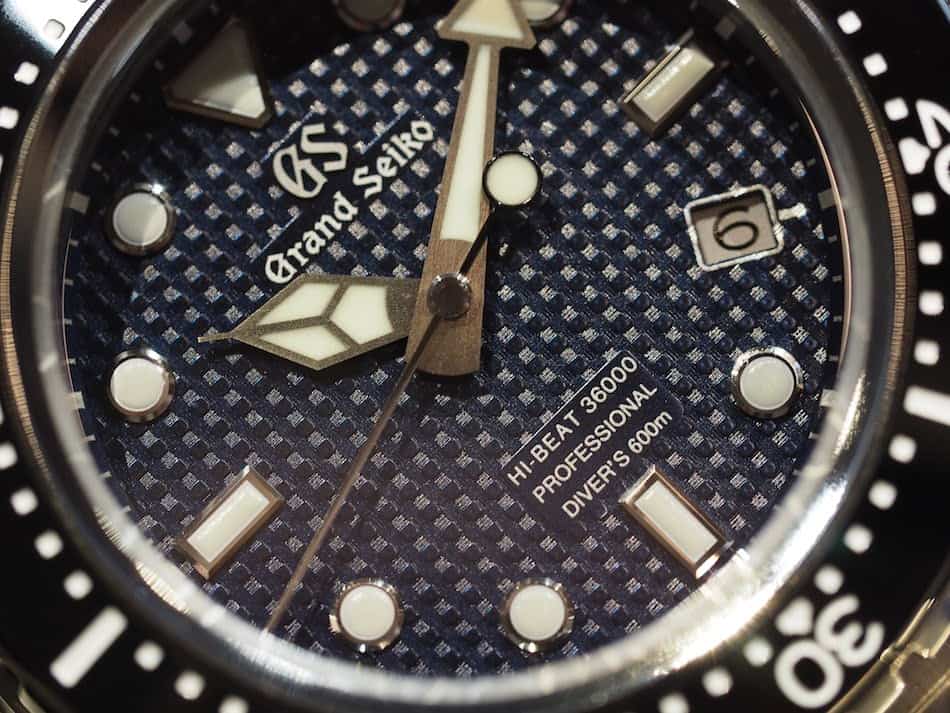 I must admit that I loved the Grand Seiko Professional Diver in person. Yes, it's damn expensive, but it was stunning – aside from the still cheesy clasp on the bracelet. The watch is big but, in typical Seiko manner, it wore a bit smaller than its size would suggest. Of special note was the cross-hatched blue iron dial; it was luscious!  More info can be found here.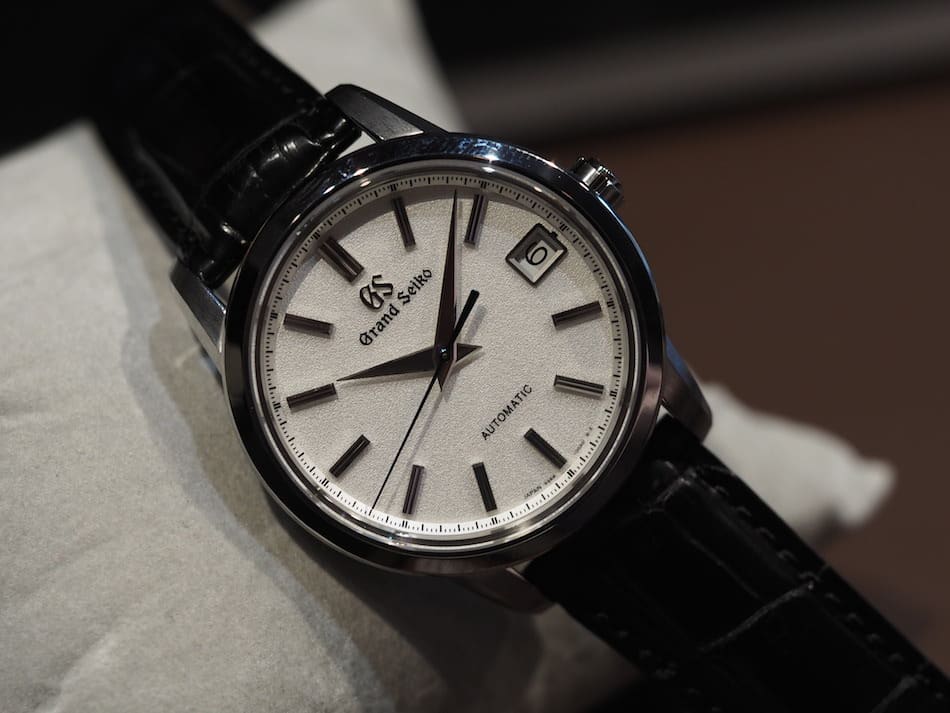 The "first GS reimagined" was another favorite of mine. Titanium-cased and a little larger at 40mm, this was one beautiful watch. Here again, the dial was a bit of a single fingered salute to all those who scoff at spending real money on a watch from Seiko. The case work was also something to behold. If you're interesting in a 7-8K dress watch with serious chops, this one is worth a look.  More info can be found here.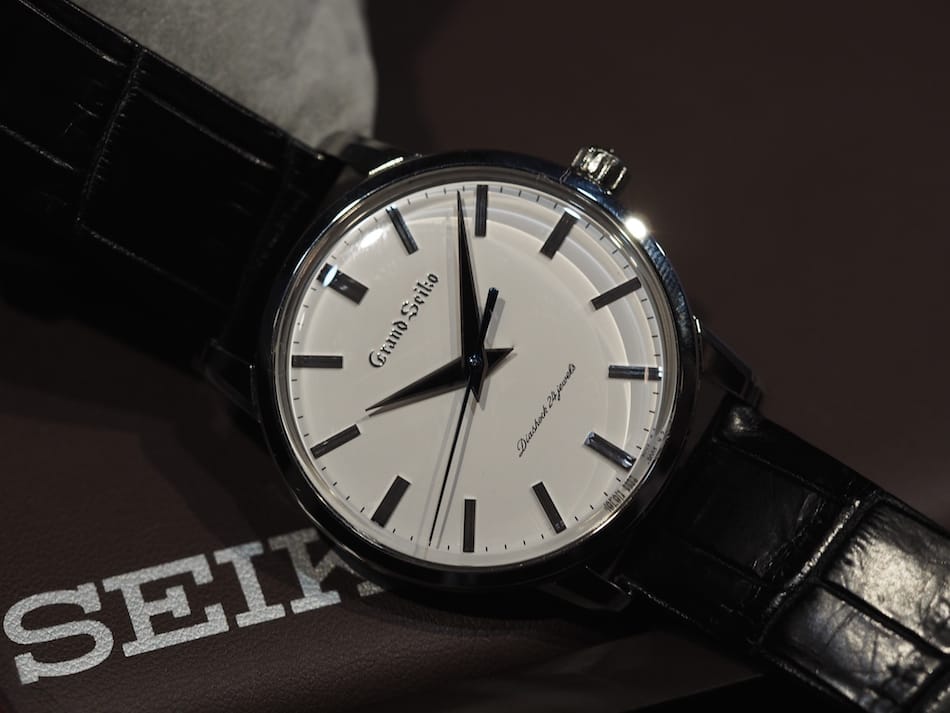 The "first GS reissued" was a good-looking watch, but to be honest, it didn't blow me away in the same way as prior GS reissues. I actually wasn't a real fan of the dial and the case seemed ordinary to me compared to something like the 44GS. Still, it was well executed and we know that people absolutely clamor for these annual releases.  More info can be found here.
I hope you enjoyed a brief look at what comprised most of the new releases from Seiko at Baselworld 2017. We'll likely go hands-on with full reviews of some of these pieces when they're released over the next several months. We enjoyed this year's collection and look forward to even more from the brand in the future.