Seiko Factory Visit – Trip Report Part 2 : Astron GPS and Prospex
June 8, 2017: You can now sign-up for the same adventure as described in this article. Sign-up for the Grand Seiko Experience with Fratello Watches.
About a month ago, early October, I traveled to Japan to join the Seiko Media Experience 2015 tour with 6 other journalists from various watch publications. It was a trip to remember and I decided to report about this trip in three separate articles.
Part 2 – Astron GPS and Prospex collections;
Part 3 – Seiko Museum visit and interview with Mr Hattori.
This is part 2, covering Seiko's Astron GPS and Seiko Prospex collections. We were staying at a beautiful location, in the Tateshina Tokyu Hotel. A very peaceful and quiet location, near a beautiful lake. In one of the conference rooms of this hotel, Seiko decided to give us a detailed explanation about the Seiko Astron GPS concept and present their latest models. With regards to the Seiko ProsPex collection, Seiko invited former employee Ikuo Tokunaga. Seiko fans will immediately recognize this name, as he was the engineer that developed the 1975 ref. 6159-7010 Professional Diver also known as 'Tuna can" or "Grandfather Tuna".
But first things first, let me start with the Seiko Astron collection, its history, the GPS technology and some models of the current collection.
Seiko Astron History
The Astron collection goes back to 1969. Of course, there was no GPS. Well, GPS – Global Positioning System – has been developed since 1967, but it wasn't until 1978 that the first experimental satellite was successfully launched and it was basically a US military system (NAVigation Satellite Time And Ranging or NAVSTAR) until 1983 when president Reagan of the USA released it for public use. However, let's take it one step back (before GPS) and talk about that very first Seiko Astron watch. This watch almost singlehandedly killed the Swiss watch industry at the time, in 1969. Take that with a grain of salt perhaps, but in essence, it initiated the mass production of very reliable and relatively cheap quartz watches. The Astron was the world's first quartz watch, developed by Seiko. During the 1970s "quartz crisis", a lot of Swiss brands either went bankrupt or started to create their own quartz watches as well, resulting in – at least – some image damage even 30-40 years later. In the end, it was for people like Hayek Sr. who saw the power of quartz in cheap watches like Swatch and enabled some important Swiss watch manufactures to be brought back to life with the Swatch watches profits. In a nutshell.
In any case, I already wrote about the current fine quartz movements that Seiko produces for their Grand Seiko and Credor collections (9F calibers) in the first part of this trip report, but the quartz movement of that time were less complicated of course. Nevertheless, I see no reason why the quartz movement is hated by so many out there. It is just a result of innovation and evolution, people can choose whether they want to have a super accurate quartz watch, a mechanical watch with 'soul' or a Spring Drive that combines the mechanical soul with an IC.
Seiko Astron GPS
In 2012, Seiko introduced an entire new collection using their famous 'Astron' name: the Astron GPS. In this article and this hands-on review of the Seiko Astron GPS watch, we already explained how the watch (and movement) works. However, during the presentation and explanation in Japan things went a little further than the basic introduction I received in BaselWorld. Basically, due to the use of the Astron GPS movement, this watch is always accurate, wherever you are and because it is solar powered, it is always 'running'.
Besides an energy efficient GPS module and a stable power supply from the solar source the Astron GPS also has this high-sensitivity ring antenna in the watch. The Seiko staff demonstrated some of the parts of the Astron watch, like the GPS receiver and the high-sensitivy antenna, as can be seen below.
The first 2012 Seiko Astron GPS models had the caliber 7X-series movements, while the current 2014 models have an improved 8X-series movement. These movements have become smaller and have a higher energy efficiency. That sounds very abstract, so let me give you some examples on these aspects.
The GPS module as well as the IC require less energy. Way less energy, especially when compared to a conventional GPS watch or quartz watch. The 7X-series movements were already impressive, but the 8X-series are even more efficient. See the little chart below that I received from Seiko. The scale is not entirely clear to me, but whatever scale it is, it shows how the new Astron GPS movement holds-up to conventional quartz GPS movements.
As written above, the parts (including the movement) also became a bit smaller in the new 8X series movement. The ring antenna went from 38mm to 35.5mm in diameter and the size of the battery is now half of the size it was in de 7X series movement. The result is that Seiko was able to reduce the height of the case with 3.2mm. Below, you you seen image that I took to demonstrate the difference between the 7X and 8X movement dimensions. The new 8X series is on the left, the 7X series on the right.
In total the new 2015 Astron GPS is capable of receiving signals from 4 satellites, displays 2 time zones, has a retro-grade day indicator, easy to use time zone adjustment etc. With regards to aesthetics, my colleague Michael Stockton did a wonderful write-up on the finish and appearance of the Astron GPS Titanium. The cases have this beautiful finish that Seiko refers to as the "Zaratsu" finish, a technique we also saw on the Grand Seiko models. Below, an overview of some of the current Seiko Astron GPS Solar models.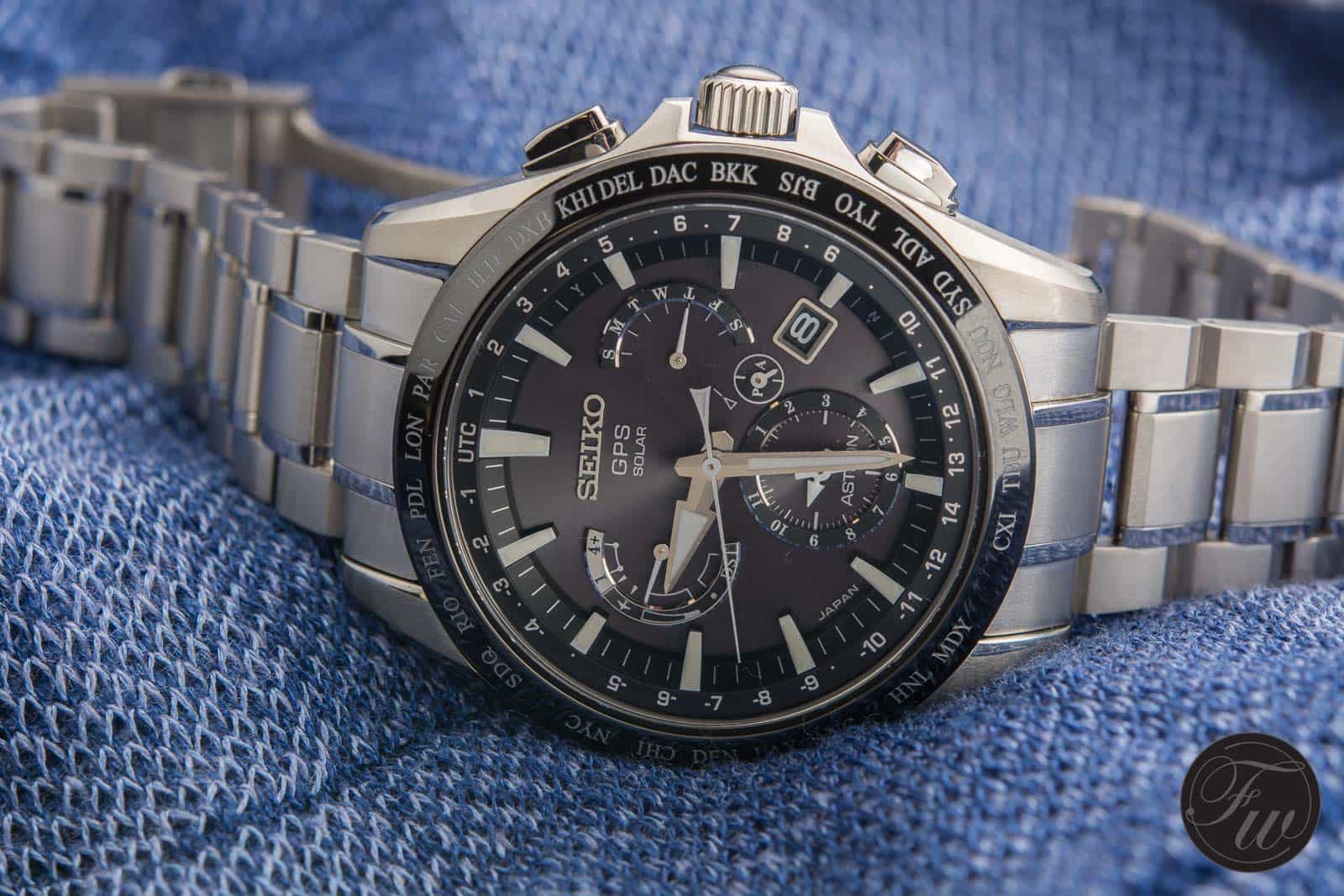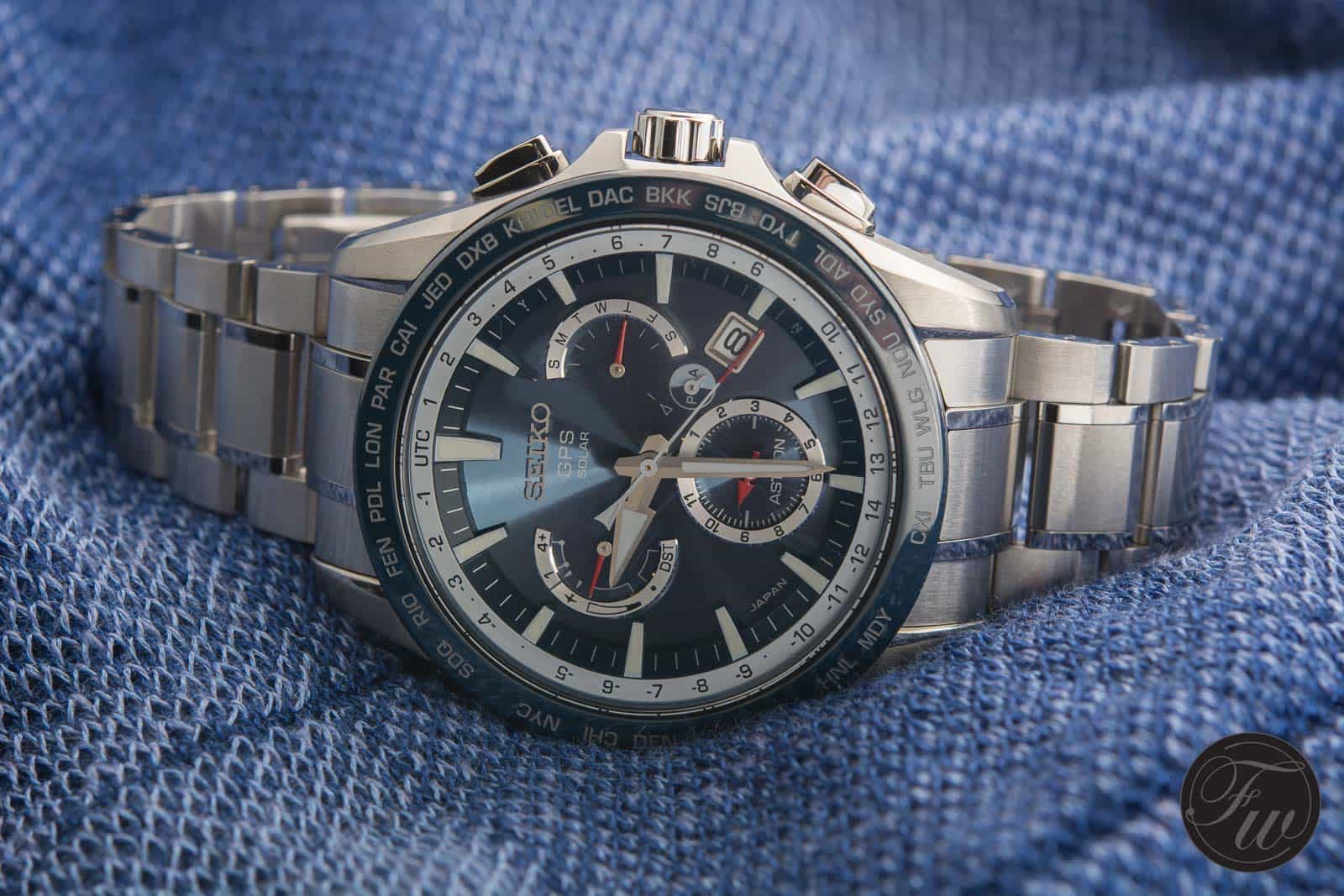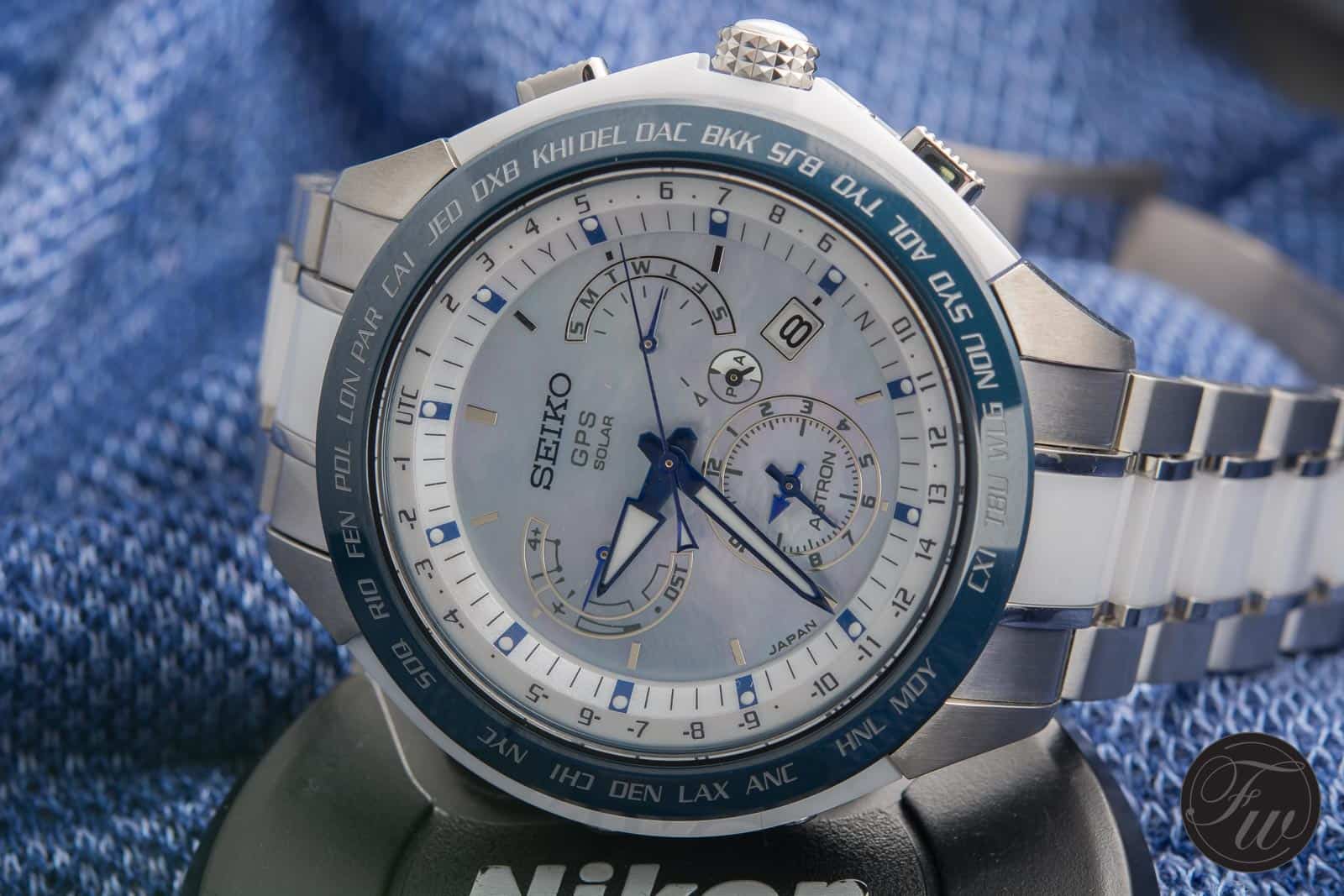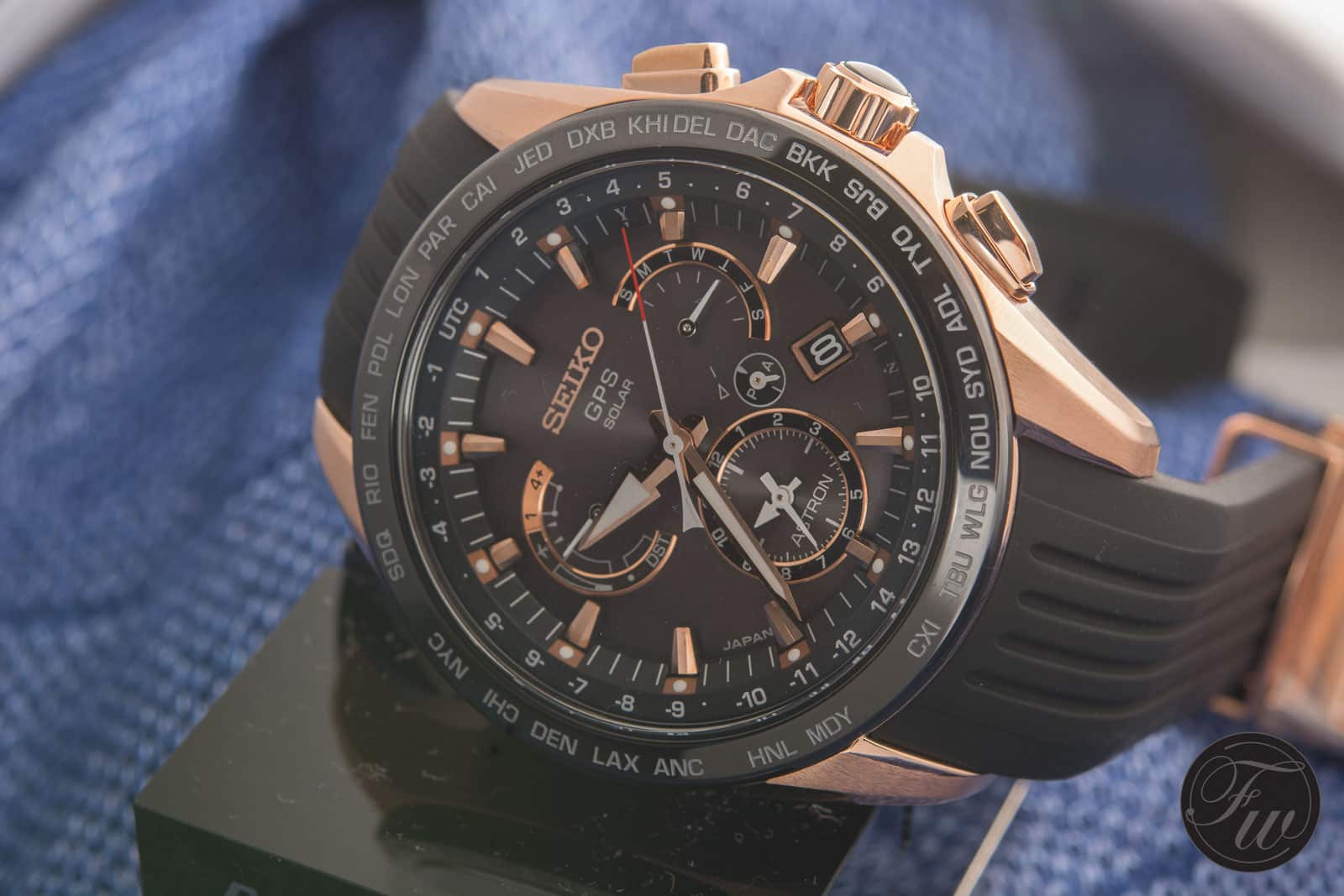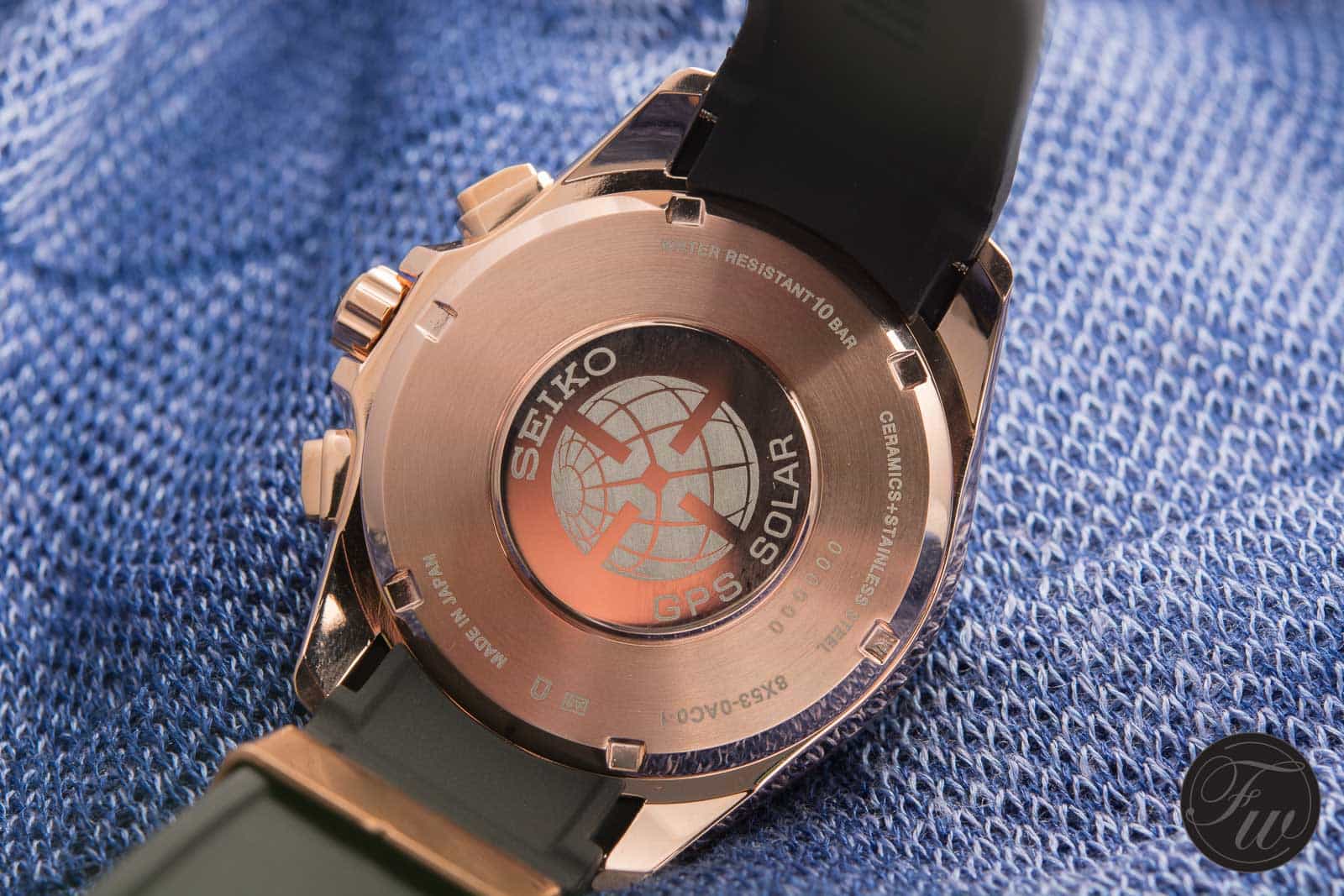 You might have seen these models already, as they are available at your Seiko Astron retailer or in the Seiko Boutiques. Although I am very impressed by the technology, the ease of use as demonstrated in our Astron review by Michael Stockton and the impeccable finish of these watches, they are not my type of watch when it comes aesthetics. I've written it before and recently in our first part of my trip report, that a number of modern Seiko watches are perhaps a bit too blingy or 'metallic' for my taste. Based on the reactions from our readers, even during the Seiko event in Amsterdam just recently, it is quite commonly shared that some of the designs does not seem to fit the taste of the European consumer. Especially when it comes to bracelets Seiko has me a bit worried with some of their models, including the Astron. They are of very good quality and have a great level of finish, it is just the design that doesn't appeal to me. Same goes for the leather straps unfortunately. When Michael did his review on the Astron GPS Titanium he immediately changed the glossy looking alligator strap for something more 'toned down' and the reactions were amazing.
See how that changes the entire watch? My hope is that Seiko will design some more Astron GPS variations, with less 'cluttered' dials but with the ease of use of the models above. For my previous job I traveled quite a bit through different time zones, and this would have been a lot more convenient than manually adjusting my GMT-Master II. If Seiko is able to design a more toned down version that can be worn with a nice suit and shirt, they will have another winner! That said, I can't stress enough how impressed I am by the finish and quality of these pieces as well as the technology that Seiko has and implements in their watches.
Seiko Prospex
After the Astron GPS presentations and demonstrations and a small break, we continued with the Seiko Prospex presentation and demonstration, given by no one other than Ikuo Tokunaga. This former Seiko employee (since 1970) was responsible for developing the famous Tuna can diver that we rant and rave about so much here on Fratello Watches.
Other than the Seiko Astron GPS, that is available in Europe for example, a lot of the Prospex models are JDM (Japan Domestic Model), which means they stay in Japan. A pity, as I believe that Seiko could be really strong with some of the models that they keep as 'JDM' right now. Examples are the Marinemaster 300 and Marinemaster 1000 (Tuna) models. For some of these models, small exceptions are being made to offer them for sale via the Seiko Boutiques (instead of the regular retail channels), but there is quite a mark-up on the price of these "import" models. As you can read in my interview with Seiko CEO Hattori earlier this year, there are plans to have a global collection in the future, but I am a bit impatient I guess. I love the Prospex collection dearly, have the Sumo, Marinemaster 300 and (vintage) Tuna watches, but would love to see them available in our market in Europe (perhaps they are available in the USA, but don't think so).
In any case, the professional divers watches from Seiko started in 1965 with the 62MAS. It was water resistant to 150M and we covered it in-depth in this article. In 1968, Seiko introduced their professional divers watch that was WR to 300 meters and is actually the original model of the later Marinemaster 300 (which I reviewed here). It had a hi-beat movement (36,000vph) and is a very sought-after model by collectors these days.
In 1970, Mr Tokunaga joined Seiko and the development for a new professional divers watch began.
The story goes (although I certainly believe it isn't an urban legend or made-up story, like we see so many times with other brands) all started with a letter from a professional diver that had specific requirements for a divers watch. It should be WR up to 350 meters, resistant to collisions with hard objects, readable in the dark and not be impacted by helium (saturation diving). In 1975, Seiko introduced their answer. The Seiko 6159-7010 Professional 600M divers watch!
This 50mm diameter watch was made of titanium, had a super hard coating on the shroud and was made out of one piece (monobloc). Also, for the crystal the Professional 600 used an L-shaped gasket for extra protection. Where other watches uses a helium valve (automatic, like the Rolex Sea-Dweller or manual like the Omega Seamaster 300M and PO models), this watch is water and air tight due to the monobloc and L-shaped gasket. From the same era, Seamaster PloProf 600M is another example of a monobloc diver that doesn't require a helium valve.
Based on that very first Tuna, now "Grandfather Tuna", Seiko came up with similar watches through-out the years. Most recently, Seiko introduced them as the Marinemaster 1000 SBDX013 and SBDX014. One of black ceramic while the other has elements of rose gold PVD. Available in quartz, automatic and with the Spring Drive movement. We covered the new models in our BaselWorld report, here.
Mr Tokunaga brought some parts with him, to show the construction of the Tuna models. In the first image below, you clearly see the L-shaped gasket. In the images below you will see the movement, dial and crystal fitted in the monobloc case where the last image also shows the uni-directional bezel and crown.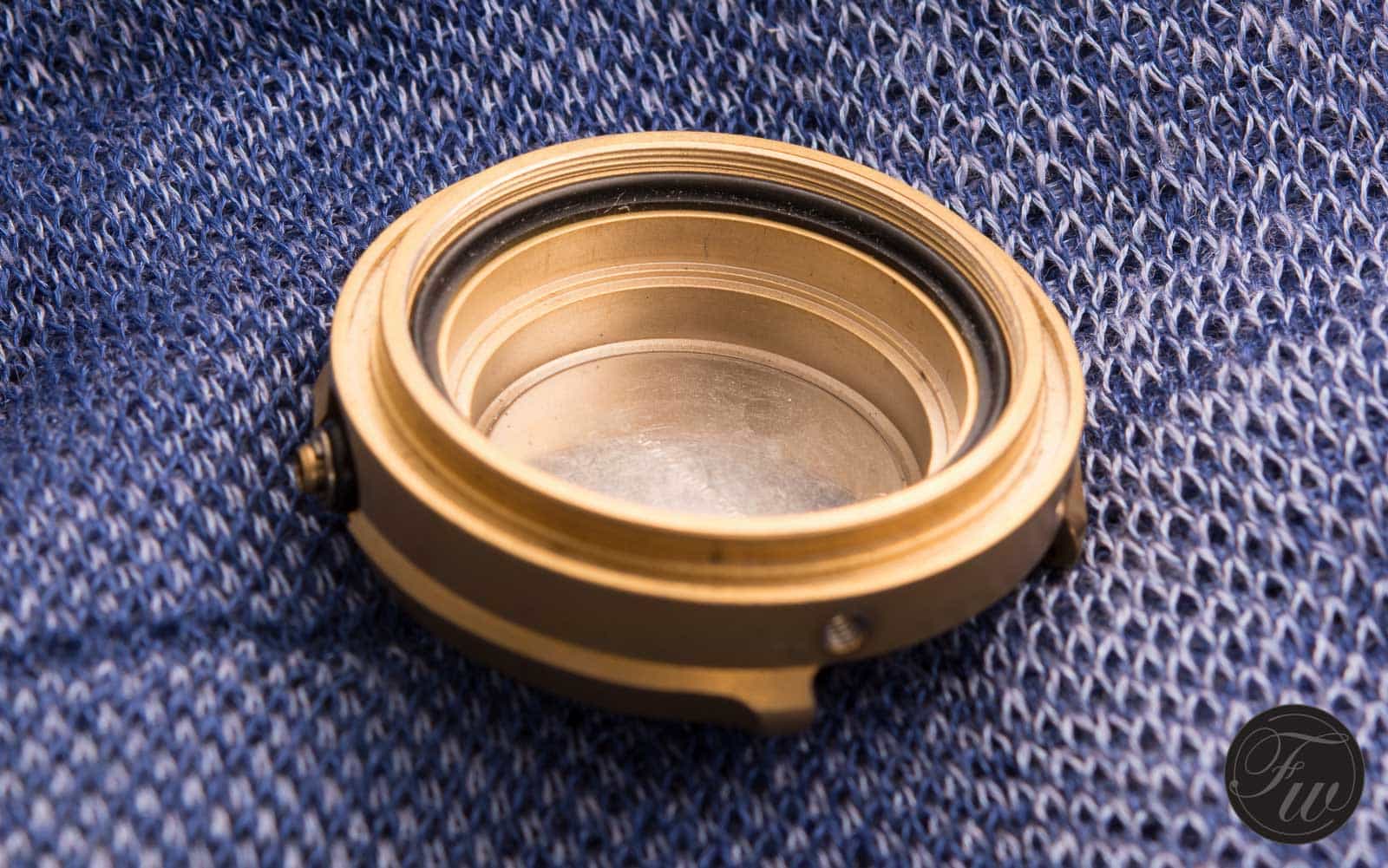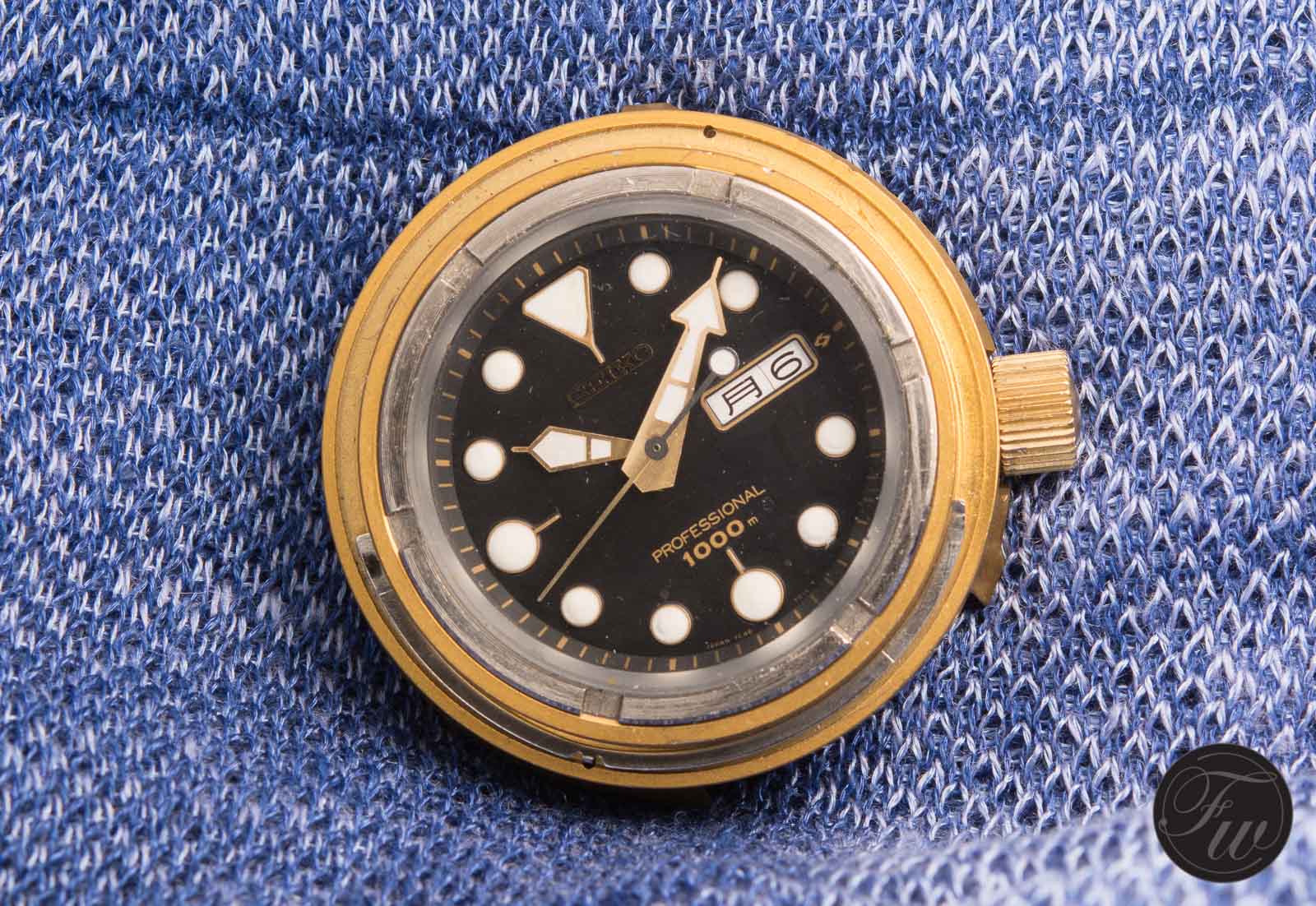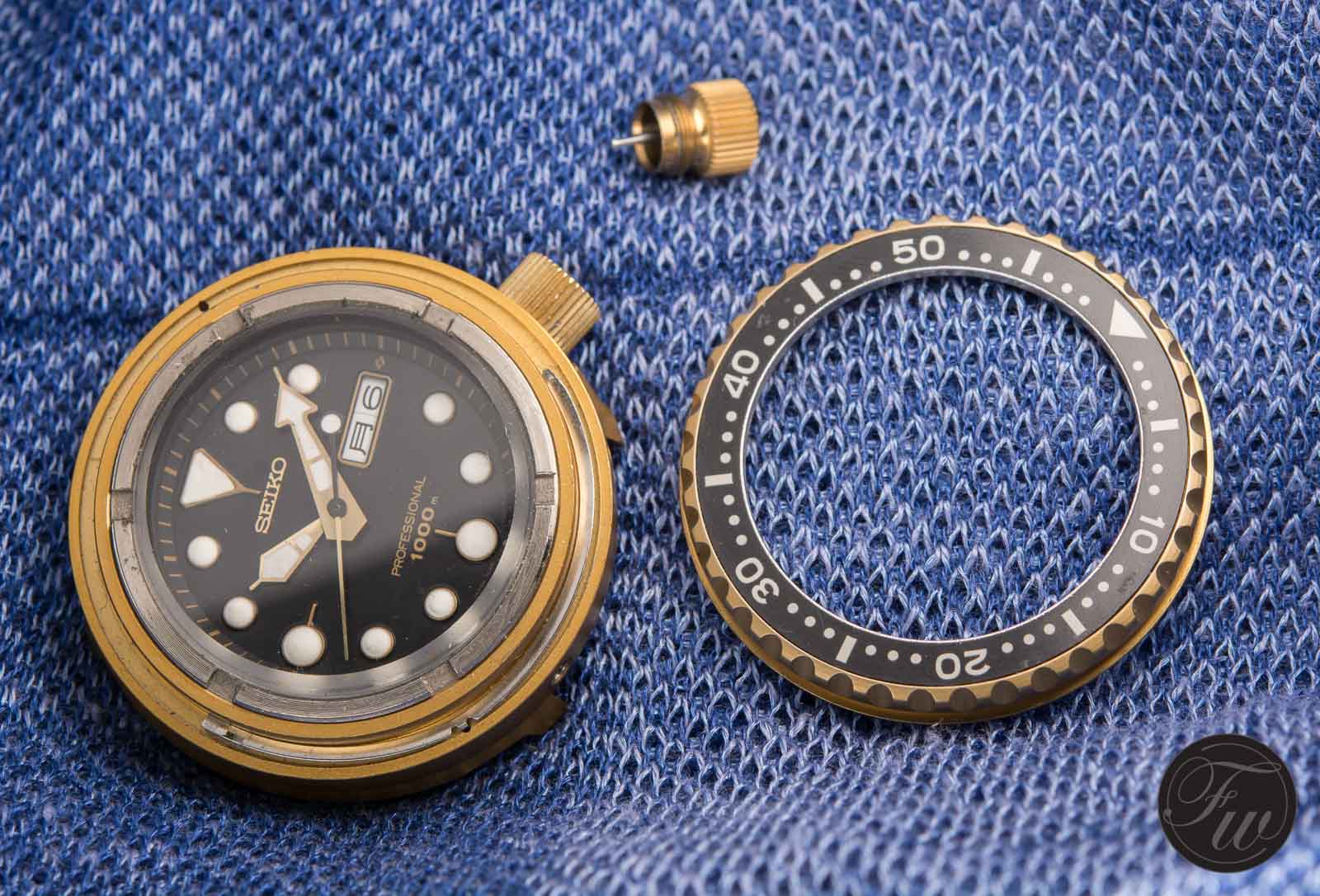 One of the new Marinemaster 1000 Tuna models that I really liked was the model with the gold accents. Seiko already had something similar in their collection in 1986, but this new model combines ceramic with gold and has a beautiful hi-beat movement from the Morioka factory that I talked about in the first part of this trip report. Below you'll find the photo that I took of that black & rose gold model (SBDX014) and the Spring Drive version of the Marine Master (reference SBDB013).
Based on the experience I now have, with the explanation about the Spring Drive and being able to witness the production process, I might favor the SBDB013 with Spring Drive movement.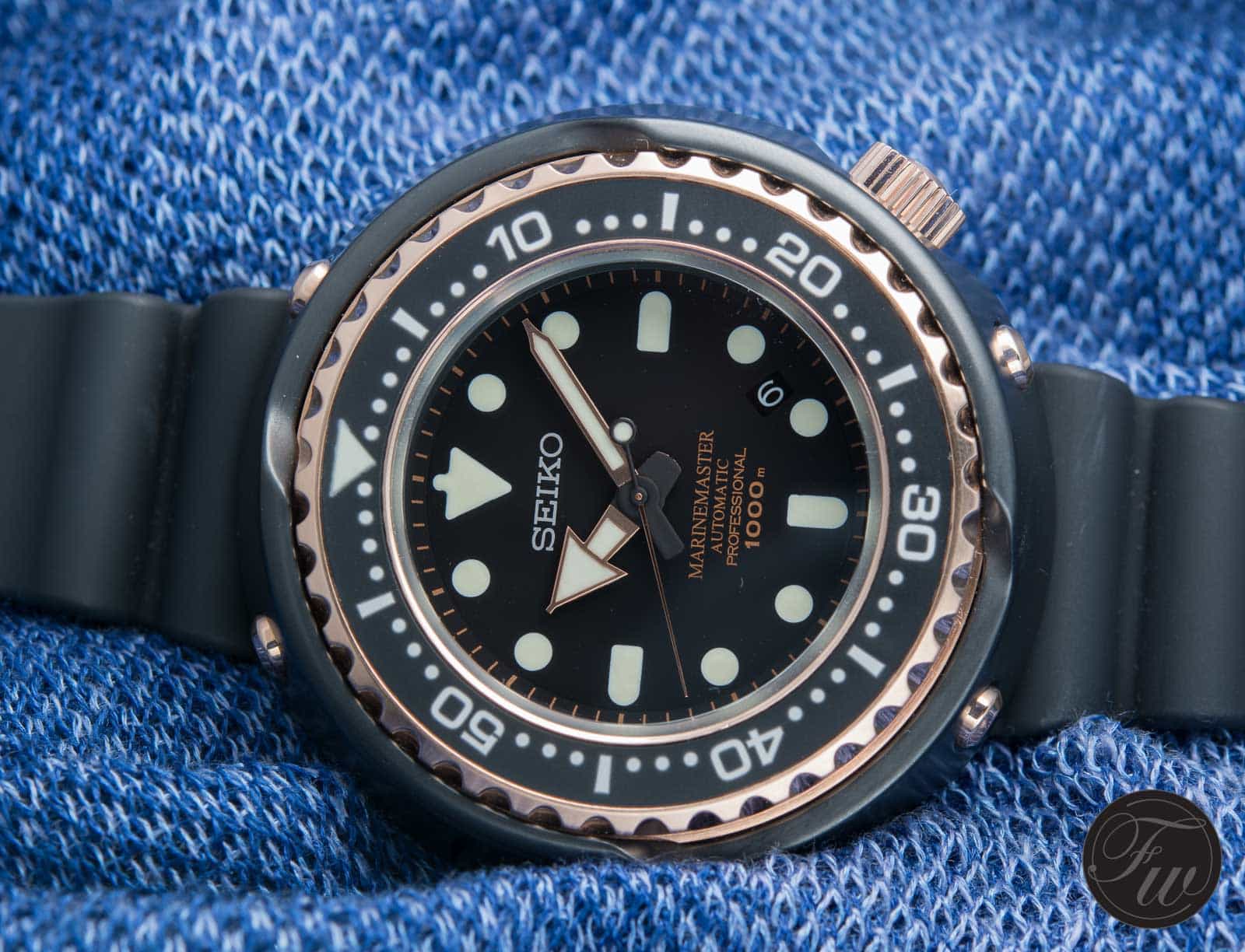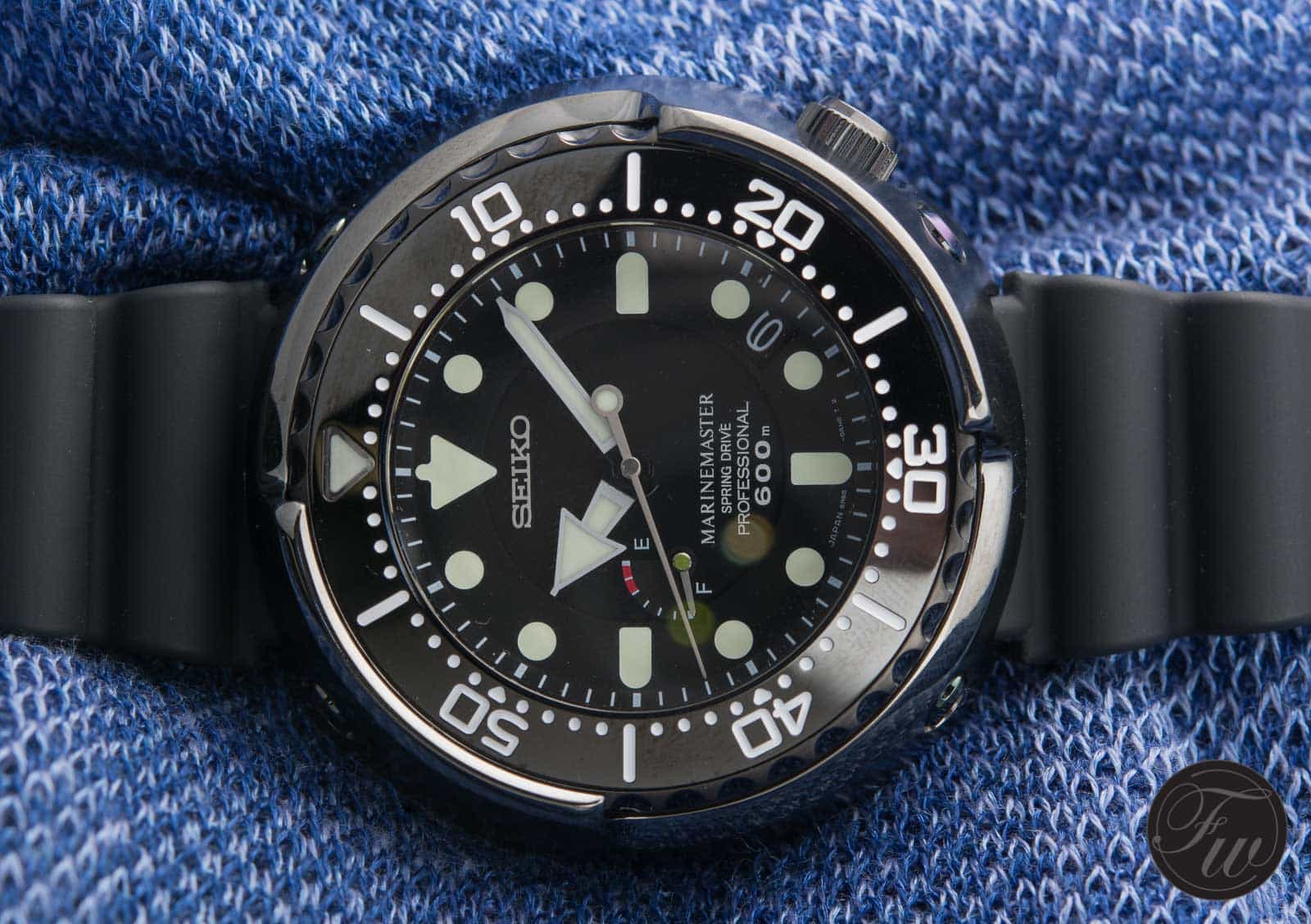 However, nothing beats the original I've learnt over the years when collecting watches, so I found myself a 6159-7010 from 1975 when I got back from the trip and bought it. Below, an image of that first 1975 Tuna model and one of the more recent editions (discontinued SBDX011, replaced by the SBDX013).
Let there be no misunderstanding that these watches are for show only, they are still professional divers watches with ditto specifications. A more dedicated tool watch (instead of a "luxury" diving watch) is quite difficult to find with these type of specifications and level of quality. Of course, for people who want to have a watch that is also a bit more wearable (when not diving) but still meeting strict requirements there some Marinemaster references as well. See below.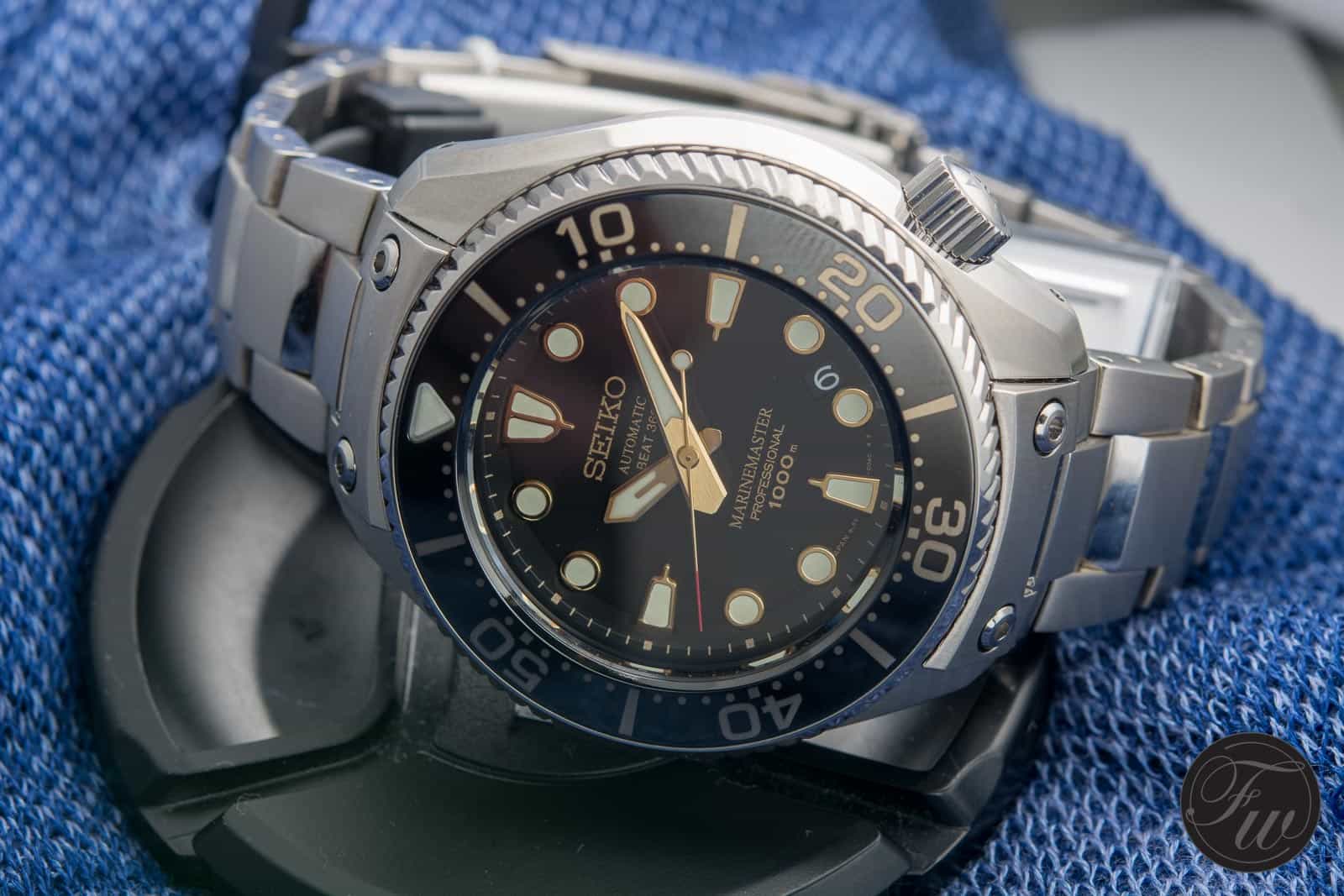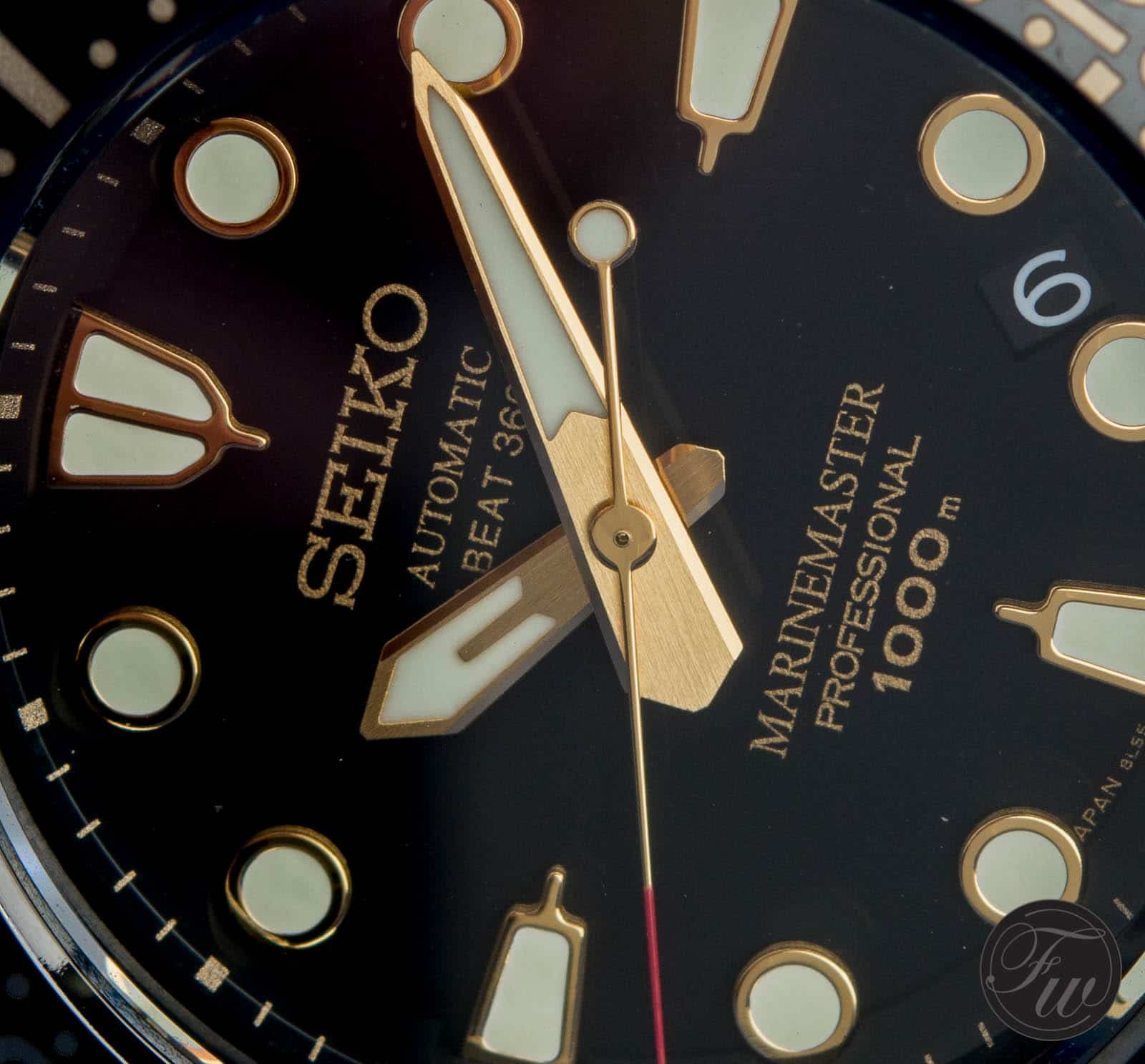 As I previously wrote in this report as well as in the first part of my trip report to Japan, these Marinemaster models have caliber 8L35 and 8L55 movements that are also being manufactured at the SII facility in Morioka. The Spring Drive movements are produced at the Epson facility.
The finish of these watches are impeccable and the wearing comfort – even on the large Tuna cases – is amazing. Besides the innovations and high quality of these timepieces, I was quite amazed by the enthusiasm that the Seiko staff has for these watches and their vintage watches. Something you don't see that often with brands with high production numbers. I noticed a couple of Seiko staff people wearing vintage Seiko watches during the trip, which gave me the feeling that they really care about their heritage and – perhaps – collecting community.
This is the end of the Seiko Factory Visit Trip Report Part 2. In Part 3 I will share my interview with CEO Hattori that I had in Japan (in the WAKO building) and the short trip we had to the Seiko Museum in Tokyo.
June 8, 2017: You can now sign-up for the same adventure as described in this article. Sign-up for the Grand Seiko Experience with Fratello Watches.