Hands-On With The Seiko Prospex LX SNR029J Divers Watch
Compared to a decade ago, Seiko (and Grand Seiko) achieved to be on the radar of many watch enthusiasts. And where other (Swiss and German) brands used to smirk a bit upon hearing the name Seiko, they now pay close attention.
Just before Baselworld, we saw the new Seiko Prospex LX SNR029J under embargo. For those who are not familiar with this, it means that we could have the press release in advance, but not allowed to publish before a certain date and time. So we were aware of most novelties that were shown to use a few weeks later in Basel. My interest went out to the Grand Seiko models of course, but I was also very curious to see how the Seiko Prospex LX SNR029J would be like in the flesh. In specifications and on press images, the new Prospex LX looked spectacular already. The suggested retail price of €6100 was a bit of a surprise to you we noticed in our previous short article about the new Prospex LX collection. After all these years of going to Basel and receive press materials, I've learned to not comment on the price too much before actually seeing and handling the watch in person. That said, it better be amazing for €6100. Compared to the popular and much praised Marinemaster 300, the new Seiko SNR029J is approximately two times as expensive.
Seiko Prospex LX SNR029J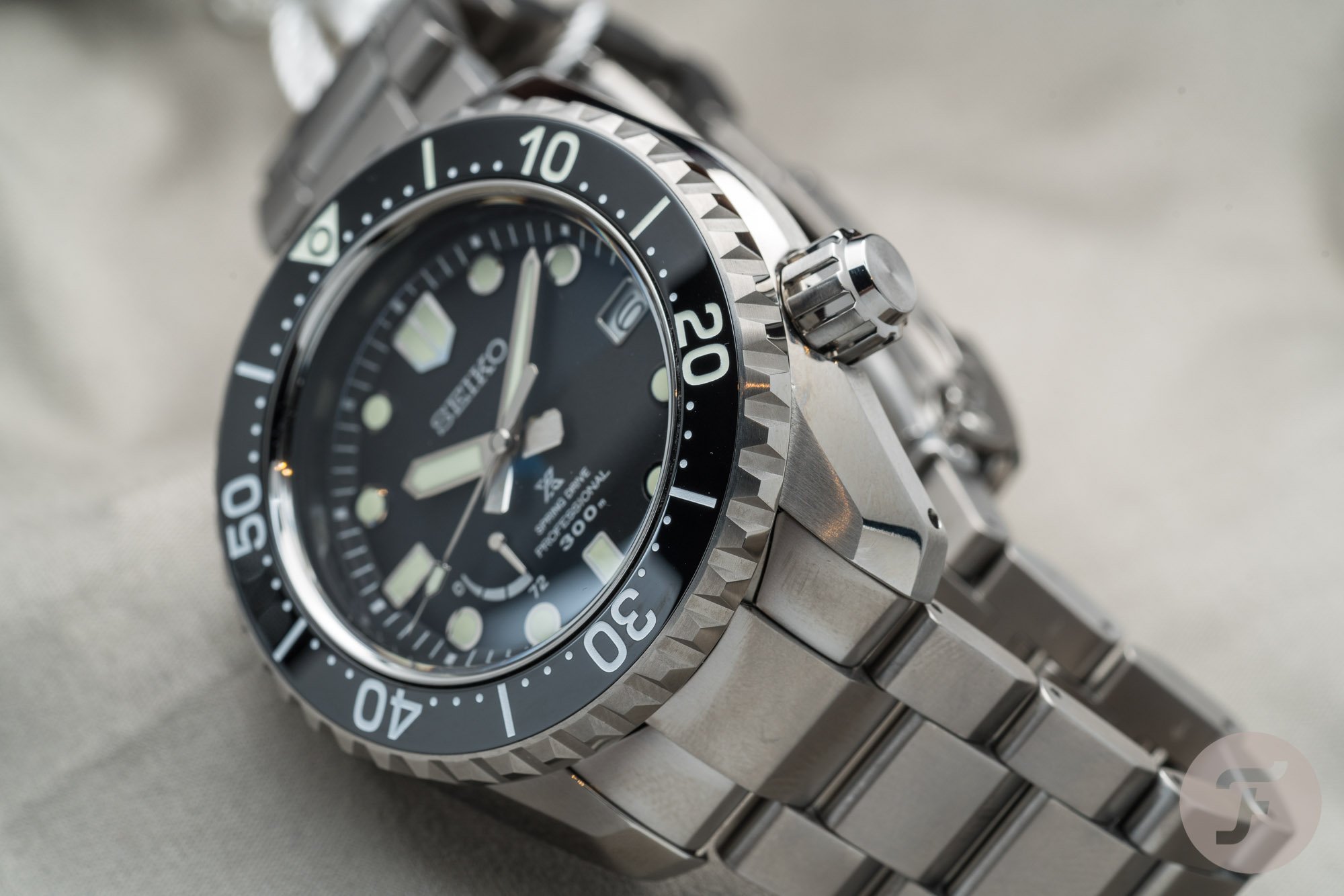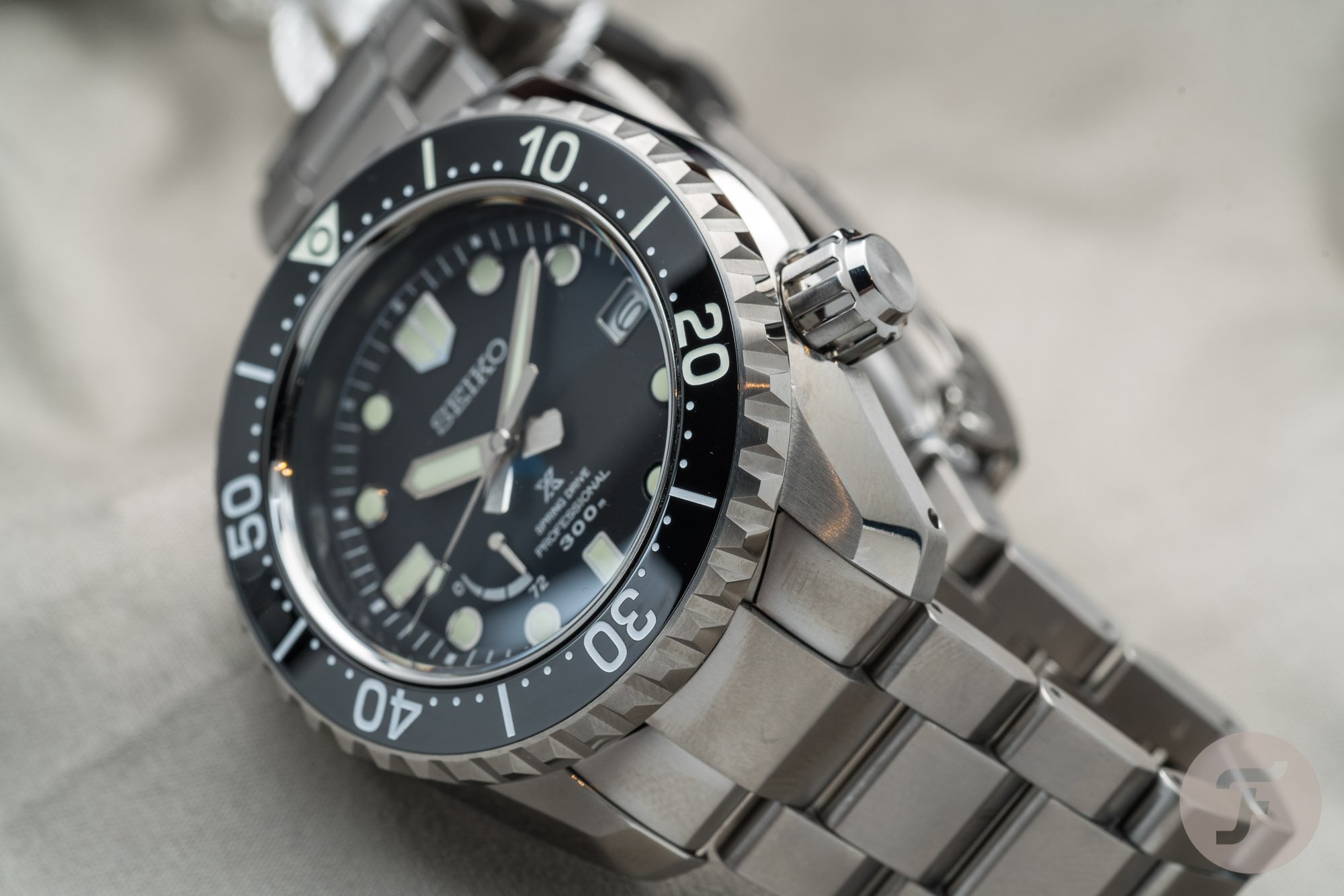 Before I dive (no pun intended) into the new Seiko Prospex LX SNR029J, let's take it one step back.
Is €6100,- for this Seiko Prospex LX SNR029J a good price, a fair price or simply too much?
What collectors and fans knew already a long time ago, is that Seiko has something great to offer. They have the heritage (they were among the first to have a self-winding chronograph, they developed quartz, Kinetic, Spring Drive etc.), including a number of watches that were used in space (Pogue, Spacewalk and the digital A829-6019) and last but not least, great quality. Great quality, at a good price or at least a fair price. If you want, you can even pick up some vintage Seiko models for prices that won't buy you a modern mechanical watch from almost any (serious) brand. Mike Stockton did an interesting article on those, the top 10 vintage Seiko watches you should buy now.
So, is €6100,- for this Seiko Prospex LX SNR029J a good price, a fair price or simply too much? It is the most expensive one of the three titanium Prospex LX models. They start at €5100 and then there's the GMT version for €5600. Those are – despite the extra complication – a bit cheaper, probably due to the fact that the SNR029J has a water resistance of 300 meters instead of 200 meters and 100 meters. Let's have a closer look at the watch.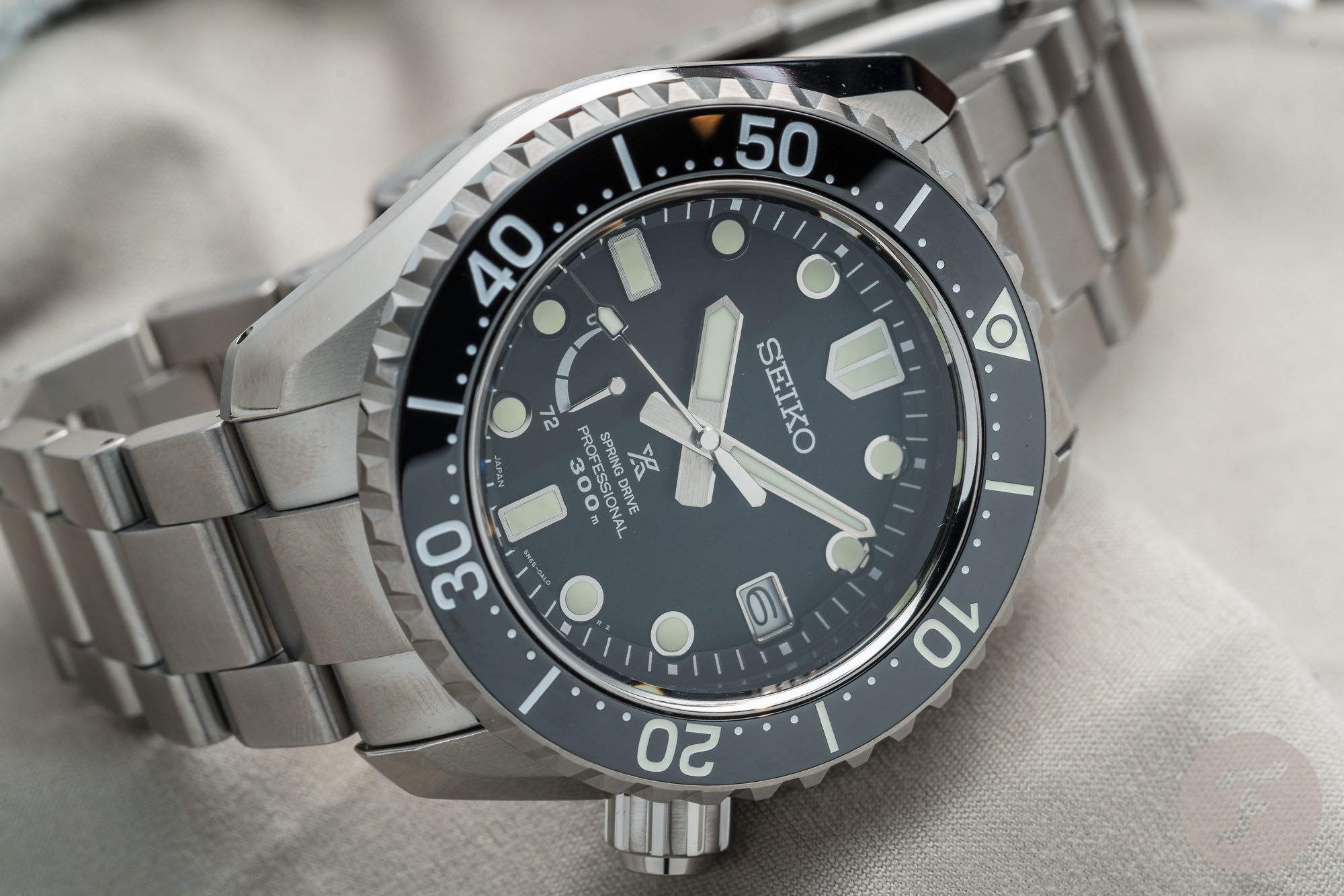 Titanium Prospex LX
All the Prospex LX models are made of titanium, and all three different models are also available in an all black coating (without titanium bracelet). I am not particularly a fan of titanium, as I often think it is too light on the wrist. Especially when wearing a substantial watch, I feel the need to have this reflected in its weight. It is one of the reasons I bought the Grand Seiko Mt. Iwate last year, instead of the immense popular Snowflake model. In this case, though, the Seiko Prospex LX is a huge watch with a diameter of 44.8mm and a thickness of 15.7mm (!). So even though it is made of titanium, it still has a significant weight to it. I guess this watch in stainless steel would easily be a quarter of a kilogram.
The link with Grand Seiko is easily made with the Prospex LX, not only because of the Spring Drive movement (more later) but also because of the price. I read some comments somewhere that people feel the price is ridiculous because it does not have the same finish as the Grand Seiko. Well, that's not entirely true. The titanium case has been polished using the same Zaratsu (mirror blade) polishing technique that is being applied to their Grand Seiko watches. The Marinemaster 300 that I am so fond of, and the rest of our team as well by the way, also has been polished using this method. So that alone doesn't make up for the price for sure. The complexity of the case on the Seiko Prospex LX SNR029J is higher than on the Marinemaster 300 for sure. Seiko hired former Porsche (996) and Ferrari (Enzo, 456M and California) designer Ken Okuyama to take care that the 44.8mm x 15.7mm case remains wearable, but also to give it a design that makes the big polished and brushed surfaces play with light. A job well done I have to say, as the watch on the wrist is certainly high, but the 44.8mm is definitely not uncomfortable on my 18cm wrist,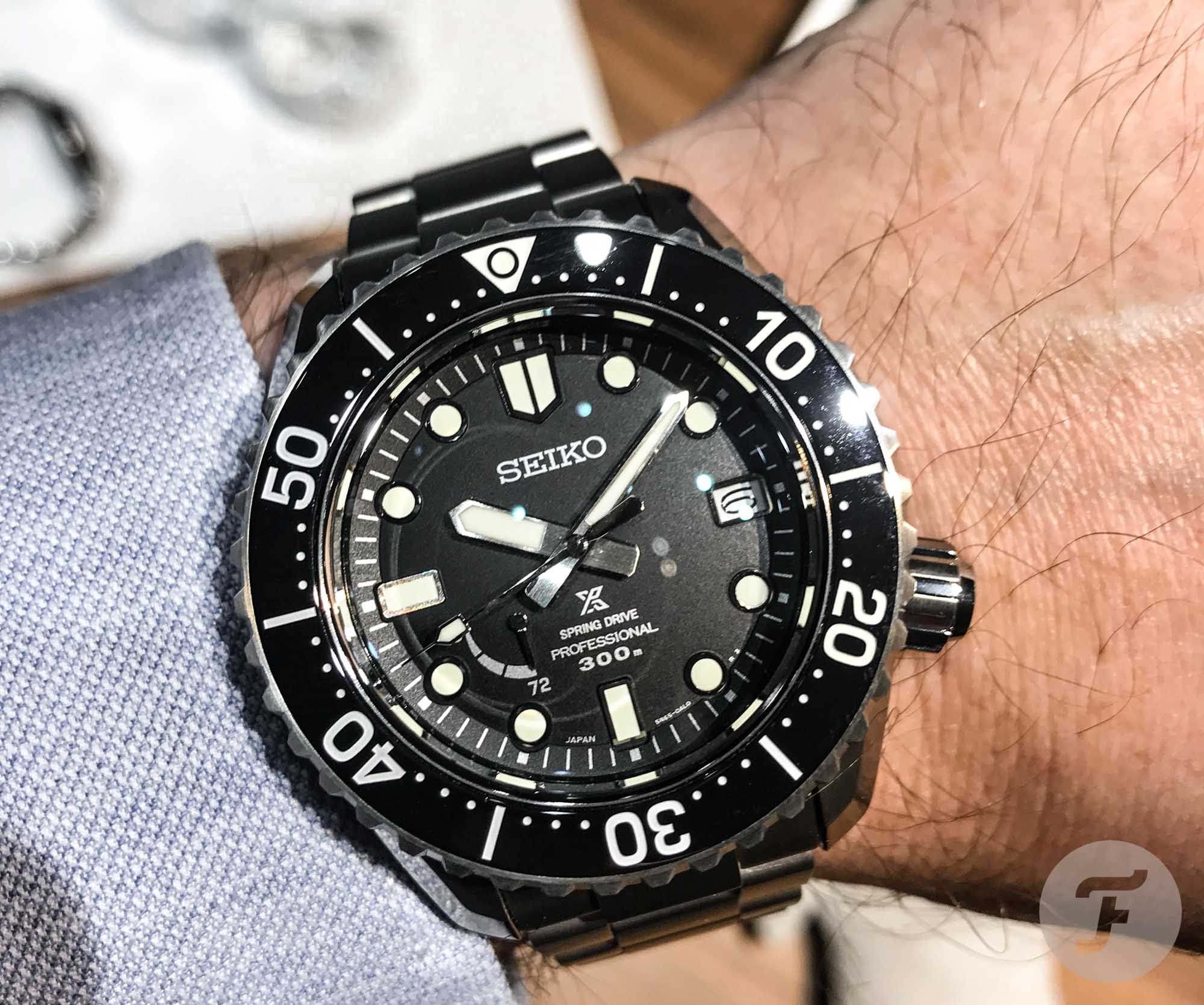 It surely doesn't wear as big and heavy as a Rolex Deepsea Sea-Dweller, for example. But, make sure to try it first when you aren't certain about the size. In the end, my Marinemaster 300 (SBDX001, I reviewed it here) is also 44mm in diameter and that wears fine, really.
Bracelet
If you've been reading our Seiko and Grand Seiko reviews, you might remember that I am not always particularly positive about the bracelet designs. Although there's absolutely nothing wrong with the quality or finish of their bracelets, I am just not fond of the use of polished parts (links) on sports watches. However, in this case, I have nothing to complain about actually. I was happily surprised to see the bracelet on the embargoed press material, and even happier when I was able to give it a try. The design of the bracelet fits the Prospex LX case perfectly. The clasp has two pushers for releasing it, and there's an extension system if you want to wear it over your diving suit. By pulling the flip lock backwards, you can slide the clasp and make it longer or shorter.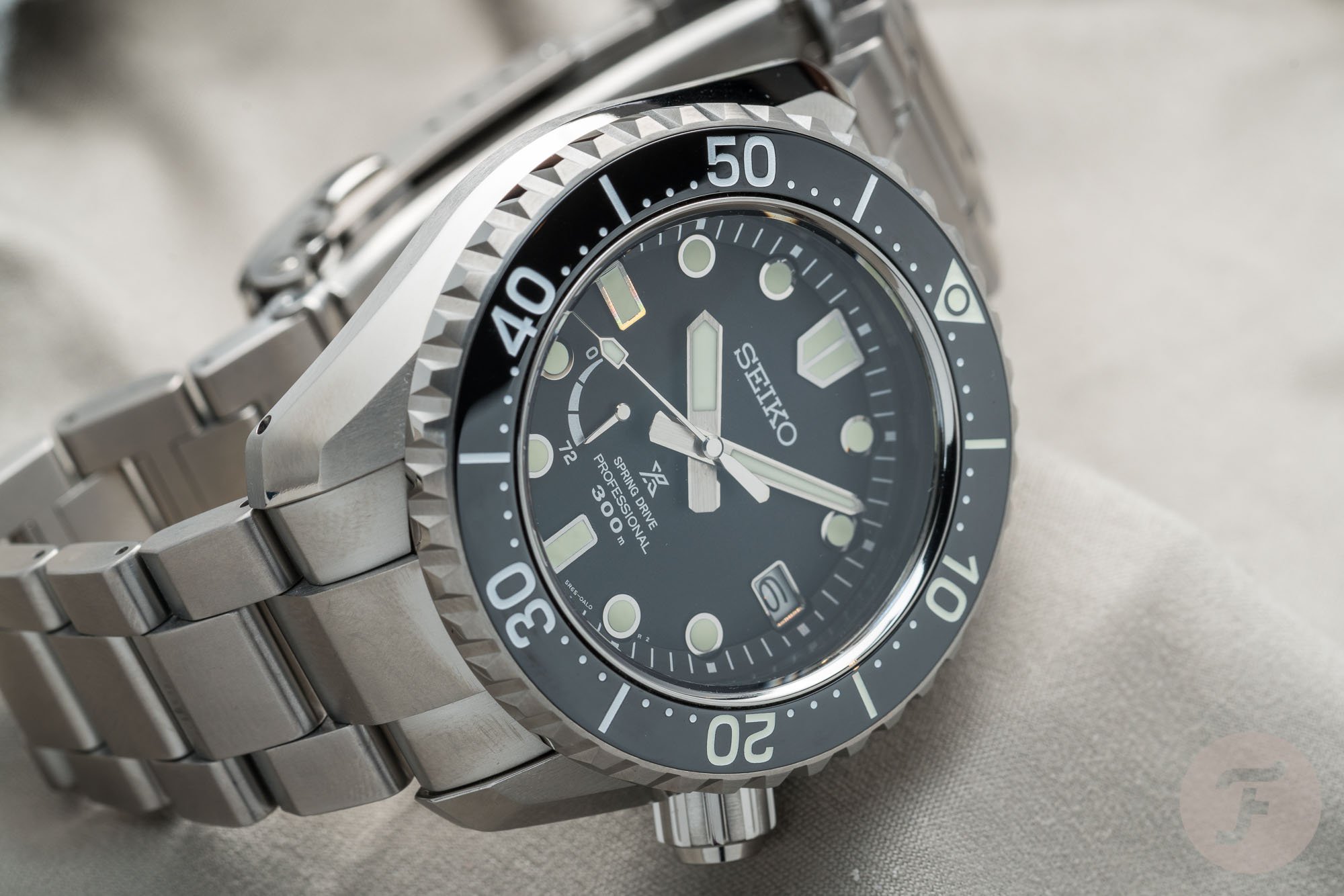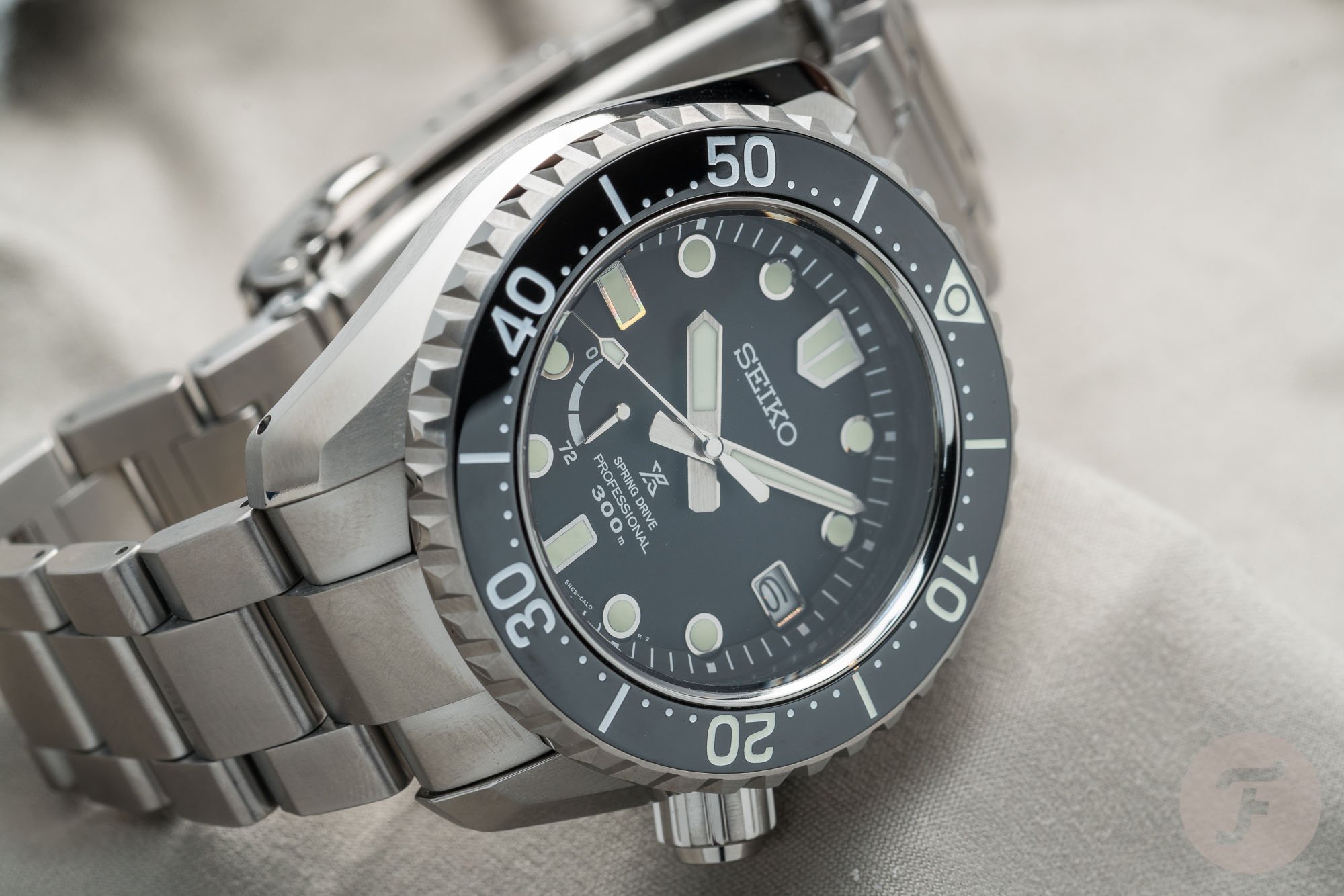 Visibility is important
Besides being water resistant, there is a number of things that are important for a professional diver's watch. Since Prospex stands for 'Professional Specifications', you should only expect the best from Seiko in this regard. There's, of course, the uni-directional bezel with diving scale on the Seiko Prospex LX SNR029J. No ceramics used, but a titanium bezel with a high glossy finished inlay. The 60-minute marker has a luminous dot, for better visibility in low light conditions. For the luminous material, Seiko relies on their own LumiBrite material, which seems to give a better result than many of my own watches using Super-LumiNova for the hour markers and hands.
One of the most important aspects of a divers watch is the dial. You need to be able to read the time under difficult circumstances. You also need to be able to read the position of the minute hand (in combination with the bezel). That's no problem with the Seiko Prospex SNR029J.
The large hour and minute hands are fully brushed and filled with LumiBrite as well. The second's hand also has a luminous dot. The dial of the Seiko Prospex LX SNR029J is perhaps the cleanest of the LX series (together with the all-black version with reference SNR031J) because it has no extra time zone scale and no extra (GMT) hand. It has 12 large and bright hour markers. A double one at 12 o'clock and none where the date aperture is positioned.  Personally, I think the watch could have therefore been done without the power-reserve indicator, but I also understand it is one of those things that belong to the Spring Drive movement.
On the dial, we find the Prospex logo (X) and the indication that it indeed is a Spring Drive movement that powers this watch.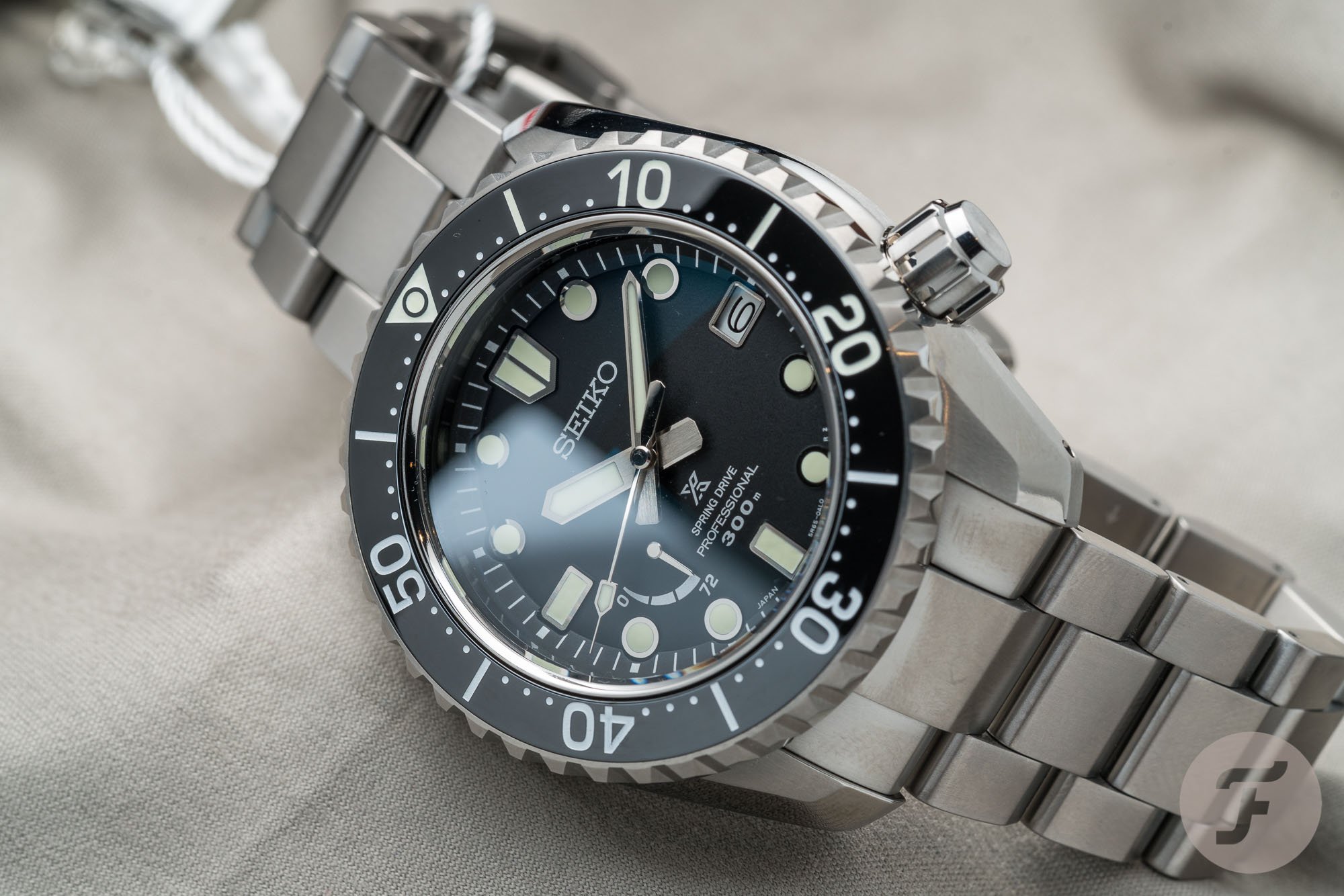 Spring Drive 5R65
Where the Marinemaster 300 already used a self-winding 8L35 movement based on a Grand Seiko caliber (9S55), the Seiko Prospex LX SNR029J takes it a step further by using one of the Spring Drive movements. I feel that this is another aspect that builds up the price, the Spring Drive 5R65 caliber is definitely a step-up compared to a regular mechanical movement. It makes the watch simply more high-end. This movement has a power reserve indicator as you can see on the images, like most other Spring Drive powered watches in the collection. It has a power reserve of 72 hours, enough to put the watch a few for a few days to wear something else and pick it up again without having to set the time and date. The Spring Drive movement I've explained and discussed many times in the past, I just want to make sure that you understand that it is a mechanical watch with quartz precision (so without using a battery to store energy, instead, the energy is used directly for controlling the speed of the watch). The result is, that this watch has an accuracy of max. a 1-second deviation per day on average.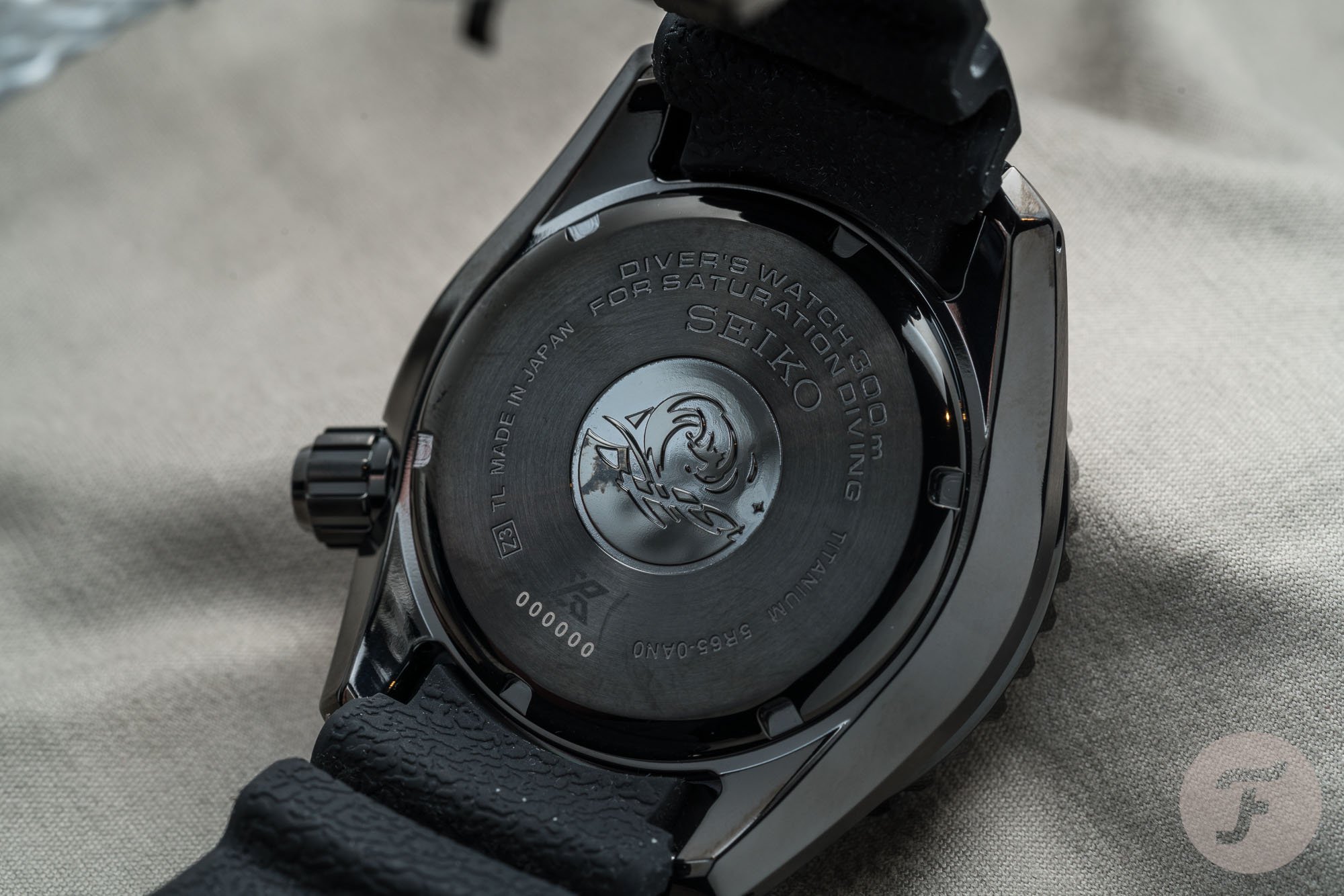 Sadly, the movement isn't visible through a sapphire case back as you can see above. Somehow we did not take an image of the case back of the SNR029J, but here's one of its black PVD coated counterpart, the SNR031J. But you'll get the idea. The Tsunami logo in the center of the case back, and some necessary and less necessary information is engraved in there as well. As opposed to some other Prospex models, the Prospex LX has no monobloc case. As you can see, the case back is screw-down.
Conclusion
It is also only €100 under the price of their Grand Seiko Sport SBGA229
This watch did not disappoint, at all. The dimensions of the watch scared me a bit at first, but once on the wrist, those 44.8mm x 15.7mm specifications on paper are very forgiving. Then there's the design of the watch, clearly influenced by the design code that is used by Seiko and Grand Seiko for some of their other models as well. A lot of different surfaces, sharp lines, the combination of Zaratsu polishing and brushed finish, it gives the watch a sophisticated look. Same goes for the bracelet, one that really positively surprised me, as I often criticized Seiko for those. The dial is legible and that's what it should be, after all, it is a divers watch.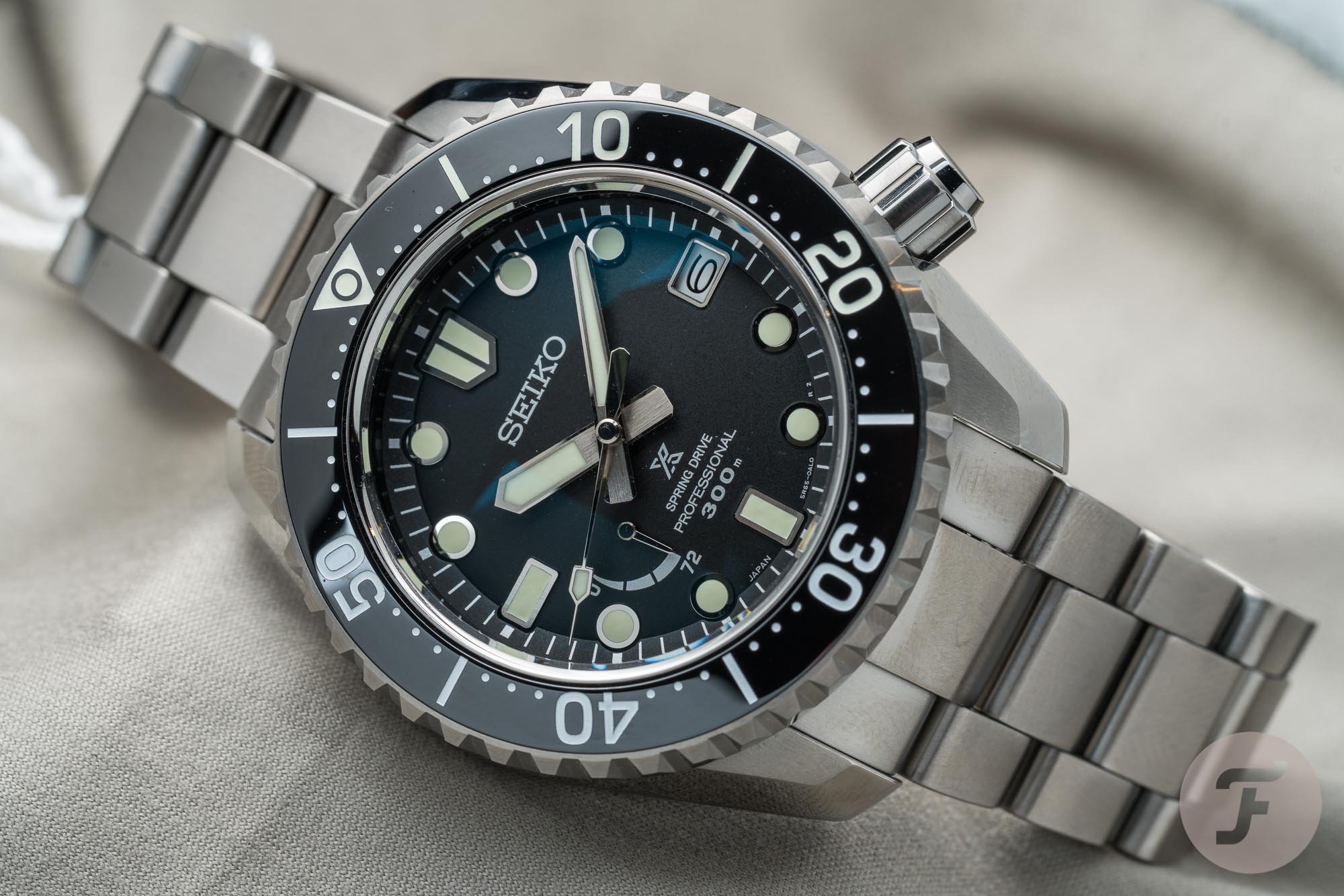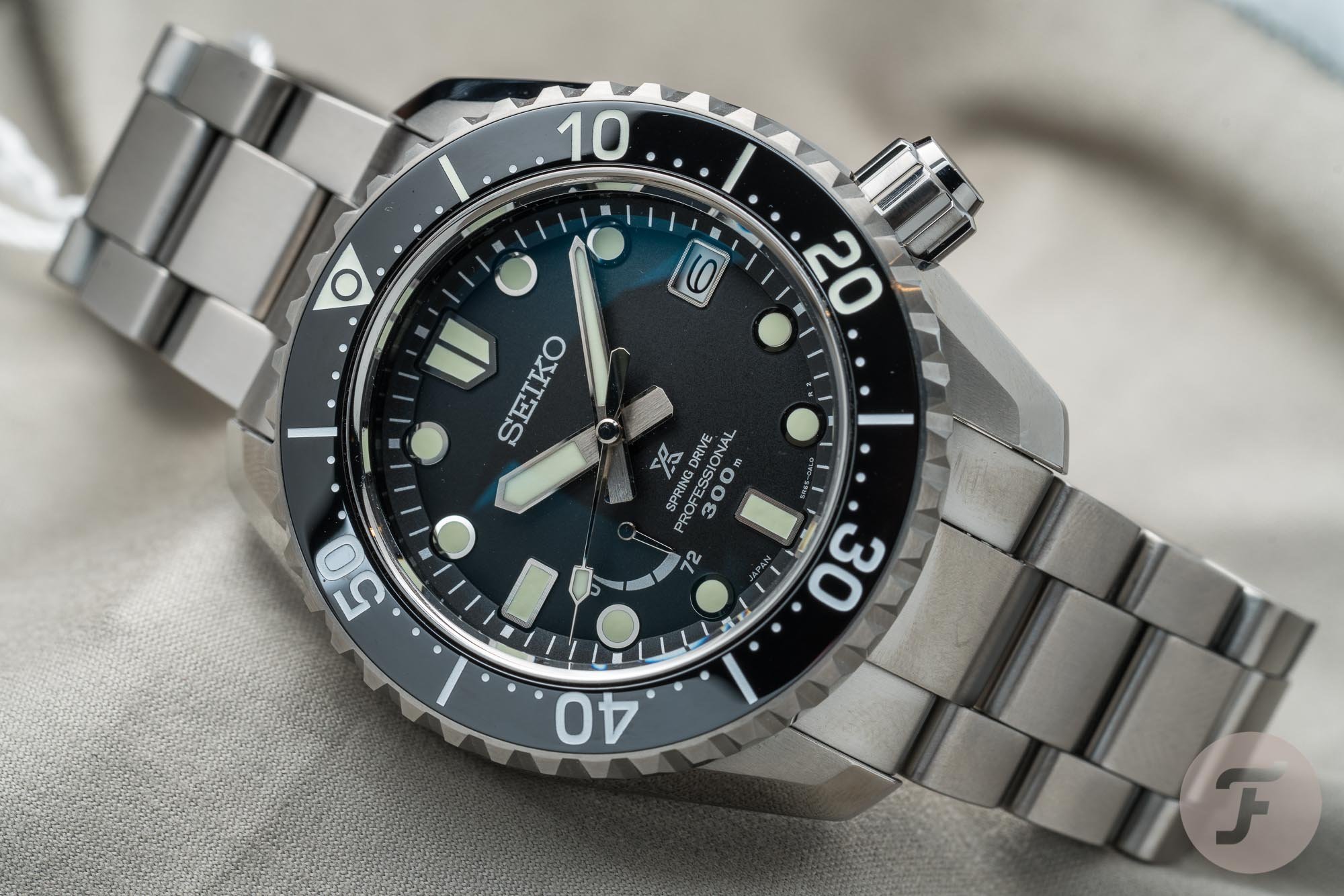 As for the movement, the Spring Drive 5R65 can't be admired through a transparent case back, but you will immediately know it has one, because of the super smooth movement of the second hand on the dial. Although I am mainly focused on mechanical movements without quartz technology, Spring Drive is technology that I respect and admire. I wouldn't mind owning one myself in the future, for sure.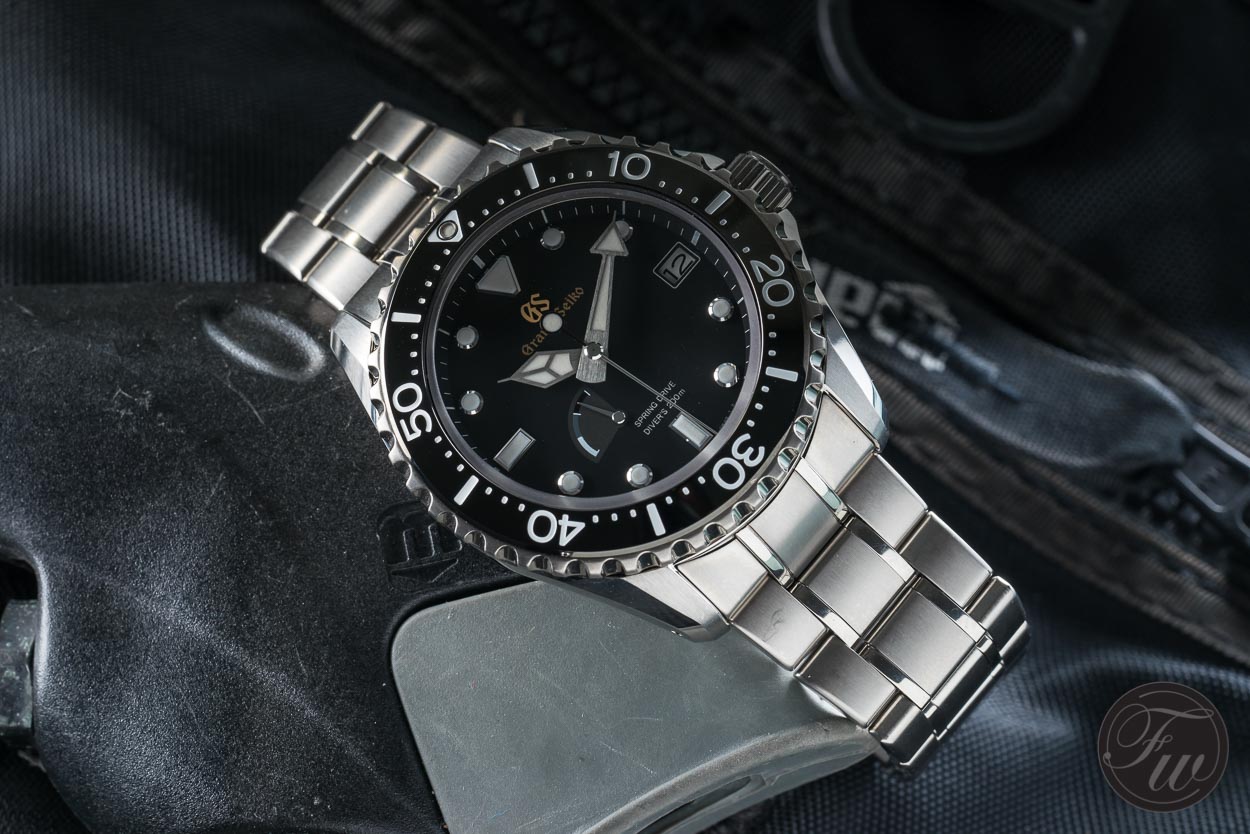 Then there's the price of €6100,-. That's serious money, especially considered that not too long ago, the prices of Seiko Prospex divers were much friendlier. But, in all honesty, when we performed reviews on the Marinemaster models, we always said that the price was an amazing proposition for the quality offered. Now, the quality improved (and a Spring Drive movement on board), but so did the price. And that came a bit as a shock. I feel that the Prospex LX line with a starting price of €5100 is definitely not too expensive, but Seiko has to realize that this price range also gives the watch enthusiast/consumer much more options. The Marinemaster 300 was and is a no-brainer at +/- €3000, but this Seiko Prospex LX SNR029J at €6100 also gives the consumer the option to look at some serious Swiss competition. I assume Seiko put some thought into that as well and seems to be confident enough to put these price tags on them. It is also only €100 under the price of their Grand Seiko Sport SBGA229 (we reviewed its titanium version here), and then for me personally, the SBGA229 with its Spring Drive 9R65 movement would win it, despite the polished links on the bracelet.
More information via Seiko online.
Watch specifications
Case Dimensions
Diameter: 44.8mm, Thickness: 15.7mm
Movement
Caliber 5R65, Self-Winding (Spring Drive), Power Reserve: 72 hours, Quartz accuracy
Water Resistance
300 meters
Strap
Titanium bracelet, clasp with diver's extension
Special Note(s)
Delivery starts July 2019