Seiko Prospex SNJ029 And SNJ031 Are Blockbuster Successes
Chalk me up for a green...
I'm sick to the stomach. It just isn't fair. I thought I'd been through this already. I had just about managed to convince myself that I didn't need last year's SNJ025 and then Seiko decided to release the new SNJ029 and SNJ031. Needless to say, my resolve is in tatters.
I shouldn't complain. For this kind of money, you're getting a huge amount of watch. Better still, you're getting an under-the-radar cult classic, brought bang up-to-date with on-trend colorways. To be quite honest, it was the green that did it for me. I have a micro-collection of Casio Mudmasters that I rarely wear but can't stop buying because of their mastery of color. The SNJ031 in green particular grabbed me the moment I laid eyes upon it and hasn't let go since.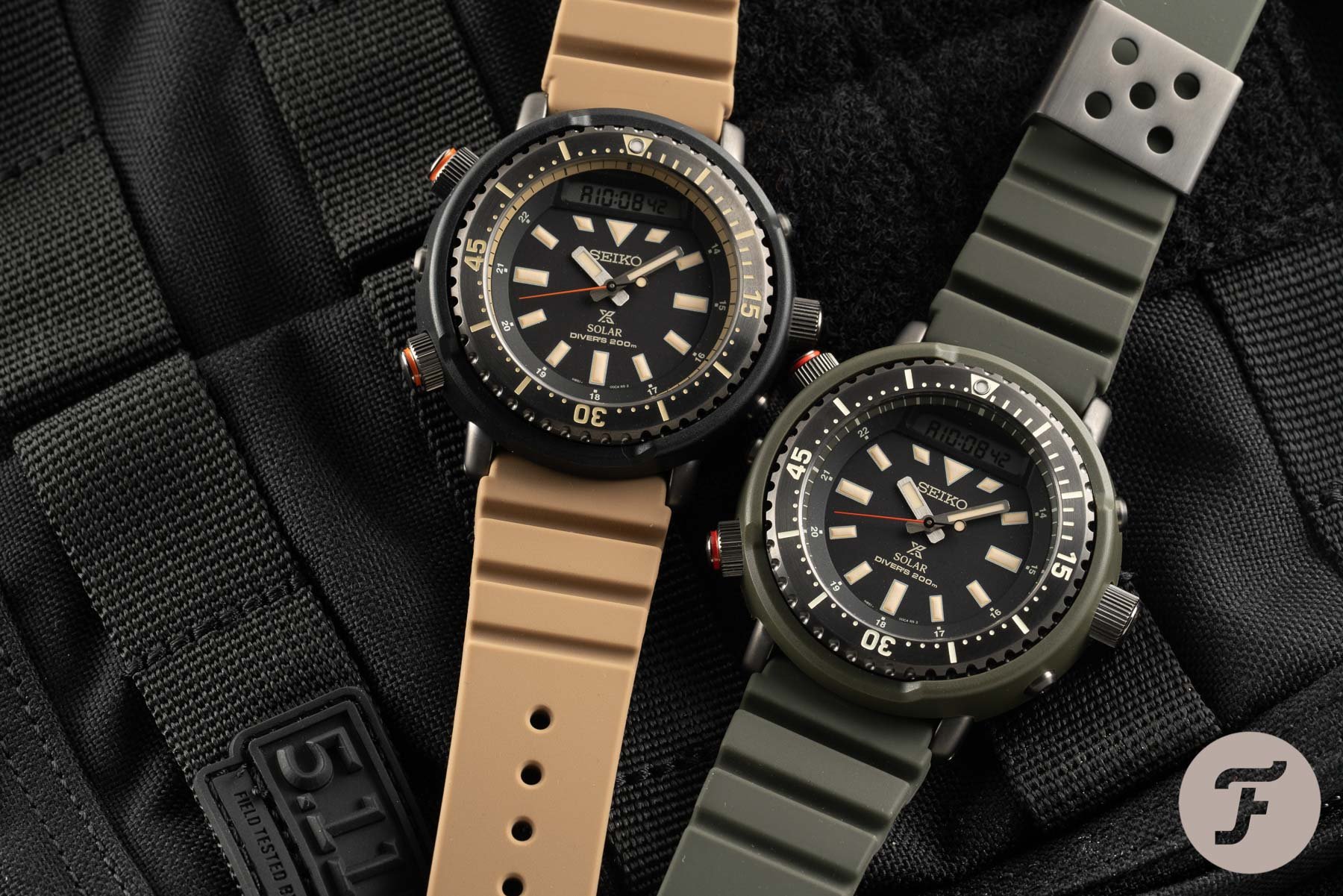 The Arnie
The original Seiko H558 line hit the market in 1982 as Arnold Schwarzenegger's meteoric rise was beginning. Arnie wore a few variations of the H558-5000 line in some of his most famous films, such as Commando, Raw Deal, Running Man, and Predator. As such, the association stuck. But the "last" action hero was not the only big-screen superstar to don an H558. One of these ana-digi beauties popped-up on Roger Moore's wrist in A View to a Kill. Perhaps not the best Bond film on balance, but it did have a great villain (a thoroughly mental Christopher Walken) and a very decent attempt at singing by Simon Le Bon on the film's memorable theme tune.
…artifacts, time capsules, rose-tinted memories we can wear on our wrists.
When a watch has this kind of celebrity backing, it is not uncommon for it to find favor with the buying public. It isn't so much that consumers are directly influenced by what their idols wear (I don't, for example, believe wearing an Omega makes me look any more like George Clooney — more's the pity), but when watches of this type have that kind of long-term exposure they become part of our subconscious. Watches like the H558 become artifacts, time capsules, rose-tinted memories we can wear on our wrists. And it turns out all Seiko had to do to turn my head was tint those rose-tinted memories green…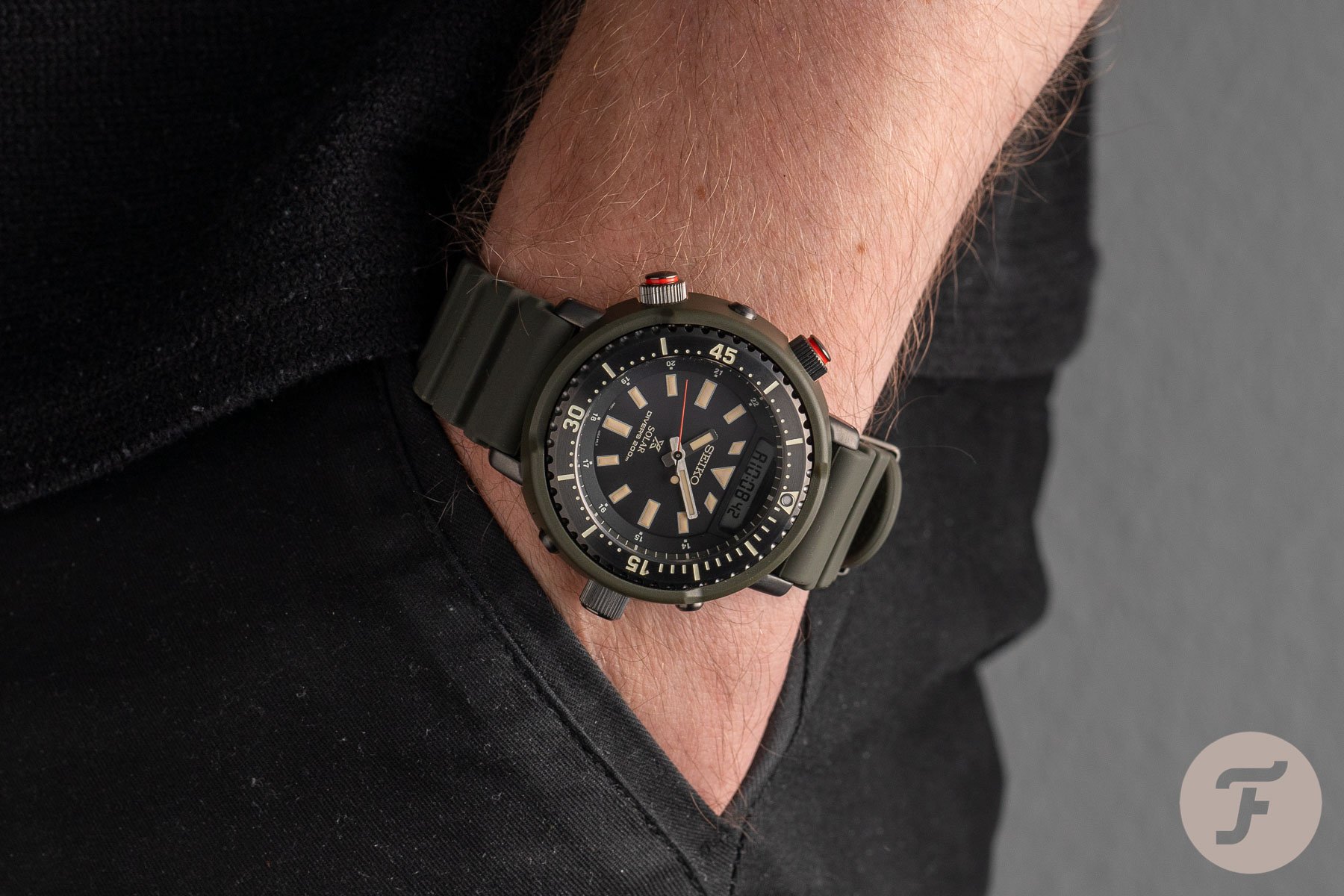 The "Safarnie"
Seiko fans are never afraid of a good nickname. These "urban safari" models have already picked up a new moniker — the "Safarnie" watches. It's funny, and a whole lot easier to swallow than the term "urban safari". What makes these watches work, however, is not a giggle-inducing nickname or a long history of popularity with the rich and famous, but rather excellent design tweaked and improved for a modern audience.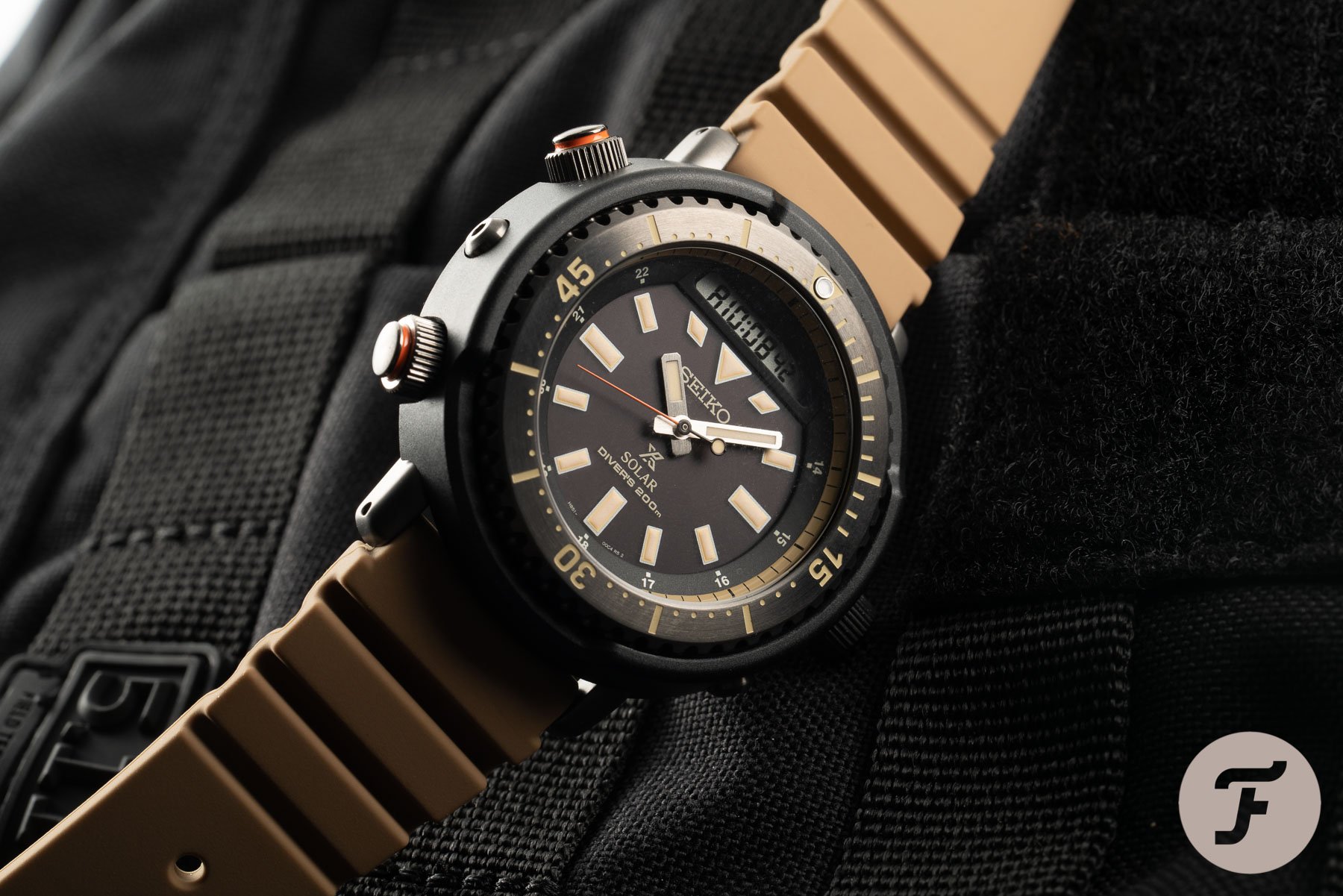 The measurements of these beasts are intimidating. The diameter is a robust 47.8mm but it really doesn't tell the whole story. Piddly little lugs mean that the lug-to-lug length is only 50.5mm, which is amazingly wearable.
…it would look unbearably wide if it were slimmer.
The watch is not particularly low profile, however. While its 14.43mm height may not be as concerning on paper as the diameter appears to be, it does look "tall" on the wrist thanks to its blockish case design. However, in my opinion, it would look unbearably wide if it were slimmer. Furthermore, I don't think anyone who finds this aesthetic appealing is looking for a shrinking violet. "Oh, drat, you mean it won't fit under the cuff of my shirt?" said nobody ever, immediately after parachuting into a Seiko boutique in search of an SNJ029 or SNJ031.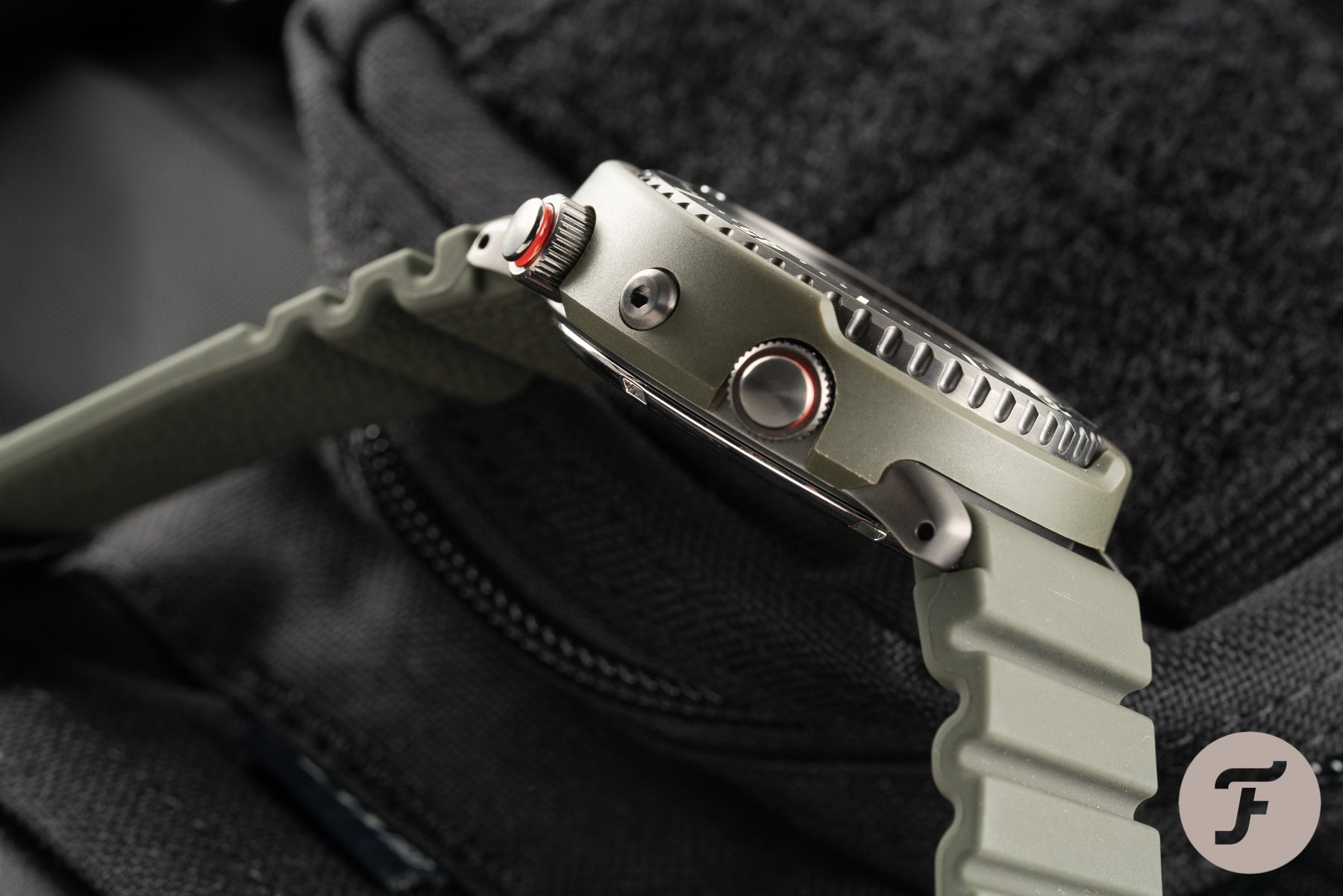 Functionality
Obviously, a watch with these kinds of looks implies a highly functional core. Neither the SNJ029 nor the SNJ031 disappoints. These solar-powered, quartz-regulated time-weapons are packing a chronograph function, a power reserve indicator, a calendar, an alarm, and a sweet blue backlight (I'm a sucker for backlights). These features are courtesy of the H851 movement that lives behind a surprisingly re-worked dial.
…more angular markers the whole way round.
Ah yes. The dial. And the hands, for that matter. I bet you thought I'd forgotten or hadn't noticed the updates. But that's why these "safarnies" look so different from those that have come before. While last year's release retained the "stick and spot" layout of the original, here we have more angular markers the whole way round.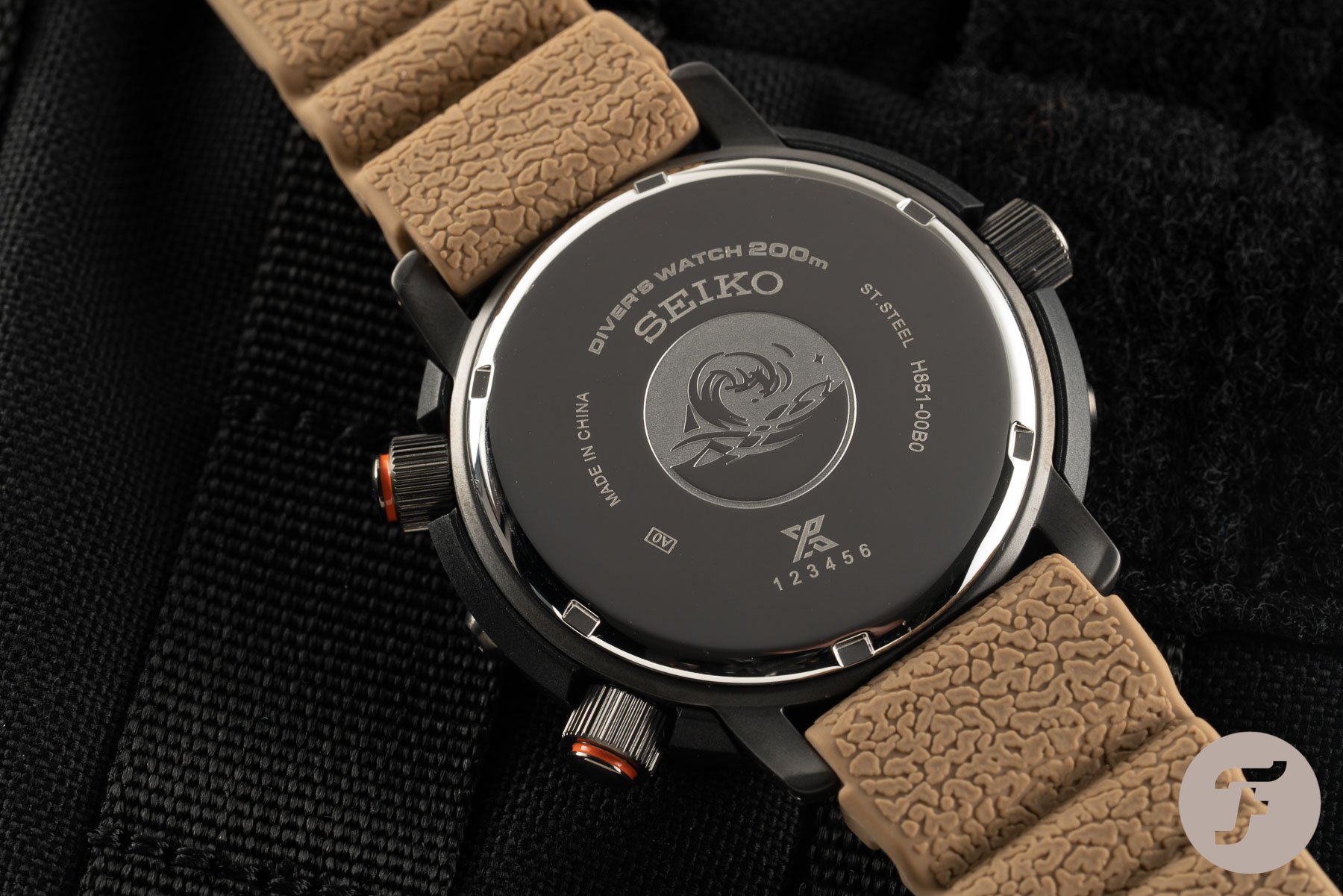 The hands are also different. This time out we have brushed hour and minute hands that do their job well by standing out against the dial background. The seconds hand, with a lovely lollipop counter-poise, brings a flash of color to proceedings. That vivid red is mirrored by the pusher collars. Together, those elements add up to a bucket-load of visual congruity that I just can't get enough of.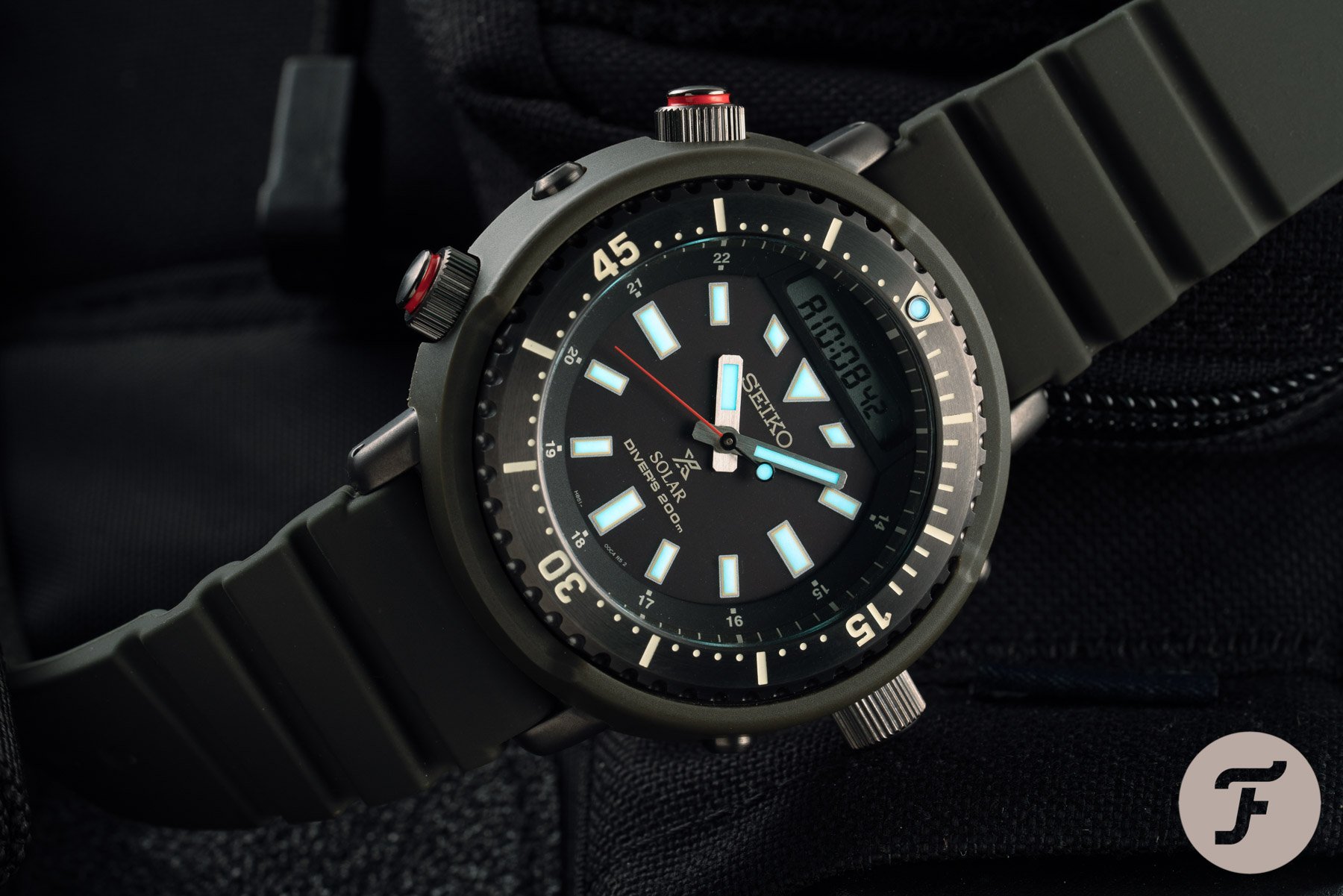 Lume
Another controversial addition is the use of non-white lume. Everyone and their dog has a different term for this — fauxtina, egg-shell, off white, pale yellow, cream — but it amounts to the same thing. It is a choice that some will love and some will hate. I personally think it ties the whole thing together very nicely. Furthermore, the shade on display here is nothing like the brownish, orangey, pumpkin shade often seen on "homage" pieces. In fact, it looks a lot more like the C3 style used by Super-LumiNova, which is reputedly the brand's brightest. It is not unreasonable to assume that Seiko's own lume of the same/similar shade is equally prodigious. And besides, you've got a backlight on the digital screen so you shouldn't find yourself in too much trouble when the lights get low.
A small price to pay…
If you, like me, are a fan of these time-tracking Predator-pounding, dress-shirt disparaging watches, you'll be keen to know the price. Pleasingly — for once — it came in less than I was expecting. Both the SNJ029 And SNJ031 will retail at €530. A small price to pay for a thoroughly modern update of a divisive but memorable icon. Learn more here.
Watch specifications
Reference
SNJ029 and SNJ031
Case Material
Stainless steel
Case Dimensions
47.8mm wide, 50.5mm lug-to-lug, 14.43mm thick
Functions
Alarm, chronograph, calendar, time, power reserve indicator, and backlight.