Hands-On With the Seiko SLA017 Diver – A Tribute To The 62MAS
One of the watches I was looking forward to at this year's BaselWorld, was the Seiko SLA017 diver from their Prospex series. A limited edition and tribute to the legendary Seiko 62MAS.
Seiko SLA017 Diver
Already before BaselWorld, the news leaked that Seiko was up to some good with a re-edition of the famous and legendary 62MAS, or reference 6217-8000/1, from 1965. We wrote an in-depth article about this first real diver from Seiko, in this article by Michael Stockton. Except for some images from some BaselWorld catalog, there wasn't much information around this watch.
In Basel, we had two meetings with Seiko. We sometimes do that. We are with a team of six people in Basel, so we need to divide some appointments. However, since most of us are true Seiko fans, we requested two appointment so all members could have a go with the Seiko 2017 novelties.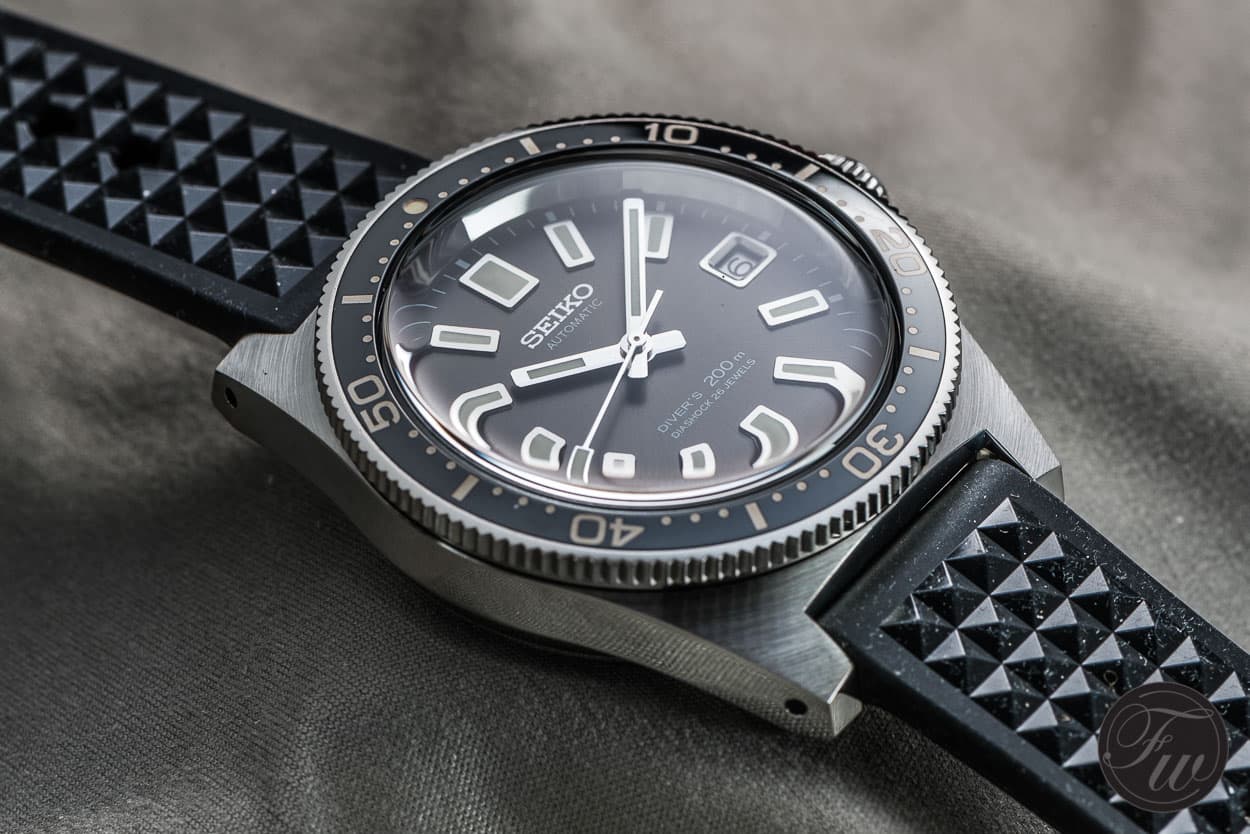 Comparing to the original 62MAS
Michael Stockton brought his 1965 Seiko 62MAS watch, to be able to compare to the new Seiko SLA017 diver.
The Seiko reference 6217-8000/1, which is better known as the Seiko 62MAS (autoMAtic Selfdater) is the first real diver from Seiko: period. As Stockton wrote in his article "All professional divers from Seiko owe at least some of their design to this piece and as you can see in the pictures, things like bezel font, dial color, and markers to some degree still bear a familial resemblance in today's pieces.". This reference 62MAS was on your list if you are into Seiko diving watches. Was. As Seiko now comes up with an alternative, the Seiko SLA017 diver as part of their ProsPex ("Professional Specifications") collection.
Before we get to the new Seiko SLA017 diver, let's spend a few more words on the reference 6217 or 62MAS. This watch was, as I wrote before, introduced in 1965 and aimed at the professional market. A market where Rolex was with their Submariner and Omega with their Seamaster 300. As a side note, we saw the same thing later on, when Omega was there with their PloProf and Rolex with their Sea-Dweller, Seiko came up with the "Grandfather Tuna" reference 6159-7010 (which you can find here). Anyway, the Seiko 62MAS had a 37mm diameter case, date function, bi-directional bezel, lumed dial and hands, screw-down caseback and an automatic calber 6217 movement (18.000vph, non-hack). The Seiko 62MAS had a WR rating of 150 meters.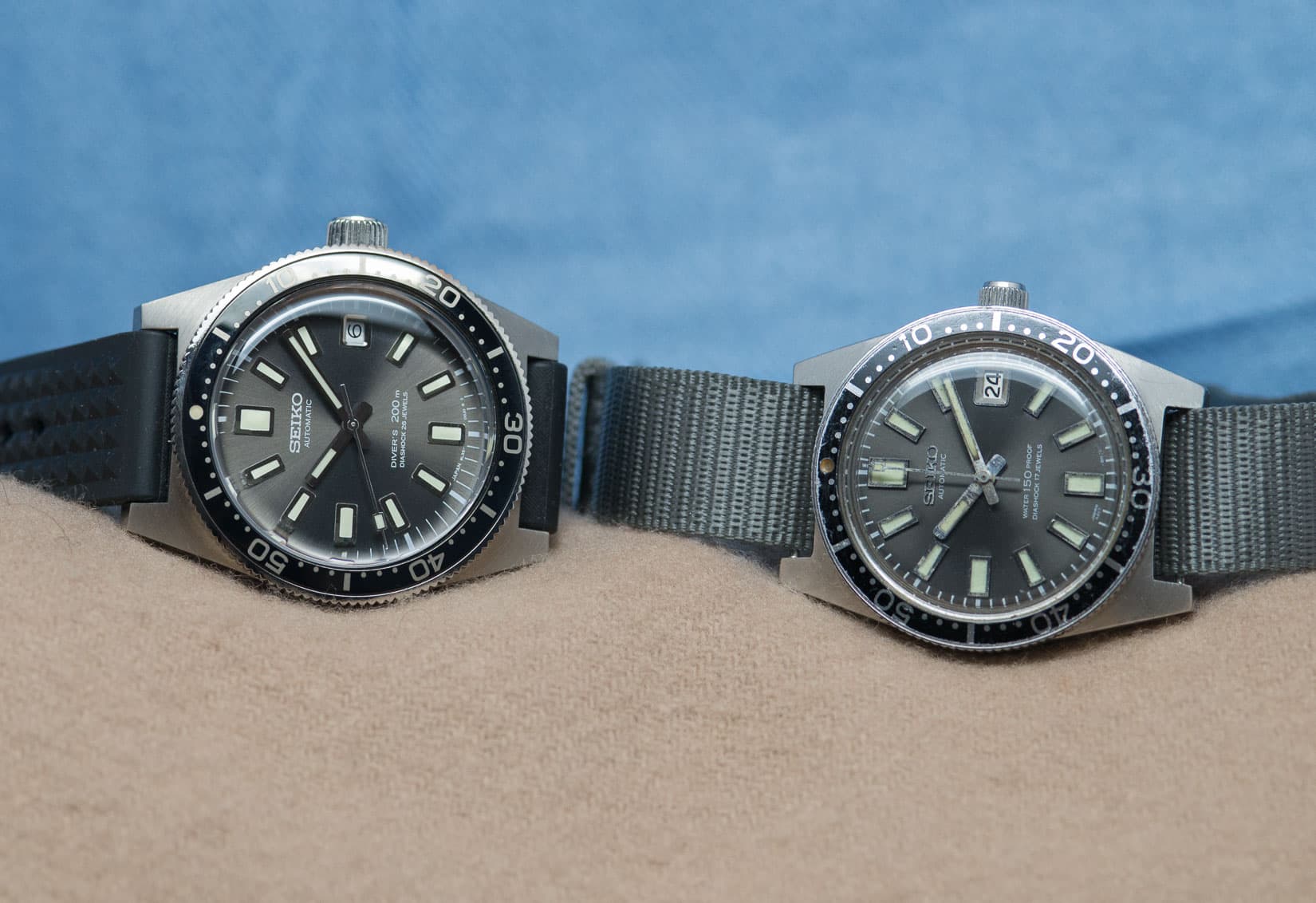 When Seiko showed us the new SLA017 diver, we immediately felt relieved. They did their job well. A tad bit bigger than the original Seiko 62MAS ref.6217, but with a diameter of 39.9mm still a very wearable and modest size. As you can see on the image above, you probably would need a second look to see that the Seiko SLA017 diver is a bit bigger than the 62MAS.
What I love so much about the original Seiko 62MAS, as you can see above, is the amazing dial color and finish. A sun burst dial with this anthracite color, beautiful hour markers, applied Seiko logo and a framed date aperture. The new Seiko SLA017 diver is definitely keeping faith to that original piece. At Seiko, Nobuhiro Kosugi was responsible for the overall re-design of the Seiko SLA017 diver. Besides the dial, you will also find the slim bezel and slim profile stainless steel case to be similar to the 62MAS. They really did an amazing job. I firmly believe you would trick a lot of Seiko fans if you'd come walking into a vintage Seiko GTG somewhere with this strapped on your wrist. The printing on the dial (200 meters instead of 150 meters for example) would perhaps give it away.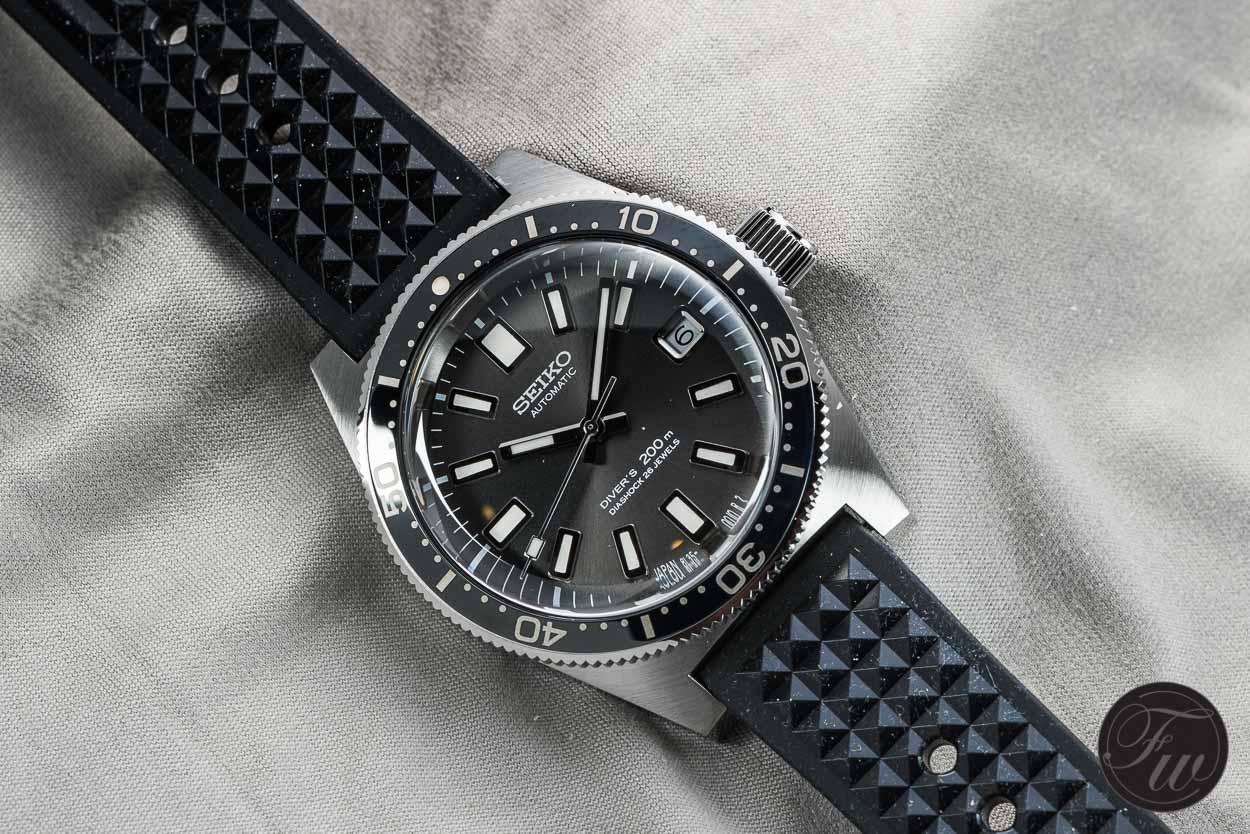 2000 Pieces Only
The new Seiko SLA017 diver will be available from July and is limited to 2000 pieces only. The price will be 3800 Euro and already stirred up some on-line and off-line discussions. There is no doubt this price is a bit on the steep side. 3800 Euro will buy you two original Seiko 62MAS watches to be honest. However, if you can find one that is and perhaps more important, if you are willing to take the risk of receiving a piece that needs to be repaired or overhauled. That will either cost you some money but definitely some time, as parts will be difficult to source.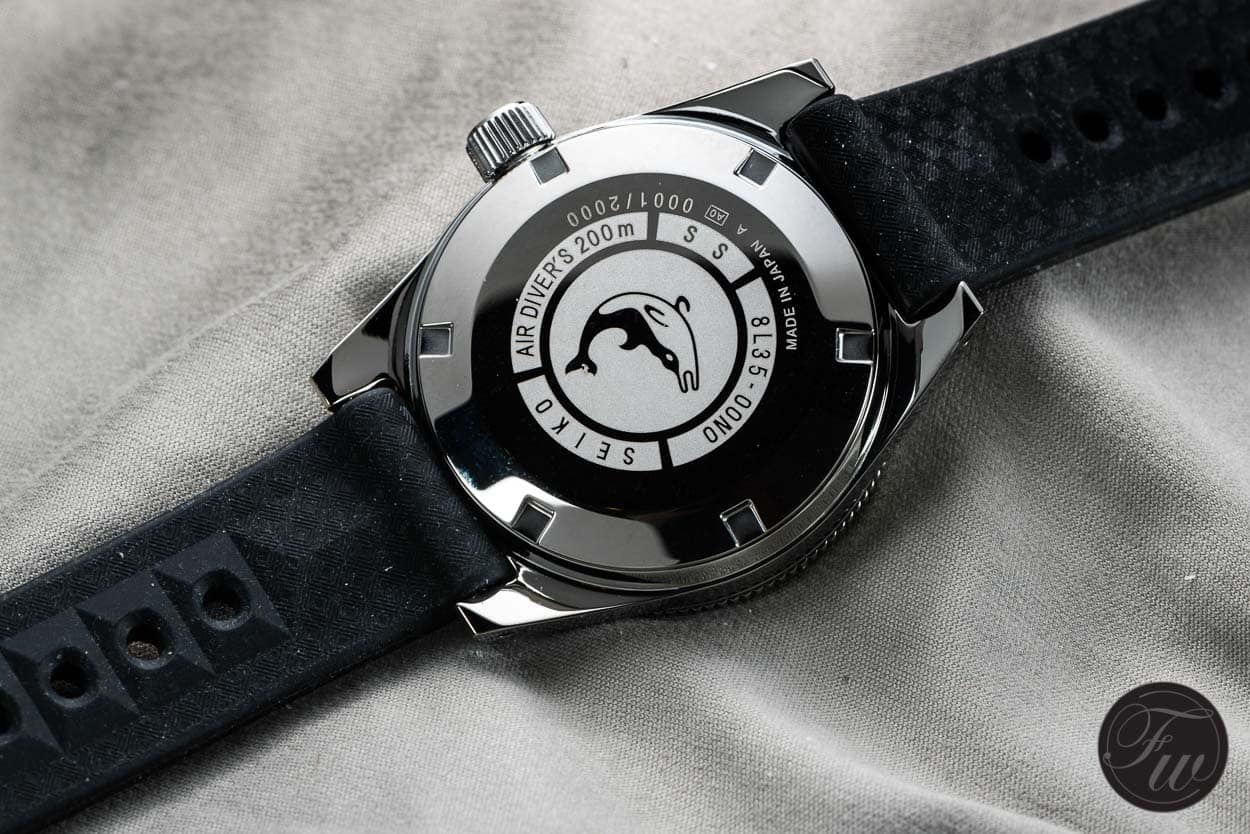 Of course, this is a modern watch with a special treated case for extra hardness, a sapphire boxed crystal and the (famous) caliber 8L35 movement. This movement is based on the Grand Seiko 9S55 movement and also used in the Seiko Marinemaster 300 for example (of which we reviewed both SBDX001 and the current SBDX017).
Caliber 8L35 which was specially designed for diver's use and is made by Seiko's skilled craftsmen in the Shizuku-ishi Watch Studio in Morioka in the north of Japan. I've visited this manufacture in Japan in 2015 as part of the Seiko Media Experience trip and I can only say (but did that often already) that it was very impressive all together. It opened my eyes regarding the commitment, quality and eye for details that (Grand) Seiko pursues. That said, the Seiko Marinemaster 300 with the same 8L35 movement has a retail price in The Netherlands of 2300 Euro. The Marinemaster is as much as a diver's watch as the SLA017, so I can't really explain the huge difference in price. I also noticed the increase in prices of the Grand Seiko brand and besides, there are quite some differences in price between Europe and the USA (much cheaper) for example. It seems that Seiko (and Grand Seiko) use different pricing around the world. I've told (and asked) this to Seiko as well, but no answer could be given at the time.
What I can say, is that there will be people who will jump at this Seiko SLA017 diver right away. Only few will be delivered to Europe for example, so the Seiko fans among us who are fortunate enough to both get and afford one, will be happy anyway. This might become a future collectable timepiece, with such a low number of pieces available. This might make up to the high retail price of 3800 Euro. A price that you will get back (or perhaps a bit of premium as well) when it does get collectable and sought-after in the future. For now however, the price remains to be quite steep and I simply can't explain or justify why this is the case.
Silicon Strap
Back to the watch itself. As you might remember, the Seiko Marinemaster 300 comes with this long rubber strap with hobnail pattern, or accordion-style as Seiko refers to it. The Seiko SLA017 Diver also comes with this type of strap, but now made of silicon. I always found the rubber strap of the Marinemaster to be very cool looking, but a bit stiff when wearing. The big 'Tuna' Marinemaster models already came with silicon straps that wear much more comfortably (I have one on my Tuna 6159-7010) and I am happy that Seiko decided to create this accordion-style strap also from silicon. The watch also comes with a stainless steel bracelet though.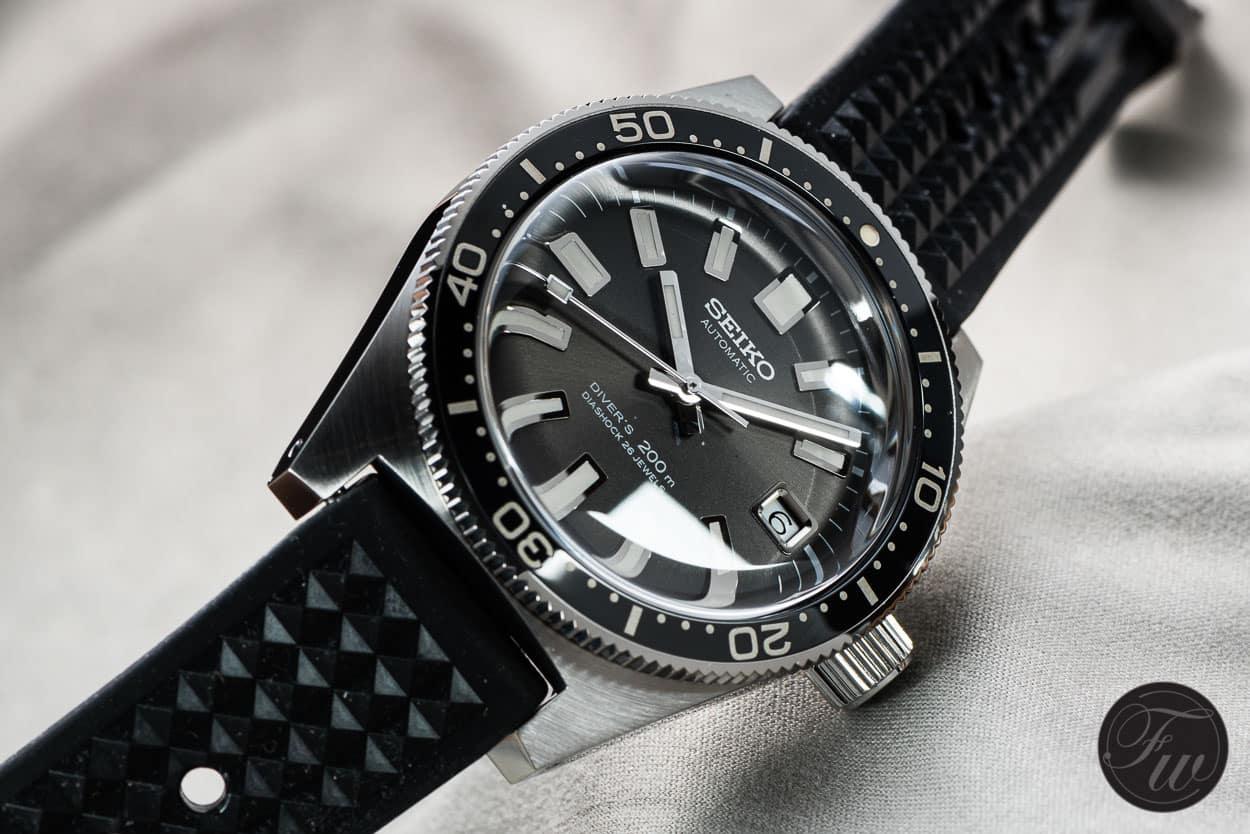 Verdict
Let me tell you that Seiko did an amazing job to create a re-edition (or re-creation as they call it) of the legendary 62MAS. The Seiko SLA017 diver is a great looking timepiece that will probably need a second or third look to see that it is not the original 62MAS. Seiko did a wonderful job in paying tribute to that first professional diver they made. The 8L35 movement is a great choice, a highly praised movement that finds its roots in the Grand Seiko 9S55 movement. Seiko increased the size of the watch a bit, from 37mm to 39.9mm. I wonder if I would have liked the watch if they'd sticked to 37mm. I feel that it would have been too small, so 39.9mm is just perfect. A size that will definitely fit most men.
This watch results in a lot of high pitched oohs and aahs when it was shown to us in BaselWorld, just to result in lower pitched oohs and aahs when we heard the retail price. Before BaselWorld, rumor was that it would be around 3000 Euro. And that was already a bit of a disappointment to some when we monitored the responses. 3800 Euro is just too steep, but I have no doubt this watch won't be long in the boutiques and at authorized dealers. They will find their way to collectors anyway, I am sure.
I would not mind owning this watch myself, but to be brutally honest with you, I might go for an original 62MAS instead for half its price (and have a modern Marinemaster on the side). For those who are disappointed by the price of this watch, Seiko also offers a similar looking model as 'modern re-interpretation' of the 62MAS, reference SPB051 and SPB053 for respectively 1100 and 900 Euro. These have a similar appearance as the SLA017, but with a 6R15 movement and a larger diameter case. However, for purists, these are probably a bit too different from the original 62MAS.
Specifications
First Diver's Re-creation Limited Edition: SLA017
Caliber 8L35
Automatic
Vibrations: 28,800 vibrations per hour (8 beats per second)
Power reserve: 50 hours
Number of jewels: 26
Specifications
Stainless steel case with super-hard coating
Box-shaped sapphire crystal with anti-reflective coating
Screw case back. Screw-down crown
Water resistance: 200m diver's
Magnetic resistance: 4,800 A/m
Diameter: 39.9mm, Thickness: 14.1mm
Silicone strap. A stainless steel bracelet is included.
Approximate recommended retail price in Europe: 3,800 Euro
Limited Edition of 2,000 pcs