#TBT Seiko 7549-7010 Tuna Can – 40 Years Bold
In today's #TBT we take a look at the Seiko 7549-7010 Tuna Can. While I'll never say "never", this article likely marks the last of our in-depth articles on vintage models from within this particular line of distinctive divers from one of our favorite brands. But, for many out there, perhaps we've chosen to save the best for last. After all, as you'll come to see, the Tuna Can represents what is likely the most wearable and is certainly the least costly of the lineage if vintage is your target.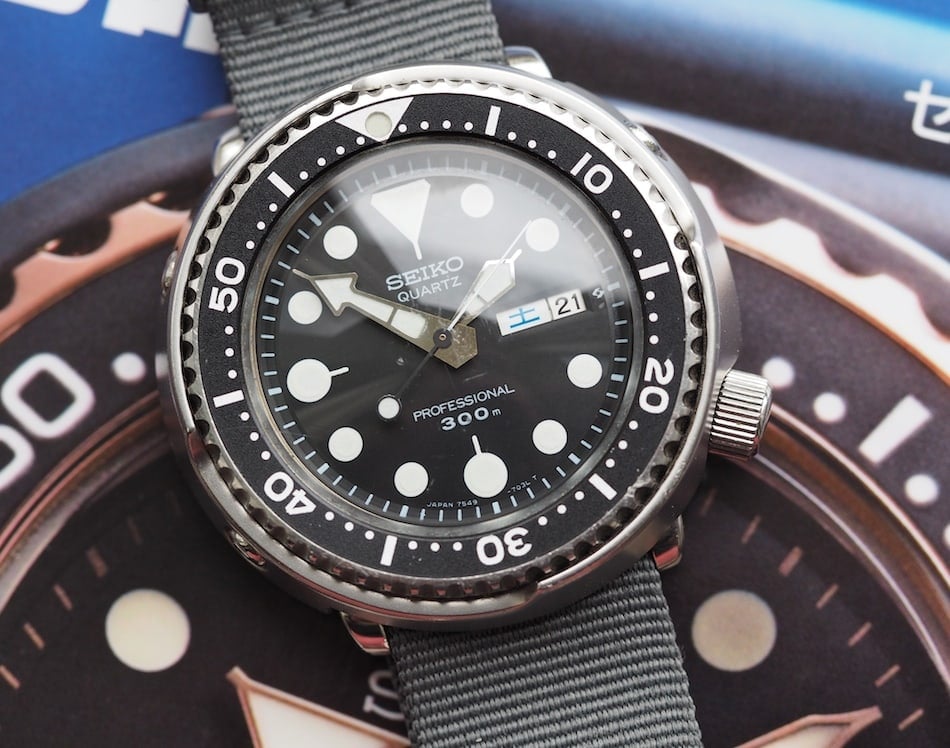 We briefly spoke about the Seiko 7549-7010 Tuna Can in our Top Vintage Seiko Divers reference article (if you've not yet checked this out, they're all there!), but I felt that such an important model deserved its own chapter within our #TBT series. After all, since its introduction in 1978, Seiko has offered some version of this smaller, 300M Professional in its lineup without pause (today's reference is the SBBN031). Automatic Tunas have come and gone as have gold versions, but a stainless quartz shrouded diver with black bezel and dial like you see here has soldiered on now for 40+ consecutive years. For sure, slight changes have occurred over time, but the fact that the general design has remained constant spells success to me. Let's try to understand why.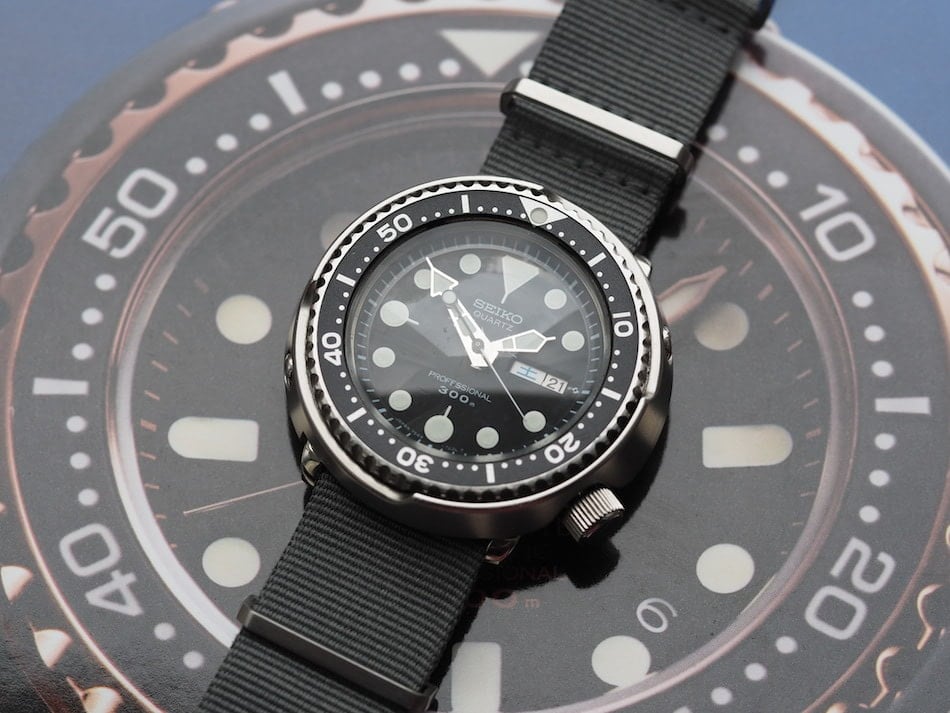 For so many people, the idea of a shrouded Seiko diver sounds great, but unless you're truly a professional diver or have massive arms, these watches are relatively impractical for daily wear. They're big, tall, heavy, and not overly subtle: a Rolex Submariner they are not. This is where the Seiko 7549-7010 Tuna Can enters the scene as the near-perfect solution. (I'll get to that "near-perfect" comment shortly.) At 47mm in diameter, the Tuna Can – so named due to its unique stainless shroud – undercut watches such as the 6159 Grandfather Tuna (50.5mm) and the 7549-7000 "Golden Tuna" (49.2mm) by ~2-3mm. That may not sound significant, but on a watch with nearly nonexistent lugs, it's a big deal. Along with the diameter difference, the Tuna Can loses an important 1mm in height to the aforementioned references. If you're adrift in my numerical soup, let me put it in practical terms. The well-loved Seiko Turtle (new or old) carries a length of 48mm, so the Tuna Can actually comes in as smaller.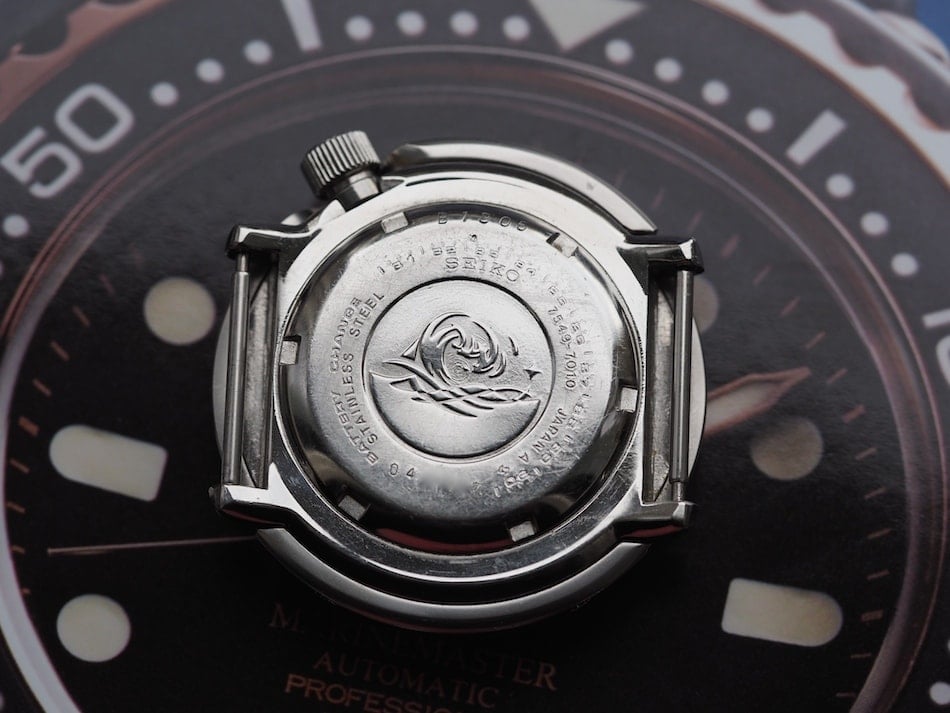 In order to achieve a lower cost point and, perhaps coincidentally, offer a smaller watch, the Seiko 7549-7010 Tuna Can is capable of 300M of water resistance versus the 600M of its more expensive Tuna family members. The "near-perfect" part comes in because Seiko achieved this via a standard case on the watch. Yes, the Tuna Can has a screw-down crown and features an L-shaped crystal gasket, but it employs a traditional screw-in case back in lieu of the monocoque (front-loading) design found on high-depth Tunas. For some, this single detail excludes it from being a real member of the Tuna club. I'm not here to pass judgment, but suffice it to say, the Tuna Can feels like a real diver to me.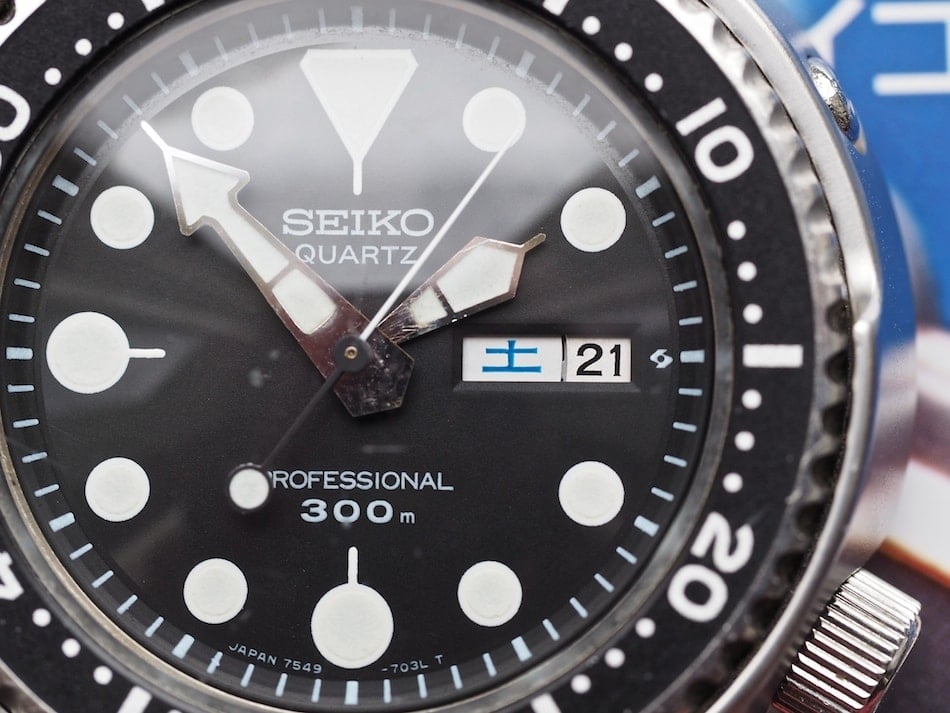 Most of the familial dial design traits of other Tunas are found on the Seiko 7549-7010 Tuna Can.   A bold lumed triangular index at 12:00, round lume at the hours and arrow-shaped hands are some of the hallmarks. In black and white, though, this model is extremely clear and legible. In comparing it to the Gold Tuna of the same time, I'd even argue that the Tuna Can looks less ornamental despite a lighter depth resistance. As on the Golden Tuna, we get a day/date window at 3:00 and one can see the familiar "Suwa" symbol to its right. Interestingly, unlike the heavier gauge shrouded divers, the 7549-7010 contains a slightly domed Hardlex crystal whereas others used a thick, flat variant. It's a royal pain when it comes to taking pictures, but it does add a nice, warm look to the watch.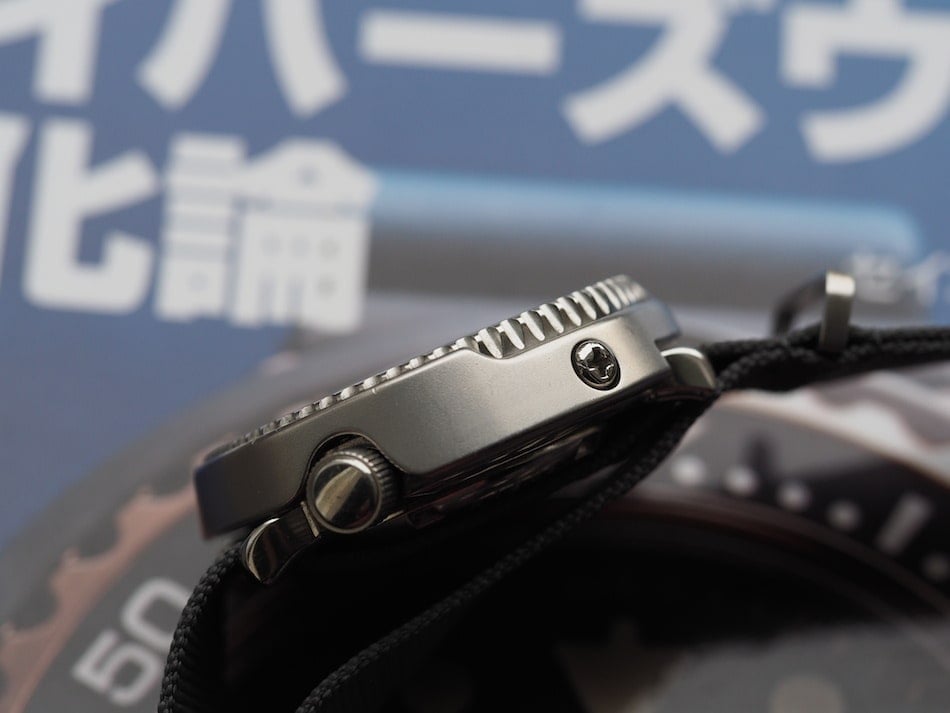 The Seiko 7549-7010 Tuna Can contains some other slight difference versus the "fatty Tuna" versions. For instance, the crown style is more like what one would find on a 6309 Turtle. With a simple capped top, it's simpler looking than the solid-hewn titanium pieces on 600M models. The bi-directional bezel is similar, but also contains a more 6309-esque lumed triangle at 12:00 and less serifs on the numerals. Again, the changes are small, but they're interesting to note because Seiko, if nothing else, always surprises me with how many unique parts exist amongst such similar products.
Inside the Seiko 7549-7010 Tuna Can, we have the 7549-caliber quartz. We discussed this movement when we reviewed the Golden Tuna from the same period. The Watch Bloke does a nice job of dissecting such a movement and shows us, pictorially, how the movement is derived from the 6309 caliber. As we've said, it's repairable and known to be a highly dependable runner. Yes, it's quartz, and if you're not on board with high quality quartz by now, then I've likely lost that battle for good. For me, it's a really satisfying watch to wear and look at; so much so, in fact, that the lack of a purely mechanical heart doesn't really detract from the wearing experience. Speaking of on the wrist, I generally throw the Tuna Can onto a 22mm NATO, but they look great on rubber, mesh and (gasp!) even leather.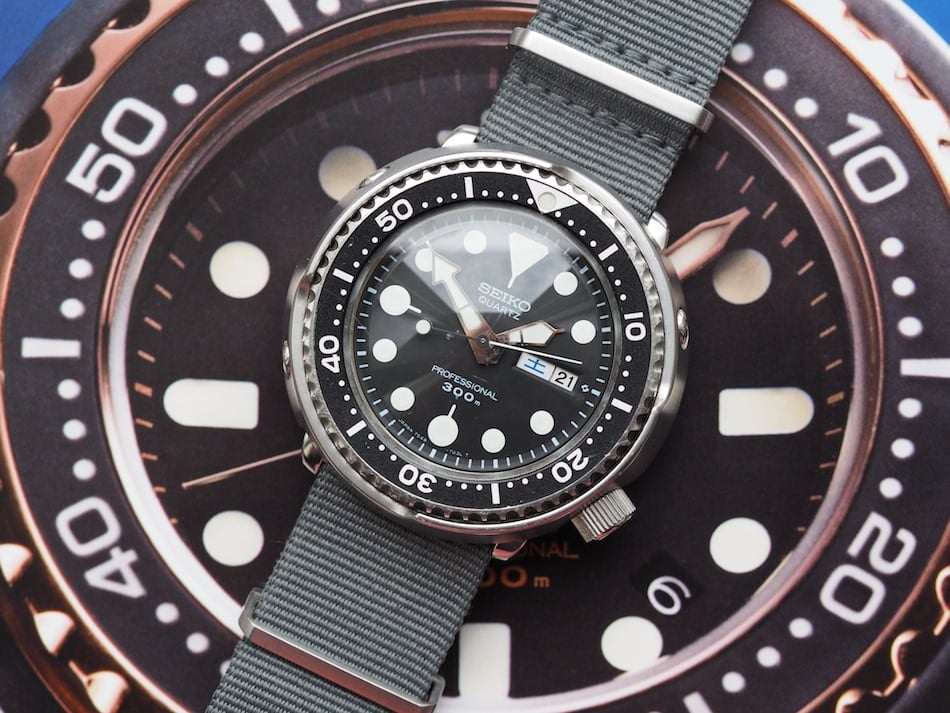 The Seiko 7549-7010 Tuna Can in this guise or the "rest of world" version with the "SQ" Seiko Quartz insignia on the dial was made from 1978 until roughly 1985 before being replaced by a 7C46-powered version called the SBBN015. This means that there are plenty in existence and, thankfully, they were well built. Of course, as a larger watch, many have their fair share of dents and dings, but finding a decent model isn't overly difficult. Pricing has risen, but is thankfully still quite reasonable. Good examples can be found on forums, eBay, and in Japan for $600-850 and, for those who are amazingly patient, sometimes even less. As always, do your homework and ensure all the cosmetic bits are there and have a look if things like the hands have been relumed.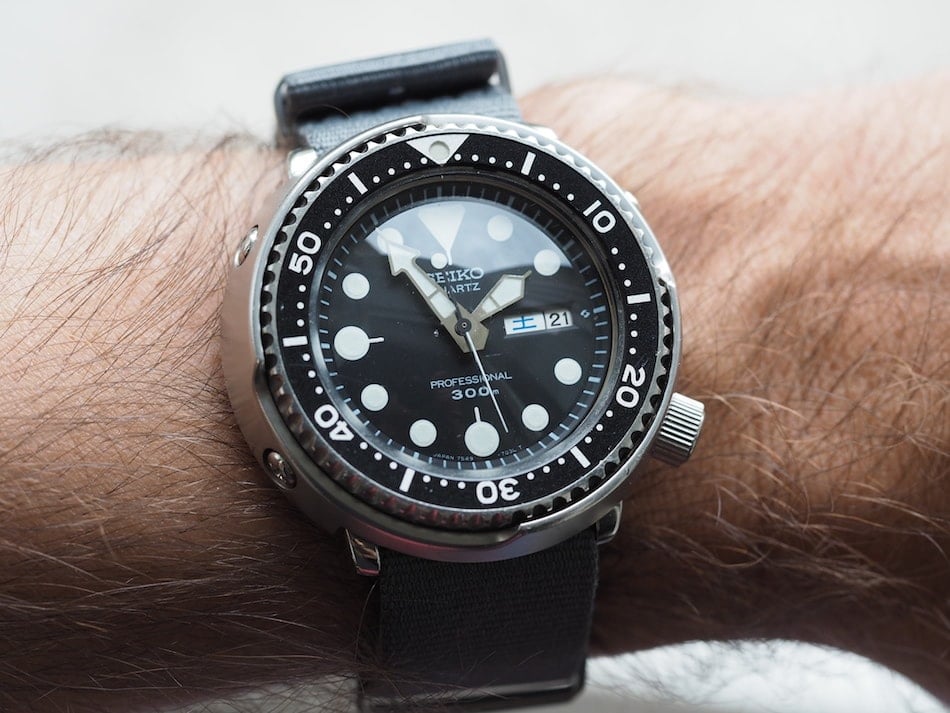 The Seiko 7549-7010 Tuna Can, despite its use of an opening case back, should be deemed as a real classic.   With over 4 decades of continuous production, it's clearly a fan favorite due to its no-nonsense tool watch looks and approachable sizing. As mentioned, it's also the perfect gateway drug into the world of shrouded Seiko divers – a world that many others and I enjoy immensely. Until next time…