#TBT The Elusive Seiko 7A28-7090 Yacht Timer Chronograph
We don't get hate mail often at Fratello Watches, but we did get it when I wrote an article about the 1978 Seiko 7549 "Golden Tuna". I was awfully enthusiastic about it – and still am – but there were those who felt the need to share some vitriol related to my love for a watch with a battery or, more generally, how I waxed on and on about how a watch can or can't have character. So be it. On the latter point, if you don't like hearing about "connecting" with one's watch, go and read the Economist or Consumer Reports. Related to this, when it comes to Quartz movements, while they may lack the need for the owner to interact with the watch on a near daily basis, they have their place in watch history and there are many flavors of quartz. So, keyboard jocks, if you're a battery hater, move on to another site now from here on out in this article, we're going to talk quartz again. Still here? Good…I think – because we're not going to talk about any old quartz, we're going to discuss a Seiko 7A28 – the world's first analog quartz chronograph. And to ratchet it up a notch, we're not talking about any old 7A28. Today, we'll profile the ultra desirable Seiko 7A28-7090 Yacht Timer.
Let's get this out of the way: the Seiko 7A28-7090 Yacht Timer is one of the brand's most desirable vintage watches. That may sound funny for a company steeped in mechanical history and one with such a massive back catalog, but it can't be denied. When you ask Seiko people about the top vintage pieces they'd like to own, a host of divers, chronographs, Grand and Seiko's will certainly make their way to the list, but the Yacht Timer almost always finds its way in there. And the funny thing is, unless you're a true eccentric and are after rarities like the 1970's Astron or things like the H558 Ana-digi "Arnie", the Yacht Timer is often the only quartz that makes the list. There's a reason for this and it's not its innovative movement; the watch is undeniably attractive, and no matter what makes it tick, I find it to be one of the best looking chronographs ever placed on our planet.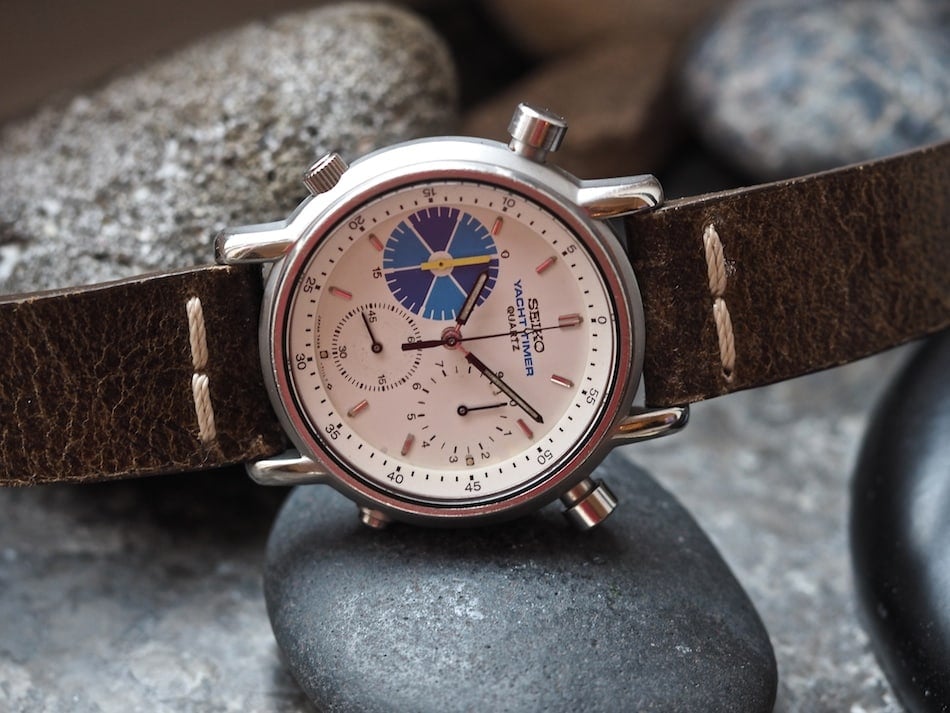 For sure, as the first analog quartz chronograph, the Seiko 7A28 and any one of its multitude of variants has a place in history (head here to read up on some facts). I find examples of 7A28's in catalogs from 1983 on the fantastic SCWF resource and the movement seemed to soldier on for a good 7-8 years.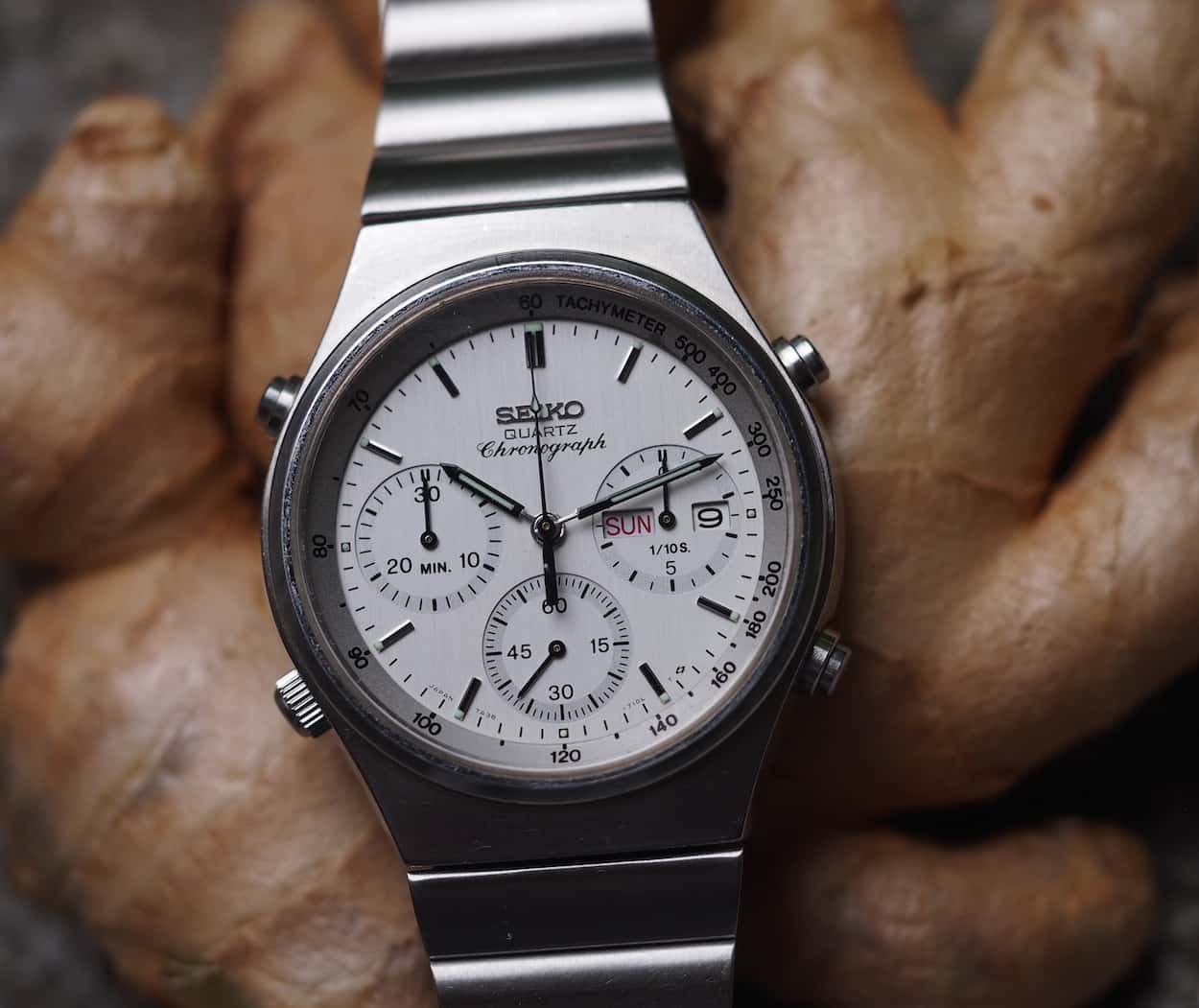 During this period, more functionality was built onto the movement to create additional variants; we discussed one such example of a more complex version of this movement when we profiled a 7A38 (containing day and date functionality) and there's no doubt that this movement was a game changer. It brought analog refinement along with quartz accuracy. It measures split timing and the upper right register flies around with 1/20th of a second accuracy when the upper right pusher is depressed. Oh, and the 7A-series weren't throwaways. They could be serviced and oiled proving that these watches weren't little organisms with PCB's inside. The 7A28 and its offspring seemed to soldier on for a good 7-8 years before being replaced with interesting, but less expensive (and now, less desirable) quartz chronographs.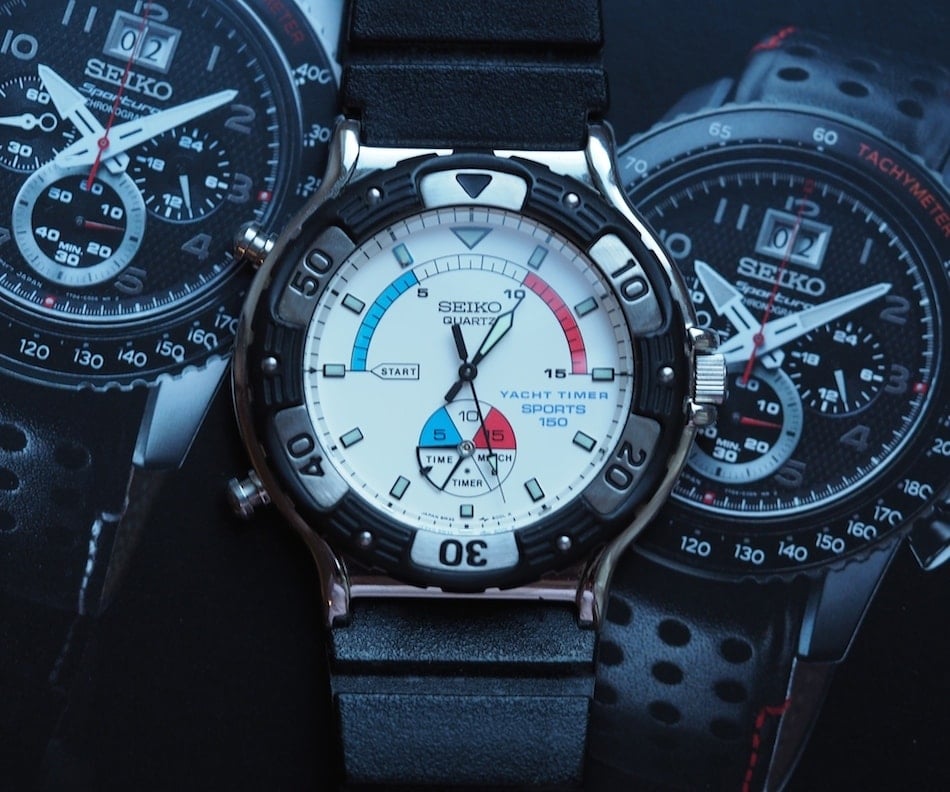 Here again, we took a look at a later analog chronograph when we reviewed today's watch's successor – the 8M35 Yacht Timer – a far more purpose-built piece for sailors. Nonetheless, collectors have taken notice of the 7A28's credibility and whether you're up for a 7A28, 38 or the wild 48 with moonphase, prices have crept up – especially for the sportier stainless models. So, why, perhaps along with the wildly style Giugiaro-styled Aliens pieces or the RAF 7A28-7120, does the Seiko 7A28-7090 Yacht Timer represent the cream of the crop?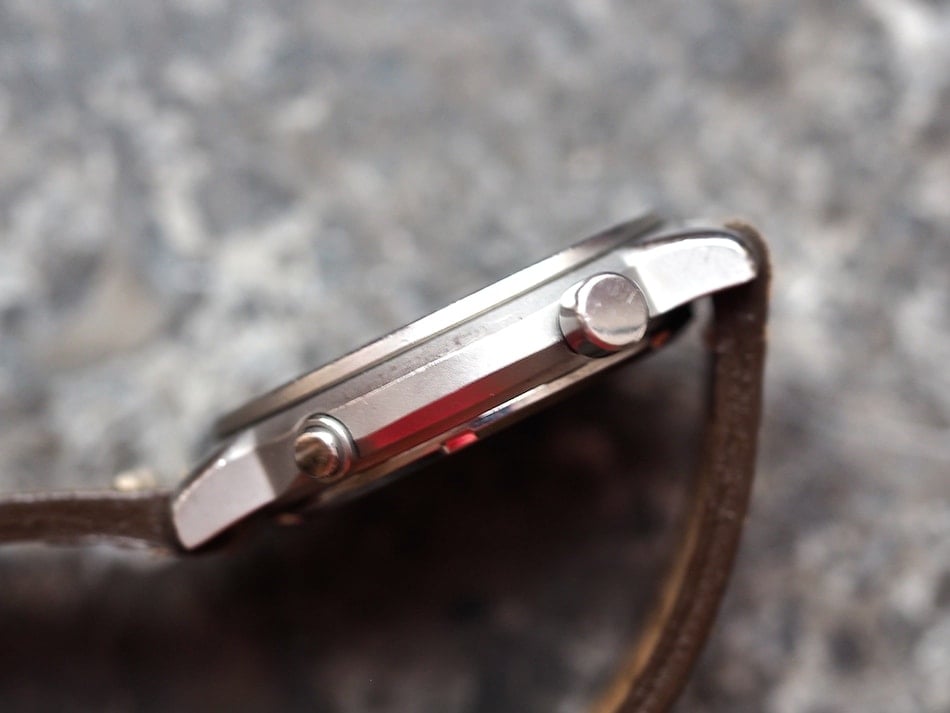 As mentioned, love for the Seiko 7A28-7090 Yacht Timer really comes down to its looks. Introduced in 1982/3 at a price of 35,000 Japanese Yen and only built for a few years (based on my research the watch disappeared from catalogs post-1985), the Yacht Timer was fitted with a bead-blasted stainless steel case in 40mm with 20mm lugs (thank you Seiko for making it easy – for once). Its case contains some reasonably complex chamfering on its sides that slope inward to meet a polished bezel. These slender, end-curved, stick lugs simply stick out of the case, and end up being a wonderfully simple design that, perhaps, evokes 1940's field watches.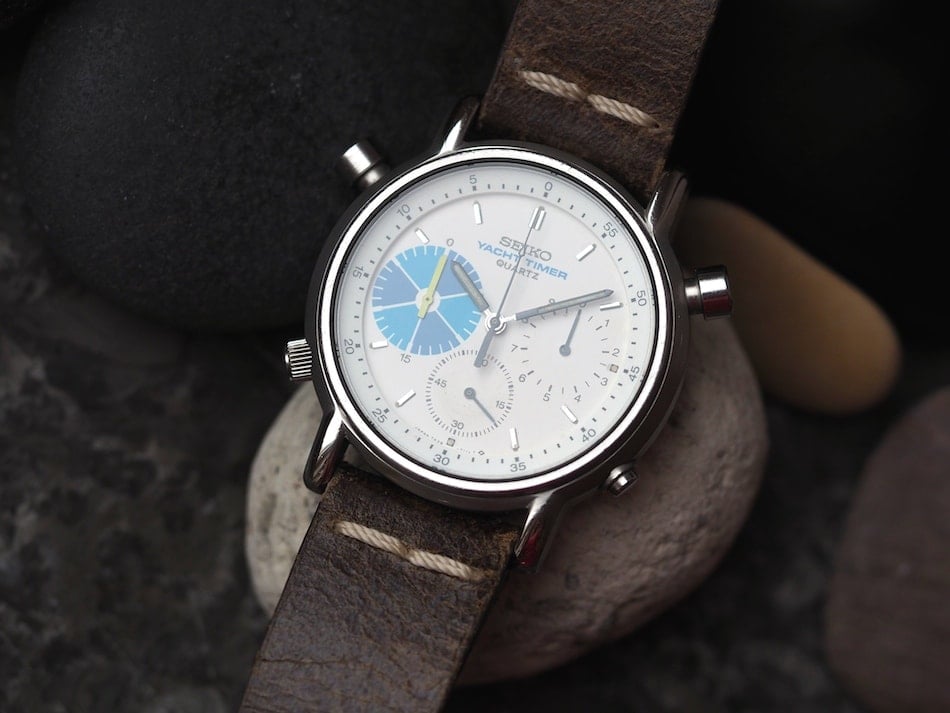 Seiko employed a seriously wide variety of case designs on the 7A28 series and the bulk were paired with an even more dizzying array of dials. With the Seiko 7A28-7090 Yacht Timer, though, there's only one other variant that used its case and that's the rare, black PVD-coated 7A28-7140 Bridgestone Motorsport edition. The fact that this case was essentially reserved for the Yacht Timer makes it all the more special in my eyes.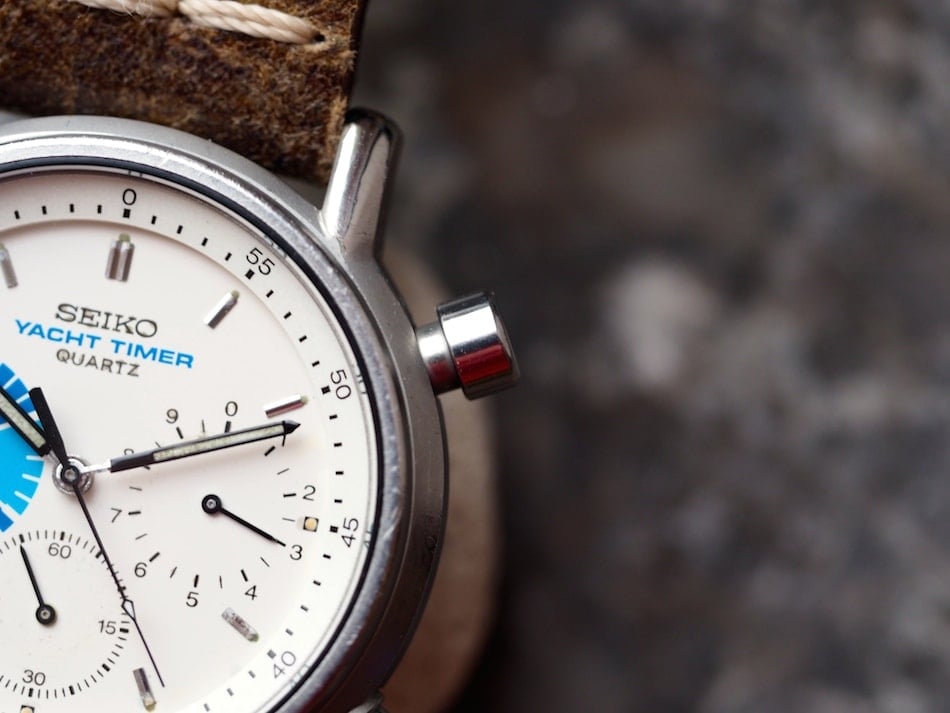 Aside from the case, a special detail on the Seiko 7A28-7090 Yacht Timer is its pushers. Likely chosen for their tactical usefulness, the watch contains some massive pushers atop both the right and left sides. For regattas, I can imagine that the start/stop button on the upper right and the split timing pusher on the upper left would be the two most used functions on the watch, so it makes sense that these are oversized versus the crown on the lower left and the reset pusher on the lower right. Some say this gives the watch a bullhead look, but that wouldn't have come to my mind unless I'd read it. No, I find the Yacht Timer to be wonderfully unbalanced and very instrument-like. The fact that these big pushers are added to a very slim case exaggerates the view further. Again, great stuff from Seiko and then, there's the dial.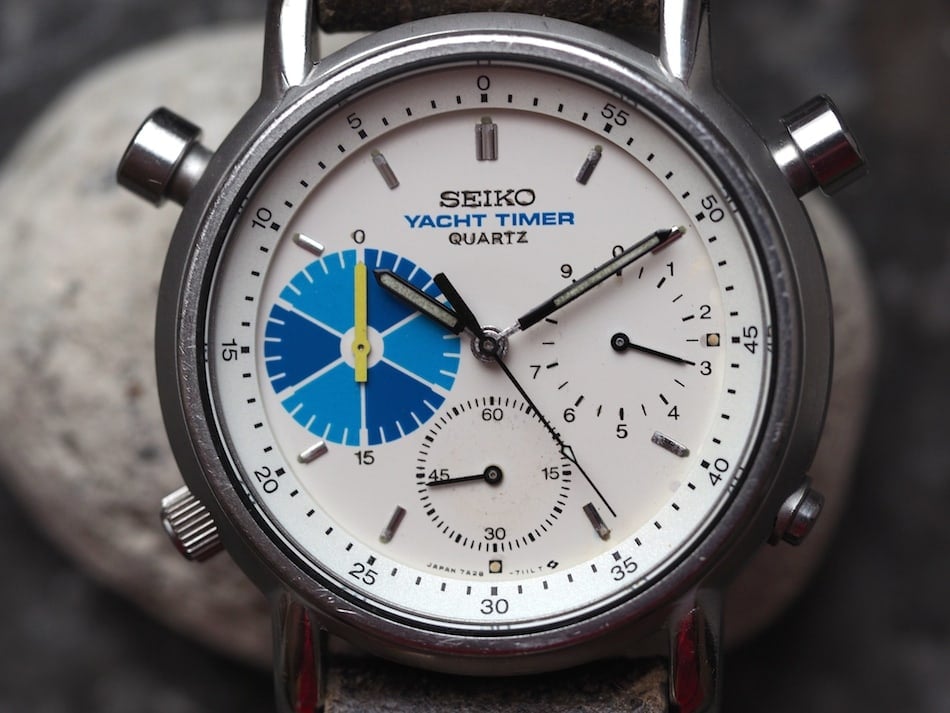 If the other design features on the Seiko 7A28-7090 Yacht Timer are at least notable, then the dial is the real standout. If you listed all of its detail attributes, you wouldn't come up with many. In fact, if it weren't for that wonderful burst of color that defines the 9:00 minutes sub register, you could characterize the watch as plain.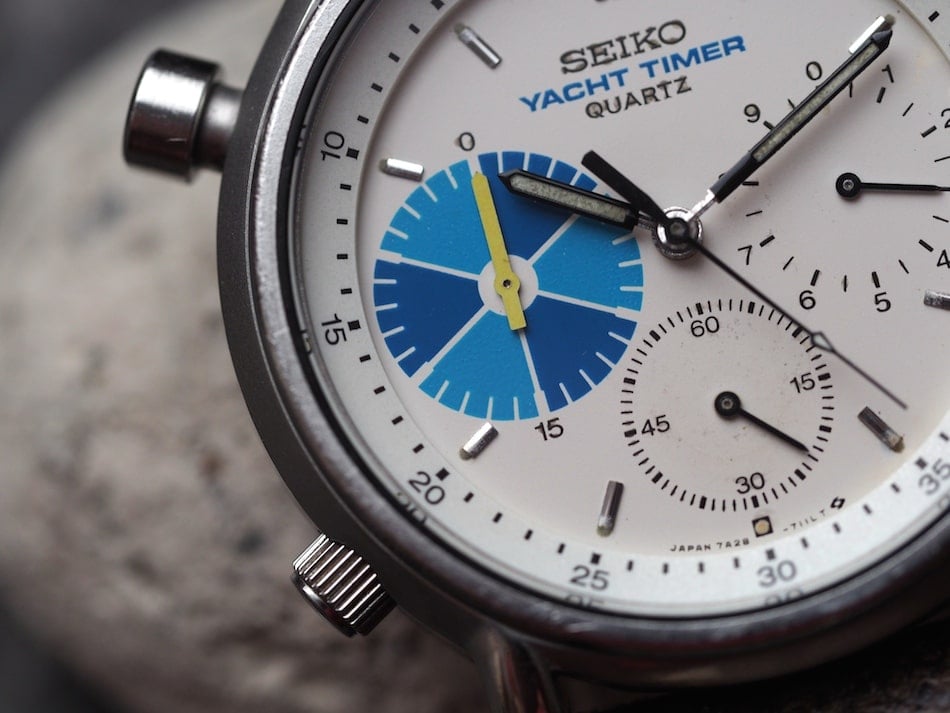 But that wheel made of alternating light and royal blue "pies" when combined with a yellow hand adds just enough color to make this piece a real looker. The only other notable insertion of color is the use of light blue for the "Yacht Timer" name below the Seiko name. Otherwise, Seiko used black printing on this white dial and chose a white inner bezel with minutes track. Applied, chromed indices are found at most indices with lume on the outsides. Thin black hands with lume inside show the time and an incredibly slender needle hand with a lumed arrow tip counts off the seconds once the chronograph is engaged.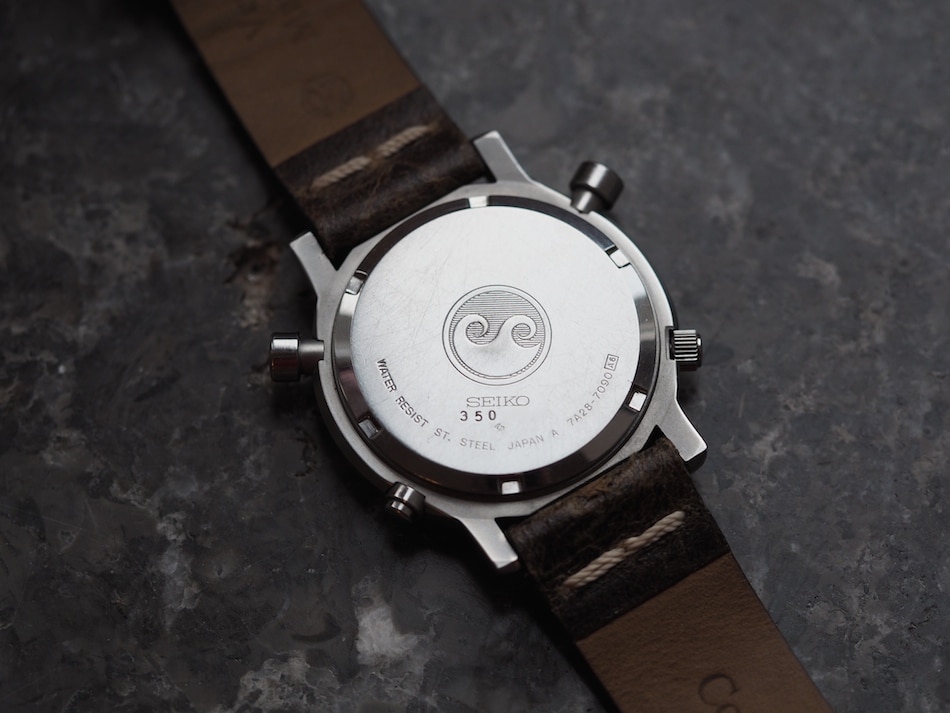 A look at the screw-down case back of the Seiko 7A28-7090 Yacht Timer shows us the gentle wave in lieu of the more serious tsunami found on Seiko's divers. A quick look at a 7A28 manual online tells us that this watch is water resistant to 30M. That likely makes it fine for sea spray or immersion during active sailing, but that's about the limit of exposure to the elements I would've considered for this watch had I owned it from new.  We also see the model number, serial number (this one is from May 1983, although I've partially obscured some of the numbers) and the lovely Suwa symbol.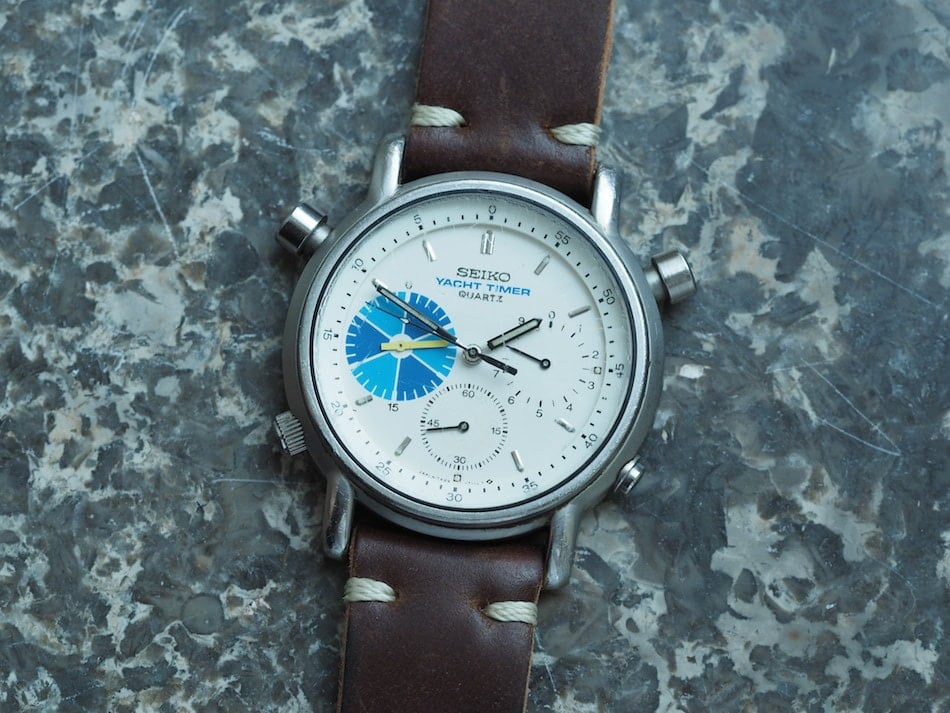 Speaking of ownership, I bought this Seiko 7A28-7090 Yacht Timer in Japan about a year ago. I had won the watch online and a couple days later, I attended a Time4APint event in London and actually got to handle one of these for the first time. The hands-on experience confirmed that buying the watch had been a good choice. When I bought mine, though, I knew it needed some serious work. It came as a head-only piece (the watches originally came on a rubber strap with large rally-style holes throughout) and the flat mineral glass crystal was seriously scratched. The watch kept time, but none of the chrono buttons worked and the chrono hands were stuck in some odd positions. Thankfully, as mentioned, 7A28 movements can be fixed and the crystal was a $5 fix. This 7A28 actually required a new "E-module" which was found and dropped into the case.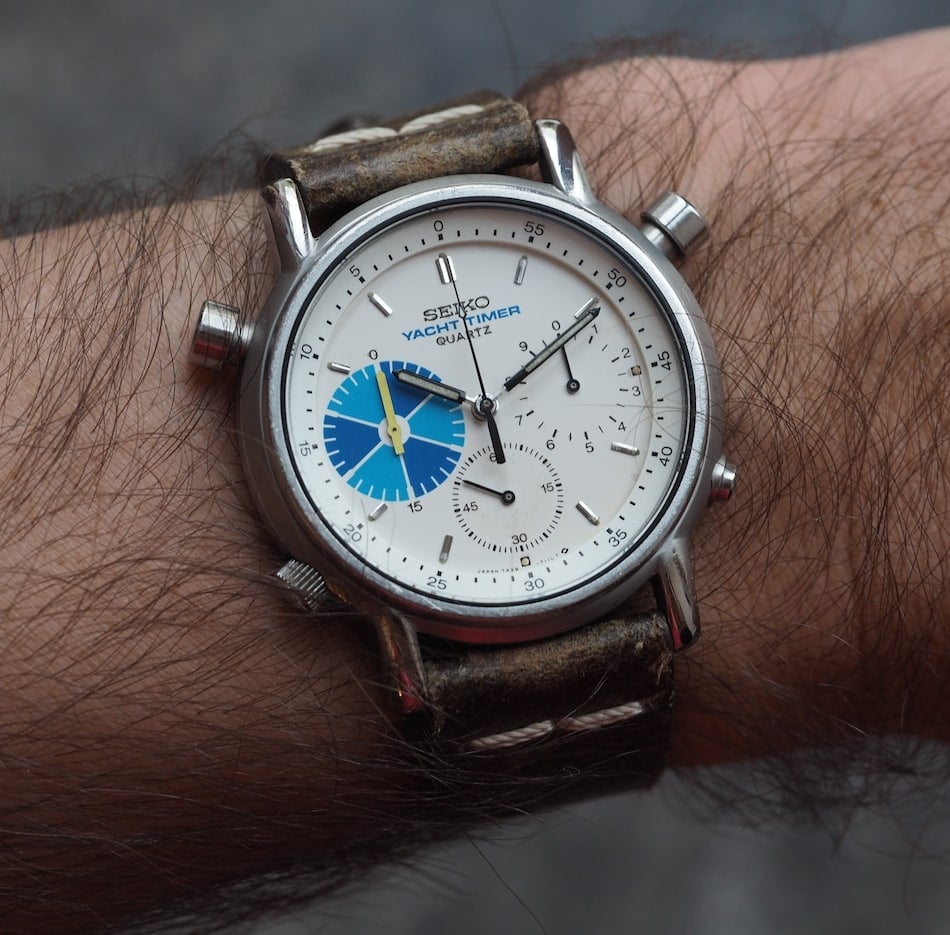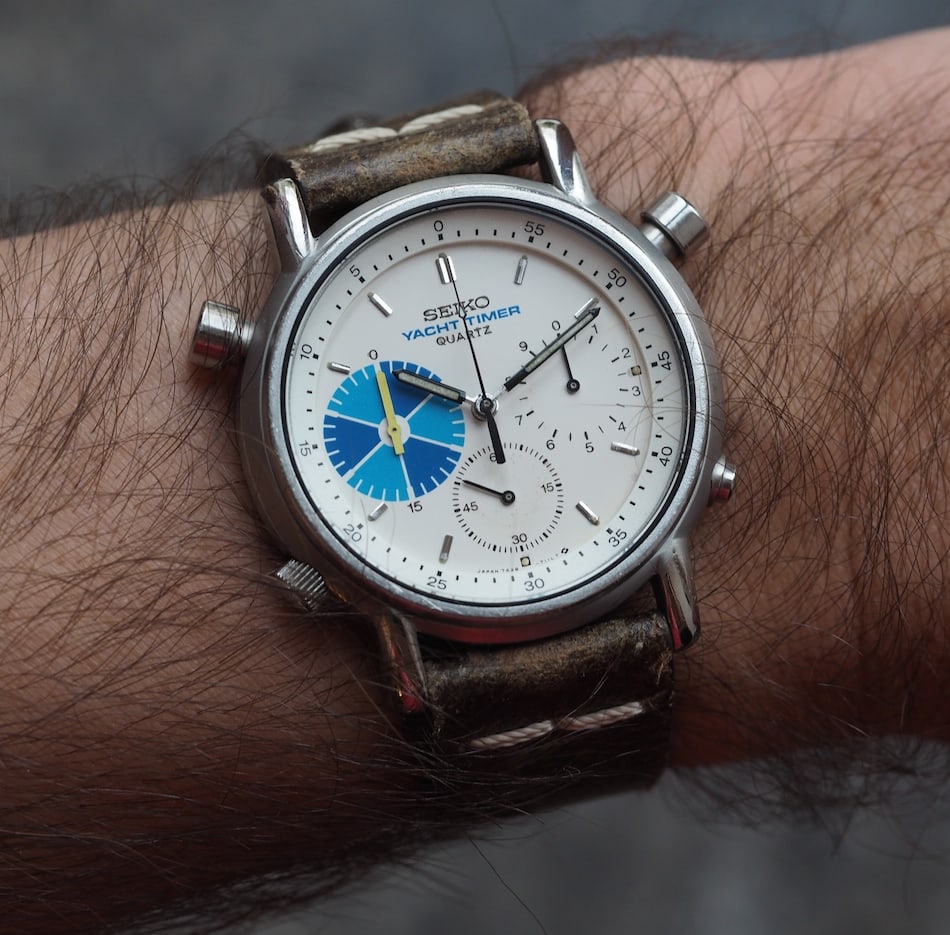 When I'm looking at this Seiko 7A28-7090 Yacht Timer on my arm, it presents beautifully. It looks great on a variety of straps – I like this rugged ColaReb strap that Balazs gave me – and the watch looks great on the wrist. It's under 12mm thick and feels as if nothing is being worn. The condition, overall, is really nice, but a closer look does show a touch of bleeding on some of the font, so I am guessing that the same moisture that caused this likely fried the original E-module. It doesn't bother me, though, as the Yacht Timer's are rare, rare, rare. In fact, I'd bet that less than a handful of them come up for sale each year – and I'm relatively confident in saying this as I track them semi-seriously.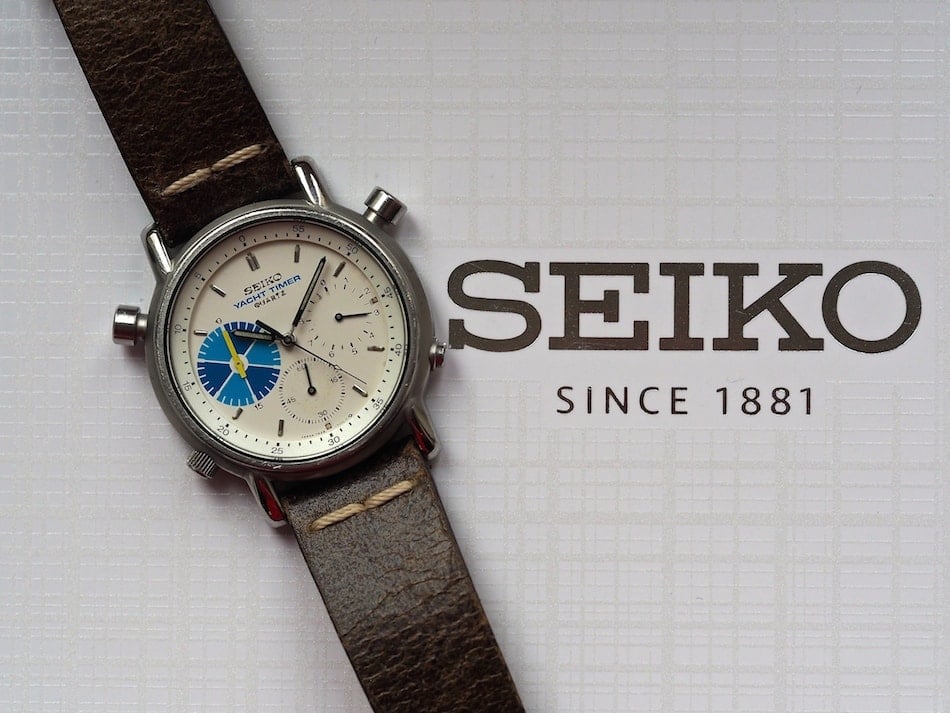 I remember 3-4 years ago, a Seiko 7A28-7090 Yacht Timer would set one back about $450 and that was a ton of money for a quartz Seiko. Today, I'd guess that decent pieces start at around $800 and go up to the $1500 mark. The fact that some 7A28's can still be had for $200 or so gives you an idea for how beloved these Yacht Timers are to collectors.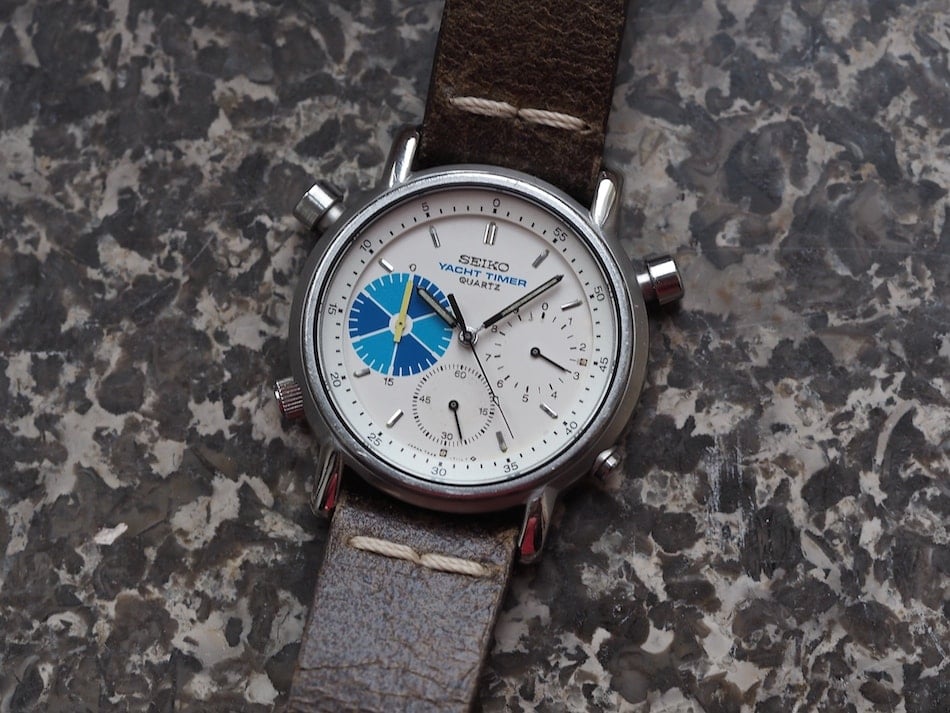 If I haven't convinced you to take an interest in this quartz watch, hopefully you can admire its looks and unique design characteristics. For me, this piece will definitely share time with my mechanical gems.