#TBT Seiko Sportsmatic 6619-8230
"Value", amongst its several meanings from Meriam-Webster, is defined as relative worth, utility or importance. Taking it a step further, "value" is often assigned when price is taken into consideration. If we digest all of this, we, as vintage watch collectors often search for watches possessing great value. Some, such as Omega Speedmasters, are well known, but, thankfully, there still exist pockets – they are fewer and fewer sadly – of low cost, high value in the marketplace. Today's #TBT covers a piece that, every time I don it, I smile because it's so damn good looking. It's awfully wearable and it provides a bona fide alternative to a lot of NATO-clad, faux USA-made, silly quartz hipster pieces as well (rant much?). Today's #TBT looks at the eminently affordable and ultra attractive Seiko Sportsmatic 6619-8230. I actually think that is one of Seiko's best ever and I'll now do my best to convince you.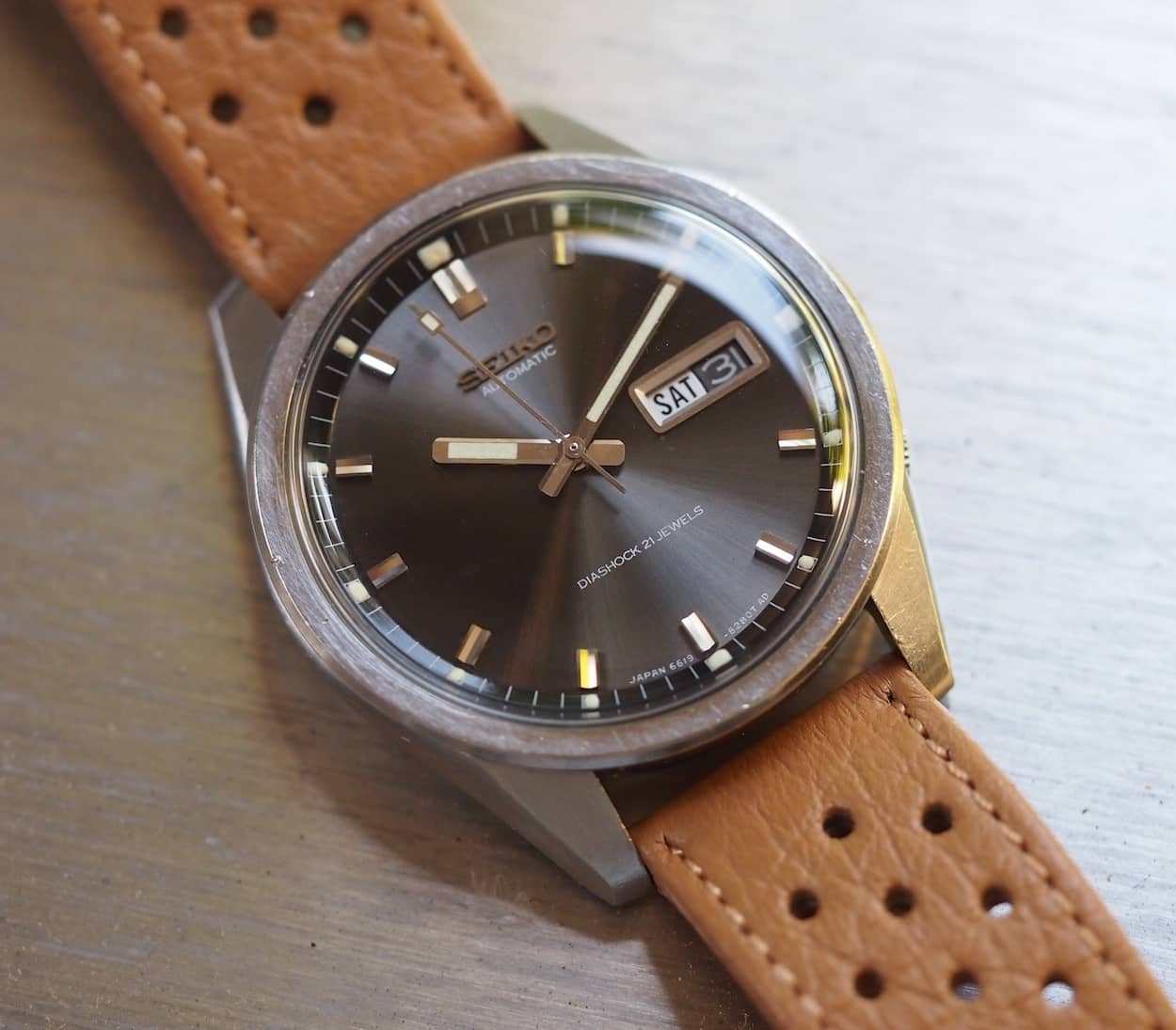 I mentioned the Seiko Sportsmatic briefly in the article I wrote earlier this year on the iconic Seiko 62MAS. I noted that this watch was known in Seiko circles for sharing the same hand set as the 62MAS and, therefore, is often pillaged because its hands are normally in better shape. Yes, it's sad but true that the 62MAS, due to its water bound nature, often has a lot of rot under the crystal. So, the 6619 Sportsmatic is known as a surrogate, but it deserves to be recognized as so much more.
Seiko Sportsmatic by the numbers…
The watch you see before you comes in at a large, especially for 1967, 38mm diameter and it looks even larger because of its plain, relatively thin bezel. It has a case entirely of stainless steel and boasts 19mm lugs to add to its sizeable presence. Plus, it features a nicely high-domed acrylic crystal that is thankfully still easy to source.
Inside the Seiko Sportsmatic is an interesting engine. The 6619 movement from Seiko is automatic, thus the "matic" in Sportsmatic, and features 21 jewels – or does it? Actually, in looking at a nice article here, we see that the 6619 movement actually contains 18 working jewels and 3 placed there for no reason other than having 21 over the more common 17 must have seemed like a good idea! It's a rare step away from the typical no-nonsense efficiency shown by the Japanese brand. Otherwise, though, the 6619 movement, which was introduced in 1963 as the 410 prior to 4-digit naming conventions, is a great and reliable unit. It features Seiko's magic lever design and that allows winding as the rotor spins in either direction. It's because of this that the watch actually cannot be wound via the crown – I'll comment on that shortly. It features a date function that is quick set by pushing the crown and a day function that must be manually set by laboriously winding through the days.
Simple, yet perfect design on the Seiko Sportsmatic
The case itself on the Seiko Sportsmatic is of a very timeless design. In fact, it wouldn't look out of place in Seiko's current lineup and there are plenty of existing models that use a lot of similar forms. There's clear "Seiko Language" here with the crown at 4:00, the side view showing a dip in the case to expose the bezel and nice strong lugs.
Flipping it over, we see a screw down case that exhibits one of my favorite case backs in watchdom. You can see a beautifully inscribed "Seiko 5" logo with lovely "Seiko Sportsmatic" font straight out of the 1960's above it. Even though the Seiko 5 was introduced in 1963, these were still early days for the insignia, so to me, it just adds to the allure of the piece.
Regarding other Seiko Sportsmatic details, when one flips the watch on its side, the crown shows at 4:00. I've mentioned before that I think that Seiko made its crowns fairly small due to the fact that the watches were meant to "set and forget". Clearly, Seiko wasn't thinking about the WIS community nearly 50 years ahead because this watch gets worn roughly once per month and it is a serious pain to set. The crown is so miniscule, that it's almost impossible to grasp between two fingers and I generally "roll it" on my palm to advance the hands. So, yes, the crown is really the sole detractor on an otherwise brilliant watch. Speaking of brilliant, there's that dial…
The absolute highlight of the Seiko Sportsmatic is its dial. If the Vulcain Panda chronograph is the prettiest blue dial I've ever owned, then this 6619 is the best I've held in gray. It radiates beautifully from the center and the sheer simplicity of its design – so little verbiage here – lets the color boom! Simple applied hour indices in the shape of v-channels abut with an upward sloping inner bezel that contains minute lines and lume plots at the hours. An applied metal Seiko logo is accompanied by font that is still used today by the brand. I'm normally not a day/date window admirer, but the rectangular opening with its chrome surround is well executed and breaks the vast space created by the dial. The day is black font on a white wheel while the date takes the opposite; it's all perfectly done.
And then we have the Seiko Sportsmatic hands. The figurative "elephant tusks" on the 6619 actually have a chance to breathe in this design versus in the 62MAS as that overall design is far more crowded. They are simple designs when looking at the hour and minutes but actually contain edge chamfers to create a little dazzle. The sweep seconds hand, of course, contains the well-known lumed box near the end of the hand. In summary, everything is in balance. If you can't tell, I am really fond of this watch.
How I found the Seiko Sportsmatic
I stumbled upon the Seiko Sportsmatic 6619-8230 on eBay and it was equipped with some god-awful photographs. The seller wasn't uninformed, though, and did state that under the hideous crystal, a beautiful dial and handset was waiting. I think I've become proficient enough to read the tea leaves of a rough ad on the bay and this one sang to me. I had just picked up the 62MAS and was keen to acquire a distant cousin and this piece spoke to me. I think I paid roughly $100 for the watch, picked up a NOS crystal for $10 and had the watch serviced for 80 Euros by Richard Askham. He is fairly reserved when it comes to describing condition, but he was quite positive when he opened this one. I can still remember opening the package from Richard and being blown away by that dial. In the end, I was left with a stunner for roughly $200. Take that, Shinola!
The Seiko Sportsmatic 6619-8230 on the wrist
On the wrist, the Seiko Sportsmatic is a fantastic wear. I've paired it with everything from a burgundy lizard strap, to a NATO, and now a light tan racing style strap from Giuliano. So, as you can see, it dresses up and down and looks good with almost any color…much like a gray pair of trousers. The size also takes away any complaints from those who think that most vintage non-sports watches are small as this Seiko definitely wears as large or larger than its 38mm. If you're not a vintage watch person, but are simply reading our site and want a classically styled legitimate timepiece, this is your invitation to stop shopping for watches in the J.Crew catalog – this Seiko is far better than a pricey NATO-clad Timex.
Go get your own Seiko Sportsmatic!
Regarding a Seiko Sportsmatic 6619-8230 buyer's guide, you'll want to check eBay. In fact, as of this writing there are 3 on with the most expensive at $150. Note that least 2 different dial colors exist with one being a light silver color. The light color is nice as well, but I am obviously partial to the gray. These watches were basic wearers in their time and many show a decent amount of wear in ads, but this is often easily rectified with an easy crystal swap. As far as other things to look for, obviously find pieces with good, original hands as many have been swapped with incorrect replacements after harvesting. Also, ensure that the inner bezel is present. Speaking of the inner bezel, it's typical for the lume plots to "drift" a bit so don't expect perfection. I don't expect these pieces to go flying up in value, so the fully serviced price of $150-250 seems fair today. It's possible that they'll creep upwards in monetary value once people realize how beautiful they really are in person, but as I started this article, the value provided here is far more than $$$ signs.
I hope you enjoyed taking a look at one of the most affordable #TBT pieces we've covered to date. I can't overstate it enough that if you're even half considering a Seiko Sportsmatic 6619-8230, grab one and you'll be happy that something so inexpensive can be so nice. It's a versatile watch that turns heads. Every time I post this watch on Instagram, I get loads of requests about the detail behind it. Now you have it…so go find one! If you do or if you already have, let us hear your enthusiasm and share your pictures below! Until next week…