#TBT Vulcain "Blue Panda" Chronograph
Honestly, sometimes you get lucky. If you're like me and make it your lunchtime or evening pastime to comb through forums or eBay to look at vintage watches on offer, you're greeted with an absolute smorgasbord of pieces. Some are awful, some are overpriced, some are great and some are "mysterious". I tend to go down the mysterious route more and more as I like to think that I know how to cull the herd when looking at grainy, often terrible, pictures in a listing and, besides, this is where decent deals can still be found. Granted, I gamble selectively and normally with low stakes; vintage Seiko's are my usual game.
Normally, when I receive these gambled upon pieces, I'm greeted with a watch covered in wrist-funk DNA accompanied by either an awful leather strap (what is it with burgundy faux-lizard leather?!?!) or any one of the seemingly thousands of varieties of Speidel flex bands. I'll probably kick myself one day when the next generation of hipsters pines after these wrist-hair pulling accordions of pain, but I now happily toss them into the recycling bin so that they can be made into the stainless steel appliances that we use and love every day. Sometimes, however, I stumble upon something awfully good and that's the subject of today's #TBT.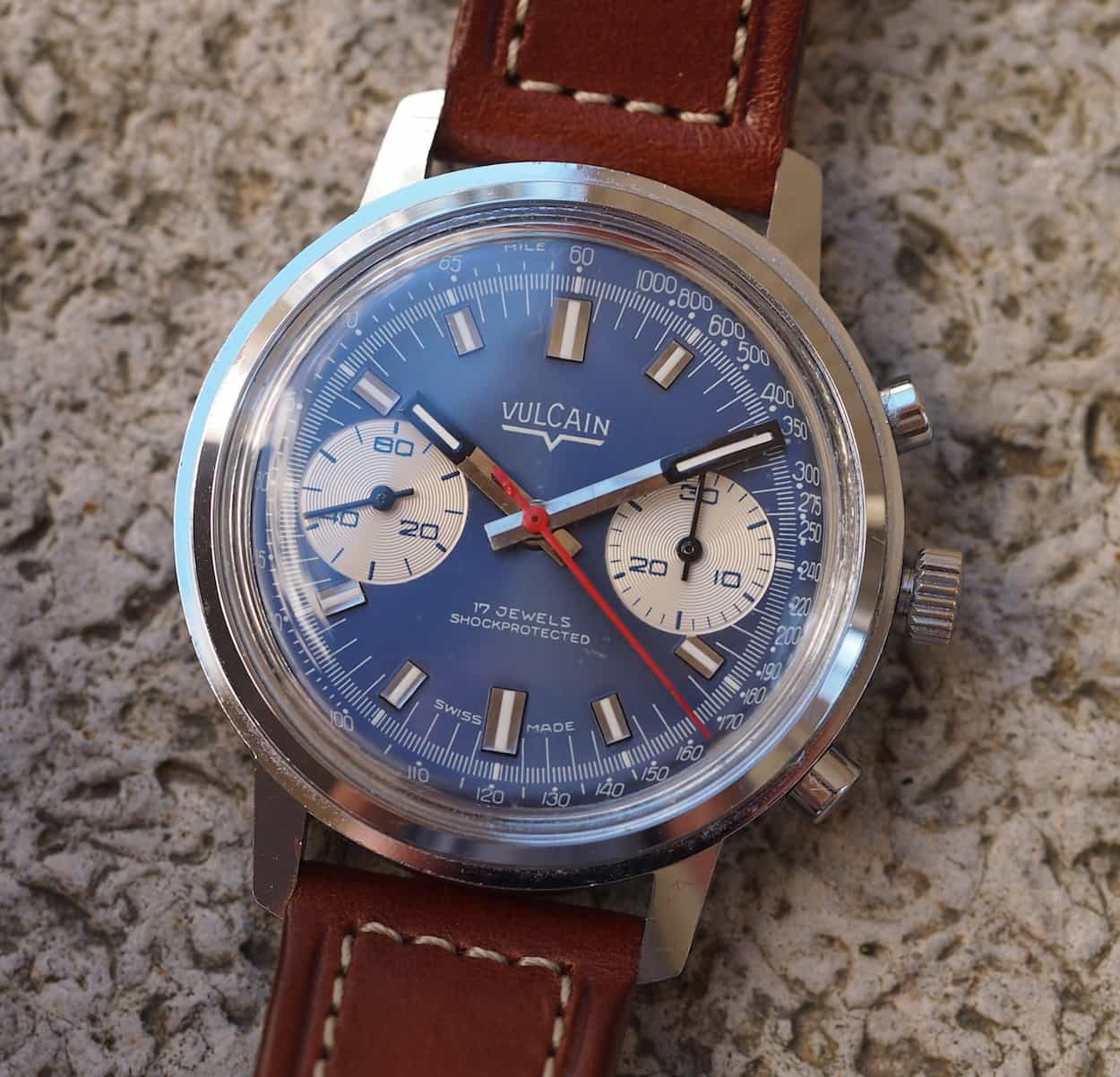 I recently made another "bet" on eBay, but this time I bought a watch that was not dirt-cheap (still affordable, though), it was well photographed, and aptly described. It was a vintage manual wind chronograph that sat there for months with a silly buy-it-now price, but lo and behold, I decided to shoot the seller an offer. The seller accepted and the watch was shipped. When I finally picked up the watch in the USA, I was greeted by something that pictures seemingly couldn't capture due to the dial's uncanny ability to darken as soon as a camera comes its way. The watch I'm referring to is what I'll call the Vulcain "Blue Panda" Chronograph.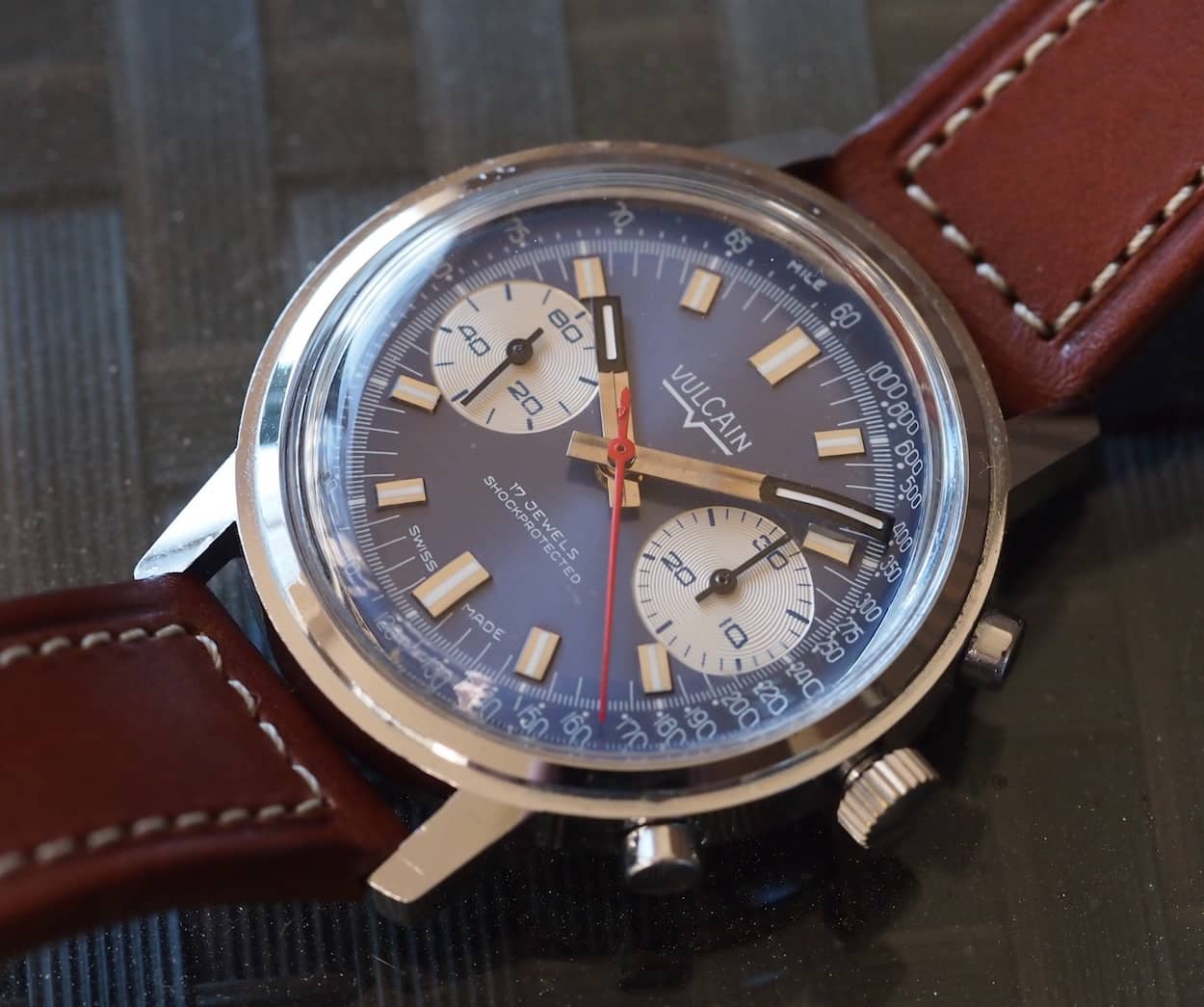 Let's get a couple things out of the way that relate to this Vulcain. First, I love manual wind watches. While you've hopefully read my articles on the Zenith A386, various Rolexes and Seiko's, my heart belongs to the archaic timepieces that require your involvement every morning whilst getting ready for the day. You see, I like that involvement and I'd honestly love to see more present-day manufacturers create manual wind movements. Second, I really enjoy vintage chronographs for the sole reason that so many of them were simple, weren't mucked up with a date function and most came with either registers at 3:00 and 9:00 or perhaps added a third at 6:00. So yes, put a manual wind movement together with a classically styled chronograph, round case please, and you've probably hooked me.
So, let's get back to Vulcain as a company. You probably know Vulcain from the endless discussions about its famous Cricket watches that have adorned many US Presidents and various other dignitaries, but you may not have realized that they produced other watches. I won't delve deeply into Vulcain's history, but the brand was founded in Le Locle, Switzerland in 1858. If you wish to read more about the Cricket, which was invented in 1947, take a look at our recent article. Stepping away from the alarm watch, they've also produced dive watches and, during the height of the Japanese watch invasion, Vulcain also put their name on chronographs that were produced by others. The Blue Panda is an example of such a watch.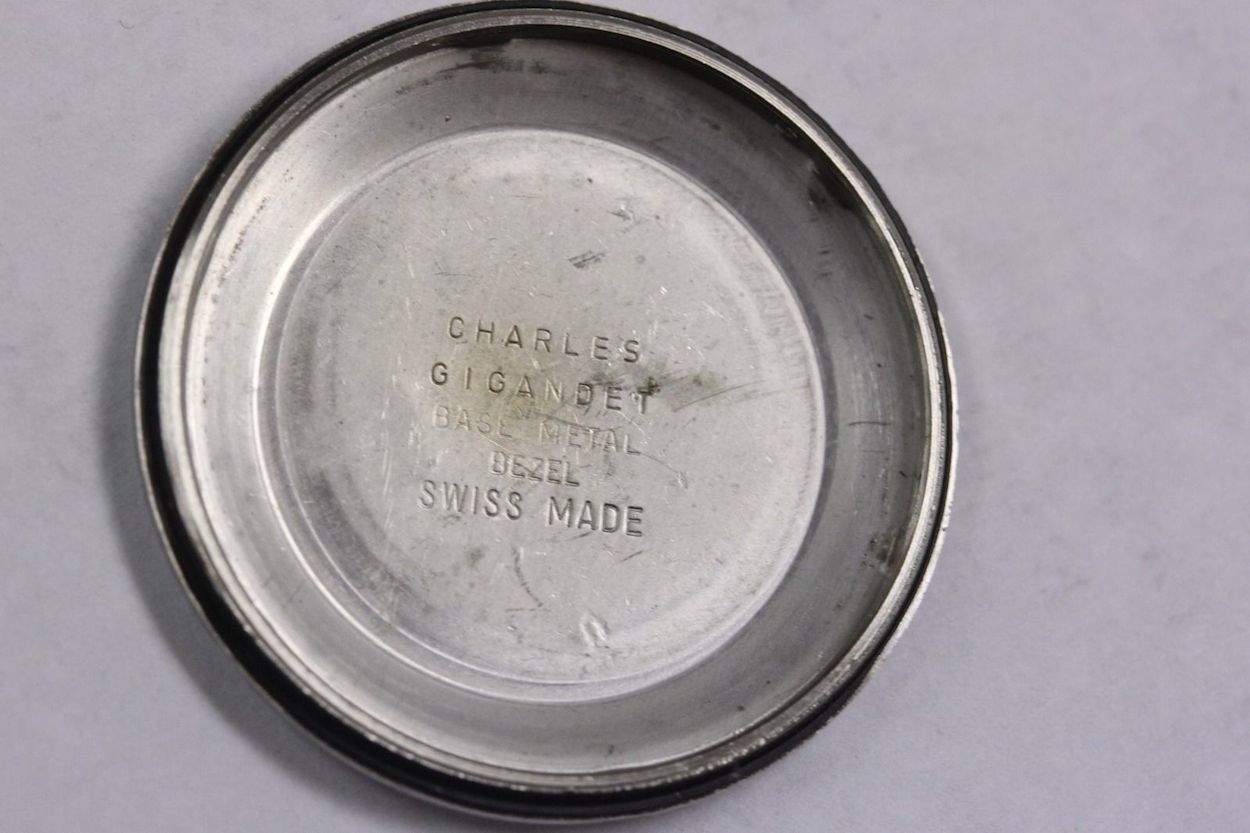 Looking closely at the 37mm, chrome-plated, Vulcain, you'd be right on the money if you recognized Wakmann or Gigandet when viewing this watch. In fact, it's signed Charles Gigandet on the inner case back and I've seen plenty of Wakmann's sharing the same exact case design. While this does not bother me, it represents an all-too-common 60's-70's theme when Swiss companies were collaborating deeply to save cost and utilize assets in order to survive. While I cannot speak perfectly to what happened to Vulcain during the 1970's, I know that they are independent and producing today, so watches such as the Blue Panda must have supported their survival cause to some degree.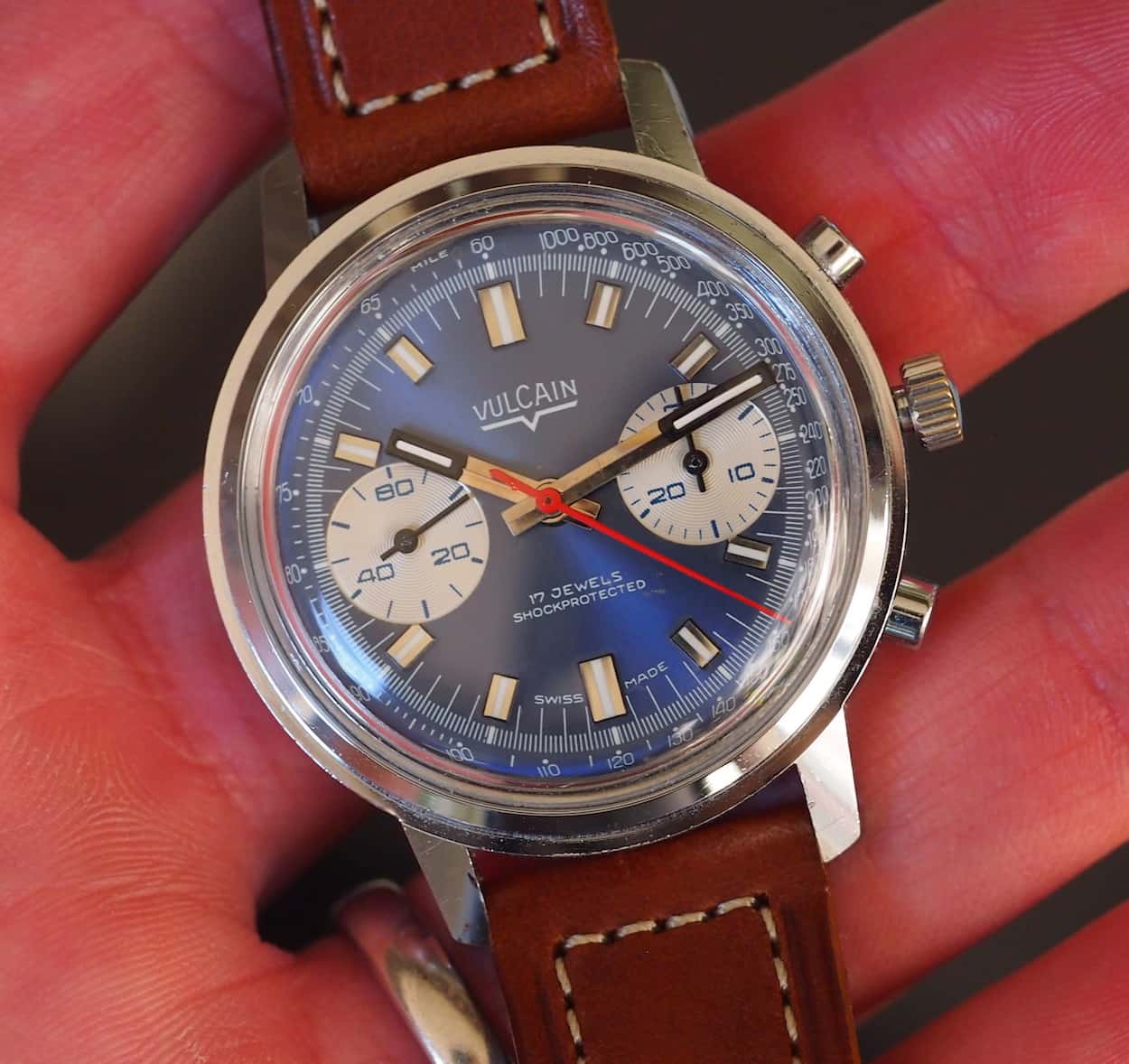 Returning to the watch, I really wanted to feature the piece in today's article because it's so damn good looking. In the light, the blue dial is spectacular. It radiates and is such a nice change versus the typical black or white found on so many chronographs. The color drew my interest when I saw the Vulcain on eBay, but the blue dial looked dark or amost purple in the listing.  In person, and I hope you can see in the pictures, this simply isn't the case.  Looking at more dial details, we have an inner tachymeter ring, applied block hour markers with a lume strip in the middle of each. The two registers are white with circular "LP" grooves and black needle hands. Moving to the center of the watch, the Blue Panda features chunky, sporty hands that are chromed with black tips and lume. Capping off this gem is a nicely contrasting red seconds counter. Oh, and lest I forget, you have Vulcain's fantastic name/logo on the dial.  Yes, this was a well-conceived watch from a color perspective and layout.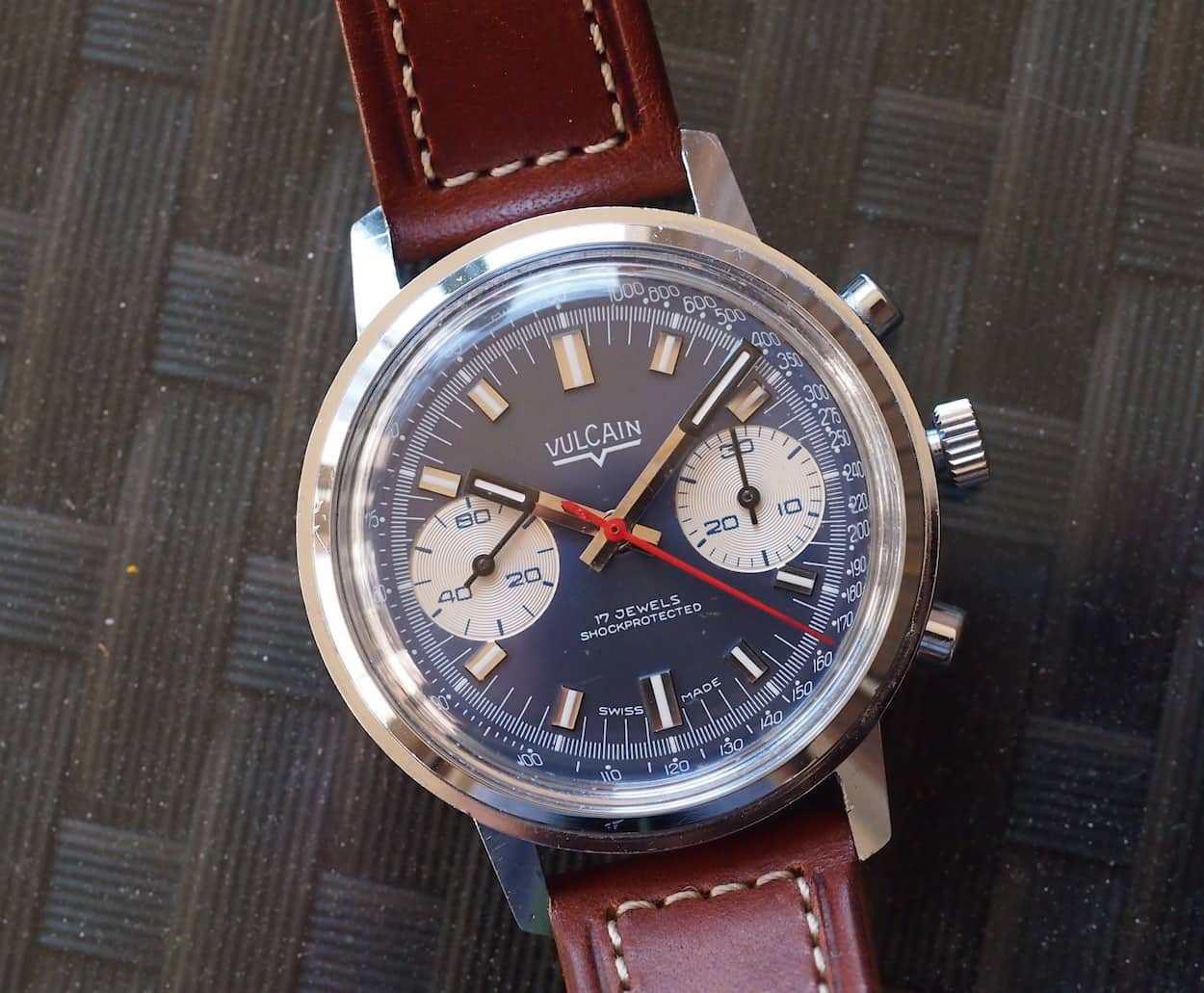 The shape of the case is round with decently beefy lugs that "pop" out of the case versus many 60's chronographs that have lugs flowing out of the case edges. My sole complaint on the Vulcain Blue Panda is that the lugs fit an 18mm strap. 19mm seemed to somewhat normal for the day and I can't help but think that the watch would have appeared as larger with wider lug spacing. Anyhow, moving over to the controls, we have pushers that are somewhat integrated into the case. More clearly, you can only see the pusher cap and not the pusher post; the pushers actually sink into the case when depressed for use.  The crown is decently sized and unadorned. The crystal is a nicely domed acrylic.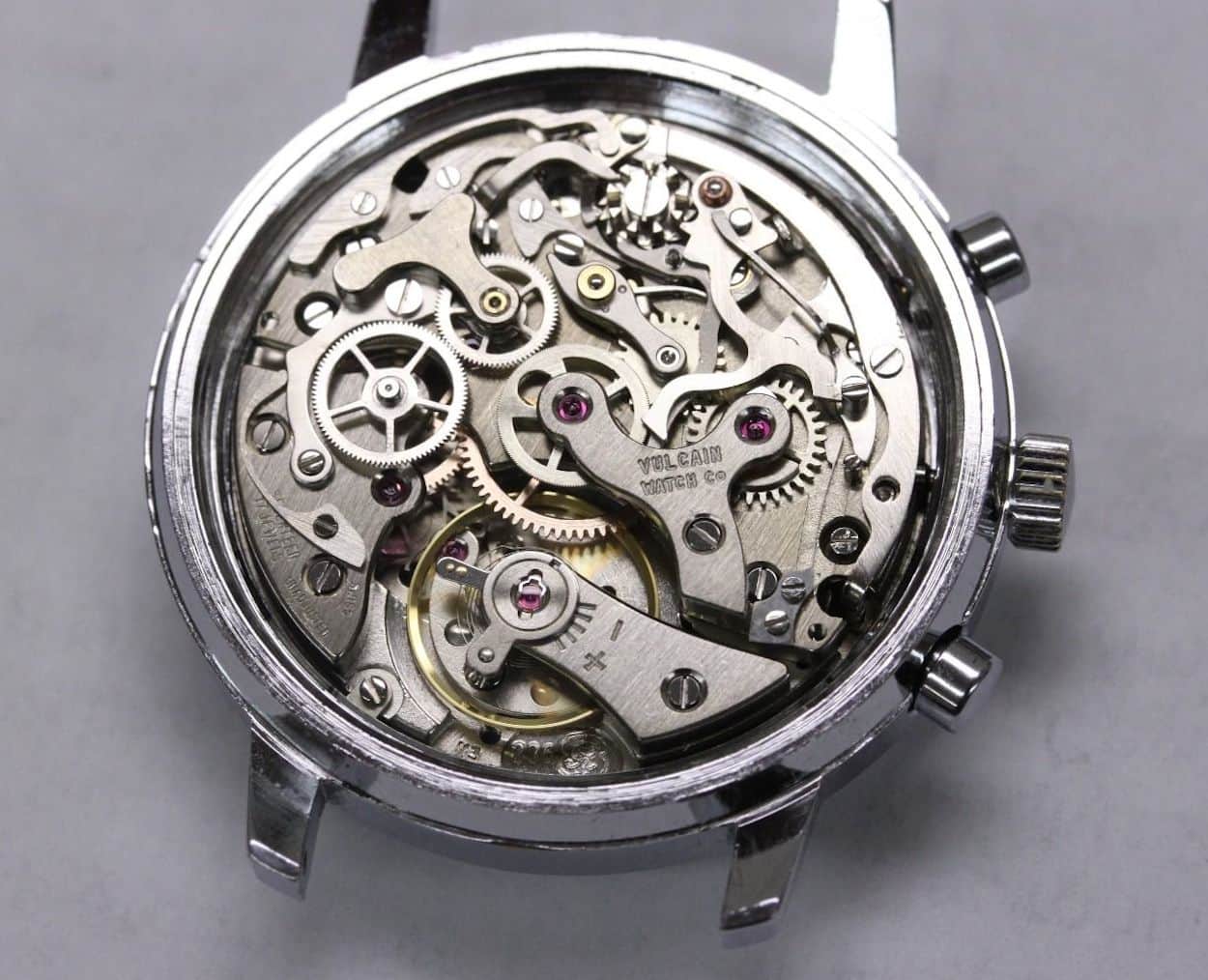 Returning to those pushers, a keen eye will see that the lower pusher is not spaced at an equal interval as the upper from the main winding crown. My interest was further piqued when I noticed this and I was happy to see that the listing mentioned and pictured the column-wheel Valjoux 236 inside the Vulcain. The movement is a 17 jewel, 21,600 bph timekeeper. It's smooth and tactile to engage and, to me at least, just adds to the desirability of the watch. Plus, in pictures, it's a pretty movement and is signed "Vulcain" on the bridge.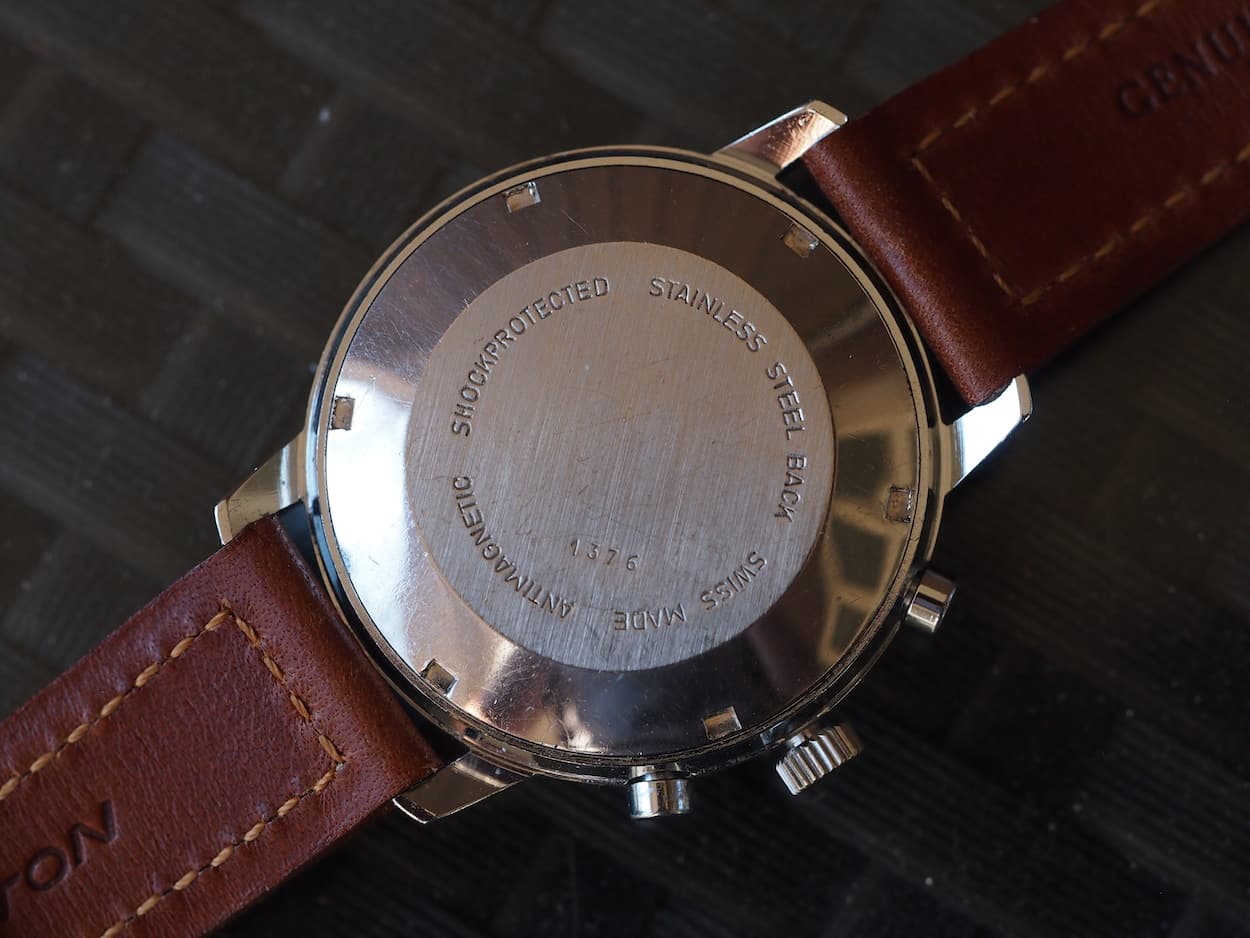 Wearing the Vulcain Blue Panda is a treat. It works well casually, at the office or about anywhere. Furthermore, I've received compliments on it and it fares well when I've posted it on social media sites. Oh, and despite all the complaining I did earlier about receiving bad bracelets or straps on eBay watches, this one came with a never-worn, seemingly NOS Hamilton strap that looks great with the watch.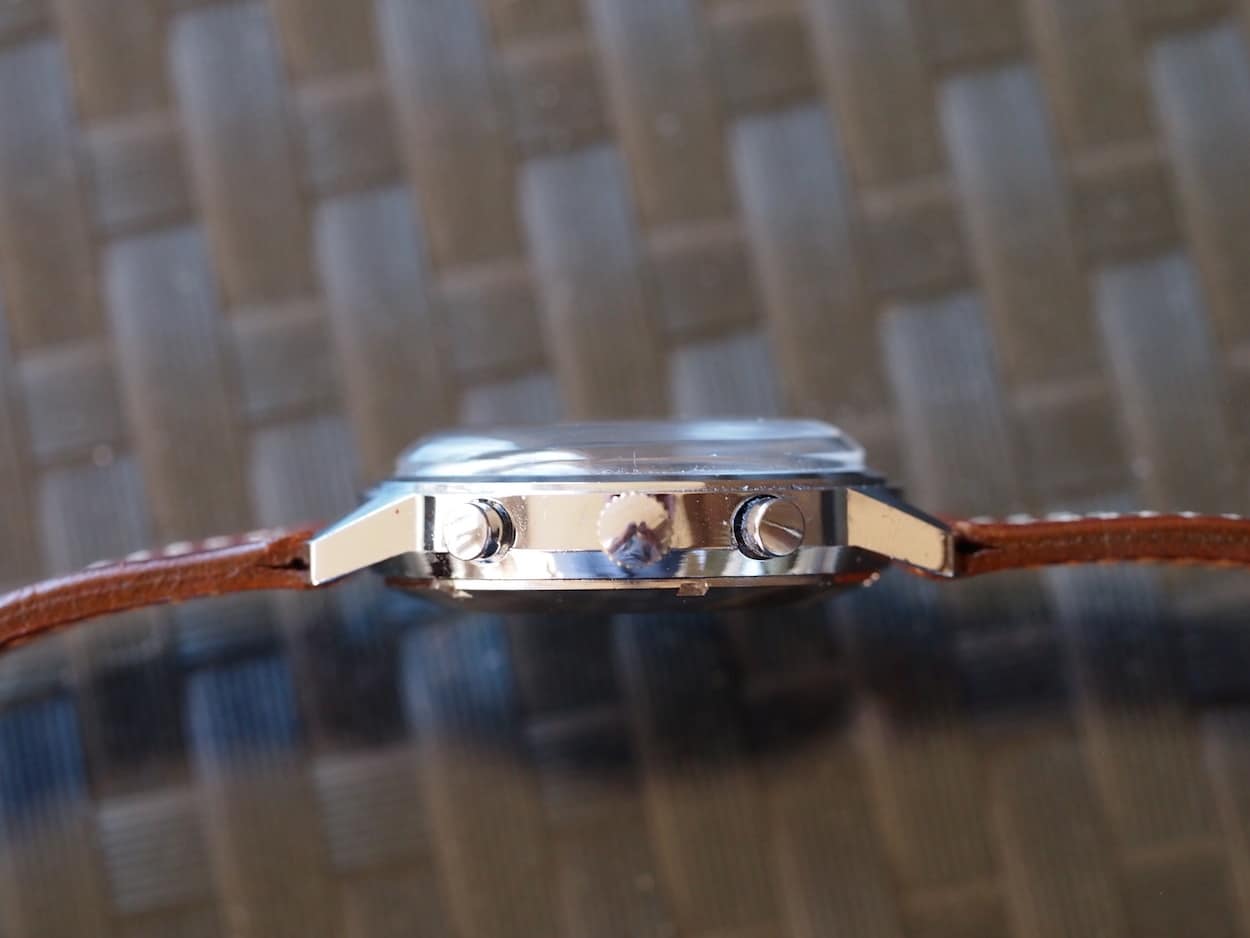 Finding a Vulcain Blue Panda can be a bit of a waiting game. A month after I bought mine, a similar piece was listed with its original box and a more desirable case back. Since then, I've not really seen any and I don't believe there were many for sale recently before I bought mine.  Pricing for good steel-colored Valjoux 236 Vulcain's seems to be in the range of $600-1200 now. So, yes, this still qualifies as affordable vintage.  Gold-tone versions are available and I see these sell for less than $500 which is a great deal considering the movement.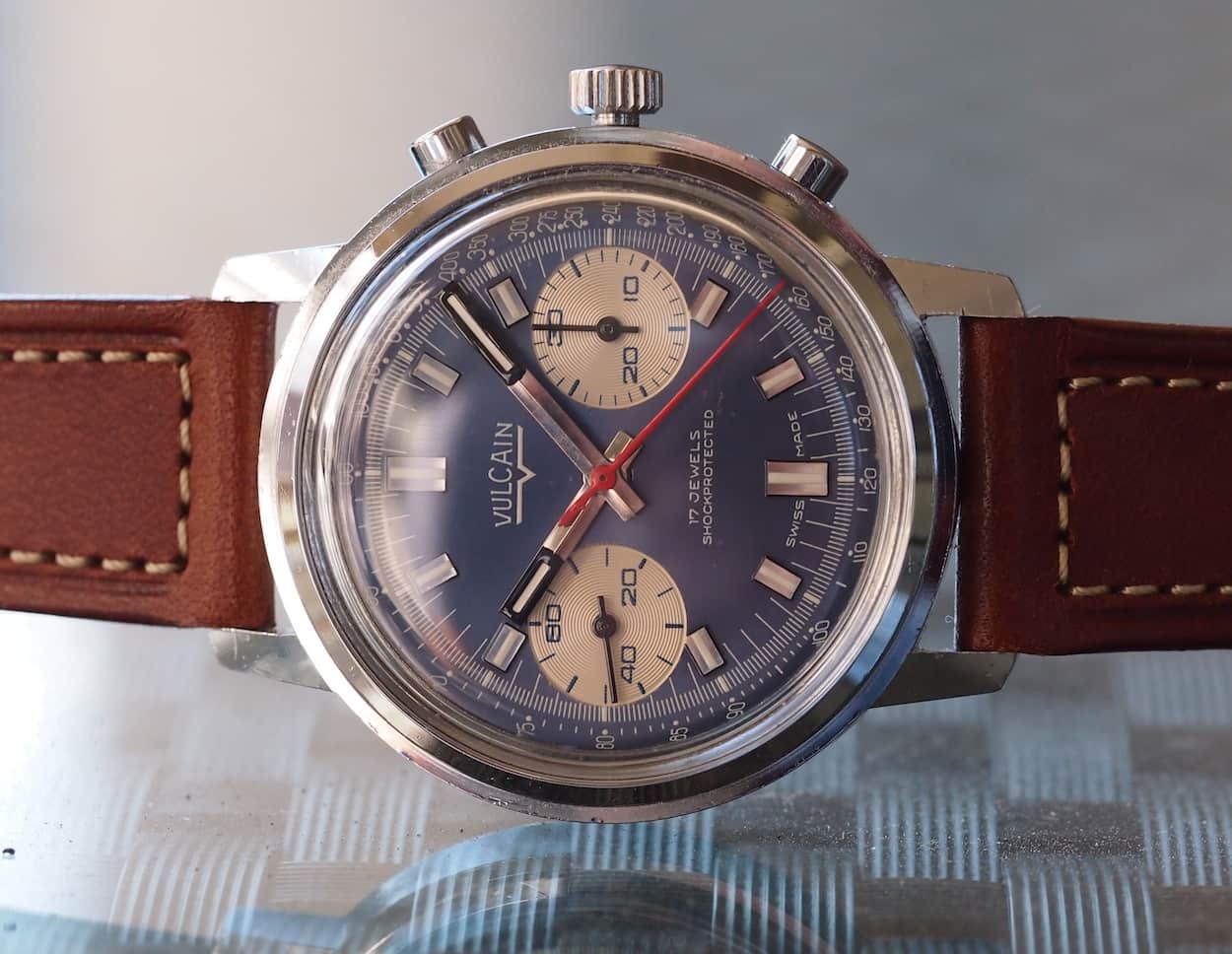 Sometimes you do get lucky on eBay or a forum and I think that my newly acquired Vulcain Blue Panda is a nice example of such luck. Yes, the watch shares the bulk of its parts with watches from other makers, has a plated case and, no, the model was never seen on the wrist of a former F1 driver, but it is one great looking watch. Plus, I like the fact that I'm wearing a decidedly different flavor of Vulcain because it doesn't have a ringer inside. If you're reading this I probably don't have to tell you that decent buys on vintage watches, especially chronographs are becoming harder to find. Add a brand with a reasonably well-known name, classic looks, a good color scheme, and I think you have a future-proof buy if bought at a fair price. Happy hunting!
Picture credits for inner case back and movement shot goes to the seller of this watch which was originally featured on eBay.