#TBT – Seiko 6139 Versus Zenith El Primero A386
Hot on the heels of the Fratello team's visit to Zenith in Le Locle, it's time to talk more Zenith.
A joke, you say?  It's not April 1st and this isn't a comedy site.  So, really, does your author truly have the audacity to bring the commonplace Seiko 6139 chronograph into the ring against the legendary, and FAR more valuable, Zenith A386 El Primero?  Well, if you clicked on this, you likely noticed loads of prose.  So, the simple answers are: this is no joke and I will attempt to convince you that these two timepieces are worthy of a battle royale.  In the end, though, you'll likely want both in your collection.
First, let's discuss a little history.  In the 60's, with a large shift to automatic watches in general, there was a natural progression towards the development of automatic chronographs.  The story has been retold countless times; the primary players were Zenith, Seiko, Heuer/Buren/Hamilton.  All of these companies coincidentally debuted their entries to the field in 1969 and all within a month or so of each other.  I don't spend time on debating who was first, but suffice to say, it was a big deal.  As an example, it took Zenith roughly 7 years to complete the task: 4 years delayed to their desired date of introduction to celebrate their centennial.  The other two groups started later but they also took years to develop.  It's amazing to think that something so commonplace as an automatic chronograph has only been with us since a bit before man first took a step on the Moon.
For this article, I went to my own collection and chose a newly acquired 1971 Zenith A386 El Primero and another newly found Seiko 6139-6040 from 1977.  I could have chosen from a couple other 6139's in my stable (a Pogue, notably) but went with the 6040 as it has a traditional round case (rare for Seiko in the 70's) which lines up well with the A386.  It's also a rare piece and even more difficult to find in good condition.  Where, you must ask, is a Calibre 11 entry from the Heuer et al crew?  Well, quite simply, I don't own one at this time, and I thought it would be interesting to compare the lowest and highest value pieces today (I'll conveniently disregard the Monaco but it prices similarly to the A386).
Zenith El Primero A386
I'll say this about the Zenith A386 El Primero: it's the most dynamic looking watch I own…period.  Zenith must have felt that they needed to make a splash when this piece was first introduced and this definitely makes an entrance.  There is a lot happening on the dial, but, somehow, the colors work well together.  Zenith gives its reasons for using tri-colored, overlapping registers but you can eschew the propaganda; they simply look great.  The red chrono hand adds some spark and is finished with a well-weighted square pip.  The hands are notable with their blue inlays that balance so nicely with the creamy patina. The 4:00 date wheel is somehow unobtrusive and the small minute indices even carry over into its small aperture.   Doesn't it seem like watch companies knew how to integrate a date 30-40 years ago?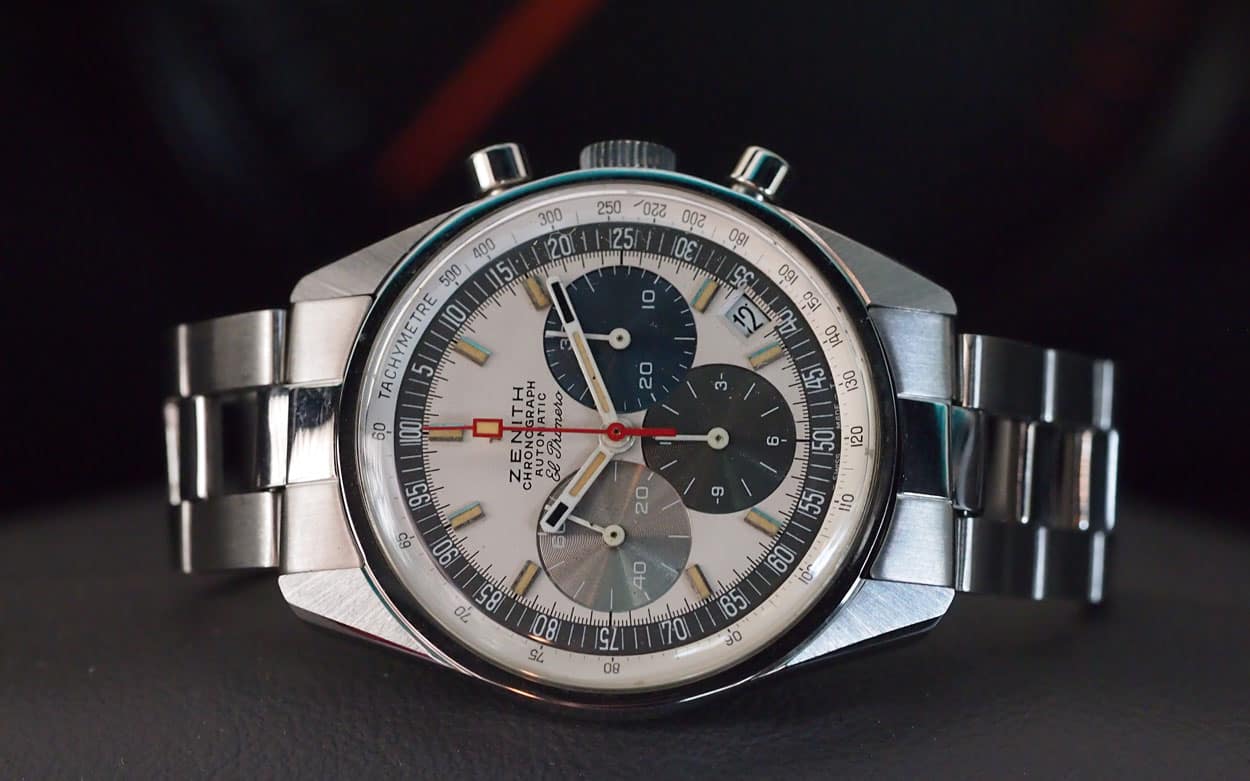 Nicely proportioned pushers and crown round out the top view.  Yes, this piece looks like a proper sports chronograph.  Some business-end highlights are that it carries an integrated chronograph movement vs a module placed on top of a 3-hand automatic. Add to that the fact the El Primero is a high-beat 36,000 bph column wheel movement and you have an incredibly accurate piece.  This, readers, was and still is heady stuff.  The movement also hand winds and has a quick-set date feature.  The case sits at 38mm but wears closer to 40 due to the lugs and slim bezel.  It also wears flat because of its slim integrated movement.   The piece I purchased, from Italy, came with a fantastic Gay Freres "ladder" bracelet (it was also sold with a black leather strap and pin buckle) so called because the spacing between links creates openings that look like rungs.  The quality is remarkable with oyster-esque outer links and this is echoed when looking at the buckle.  It also features a safety clasp not unlike old Submariners.  Look further at the folding clasp and the inner folding piece is stamped "Gay Freres".  The ribbed steel even looks familiar.  Hey, wait a minute! If all this is adding up to sound like a Rolex bracelet, let's remember that The Crown bought Gay Freres in 2004, so it was quite likely that they were making the classic Rolex bracelets all along.

So, what is the A386 like to wear and own?  The watch has great presence and you truly feel like you have something very special and unique on your wrist.  With only 2500 made, it's rare too.  The size is perfectly modern and it goes well with almost any attire.  Yes, this one is a keeper.   How about owning?  Ah, we now come to the interesting piece that will have such gravity when the lowly Seiko enters the ring.   Do you like old cars?   If so, you likely enjoy hunting for impossible-to-find old parts.  You likely also enjoy the romance of letting your car idle at start-up while it comes to temperature and you're also the kind who is familiar with double clutching so as not to ruin your stodgy gearbox.  At the end of it all, your patience is rewarded with great sounds, smells and handling.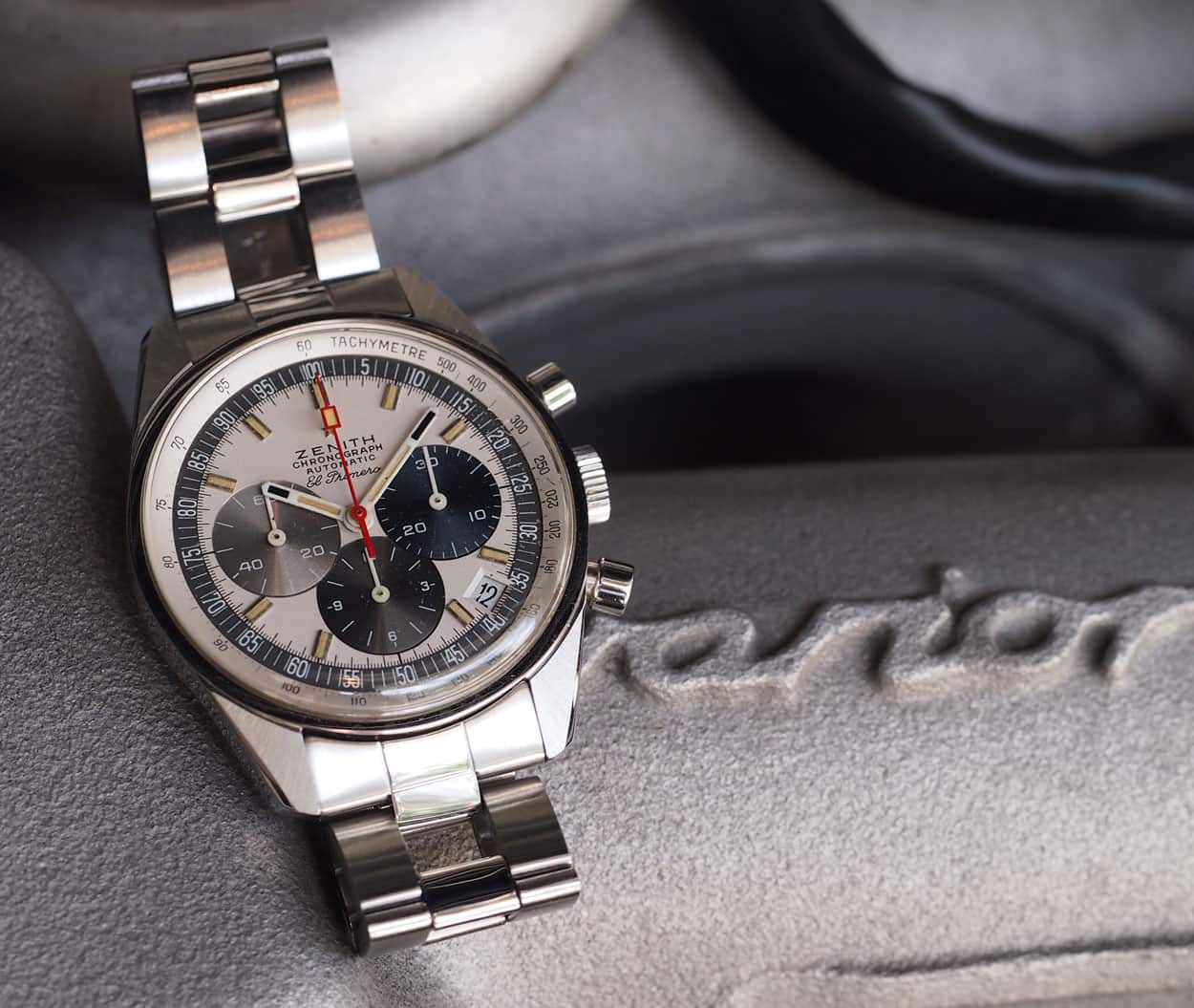 Whilst driving your machine, however, you are always on the lookout for something to go wrong and there is always something you can fix or improve.  Old cars are labors of love and there exists rare moments when everything is in tune.  See what I did there?  I said "in tune" and now let's get back to the A386.  I'd read the horror stories of the original 3019 PHC El Primero movements and how fragile they could and can be.  Heck, Zenith even developed its own lubricants for these movements long ago.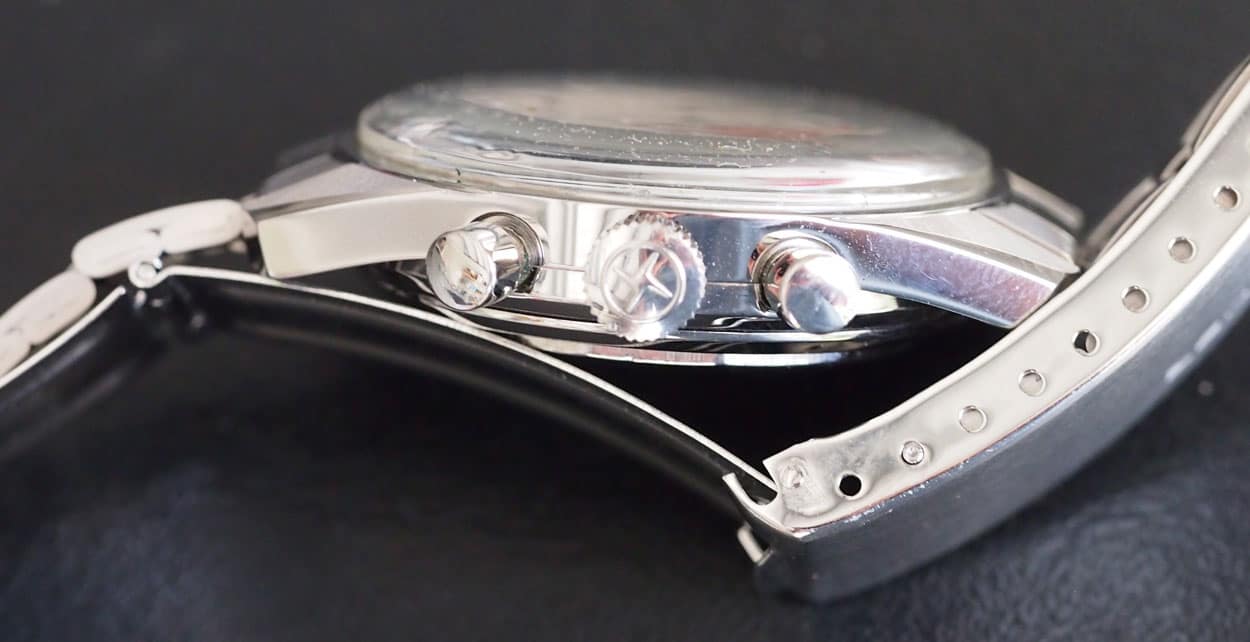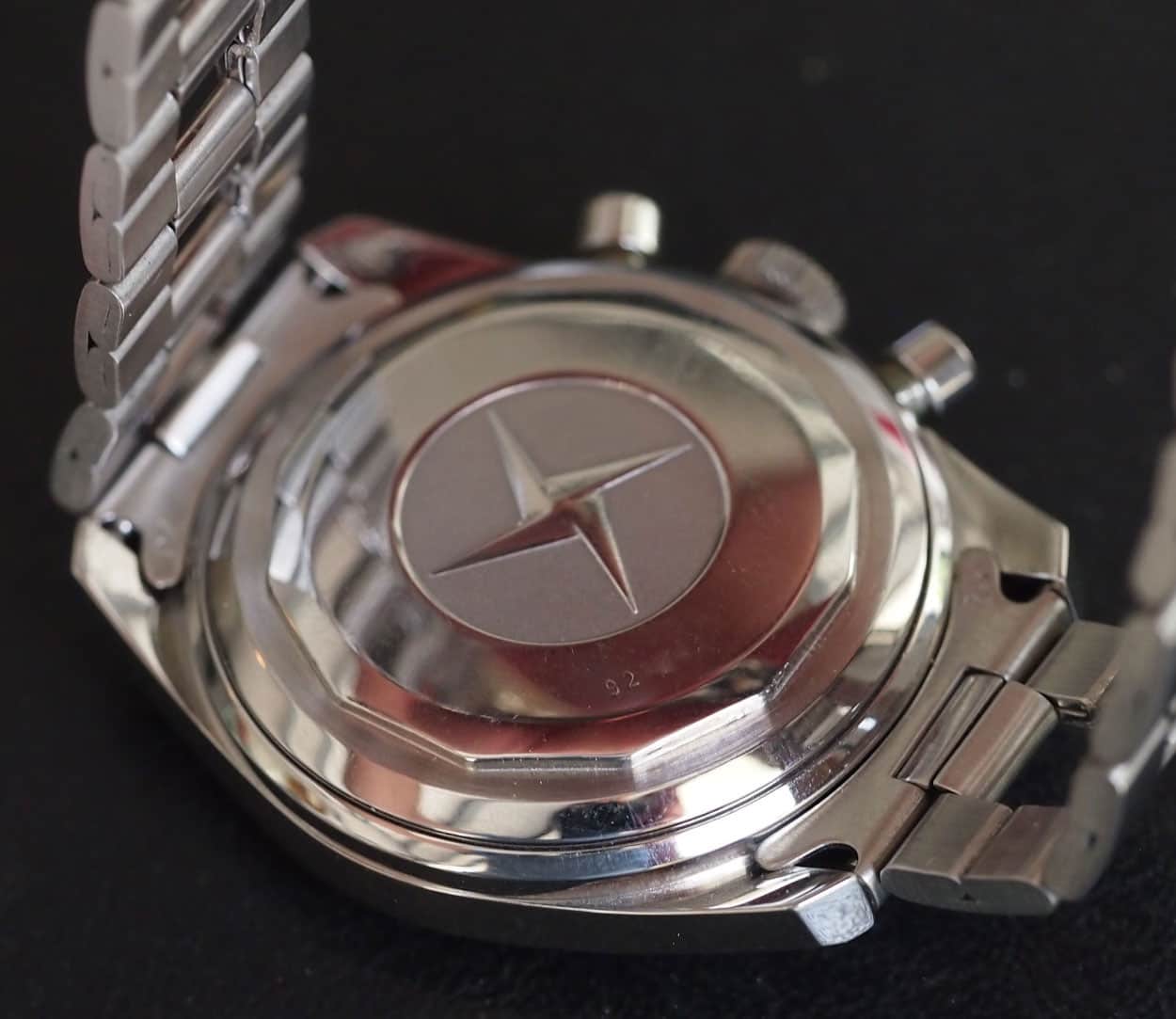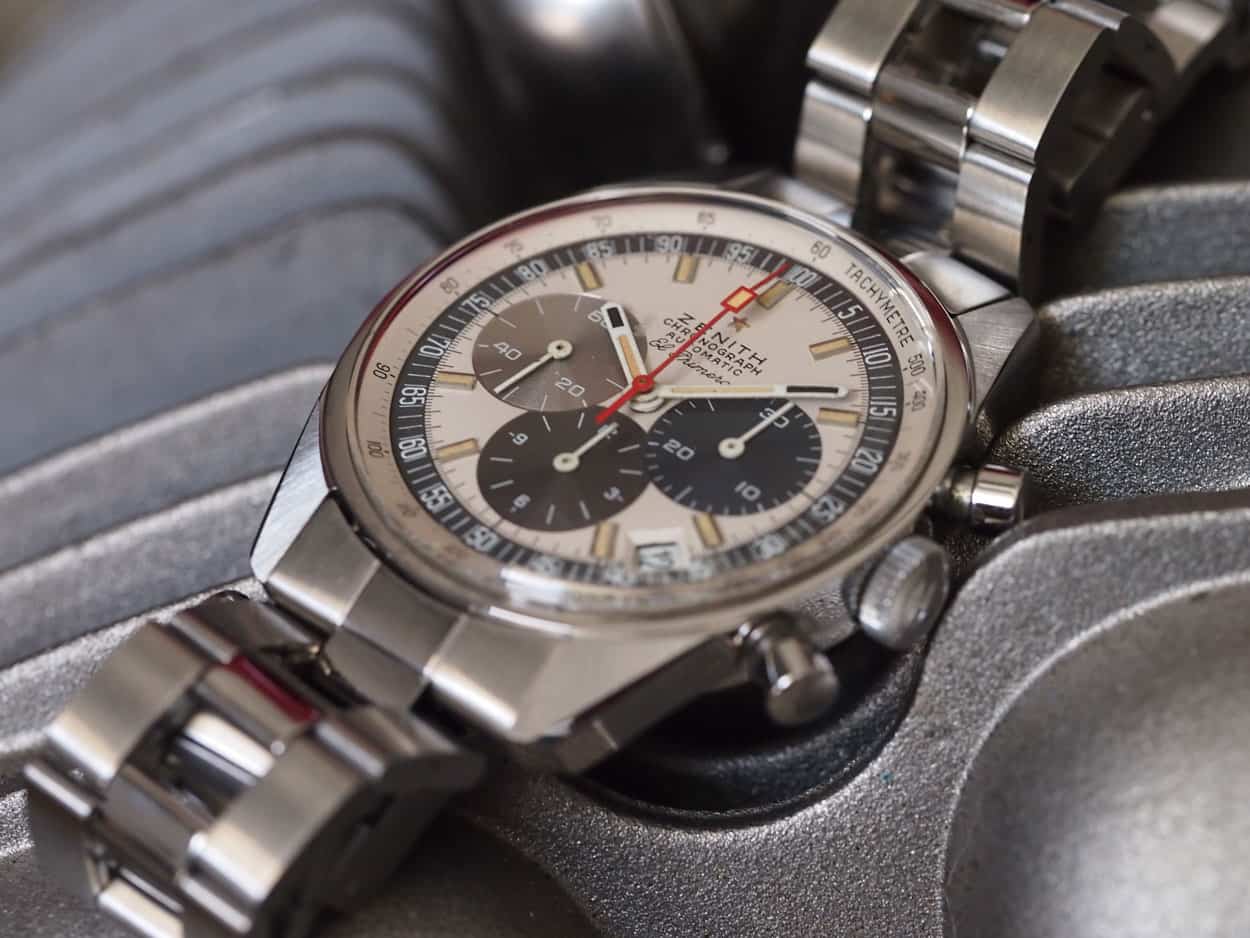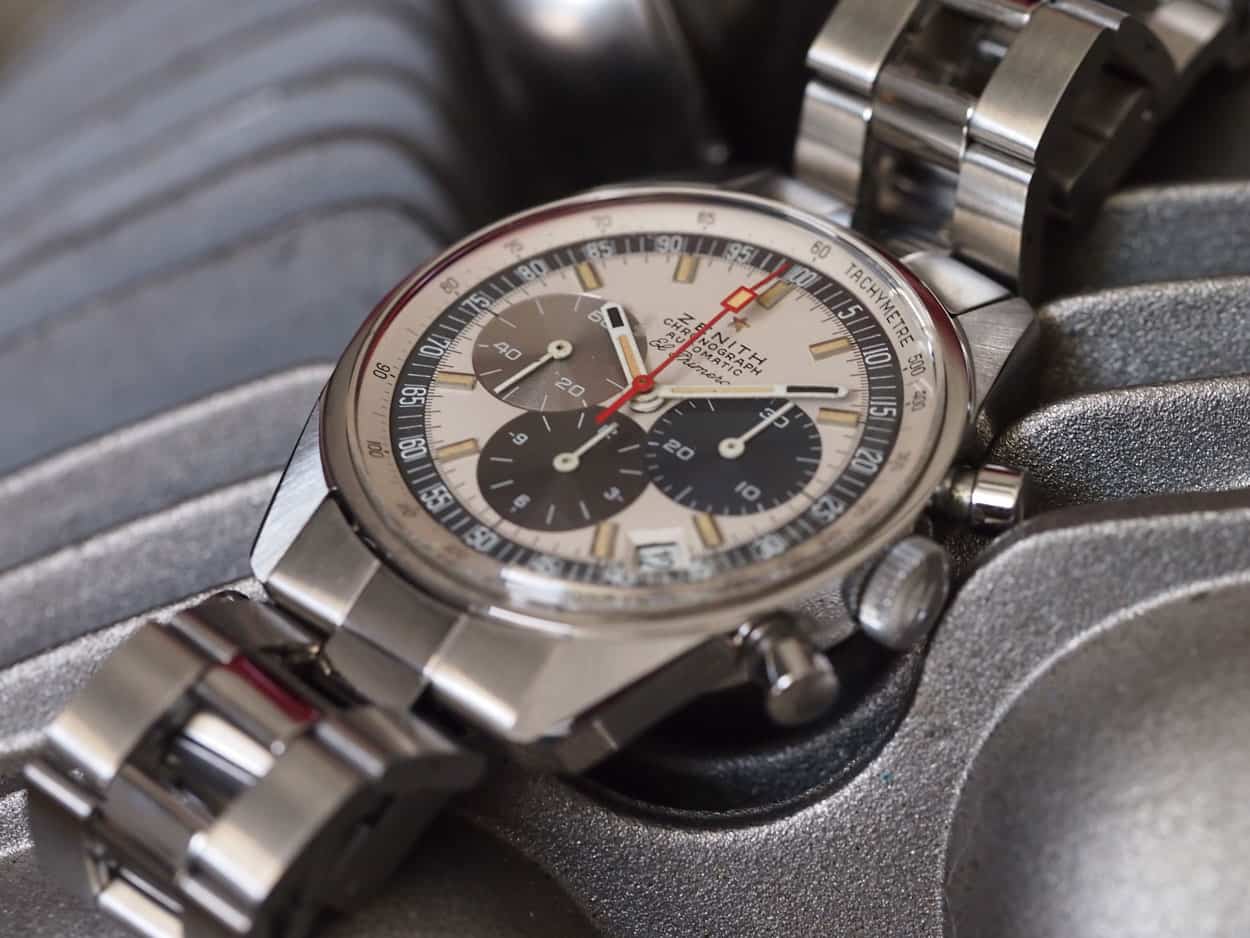 Well, a week into ownership and just after service (mine thankfully has a nice fat warranty), the chrono hand snaps back to, well, wherever the hell it wants and the date function throws 2 days forward at midnight.  (By the way, the date change is rapid fire but you need a good watchmaker to tune it to change at midnight…incredibly awesome.)  The funny thing is that I'm not mad and it will get fixed.  I find it charming like an old car: great to look at and use occasionally but high maintenance.  Thankfully, the one thing it does beautifully is keep great time.  So, that's the Zenith: rare, beautiful, highly complex and groundbreaking, but a bit fragile.
Seiko 6139 Chronograph
Enter the Seiko.  I'll start by saying this: if you're into vintage watches and you're not buying vintage Seiko, chronographs or otherwise, you need to get with the program.  The value to be had is beyond compare and the quality of all the pieces are easily on a par (or better) with the bulk of the Swiss pieces from the same era.  Prices are still decent but it's deceiving, as I have noticed a sharp decline in the really good, clean pieces for sale over the past 12 months.  Now that I am off of my soapbox, let's review the 6139.  The 6139 was Seiko's foray into automatic chronographs in 1969 but this fame has always been somewhat muted as the watches were JDM (Japan Domestic Model) only at the start.  The other detail that likely muddies the waters is that over the run of the 6139 model, there were a lot (scores) of different case designs, dials, and hands.  The positive is that there is likely something for everyone and the prices are still reasonable.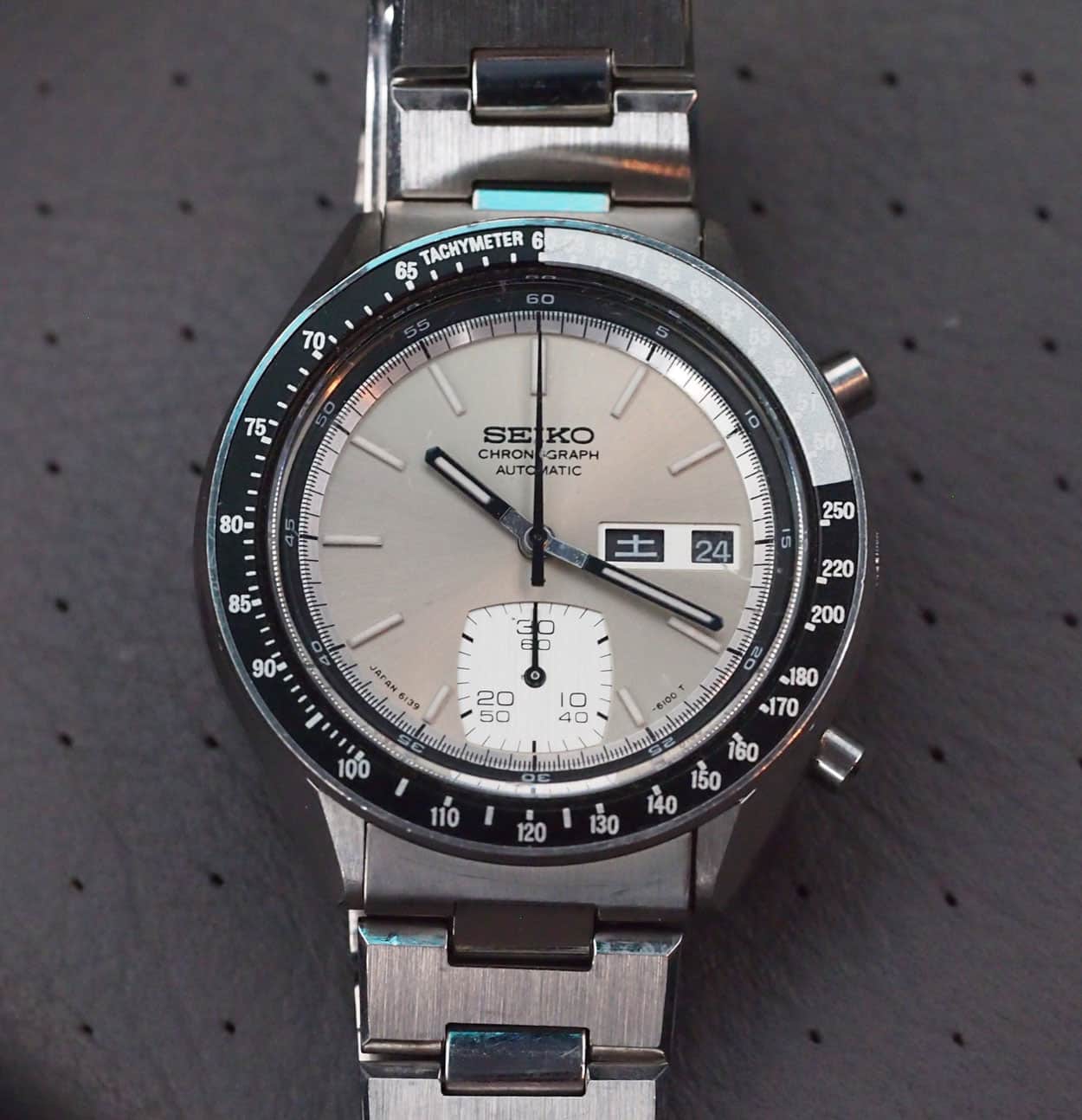 The 6139-6040 I chose as the review piece is new to me and is one that I had been after for quite some time.  I really like the subdued and purposeful dial, the rounded case, and the non-integrated lugs.  While it was not strictly JDM, most were sold in Japan and it was only made for 2-3 years.  Inside sits Seiko's 6139 caliber which is a non hand-winding, single register (minutes) column-wheel integrated chronograph that utilizes parts of the rugged, read: bulletproof, 6106 movement. Day and date are changed quick-set style by pushing in the crown either one or two detents.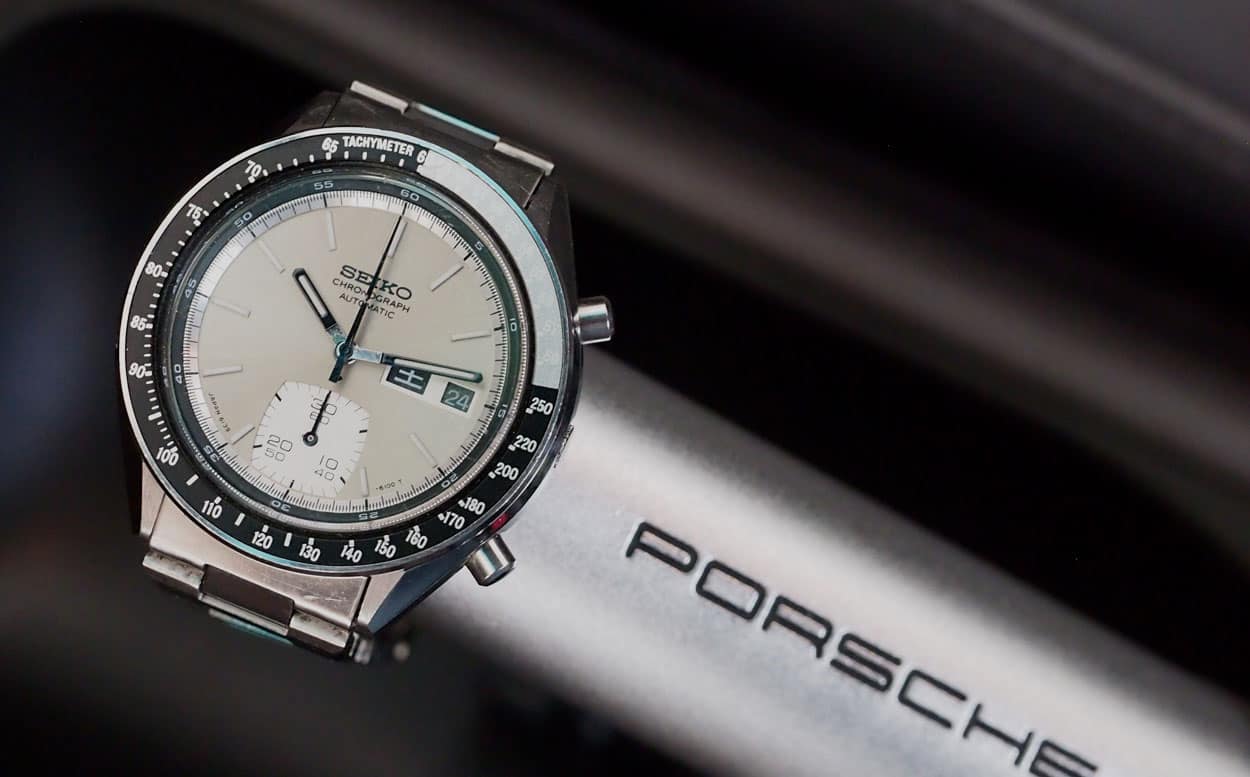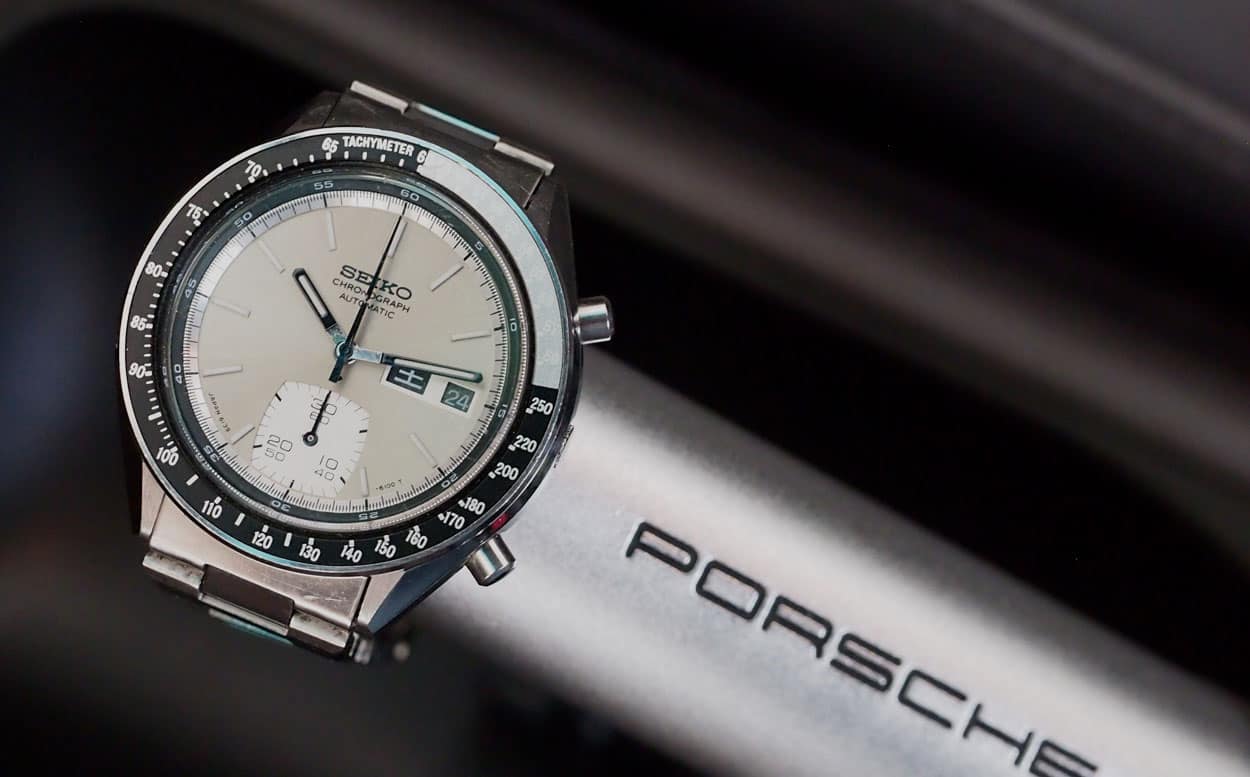 The watch foregoes hand-winding due to its Magic Lever system that allows for efficient winding no matter which direction the rotor spins.  The 6139's tend to have beefy cases due to their movements but the 6040 actually wears on the smaller side versus other Seiko chronographs of the day.  From the side, it even carries Seiko's famous Katana lines that are present on models such as the Grand Seikos.  The crystal is Seiko's Hardlex mineral glass; it's durable but likes to scratch.  Vintage Seikos are not known for their stellar bracelets (for a good time, ask Robert-Jan to say a few kind words about Seiko bracelets and a few words is all you'll get), but this bracelet is really very good; I'd say it compares well with similar offerings of the day from brands like Tissot.  The links are a bit sharp on the outside, though.  The dial on this watch has distinctive black hands and inner bezel ring; it's sharp.  The outer bezel is where things get touchy as this model is notable for fading and finding a NOS replacement is all but impossible.  Pushers look well proportioned and the crown sits flush with the case.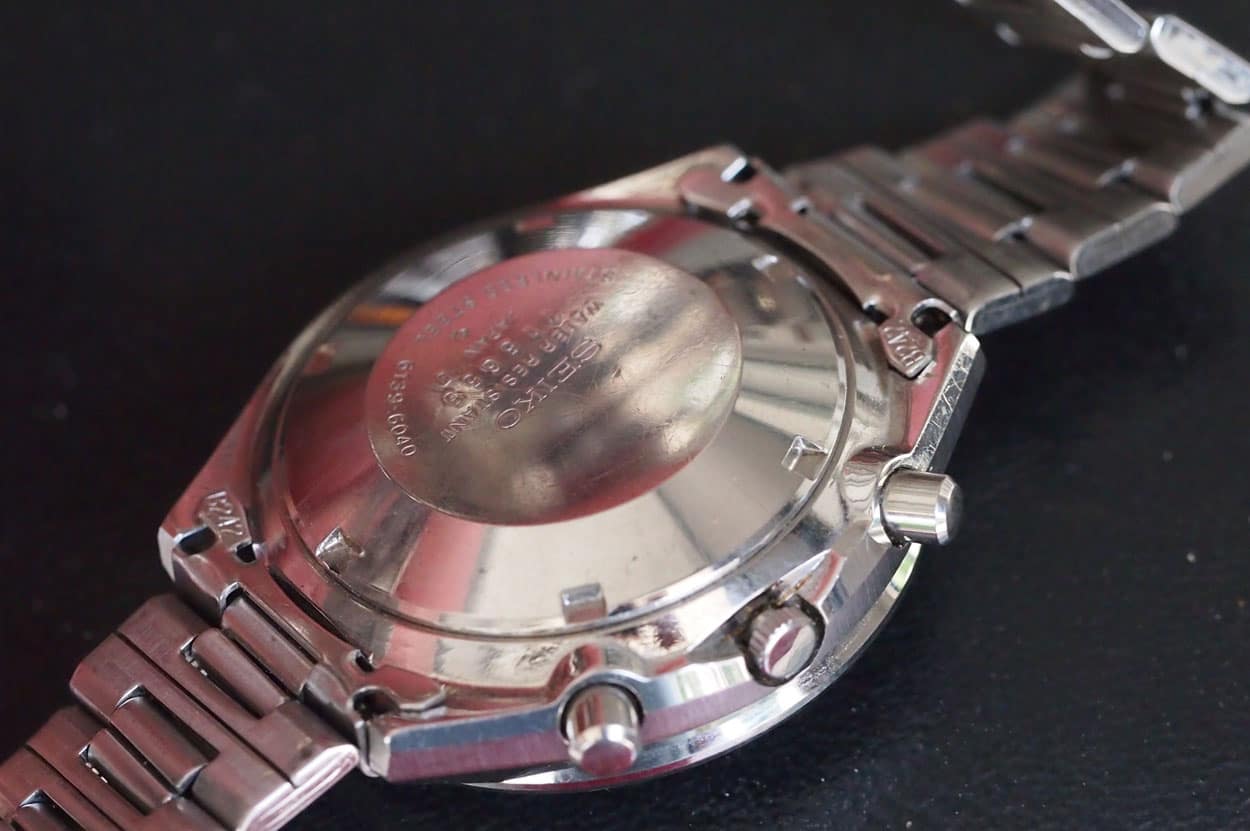 So, what is the 6139-6040 like to wear and own?  As mentioned above, this is a smaller feeling 6139 but it's still beefier and a bit more masculine than the Zenith as it sits higher on the wrist.  However, with its muted colors, it's remarkably businesslike so it blends in well with anything.  If being noticed for your watch is of primary concern, this is probably not your cup of tea.  Let's talk ownership.  If the Zenith is the fussy vintage, exotic sports car, then the Seiko is a VW GTI, Nissan Z or a Toyota Supra.  Turn it on, crank up the a/c, slam it into gear and go right away…day after day after day.  I can take you back to 2012 when I bought my first 6139, a yellow-dialed Pogue, off of eBay.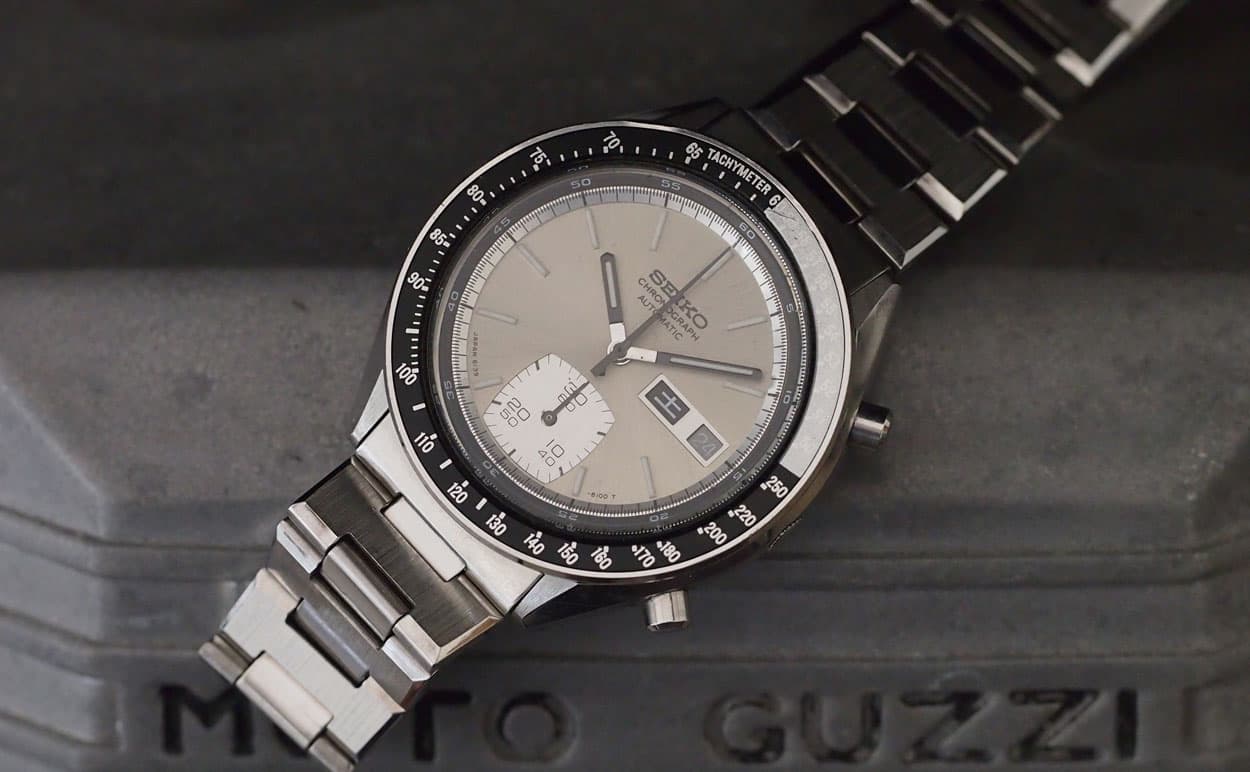 It arrived in nice shape but when I took it to Germany and threw it on for work, I noticed condensation as soon as I stepped out of the warm house into the winter air.  Who knows when the gaskets, typically around the pushers, gave up the ghost, but the thing still ran perfectly.  I sent it in for a 100 Euro service, my watchmaker saw nothing concerning on the movement, serviced it, changed the gaskets and now it runs flawlessly.  So, the bottom line is that the 6139 is a comfortable and rugged wearer.
Buying Tips
Let's talk buying tips.  When looking for an A386, get ready to dance on a minefield of pieces with loads of service parts: typically hands, dials, casebacks and crowns.  The movement is also subject to massive modifications on many vintage pieces.  I found mine on chrono24, or at least the dealer I ended up using.  I did a lot of web research and kept finding great reference material published all over by "LouS".  He frequents the Zenith forum on omegaforums.net and almost always responds quickly with helpful comments.  People always say to ask questions on forums, but I find it a bit intimidating.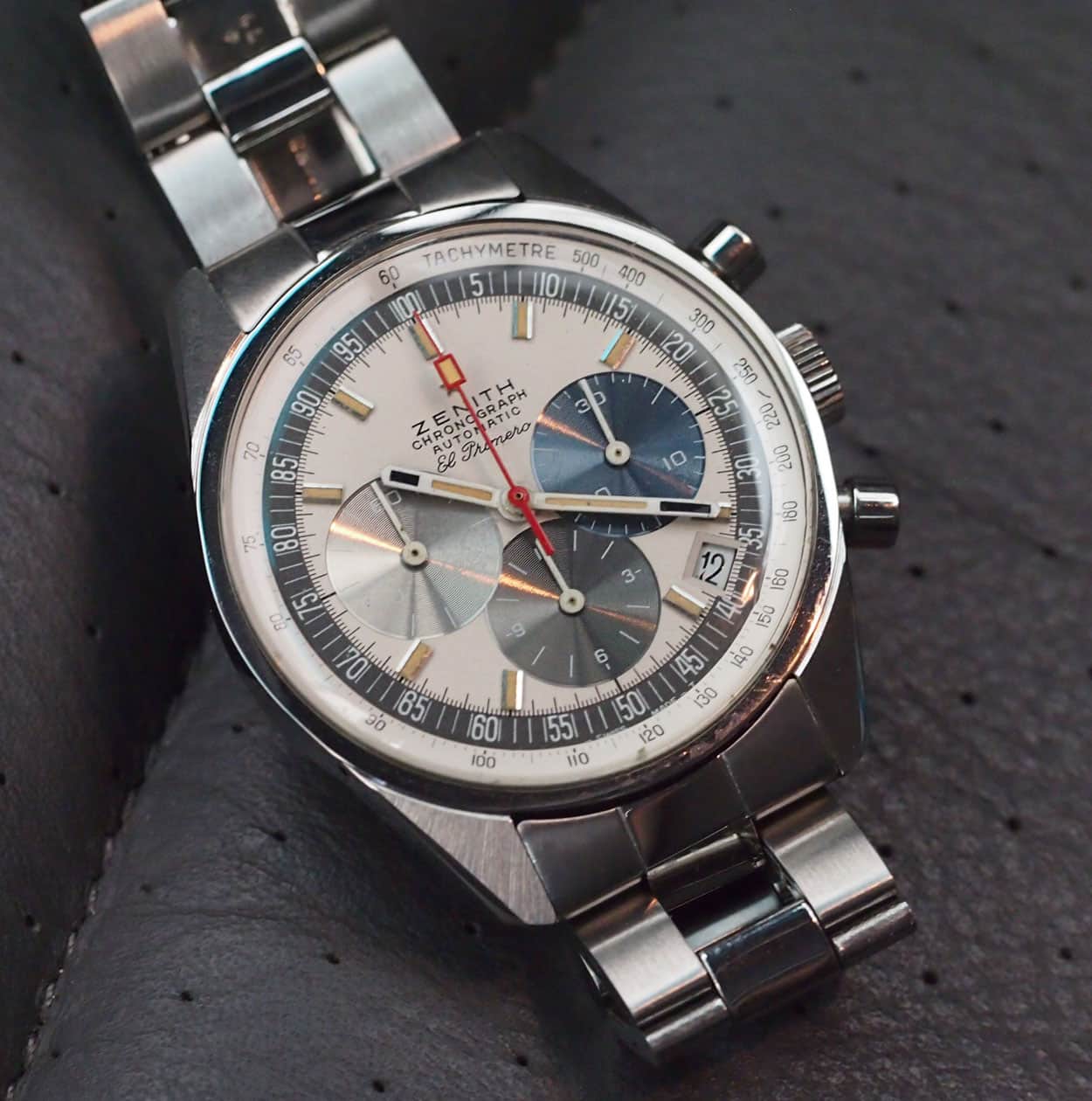 The Zenith forum, however, is not this way and I recommend vetting any potential purchase with the members there.  Pricing on an A386?  Go read the forum and see how prices have risen almost vertically over the past 12-18 months.  What was once a $4K piece could now push $8-10K+.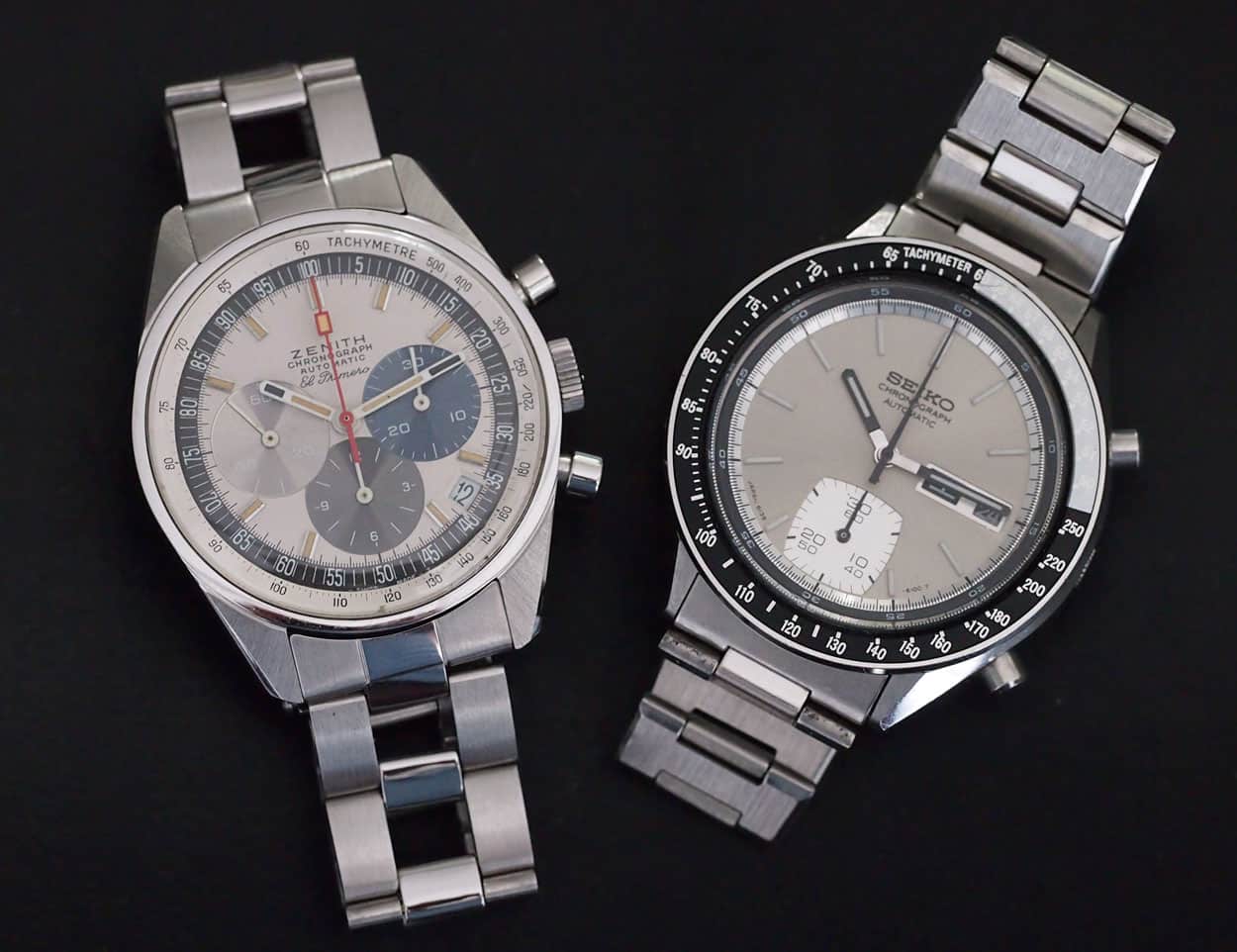 The Seiko 6139, at least the 6040, is a much different beast to locate.  It is also rare, but eBay is the best place to look.  One must really beware of "rotten" dials that have seen water entry and pieces with incorrect aftermarket 6139-600x Pepsi bezels.  As mentioned before, the bezels on these pieces fade mercilessly; the piece in this article is actually an example of a great bezel if you're wondering.  Check for cases that have seen a lot of polishing and ensure that the piece has the right hands (all of them).  Pricing seems to range from $250-450 depending on condition.   When I have Seiko questions, I tend to go to the SCWF (thewatchsite.com) and wristsushi.com.  Both places have loads of friendly members who are happy to give opinions and most people frequent both forums.
In the end, both of these watches are worthwhile.  Both are integrated, column wheel chronographs that represent the earliest of the breed.  Where the Zenith shouts with its technical innovation and high-contrast looks, the Seiko waits calmly in the background to whisper about its durability and everyday usability.  If the A386 prices did not scare you and it seems semi-affordable and desirable, then you can also easily afford to add a Seiko 6139.  My advice is to do exactly that.  However, when it comes to wearing, save the El Primero for long Sunday drives and bring the Seiko out for the daily commute.
Enjoy the photos below of the Seiko 6139 chronograph and Zenith El Primero A386.