The Magnificent Seiko Champion Alpinist J13043
Taking in one of the best Seiko designs from the early '60s
With so much Alpinist talk these days, I felt it was high time to take a look at what I think is the finest model in the model's history. Feast your eyes on the Seiko Champion Alpinist J13043 and devour a few words while you're at it.
Just last week, we took a look at a couple of new Seiko Alpinist models that take their cues from the original 1959 Laurel model. I actually own that original and somewhat rare reference 14041 in black. It was and is a rather unique Seiko, especially when one considers the era. However, the second generation of Alpinist models was far more original and dynamic. These fell under the Champion line of watches and, as was normal for Seiko, designs changed yearly. Out of all the variants, I really dig the sector dial models with all their details. The Seiko Champion Alpinist J13043 just so happens to be my favorite.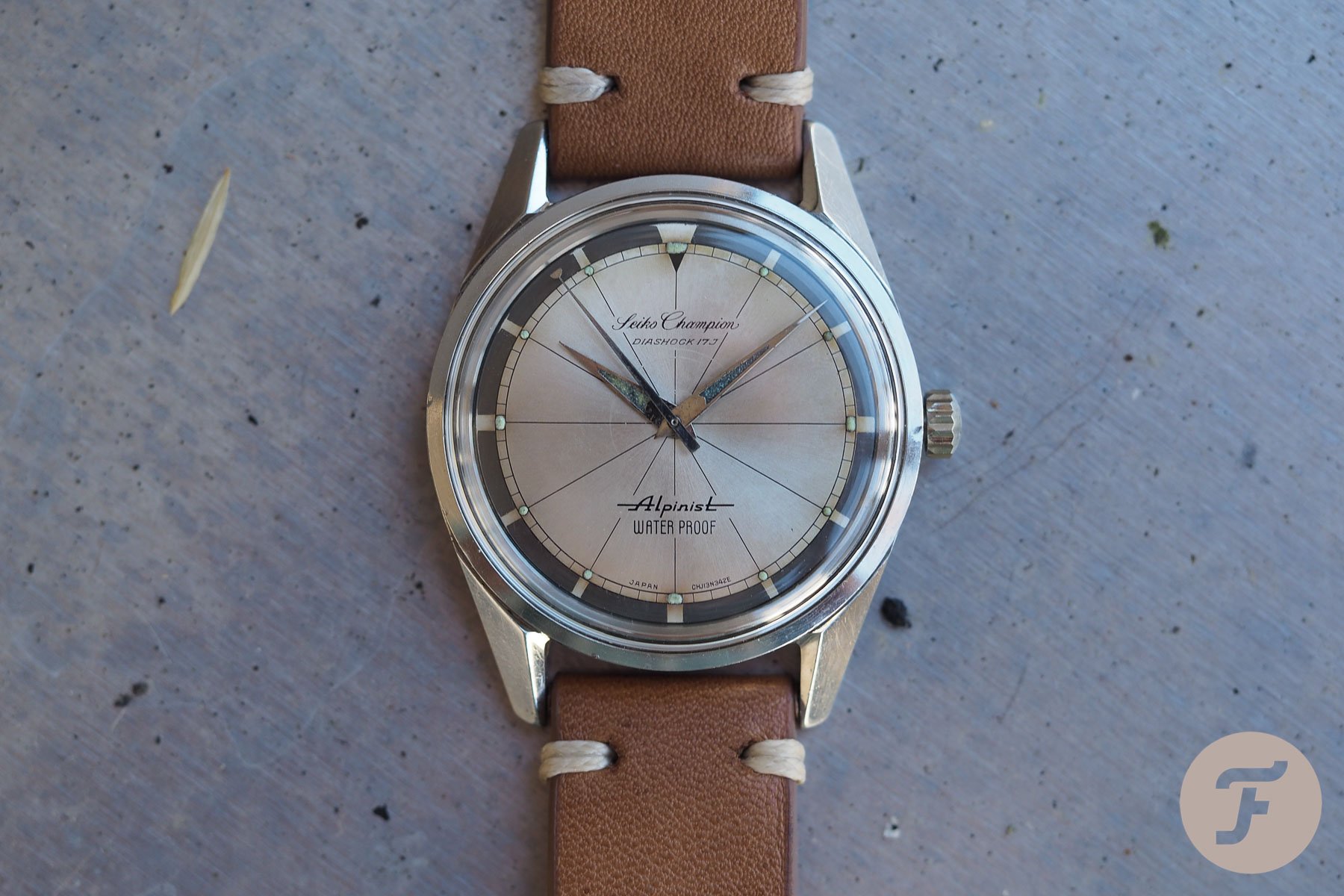 The Seiko Champion Alpinist J13043
One glance reveals that the Seiko Champion Alpinist J13043 is a very different animal. We're somewhere around 1963 here and it's clear that Seiko has broken away from those innocent, playful pieces that defined the brand's earlier collections. Even though this watch is still intended for outdoorsmen, it gives off a more brutal almost industrial air. It almost takes me to the Streamline Moderne era. Take in the sharply defined brushed silvery sectors, a railroad minute track, and the thick surrounding anthracite border. The symmetry is simply perfect. Was there room for a date window? Nope, Seiko was on a mission here and such an eyesore wasn't at all welcome.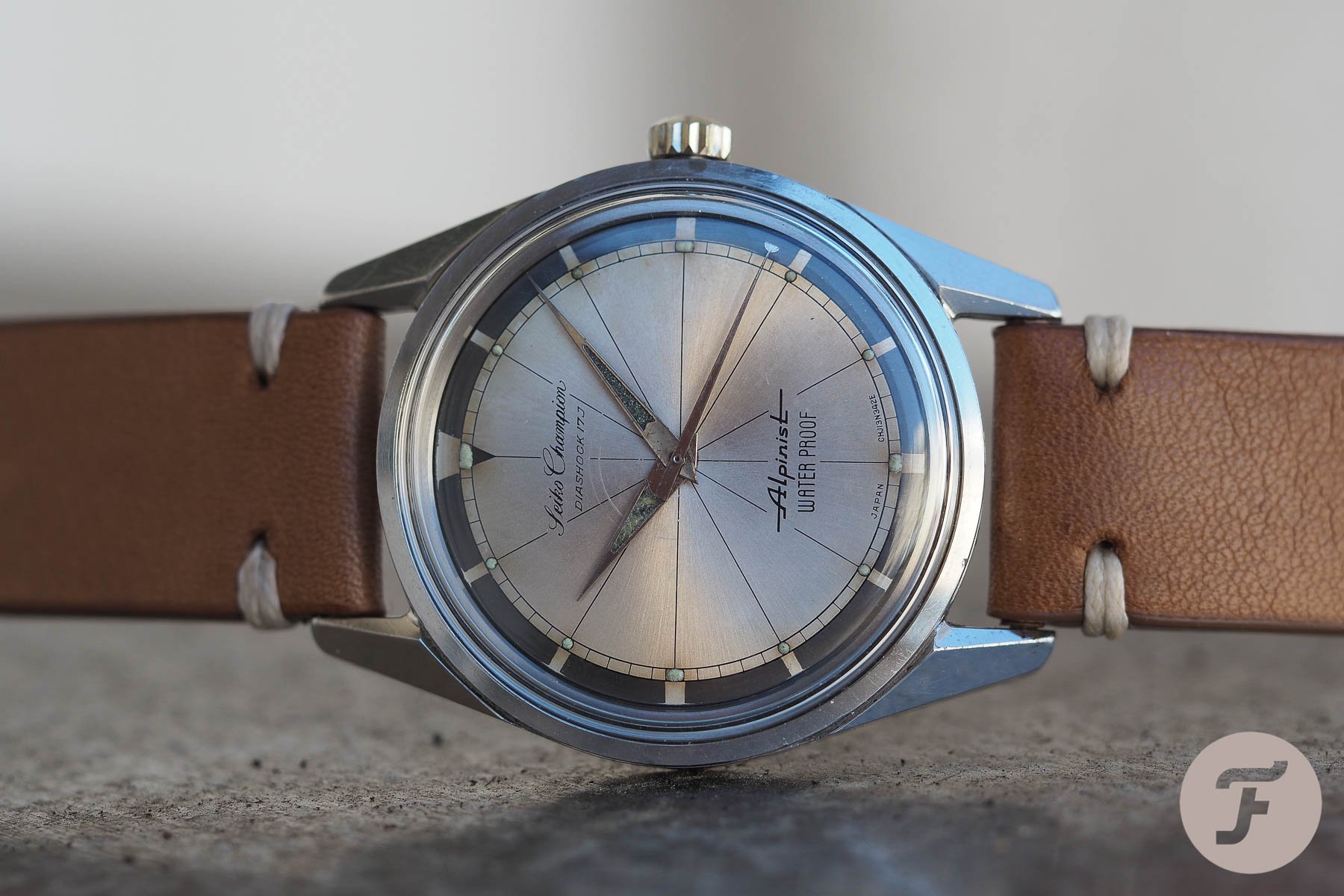 From a distance, it's clear that the Alpinist J13043 is attractive, but the little details are just as noteworthy. Seiko added lume evenly at the hours with just a touch more at 12 o'clock above a defining black triangle. The lumed dagger hands look incredibly sharp. When we come to the seconds hand, though, it just might contain the best styling element of all…
The designer could have left things with a simple sharp end, but they chose something else entirely. A small, contrasting semi-circle adds the perfect counterweight. It doesn't look like it should work, but it does and I love it. Finally, we once again get four(!) different fonts on the dial that seemingly work together. I have no idea why I like the cursive script at the top, but it doesn't offend at all.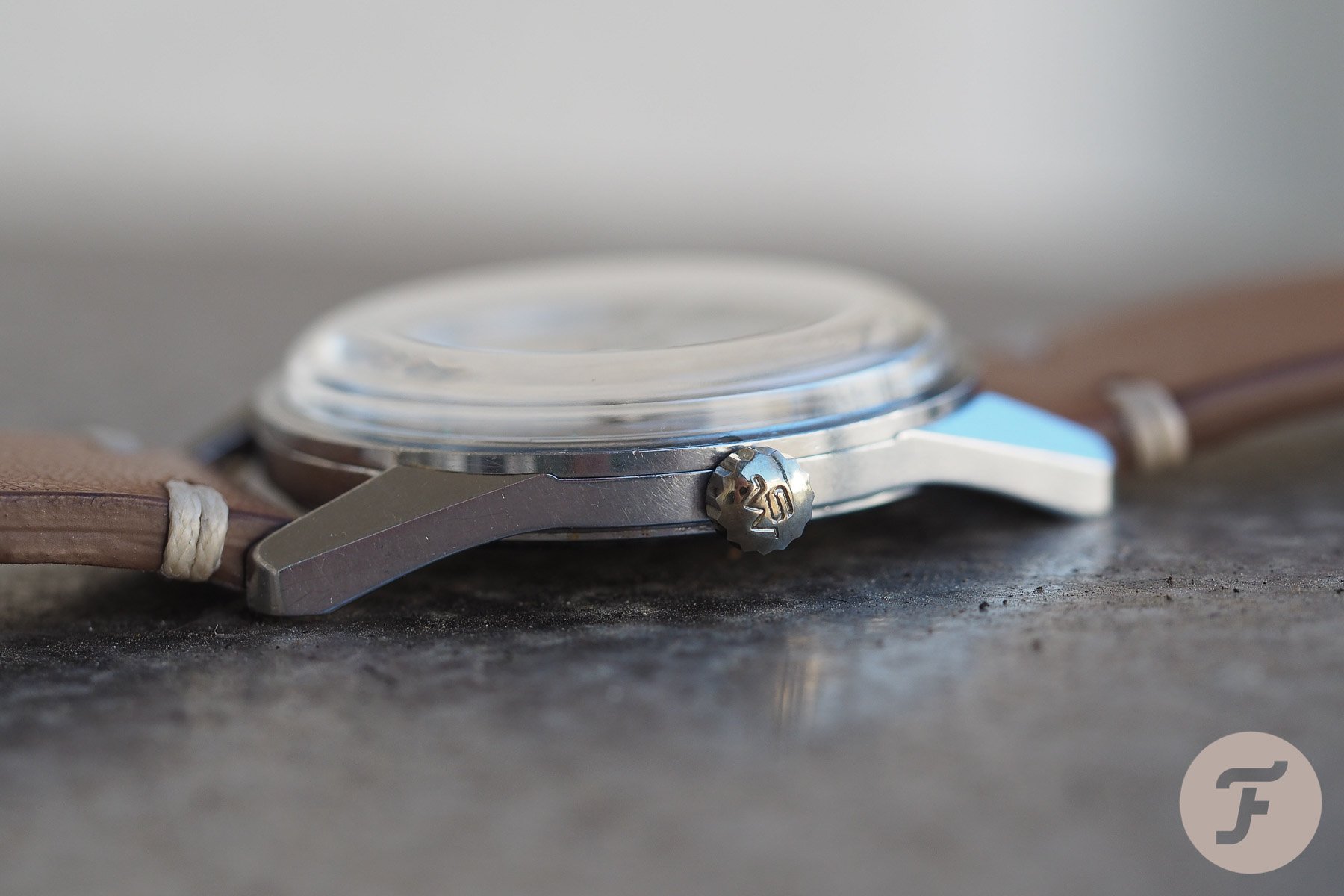 A great case design with more details
With some of my more recent articles, I've taken you on a mini tour of some early '60s Seiko watches. I enjoy each and every one for what they bring to the party. What those watches don't bring, though, are complex case designs. The Alpinist J13043 flips the script a bit on that with its multi-chamfered lugs and inset bezel design. And while it doesn't speak to manufacturing difficulty, I particularly enjoy how the lugs flow smoothly from the case. For a watch that's "only" 35.5mm in diameter, it ends up looking beefier. In league with this is a lug-to-lug of 44mm. That's 2mm more than the Champion J13040 we saw a few weeks back and it makes a big difference on the wrist.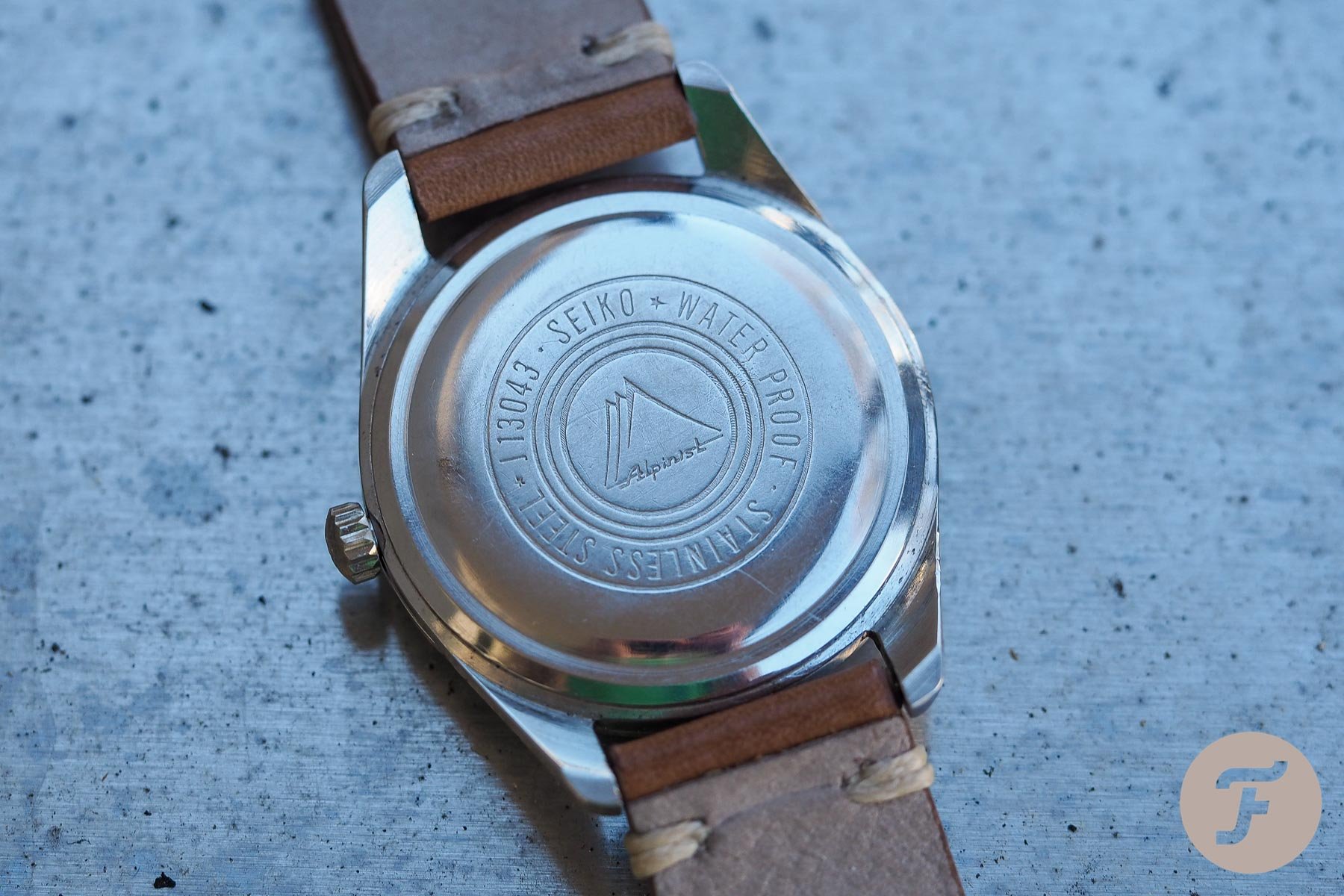 You'll also see that Seiko employed its typical Seikosha 17 jewel hand winding unit with Diashock in the Alpinist J13043. It sits beneath a snap case back that features some pretty epic engraving. Some of my favorite details aside from the Alpinist logo are the little stars and the three concentric rings. How good is this case back for something almost 60 years old?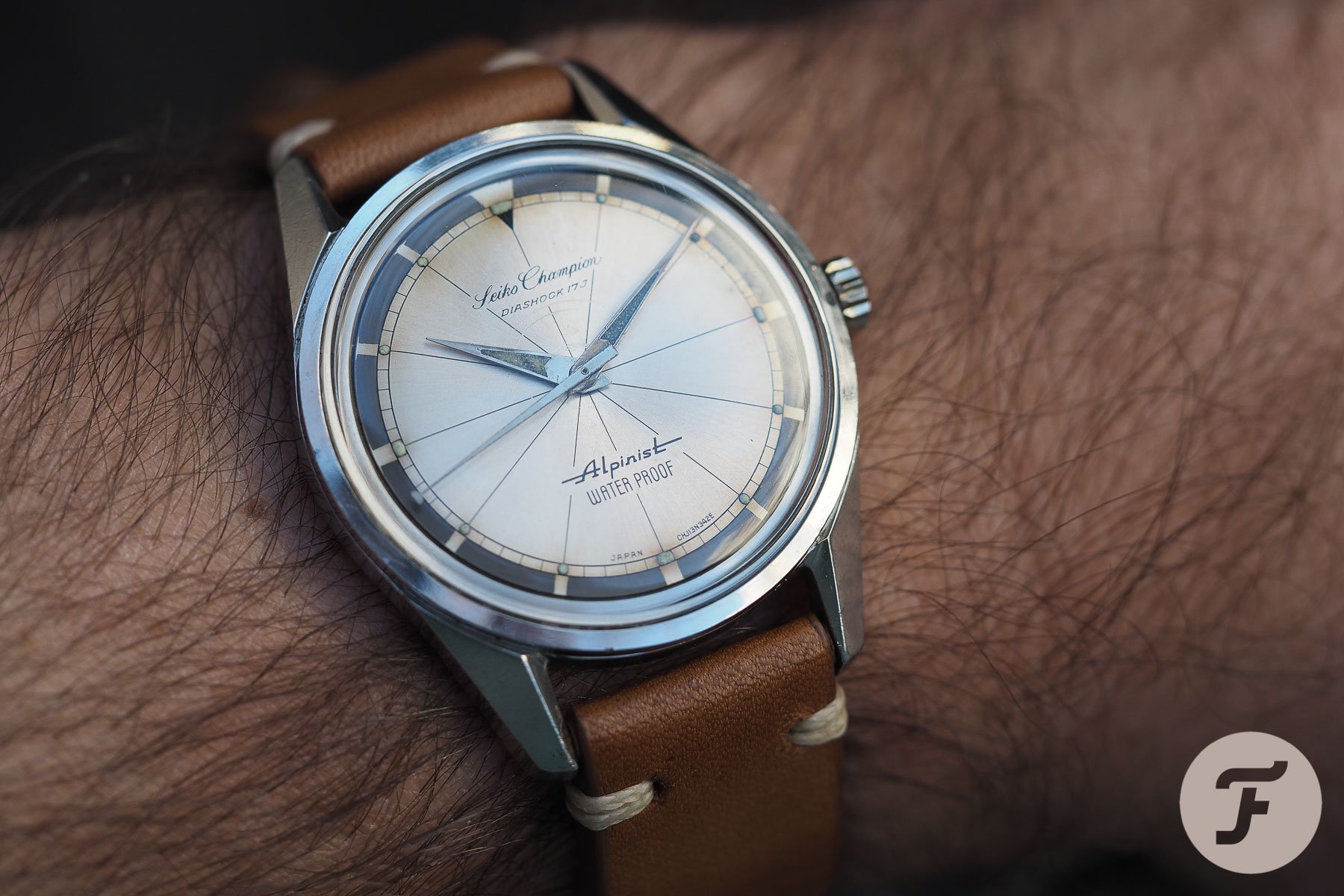 A tough watch to find
I purchased this Seiko Champion Alpinist J13043 out of Japan a couple years back. It was cheap (somewhere just north of $100) because it was a basket case. The dial was twisted around, the crown was missing, and it clearly didn't run. Oddly, the crystal was ok and the hands were there. I had to track down a donor movement to help with some repairs and found a crown. Thankfully, our faithful watchmaker James is passionate about Seiko and isn't a quitter. I think the result is fantastic.
You'll note the serious amount of wabi on this Alpinist J13043. Unfortunately, this is par for the course on most of these watches. It seems that the advertising worked and people actually used the heck out of them. I don't mind it, though, because the design is intact and the case looks good. This watch has lived a life and I'm happy that James could help me in getting back "on the road." Every so often, better examples come along, but that's not the norm.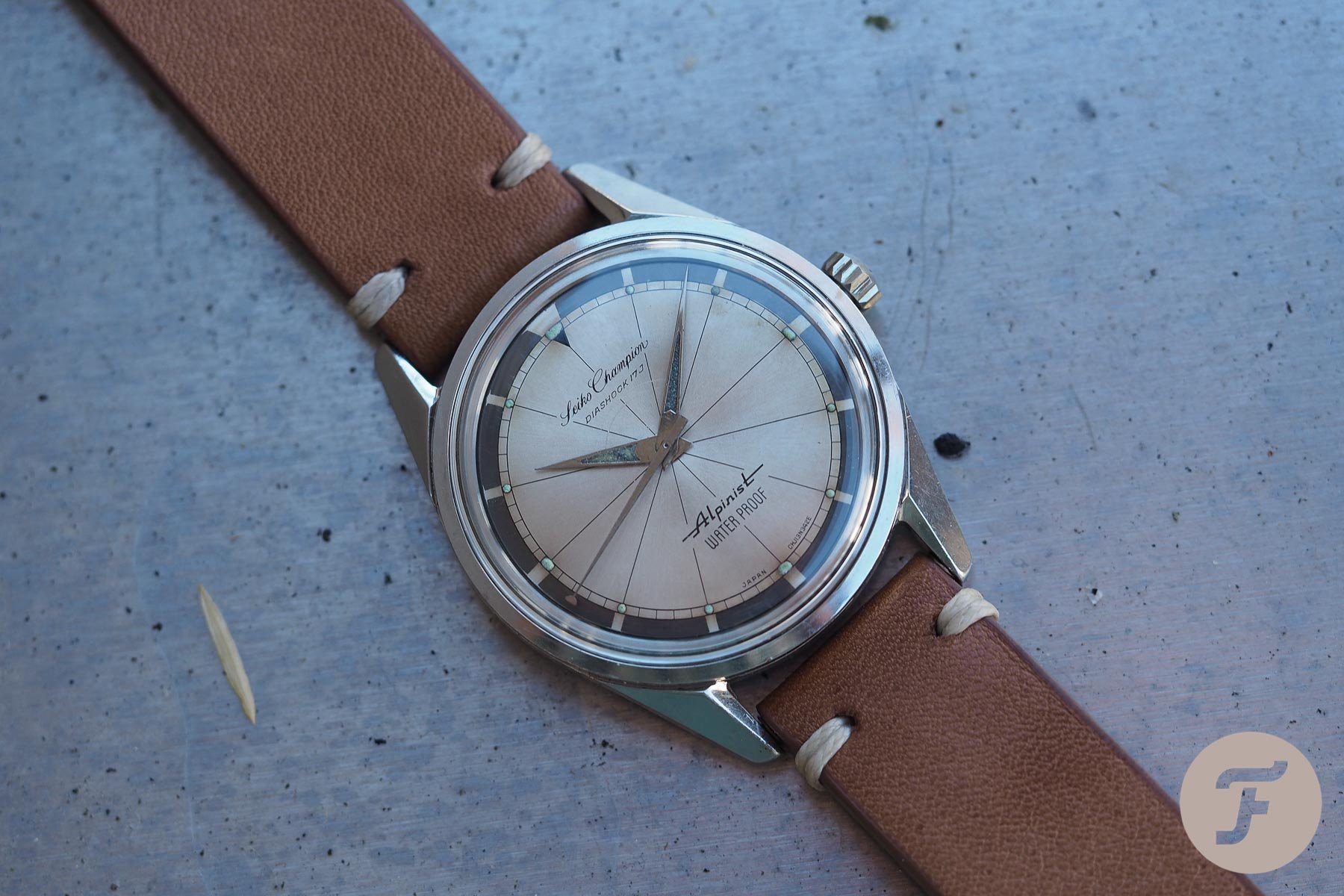 The Alpinist J13043 is not an easy find
Despite the fact that the modern Alpinist models are so popular, one rarely sees these early versions online. I suppose that's because a watch like the Alpinist J13043 is relatively rare and even more so outside of Japan. As such, these watches are becoming more and more expensive. There are other, similar references with chrome cases that are usually more reasonable. For this model, plan on $600+ to land a decent one. That's not insignificant, but when something looks this good, it's usually not cheap.
Let's see if Seiko pays tribute to the Alpinist J13043 at some point in the future. I'd like to see it, but with one condition. Don't add a date window!
Watch specifications
Dial
Silver and grey with applied luminous
Case Material
Stainless steel
Case Dimensions
35.5 Diameter, 44mm Lug to Lug, 10mm Thickness, 19mm Lug Width
Case Back
Stainless steel snap back
Movement
Seikosha 17 jewel hand winding
Functions
Time (HH:MM:SS)
Special Note(s)
Produced during the early 1960's