Seiko World Cup: Round 4 — RJ's Marinemaster 300 SBDX001 Vs. Nacho's Prospex SRPC35K1
Will the Mini Turtle stand a chance against the big, bad Marinemaster?
SBDX001 Marinemaster
SRPC35K1 "Mini Turtle"
Welcome, Fratelli, to the fourth round of the 2023 Seiko World Cup. For this inaugural contest, the focus is on dive watches! Today, we see RJ and his Marinemaster SBDX001 go up against Nacho and his Prospex SRPC35K1 (aka the "Mini Turtle"). As with some of the previous rounds, this time, it's also a personal match as both RJ and Nacho own the watches they'll be defending. This is the last showdown in the group stage before moving on to the semifinals, which will kick off next week. So, without further ado, let's meet our contenders and get into the action. As always, remember to read through to the end and vote for your winner!
In RJ's corner, we have the classic Seiko Marinemaster reference SBDX001, a proper high-end model with rugged looks harking back to the Seiko 6519-7000 from 1968. And in Nacho's corner, we have the humble Seiko Prospex SRPC35K1. This discontinued model had a short production run, during which it acquired the "Mini Turtle" moniker. This is due to its smaller scale compared to the 45mm SRP777 "Turtle" introduced in 2016. One could consider today's contenders to exist in different weight classes altogether, with the original price of the Marinemaster being about quadruple that of the Mini Turtle. However, as we have seen already in this Seiko World Cup, when it comes to the brand's dive watches, sometimes the underdog comes out on top. Let's kick things off with Nacho and the SRPC35K1.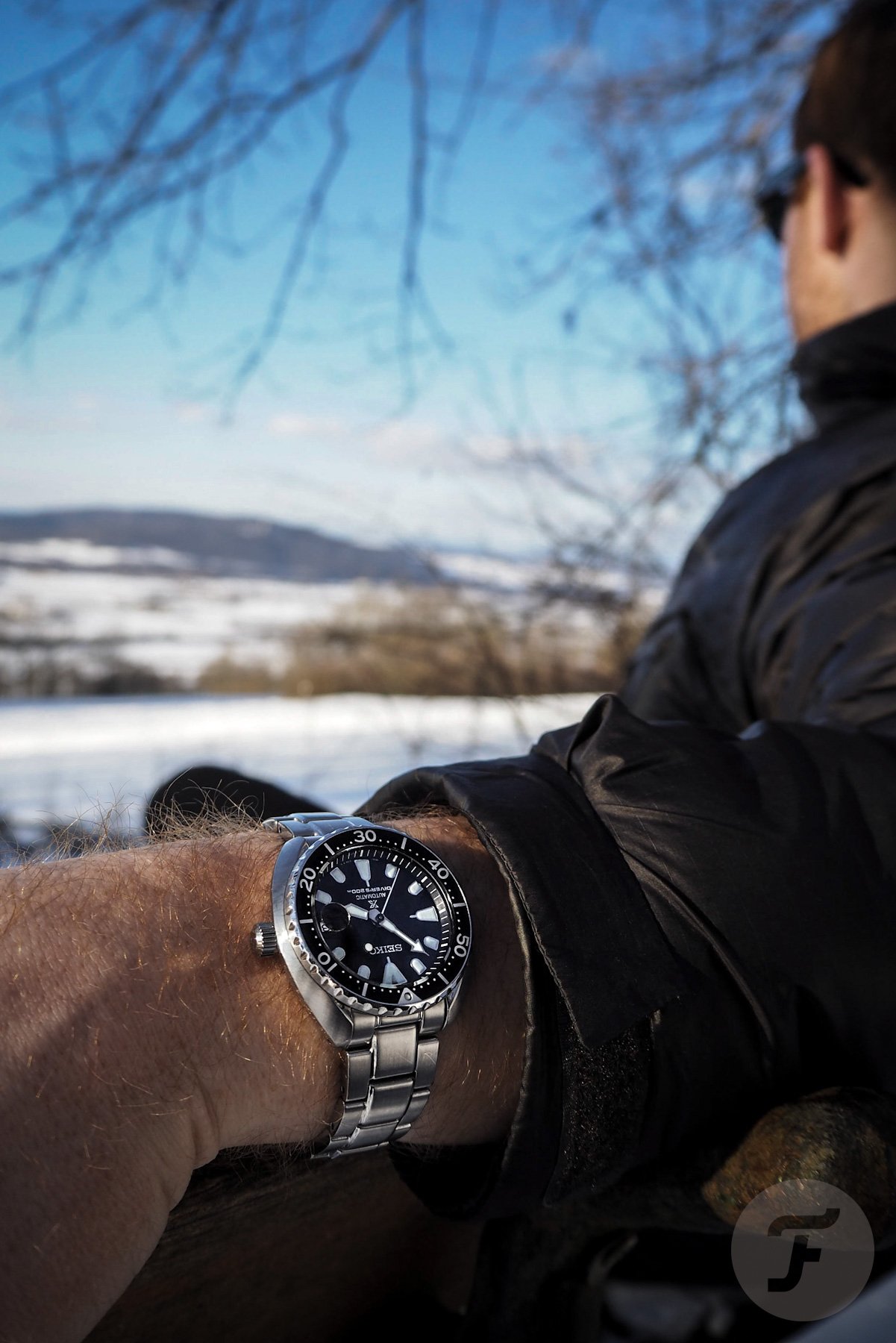 Nacho: SRPC35K1 "Mini Turtle"
Well, it feels like I've walked into a David-versus-Goliath scenario in my first Seiko World Cup outing. However, I still like my chances. I'm a big fan of the Mini Turtle. Sure, it's not the most obvious choice, but it does have a lot going for it. I already wrote an article singing its praises two years ago. First released in Japan in late 2017, the SRPC35K1 made its worldwide debut in early 2018. Sadly, Seiko discontinued it just a couple of years later. But in the short time that it was available to the public, it claimed the hearts of many Seiko collectors. With a humble purchase price of €439 (on the steel bracelet), it offers quite a bit in terms of price-to-specs ratio. It was smaller and more wearable than the slightly pricier SRP777; it had all the makings of an instant hit.
More importantly, the Mini Turtle had a handful of quirks that were atypical for Seiko divers. Most of these can be found at the 3 o'clock position, the first being its crown. Most Seiko divers default to a 4 o'clock crown. The Turtle, SKX, and their respective predecessors have this Seiko staple. Also at 3 o'clock, the date is highlighted by a Hardlex magifier, a rare thing in most modern Seiko watches, which gives the Mini Turtle a unique look. Unlike the aforementioned watches, the Mini Turtle has a 20mm lug spacing. This gives it a more refined and elegant look than a chunkier 22mm strap would. Another design quirk is the "tombstone" markers, which are applied to the matte black dial and filled with a ton of lume.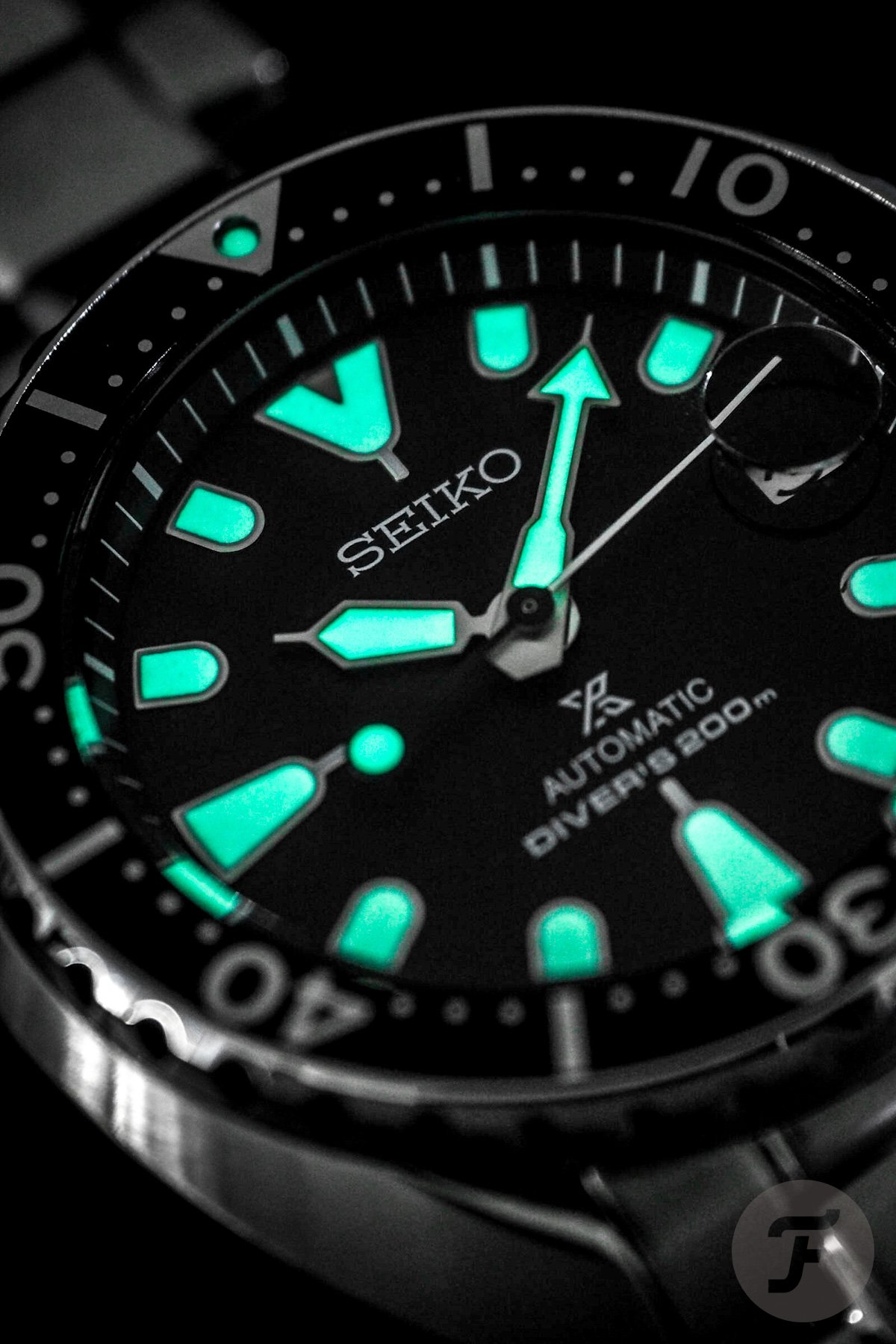 Entry-level value and hard-to-beat wearability
Now, we have to keep in mind that, in contrast to the high-end Marinemaster, the Mini Turtle was a mid/entry-level model. This means that everything you see comes at a fraction of the price of the MM. And for its price, you certainly get plenty of value, even compared to some of its similarly classic contemporaries. We'll start with the movement. Inside the SRPC35K1, you find Seiko's 4R35. A step above the brand's base calibers, it features hacking, hand winding, and a simple date at 3 o'clock. For a just-above-entry-level model, the movement feels great and operates very well. Our photographer Morgan noted that when shooting the watches for the Seiko World Cup, the Mini Turtle's crown and bezel action felt the best of them all. That's high praise from a photographer in his 11th hour of shooting Seiko watches.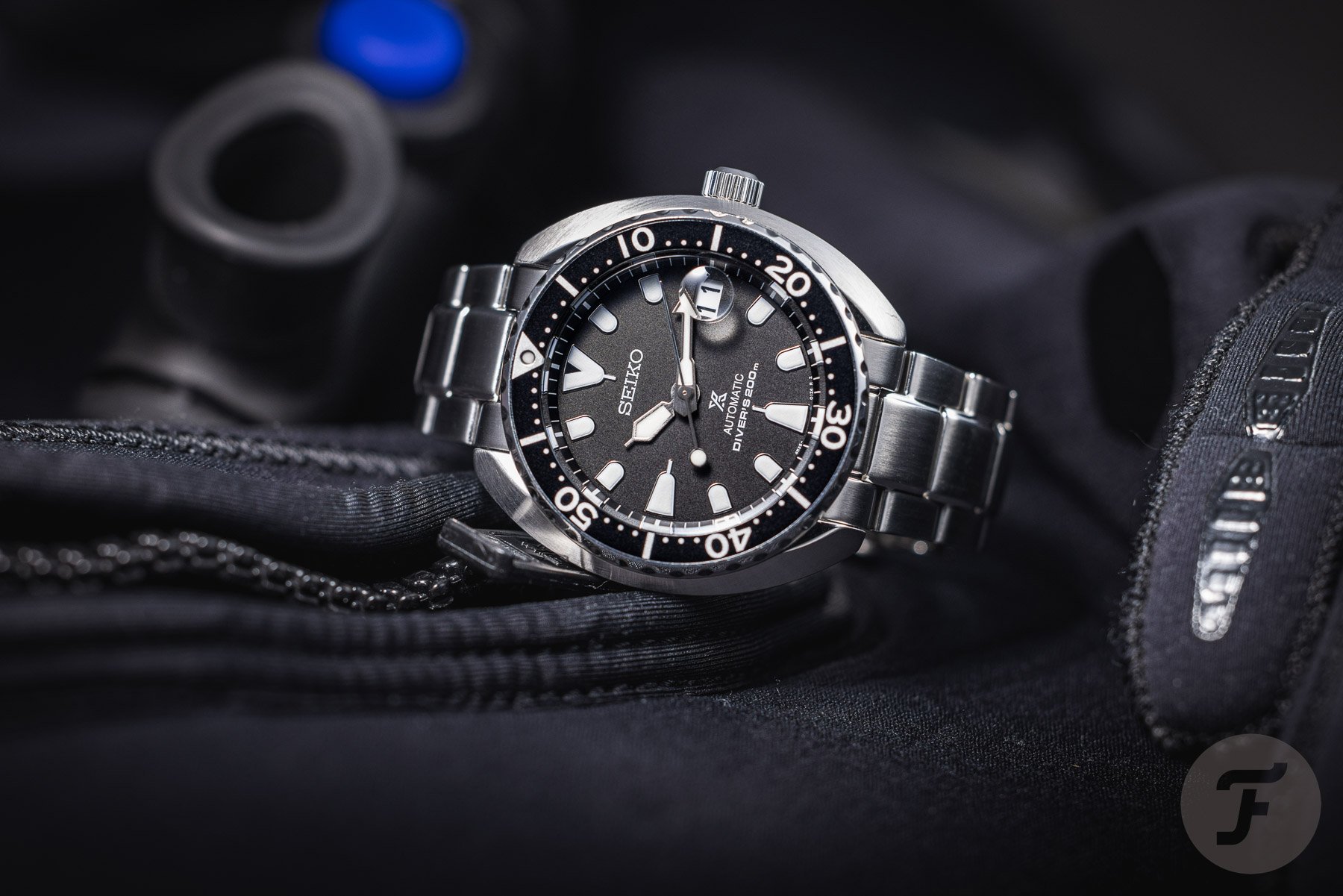 One feature of the Mini Turtle that has always stood out to me is the quality of its overall finishing. It sits a cut above an SKX or even the SRP777. The case, with its sleek, twisting lugs, is beautifully brushed. The polished sides and inner lug facets feel subtle and refined. The brushed finish is also featured on the hands, which makes for a nice upgrade to Seiko's most basic set. The bracelet is also surprisingly solid, featuring micro-adjustments and a dive extension. Finally, let's talk about proportions. The Mini Turtle measures up at 42.3mm in diameter by 43mm in length. This gives it a puck-like shape, resulting in a comfortable and well-proportioned fit on any wrist. Coupled with the 20mm lug spacing, its incredibly versatile dimensions made the Mini Turtle seem truly ahead of the curve.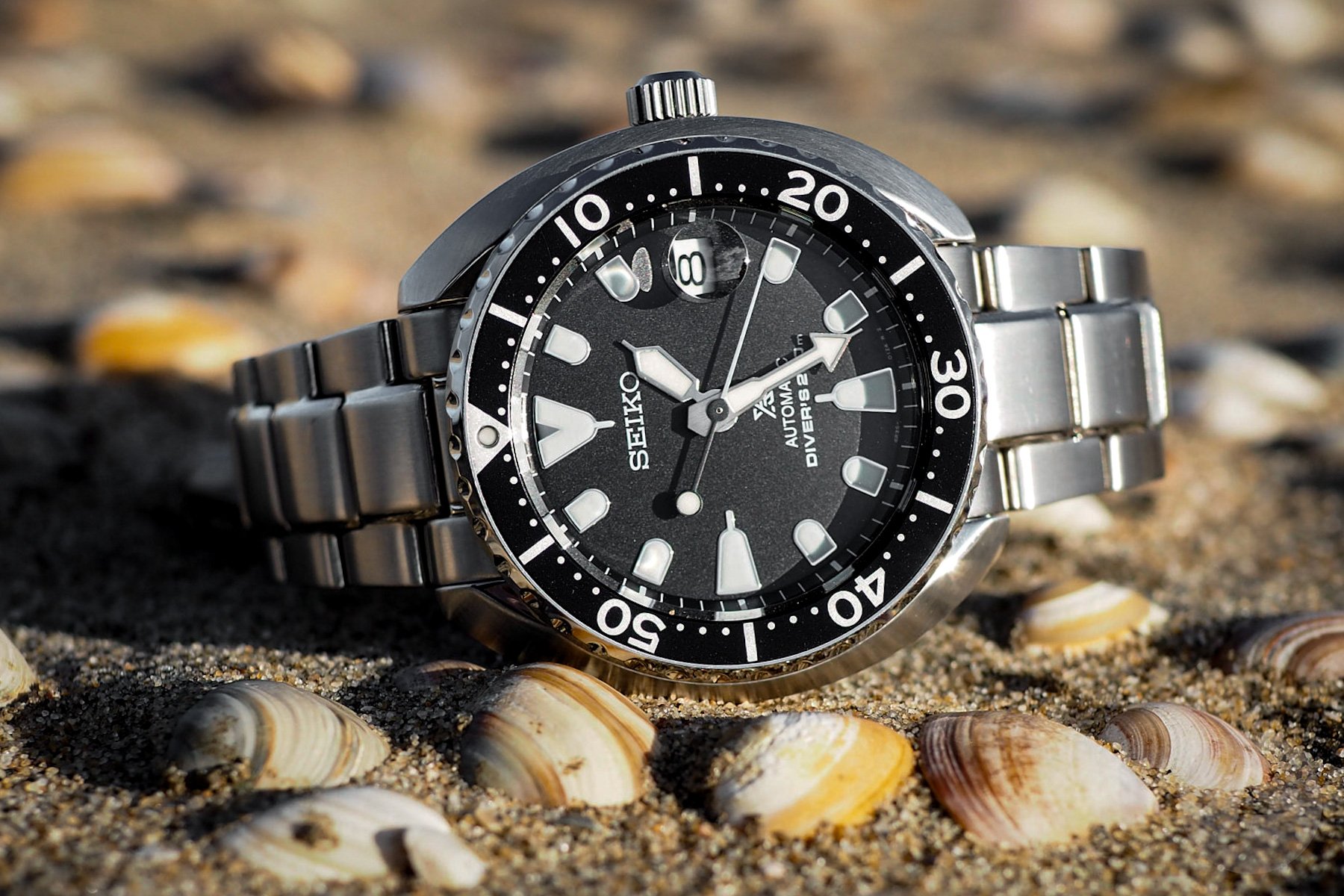 Turtle power!
Perhaps being ahead of its time was the curse that killed the Mini Turtle. However, these Seikos in a half shell are still out there waiting to be snapped up at a fraction of their retail price. That said, I want to wrap up my ode to this humble piece with a few points that keep me returning to it as my favorite modern Seiko dive watch. The first is that it was never an overly fancy or expensive piece. It was, as a good Seiko used to be, affordable and qualitative. Its price never surpassed €500, let alone €1,000. Sadly, this era of Seiko seems to have ended. Today, you can get a Seiko 5 Sports model for around €300. It doesn't give you the Prospex quality and specs, though. And to get those, you'll face a bill of at least €600 for the modern 45mm Turtle (ref. SRPE03K1).
With the SKX and Mini Turtle gone, the segment in which they used to shine is now a vacuum.
Finally, I love that the SRPC35K1 feels Seiko through and through yet, somehow, it remains an oddball model. Its three-year stint was a short one in which it didn't get nearly as much recognition as I feel it deserved. But, as I said in my 2021 article on the Mini Turtle, I firmly believe it has the making of a future collectible classic. It's charming and well-specced, feels like a proper tool watch, and offers everything you'd want from a daily "beater." So, with that and everything else in mind, I ask you to consider choosing the underdog, the SRPC35K1 Mini Turtle, as your pick in this fourth round of the Seiko World Cup.
That said, may the best diver win! Now over to RJ and his Marinemaster.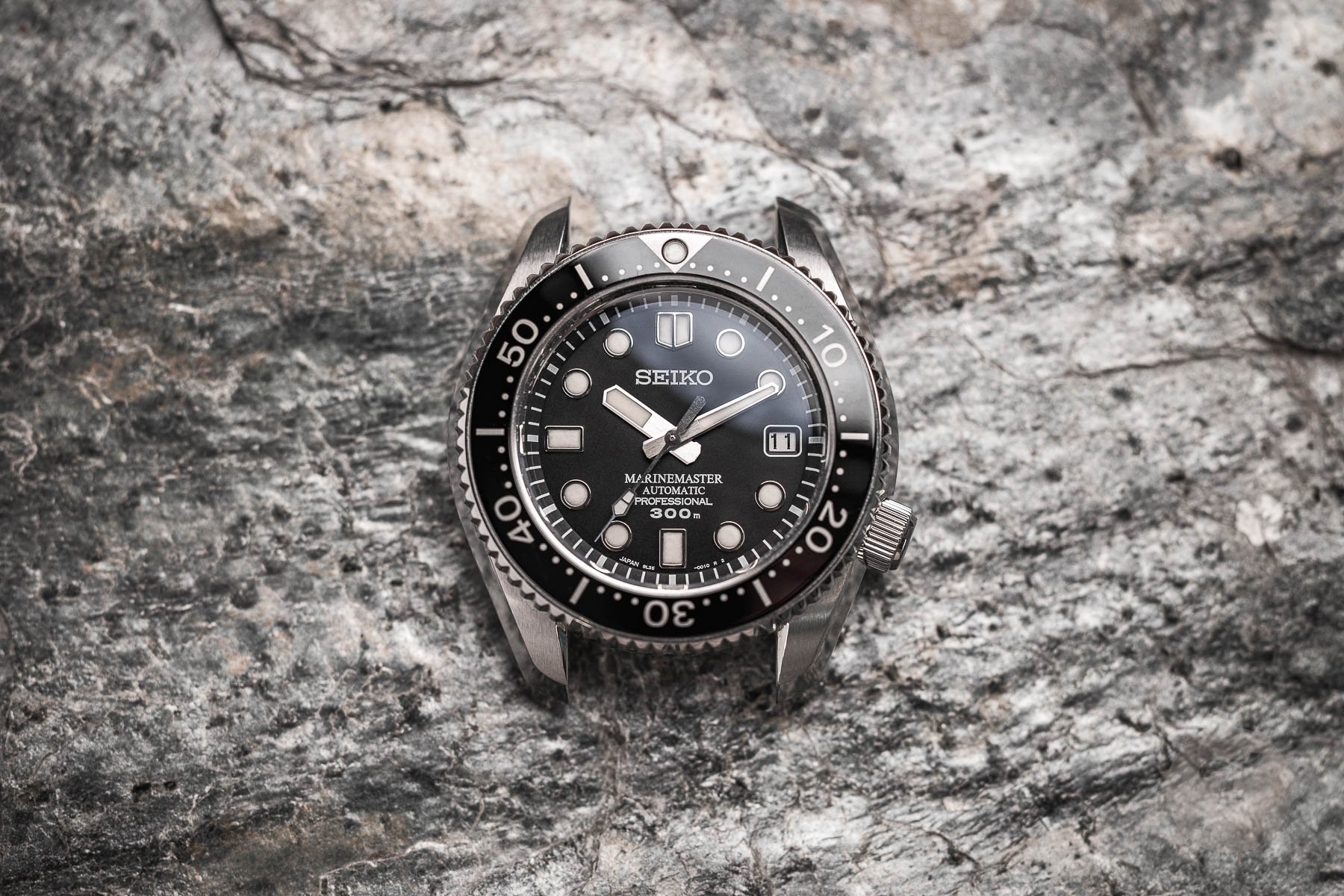 RJ: Marinemaster 300 SBDX001
I have been into watches since the 1990s, but I only purchased my first Seiko in 2014. Admittedly, I neglected the brand for a very long time until my colleague Mike Stockton convinced me that I had to look into it. So I did, and I found myself buying several (affordable) Seiko watches in 2014 — the mandatory SKX007, a Baby Tuna (SRP231), and a vintage reference 6309. Oh, and I also got an SBDC001, the model that Jorg is defending in this Seiko competition on Fratello. They were all incredibly well-built watches and amazing bang for the buck.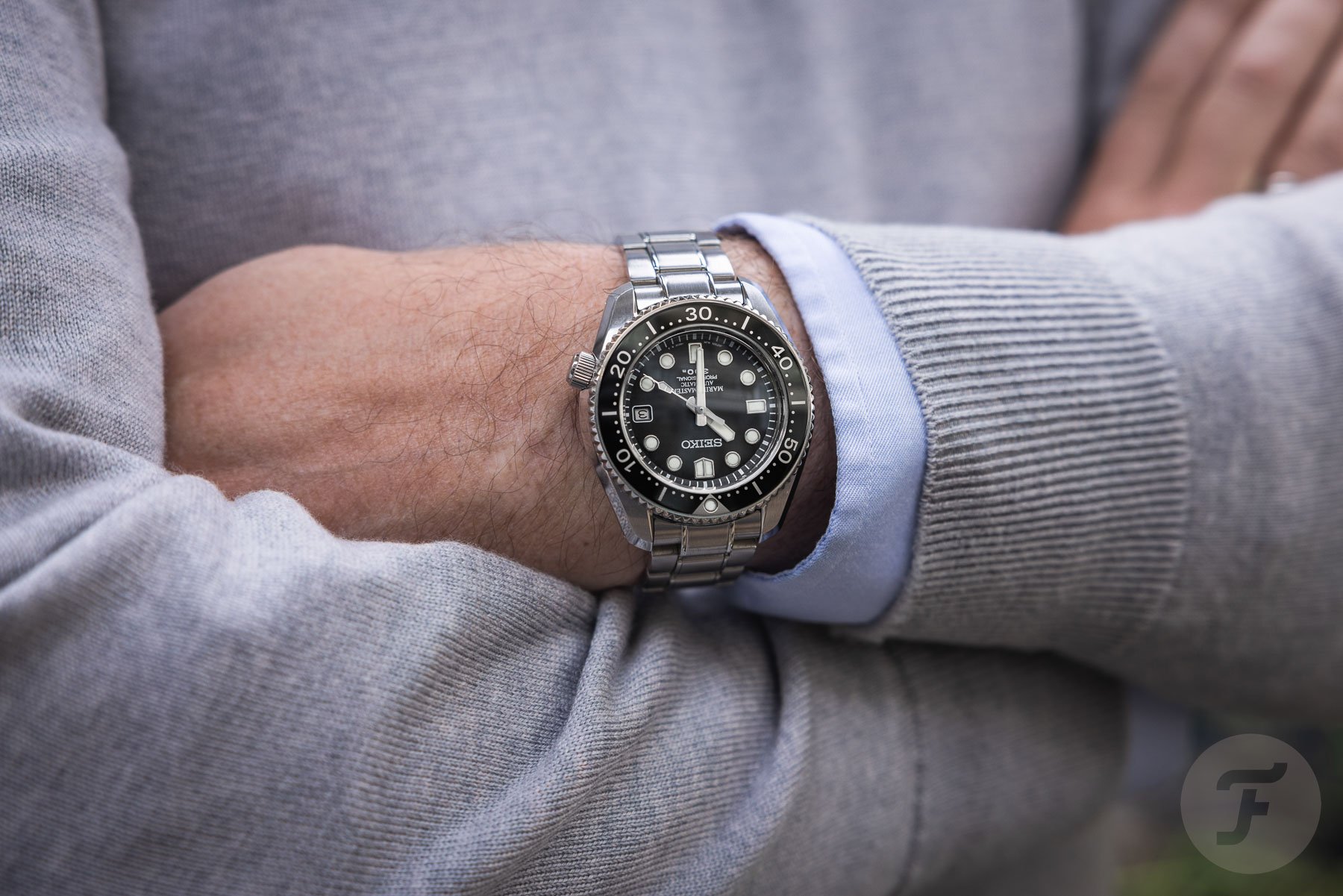 My curiosity for the more expensive Seiko watches grew, and I wondered how they would compare to brands like Longines, Tudor, Oris, and so on. Then the Seiko Marinemaster 300 SBDX001 came across my path, and I was smitten by it. Back in 2015, I wrote an article about owning that watch, and for a long time, it was one of the best-read stories on Fratello.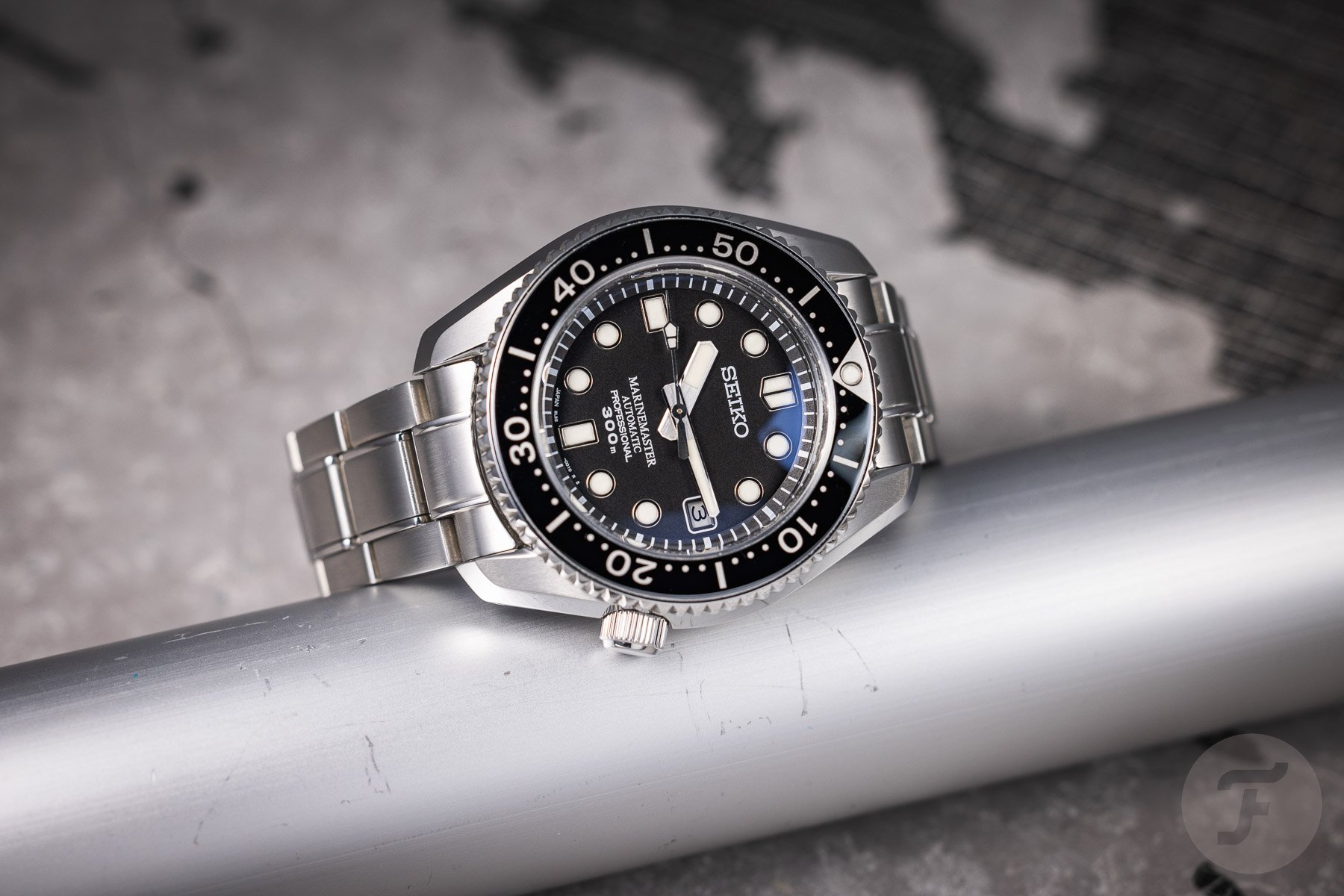 Fifteen years in production
The SBDX001 is based on a vintage Seiko diver from 1968 (reference 6159-7000) and is part of the Prospex collection. The SBDX001 doesn't have the Prospex logo, which came only later to the dial of the Marinemaster. The Seiko Marinemaster SBDX001 was introduced in 2000 and replaced in 2015 by the SBDX017, which carried only a few minor updates. The biggest updates for the Marinemaster came with the introduction of the SLA019 in 2018, with a new movement (8L55) and a sapphire crystal. But let me get back to the SBDX001 with its Hardlex crystal and 8L35 movement for this Seiko competition.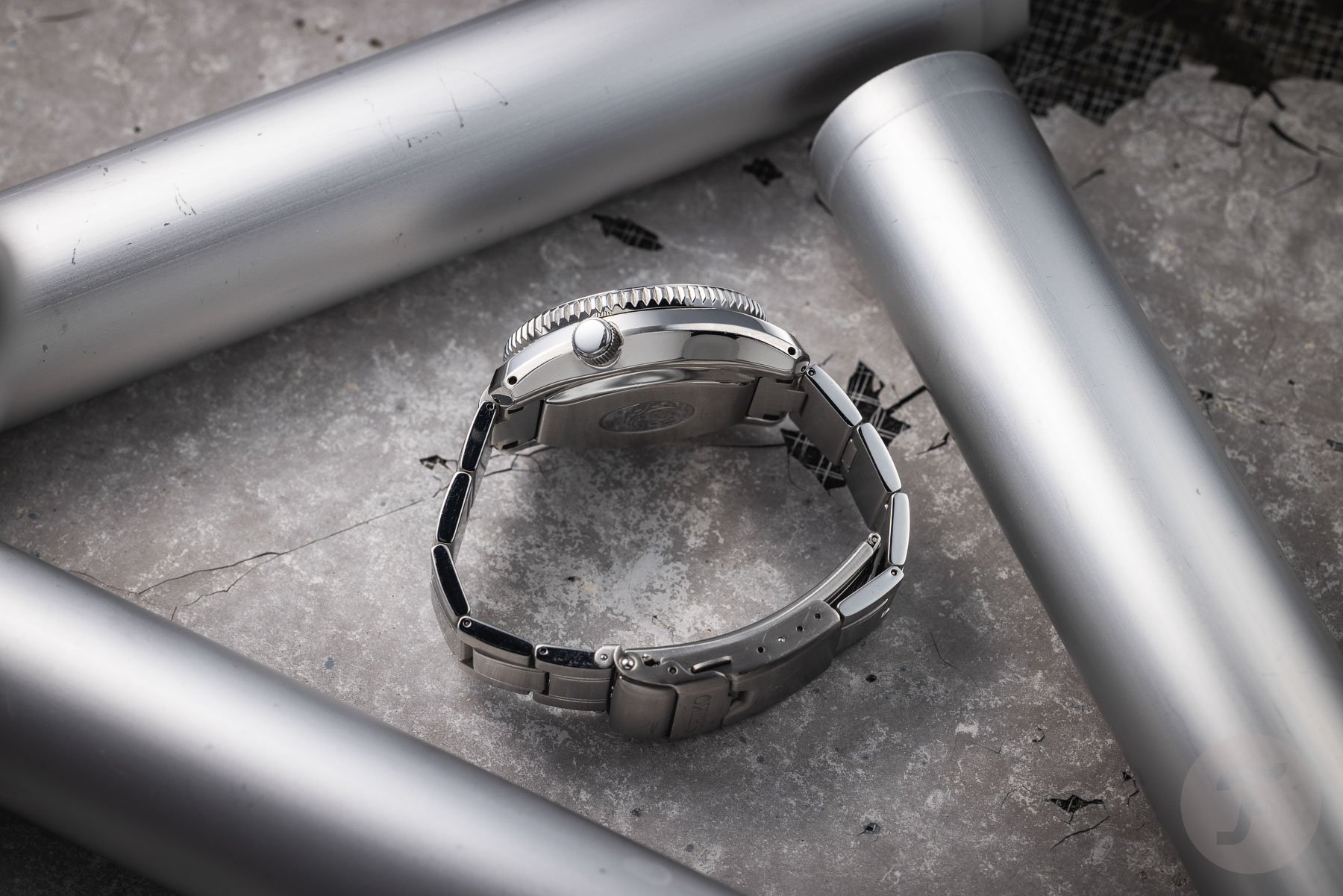 In 2015, the retail price of the Seiko Marinemaster 300 SBDX001 was approximately €2,000. And the specifications were very promising! It's a serious diver's watch with a monobloc case and Seiko's 8L35 movement inside. This caliber is based on the Grand Seiko 9S55 but without the specific fine regulation. The 44mm case of the SBDX001 has a polished finish on some surfaces, using the Zaratsu (mirror-blade) technique. Later in 2015, I found out that the Marinemaster 300 was actually produced in the same manufacture where the mechanical Grand Seiko models were made.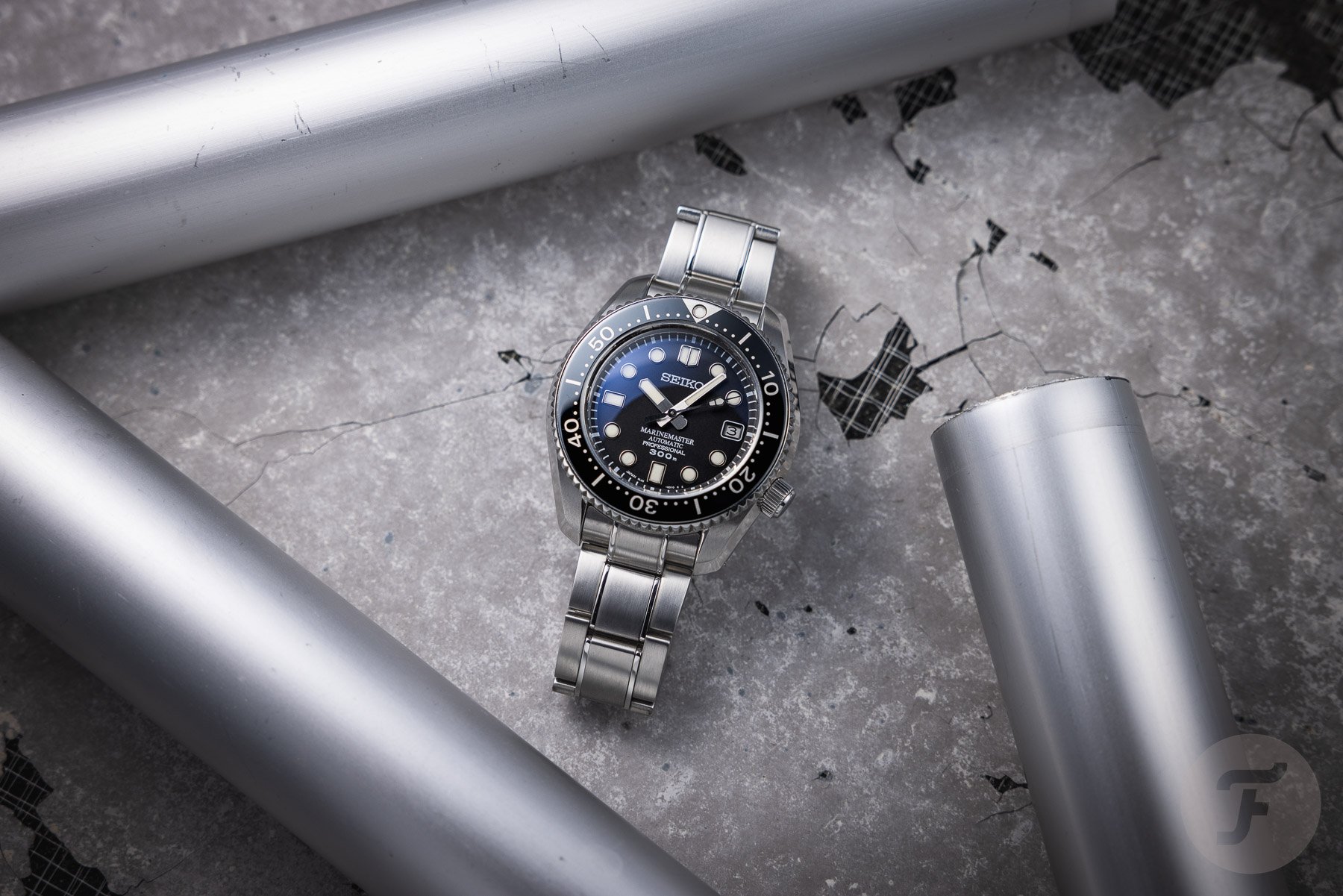 Pre-owned powerhouse
The Seiko Marinemaster 300 SBDX001 was — and still is — clearly a step up from the other Seikos I had purchased earlier in 2014. It's an incredibly well-built and expertly finished watch that could easily be compared to more expensive watches from Swiss brands. And I don't mean just from the aforementioned brands like Oris, Tudor, and Longines. Indeed, I would even go as far as to say that the SBDX001 was a very serious competitor to the then-current Seamaster Diver 300M model. I also like the fact that Seiko didn't see any reason to update this model between 2000 and 2015. It was just there, being awesome as it was.
Today, the equivalent of the Marinemaster 300 SBDX001 is the SLA021. Seiko dropped the Marinemaster name from the dial and replaced it with the Prospex logo. The retail price today of the SLA021 is €3,200. While it's still a good price for what you get, you can also find a pre-owned Marinemaster SBDX001 between €1,500 and €2,000, which I'd recommend.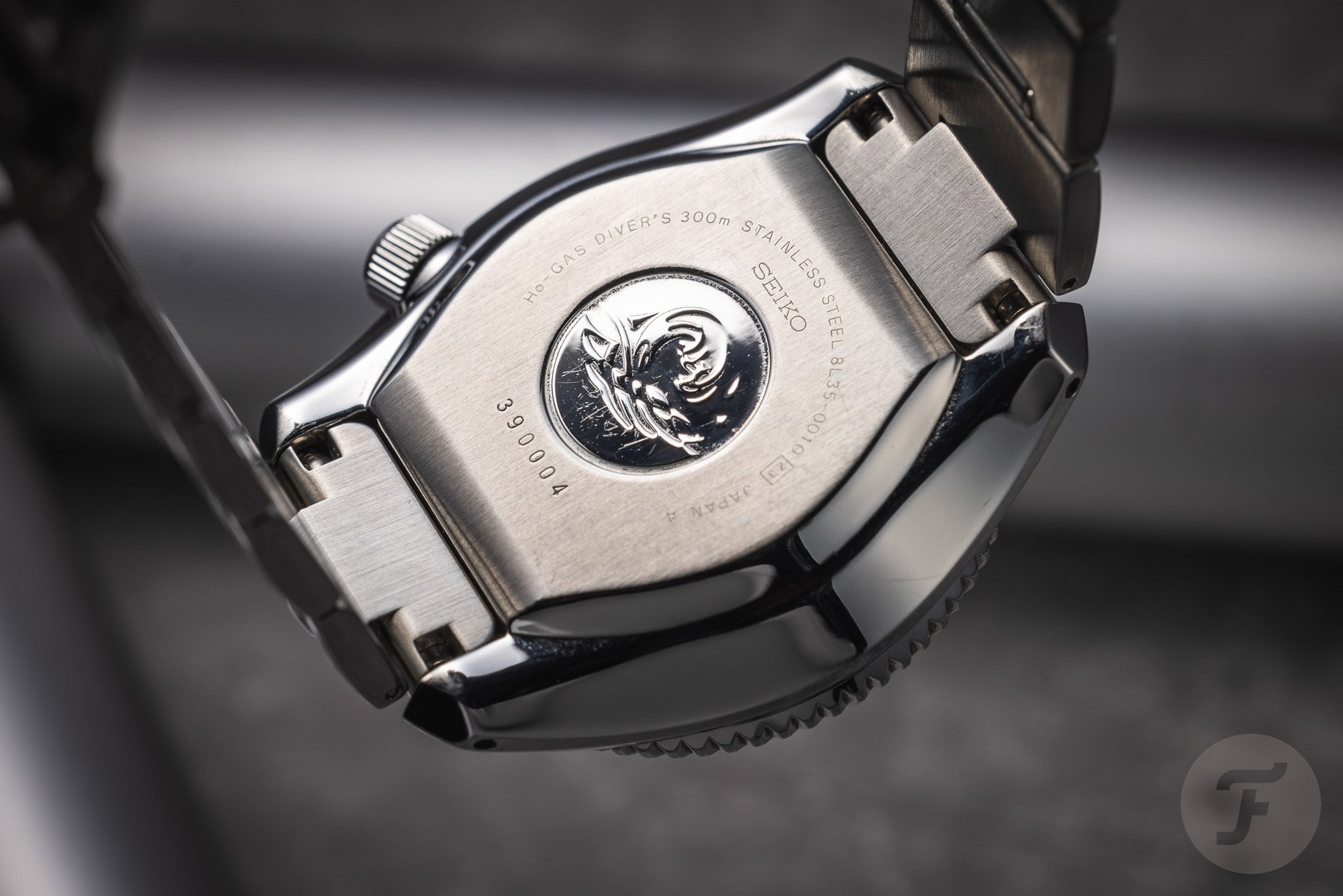 And yes, the SBDX001 is large (44.3mm wide × 15mm thick) and heavy (over 220 grams), but it's a brilliant dive watch that brings you close to what the more expensive Grand Seiko diver watches have to offer but for (way) less money. Even after all the exposure the Marinemaster 300 and its successors received, it's still a widely underrated and under-the-radar watch.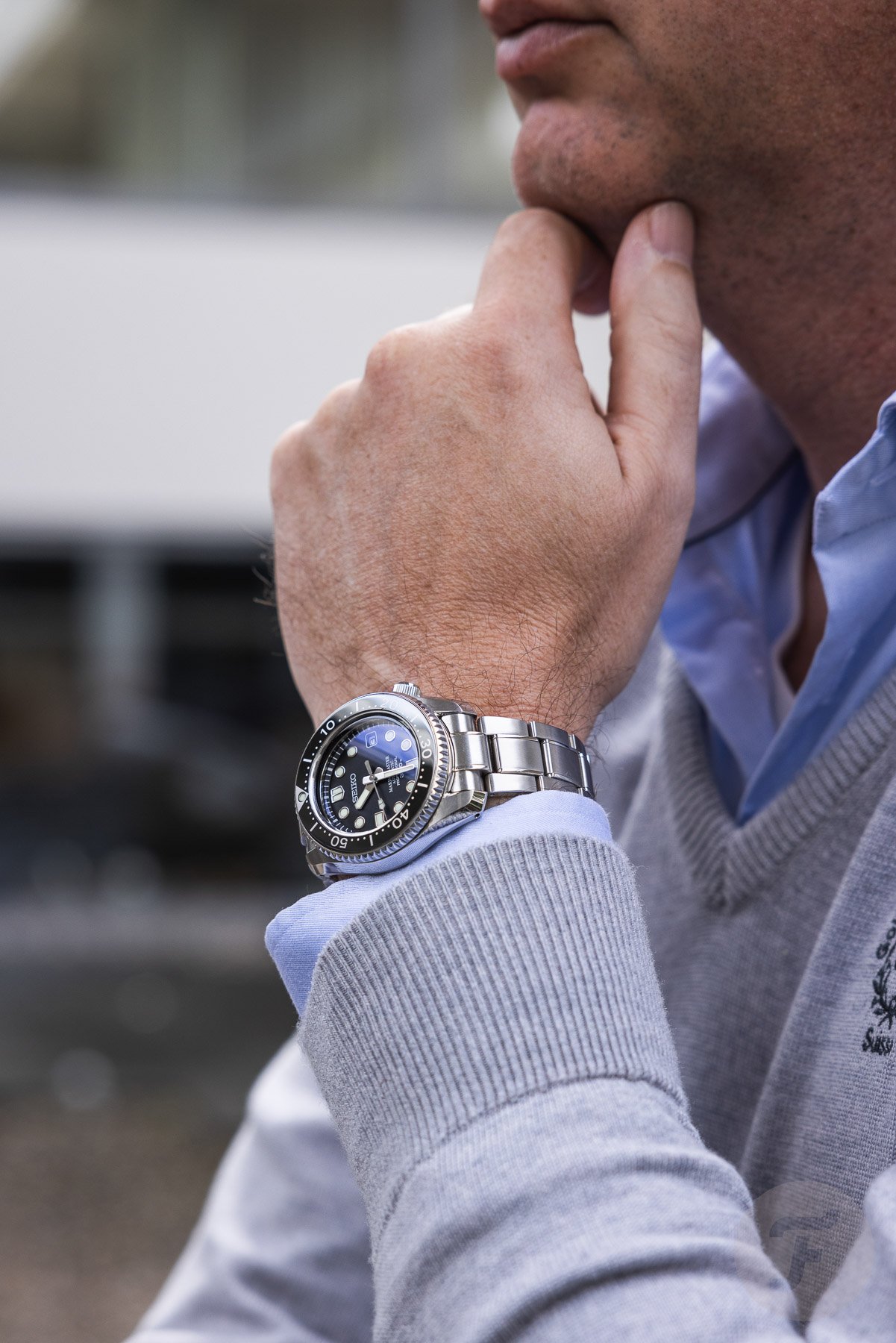 Despite its size and weight, the Seiko Marinemaster 300 SBDX001 can be worn daily. If you have smaller wrists, it might not be very comfortable to do so, but at least you have a watch you can grab when you're off diving or swimming (or just for holidays) without having to worry. It's a proper tool watch but with the perks of nice Zaratsu finishing and a fine mechanical movement.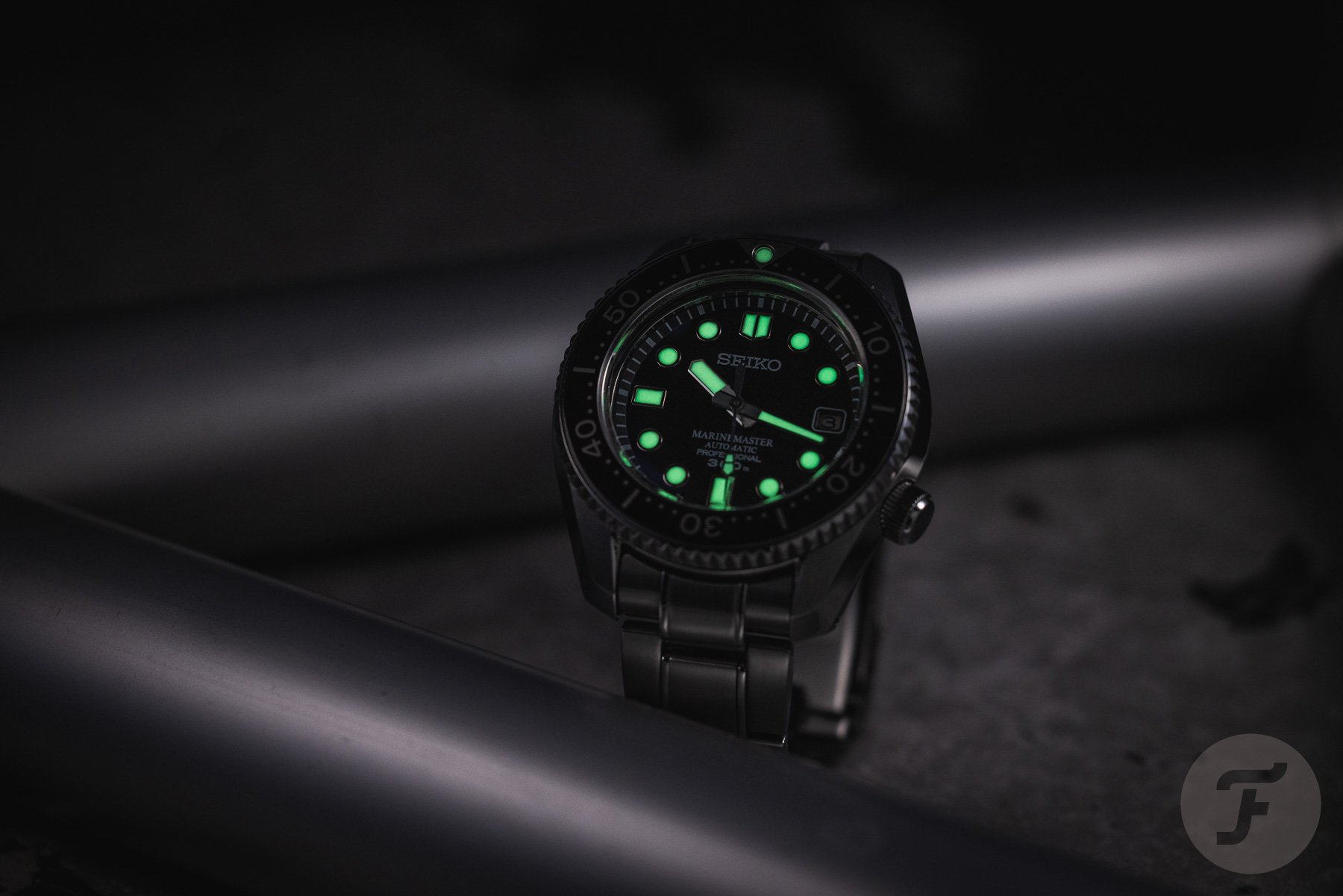 One Seiko diver to rule them all
After I got the Seiko Marinemaster 300 SBDX001, I didn't have many reasons to wear some of the Seikos I bought earlier. It did trigger me to purchase a Grand Seiko later, though. I concluded that, in terms of quality (finishing and specifications), the SBDX001 is closer to the watches from Grand Seiko than the Seiko models up to €1,000.
What I found interesting is that, despite its 15-year production run, there are only a few Marinemaster 300 SBDX001 watches offered on the pre-owned market. To me, that indicates that buyers of the SBDX001 are not letting it go that easily! And why should they? Aside from Nacho's weapon of choice for this competition or all the other contenders, the SBDX001 is simply an amazing Seiko watch that offers a lot for its price.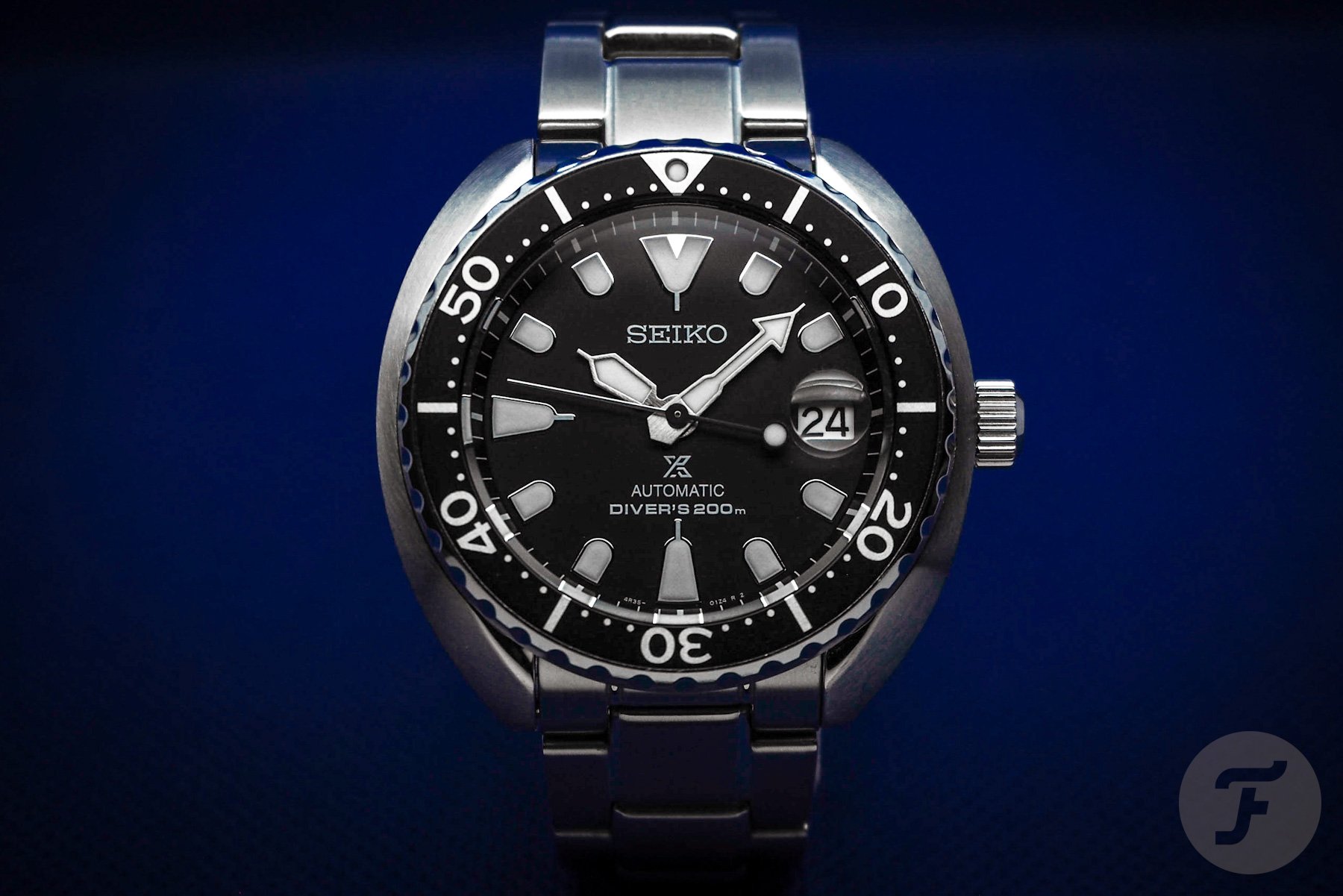 Seiko World Cup — Time to vote!
That's it, folks! The group stage of this very first Seiko World Cup has drawn to a close. But before we move on to the semifinals, you must cast your vote one more time. So, which watch will get your vote? Will it be Nacho's humble hero, the SRPC35K1 Mini Turtle? Or will RJ's Marinemaster SBDX001 be the one for you? Make sure to vote below, and tune in again next week for the first of the semifinal stages of the Seiko World Cup.
Seiko World Cup: RJ's Marinemaster SBDX001 Vs. Nacho's Prospex SRPC35K1