Serica Introduces The Striking New Ref. 8315 GMT Chronomètre
The Parisian brand's third release is a stylish GMT that comes with a COSC-certified movement
These days, GMT watches seem to be the latest craze, and this is not without reason. For many watch fans, the GMT is a favorite complication thanks to its timezone-transcending practicality. I also love a great GMT watch. That's why I am all ears when a new GMT model is unveiled, especially when it comes courtesy of the Parisian brand Serica. Serica's founder Jérôme Burgert has built his brand on a combination of vintage styling and a great eye for technical detail. Today, Serica releases the 8315 GMT Chronomètre. The brand's third model combines a new complication with plenty of familiar charm. Let's find out more.
What I love about Serica is that Burgert walks his own path when it comes to the design of his timepieces. He knows what he wants, resulting in designs that are quite unique in today's world of watches. Often inspired by the style of the past, particularly the 1950s and '60s, the watches have plenty of charisma. Additionally, you will quickly find that the watches are injected with little quirks that challenge you to stop and think for a minute. While they're never too weird, they always show a deliberate choice to stand out, and that is one of my biggest attractions to the Serica brand.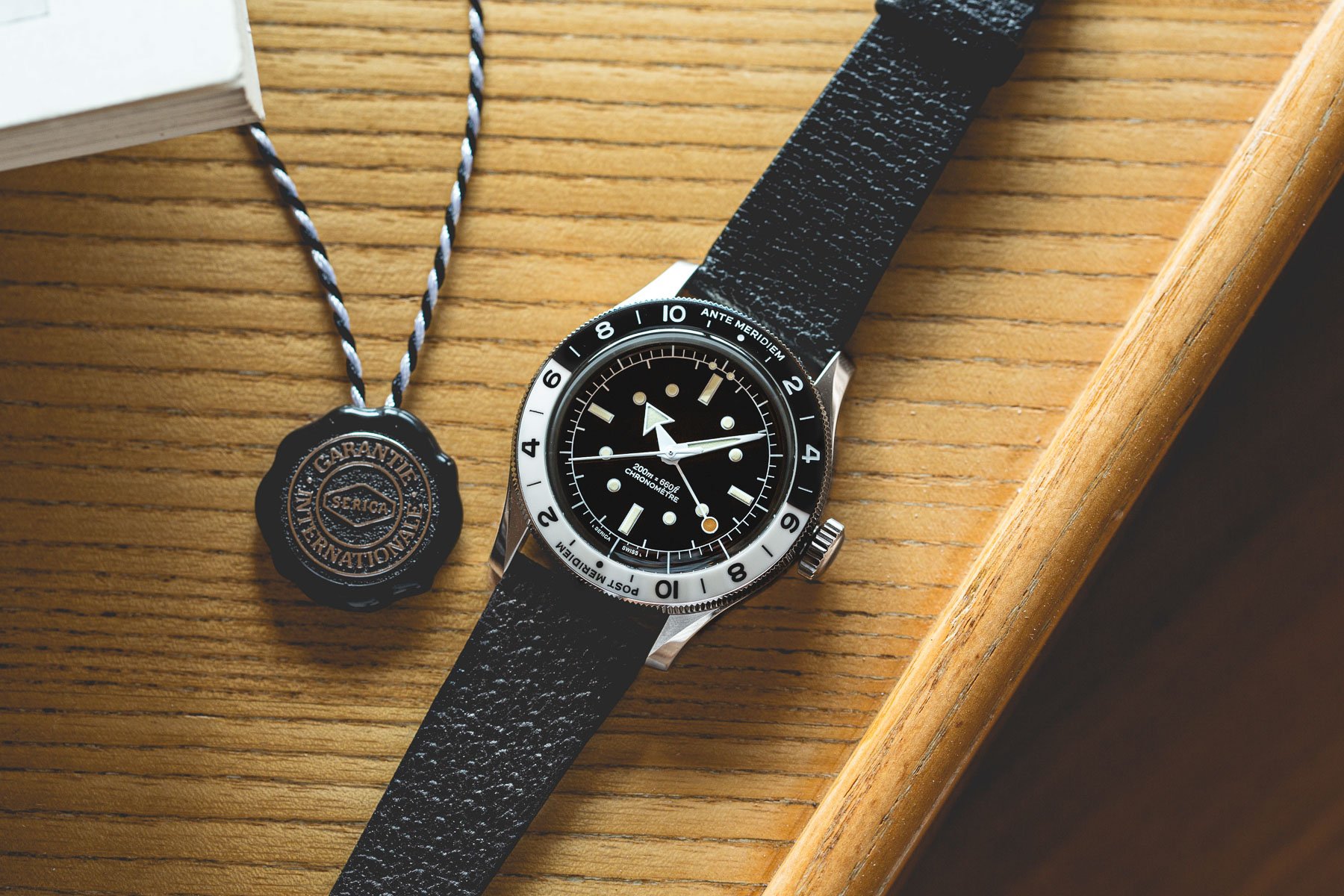 The new Serica 8315 GMT Chronomètre
A good example is the dial layout of the Serica 5303 dive watches. You get something different and unique in the placement of the hour markers on the dial. You might have to get used to it at first, but I do love a bit of a challenge. It results in a watch that immediately stands out, and that is what most of us are looking for nowadays.
It's funny how watch fans like us always want to be surprised by new designs. However, all too often, when we are presented with something new, we frown upon it for being "weird". On the flip side, if a design is too safe, we're quick to point out that the design is a "copy" of another. It's a very thin line to walk, and I think that Serica walks it very well. The brand's designs look different, causing them to stand out, but they always feel comfortable enough to capture the hearts of a lot of fans. Another great example is the colors that Burgert picked for the 5303 Midnight Blue that came out earlier this year. The two shades of blue that he chose look stunning together and are something we haven't seen that often.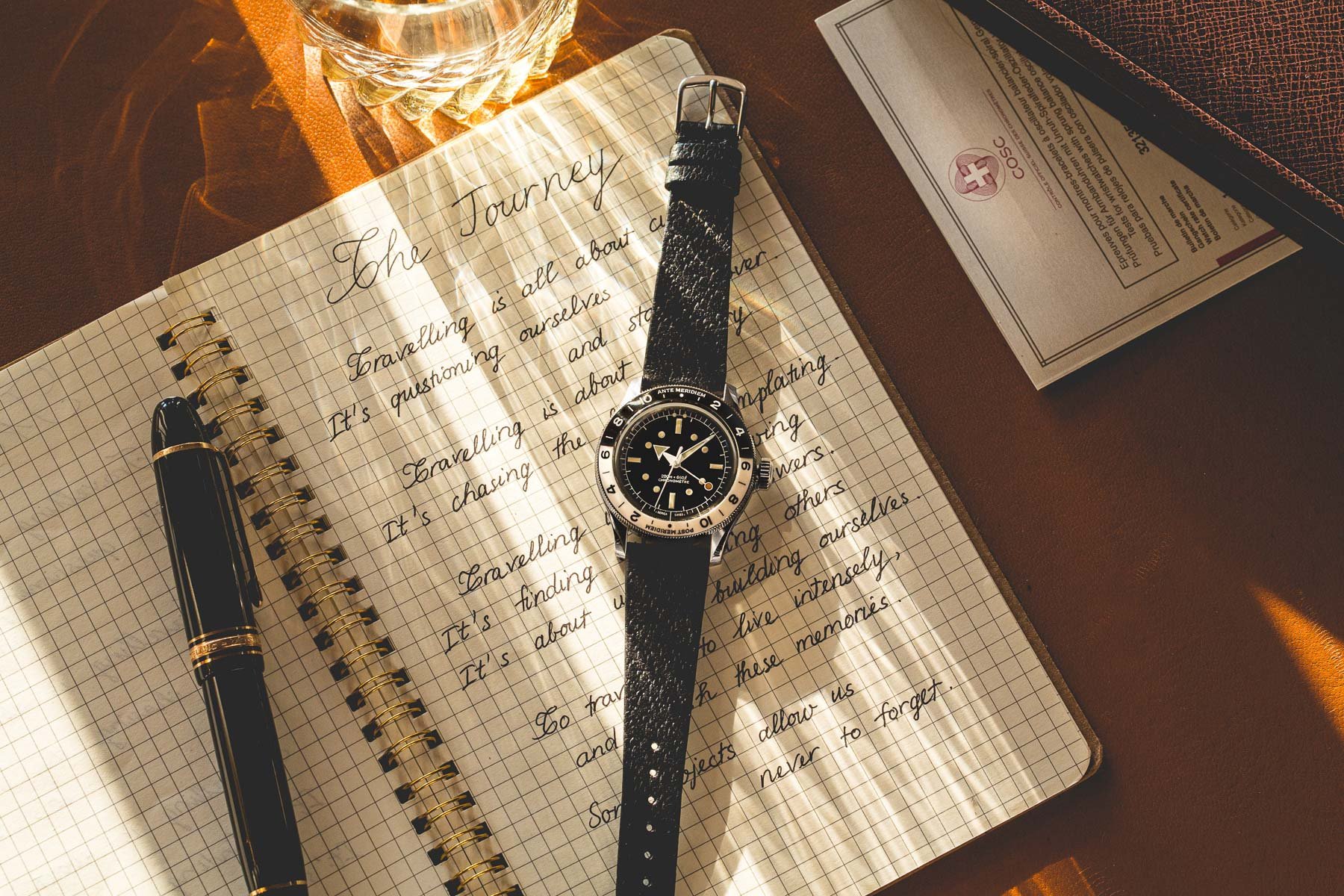 Serica 8315 GMT Chronomètre specs
With the new Serica 8315 GMT Chronomètre, it is no different. Burgert challenges us once again with a number of quirky details that might raise an eyebrow or two. But if look at them again, chances are you will quickly adapt. Overall, the looks are very much related to the 5303, but there are some nice twists and turns. So let's start with some specs. The new 8315 comes with a 200m water-resistant stainless steel case. It measures 39mm in diameter, 46.5mm from lug to lug, and 12.3mm thick with a 20mm lug spacing. These dimensions are in line with the 5303 (except for the case thickness, which has increased by a marginal 0.1mm).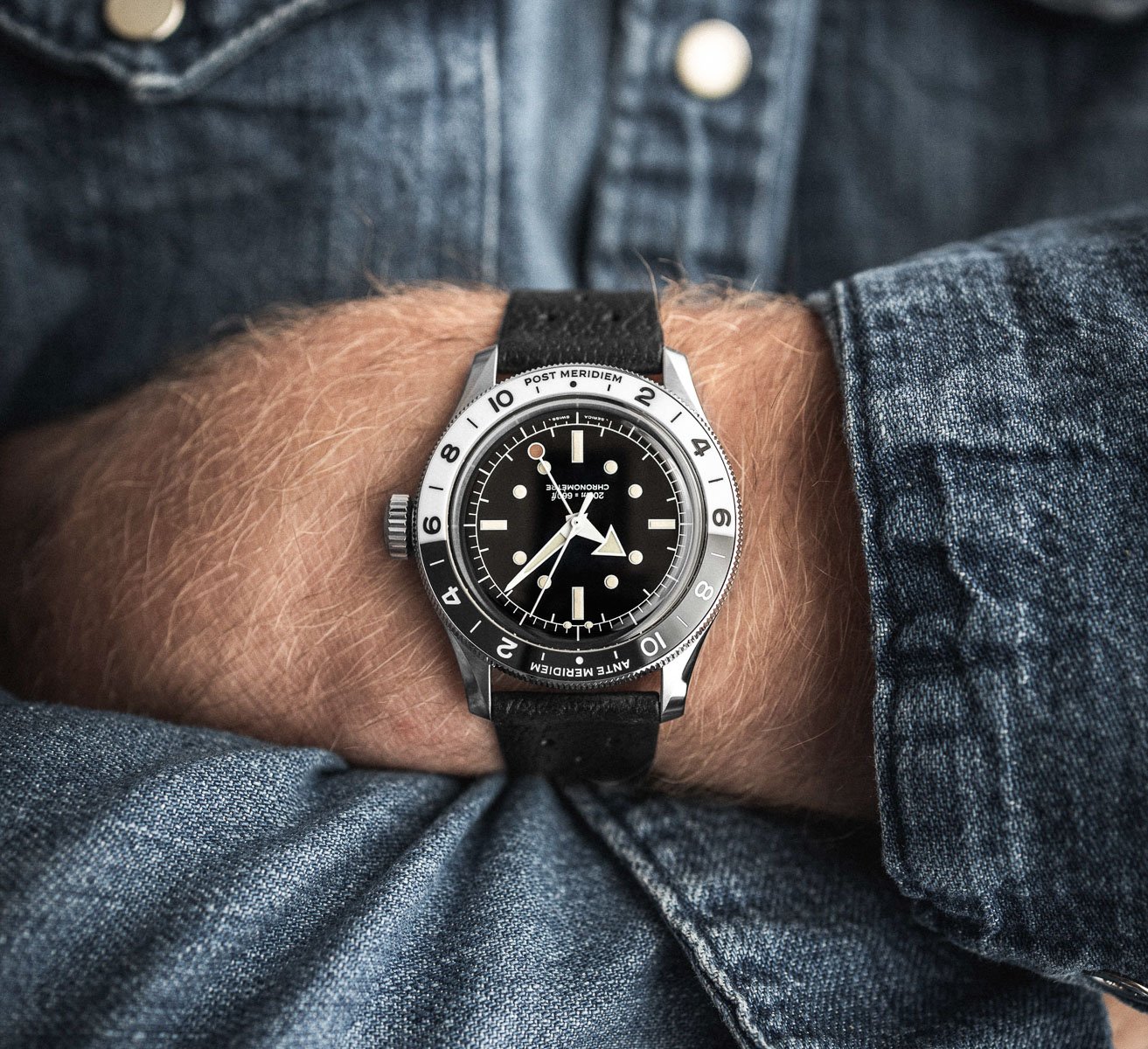 The case has the same beautifully flowing lines that we have come to know from the 5303. It is complemented by the 2mm-thick domed sapphire crystal. As I was writing this introduction article, we received the new model for review, and my first impression was that it wears fantastically, just like the 5303. On top of that, it will be a great fit for various wrist sizes. The watch features a black enameled dial that comes with the same layout as the 5303. The slightly domed luminous hour markers are treated with vintage Super-LumiNova C3. As you can see, the handset is white lacquered, and the hour and minute hands are also filled with the same Super-LumiNova.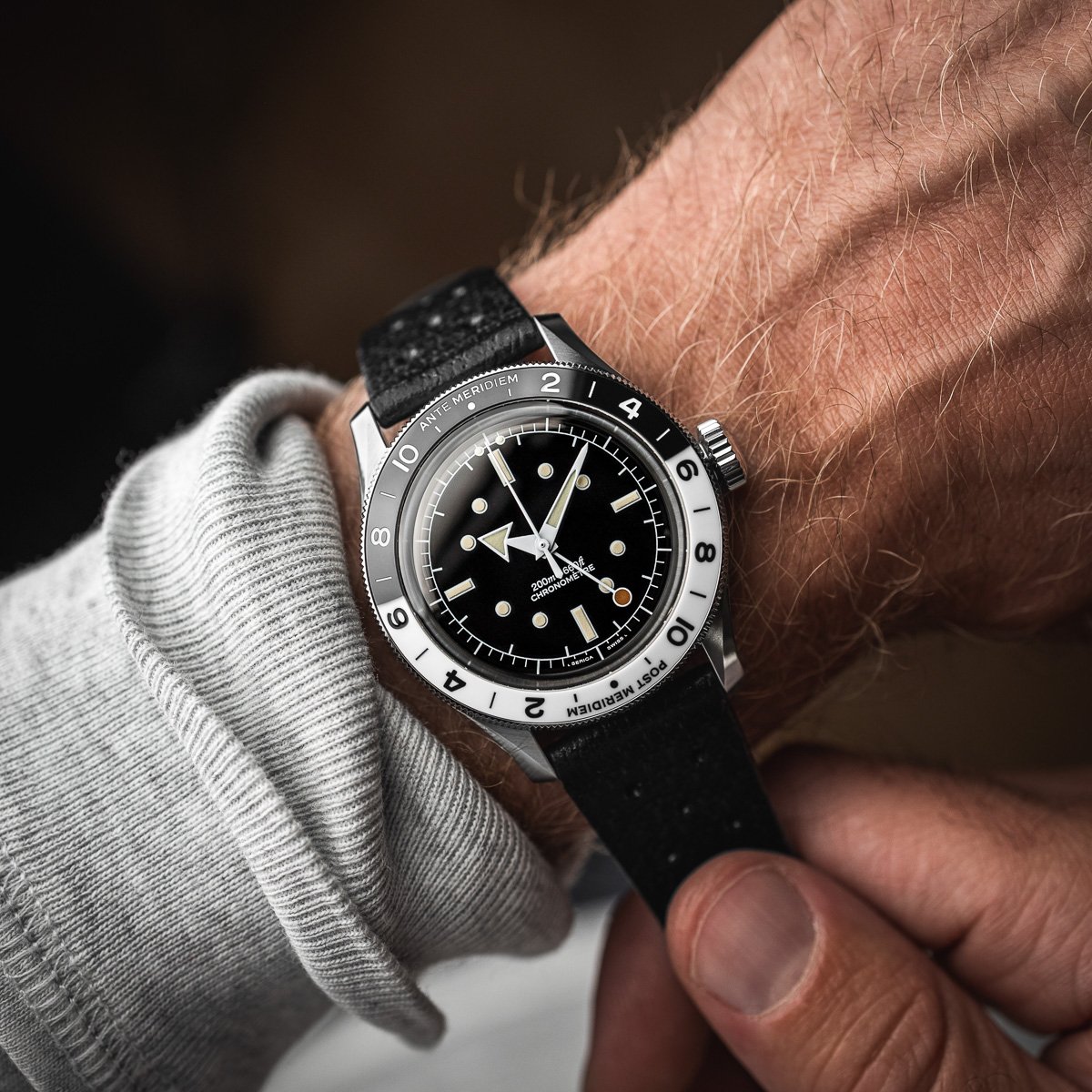 The aspects that make the Serica 8315 a unique GMT
As this is a GMT watch, it comes with an extra GMT hand. Burgert chose to go for a matching lollipop GMT hand instead of the typical contrasting arrow hand in red or orange. The hand is executed in white with a nice brown touch at the end. It is a remarkable stylistic choice that I love, but there will certainly be people with different thoughts about it. Alongside the GMT hand, there is also a GMT bezel. But once again, it would not be a Serica watch if it weren't a little different. The bidirectional two-tone ceramic bezel is executed in black and white with a polished finish. As you'd guess, black is for the night, and white is for the daytime hours.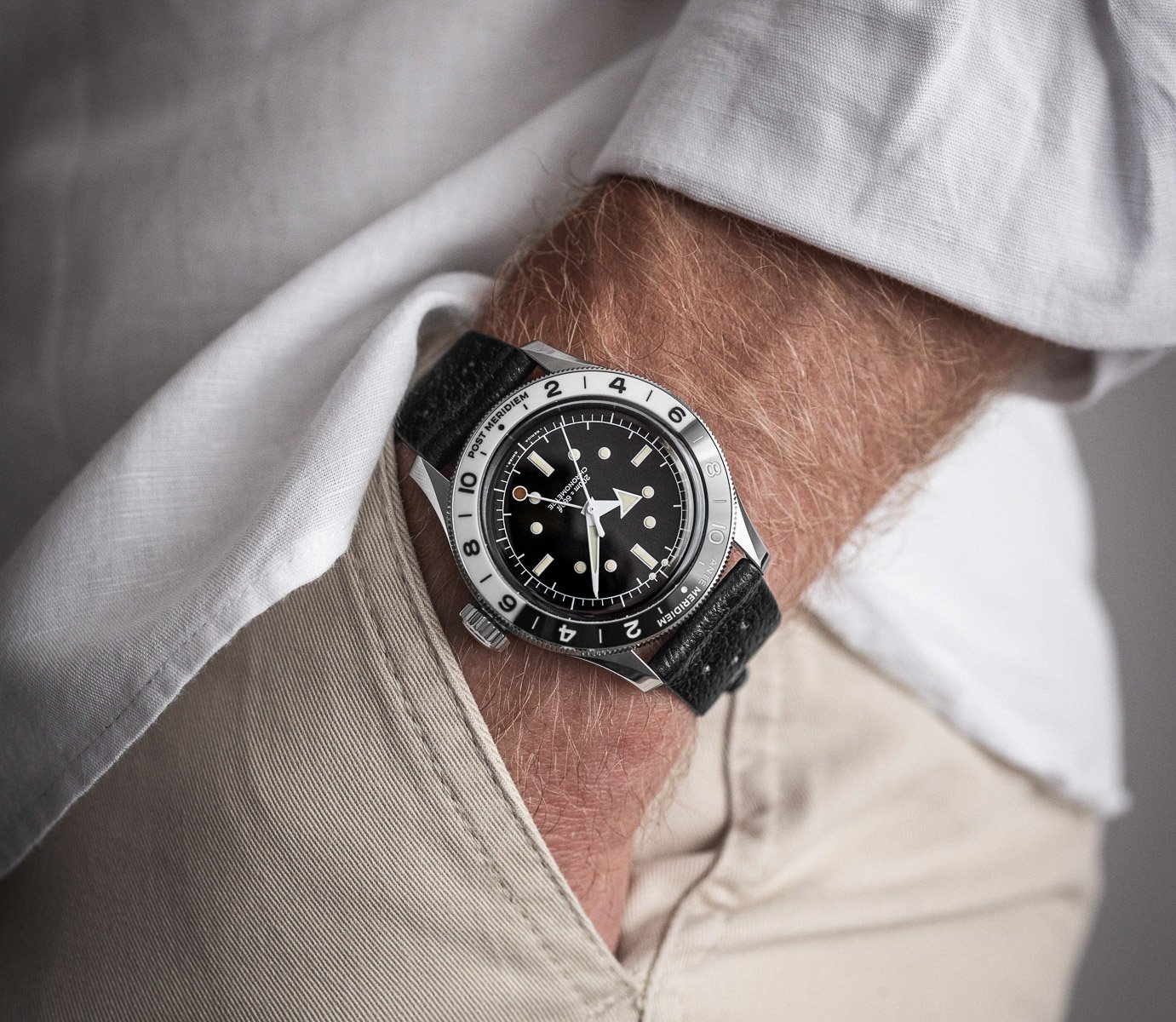 As you can see, Burgert chose to make the white portion larger. It stretches from 5:30 AM to 6:30 PM. In his own words, "The soft, asymmetrical division of the bezel improves readability while making the day longer than the night." Adding to that freedom in design is the knowledge that the transition between day and night is never fixed at 6 o'clock in the morning or evening. It's a choice that will undoubtedly be divisive among watch fans. I found that it took me a bit of time to get used to, but to my surprise, my obsessive tendencies didn't flare up, and I ended up appreciating the design choice greatly.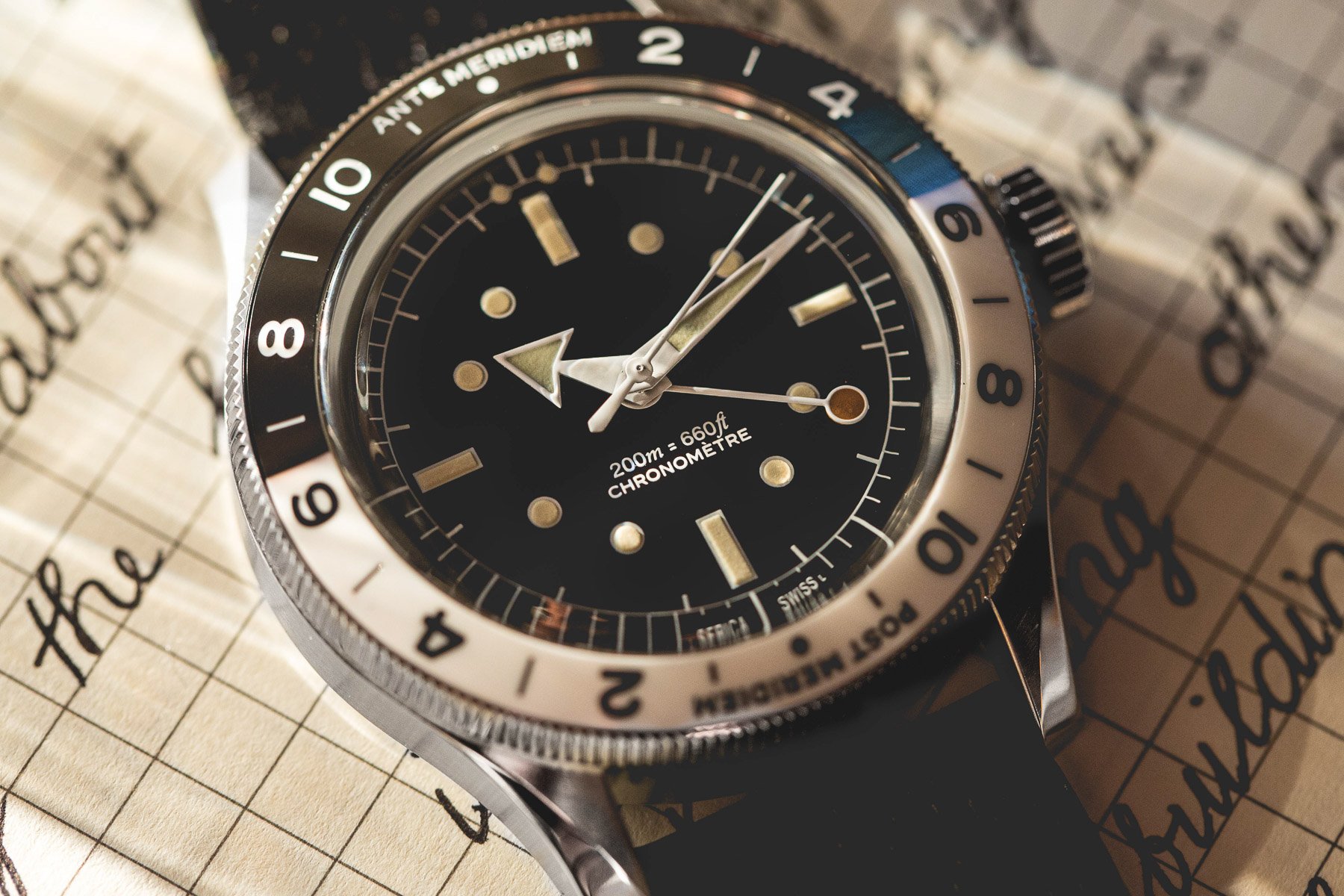 Understanding the remarkable Serica GMT bezel
But the quirks do not stop there. The bezel features two mirrored 12-hour scales dividing it into 24 hours. This is also a departure from the usual 24-hour scale on a GMT bezel. However, as we are used to reading and understanding the time in a 12-hour format with the addition of AM and PM, it is an understandable choice. This is why the bezel also specifically mentions "Ante Meridiem" and "Post Meridiem" above the two 12 o'clock markers on the bezel.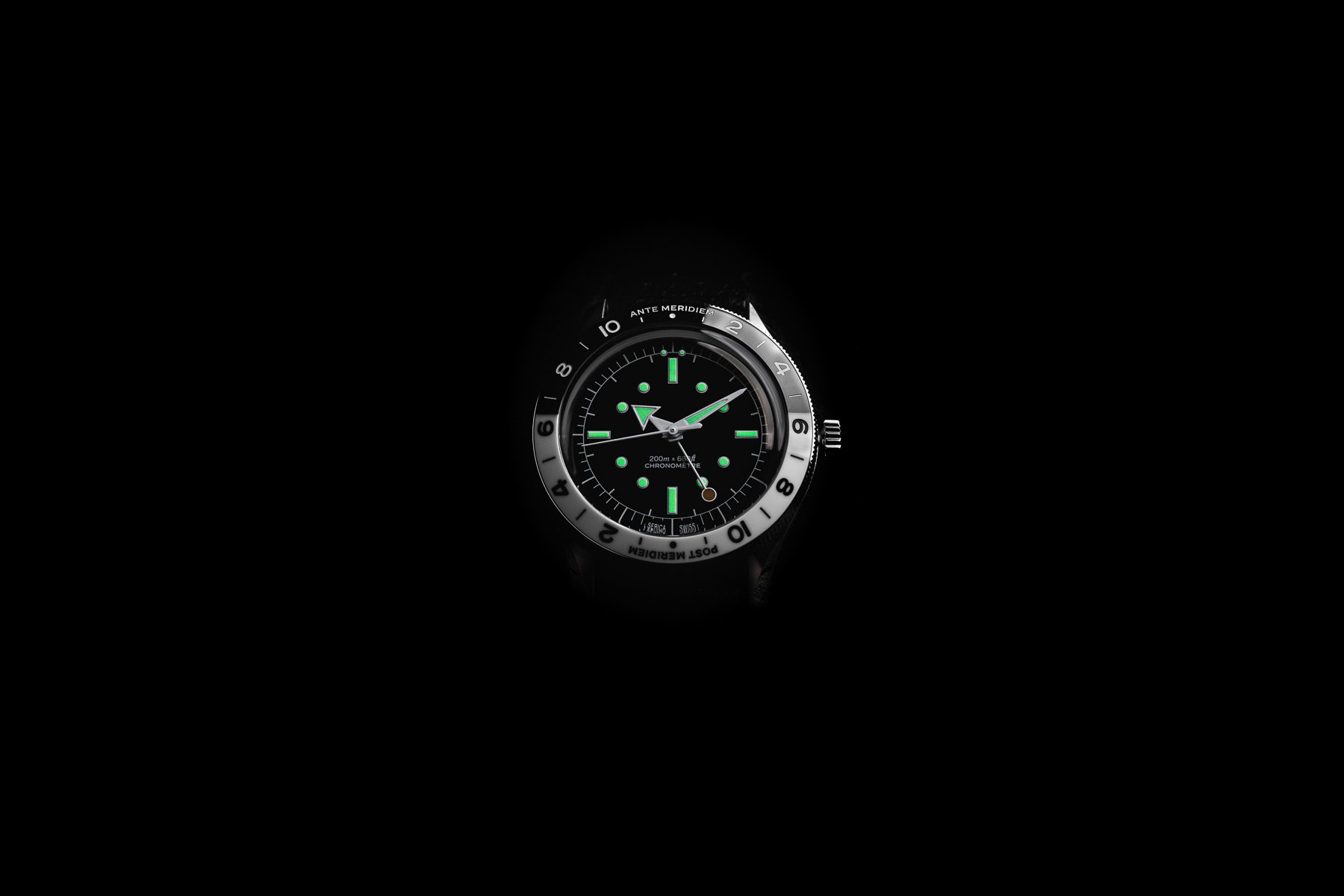 You could debate the placement of the wording on the bezel. Technically, you could say that both indicators should start at the 12 o'clock markers instead of being centered above them. But for the visual balance, this is a better solution. It is further proof that Serica is not here to create ordinary watches. The design choices will spark debate amongst watch fans. But if you are on board like me, you will understand the train of thought behind the designs and find that they make for some great-looking timepieces. If you have a stricter approach, you might find that this new 8315 GMT Chronomètre is not for you.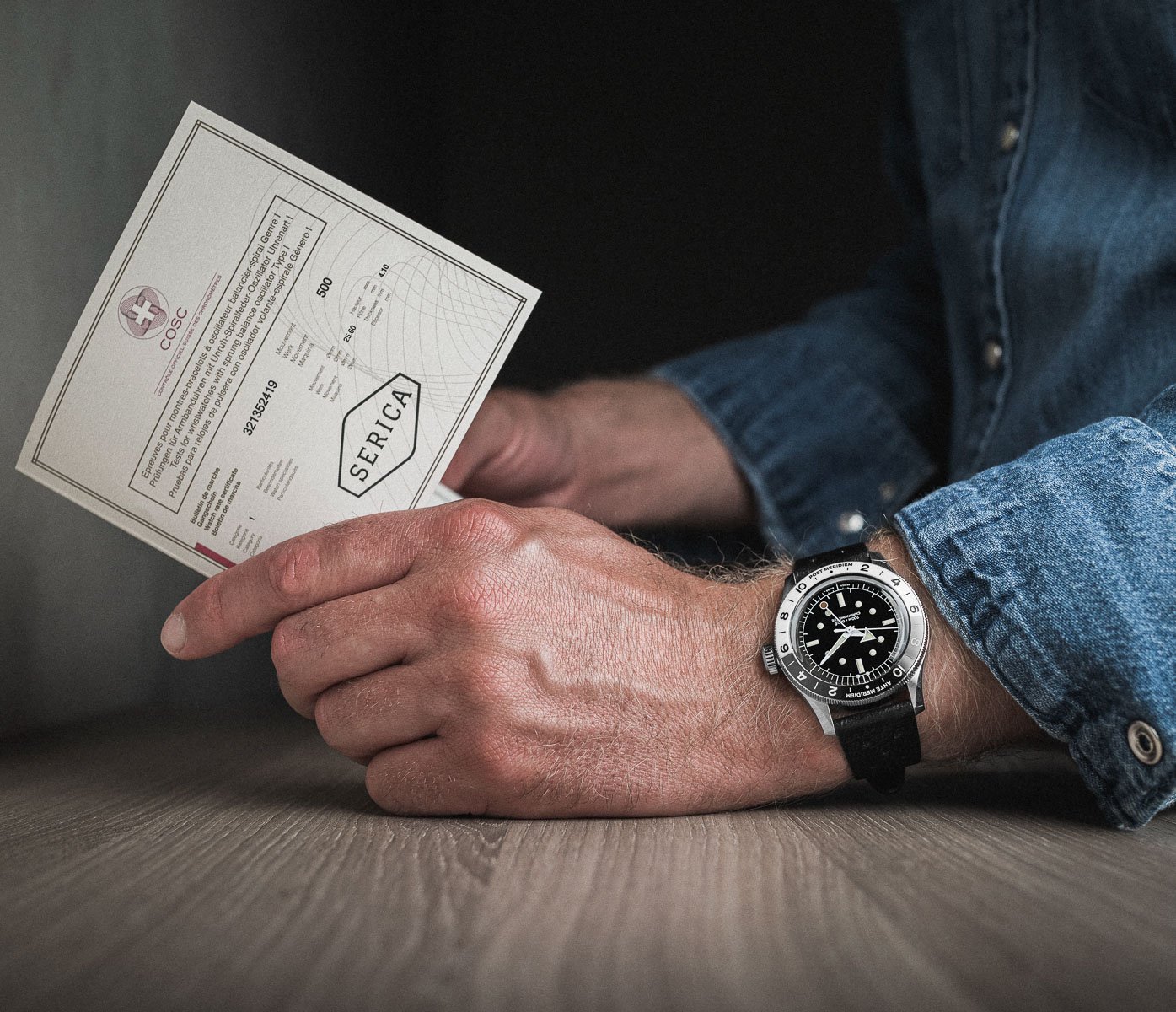 The Soprod C125 caliber
Inside the 8315 GMT is the Soprod C125 movement. The automatic caliber operates at 28,800vph, has 23 jewels, and provides 40 hours of power reserve. On top of that, it is certified by the COSC as a chronometer. This is a first for Serica, as the 5303's Newton caliber performs within COSC standards but is not officially certified. The user can operate this Soprod movement through the oversized 8mm screw-down crown. I love seeing this huge crown because it adds even more character to the design.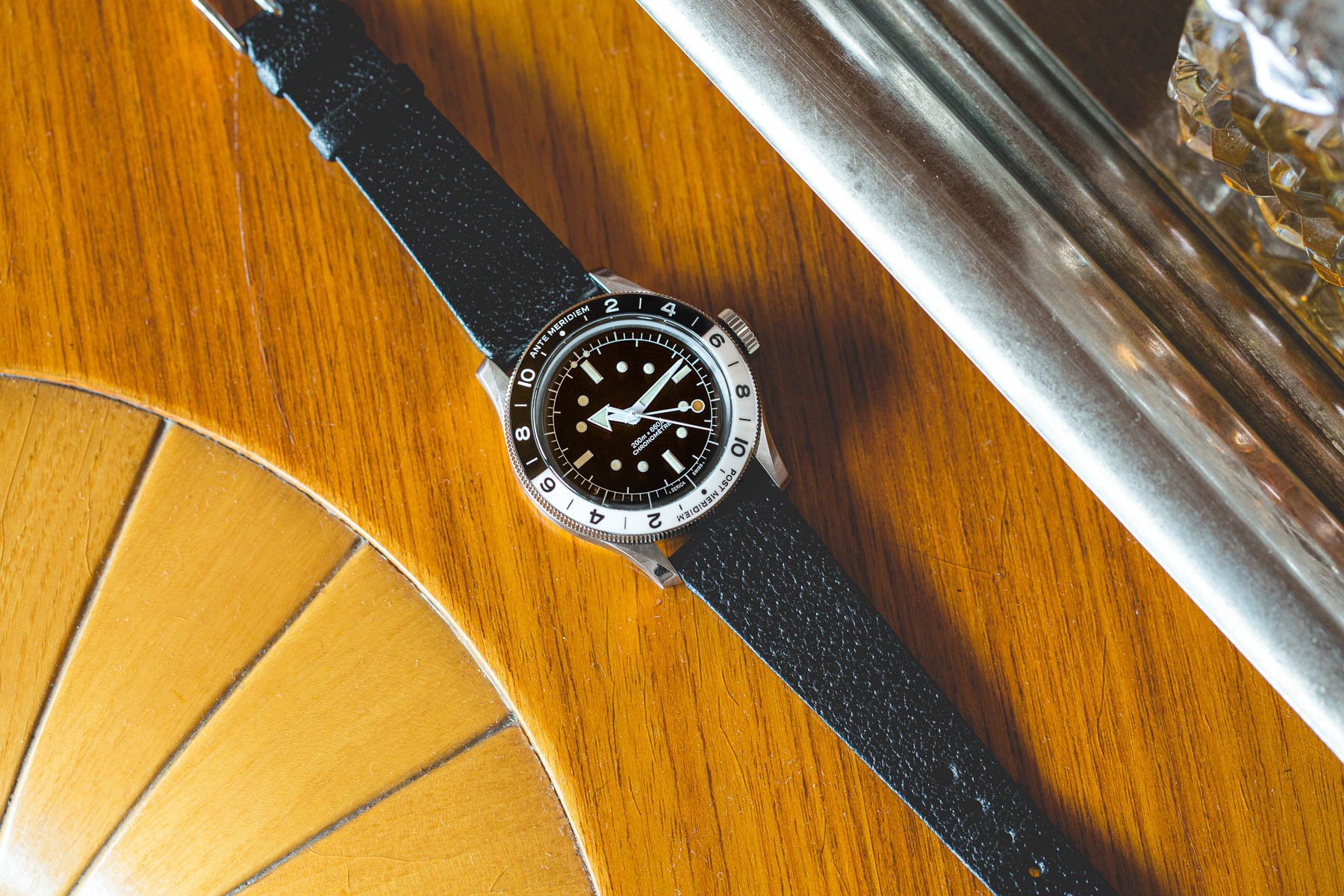 After unscrewing the crown, pulling it out to the first position allows you to set the GMT hand in one-hour increments. It makes this new 8315 a so-called "office/caller GMT" instead of a "travel/flyer GMT". I would have loved to see a "flyer GMT" movement powering this watch because it's simply more practical for travel. When crossing time zones, the ability to change the local 12-hour hand independently is a great feature. However, one advantage of this new Serica over other "caller GMTs" is that there is no date indicator that you have to correct after setting the GMT hand. Then again, it can sometimes be useful to have a date complication when flying through different time zones as a reminder of the date (at least back home) when you land…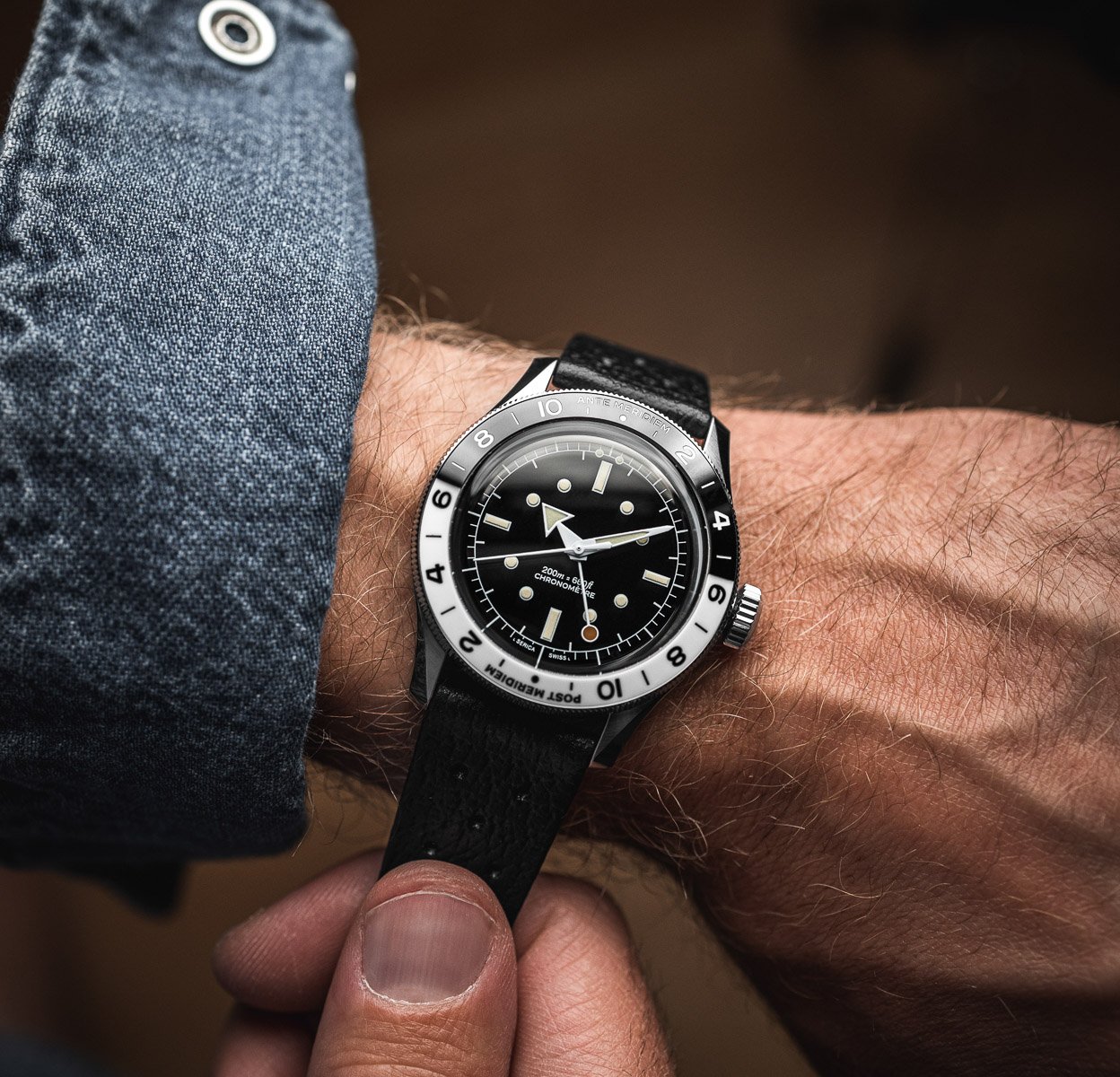 A heavily tapering leather strap
The new 8315 GMT Chronomètre comes on a hand-made black pigskin leather strap that tapers from 20mm at the lugs to 14mm at the stainless steel buckle. This taper is quite dramatic and another distinct choice. I tried the watch on quickly, and while the leather strap was super comfortable, I felt that the taper might be a bit too much for me. But if you are not a fan, the watch will surely be a strap monster with such a versatile color scheme. I would have loved to see it offered on a bracelet as well, though. That would have been a great option and my personal preference for a great GMT.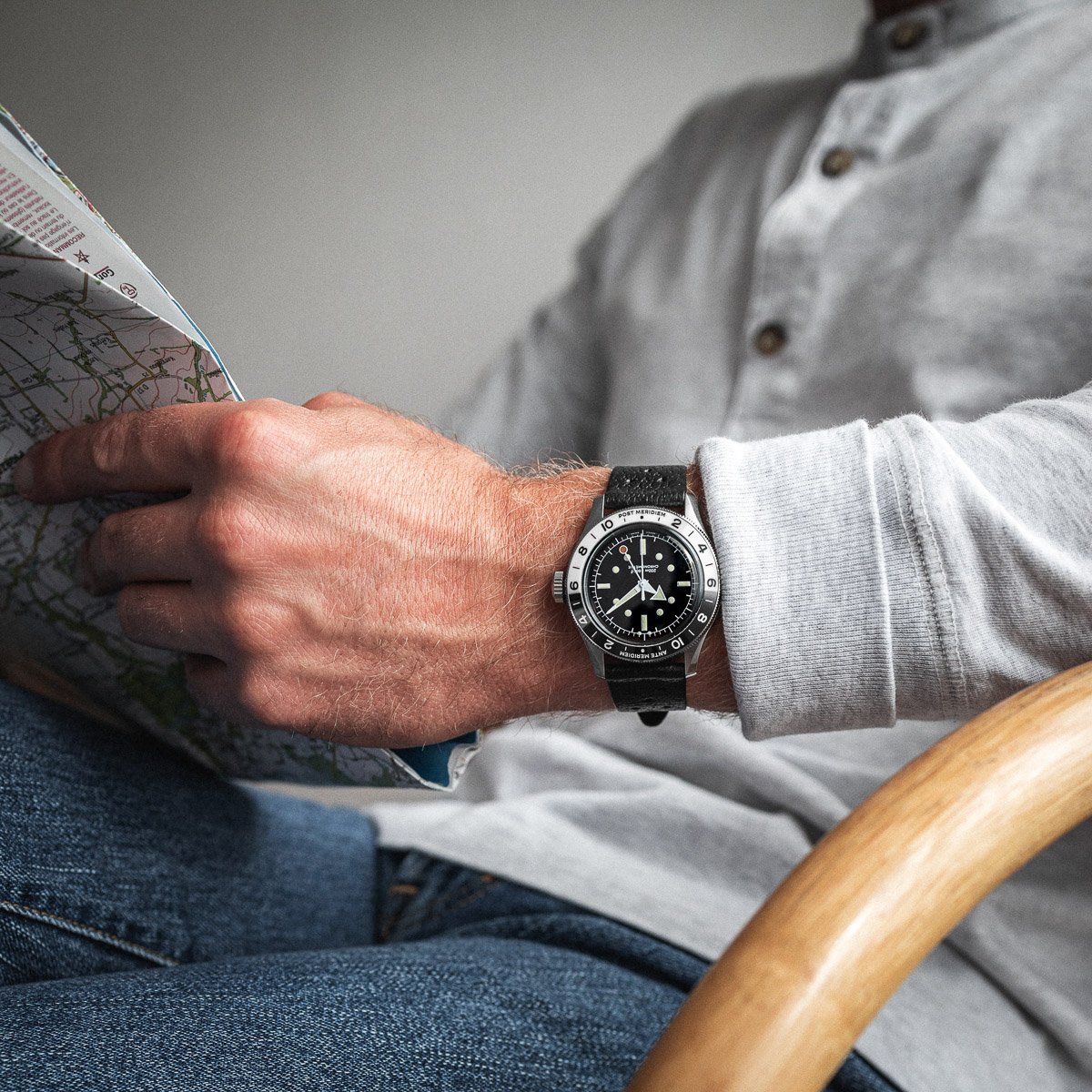 Overall, I am impressed once again by the design choices that Jérôme Burgert made for this Serica 8315 GMT Chronomètre. The watch simply looks amazing. It combines the stylistic pizzazz of a bygone era with a modern-day execution. I have no issues with Burgert's design choices regarding the lollipop hand, the mirrored 12-hour scales on the bezel, or the larger daytime indication. However, I do not doubt that other people will have different opinions on those matters.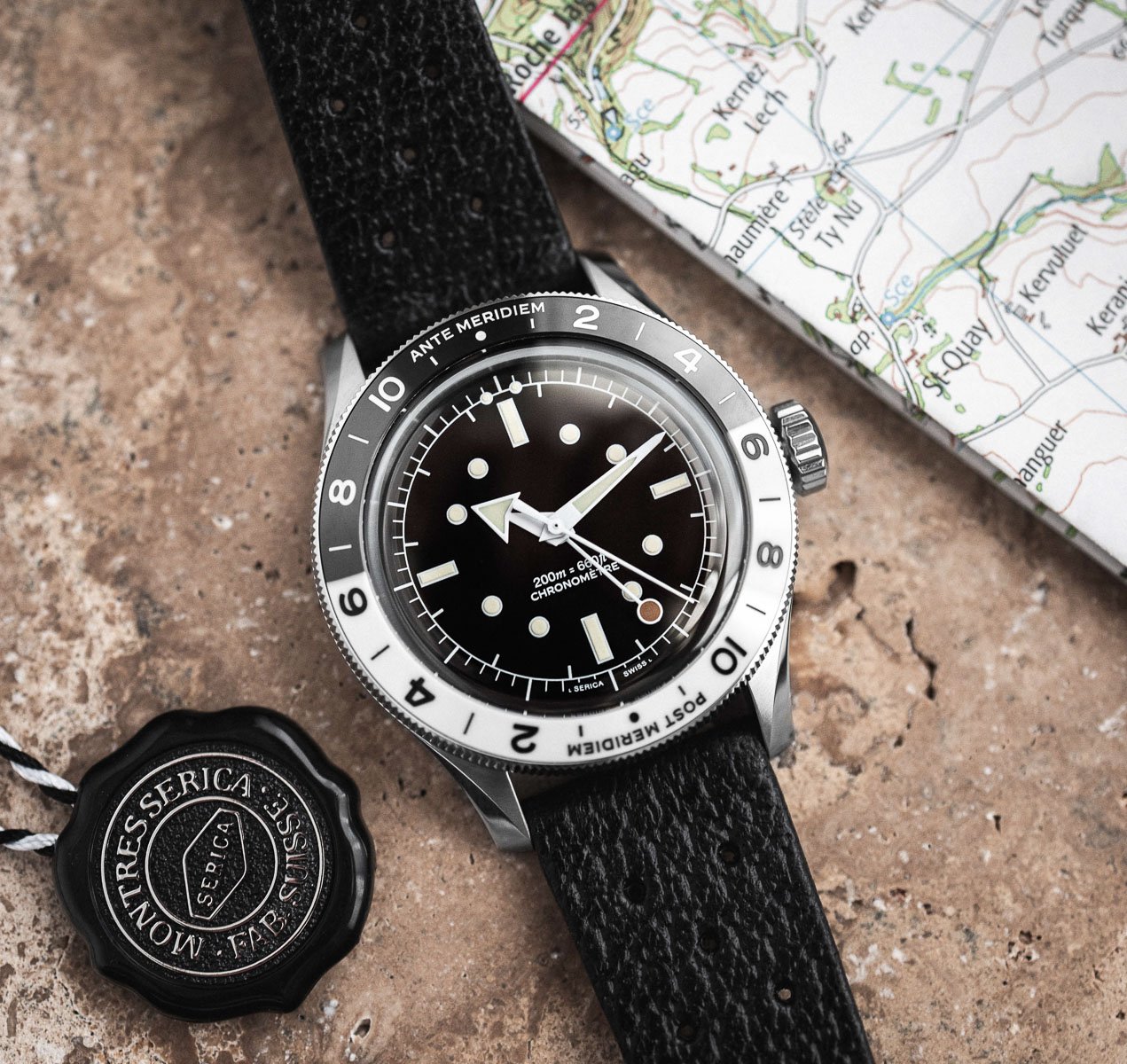 Pricing and impressions on the Serica 8315 GMT Chronomètre
The new 8315 GMT Chronomètre will be available for €1,575 excluding VAT or €1,880 including VAT. What you will get for the money is impressive in terms of style, execution, and accuracy. The biggest downside for me is the lack of a "flyer GMT" movement. But is that wishful thinking at this price point? Well, we have seen similarly priced watches from other brands that do offer that functionality, so we know it is possible. However, in my personal quest to find the right affordable GMT, I haven't seen one that looks this good.
If you want to find out more, visit the official Serica website. Share your thoughts on this new Serica 8315 GMT Chronomètre in the comments section.