Why You Should Care About The Sherpa Ultradive And Sherpa OPS
A passion project comes to life and reminds us why we love watches so much
The Sherpa Ultradive and Sherpa OPS are two of the most intriguing watches I've laid eyes (and hands) upon recently. There's far more to these watches than looks, though. If you're a proper watch nerd, there just might be something here for you.
Before I begin to discuss the Sherpa Ultradive and Sherpa OPS, it's important to know that this article is a companion piece with a podcast from March this year. Whether you listen to it before reading this or after, I suggest that you take the time as it's a watch-related discussion that I truly enjoyed. Sherpa's founder, Martin Klocke is a man on a mission and if watches are about stories as much as anything else, he has a good one. With my plug now finished, on with the (written) show!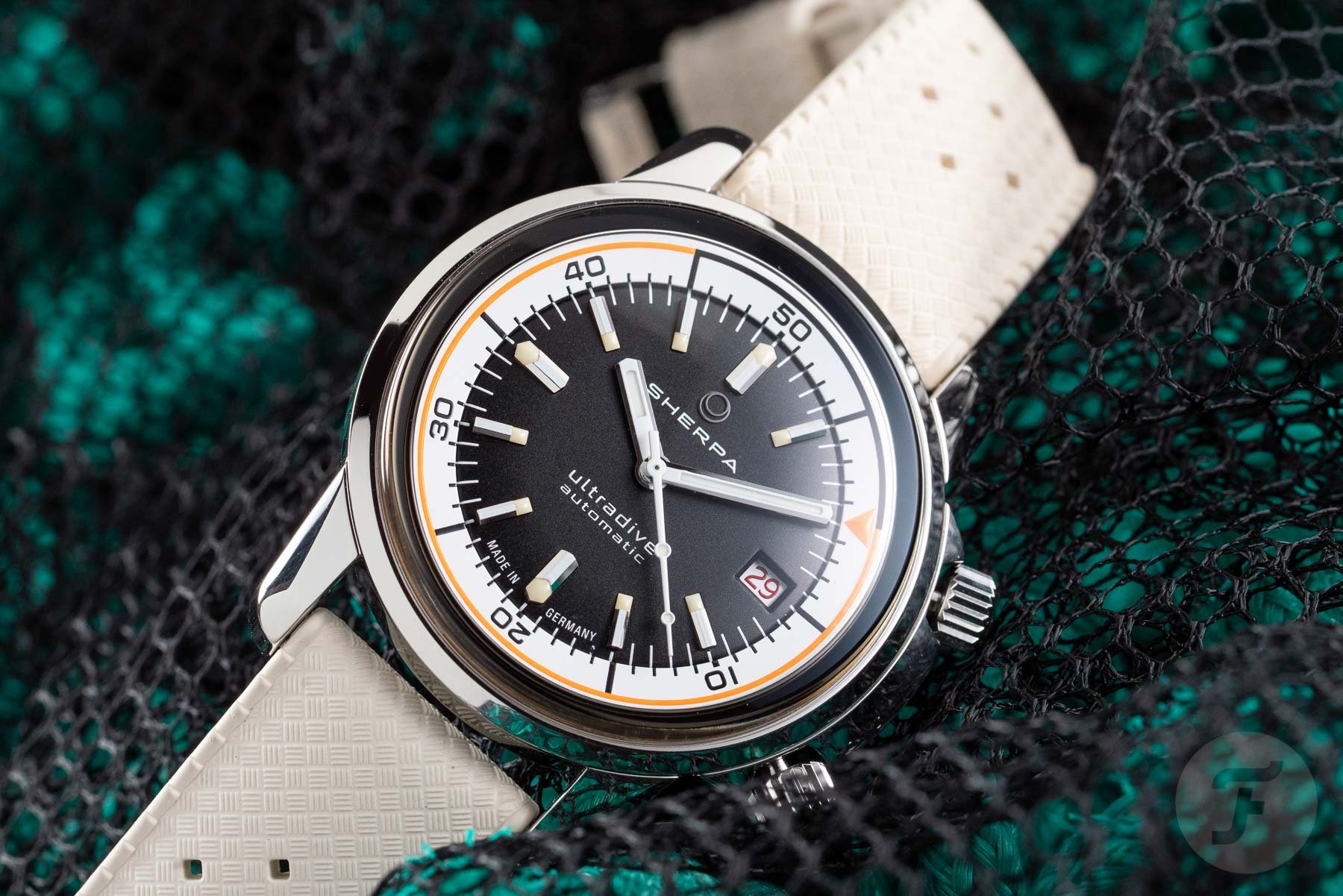 Sherpa Watches
Sherpa Watches was founded in 2019 by Martin Klocke near Düsseldorf, Germany and it's an incredibly interesting story. Martin is a watch fan like so many of us and he has a real passion for vintage Enicar. To make things truly short, when he failed in attempts to communicate with the current owners of Enicar (fly into Hong Kong and there's a good chance you'll see the brand sadly displayed on fashion watches), he decided to take the bull by the horns. Sherpa Watches was born with the intent of bringing back the classic designs from Enicar's heyday with modern specifications. Now, nearly three years later, the Sherpa Ultradive and Sherpa OPS are here.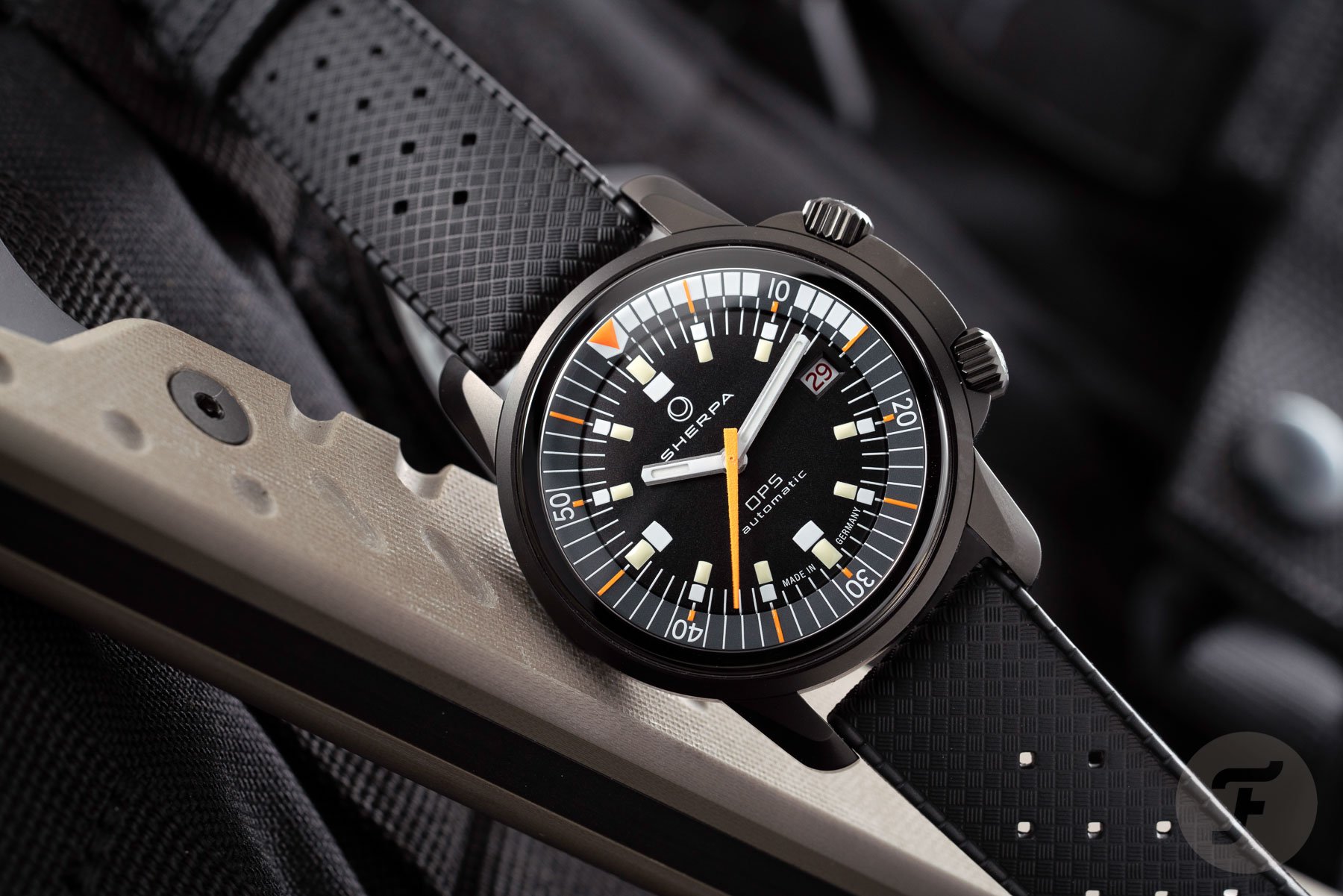 Just another retro diver?
By now, whether you've scoured our site or other watch magazines, you've seen loads of retro reissue watches. Divers, in particular, seem to be a real focus because they're wearable and seem to bridge well to current watches. Brands like LIP, ZRC, and even Tornek-Rayville have been resuscitated and remade into, more or less, faithful modern watches. Therefore, you'd be excused for giving something like the Sherpa Ultradive or Sherpa OPS a brief once-over and moving on to another retro release. However, if you decided to do that, you'd be missing out on the essence of why we seemingly care so much about these archaic mechanical wrist devices called watches.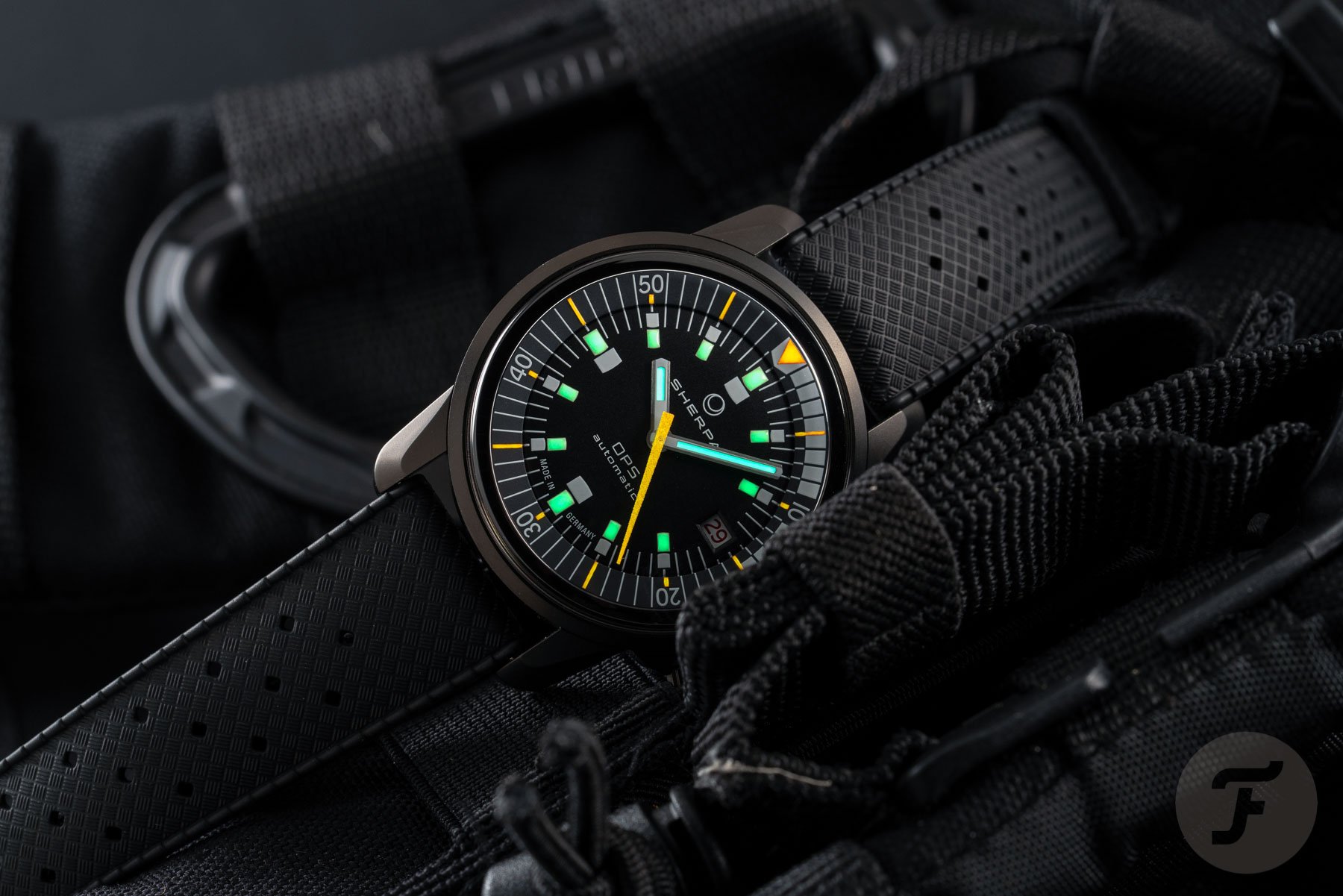 Modern Super Compressors by the bushel?
I've mentioned it in the podcast (plugging it again, aren't I?), but the lengths that Martin went to in creating these watches borders on Herculean or possibly even obsessive. Just one look at this watch and a two-minute primer on Enicar screams "Super Compressor." Then, a collective dismissal would come about because, of course, others make Super Compressor watches. Christopher Ward and Circula both use the feature that strengthens the seals as depth increases. Then, there are the pretenders such as the Longines Legend Diver. These watches look like the original EPSA but lack the original technology.  Either way, why should you care about the Sherpa Ultradive or Sherpa OPS if other options exist?
I've spent a decent amount of time speaking with Martin Klocke. I spoke with him when his watches were little more than concepts. I came away with a couple of distinct feelings. Firstly, Martin seemed bound and determined to make the best possible watches. Second, I rated his chances of pulling it off at no more than 50/50. It all seemed audacious as hell and he was and is one person (ok, he has a small team contracted to help). Somehow, though, the Sherpa Ultradive and OPS are here. Furthermore, I think they're exactly what Martin wanted to create.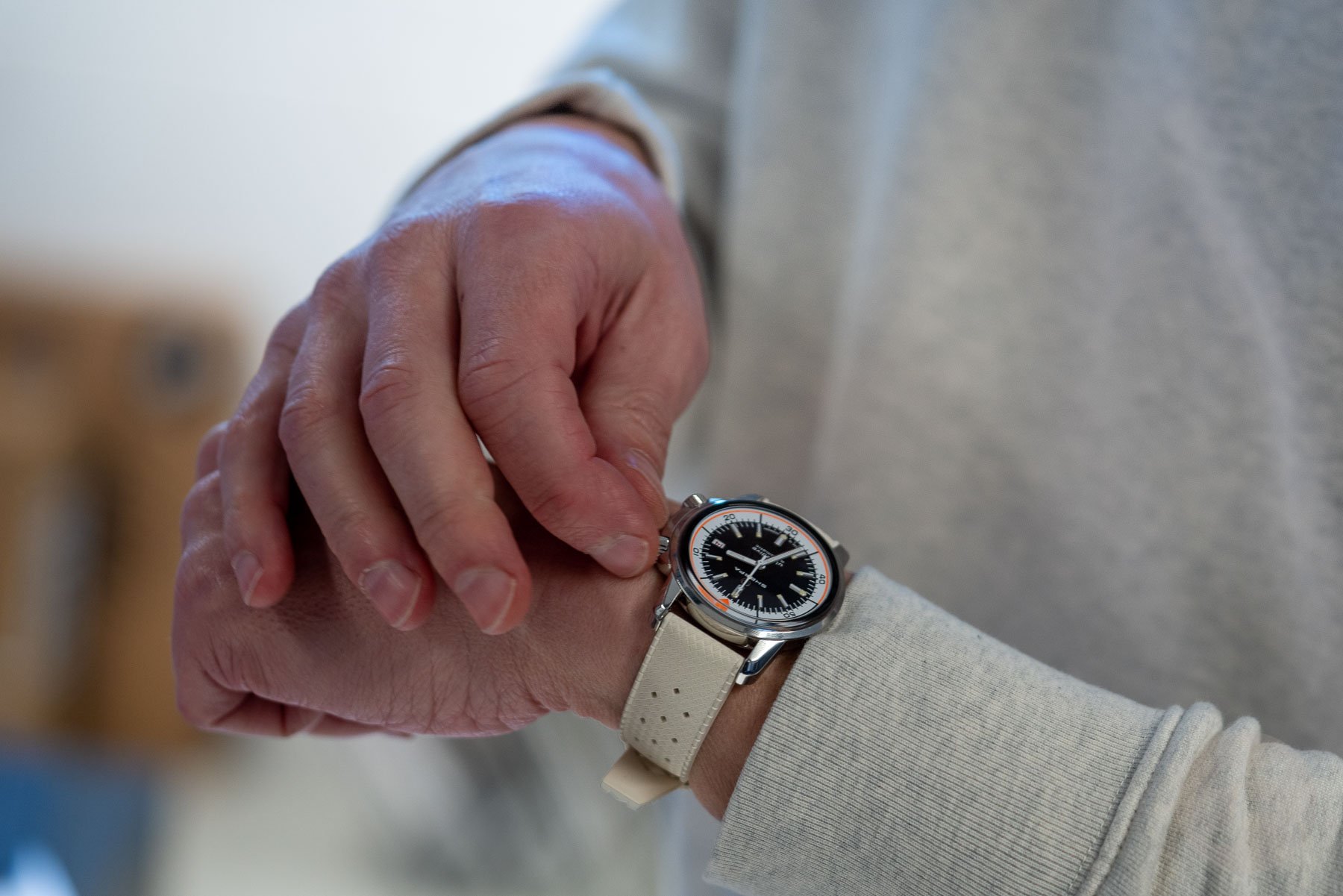 Research, research, and more research
It's definitely worth noting that in creating the Sherpa Ultradive and OPS, Martin spent countless hours doing research. He worked through patents and drawings on the original EPSA Super Compressor system in order to create an absolutely faithful reinterpretation. We take vintage watches for granted, but so much of the documentation has either been lost or would require Indiana Jones to unearth the technical documents. In our interview, Martin recalled stumbling upon certain drawings. I say, "stumbled," because they were from a student Summer project and were luckily kept. Moreover, these drawings had likely gone unseen for more than 50 years.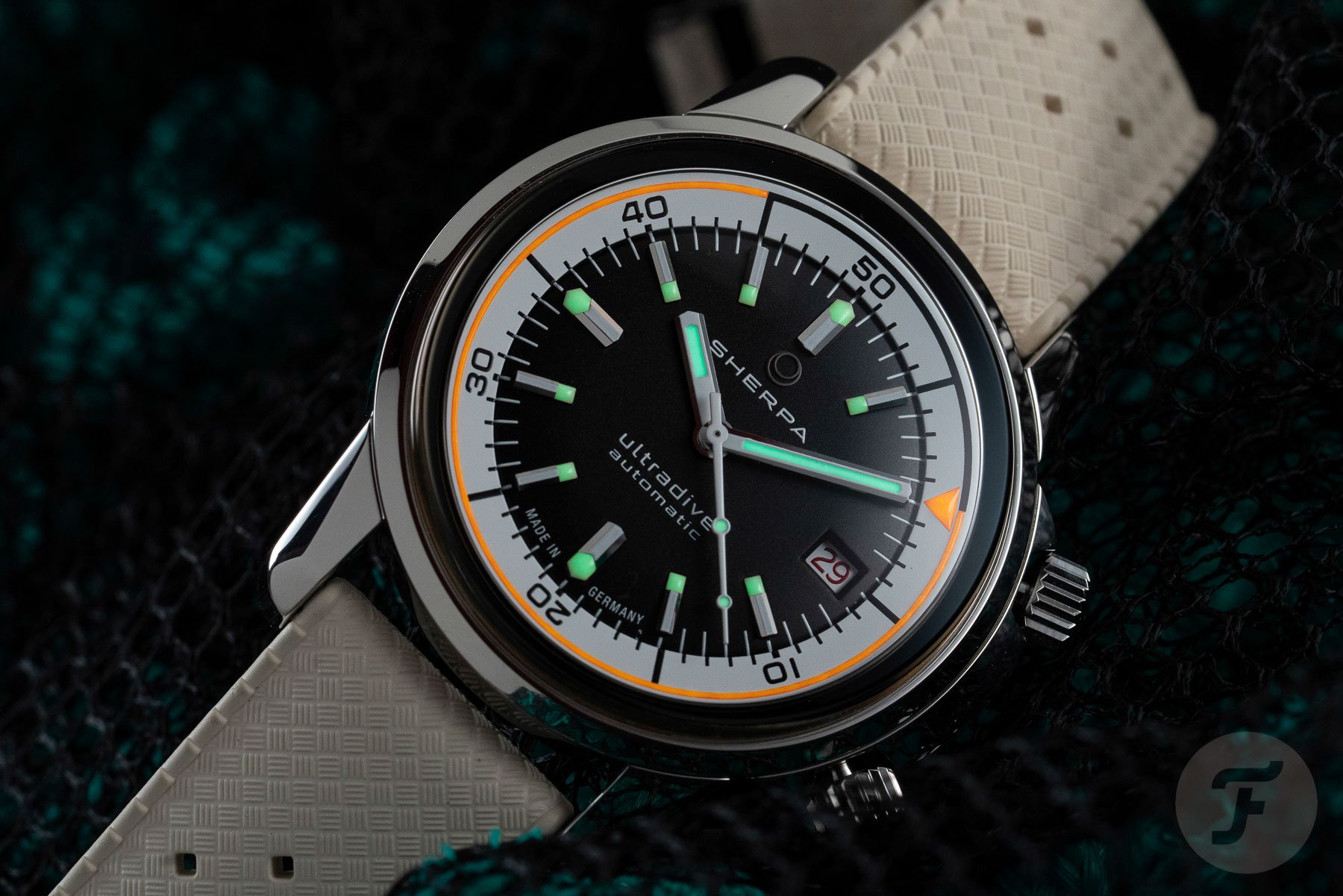 Making the Sherpa Ultradiuve and OPS
Once the dimensions and engineering were understood, Martin set about figuring out how to actually make the new Sherpa Ultradive and OPS. With scores of microbrands roaming about, this should have been a simple endeavor. The obsessive bit kicked in, though, and things became far more complicated. Martin was dead set on using only European-made parts for his watches. This is a huge difference versus the brands listed above that are making similar-looking watches. It also helps to explain the pricing.
I'd like to spend a few sentences on where parts are made because I think it's important. I'm not here to bash parts that are sourced in places like China. In fact, China's rise as a manufacturer has, ironically, democratized the mechanical watch buying market for many. However, when one reads "Swiss Made," it's worth reading the definition of this statement. It could mean that everything comes from Switzerland, but it almost always doesn't. Therefore, if you're one who likes to jump up and down and demand that your watches truly come from Europe, the Sherpa Ultradive and OPS might be your tickets. One other thing worth mentioning is that Martin even lists his suppliers on the Sherpa website. The transparency is refreshing. As you can see on the dial, the watch is ultimately assembled in Germany.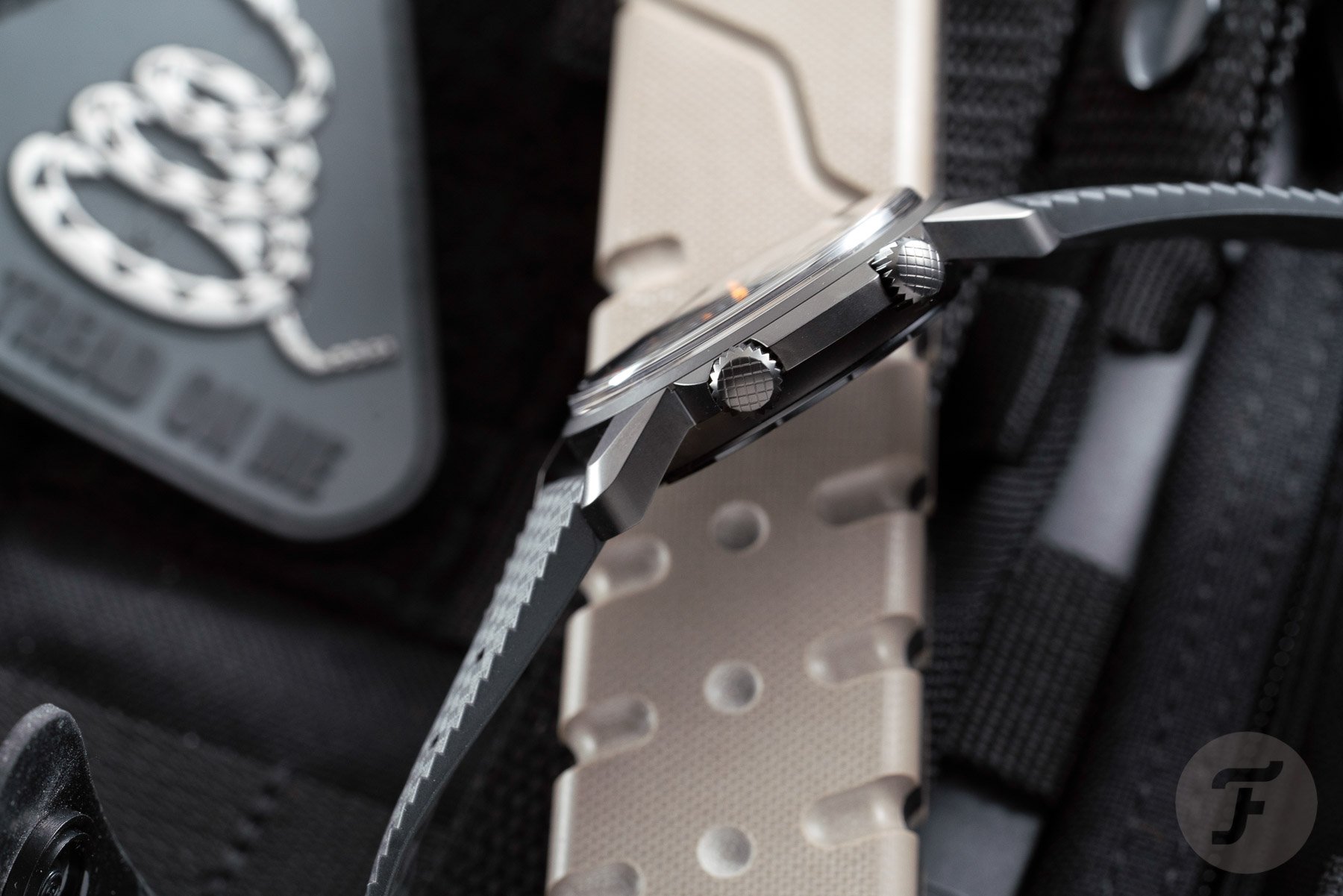 Some specs
As far as specifications, the Sherpa Ultradive and OPS are spot-on modern reissues. This means that they come with 40mm diameter by 13.5mm stainless cases. The lug to lug is 49.3mm and the lug width is 20mm. The cases are identical save for the fact that the OPS uses Black DLC coating. Of note, both watches feature the "crown guard" between the winding and bezel setting cross-hatched crowns. A box sapphire crystal with an anti-reflective coating replaces the acrylic that was found on old Enicar models. It's a difference, yes, but an internal black coating at the edge helps eliminate the milky white glare.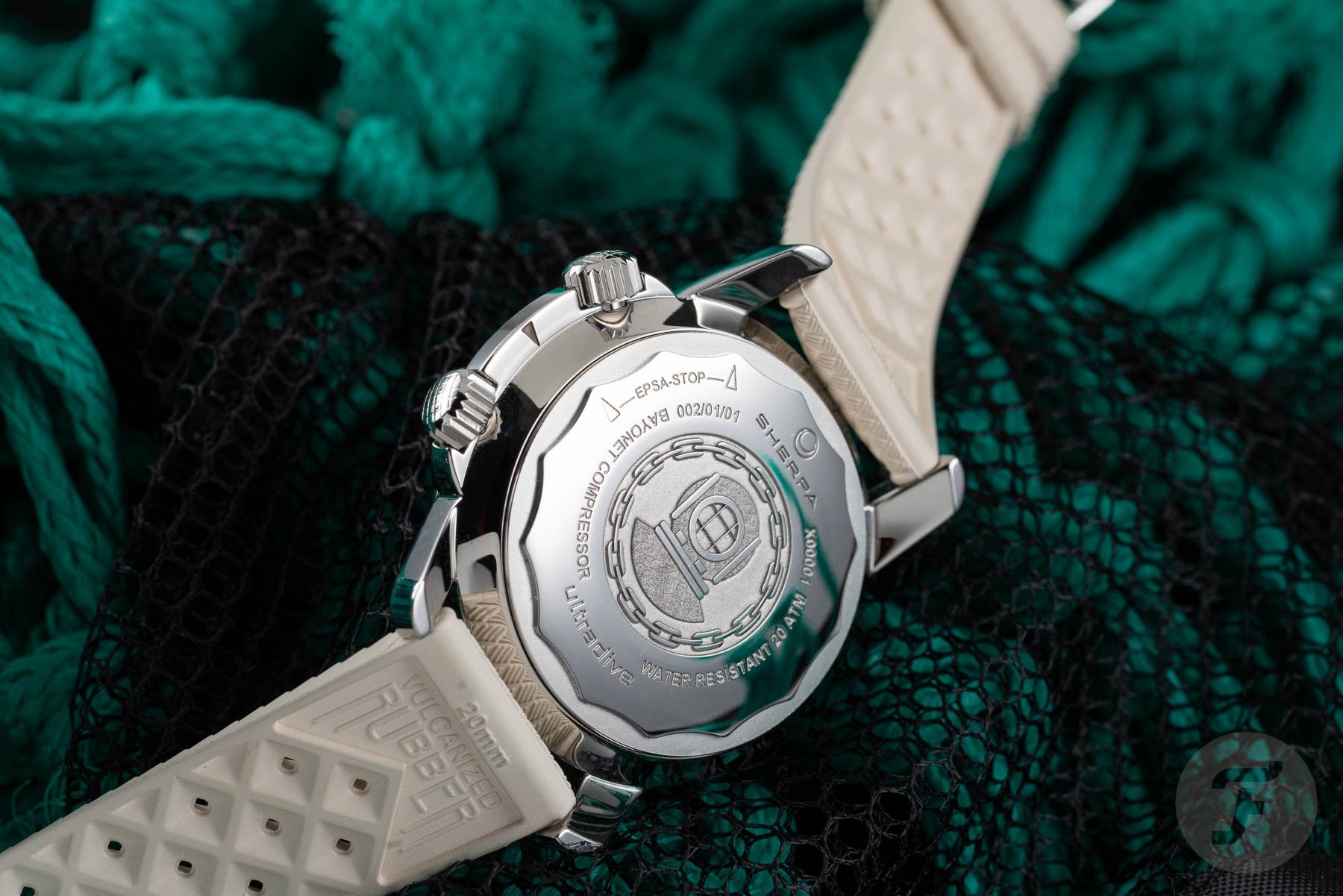 A movement with something extra
True to the original, neither crown is screw-down, but the watches are water-resistant down to 200 meters (testing shows even more). The case back uses a bayonet-style closure. Fittingly, the case back is adorned with an EPSA-like dive helmet. Underneath the case back, we find the Sellita SW200-1 automatic. Martin chose the top version, but I suppose that's not going to excite most enthusiasts. What is interesting is that Martin worked with a supplier in Solingen, Germany (the home of German knifemaking) to laser inscribe two wheels within the movement. As a practicing Buddhist (perhaps, this is why the Sherpa name resonated with him), he asked that the wheels be inscribed with a Tibetan Buddhist mantra in Tibetan font. If you're not convinced, consider that a special laser needed to be created to reach such small sizes.
The Mantramtic was born! Yes, the case back on the Sherpa Ultradive and OPS are closed, but there's something special lurking inside. I actually find this to be charming and it reminds me of opening a vintage watch and finding a nice surprise like a gold rotor. Finally, not content with simply stating mantras, Martin will donate a portion of the profits from the watches to a charity that supports projects in the Sherpa regions of Nepal.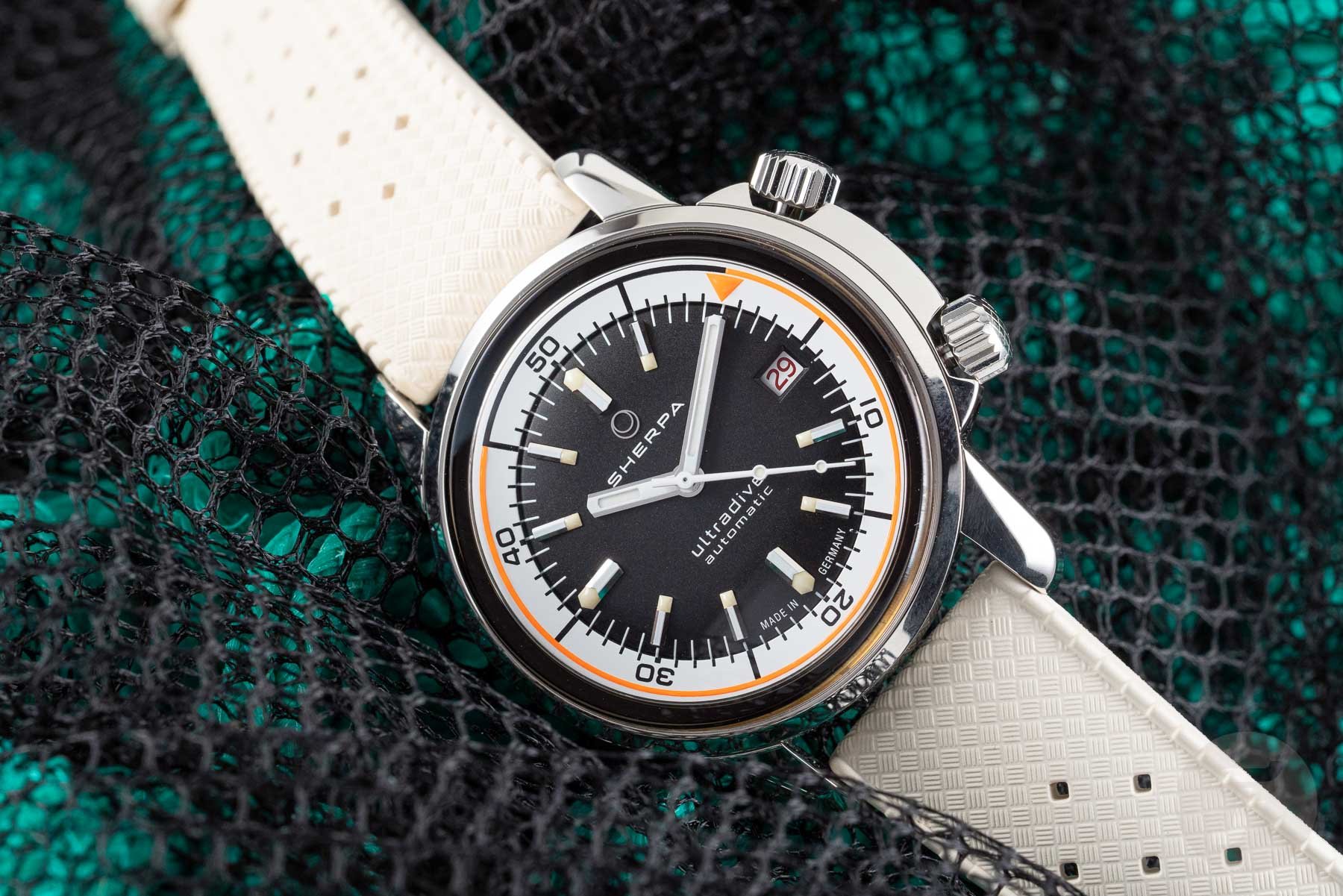 So, are they any good?
I've spent an awful lot of time talking about Martin and the efforts behind creating the Sherpa Ultradive and OPS. Unless you're tone-deaf, you can probably tell that I love the spirit behind this no-holds-barred approach to creating watches. However, if they ended up looking like hot garbage, an "A for effort" wouldn't be enough to garner my interest. Thankfully, these watches are really good in the metal. Whether you're staring at one of these watches or handling them, they feel like quality. The cases are incredible, the dial work is stunning (the dials are even domed), and the faceted hands are perfect. The lume work is fantastic and that's doubly so on the OPS where two different colors of Super-LumiNova Grade X1 are used. You'll even notice that each watch uses different hands that are faithful to the old Enicar models.
The Sherpa Ultradive comes in at €5900 and the OPS is priced at €5800 on a 20mm Tropic-style rubber strap. I won't sugarcoat it: these watches are expensive. When I first spoke with Martin, he definitely had a different price point in mind, but reality kicked in and forced a different result. His European-only approach along with small production numbers (150 non-numbered of each model) changed things greatly. One simply cannot build a watch at this level of quality with this true "country of origin" requirement for multiples less.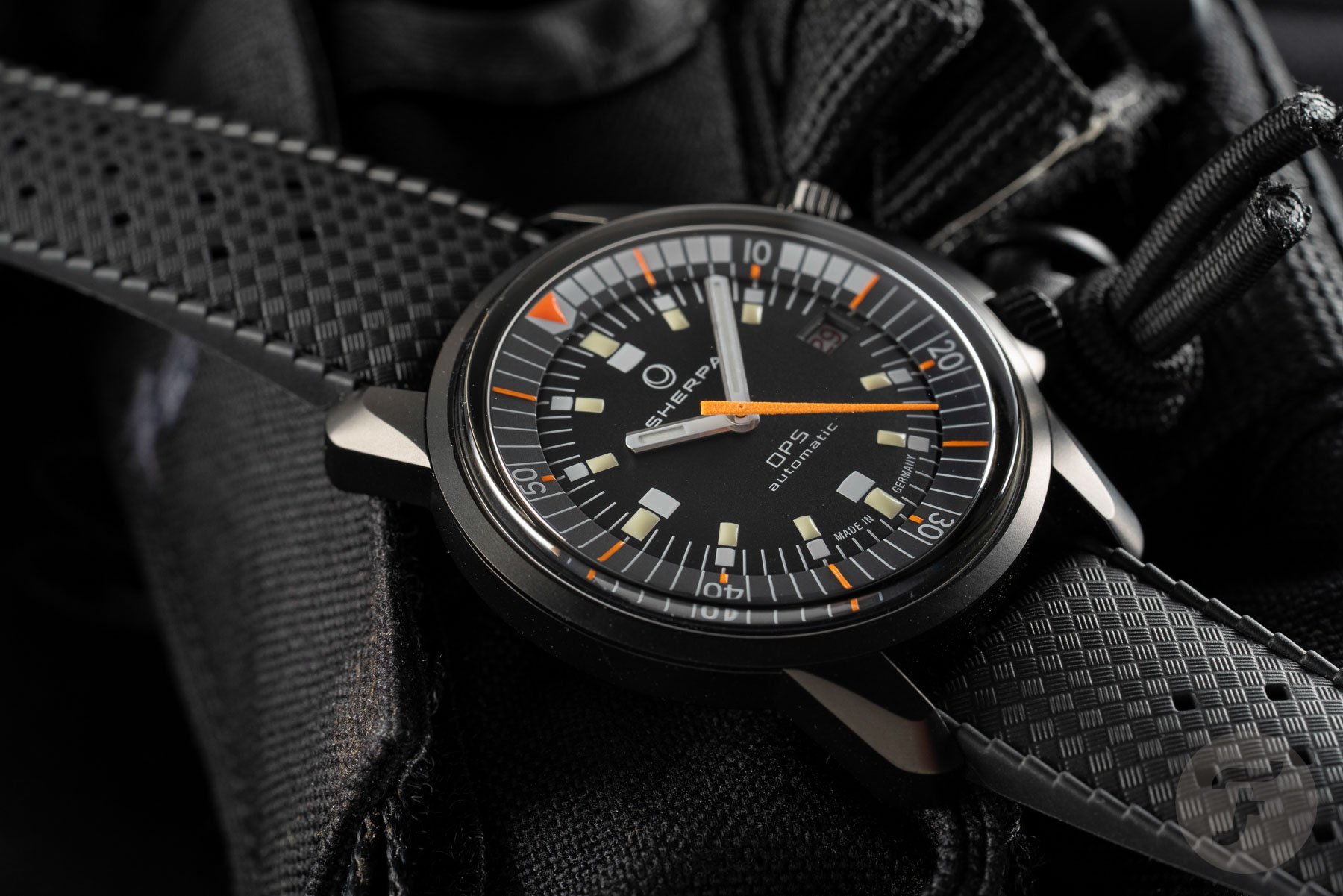 Who are these for and what do I think of Sherpa Watches?
I give Martin tons of credit for sticking to his guns in creating the Sherpa Ultradive and OPS. I'm sure this article will bring in all sorts of comments that focus solely on price and if so, well, that's too bad. It's ok if they're priced above your budget, but I'd hesitate to say they're overpriced versus other dive watches in this realm. Sure, Sherpa is a young brand without decades of history, so some may feel that's too risky (a 2-year warranty is included). Plus, they're tough to see in person unless you happen to attend an event where Martin is present. However, if you're a lover of vintage watches with enduring style, these could be compelling choices. Plus, the watches actually function as robust divers and can be worn daily.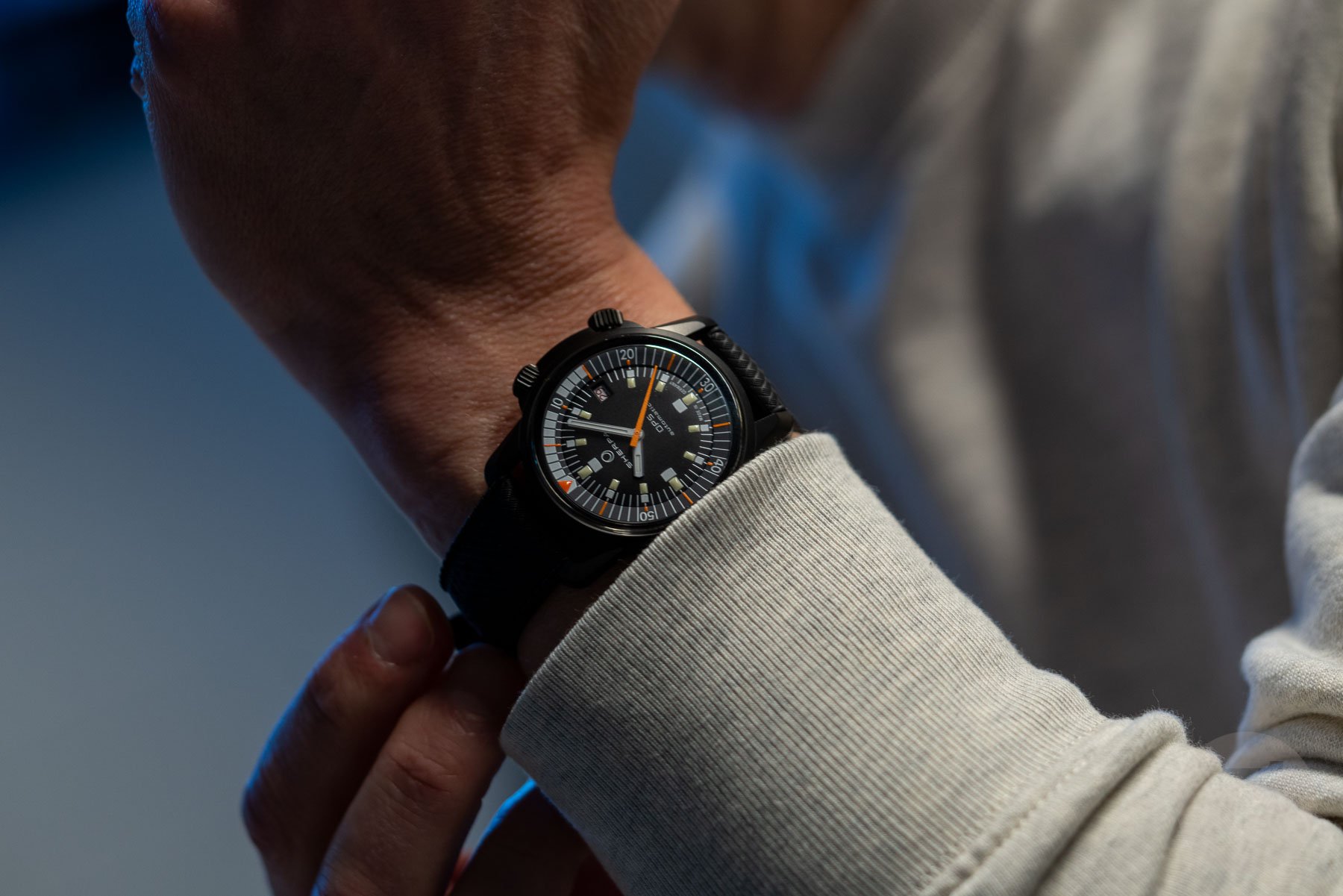 So, why should you care about the Sherpa Ultradive and the OPS? If you're a watch nerd, you should care that someone went to such great lengths to build such cosmetically and technically faithful watches in 2022. If you're one who complains about a lack of transparency in watch production, the openness should be compelling. Should you buy one? Well, in my view, if you can swing it, you'll be getting something that is, all at once, an incredible story, a passion project, and a beautifully made object. The details and level of attention are mind-boggling. Perhaps that's not enough, but it's an awful lot. Well done!
Production for the Sherpa Ultradive and OPS will begin in May 2022. Visit the official Sherpa Watches site for more information and ordering details.
Watch specifications
Reference
Ultradive (002/01/01), OPS (001/02/01)
Dial
Ultradive (Delicately domed dial with applied faceted, diamond cut indices which elegantly play with light reflections and Swiss Super-LumiNova Grade X1. The lume dots of the indices form a unique diamond shape at night) OPS (Delicately domed dial with printed indices and Swiss Super-LumiNova Grade X1. The lume dots of the indices form a unique diamond shape at night)
Case Material
Stainless Steel - OPS is Black DLC-coated
Case Dimensions
40mm Diameter, 13.5mm thickness, 49.3mm Lug to Lug, 20mm Lug Width
Crystal
Domed Sapphire box glass, internal anti-reflective coating and inner black metallisation on the outer rim
Case Back
EPSA-STOP bayonet compressor closing system
Movement
Mantramatic MM01, based on Sellita SW200-1 automatic, premium (Top) range, fine decoration on both sides, gilt finish, custom rotor, 38 hrs power reserve
Water Resistance
200 Meters
Strap
20mm Tropic-Style Strap from joseph Bonnie (steel bracelet under development)
Functions
Time (HH:MM:SS), quick set date, internal rotating dive bezel
Price
Ultradive (€5,900), OPS (€5,800) including VAT
Special Note(s)
150 non-numbered pieces of each model