SIHH 2019 Last Day Recap
This is our last instalment of the SIHH 2019 recaps. It has been quite an interesting SIHH, more so than the 2018 edition, especially when it comes to the presented watches.
SIHH 2019
The 2019 edition of the SIHH was the last one held in the month January, as of next year, it will be right after Baselworld 2020. In the past, this was already the case, but then the SIHH decided to have theirs in January. So next year, we will have two huge shows back-to-back for about 10 days in total. I am very interested in what Audemars Piguet will do for example, but even more in what Swatch Group is planning to do. Will they stick to doing their own events as they will in 2019, or will they go back to Baselworld in a new format and with new terms and conditions?
I have to say that SIHH is always well-organized, but this year it was noticeably different from other years. As you will, we (our team) felt that the quality was lesser than previous years. Bad WiFi (which is super annoying if you need to work with images), long queues before entering the venue (but I already covered that here), not enough capacity to host lunch for visitors, and at times the temperatures were amazingly high (which is a Swiss thing, I admit, as they love to heat up hotel rooms and restaurants to crazy temperatures). All these experiences were closer to what I am used from Baselworld than ever before. That said, the booths were beautiful as always and the SIHH staff were very friendly. They shortened the fair with one day, so it was noticeably more crowded on all days. Not only press and retailers, but also suppliers used this exhibition to talk to their customers (brands) and brands also invited some of their 'VIP' clients directly. On Thursday afternoon, the SIHH opened up to the public as well. So, when exiting the SIHH yesterday afternoon, the queue to exit and to pick-up your stuff from the cloakroom was beyond imagination. Certainly, something SIHH didn't foresee or have acted upon.
But let's have a look at the watches and brands we visited on the last day(s), that's what you are here for, of course.
Richard Mille
I will start with a brand that caused a little stir among the SIHH guests. Normally, Richard Mille creates very technical watches, with an emphasis on what they (technically) achieved or on the materials they've used. This year, Richard Mille came up with their Bonbon collection. Ten new models of 30 pieces each, inspired by fruit and candy. Using very vivid colours that almost damage your tooth enamel only by looking at it. The craftsmanship on these watches is amazing, using beautiful techniques to paint and lacquer the – in total –  3000 miniature sculptures used for them.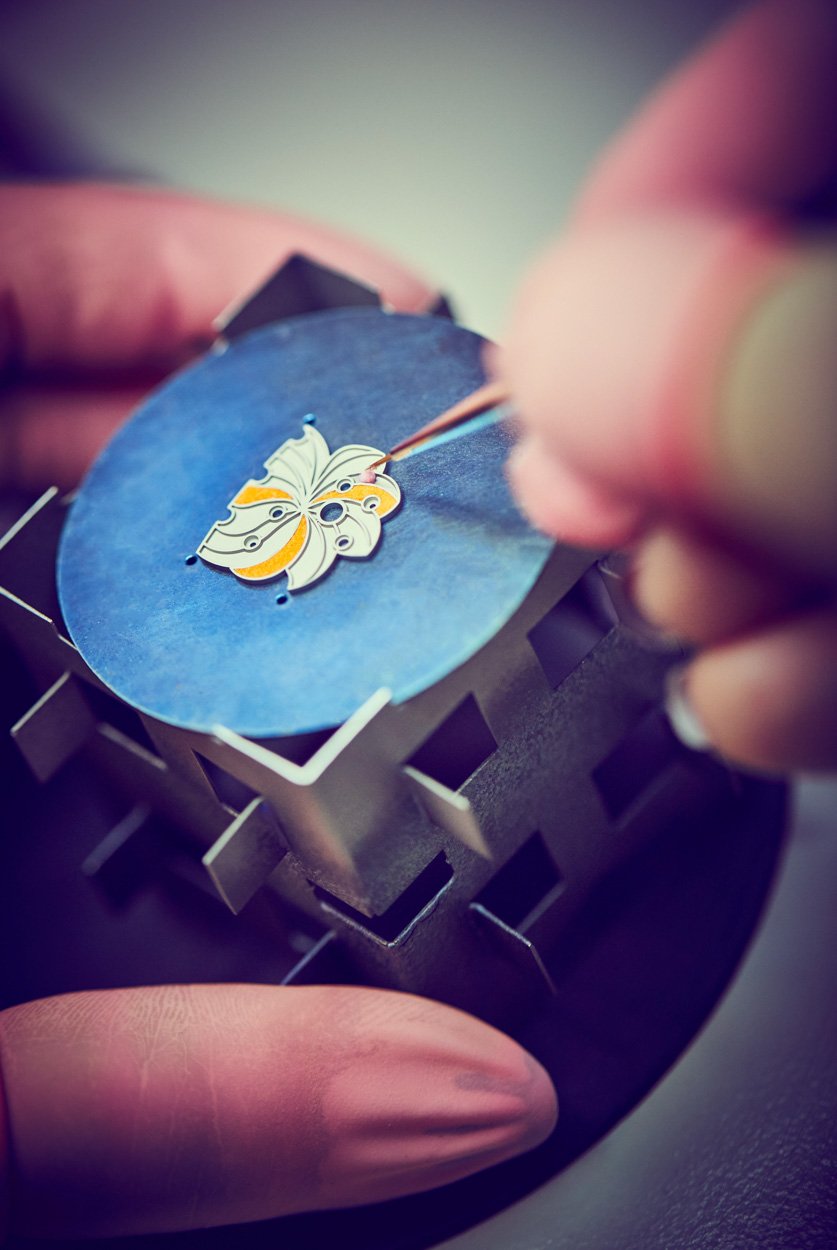 I admire the craftsmanship, but boy… who buys this stuff? I got the feeling that the person who gave the presentation on these Richard Mille novelties couldn't suppress his true feelings towards these watches at certain times. This has never been done before, for sure, but there was a good reason for that, and this collection demonstrates clearly why. I hope Richard Mille will return to watches as they did in the past. Highly complicated movements and cases and using special (light-weight) materials. That said, I am sure there are enough people out there with more money than taste who will jump on this. As someone said: If you drive your Bentley and next to you is your girlfriend called Candy, what's better than giving her a watch with candy?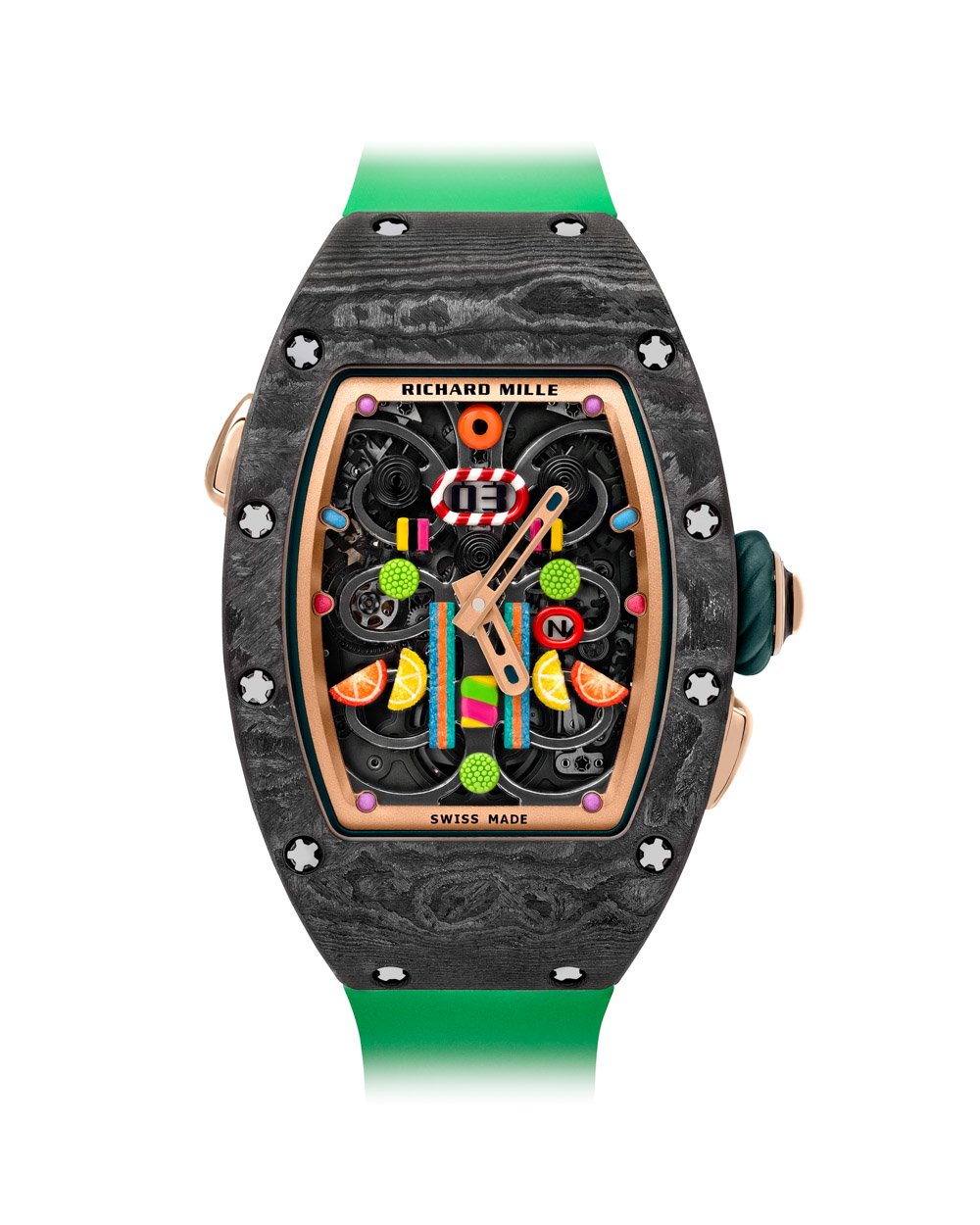 Cartier
We already had our Cartier presentation earlier in the week, but we also had an appointment for doing the photoshoot with their new watches. I joined Bert for the appointment so I could have another look at some of the new pieces. I tried on the Cartier Santos chronograph again and I will stick to my previous comment. The watch is just too big, even for my large wrists. A pity, because I love its looks and the way the chronograph pushers are arranged (on the left side of the case and by pushing the crown). I also tried on the new Santos Dumont again, the thin dress watch on a leather strap inspired by the 1904 Santos watch. It is stunning. I made a previous comment on the dial, that it was a bit too simple (no depth) and I stick to that, but I think I could get over that because of the beautiful case design. Especially in gold, this watch is simply stunning. I am just not sure if I can look past the fact that it has a quartz movement (even though it has been developed in-house and has energy for 6 years with one battery). At this moment I don't know the price of this piece yet, but I assume it will be close to 10.000 Euro due to the rose gold case. For ladies, there's a lot to choose from this year. I love the Panthere (watch) bracelets for example, and we will do an article on those soon (according to Google Analytics only 1% of our readers is female, so perhaps it helps a bit).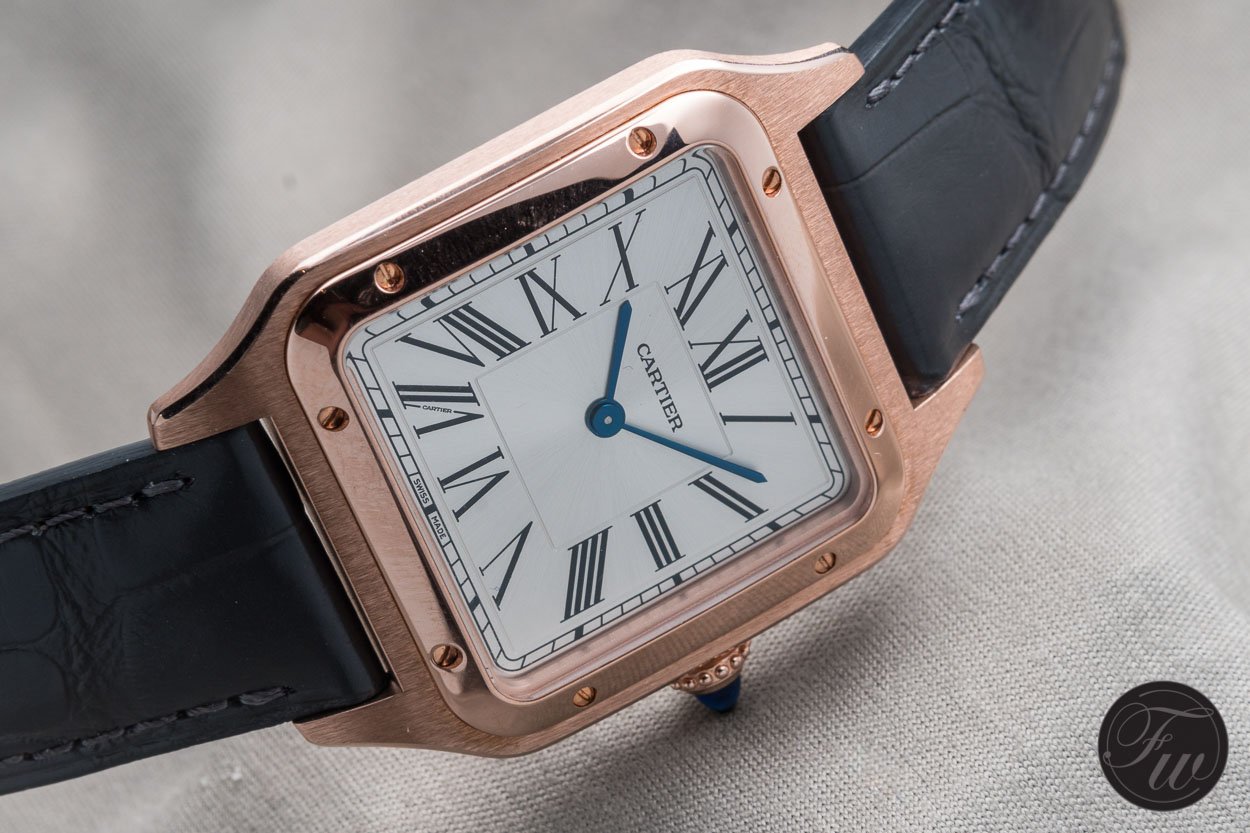 Ressence
Since a few years, there's the square (Carré des horlogers) for the independents at the SIHH. You will find people and brands like FP Journe, Grönefeld, HYT, Speake-Marin, Kari Voutilainen but also the Belgium based Ressence. On our last day, we went to see Ressence to discover and try the Type 2 e-Crown watch ourselves. Founder and owner of the brand Benoît Mintiens gave a little demonstration and explanation about this watch to us. The Ressence Type 2 e-Crown uses a mechanical movement (as Ressence always does) but also have a little bit of high-tech inside, due to the e-Crown system. As explained here, it ensures displaying the correct time and it is able to remember the time. So when you don't use it for a while, it will correct itself to the actual time as soon as you put it on your wrist again and activate the watch. By tapping the crystal, you can switch to two different time zones. There's also an 'app mode'. You can connect to your smartphone using a Bluetooth connection, which allows you to correct or set the time. My fear is always, that technology has a due date (which it always has, although my NES 8-bit from the 1980s still works flawlessly) and you can't use the connectivity of the watch in a few decades from now. The Bluetooth standard is not going to be here forever I assume, so this Ressence Type 2 e-Crown has a risk of becoming outdated or non-functioning at some point. Wrong! The watch can also run without the technology it has on board, especially without the Bluetooth connectivity. It was designed this way, as Benoît shares the same concerns, so he made sure this watch can perfectly function without any of the electronics that are inside. I also asked him what will happen if the mechanical movement starts to act up (and thus in the need of a service overhaul). The watch will correct the time by itself at given times, and if it notices that the accuracy is off by one minute three times in a row, the hands will move so they all point to 12 o'clock. If it does this, you know it is time to have it serviced. These time checks will be done once a day by default, but the owner of the watch can also do this whenever he wants, of course. But it will drain the battery power, of course. All this technology comes in the stunning Ressence Type 2 case, looking spectacularly futuristic. It took me a while to warm up to this design, but I notice I am slowly falling in love with it. And perhaps that's the best kind of love, in the end.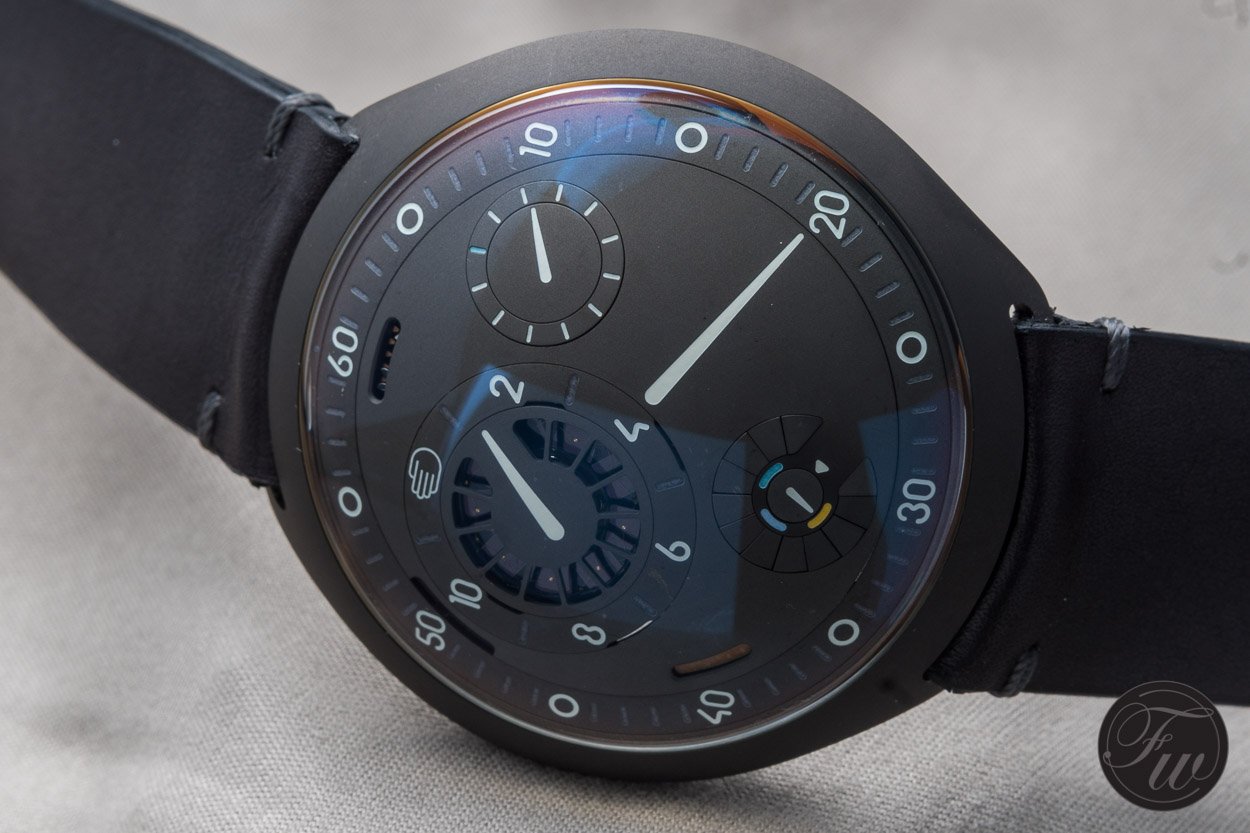 A. Lange & Söhne
I noticed I didn't spend a word on a Lange watch in the daily recaps so far. Undeservedly so! In the first recap, I mentioned that they have amazing watches this year and that they will come up with a new Lange 1 edition every month from now on till October 24th 2019 (their anniversary date). And although the Lange 1 is one of my favourite watches from this Glashütte based manufacture, the new Zeitwerk Date is something really special as well. They all are, but this new Zeitwerk Date has an interesting new mechanism (caliber L043.8) for correcting the date and time. By using the pushers, you can increase the hour and the date. Very useful, especially when you need to correct it quickly. Using the pusher to increase the hours is useful for those who travel a lot. Of course, increasing the hours is especially interesting when you travel to the east, but correcting the hour with just a push on a button is so quick, you can also easily click a few times more to set it correctly for countries where it is earlier. By using the date pushers, you can also correct it fairly quickly when travelling west. Also, a pusher for the date is useful when it is the first day of a new month, after one which had less than 31 days. The indication of the date is very interesting, using a ring around the dial. The current date is highlighted with a red colour. Also, the date can be corrected whenever you want. You don't need to keep the typical 9pm-3am slot in consideration where you normally can't advance the date without the risk of damaging the movement.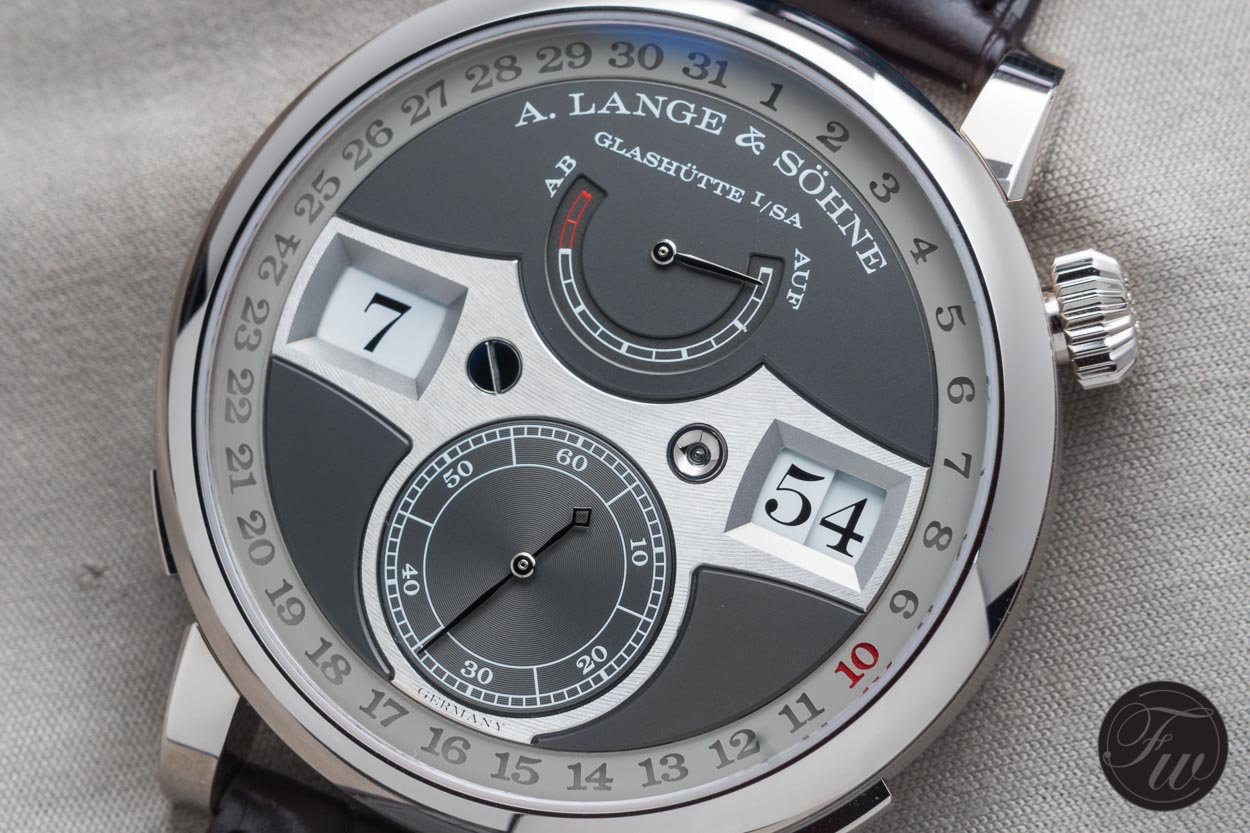 Montblanc
A brand that has seen a steep development in recent years is Montblanc. Although at first, and some still do, people had their doubts about its name (too much associated with pens and leather goods), including me. With the purchase of Minerva, Montblanc showed that they wear dead serious about watches. During this SIHH, Montblanc told us they would re-structure their collection a bit and slim-line the pillars they use. The focus was on the Heritage and 1858 collections. The Heritage collection has definitely some great value propositions, including an aforementioned perpetual calendar. The only issue I have with that collection is the design of the case. These happen to be relatively thick and have a bit of a simple (polished) finish. Of course, the price point of these watches are not of Jaeger-LeCoultre or IWC for example, but a thinner case, bevelled edge or brushed surfaces would definitely be nice. Anyhow, the 1858 collection is (also) a very attractive one. The Montblanc 1858 Chronograph with the green dial is among our favourites, consisting of a bronze case with titanium case back (bronze on the skin isn't very good we've been informed) and a green dial. This two-register chronograph has a self-winding movement (caliber MB 25.11) and is priced just below 5000 Euro. Limited to 1858 pieces.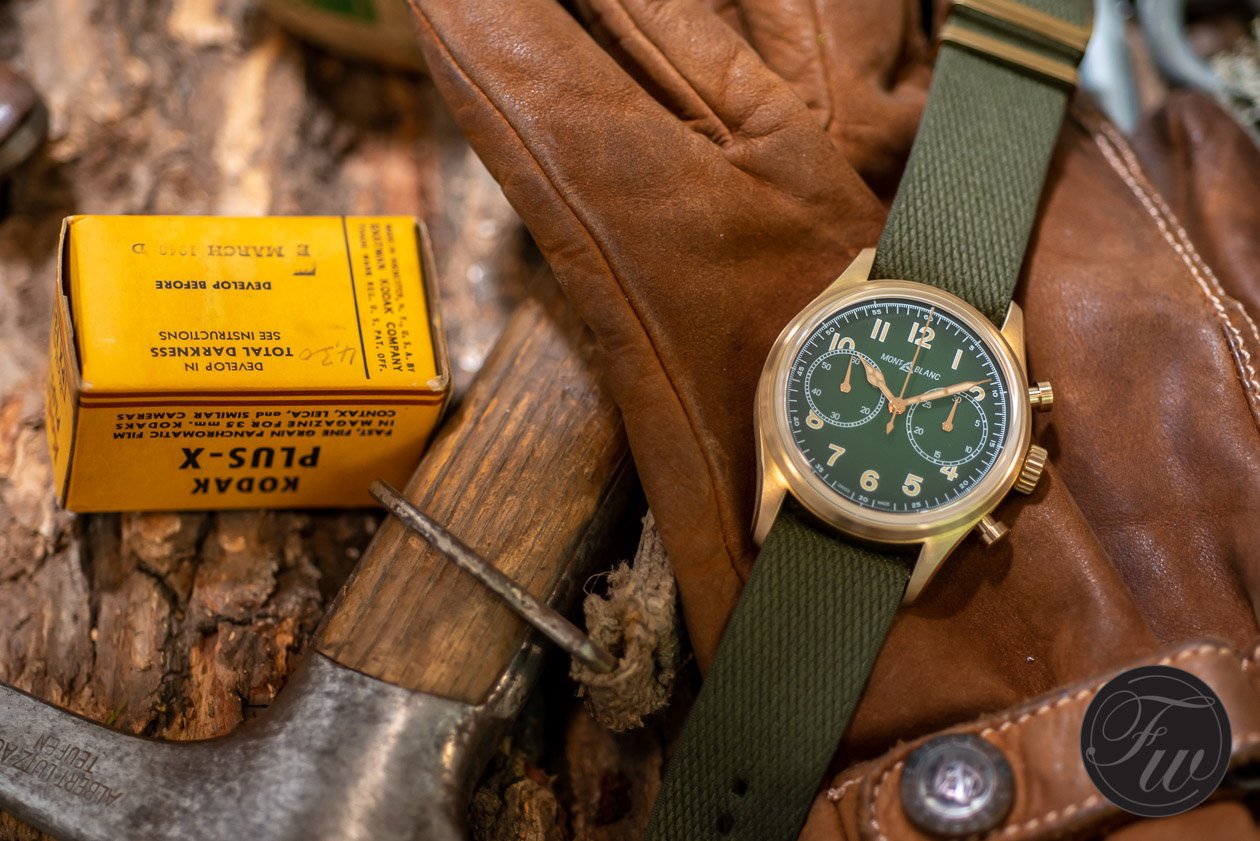 Audemars Piguet
Although I covered the new CODE 11:59 and my thoughts about it in the SIHH 2019 Day 2 recap, I want to share with you that even after almost a week, I still feel the design is not up to AP's standards. This watch was definitely the talk of SIHH, and while some people let me know that this is perhaps a good thing, it is definitely not the kind of positive 'talk of the town' AP had hoped for, I am sure. The criticism I have on this design is especially aimed at the 3-hand version and the chronograph and perhaps I am even more disappointed with the latter, as the dial just looks cheap (think fashion watch cheap). The CODE 11:59 with perpetual calendar has an amazing aventurine dial, which definitely compensates, as you can see below. However, I am still baffled by the fact that AP disallowed journalists to publish frontal images of the watch without putting an image of the watch from another angle next to it. Amazing.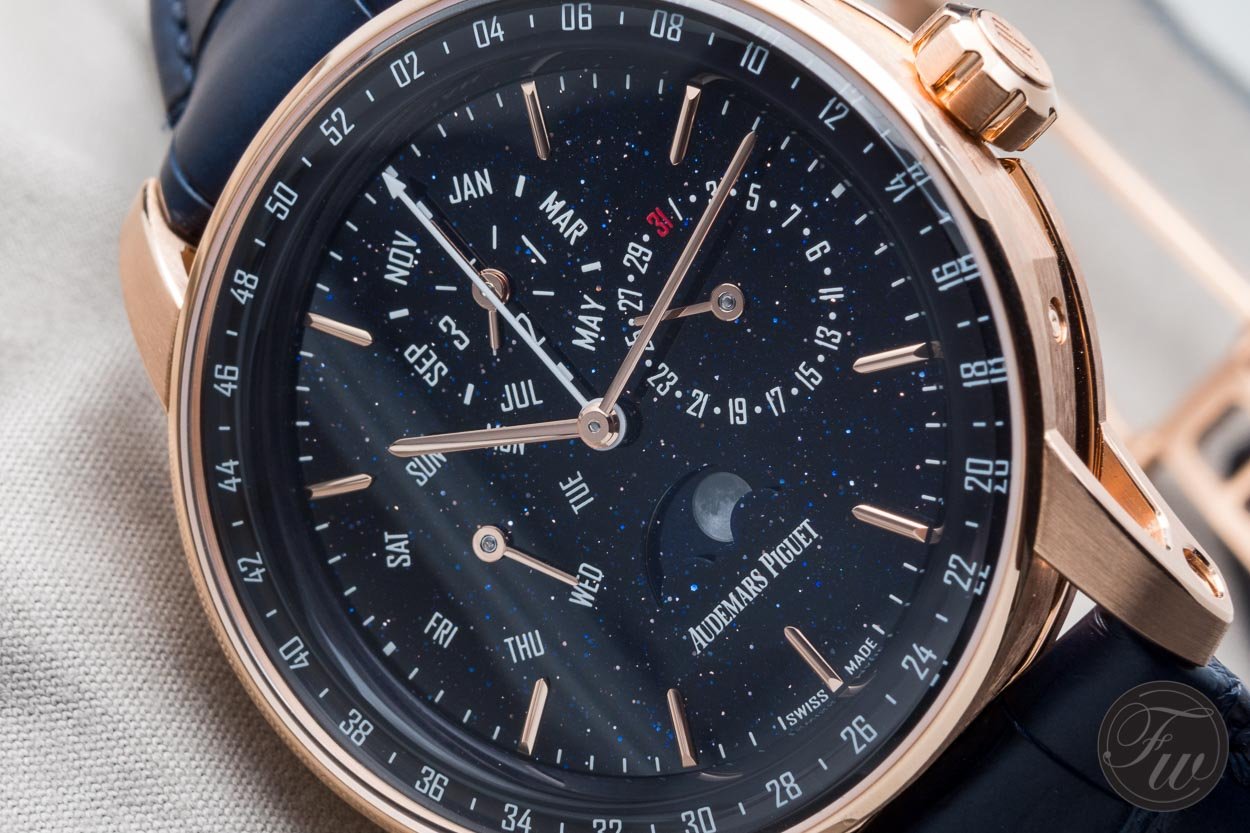 Summarized, I think this SIHH was more impressive in general when it comes to interesting watches than last year. At least to me, as I have a longer list of favourites than in 2018. My 'affordable' favourite is the Jaeger-LeCoultre Reverso in burgundy red, which is not a limited edition but will only be available via boutiques. Less affordable watches I sincerely enjoyed are the new AP Royal Oak Chronograph in 38mm and the Jumbo in white gold, the Vacheron Constantin Traditionelle models and new Overseas Perpetual Calendar, the new HYT models and of course the Ressence Type 2 e-Crown. I am also warming up the Panerai Submersible models, but I find the prices a bit too steep. I think I have to let the novelties of the SIHH sink a bit more and will come with a Top 10 of my favourites later on.