Some Rolex Yacht-Master History
I have read different stories about the (relative new) history on the Rolex Yacht-Master models. So, what else can I do on this wednesday evening and sort it out :). If I do a Google-search on "Rolex Yacht-Master history" I get a few hits, but the information in there talks about the introduction of the steel/platinum (Rolex calls this combination Rolesium) version in 1997. That can't be right, since the introduction was during the Basel fair in 1999. Lucky me, I have this Mondani book called '100 years of Rolex', which is a must-have for Rolex aficionados anyway, and all the Yacht-Master information can be found in there. As I am sure not everyone is eager (or able) to pay 275 euro for a book, I will quote some of it here. 😉
The introduction of the Yacht-Master ref.16628 was in 1992, a full 18kt gold wrist watch [with white dial] with Rolex caliber 3135 movement, as used in the Submariner and Sea-Dweller for example. Although the watch is fitted with a triplock crown, it is only water resistant till 100 meters (10 bar). Anyone who is going to use a gold watch for diving, is a nut imho.
In 1994, Rolex introduces a few smaller editions [ref. 68628 = 35mm and ref. 69628 = 29mm] of this watch. For guys with small wrists or ladies, at least that's what I think was the idea. Also in gold, and available with white and blue dial. Therefor, the larger 40mm gent's version is sometimes being referred to as Yacht-Master Jumbo. The smaller Yacht-Master watches have Rolex caliber 2135 ticking inside.
The next pit-stop was in 1999, Rolex introduces a steel/platinum (Rolesium) version of their Yacht-Master series during Basel in 1999. The 40mm version is referred to as 16622 and Rolex immediately introduces the intermediate (ref. 168622 = 35mm) and lady's (ref.169622 = 29mm) versions as well. The watch becomes an instant success, and the crazyness we have seen with the Daytona, also happens to the Yacht-Master. Waiting lists of years and only seen on the wrists of famous people (who are always able to get cool stuff first :(). I remember the wanted-list in the German watch magazines I read back then, they always included Yacht-Masters for high prices.
I think I once read in one of those magazines, that Rolex wanted to create a luxury version of their existing diver's watch, the Submariner. Whereas the Submariner (and Sea-Dweller) were/are meant to be tool watches, the Yacht-Master should breathe pure luxury. This probably explains the waterresistancy of – only – 100 meters, instead of 300 meters (or more).
Anyway, it wasn't until 2005 when Rolex introduced the Yacht-Master rolesor (yes, this is the Rolex word for gold/steel combinations). The full size version goes by the reference of 16623 and is available with a few dial combinations. White, mother of pearl (MOP), blue, champagne, brown and silver.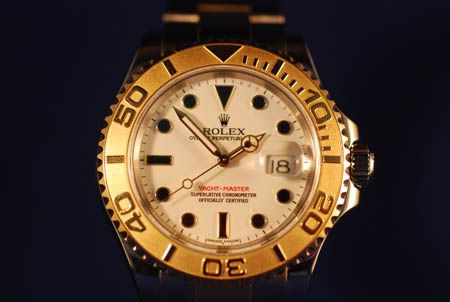 The bezel is either gold or platinum on all versions. There is no inlay, the whole rotating bezel system is solid platinum or gold. Scratching or bumping it, is therefor an expensive activity. However, the nice thing about the Yacht-Master watch – if you like them anyway – is that they are quite unsalable for list price (approx 7200 euro for the Rolesium version and 7100 euro for the Rolesor version, approx. 19000 euro for the solid gold version). In general, Rolex collectors aren't too fond of them because of the bling factor and prefer the tool watch models like the Sub, GMT or Sea-Dweller. They do not want to pay the premium over the tool watch models just for the shiny platinum or gold for example. Why spend 7200 euro on a watch that is basically the same as the 4500 euro model, except for some shiny and platinum accents (lunette and dial).
Because of this, it is quite interesting to get a Yacht-Master for almost the same price as a stainless steel sports Rolex. Grey market or slightly used, the Yacht-Master ref.16622 and ref.16623 can be had for 4500-5000 in good condition and I have seen them for less for the first production years. I got my ref.16622 from 2004 (box, papers, original bill) in 2007 for a great price and found myself wearing it almost daily (and still do). The bend lugs and 'flat' belly (contrary to my Sea-Dweller) makes it a perfect daily watch.
So, in short:
1992 – Introduction of the Yacht-Master ref. 16628 (18kt gold)
1994 – Midsize and lady's size models in 18kt gold.
1999 – Introduction of the ref.16622 Rolesium model (stainless steel/platinum)
2005 – Introduction of the ref. 16623 Rolesor model (stainless steel/gold)