Omega Speedmaster Professional 3592.50 With Caliber 863
Buy one while you still can
In recent months, we get more questions about the 1990s Speedmaster Professional watches than ever. The ones with tritium dials and hands, that tend to age nicely and turn yellow.
It is something I've been saying all along — the 1990s Moonwatch is the next best thing! You can still find them with boxes and papers, and they do look awesome with the tritium on the markers and in the hands turning yellow. Even more interesting perhaps, are the versions with display backs. A hesalite crystal on the dial and a sapphire case back — what a combo! This article is originally from 2016 (go figure), but in light of the recent requests we received for more information about these watches, I decided to revise the original article and add some more information to it.
Speedmasters With Display Back
In 1980, Omega introduced the first Speedmaster Professional with a display back. Generally speaking, such a watch was quite an uncommon thing at that time. However, it was only available for the 18-karat gold Speedmaster Professional Apollo XI numbered edition — reference 345.0802. That watch is powered by caliber 861L movement, similar to what later would become the caliber 1861.
1985
That changed in 1985. Omega started using caliber 863, which was based on the Lemania 1873 movement. The first Speedmaster Professional to feature caliber 863 movement was reference 345.0808. This reference was produced between 1985 and 1988. It was a normal production watch, but every watch was numbered. In total, Omega produced 1,000 of these watches, with a copper finish caliber 863 movement beating away within.
345.0808 and 3592.50
Then, from 1988 onwards, Omega stopped using 345.0808 as the reference number and continued with its PIC coding system. That meant that from that moment on, Omega used 3592.50 as a reference number for this watch.
345.0808 was also still used but as a reference for the case (and not for the entire watch). This often confuses readers, we've noticed. That's understandable. Especially when it isn't all that changed! Around the same time, there was also a slight change to the movement. The caliber 863 now had a gilt (yellow) finish instead of copper.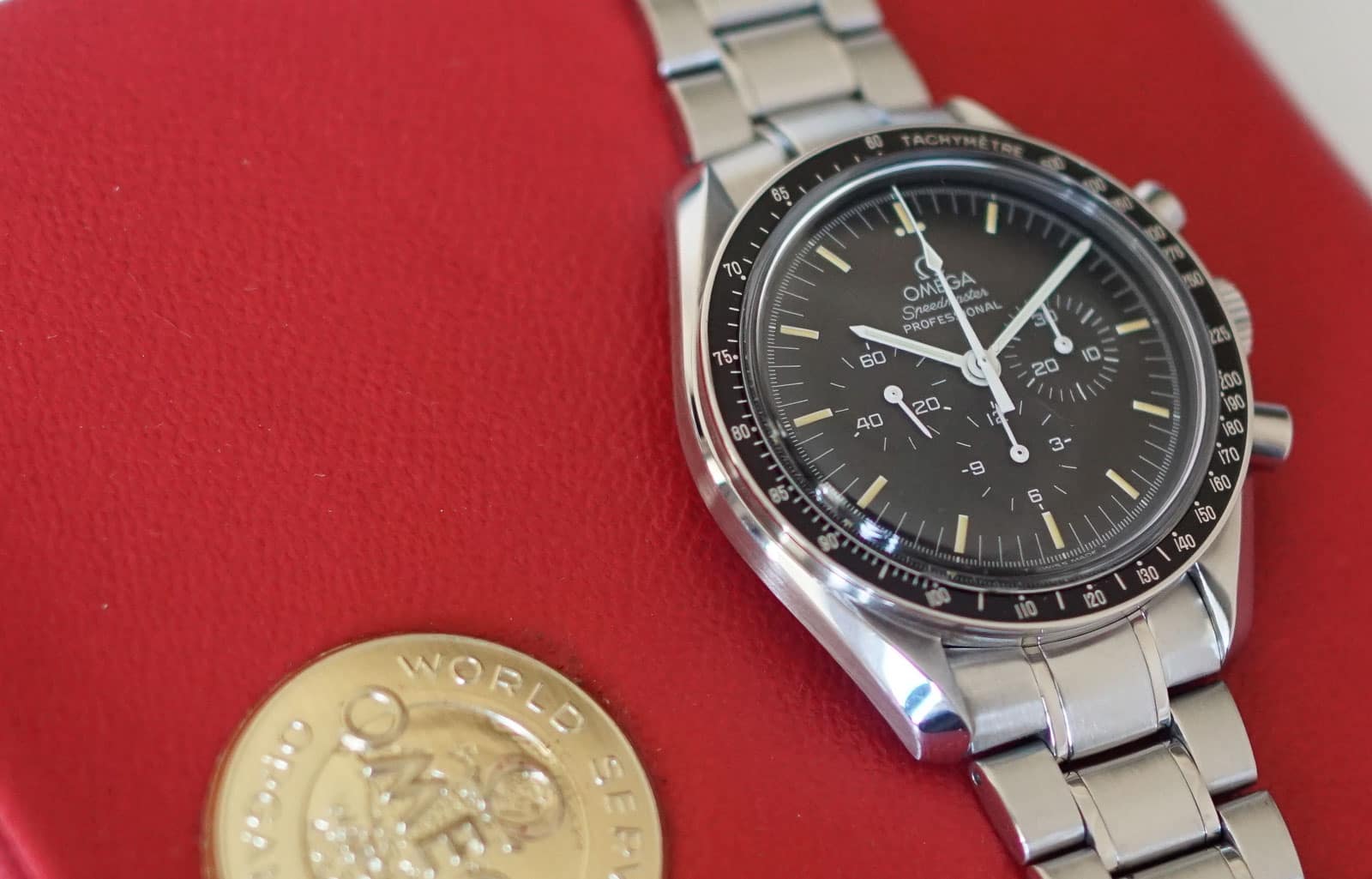 1988–1997 – 3592.50
When Omega introduced the 3592.50 with its gilt finished caliber 863, it was numbered to approximately 1,000 pieces (again). On the case back of these watches, you will find the "Apollo XI" engraved. That engraving was often defaced so the model could be sold as an Apollo XI 20th anniversary model (which it is not). This watch was produced till around 1990.
Then, there's also a 3592.50 with "Apollo XI" engraved in the case back, but not numbered. Omega knew how to confuse people back then (and even now). The 3592.50 with the "Apollo XI" engraving in the case back was used till 1995 for the unnumbered version. Then, in 1996, a new 3592.50 sees daylight. One with the same specifications, but without the "Apollo XI" engraving and with the new style bracelet (reference 1499, see above). Until this point, Omega used the famous 1479, and the 1450 and 1447 on the earlier (345.0808) models.
A 3952.50 reader's story
You might remember the Speedy Tuesday article on the Speedmaster Mark 4.5 in NOS condition that we did recently. The owner of that particular watch, who shared his story with us, now wants to share his Speedmaster Professional Caliber 863 with you. There is no particular story behind his purchase, other than that he simply loves the Moonwatch and was after this particular reference.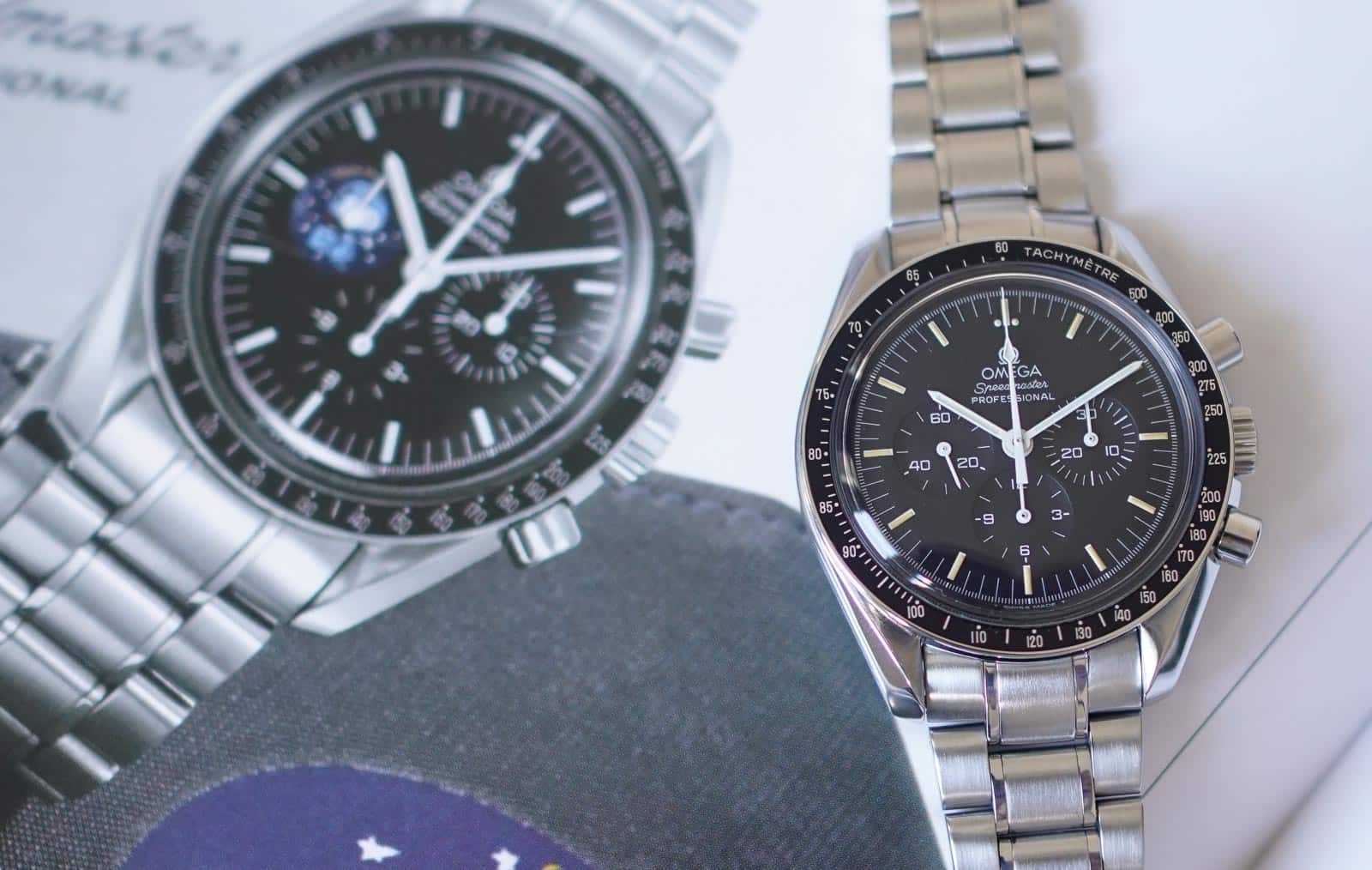 Speedmaster Professional Caliber 863 3592.50
The Speedmaster we have for this week's Speedy Tuesday installment is one of the later reference 3592.50 models. That means it has the new bracelet type (1499), and no "Apollo XI" engraving in the case back. It has the gilt caliber 863 movement and, of course, tritium filled hands and hour markers.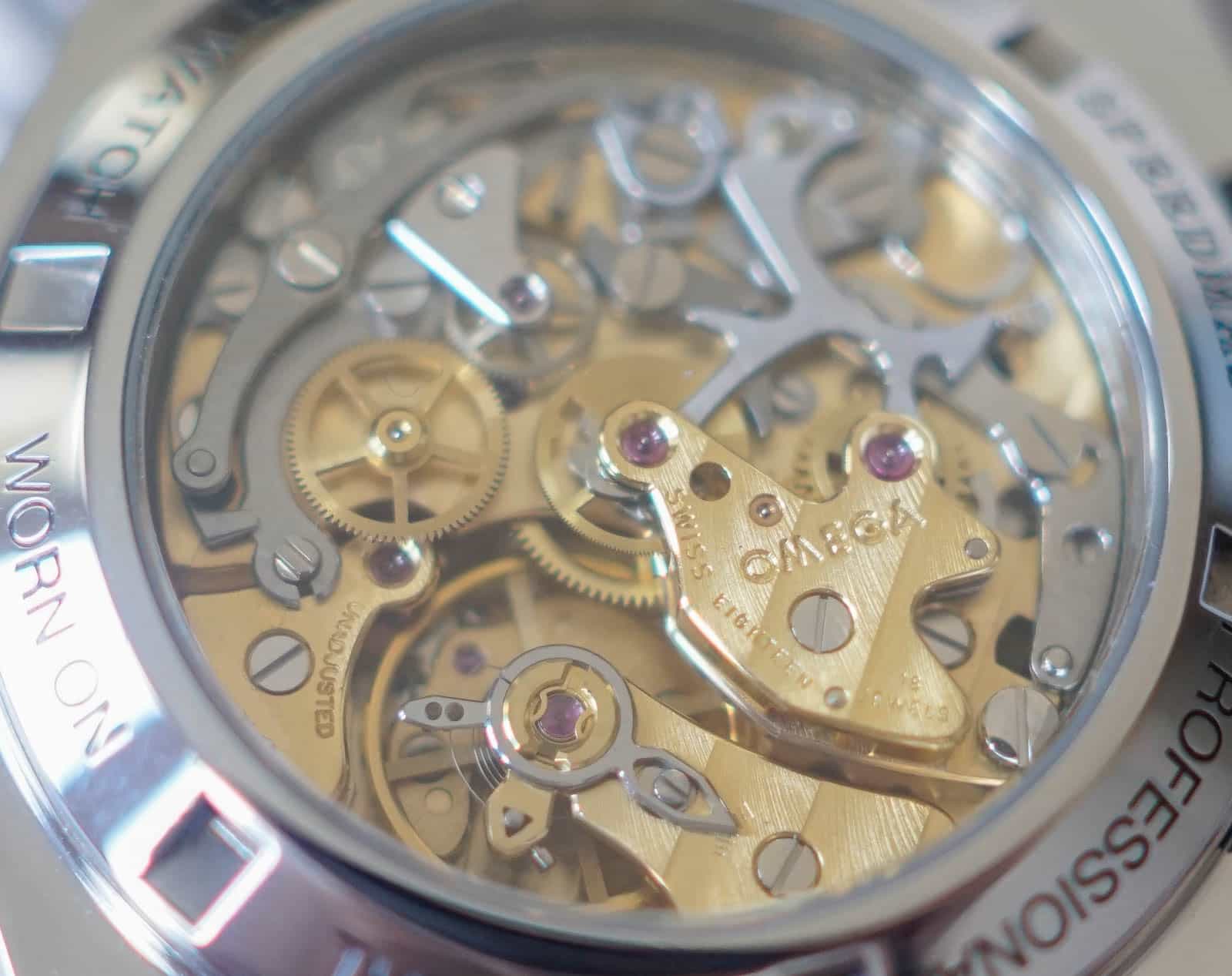 Tritium
This Speedmaster Professional caliber 863 has a dial with tritium markers and hands. At some point during 1997, Omega switched from tritium to Super-LumiNova. As written above, the tritium in these 3592.50 models is — in almost all cases — aging very nicely. We all know that a warm yellow patina is making waves when deployed on new watches, but fewer collectors would begrudge this organic patina in the same way (because it is genuine).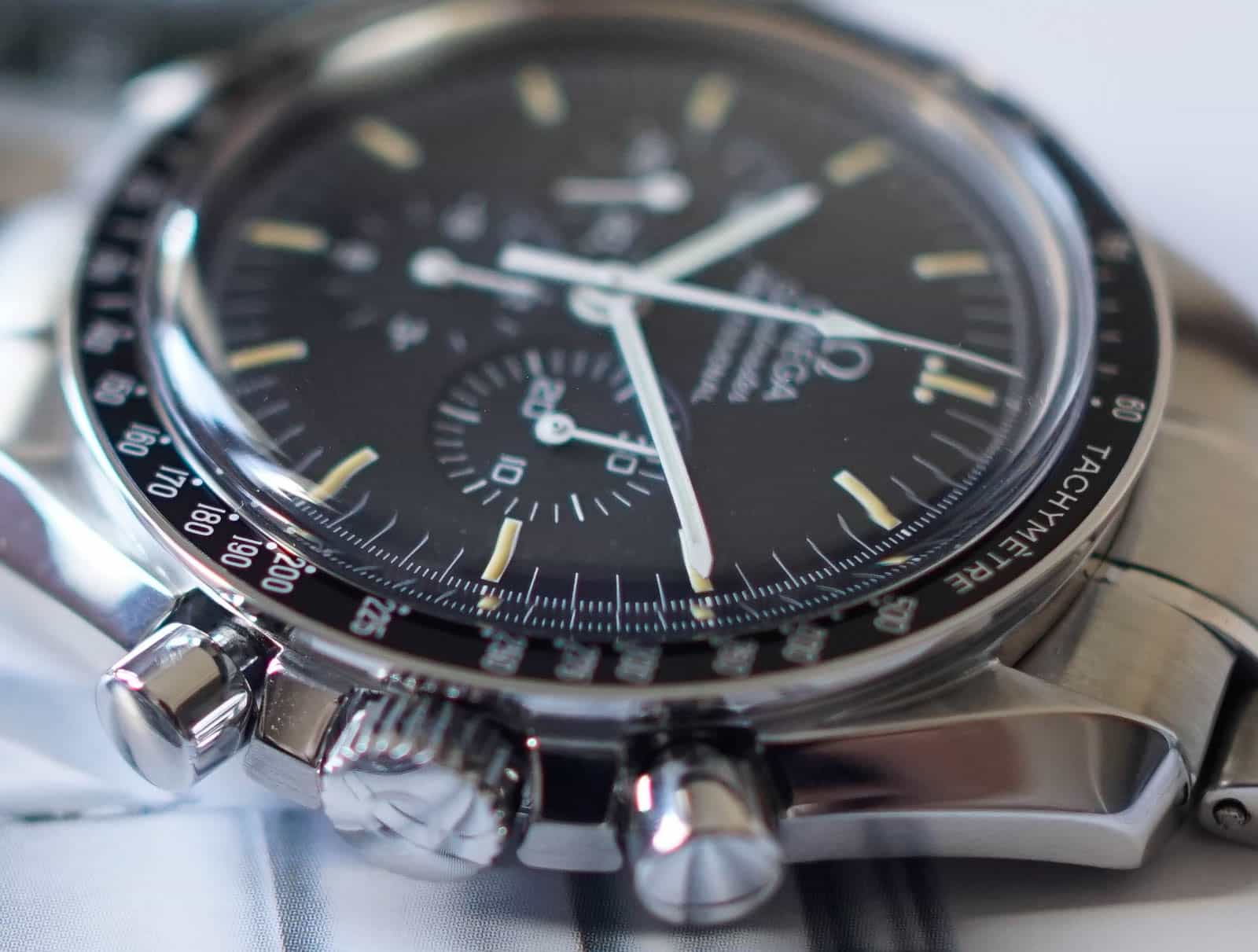 Caliber 863
As I wrote above, the caliber 863 movement had some iterations during its (production) lifetime. The style of 863 used between 1995 and 1997 had a gilt finish and 18 jewels instead of 17. In 1997, together with some other changes with the Speedmaster Professional 3572.50 and 3570.50, the movement was updated to caliber 1863. This caliber 1863 is still used today in some display back models of the Moonwatch. It has a rhodium finish.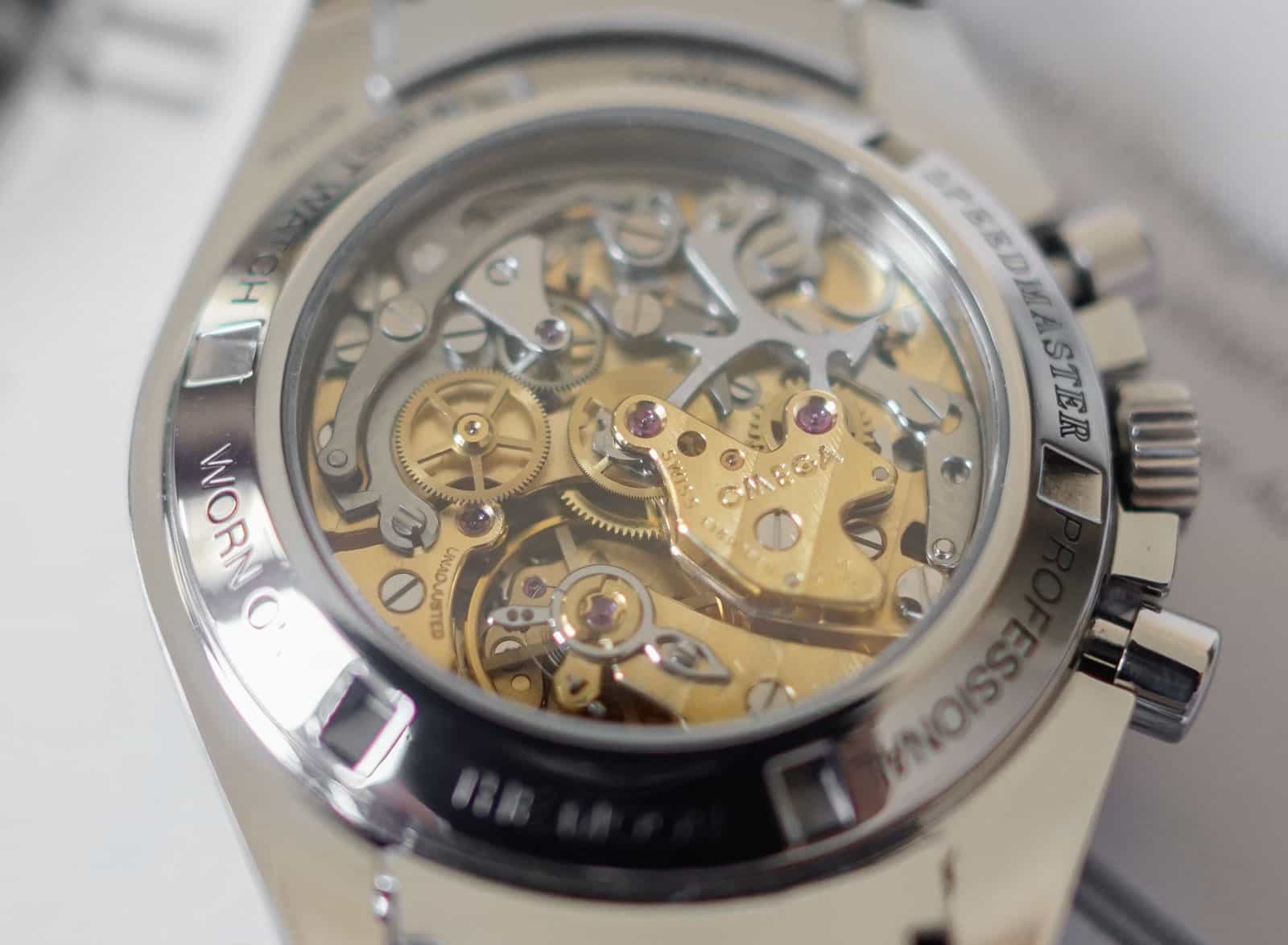 Availability and price
These watches are available without wasting too much time searching for the right piece. A good Speedmaster Professional caliber 863 reference 3592.50 from the early to mid-1990s is offered for around €5,000. The price depends on the condition and whether the watch comes with box and papers. In the 1980s and before, it was quite common to leave the boxes at the retailer or to throw them away even. In the 1990s, with the grey and red leather boxes, a lot of people kept them. So might be able to pick one up for even less, but check whether the bracelet is correct and whether the hands are still the original tritium ones.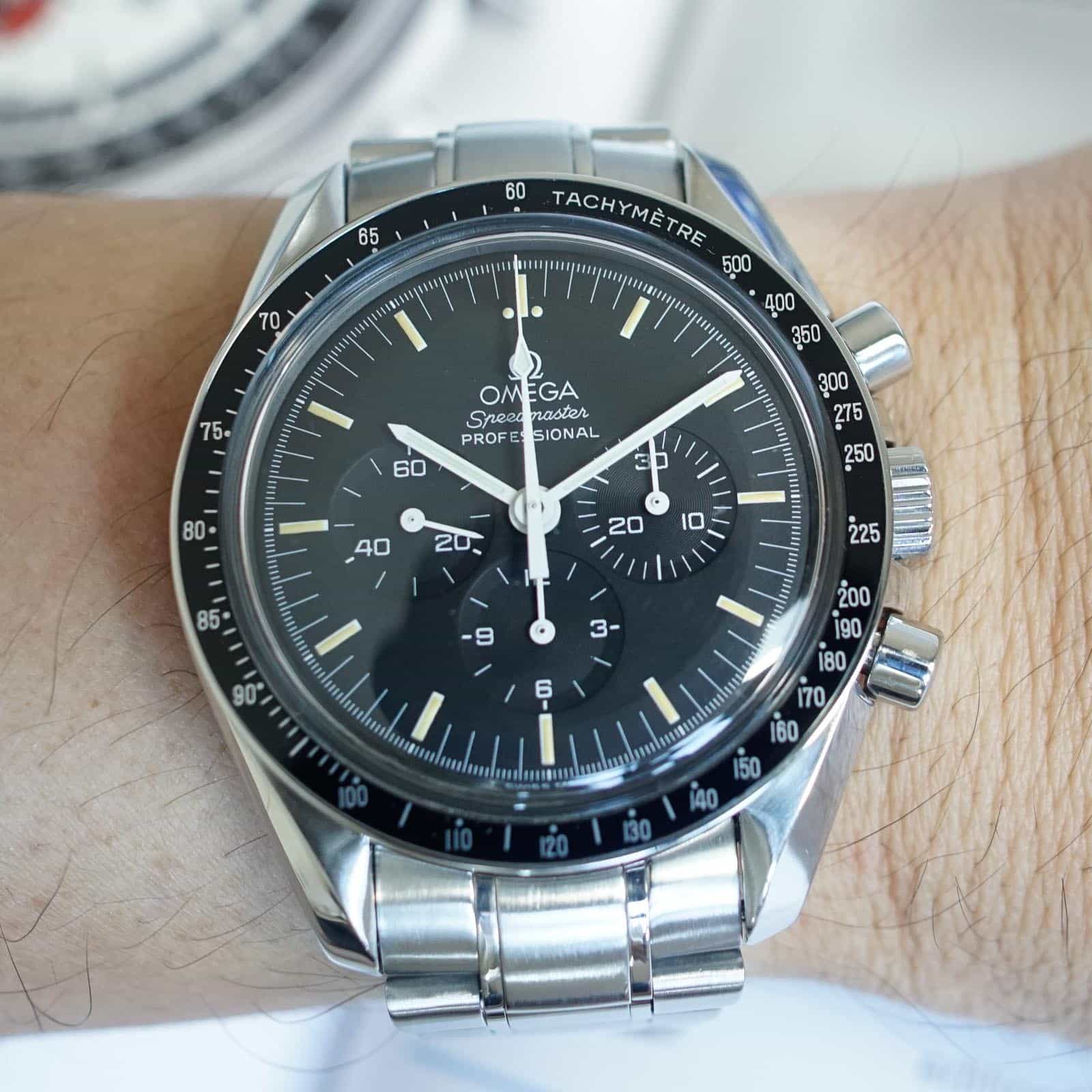 Later Versions
In 1997, Omega made some drastic changes to the Speedmaster Professional "Moonwatch" and went from the 359x.50 reference code to 357x.50. Omega calibers 1861 and 1863 were being used as well as a newer type of bracelet and Super-LumiNova instead of tritium.
Sapphire Sandwich (3573.50)
An interesting Moonwatch with display back reference is the 3573.50. It is identical to the 3572.50 (successor of the Speedmaster Professional caliber 863) but features a sapphire crystal on the front. It is often named "Sapphire Sandwich". This model has been discontinued but was in the collection from 2002 onwards. I actually had one in my own collection around 2004 but unfortunately parted with it. The case back has a particular inscription. Instead of "First watch worn on the Moon", like forerunning display back models, it says "The First and only watch worn on the Moon". This is particularly cool because we all know that it isn't true (there were other watch brands on the Moon as well).
Chocolate Dial
For a relatively short period, between 2007 and 2012, Omega also produced the "Sapphire Sandwich" with a chocolate brown dial. This watch already had the new reference coding, with nr. 311.32.42.30.13.001. The watch came on a brown leather calf strap and folding clasp. These ones are rare and look awesome with the brown dial. This reference also has the "First and only watch worn on the Moon" engraving.
A big thank you to our reader Ruby, who supplied us with images of his precious Omega Speedmaster Professional caliber 863.