Speedmaster Prototype Up For Auction
A Lemania 5100 Speedmaster Predecessor Of the Alaska III
Already during the Apollo mission, Omega came up with new and interesting Speedmasters for future use by NASA.
All these watches were using the Alaska codename, in order not to wake up the competition during. The Swiss watchmaking industry is a small world and when some of the competition resides in the same (small) Swiss city, even a late night bar or restaurant visit can be tricky. That's why brands like Omega like to use codenames for special projects. For everything concerning NASA, Omega used the codename Alaska. Already during the days of Apollo, Omega created Speedmaster variations using this codename (here's the white dial Alaska, and here's the white dial Alaska II, for example).
Now, if you are familiar with Speedy Tuesday and the first Speedy Tuesday edition that we did together with Omega, you probably also heard about Alaska III. This project was started to support NASA during their Space Shuttle program in the 1980s. The caliber 861 Speedmaster Professional was re-qualified by NASA for the Space Shuttle missions in 1978 and 56 of them were shipped to NASA for use during Space Shuttle missions and training. It was the input for our Speedy Tuesday edition of 2017, which is officially called 'Tribute to Alaska III" due to the use of a Radial Dial. That story can be read here.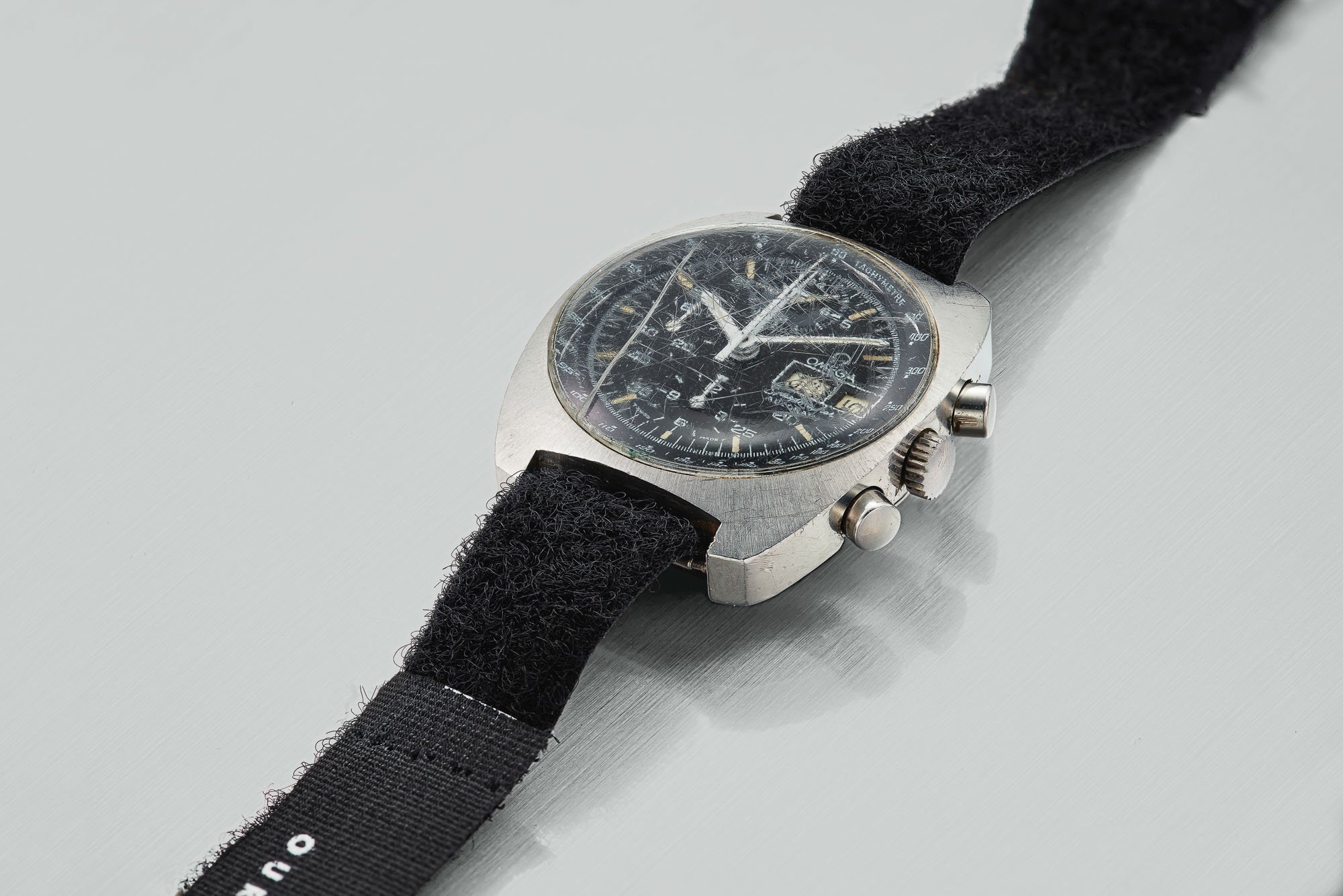 Speedmaster Ref. 11001 Prototype
For Alaska III, Omega tested and sent three different models to NASA. These models were the regular Moonwatch with caliber 861 (this one was chosen), the Speedsonic (a Speedmaster with tuning fork chronograph movement) and the Speedmaster Automatic with caliber 1045 movement and reference 11003 (prototype as well). Now, all these watches had radial dials and cases made by the Star watch company in the USA.
The prototype with reference 11001  that Christie's is offering has none of these, but it was the model on which the later reference 11003 prototype has been based. The connection with the Alaska III watches is, therefore, a bit thin, but if you are into those watches meant for NASA, this prototype might have some historical significance for you.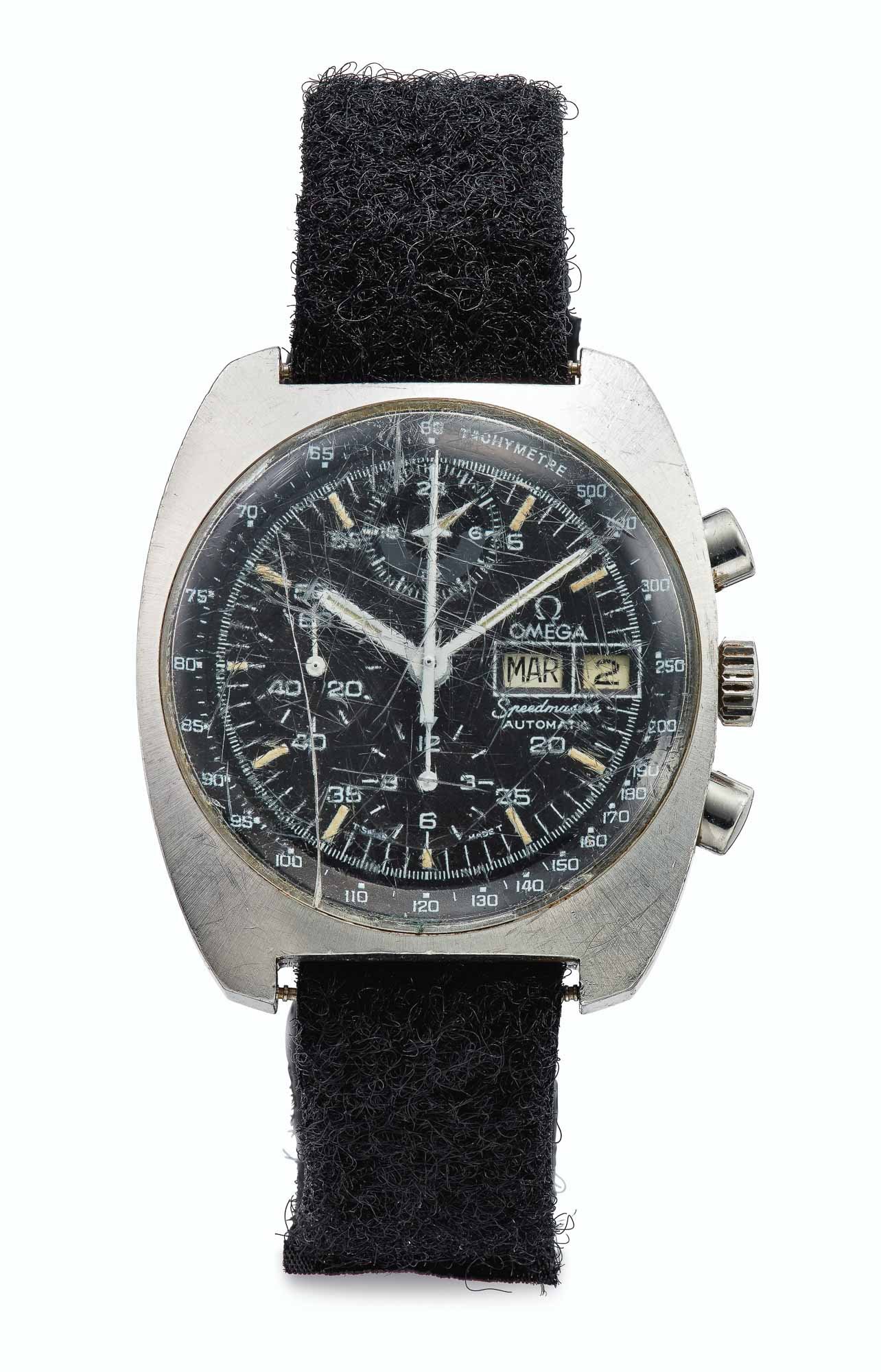 Inside this reference 11001 prototype is the famous Lemania 5100 based Omega caliber 1045 movement. It was used for the actual Alaska III prototype with reference 11003 and later on for the Speedmaster Automatic that was dubbed 'Holy Grail' by Chuck Maddox as well. The movement has no.100 and was manufactured in 1974. The cushion-shaped case of this prototype measures 38mm in width and has a 43mm length. According to the accompanying Extract of the Archives, this watch has been delivered to Omega's Prototype and Testing Department.
Christie's estimate on this watch is between $15,000 and $25,000 USD and it is part of their June 6th auction "An Evening of Exceptional Watches" in New York.