Speedy Tuesday – That Day A Speedmaster Solar Impulse Co-Axial Landed On My Desk
Before I get to the Speedmaster Solar Impulse Co-Axial GMT that came into my hands in a very unusual way, let's talk about the Solar Impulse project first for a brief moment.
Solar Impulse, or HB-SIA as it is officially called, is a European project to have a solar-powered aircraft flying long distances. Omega is one of its main sponsors and provided the Solar Impulse with a light-weight landing light system, an energy dispatcher and an instrument to help the pilot maintain the stability of the aircraft during approach and landing. The latter was designed by ESA (also a sponsor) astronaut and head of flight test operation Claude Nicollier. This system – or instrument – indicates flight path and alerts the pilot if the wing angle exceeds the normal limits.
Balazs covered the Solar Impulse project in a bit more detail, in this hands-on review of the Speedmaster X-33 Solar Impulse that was introduced in 2015. The Speedmaster Solar Impulse watch I have here today though was introduced in 2008 and is still 'active' on the Omega website, although not actively promoted. A watch that retailed for €5690 during its introduction (on rubber strap) and €6150 on a titanium bracelet. Now, 10 years later, the same watch is priced at €8300 for the full titanium version (reference 321.90.44.52.01.001).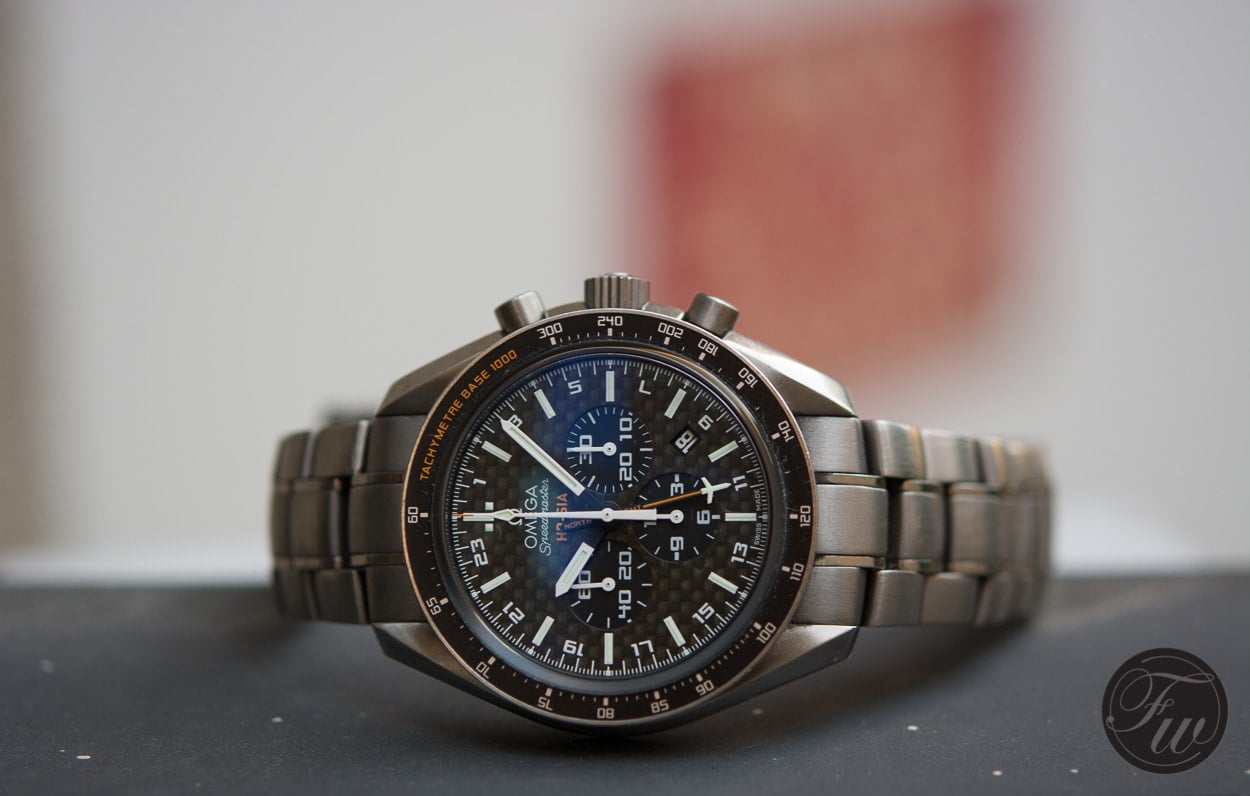 Speedmaster Solar Impulse
Interesting Features
The Omega Speedmaster Solar Impulse is a 44.25mm titanium watch with an Omega Calibre 3603 movement. This calibre is based on the Piguet 1285 movement, with a Co-Axial escapement. It has a date and GMT (second timezone) complication on top of the column-wheel chronograph. Also, the watch has been chronometer-certified by the COSC.
The black dial is made of carbon fibre, showing the sub-counters at 3, 9 and 6 o'clock. The date aperture is located at 4.30. An extra orange hand indicates the 24-hour scale or home time. With the crown in the first position, you can set the hour hand independently for displaying local time.
"Here's my watch", he said.
Besides this Omega Speedmaster Solar Impulse is a very interesting and impressive watch, the way how it landed on my desk is perhaps just as interesting. It exactly shows what the Speedmaster fan and community is about.
Just over a week ago, a guy from a postal service came to my office to pick up a package. A watch of course, that needed to be returned to the distributor after we finished our photo and review work. After handing over the package, he showed me his watch. This Speedmaster Solar Impulse, to be precise. It has been well worn (how I like them) and he told me it was from his father. He asked me if I would like to feature it on Speedy Tuesday, as he is an avid reader and follower of our website himself. I told him that I didn't have my photo equipment with me, so that I want to make an appointment to do so, or when he was around next time (postal services come and go by our office quite regularly). "No", he said, "here's my watch and keep it for a while." and he basically left. Not before we exchanged phone numbers and email addresses of course, as I like to take good care of the watches we have on loan.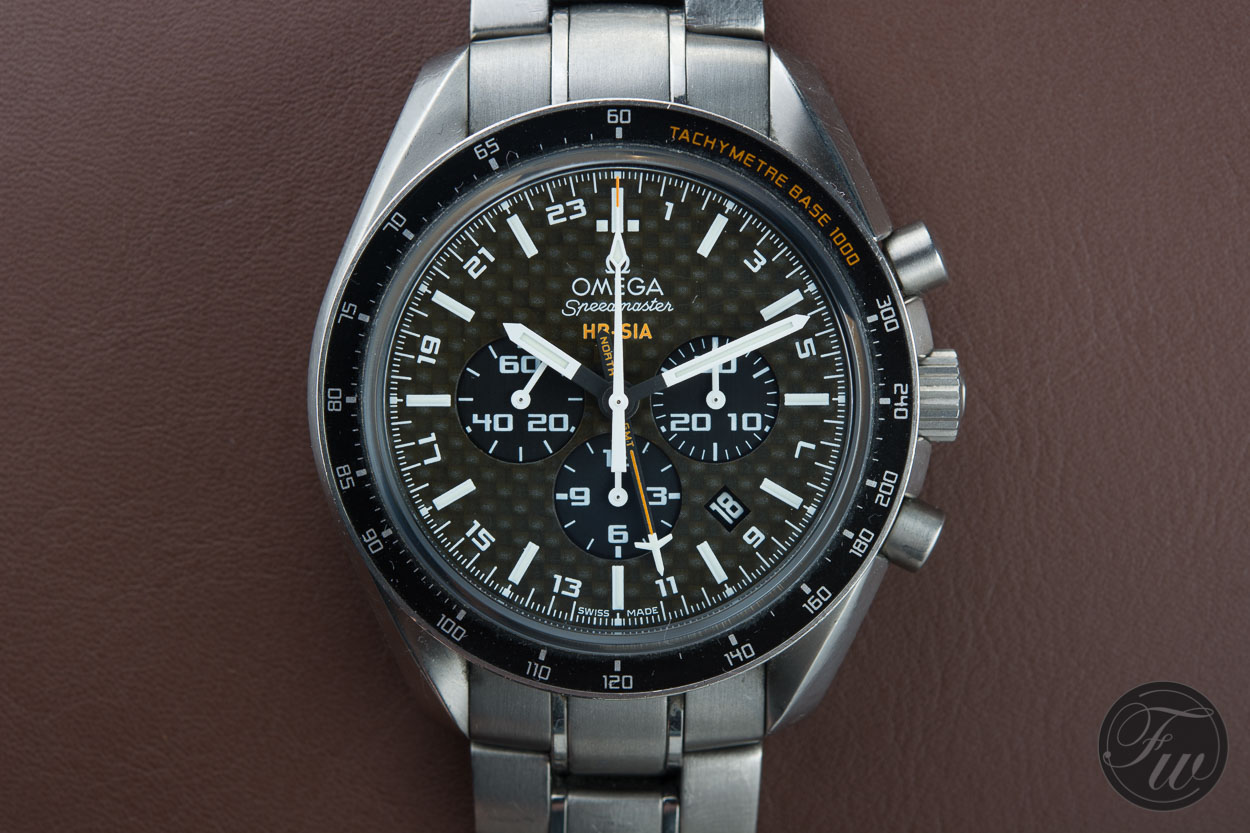 As I wrote above, the watch is well worn and shows some scratches on the case and bracelet. I promised the owner that I will take care of this if he wants (and he wants), so our diva watchmaker Paul will be at it soon. The watch wears light and comfortable, despite the 44.25mm size and I can imagine this is a nice daily companion for someone who has an active daytime job.
I find the tachymeter scale quite interesting, with its orange printing and rather modern looking typography. The hands reminded me of the Mark 4.5, 125 and other oddballs of the Speedmaster collection. On the subdials you see large Arabic numerals, almost looking like 'digital' numbers.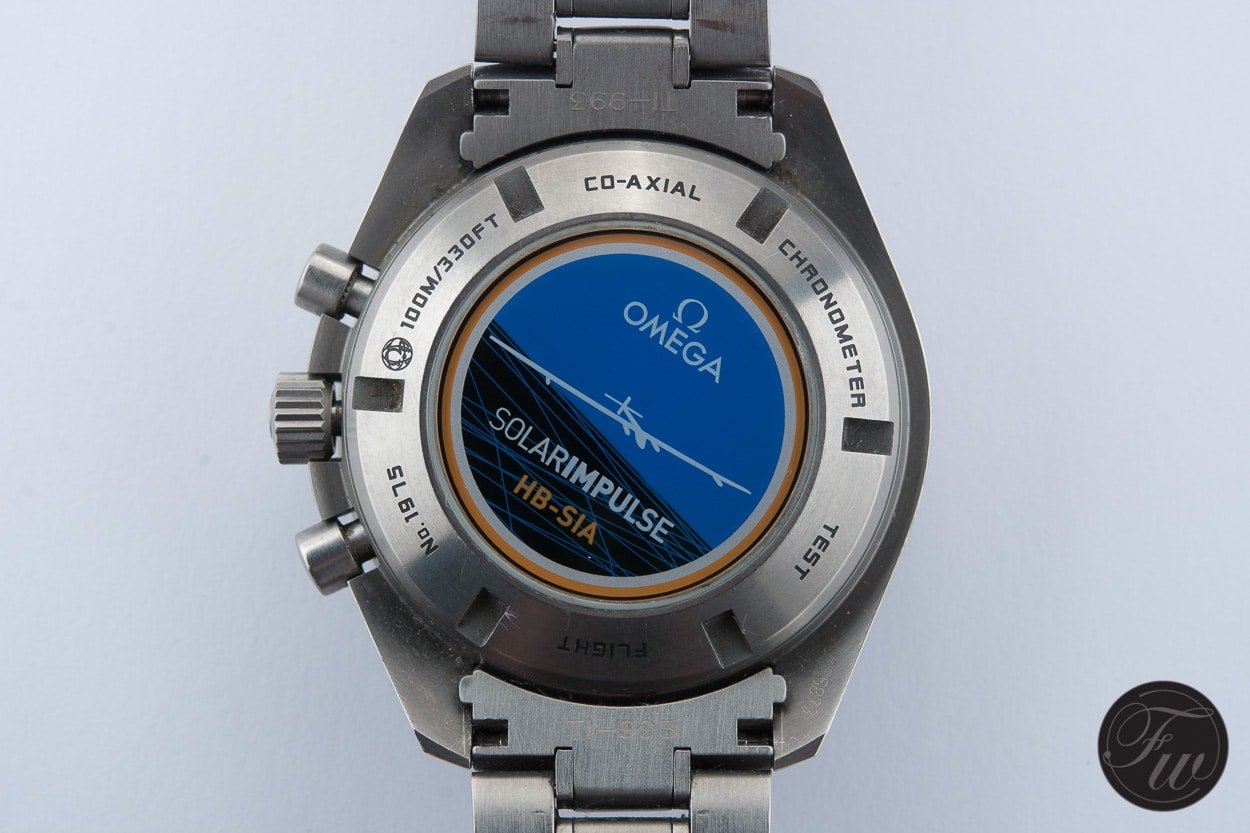 Its case back has the Solar Impulse HB-SIA in the centre, and on the steel bezel, you'll find some of the specifications. The watches are numbered (not limited) and each watch has a unique number engraved. I have no idea how many of these watches are around, but even despite the long time it has been in the collection, I don't think there are very much of them around, as the price is quite high compared to the regular Speedmaster models. The watch I have here is No.1975, but I wouldn't be surprised if the total production isn't over 4000 watches. If someone knows, please let me know.
A titanium bracelet was one of the three options (the other two being either an orange rubber strap or a black rubber strap). It has screwed links (as can be seen below) and a clasp with the Solar Impulse HB-SIA engraving.
Although I never considered this watch, it is definitely a cool piece for Speedmaster collectors. The movement is very interesting, as it has a nice GMT function (and a date) and has a column-wheel chronograph mechanism. The carbon fibre dial is something that is very specific, perhaps not everyone's taste, but definitely adds depth to it.
Prices for these watches are all over the place, but a pre-owned model can be had for around €5500 (and up) for a Speedmaster Solar Impulse in nice condition, with box and papers.
Not everyone seems to be familiar with this model, but when I told our own Berti that I had this watch on my desk, he almost went crazy (relatively of course, if you are familiar with Bert you can imagine this). He loves this watch.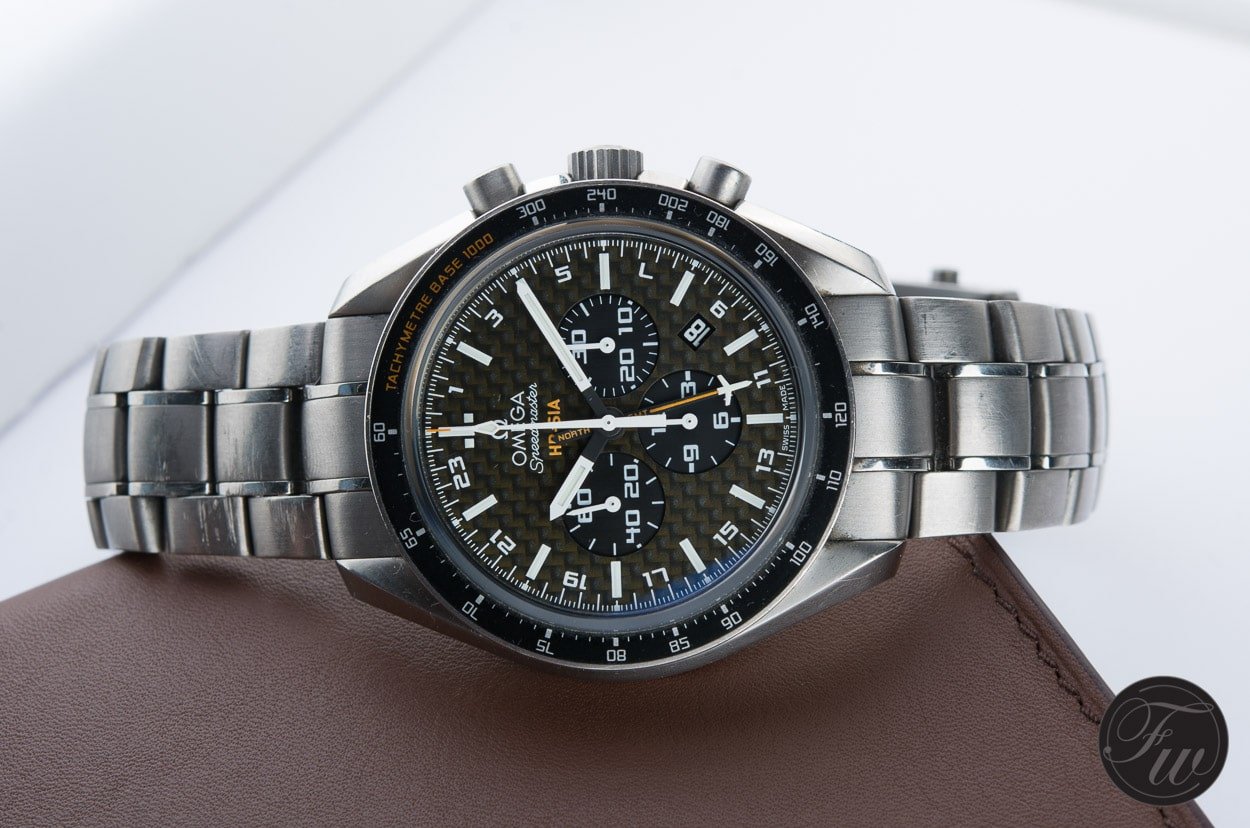 I'd like to end this week's Speedy Tuesday feature with a big THANK YOU to the owner of this particular Speedmaster Solar Impulse. First for handing it over to me in all trust, and second because he is a Speedy Tuesday fan. It is so much fun to talk Speedmasters with like-minded people and share information and passion about these watches. Sometimes we go to Get-ToGethers or organize Speedy Tuesday events ourselves, sometimes it can just happen one day in your office by someone who knocks at your door. What a treat!
By the way, expect some Speedy Tuesday events later on this year. Keep an eye on our weekly topics, by subscribing to our newsletter or just by following us on Instagram.
More information about this watch on the official Omega website, here.