Speedy Tuesday – RIP Eugene Cernan – We look back at 'his' Apollo 17 watch from 2012
Yesterday (about an hour ago), we read that Eugene Cernan, the Last Man on the Moon, passed way age 82. Eugene Cernan was in space three times, with Gemini 9A, Apollo 10 and Apollo 17. Apollo 17 being the last Apollo mission in 1972. Two Speedmaster watches were commemorating that particular mission. One in 2002, with which you received his Last Man on the Moon book, and the later 2012 edition with the coin dial.
We wrote about that last watch in 2013 already, but thought it would be appropriate to publish it once more. We also recommend you to watch Last Man on the Moon, a beautiful documentary (Netflix offers it in some countries) about that trip.
Speedmaster Professional 311.30.42.30.99.002
It's Speedy Tuesday and we are featuring the watch dedicated to the Last Man on the Moon: the Speedmaster Professional Apollo XVII 40th Anniversary limited edition. This model was a bit frowned upon by Speedy purists during the introduction, but the 925 silver dial now seems to be accepted by many of them.
Last Man On The Moon
Let's not forget what this Speedmaster commemorates. NASA's Apollo 17 was their last (manned) mission to the Moon. It was the 6th lunar landing and on board were astronauts Cernan, Schmitt and Evans. Only Cernan and Schmitt set foot on the Moon, Evans stayed behind in the Command Module.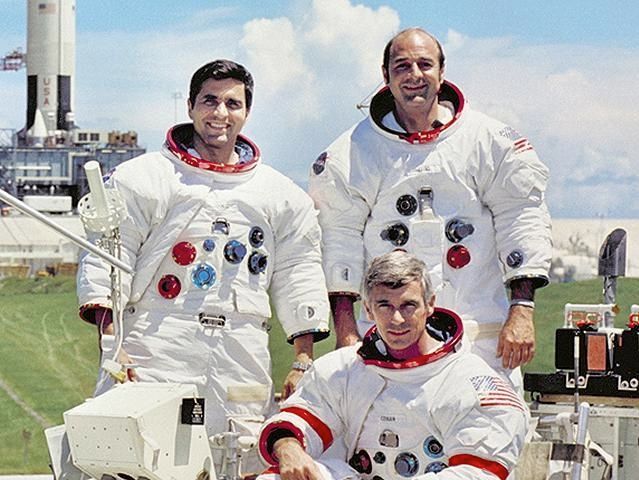 Astronauts Schmitt, Cernan (seated), Evans
Although initially there were also Apollo 18, 19 and 20 mission scheduled, these ones got cancelled for various reasons. The most 'popular' (and thus unofficial) reason is that after mankind set foot on the Moon, the interest by the general public was lost and people started complaining about the costs of these missions.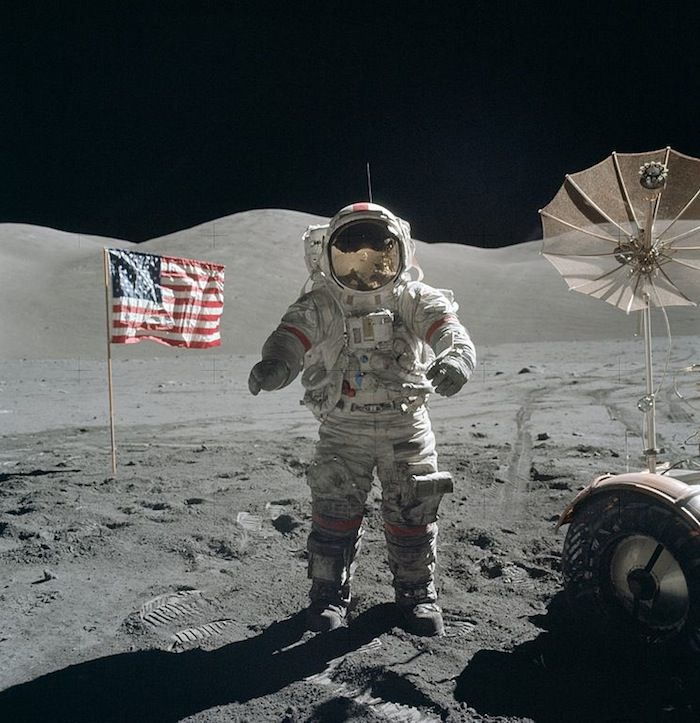 Eugene Cernan on the Moon
Anyway, Eugene Cernan is known to be the last man on the Moon and even wrote a book with this title in 1999. To my best knowledge, this book was given by some jewelers to buyers of the first Apollo 17 commemorative watch in 2002 (30th anniversary). The 30th anniversary Apollo 17 Speedmaster was a 'regular' Speedy but with a special engraving in the case back.
Apollo 17 Dial
The dial of the Speedmaster ref. 311.30.42.30.99.002 is made out of sterling silver. The Apollo 17 mission patch has been used for the dial, which is beautifully embossed in silver. The OMEGA logo, wording and 'Speedmaster Professional' wording has been printed on the sapphire crystal. Therefor, the dial is very 'clean' and like a coin dial.
It is this dial that makes this Speedmaster so special. We've seen mission patches in the 9 o'clock sub dial, use of colors (remember the Apollo 15 dial or Gemini IV Speedy?) but seldomly the fact that they used rare materials (except for this recent Meteorite Soyuz-Apollo limited edition). OMEGA only produced 1972 pieces of this Apollo VXII model. Although OMEGA launched this Speedy already at Baselworld 2012, they didn't deliver it to the boutiques and retailers before the end of 2012, as the Apollo 17 mission started in December 1972. It wouldn't make sense to deliver it 39.5 years after the Apollo 17 mission.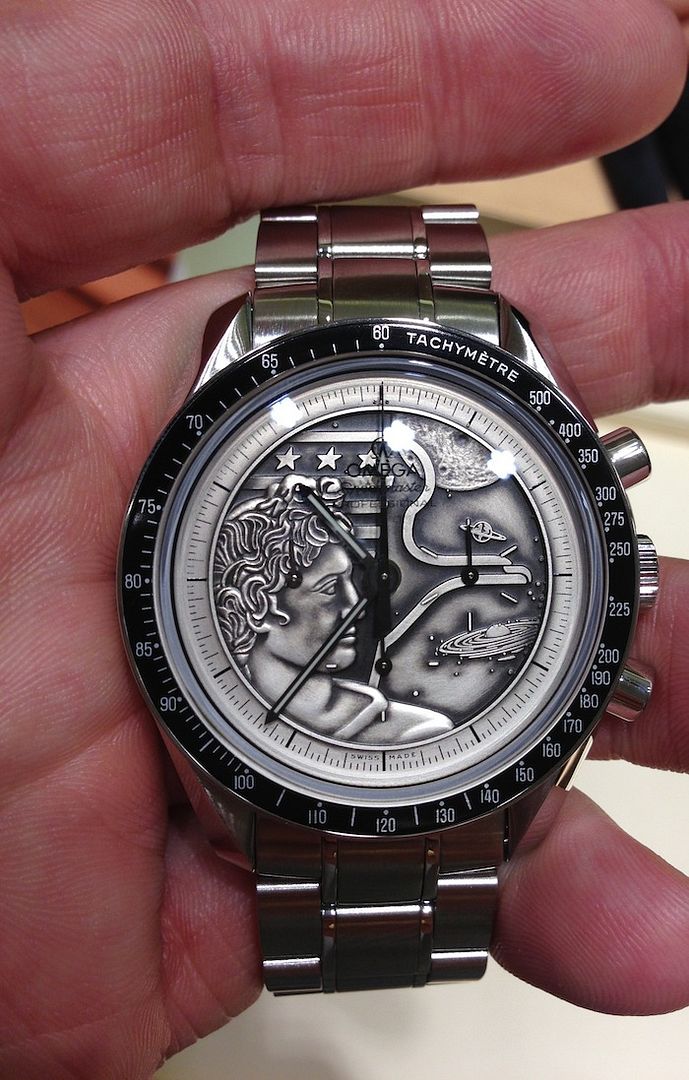 Case, Bracelet and Movement
The case, bracelet and movement are identical to the Speedmaster Professional 'Moonwatch' reference 357.50, although this model has a sapphire crystal fitted to the case and a special engraving in the case back. The movement is the famous hand-wound Lemania based caliber 1861 without the special finishing (1863). This is only being done for the models with a transparent caseback. You probably already know, but this movement is the successor of the caliber 861 movement. The caliber 321 and caliber 861 movements are the ones that made it to the Moon. The difference between the caliber 861 and caliber 1861 movement is the use of materials and an extra jewel. The difference between the column wheel chronograph movement caliber 321 and shuttle-cam chronograph caliber 861 is a bit bigger. Replacement of the caliber 861 happened around 1997. So, this movement has been 'around' for quite some time already again and still going strong.
The bracelet is the standard issued reference 1998 bracelet. A solid bracelet with a folding clasp that's being operated by two push buttons. The links are fitted with a pin (not screwed). To some this sounds annoying, an expensive watch that uses a bracelet with pins instead of screws. However, I've been told that this has been tried and tested of course. Screwed or pins, always make sure to perform a visual check once in a while to see if all pins are still correctly fitted.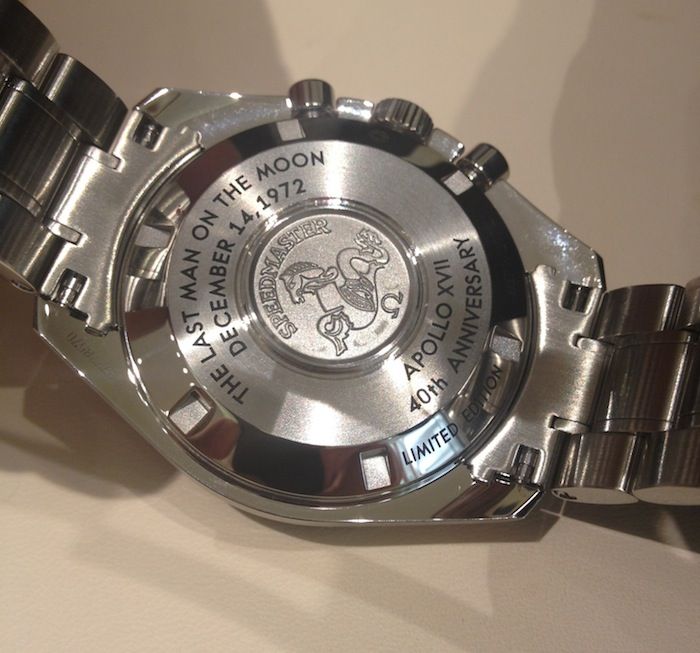 Like all other limited editions or numbered editions, this Apollo 17 Speedy comes in a special box. Not the red leather box that comes with most other OMEGA watches, but with a black leather box that has an Apollo 17 mission patch in there. As can bee seen below:
Collectible Speedy?
As mentioned before, not all Speedmaster fans were easy on this limited edition. Especially due to the medallion dial in silver. However, it remains one of the limited edition Speedmaster Professional (mission) models and will therefor be collectible in the future. At least that's what I predict. This model was introduced at a price of $7200 USD / 5380 Euro, which was – at the time – quite a bit higher than the normal issued Speedmasters.
A big thank you to Darren Townend for submitting a Speedmaster once again! If you want to have your Speedmaster featured here, or have a cool anecdote on your Speedy, contact us and we will put it on-line on Speedy Tuesday. Darren is member of the popular Australian based Omega Forums website.
More information on this Speedmaster can be found here, on the official OMEGA website. A 2014 interview with Eugene Cernan and the BBC can be found here.
Rest in peace Eugene Cernan, March 14th 1934 – January 16th 2017.
*This article originally appeared on April 16th 2013 and was published again one day after Eugene Cernan passed away age 82.
** Header image via CollectSpace.com