Speedy Tuesday – OMEGA Speedmaster Professional Gemini IV Limited Edition
Omega Speedmaster Pro Gemini IV
Speedy Tuesday is here and this time with a Speedmaster Gemini IV limited edition of 2005 that commemorates the mission of 1965. During this mission, the first space walk of a NASA astronaut was performed by astronaut Ed White. Ed White was wearing his Speedmaster pre-Professional (ref.105.003) during the EVA and therefore the Speedmaster is considered to be the first watch into outer space.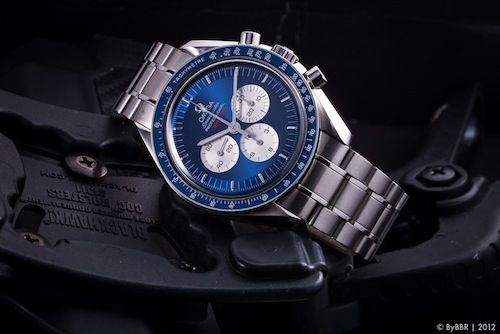 The blue dialed Speedmaster Professional Gemini IV not only has a dial and bezel that stands out, it also has a very nice caseback that commemorates the first space walk by Ed White. As you can see below, Omega has put the red NASA mission patch on the caseback of the watch, replacing the 'regular' First Watch Worn On The Moon engraved caseback. Inside, it is the same trusty Lemania based caliber 1861 movement that Omega uses for all of their Moonwatch models since 1997 (before that, Omega used the 861 caliber from 1968 and onwards).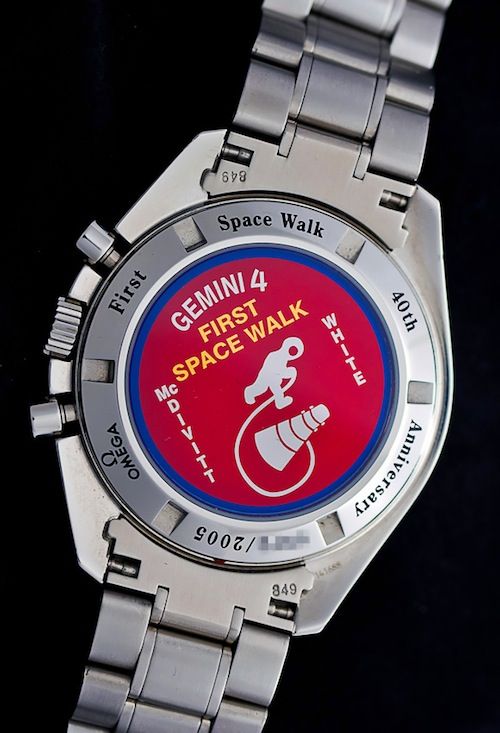 This Speedmaster Pro Gemini IV watch dates back to 2005 but has been bought new just last year by a Dutch fellow watch enthusiast. Can you imagine it has been lying around at an authorized dealer for so long? The current owner is our own watch photographer of the Fratello team, Bert. Besides his vintage Speedy of 1971, he has this one in his private collection as well.
One more shot of the beautiful blue dial with silver sub dials. Note the rhodium hands of the second hand, hour and minute recorder of the chronograph. Rhodium hands on a silver sub dial, it is not world's perfect example of readability but it surely looks cool.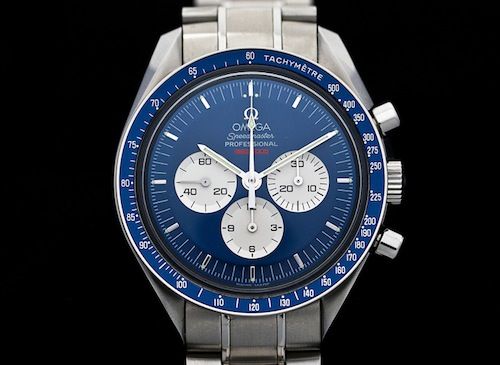 Next week we will be featuring one of your watches again! Make sure to keep sending us those Speedmaster watches (with some lines of text, how you got it, the things it has seen and why you love it so much). Use speedmaster (at) fratellowatches . com for sending us your entry!
Update: We corrected the article above a bit as we stated that Ed White was the first to perform a space walk. One of our Russian readers pointed out to us that this was done a few months earlier (but also in 1965) by Alexey Leonov. Click here to read more about him. To keep this on topic: Alexey Leonov can be seen on his Wikipedia page wearing an OMEGA Flightmaster! Thanks Dmitry.