Speedy Tuesday – Omega Speedmaster Rattrapante 3540.50
It's Speedy Tuesday! This week's topic is about a very rare Speedmaster that you will will come across only seldom, the Omega Speedmaster Split-Seconds 3540.50 or Rattrapante. Introduced in 1999, this Speedmaster had an odd looking case and a carbon fibre dial and was the first Speedmaster with a rattrapante complication. Only few of these watches have been made during a short time span. There was even an Italian market-only model, with a blue dial. The regular version has a run of 5000 pieces according to some sources.

Omega Speedmaster Automatic Rattrapante Chronometer
The version pictured above (photo credits Antiquorum) is the reference 3840.50, with a leather perforated racing strap. This Omega Speedmaster Rattrapante was – like written in the introduction – only in production for a very short period and in limited numbers. Introduced in 1999 and officially produced till 2001/2002. Whether it was the price or the odd looking case, this particular Speedmaster was not highly in demand at the time. For collectors, this might be an interesting piece as you can find them these days for around 2500 Euro in a very nice condition and complete with box and papers. A rare model and is with its rattrapante complication a nice add-on to your Speedmaster Professional.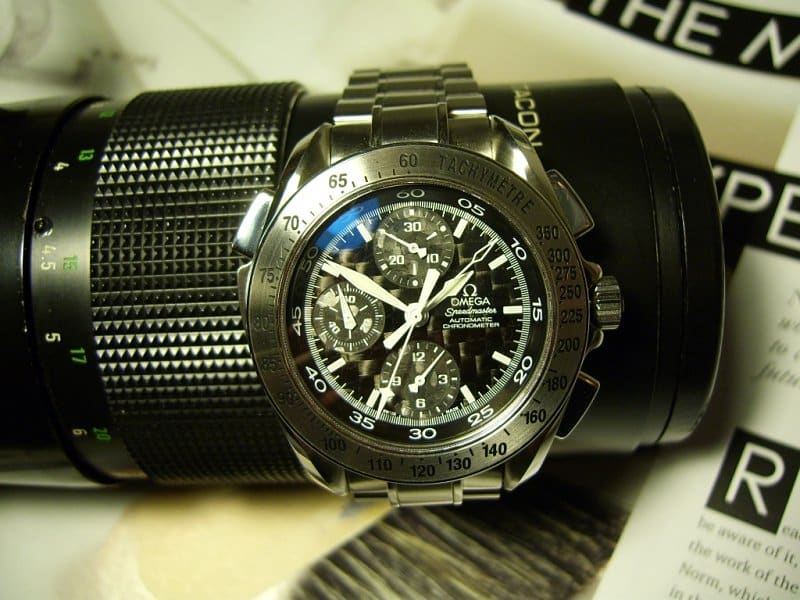 German UhrForum member 'Rostfrei' captured the Speedmaster Rattrapante 3540.50 quite well in a number of pictures (click here). It shows the carbon fibre details and the stainless steel bracelet (which is identical to the Speedmaster Professional bracelet of that period).
As you can see, the stainless steel case of the Speedmaster Rattrapante reminds us very much of the Speedmaster Professional X-33 (click here). The X-33 was introduced in 1998 and it seems that the Rattrapante has more or less the same shape, with some slight modifications of course and in steel instead of titanium.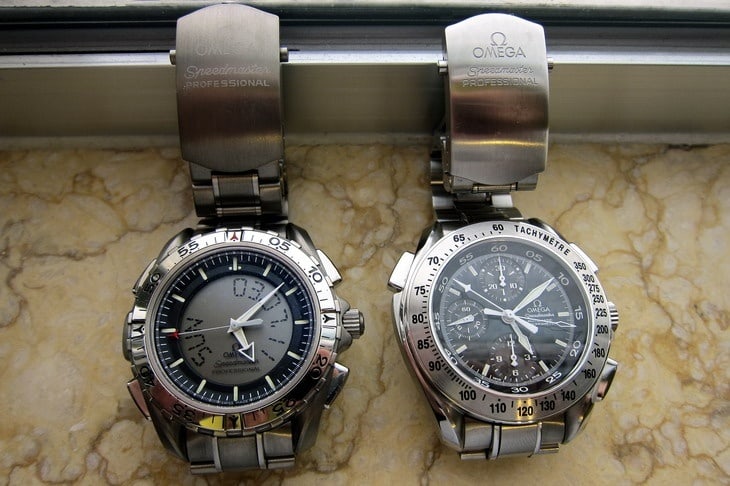 On the Omega Forum over at WatchProSite someone did a side-by-side comparison, showing you the major differences between the two designs (click here).
The movement inside the Omega Speedmaster Rattrapante is Omega caliber 3600, which is based on the well known Valjoux 7750 workhorse movement. Armed with a rattrapante complication and finished with rhodium plating, circular graining and Geneva stripes it is actually a nice looking movement and also received the COSC (chronometer certificate). In 1999 it must have been one of the few Speedmaster watches with an automatic chronometer chronograph movement as the Broad Arrow chronometer automatic chronograph models were introduced a few years later.
Although Speedmaster pursist might not be very fond of all these deviations of the original Moonwatch, I must admit that I quite like it. I do consider myself a Speedmaster purist as well, but I also love a lot of the other work Omega has put into a number of Speedmasters. This Rattrapante is one of them, with its odd X-33 like case and nice additional complication. With the stainless steel bracelet, the whole watch appears a bit massive perhaps, but with the right strap you can turn this into a – relatively – elegant sports watch. The owner of the Brown Snout website (Walter) demonstrates how to wear this watch (click here for more pictures).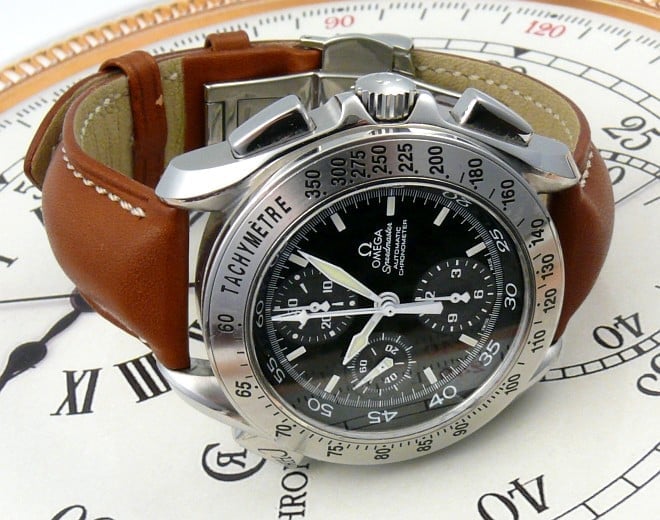 As written earlier, you should be able to source a nice Speedmaster Split-Seconds watch for an interesting price. Currently there are a few on offer at Chrono24 but also keep an eye on auctions and watch fairs.
There are three different versions. The black carbon fibre dial as Omega reference 3540.50 (bracelet) and 3840.50 (leather strap), a silver dial version as Omega reference 3540.30 (bracelet) and 3840.30 (leather strap) and the Italy market edition as Omega reference 3540.80 (bracelet) and 3840.80 (strap). Prices per edition might vary, especially for the Italian market version.