Speedy Tuesday – the Omega GSotM (Grey Side of the Moon)
When I receive a watch for review, I always ask friends and colleagues their opinion about the watch. It's always good to ask watch lovers as well as casual observers for their thoughts because the latter, who are often difficult to impress, really let on when the watch is something special. I've reviewed some fantastic watches thus far, both new and old, but never before have I reviewed a watch that turned heads like the piece I'll discuss today. The Omega Speedmaster Grey Side of the Moon, or "GSotM", stopped all comers in their tracks and you'll see what I mean when I say "all".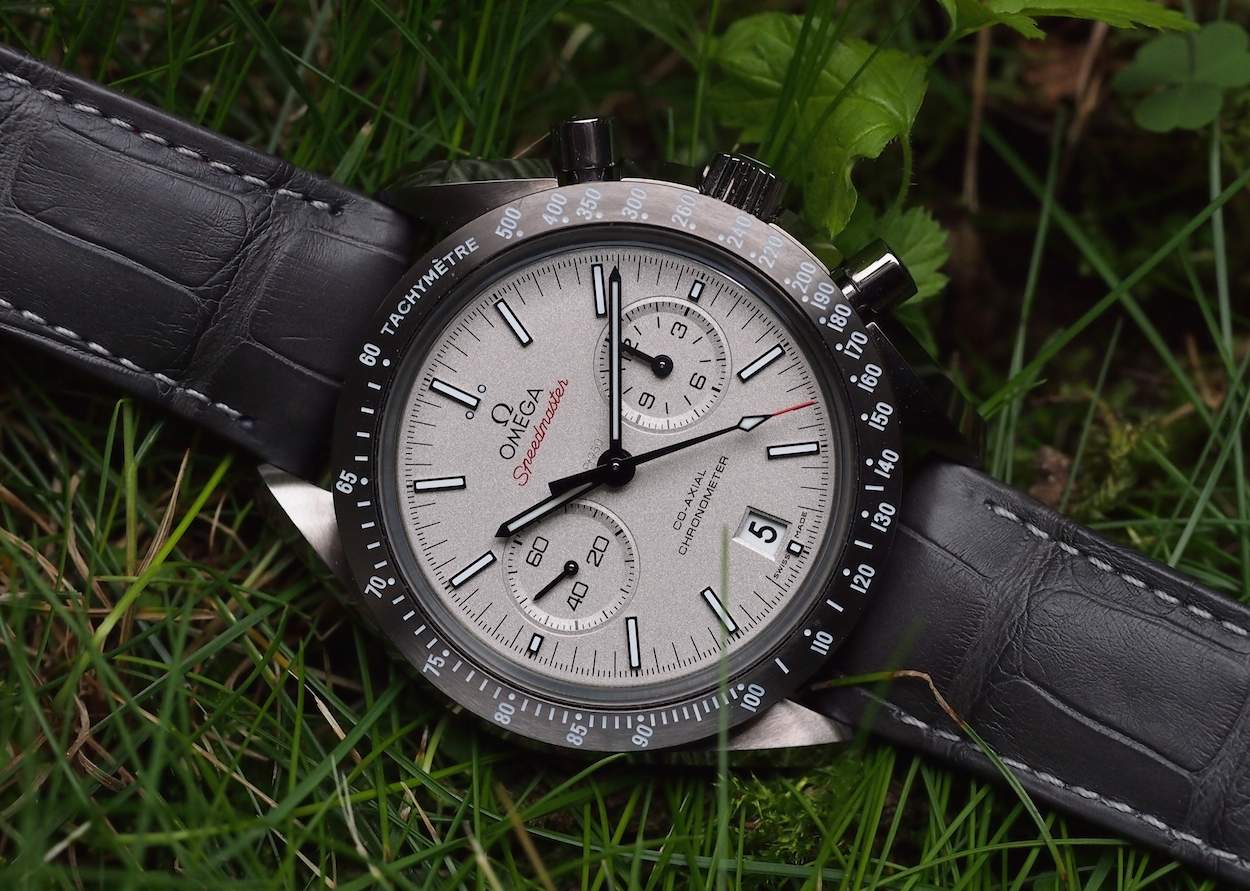 The Omega GSotM…is ceramic here to stay?
Tantalum, aluminum, titanium, brass, PVD and ceramic; these are all semi-exotic materials/coatings for watchcases, and as a degreed Materials Science Engineer (a.k.a. Metallurgist), these things all interest me. However, I often find them faddish and find myself retreating back to the familiar climes of stainless steel, and, more rarely, gold. Why is this? Well, I think the biggest reason tends to be the hue of these less common materials and it makes them seem less versatile to me. I guess it's crazy, but I can be a creature of habit. So, it's not surprising that I carried these reservations with me when Omega announced the original black ceramic Speedmaster Dark Side of the Moon in 2013 at Basel (we reviewed it here). I liked it, and still do, but I thought it looked a lot like the PVD watches we've seen from so many brands such as Bell & Ross. In 2014, though, Omega struck my fancy when they released today's watch. Yes, the GSotM is, big surprise here, grey and that makes it a bit more wearable and traditional to me. Still, though, it wasn't until we'd made contacts with the friendly folks of Omega Germany that I was able to go "hands-on" with an Omega GSotM. I realize that this watch has been commercially available for about 6 months now, but now feels like a good time address a watch – especially after the initial hype has subsided. Is the GSotM an example of passing fancy or should it be considered amongst other heavyweight sports chronographs such as one starting with "D" and ending in "aytona"? Let's see…
Specs for the Omega GSotM
First off, hallelujah, because I was finally able to test a watch with a usable stock strap… The Omega GSotM, or Ref. 311.93.44.51.99.001 (ha!), has a robust case diameter of 44.25mm. Don't worry, I'll talk about that later, but hang with me, as it truly isn't a detractor. It contains a very practical water resistance of 5 Bar and has a lug width of 22mm. Inside the GSotM sits the fantastic Omega, in-house, caliber 9300. It's a chronometer certified, column–wheel, co-axial movement that beats at 28,800 bph, contains 54 jewels, and has a power reserve of 60 hours. It features a date function, hacks, measures minutes and up to 12 hours. The movement is beefy and a display back is included, which brings total thickness up to 13.25mm. Other interesting notes are the use of platinum dial, a domed sapphire crystal, and SuperLuminova on the dial, crown and tachymeter scale.
The strap is well crafted on the Omega GSotM
If you've ever been in, or own a car, that sits on the near-luxury scale, buying the most "tarted-up" version can feel a bit like spraying perfume on a pig. Throwing leather into an econo-box is leather, but it's still an econo-box.   I see this in the watch world as well when rather mundane pieces are offered in gold or with some exotic feature. They look nice from a distance but upon closer inspection, you realize that the foundation of the watch lacks the same pedigree as the feature. The Omega GSotM is not this watch. This watch feels expensive. Of course it is, but in today's watch world, price doesn't often match the quality of the product. I'll walk through a number of areas, but I'll start with something seemingly mundane: the strap. There was a lot of thought put into this typically unexciting part.
You can see the durable rubber buckle holes that will allow for a longer lasting piece; this is key on a big watch that requires a lot of flexing in order to thread the strap through the buckle. You also see red threading only on the backside to match the font color found on the movement itself.
My favorite little trick from Omega, though, is the little tang that sits underneath the sliding keeper. This protrusion "locks" onto the last buckle hole and, therefore, stops from sliding once the watch is on the wrist: love it.
Oh, and that buckle is sublime. I like traditional buckles and this is a beautiful one that is made from the same ZrO2 material as the case, which means that it will resist scratching.
But there's news for you Omega lovers who don't like traditional buckles; the brand will begin fitting the ceramic deployant buckle onto the original Dark Side and this GSotM as soon as November of this year. Rounding things out, though, the leather strap itself is supple and extremely comfortable. If I had one nit to pick, it's that I already see some wear on the keepers due to "desk diving".
Some serious finishing on the Omega GSotM
Moving onto the Omega GSotM itself, the case finishing is superlative. Of course, when you're dealing with ceramics, fantastic finishing is inherent in the process, but the perfect blend of both matte and polished surfaces shows how well the material can be manipulated. Omega details the processing of its GSotM case quite nicely on its site and you can see how they achieve such consistent surfaces. This fantastic result is replicated on the crown, pushers and bezel.
When taking a look at the dial, Omega tried to create a dial surface similar to the lunar landscape. As mentioned, it is entirely bead-blasted platinum and has a consistently grainy look that, all at once, can look both matte and mildly metallic. It's stare-worthy and a bit of a work of art. The registers are sunken into the dial and this adds some depth along with the applied hour markers. Speaking of these, the surrounds almost look black due to shadowing, but I'm convinced that they're actually the same gray color as the hands.
Regarding contrast, Omega thoughtfully adds a touch of red with its "Speedmaster" font and the tip of the chrono hand. We will speak later about how the watch wears, but this addition of red lends a touch of sportiness to a beautiful, but otherwise highly monochromatic dial.
The Omega GSotM has sold me on automatic Speedmasters
I typically don't love 2-register chronographs as I find the dials a bit too sparse. In the case of the Omega GSotM, though, the date window actually helps to balance out a rather large expanse. It's a good example of how to integrate this oft-despised function that usually comes off as an afterthought. My other reason for typically disliking dual register pieces is the lack of hour measurement. Well, the 9300 calibre has this covered uniquely. It was my first time playing with this signature movement and it didn't disappoint. I like how the rightmost register contains two hands and measures both minutes and hours. The top hand does its job by measuring minutes and reveals a second hand underneath once the chronograph has been activated.
I'll provide another confession; I don't favor automatic chronographs. Of course, you know this from my #TBT articles, but I'll let you in on something else; I particularly abhor automatic Speedmasters. Yes, I have no love for things like the "Speedy reduced", the Schumacher collection or even the so-called "Holy Grail". I find the Speedmaster Professional to be such an iconic watch that it's been hard for me to consider offshoots – until now. The Omega GSotM has a fantastic movement. In-house and column wheel are two things that have helped soften my stance on a wrist-powered Speedy.
The Calibre 9300 within the Omega GSotM
Plus, viewing the 9300 is a treat. Ok, I could do without some of the pedantic script on the movement (90% of it in fact), but the Geneva waves are gorgeous. (Note: this model was a sample and should contain "Grey Side of the Moon" script on the ceramic bezel surrounding the display back.) Plus, it functions so well from a timekeeping perspective and has really nice pusher action. So, yes, I'll still reserve the Speedy Pro as my "go to" recommendation for those looking to buy their first nice watch, especially used, but I absolutely approve of this movement.
Comparing the Omega GSotM to the Speedmaster Pro
Coming back to the Speedy Pro, I thought you'd find it interesting to see how the Omega GSotM measures up against the old favorite. The Speedy Pro comes in at a respectable 42mm and as you can see in the pictures, there really isn't such a massive difference in size.
Furthermore, the GSotM has some really nicely curved, shorter, lugs that help even the scales versus the stalwart.
Wearing the Omega GSotM
Regarding the GSotM on the wrist – wow! I honestly loved it and I wore it EVERYWHERE. I threw it on with everything from shorts and a t-shirt to business dress and it matched everything. It was extremely comfortable on my small wrist and didn't look at all like an oversized watch. I can't think of too many 44mm+ watches that I can pull off aside, perhaps, from the Seiko Astron that I recently reviewed. Also, the watch is well weighted. Some thought that a ceramic case would make for a lightweight watch and while it does seem lighter than a comparable steel piece, it's nothing like titanium. My experience is that the ample heft added to the quality feel. Lastly, at night, the glow from everything from the dial, to the bezel, and the crown is nothing short of outstanding. I really liked the glow from the latter two areas.
Everyone (men and women) love the Omega GSotM
The other thing that I mentioned is that the Omega GSotM turned heads everywhere it went. I had non-WIS colleagues asking to wear it for a few hours at a time and the conclusion was always overwhelming adoration. The biggest surprise, though, was the love for the GSotM by the opposite sex. Women loved this watch…for themselves. I think that the high quality finishing just jumped out right away to female friends who are used to looking at high quality jewelry and other lifestyle accessories. Blaise and I attended the recent WEC Nuerburgring 6-hour race with a good female friend and the GSotM sat on her wrist all day long. Honestly, it looked just as good and appropriate on her as it did on any of the males who wore the watch. Apparently, Daytona's aren't the only supposed men's only chronographs that work across the sexes.
The Omega GSotM rivals the Rolex Daytona
Speaking of the Daytona, I actually see the Omega GSotM as a natural competitor to this ultimate aspirational piece. Pricing-wise, the GSotM comes in at roughly €10.200,- Euro or $12,000 USD. This is stainless steel Daytona territory. With the Omega, though, you're getting a more modern size, which is something that Daytona-philes have been requesting. Plus, and I have nothing against Rolex's chronograph movement, the 9300 is certainly a worthy competitor. Sure, the 9300 is available in more traditional case materials and at lower prices, but this really represents the acme of Omega's innovation. At the end of the day, I'd have a tough time making a decision between the two. That brings me to another point of discussion: ceramics.
Yes, ceramic is great on the Omega GSotM
It's clear that the Omega GSotM is not a gimmick or a fad. Omega has obviously made a huge investment in ceramics manufacturing, as seen by the number of different variants now on offer, and this is likely going to be a core part of their collection in the long run. I mentioned that I find both the black and white ceramic pieces to be less versatile and I think they come off a little more as style pieces, but the metal-esque look of the GSotM feels highly comparable to a steel watch. For me, with the GSotM, Omega is the first company to truly commercialize this material and, due to this hands-on experience, I now no longer think of it as niche.
Overall, the GSotM is a success. Sure, it's expensive, but it has a lot of attributes that stack up well in this price range that contains a surprising number of competitors. And, it just looks so good. I really can't say enough about how well executed the details are on this piece.  From the second I opened the Omega shipping box to the day I sealed it for return , the Omega GSotM impressed all who saw it. I've never had a watch attract attention like this one and that, to me, is the sure sign of a winner.  Now that the initial hype has subsided, do yourself a favor and at least try it on for size; we think you'll be impressed.
More information can be found on omegawatches.com.